Struggling CBD Eatery Owners Borrow Money From Friends, Hope Dine-In Saves Biz
10-year-old Telok Ayer eatery Pho 99 has been hit by a dearth of office workers.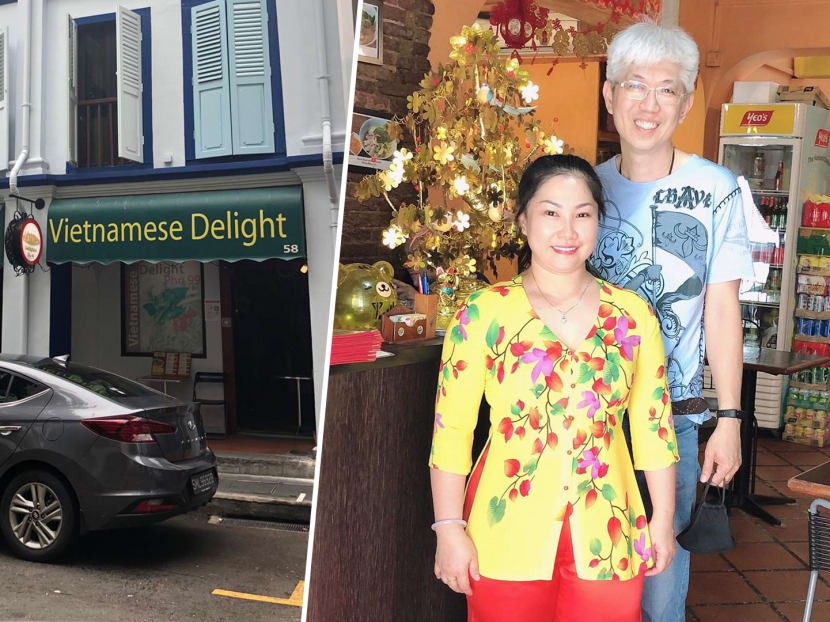 Husband-and-wife Lim Heng Lee, 49, and Bou Dalis, 45, have been running their Vietnamese restaurant Pho 99 at Amoy Street for the past 10 years. When the Covid-19 pandemic worsened and the Circuit Breaker kicked in last year, their business took a hard hit, when their regular office crowd started working from home.

"It was an 80 to 90 per cent drop in business," says their daughter Lim Hui Yi, 19. "It's the CBD area, so not many people in the residential areas know about us."

Dalis had opened a restaurant as she was passionate about showcasing authentic food from her hometown of Ho Chi Minh City. According to her, "our business only became better in March this year when the office crowd returned. It was just a slight improvement, about 50 per cent of our usual business". She worries about her restaurant's future even when the dining-in ban is lifted, as "we depend on the office crowd, not walk-ins".

The Singapore government announced today (June 18) that people can now dine in at eateries in groups of two as part of the Phase 3 (Heightened Alert) measures.

To fund overhead costs, which includes salaries for two staff, Heng Lee and Dalis dipped into their reserves and savings to keep their restaurant going. "They're very stressed, as the rent is high there," Hui Yi tells 8days.sg.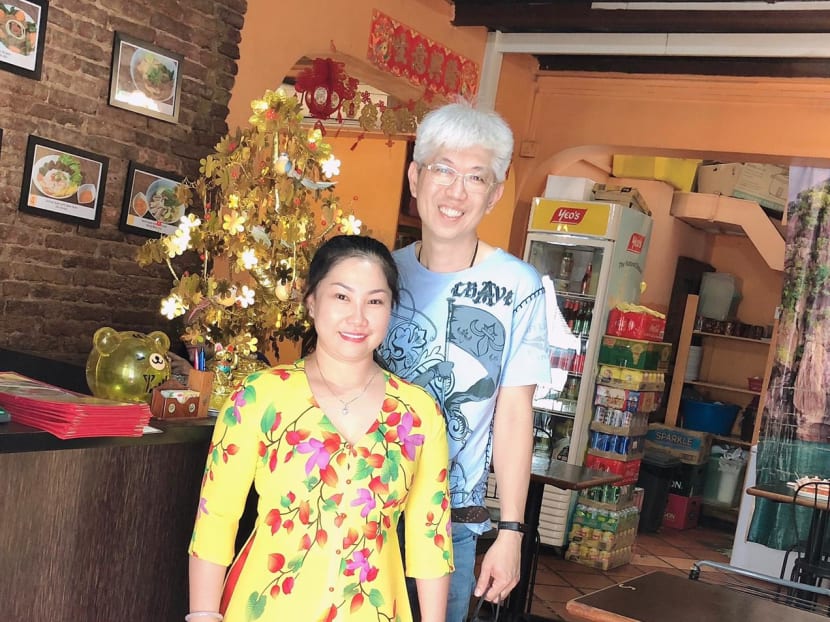 Her folks (pictured) are determined to stay in the F&B industry till they exhaust their options, as Hui Yi explains: "My parents can't really speak English well. They might have to take English classes to make themselves more employable [for other jobs], but my mum is not sure if she can get a job outside. Her shop is her only hope for an income."

Hui Yi estimates that her parents' reserves can sustain them for "around one or two months more" before the money runs out. "Their own savings are depleting. They're just depending on how much they can earn each month to cover their expenses," she says. "They're placing their hopes that once dine-in resumes, it will get better. They don't really have a plan."

As the couple's funds have been fully utilised to save their restaurant, Hui Yi says her parents have had to "loan money from their friends to cover our family's expenditures".

Since money is tight, she and her teen sister Xuan Hui, 17, stopped taking an allowance from their parents. Hui Yi, a third-year Temasek Polytechnic Food & Nutrition student, is currently interning at a hospital as a trainee dietician, while Xuan Hui is in her first year of junior college.

"We use our savings to buy our food. We try to cook at home and reduce our use of electricity. I also walk home from the MRT station instead of taking the bus to cut down on transportation costs, because I only bought the train concession pass," says Hui Yi.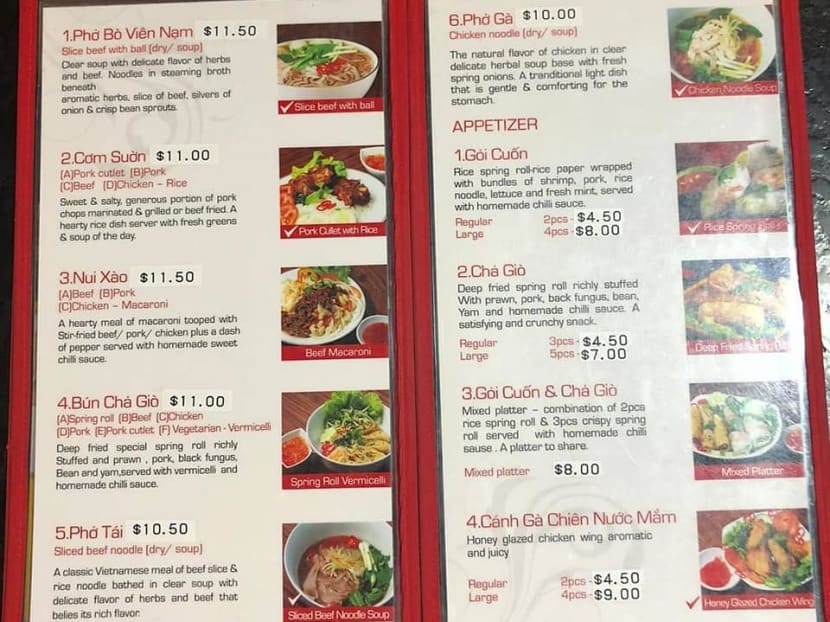 She also tried to help her parents promote their restaurant on Facebook group Hawkers United, but received negative comments from netizens like "so expensive… means normal times their wallets full full liao". A bowl of beef pho at Pho 99 costs $11.50, while spring rolls go for $4.50 for two pieces, and $8 for four.

Pho 99's Beef Pho
Her mother makes most of the dishes from scratch by hand, says Hui Yi, who points out: "It was quite hurtful when I heard it. We don't earn a big profit. The money is for our daily expenses and what's left goes into our reserves. And now, our reserves are depleted. We do not have any extra money, and that's why we're here posting for help."

Shifting to a hawker stall with lower overheads is an option, but Hui Yi reckons that it will severely hinder their operations as her mum has no space to cook and prep her ingredients. "If they move to another place, they have to start their business all over again, and it's not easy," she says.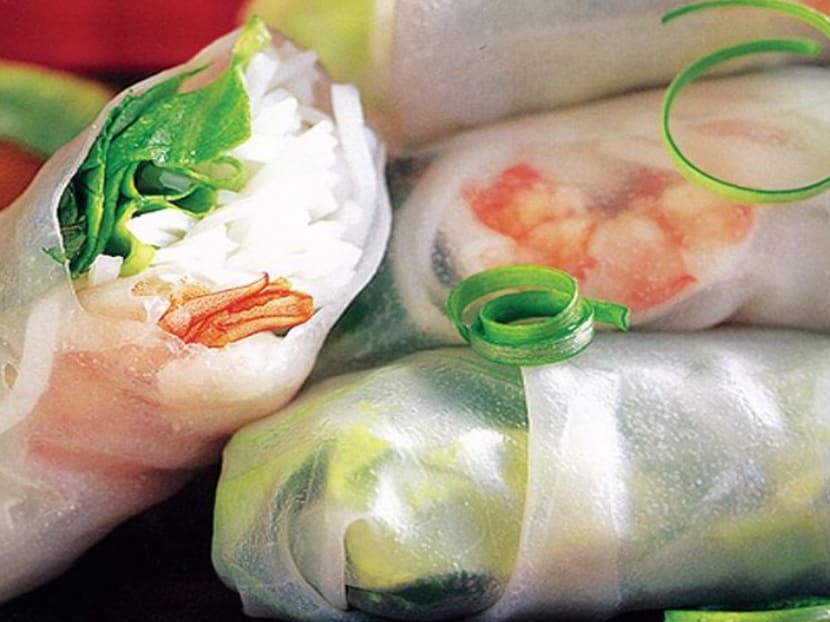 But in a "worst case scenario", the Lims are prepared to wind up their longtime business. The decision was made partly because Hui Yi and her sister are still schooling. "My mum told me that she will find a job outside. She said she doesn't have the energy to start another business again," shares Hui Yi, "It costs a lot of money, and returns are not guaranteed. She can't survive on her passion. In reality, you need money to survive."

Pho 99, 57/58 Amoy St, S069883. Open daily except Sun, Mon-Fri 11am-9pm; Sat 11am-5pm. Tel: 6410-9600. Delivery available via GrabFood. Facebook.

Photos: Lim Hui Yi/ Pho 99