Uni Lecturer Sells Kueh Lapis Roll Cakes Made By Mum From Her Medan Bakery
He says he's the first to sell this version of lapis in S'pore.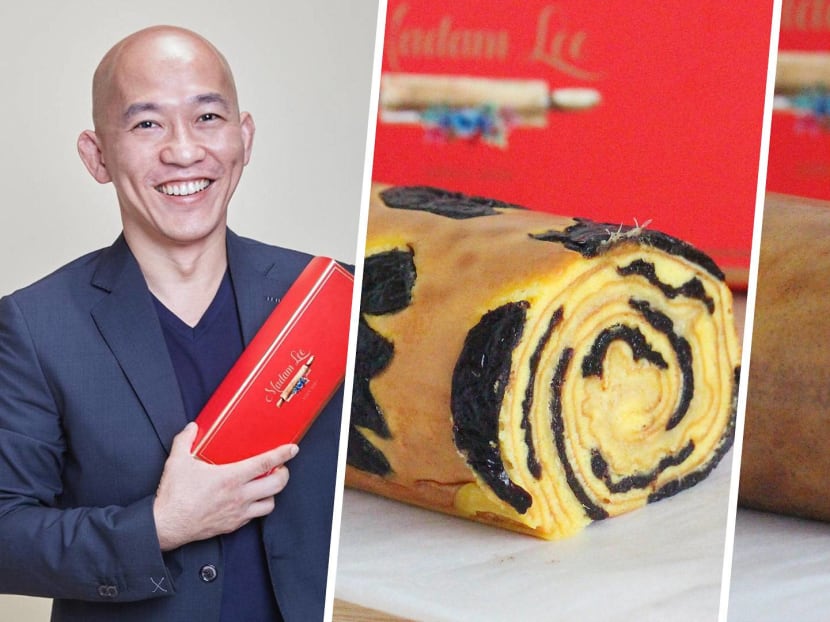 Most people are familiar with the square-shaped kueh lapis legit, but few know a more modern roll cake version exists for this buttery spiced Dutch-Indonesian layer cake: lapis legit gulung, or rolled lapis.

Said to have been invented in recent years by Ali Lai, a notable baker in Bandung, lapis gulung boasts a softer texture than lapis legit, and requires a slightly different set of baking and rolling techniques. Visually, it resembles a more rustic German baumkuchen, and comes with fillings such as cream and jam.

It's this version of lapis that Singapore-based Indonesian-Chinese Suwandi Lie, 44, a part-time business analytics lecturer at the Singapore University of Social Sciences, has air-flown to Singapore every month to sell online under the Madam Lee brand, which claims to be the first shop to sell lapis gulung in Singapore (we found another rival brand https://www.lapisroll.com/, albeit selling a slightly different version with less layers).

All photos cannot be reproduced without permission from 8days.sg

Madam Lee is the name of both Suwandi's mother Yuliana Go, 74, and the three-storey bakery-cum-culinary school she runs in Medan, which was established in 1979.

The institution is famous for two things: producing many of Medan's current bakery and cafe owners, and making carrot cake good enough to be eaten by former Indonesian President Habibie.
Suwandi, a Singapore citizen, was born in Indonesia and moved to Singapore in 2001. He spent his childhood in the shop, helping with simple tasks like applying egg wash on cookies, but admits he never made the lapis himself.
According to Suwandi, lapis legit gulung is typically made by home bakers in Indonesia. He says commercial versions have a bad rep, as many bakeries swap out butter for margarine, and use condensed milk as a filling, resulting in a "yucky taste".
Madam Lee's lapis legit gulung, which the family has dubbed lapis "roulade", uses Dutch butter and pineapple jam for an improved flavour. She also handpicks her kueh lapis spices from different distributors to create the perfect blend.

Instead of baking a single sheet of lapis and rolling it, as is typical, Madam Lee's rendition uses a five-layer lapis, which increases both labour and cooking time. A traditional lapis legit cake is about 18 layers high, but is too thick to roll.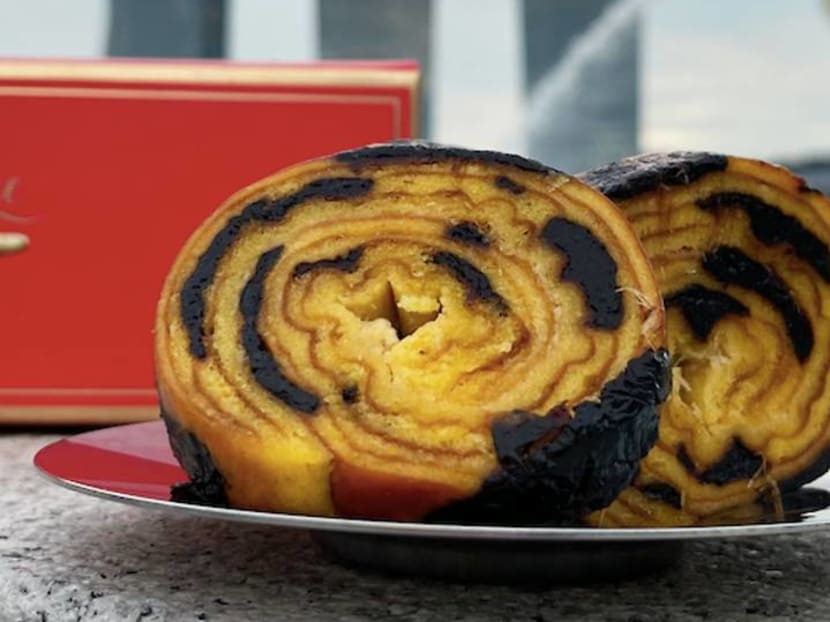 The expansion of Madam Lee's business to Singapore happened quite by chance. Suwandi hit on the idea of selling his mother's lapis roulade in Singapore after his wife, a former SIA stewardess and Singapore PR, brought some from their stash at home to share with her friends.

Among the group were Indonesian housewives who loved the taste and asked the couple to buy more, with some regularly ordering as many as 10 boxes at a time. Suwandi would make trips to Medan to visit mum and stock up. Basically all my baggage allowance was for lapis, he says.
Sensing a business opportunity, he then roped in two partners – a former hotel chef and a business development executive in the food industry – to formally import and distribute the rolls in Singapore in mid 2019. Currently, labour costs are too high, but if order volumes go up, the trio will consider setting up a manufacturing plant here, he says.

Suwandi now juggles shipping, customer service, and product development for the brand with lecturing twice a week.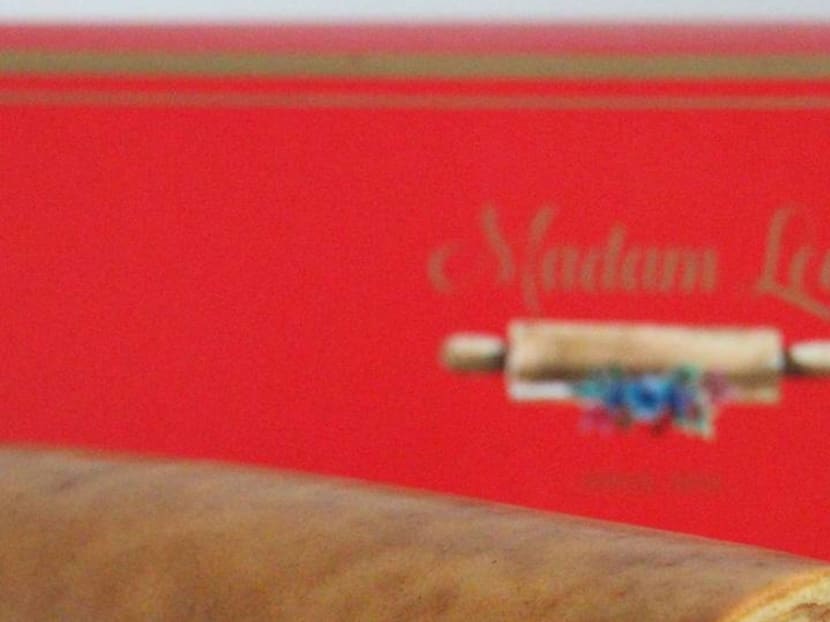 Madam Lee's Singapore sales for the CNY period have been brisk, with 400 boxes sold in January, Suwandi says. Two of the three lapis roulade flavours on offer (almond and prune) are already sold out, with just 30 boxes of original flavour rolls left.

Customers must place orders before Feb 4 to receive their lapis roulade by CNY. Those who order after Feb 4 will get their rolls only from Feb 25 onward.

While the brand only has three flavours currently on offer, there are plans to develop a fourth. Expansion is also on the cards: Suwandi has his sights set on the rest of Southeast Asia, as well as Hong Kong – where he says people have been cutting up Madam Lee's roulade and reselling it by the slice.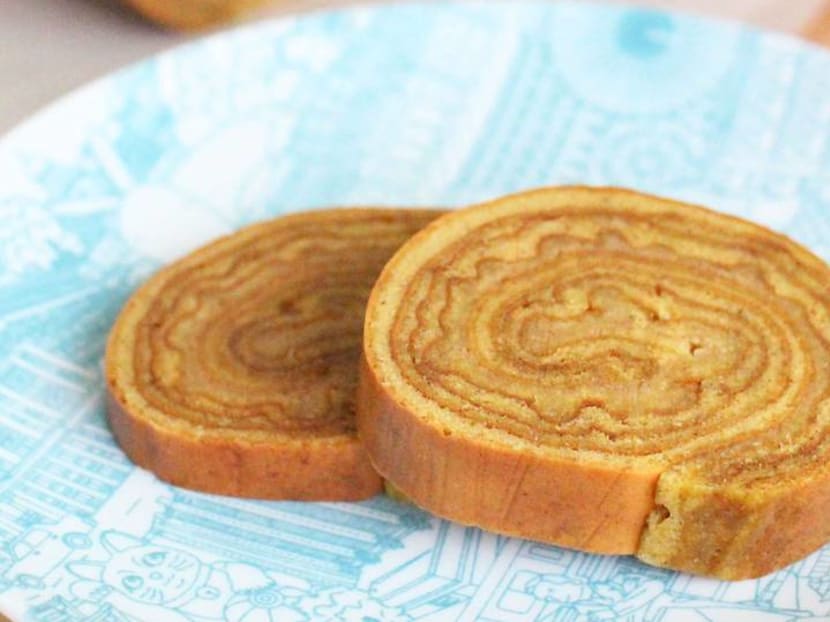 This pretty roll has clear, contrasting layers and an even, brownish skin. Every bite is perfumed with a heady cocktail of Indonesian spices, including cinnamon, cardamom, cloves, and nutmeg. The acidic tang of the pineapple jam leaves a fruity aftertaste, which helps cut through the richness, but doesn't interfere with the spice-forward lapis flavour.
The lapis roulade manages to be both buttery and light, without being greasy or too sweet. However, it's noticeably softer than regular kueh lapis – almost as soft as a sponge cake – which can be disappointing for those who enjoy biting through kueh lapis' multiple dense layers. Suwandi says this is due to reducing the amount of flour in order to create a cake pliable enough to roll without breaking.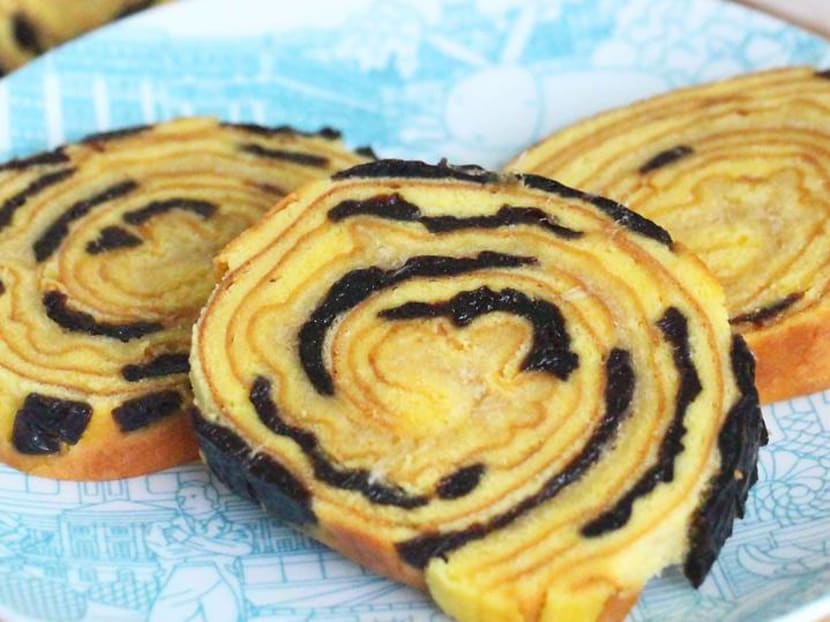 This is the brand's top-selling flavor, with a firmer texture than the original, and a yellowish batter that shows off the dark fruit. Prune lovers will adore this version, which is generously studded with the sweet, sticky stuff. Depending on who you ask, though, that might be too much of a good thing: the saccharine prunes overwhelm the delicate spices and even the lapis' buttery notes. On the bright side, the fruitiness of the pineapple jam plays well with the prunes. Definitely for those with a sweet tooth.
​​​​​​​Think of this lapis roulade as a cross between a Polar Swiss roll and traditional kueh lapis legit. The soft, nearly melt-in-your-mouth texture of rolled lapis is a good option for kids, or those who find the traditional version too stiff and dense. However, lapis purists may baulk at the texture and tangy aftertaste. It's not cheap (factoring import prices), but it's a fun spin on the usual version, and a worthy addition to the Chinese New Year snacks table, especially since the use of pineapple jam ties in nicely with the festive season. The original flavour tastes homemade — in a good way — with fragrant spices as the standout feature. Skip the prune version unless you have a very sweet tooth.


Place orders at madamlfood.com, via Food Affinity, or buy the lapis roulade directly from hiMart stores. Delivery costs $10.30 for orders under $200. Self-collection also available.

Photos: Madam Lee/Rachel Chia

All photos cannot be reproduced without permission from 8days.sg