We Had A Sneak Preview Of % Arabica's S'pore Outlet At Arab Street, Here's What To Expect
The Kyoto coffee chain's first local branch officially opens on June 28.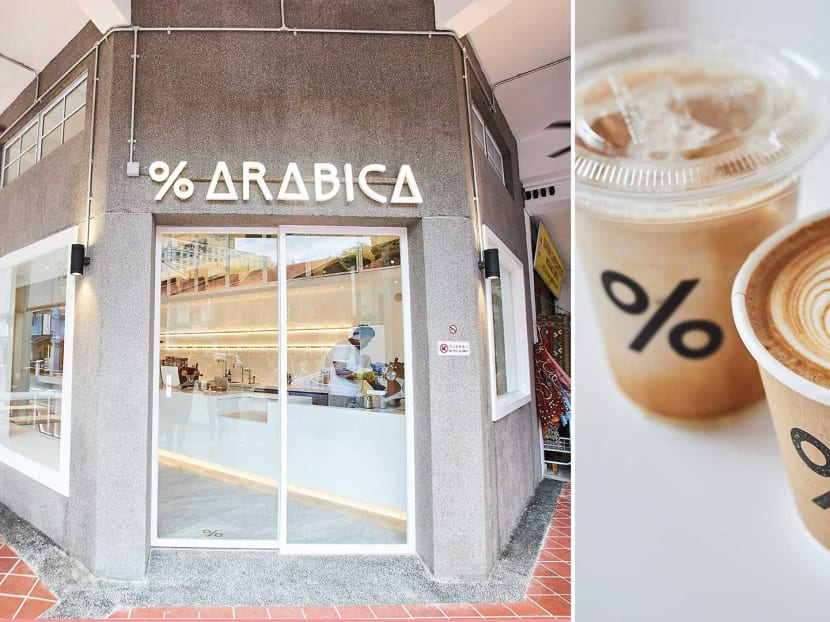 After almost a year's delay, famous Kyoto coffee chain % Arabica is finally opening their highly-anticipated first Singapore outlet on June 28, 2019. The franchised outlet is located at 56 Arab Street, which formerly housed Turkish restaurant Sufi's. The delay came about as the brand had to tweak their initial store design to comply with local regulations.

8days.sg got a sneak peek at the cafe ahead of its opening next Friday, and here's what to expect.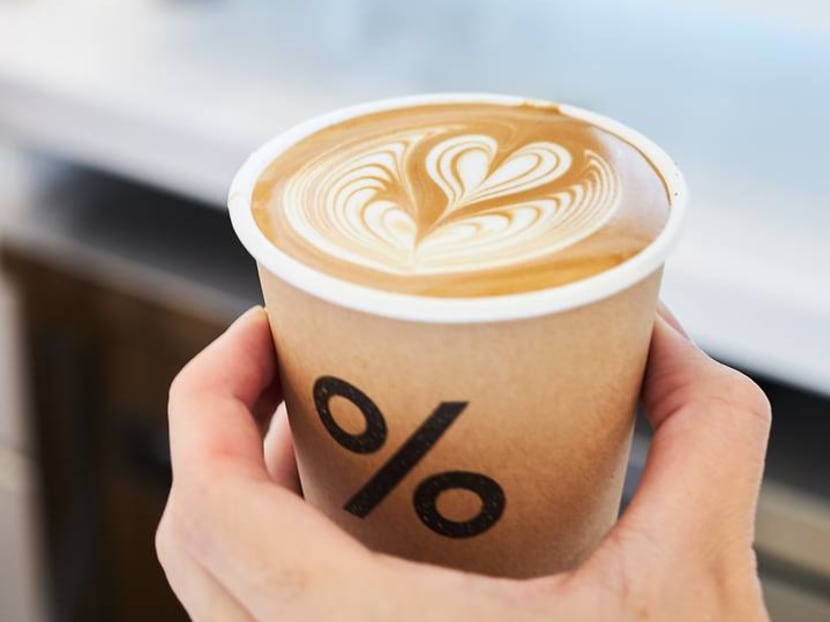 For the uninitiated, % Arabica was founded by coffee farm owner and coffee machine distributor Kenneth Shoji in Kyoto in 2014, together with latte art world champion Junichi Yamaguchi, the brand's current global head barista.

The cafe quickly gained a following for its excellent coffee, brewed with beans that are roasted in-house (each outlet has its own roastery). It's also well-known for its beautiful, minimalist store design. All the better for you to Instagram your coffee in.

The chain currently has 37 outlets worldwide in cities like Hong Kong, Paris and Kuwait. Three outlets, including the Arab Street outpost, are slated to open in Singapore by the end of this year.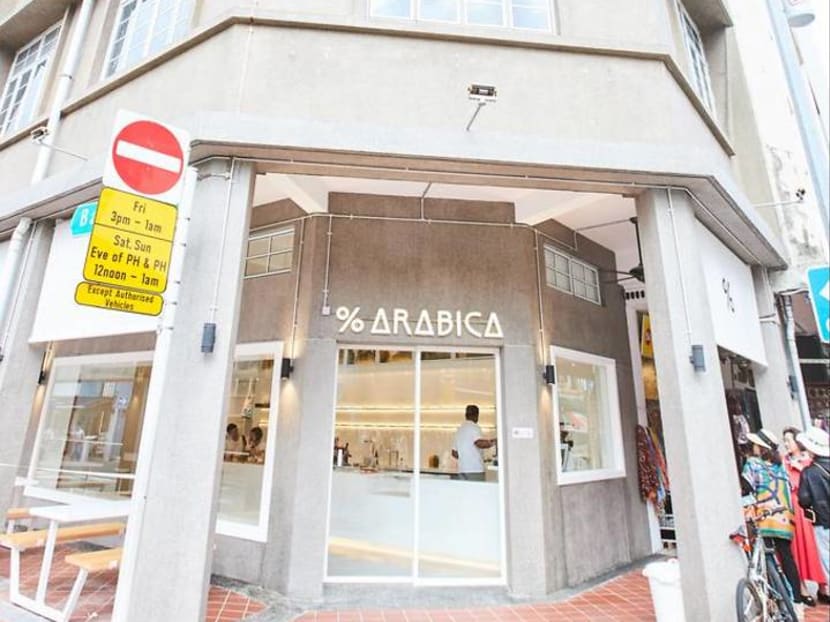 Fun fact: Arab Street was chosen as the location for % Arabica's first Singapore outlet due to the similarity in their names, and also 'cos the street is situated in the historic Kampong Glam neighbourhood. The brand's outlets in its native Kyoto are also located in culturally-rich spots such as the city's famous Gion district and the scenic Arashiyama bamboo forest.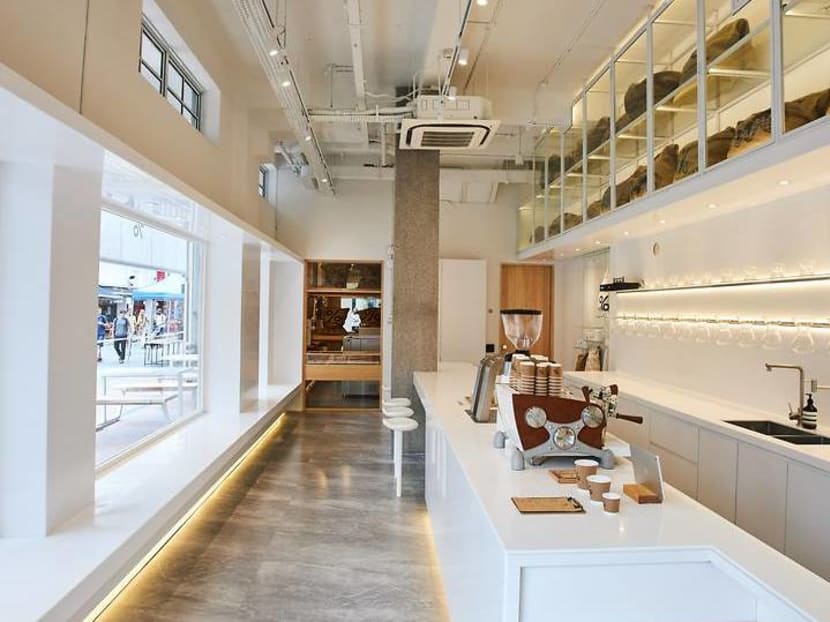 While some of % Arabica's outlets are takeaway-only, the local Arab Street branch will have seats for around 20 pax. And its sparse decor is gorgeous; decked out in the cafe's signature white with grey and gold accents. Half of the long, narrow cafe is taken up by a gleaming white counter, where the baristas prepare your drinks.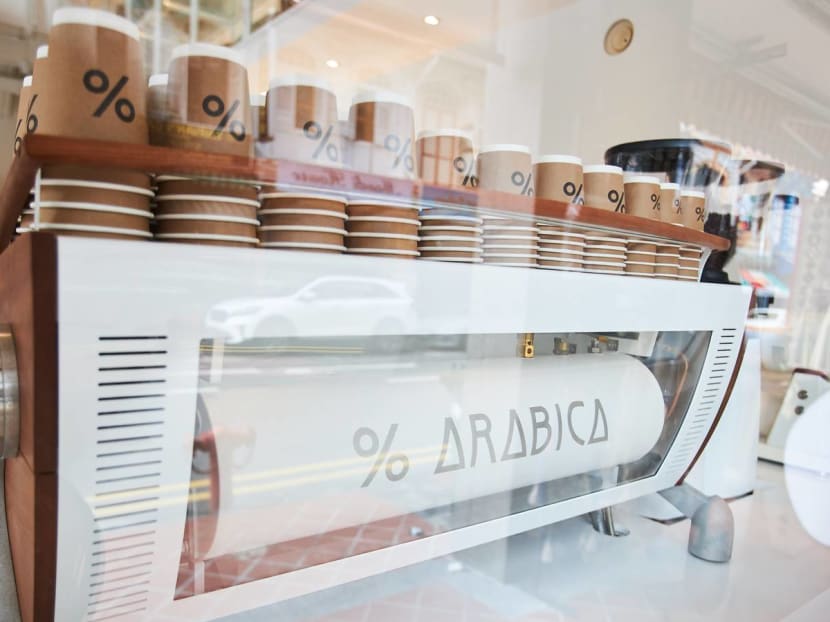 A Slayer espresso maker holds court at one end of the counter.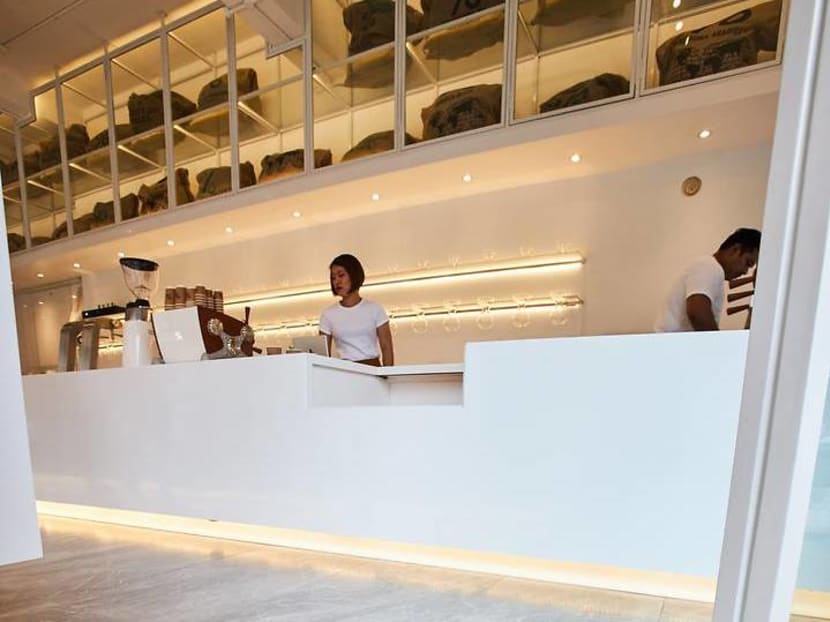 % Arabica's distinctive logo is embossed in gold on the floor.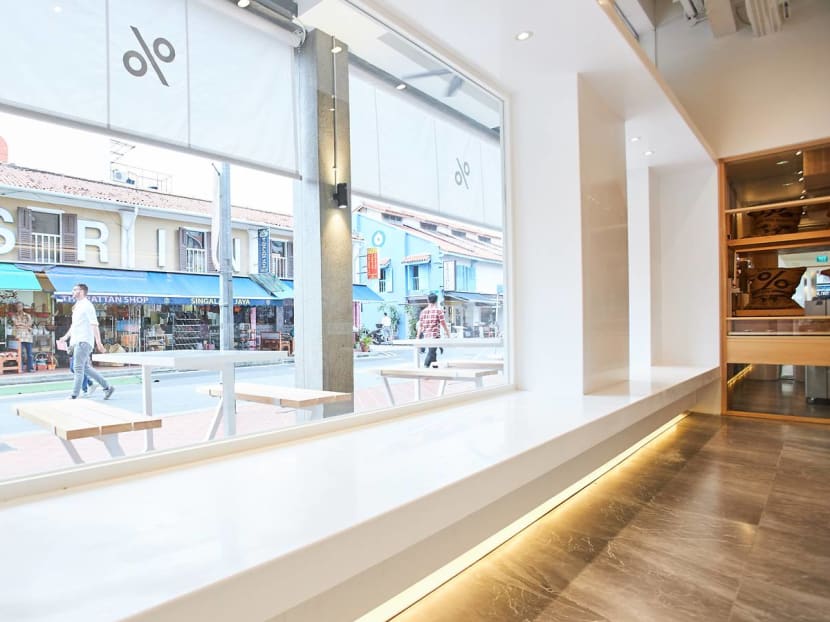 There are benches within the cafe for you to sit and gaze at the baristas doing their thang at the coffee counter. Or head to the three picnic tables outside, where you can gather with your squad to lim kopi.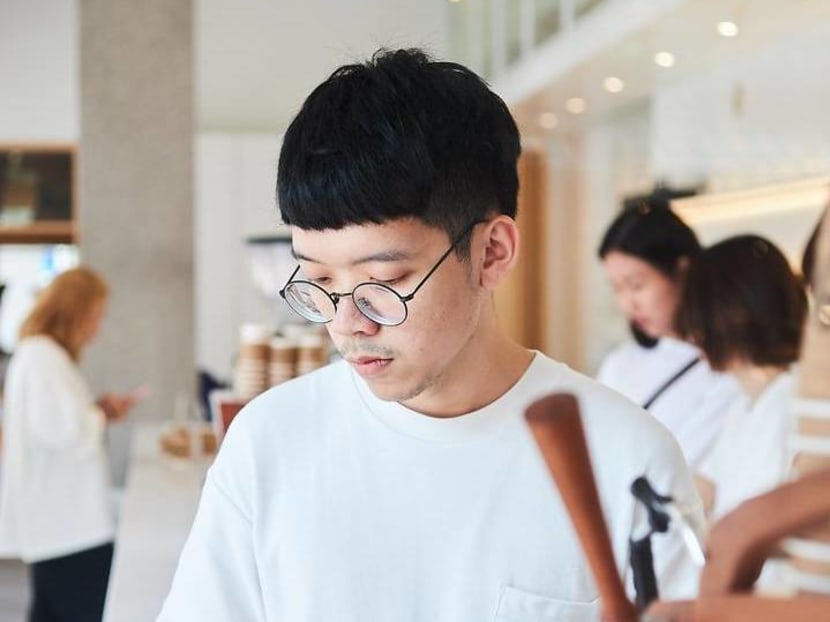 The cafe is helmed by six local baristas, all dressed in a white T-shirt uniform (pictured). They have trained at the cafe's outlets in Kyoto and Shanghai. % Arabica's global head barista and latte art champ Junichi Yamaguchi will also be here during the cafe's opening period next week, so be prepared to jostle with the hordes if you wanna taste his coffee.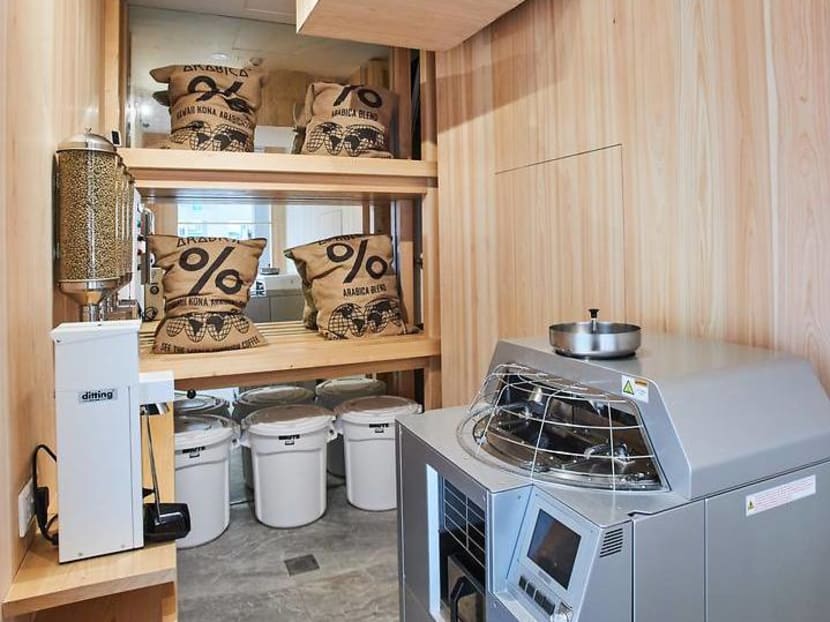 Like its other outlets, % Arabica Singapore has a dedicated roastery to produce freshly-roasted beans for its drinks. The hot air roaster is housed at the back of the cafe in a small open room, and you can peek at the roaster in action if you're curious about the process.

The cafe offers a % Arabica Espresso Blend of beans comprising Brazilian and European beans, and rotating Single Origin beans from Ethiopia, Brazil, Nicaragua, Costa Rica and other countries. All the beans are roasted to a medium to medium-dark roast, which gives the coffee fab flavour that's not too strong.
The cafe's bestselling signature drinks, like its Cafe Latte and Matcha Latte, are all available here in hot and iced versions. You can choose to have either % Arabica's proprietary blend of beans or single origin beans for your coffee.

A Spanish Latte, which was created by % Arabica Kuwait, is also offered here. For non-coffee drinkers, the cafe serves house-made Lemonade prepared a la minute with your choice of still or sparkling water.

Coffee orders are made with Meiji's full cream milk (like in Japan), but if you're lactose-intolerant, there's the option of swapping cow's milk for either oat, soy or almond milk for an extra $1.

Alas, the Arab Street cafe only has drinks. But good news: the second upcoming Chip Bee Gardens outlet, which is slated to open by the end of this year, will have a kitchen to prepare food.

Menu prices are still in the works, but % Arabica Singapore's brand manager, Shafi Sulaiman, tells us that it covers a range of $4.80 to $9 for a drink. Meanwhile, here are the drinks — made with the house proprietary bean blend — we've tried.
We've tried the iced Caffe Latte at % Arabica Kyoto's Arashiyama outlet, and it's hands down one of the best versions we've tasted. We're pleased to report that the coffee here is just as good: smooth and robust with a chocolatey finish. It glides down like a dream with cold creamy milk on a hot day.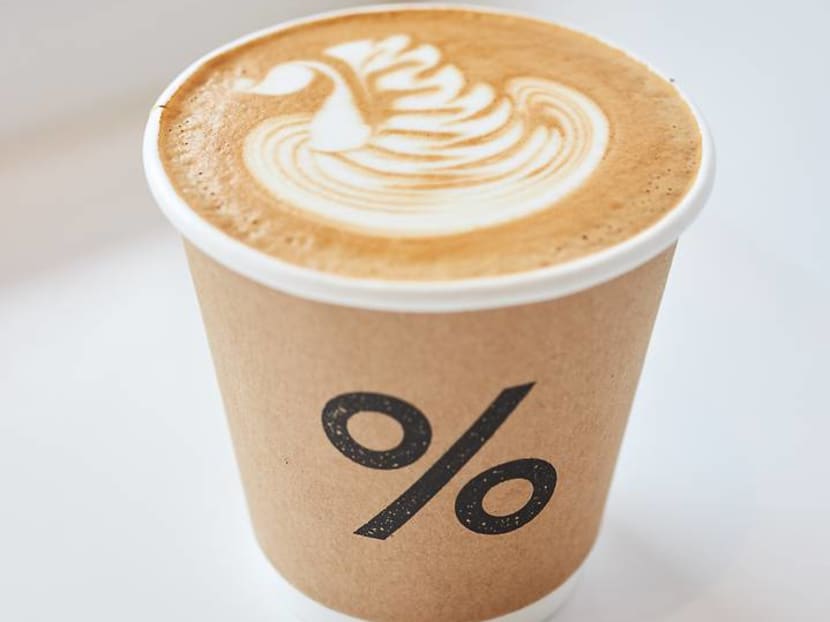 If you're particular about 'grammable latte art, it's perfectly done here for hot drink orders. The hot Caffe Latte is full-bodied with a bittersweet hint. Good for those looking for a pick-me-up cuppa.
This pretty drink is made with % Arabica Kyoto's self-produced matcha powder and full cream milk. It packs pretty solid matcha flavour; if you like the bitter fragrance of good matcha, this one's for you.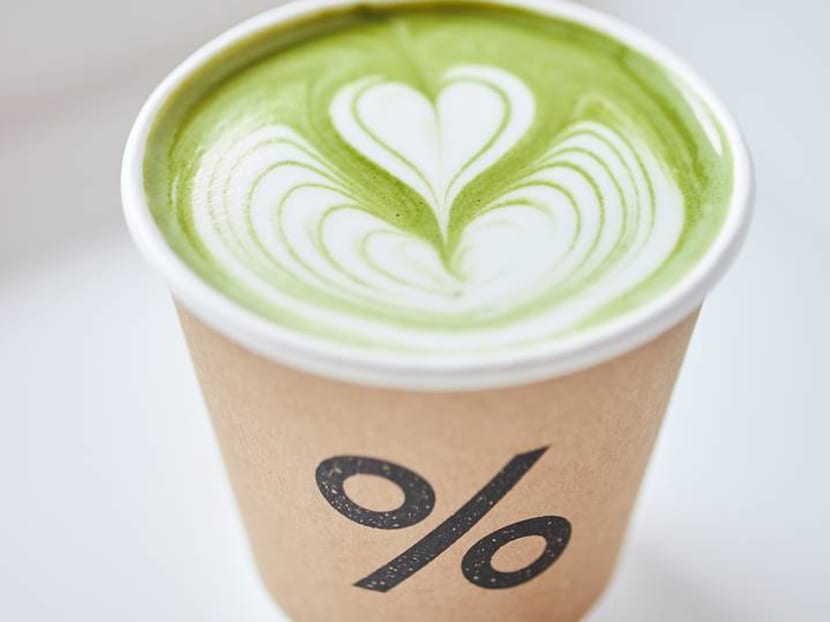 The hot version of Matcha Latte brings out the flavour of the green tea leaves better, we think. Order this for a comforting drink.
Prefer sweet coffee? The Spanish Latte has condensed milk added to it, on top of regular full cream milk. The sweeter, thicker mix works well as an iced order, but we find the hot version a tad too sweet for our liking. Besides, % Arabica's soul-lifting coffee is best enjoyed as simply as possible.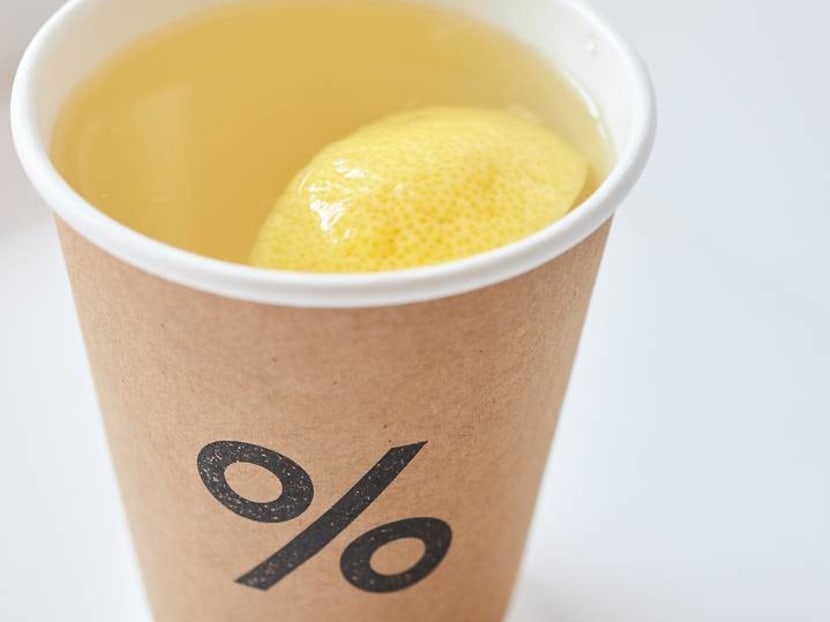 For those who don't want to ingest any caffeine, there's the option of ordering lemonade here. It tastes like the typical hot honey lemon beverage, and is not particularly outstanding, especially when compared to the good coffee here. Only order if you're somehow deathly allergic to caffeine.

The cafe's made-in-Japan merch are pretty covetable, all adorned with a simple % logo. There are chic backpacks, mugs, tumblers and even sneakers available. They come in very limited quantities though (we're told by the Singapore brand manager that only around "eight pairs" of sneakers were brought in). So cop these while you can.
We foresee epic, insane queues at % Arabica Singapore when it opens its doors next Friday (June 28). Even for folks with hipster cafe fatigue (like us), this cafe is pretty appealing. It serves great drinks in a super stylish, design-focused setting that transports us right back to Japan. So it's a good thing that the brand is opening two more outlets in quick succession here, one at Chip Bee Gardens at Holland Village, and the other at 313@Somerset, at the unit where Mexican restaurant Barrio by Mex Out used to be. According to % Arabica Singapore's brand manager Shafi, the two branches are slated to open "by the end of this year", so get ready for it.

% Arabica Singapore, 56 Arab St, S199753. Open daily 10am-9.30pm. www.instagram.com/arabica.sg.