Well-Loved Fukusaya Castella Cake From Japan Makes Its Way to Singapore
Who else used to lug boxes of the stuff home when travelling for fun was a thing?
Foodies, mark your calendars — the signature Japanese sponge cakes from Fukusaya Castella, a confectionery brand founded in 1624 in Nagasaki prefecture, Kyushu island, will hit our shores on August 20 at Isetan Scotts Supermarket. Keep your eye out for its display booth near the supermarket's entrance. Fukusaya is famous for its so perfect-looking it's almost unreal kasutera (Japanese castella cake). We're fans — we hardly ever left Tokyo or Fukuoka without carting home a few boxes of the tasty bakes when leisure travelling was still a thing.
Besides Taiwan, Singapore is the only country to sell Fukusaya's castella outside of Japan.
The castella cake was introduced by Portuguese merchants to Japan around the 16th century and adapted by fastidious Nippon bakers to become the beloved confection it is today. While the original recipe came from the Spanish kingdom of Castile (hence christened Pão de Castela; bread from Castile), it was the Portuguese who later introduced the dessert to Japan while trading at the southern port city of Nagasaki, the only port in Japan open to foreigners at the time.

Japanese castella cakes are very different from the Taiwanese-style castella cakes commonly found in Singapore. It's soft but tighter-crumbed and denser than the fluffy, chiffon-like Taiwanese version thanks to its use of higher gluten bread flour. There's no oil or dairy added to kasutera (milk wasn't in the Japanese diet back in the day). A good version is bouncy and a bit gooey with a melt-in-the-mouth quality. It's also sweeter and stickier as it's baked with Japanese starch syrup called mizuame, made from malt and rice. Another way to identify a Japanese castella cake: its base is often mottled with zarame sugar, coarse sugar crystals.

Why are the Japanese so crazy about this seemingly plain cake, lovingly brandishing it as gifts and special teatime treats? Well, the sponge is tricky to master as it contains no fat or leavening agents — just flour, syrup, sugar and thoroughly whipped eggs for structure. It's traditionally baked in a wooden box instead of a tin for gentler heat distribution so it doesn't dry out. The cake is then covered in plastic and chilled as soon as it's cooked so the trapped steam moistens it naturally. It takes exceptional skill to master this ostensibly simple sponge cake.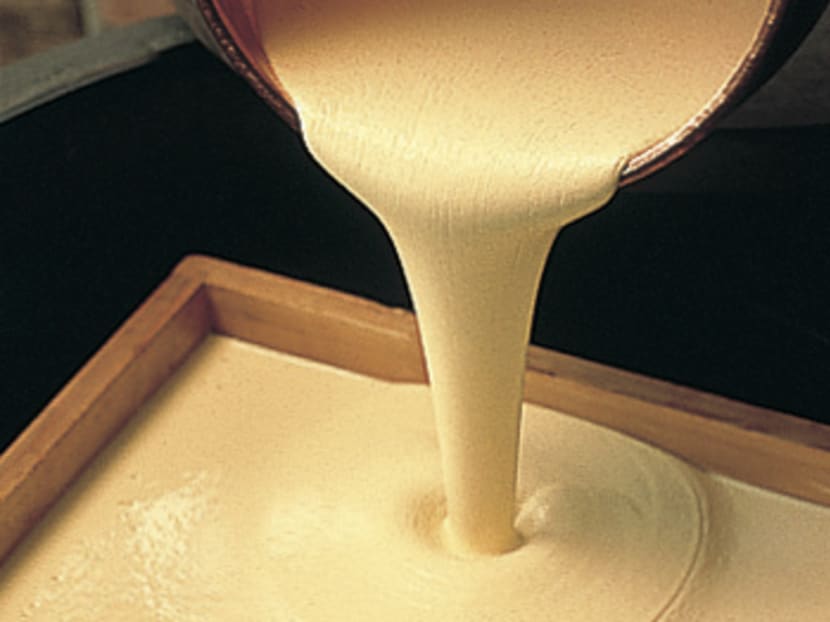 According to Fukusaya's website, its founder "learned the secrets of making castella from a Portuguese visitor, and over the years it has evolved into a Japanese treat representing a perfect fusion of Eastern and Western cultures". It also claims to be the originator of Nagasaki castella . The cake is handmade with "carefully selected eggs, sugar, thick rice syrup and flour". Each neatly sliced loaf looks almost too perfect: golden, even-crumbed and capped with a well-toasted brown crust.
We're also told that one dedicated pastry chef sees through the entire process each time — from the separation of eggs, to whipping the meringue, mixing, folding, pouring of the batter, to the baking.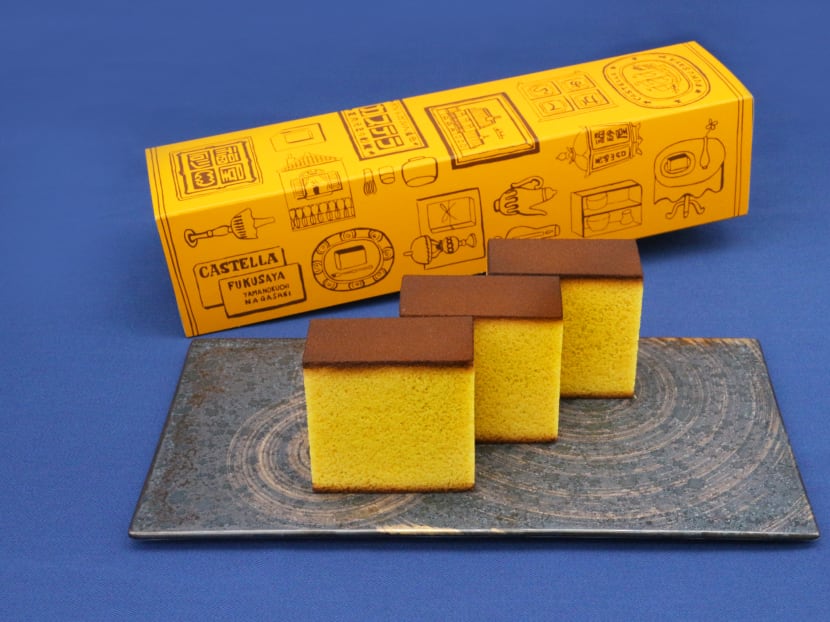 The cakes in Singapore are sold chilled instead of at room temperature like in Japan. This is to preserve its freshness during shipping — especially since it has a relatively short shelf life. For the best texture, allow the cake to come to room temperature before digging in. The brand's PR rep says only the smaller 360g loaf will be sold in Singapore. It has the same dimensions of 65mm x 280mm x 64mm as the one we bought in Japan, which cost 1188 yen (S$14) back then. Here, it's significantly pricier at $25.90 — probably to factor in transport costs.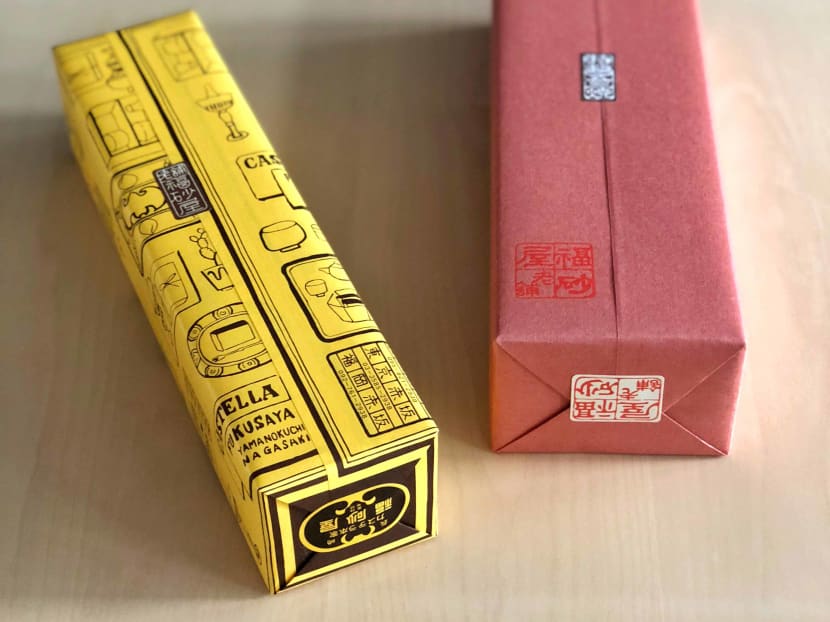 While our fave Fukusaya castella is the more luscious premium version called the Special Gosan-yaki Castella (right in pic), only the basic cake (left, pictured), the PR rep says, will be offered here. Still, we recall it to be pretty delicious when we had it some time ago — sweet but not overwhelmingly so, rich with the fragrance of eggs, and a springy, slightly sticky mouthfeel. We sure hope it tastes just as good after being transported to Singapore.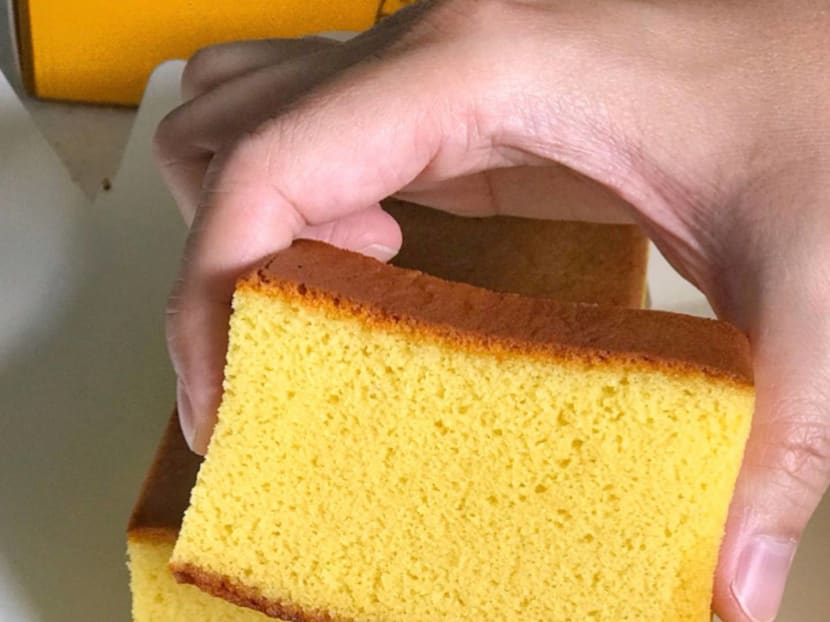 Fukusaya's castella cakes are available from Aug 20 at Isetan Scotts Supermarket, #B1 Shaw House, 350 Orchard Rd, S238868. Open daily 10am - 8pm.
Photos: Fukusaya Castella, Florence Fong​​​​​​​