What It Feels Like For An Economy Seat Regular To Eat SIA's 1st Class Meal On Land
$448 for a home delivery meal for two, versus a five-figure plane ticket for one.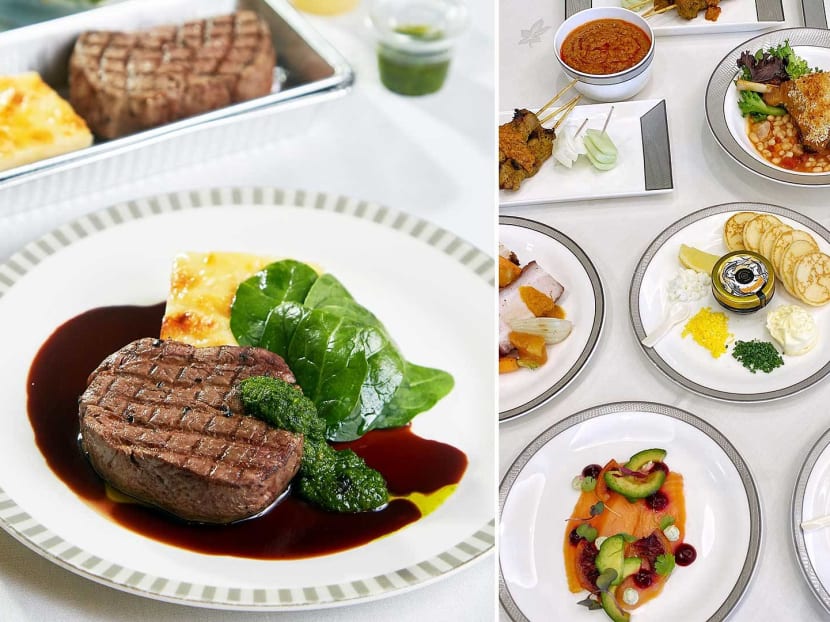 We live in times where even cup noodles is a luxury on a meal-less budget flight. And a first-class meal? Unfathomable decadence for most folks. The closest we've been to a breakable plate on a plane is hearing the clink of cutlery against it through a thick curtain, which separates our economy-class ticket-holding self from the first-class suites.

But Covid-19 has since scuppered everyone's travel plans. We even start to miss the irritating guy kicking the back of our seat on an SQ flight. When we will ever again hear our national carrier's Singapore Girl, dressed in a Pierre Balmain-designed sarong kerbaya, asking us: "Chicken or fish?"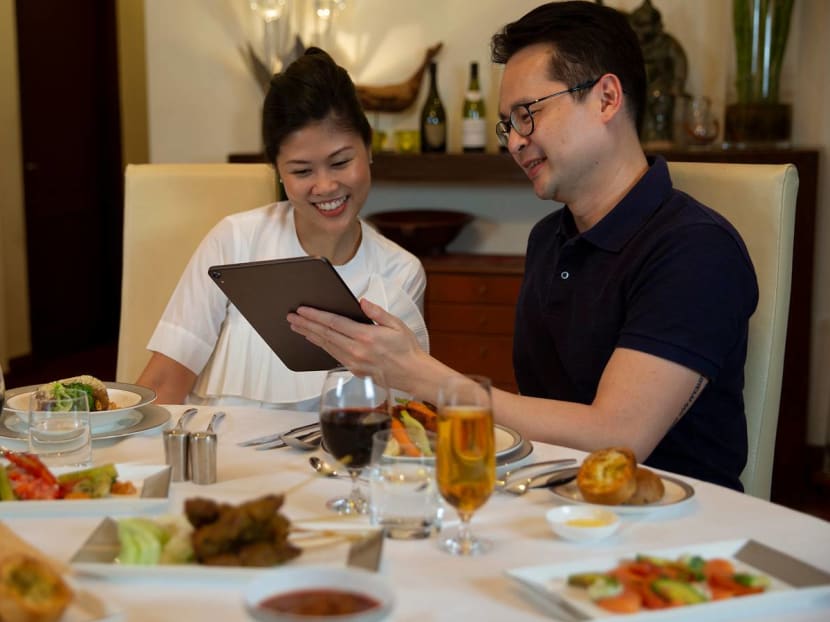 There's a silver lining in the cloud, though. As most of its flights are now grounded due to the pandemic, Singapore Airlines is rolling out unprecedented initiatives to bring the much-missed SQ experience to its passengers. Called Discover Your Singapore Airlines, the "suite of experiences" offer three types of activities on land.

This includes tours of SIA's training facilities, and a new Restaurant A380 @Changi two-day pop-up over Oct 24 to 25, where you can dine inside the (stationary) double-decker superjumbo aircraft. Seats are ultra limited due to capacity, but there's also the option of trying an atas SQ in-flight meal in the comfort of your home via a meal delivery service called SIA@Home. Each meal feeds two pax, and will be delivered right to your doorstep.

8days.sg was invited to a media preview for SIA@Home, and we tell you what to expect below.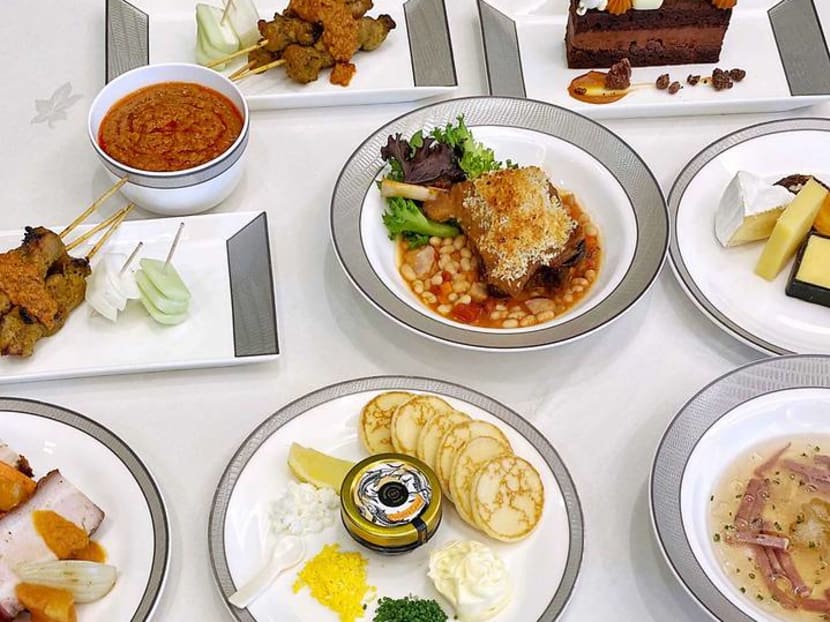 Other than the airplane itself, you get pretty much the full SQ experience, as if you're a business or first-class passenger on board an SIA flight. There are 10 menus to choose from, designed by the airline's International Culinary Panel of chefs (which includes Georges Blanc, who runs the eponymous three-Michelin-starred Restaurant Georges Blanc in Vonnas, France, and India's celeb chef Sanjeev Kapoor). On top of food, you will also receive a bottle of wine and amenity kits.

There are limitations to this, though. The delivery will be dispatched by a delivery driver (not a winsome flight attendant — let's be reasonable here lah). But you will still get to speak to a real cabin crew member. "After ordering, you'll get a call from our cabin crew concierge to choose your appetisers, main courses and desserts out of the choices available," explains Betty Wong, SIA's divisional vice-president for in-flight services and design.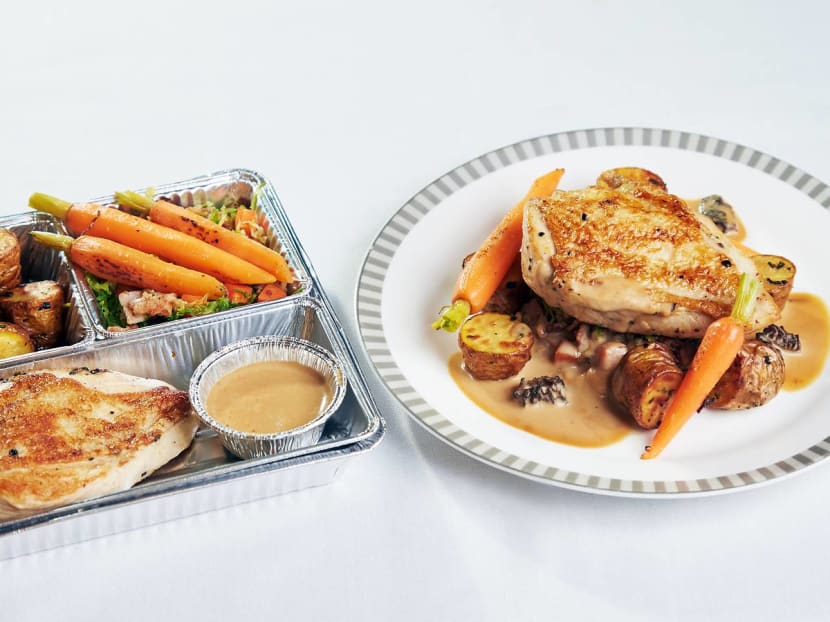 And you will have to heat and plate your own food. The meal delivery, prepared by SIA's catering team, is packaged in foil, like the way it would be for a real flight. Once your menu is confirmed, you will be e-mailed a set of foolproof, step-by-step video instructions on how to assemble your SQ meal according to how it's served in-flight. This is now your chance to one-up your smug friends who had mastered how to make dalgona coffee during the Circuit Breaker.

Don't have nice plates at home? SIA also offers you the option to buy a new set of the limited-edition tableware it uses for its business/first-class service, which we would absolutely re-purpose for future humblebrag Instagram posts. And for those who have ever pilfered a butter knife from a plane, this is your time to make amends.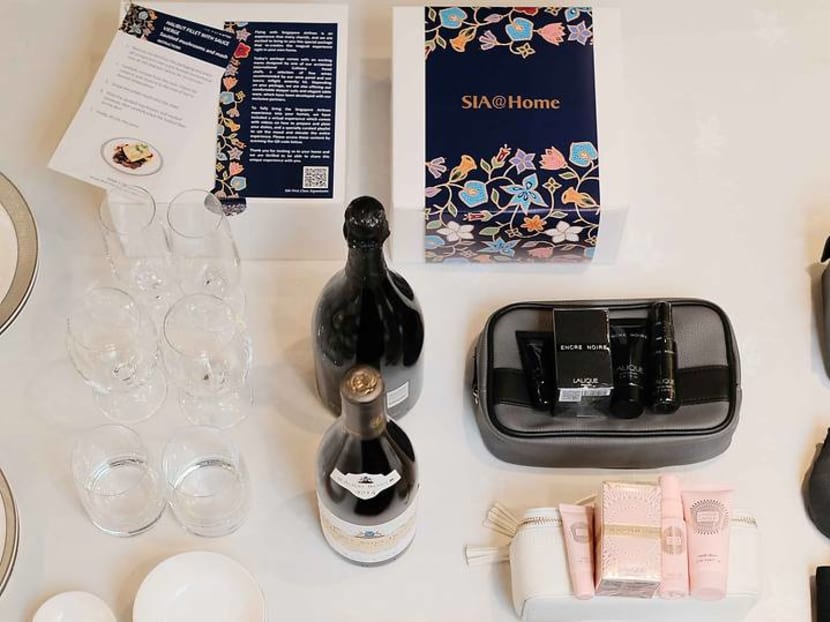 Customers can order either a first-class or business-class meal to be delivered. Prices are as follows:


· From $288 to $388 for the Wine and Dine Business Class package, the most basic of which comes with your choice of a biz-class menu, a bottle of French wine or brut champagne, two business-class amenity kits, plus optional top-ups for a 14-piece set by Japanese luxury tableware maker Narumi, or biz-class eye masks, socks and slippers.


· From $448 to $888 for the Wine and Dine First Class package, with the priciest option offering you a first-class menu, a bottle each of champagne plus red or white burgundy wine, a 12-piece Wedgwood heirloom fine bone china set, six Lalique crystal glasses, Lalique pyjamas (call them "sleep suits" like SIA does if you wanna be atas), eye masks, slippers, socks and amenity kits.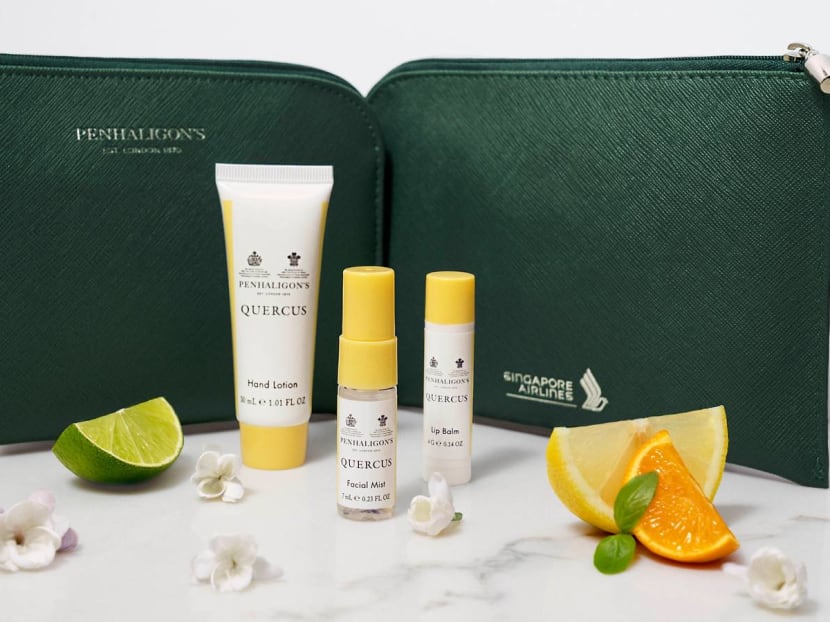 We will probably be heavily judged for wearing pyjamas in economy-class on a flight, but it's pretty much the only outfit one should be wearing when lounging in a first-class reclinable bed (especially if the PJs are from Lalique). "If your house too messy, eat at the void deck lor," remarks our colleague. We recommend tidying your home to a respectably first-class standard of cleanliness, before you commence with your meal while proudly wearing your branded sleepwear. Customers who order the biz-class package also have the pleasure of being the first to receive SIA's new Penhaligon's amenity kit (pictured), which is yet to be launched due to the pandemic.

Now, splurging on the first-class option kinda makes financial sense if you don't ever plan to fly first-class (which costs much, much more than the priciest $888 SIA@Home package). "After you have digested the numbers, you get the value," says Betty Wong, SIA's in-flight services and design VP, encouragingly.

So if you're planning to 'fly' first-class, here's a sneak peek at the package. There are five first-class menus available, which are respectively served on SIA's routes to Tokyo, Sydney, Paris and New Delhi (which has an additional vegetarian option).
All first-class menus come with courses of caviar and chicken satay, on top of your choice of appetiser, main course and dessert. SIA's first-class passengers are served Italian osetra caviar (on the caviar grade ranking scale, the nutty, briny osetra caviar ranks only below beluga caviar, the most prized and expensive grade). Each first-class meal delivery comes with two jars of the precious roe, plus accompaniments of tiny blinis (Russian pancakes), crème fraîche, crumbled egg white and yolk, and chives.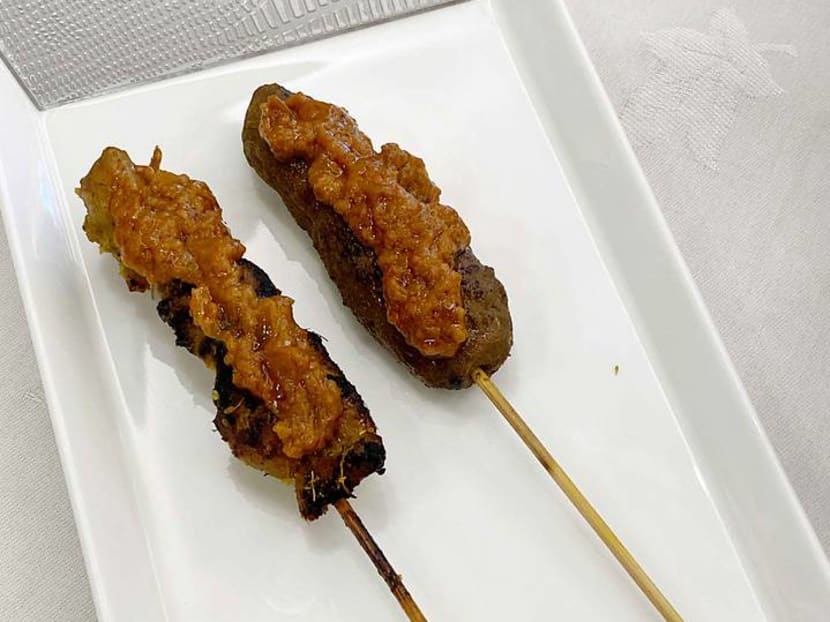 You will probably be grilled by a customs officer if you try to sneak satay on a flight. Unless you're flying first-class, where you'll be served your own platter of satay lovingly grilled over charcoal at SIA's catering centre in Changi. Choose from chicken or Impossible meat (for vegetarians).
Japanese chef Yoshihiro Murata, of the three-Michelin-starred kyo-kaiseki restaurant Kikunoi in Kyoto, designed a seasonal meal for first-class pax. As October is autumn season in Japan, we munched on pricey matsutake mushrooms simmered with chrysanthemum leaves, baked prawn with uni and miso-marinated tuna.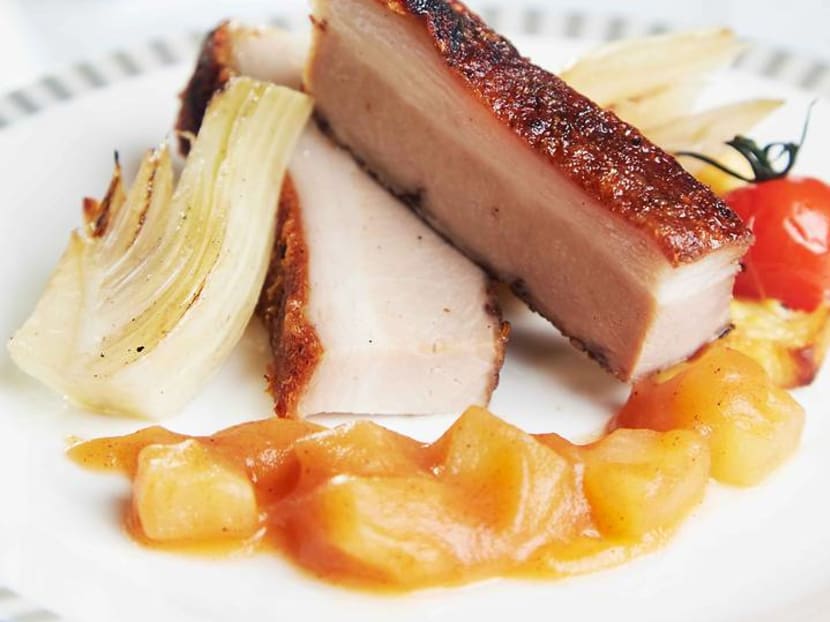 Aussie celeb restaurateur Matt Moran, who also owns a lamb farm in New South Wales and is famous for his lamb dishes, designed an Oz menu with appetisers of corned wagyu beef consommé or balik-style smoked salmon (the balik being a cut of fish that was once exclusively reserved for the Russian royal court), and main course choices like seared lamb loin with anchovy fillet, roasted lobster, pork belly with spiced apple sauce or confit duck leg.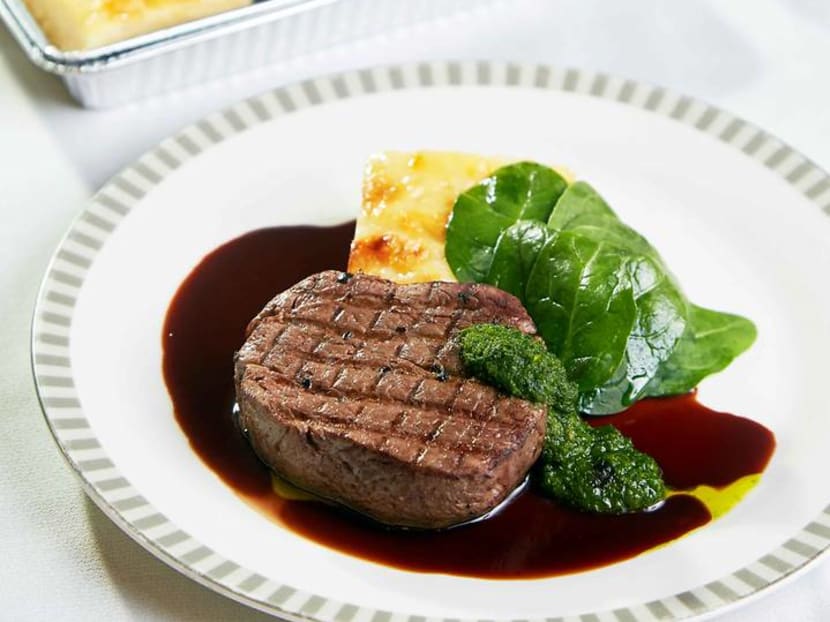 You can still wine and dine in Paris, via French chef Georges Blanc's rustic-fine French menu featuring dishes like seared beef fillet in Bordelaise sauce, chestnut velouté soup with black truffles, beef short rib navarin (a French-style ragoût) and halibut fillet on sautéed mushrooms, roasted tomatoes and halibut mashed potatoes.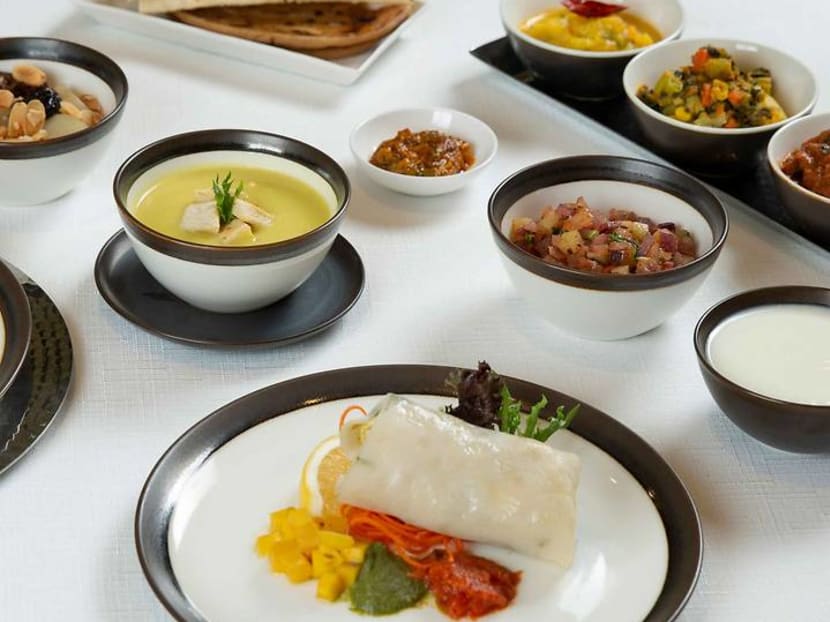 Celeb chef Sanjeev Kapoor introduced Ruchi Thali, a traditional Indian set meal, to SIA's passengers. The three-course meal comes with a beetroot tikki appetiser, an elaborate main course of saunf gosht (stewed lamb fillet), makai kaju hara pyaaz (a creamy corn-cashew dip), daal haveli (Indian spiced lentils) and zaffrani mewa pulao (saffron-infused basmati rice).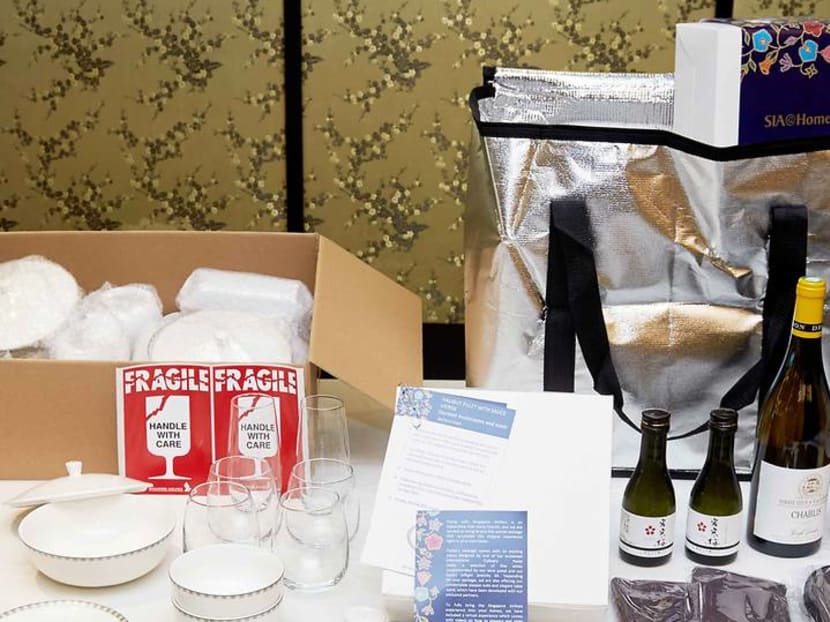 When 8days.sg attended the media preview on the same day SIA launched its SIA@Home initiative, the airline had gotten around 57 orders, with 56 percent of the orders for first-class packages. Interestingly, according to SIA, 72 percent of its customers had opted to pay extra for tableware. After all, since you can't actually travel now, these luxury plates are the best souvenir from a great way to fly.

To book, go to www.krisshop.com. KrisFlyer members can redeem their miles to offset the cost of the packages, or earn more miles via their purchase. PPS Club and KrisFlyer Elite members can also earn miles for their respective memberships via purchase of SIA@Home packages. More info at www.singaporeair.com.

PHOTOS: KELVIN CHIA/ YIP JIEYING/ SINGAPORE AIRLINES