Young Hawkers Sell Comforting Old-School Hainanese Chicken Cutlet
While the other dishes need fine-tuning, this tomato sauce-drenched chook is worth ordering.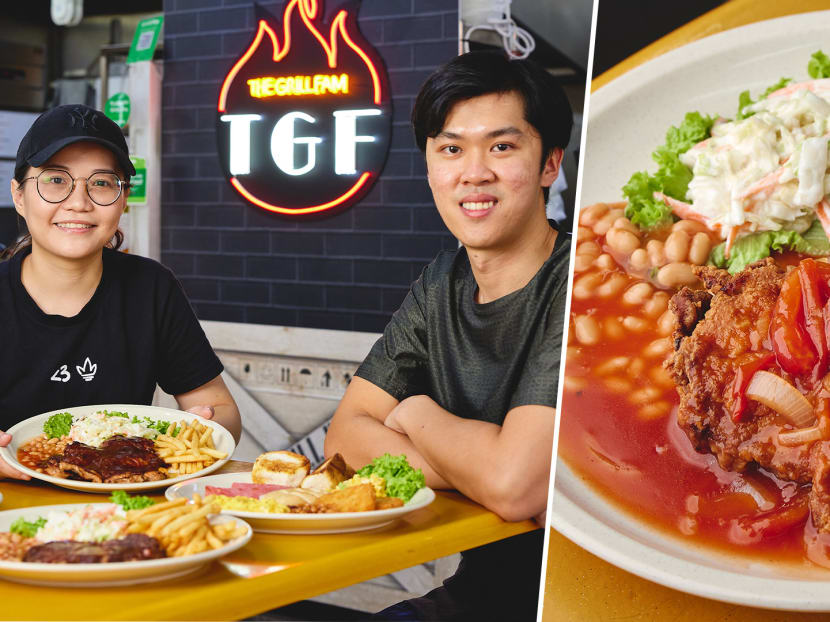 Millennials setting up hawker businesses seems to be a trend during the pandemic. The Grill Fam — a newly-opened Western food stall by long-time friends Lim Hong Rui and Huang Hui Ting, both 32 — joins the ever-growing list.
They launched the catchily-named hawker stall on May 8 on the quieter end of Balestier Road. It's adorned with a hip Instagrammable neon sign board procured, perhaps, from one of the numerous lighting shops along the road.
All photos cannot be reproduced without permission from 8days.sg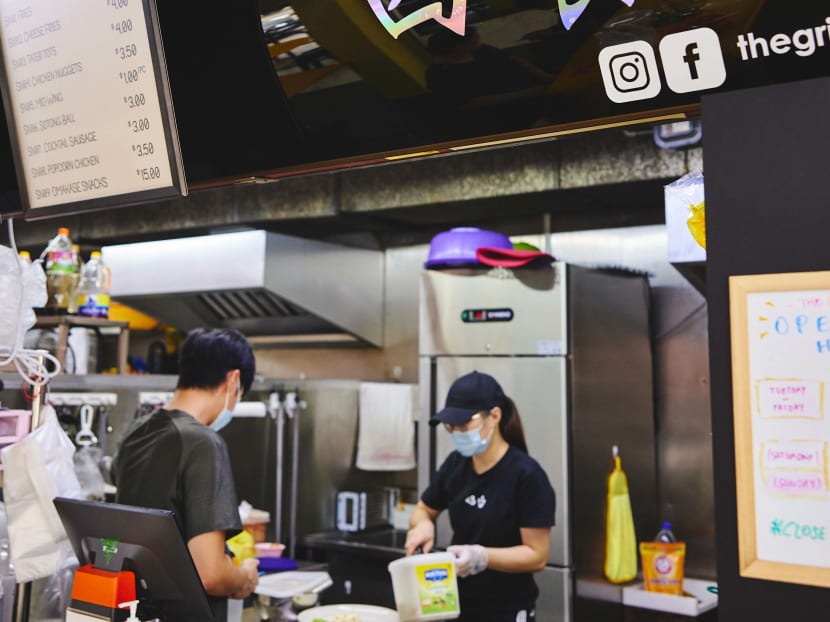 The pals go way back – since their days in Republic Polytechnic pursuing diplomas in New Media. Their paths diverged after they graduated – Hui Ting ended up working as a personal assistant for an insurance firm, while Hong Rui got a job in admin. Early this year, an opportunity arose when Hui Ting's friend, who owns the kopitiam, wanted to increase the variety of food on offer. "I've had experience [cooking] at cafés, so I decided to open a stall [at his kopitiam] selling Western food," she says.
She roped in Hong Rui, who "was always talking about starting his own F&B biz". Hong Rui muses amiably," I wanted to cook bak chor mee – but then she asked [to join this Western food venture], so bo pian lor." They pooled together $25K and opened The Grill Fam.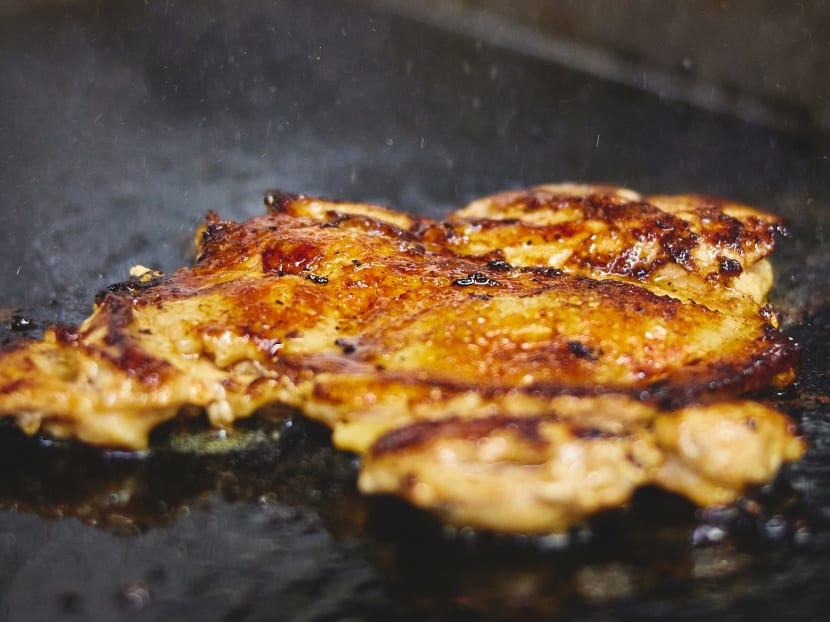 "We're very peaceful – no arguments," Hong Rui says when we ask whether the relationship's changed since they moved from school to the kitchen. The pressure is doubled, when you consider that both of the hawkers still juggle full-time jobs -.
"We help here when we can, but we're mainly involved in recipe development," says Hui Ting. It's Hong Rui's mother (she used to work as a cook in various kopitiams) who mans the stall most days. "We're still focusing on our [day] jobs. [We] need to hustle to get the money [to fund our F&B biz dreams]," Hong Rui adds.
Learning the ropes of F&B, however, needs plenty of elbow grease. "We got our friends and family to try the food when we launched," he says. "The response… wasn't very good. But we learnt a lot [from the feedback] and improved [the recipes]."
Hong Rui's father used to run a "char kway teow pushcart biz in the late '70s'" while his business partner's sister runs a stall selling ban mian. We ask if their family members discouraged them from starting an F&B business while working full-time jobs – especially since they don't have much experience in the space.
"Definitely," Hong Rui says. "My sister told me, now you know how hard it is," Hui Ting adds. "The first two days [when we took leave to handle the cooking ourselves] was the most tiring. We felt mentally and physically drained."
"We were definitely questioning ourselves on those few days," she muses. "But we had an opportunity to start small. Even though it's during [the Covid-19 pandemic], food is essential. People still need to eat."
The pair hope to eventually open more stalls in other kopitiams, rather than moving to the café or restaurant scene. Business has remained "a little slow" since The Grill Fam opened on May 8. "We added some options with rice and a fried egg for variety [to grow the business via takeaways], but it's taking some time."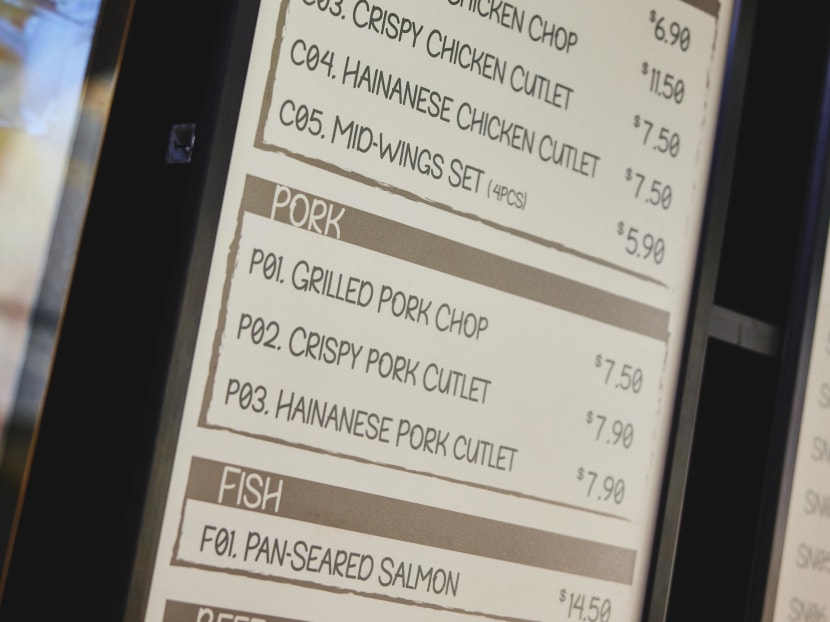 Expect typical kopitiam Western fare like chicken chop or pork cutlet with a side of fries, coleslaw and baked beans. Slightly more unconventional is their inclusion of Hainanese deep-fried chicken and pork cutlets. It's not something authentic to Hainan, China, since it's a fusion dish that Hainanese settlers in Malaya whipped up to cater to the British during the colonial era.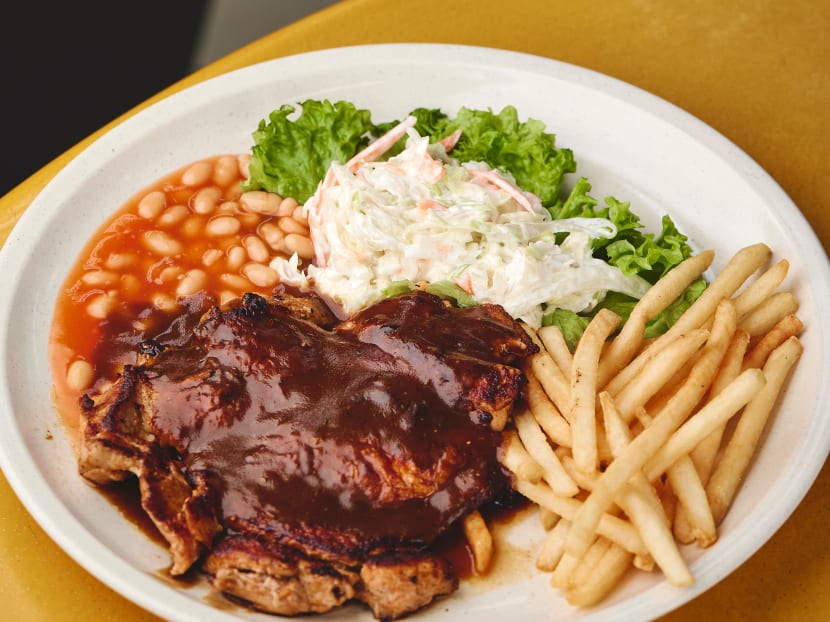 Chicken chop is a stalwart in any Western food hawker's arsenal, so it's the first thing we reach for. The Grill Fam's rendition is decent, but nothing special. The butterflied chicken thighs are cooked well enough – there's a satisfactory sear, crispy skin and tender meat. It needs a little more salt though - the accompanying brown sauce (which is store bought) isn't enough to make up for the lack of seasoning.
One standout is the coleslaw, a simple construction of thinly-sliced cabbage and carrot in a mayo-and-vinegar dressing. It's rather sweet, but still refreshing and enjoyable.
Unlike, ahem, McDonald's burger version which comes with ginger sauce, chilli and sweet dark sauce, this Hainanese chicken cutlet is drenched in a tomato-rich gravy much like the classic pork chop version (there's a pork version here too) found at Hainanese zi char joints. The thick sauce is tart, with juicy chunks of tomatoes and an underlying sweetness that mellows it out. A good foil to the unctuousness of the crunchy, deep-fried chicken cutlet. The fries, though the usual frozen shoestring stuff, are great for mopping up the remaining sauce. It's not truly authentic — there are no retro peas and hand-cut potato wedges, but it's still yummy enough to warrant a try.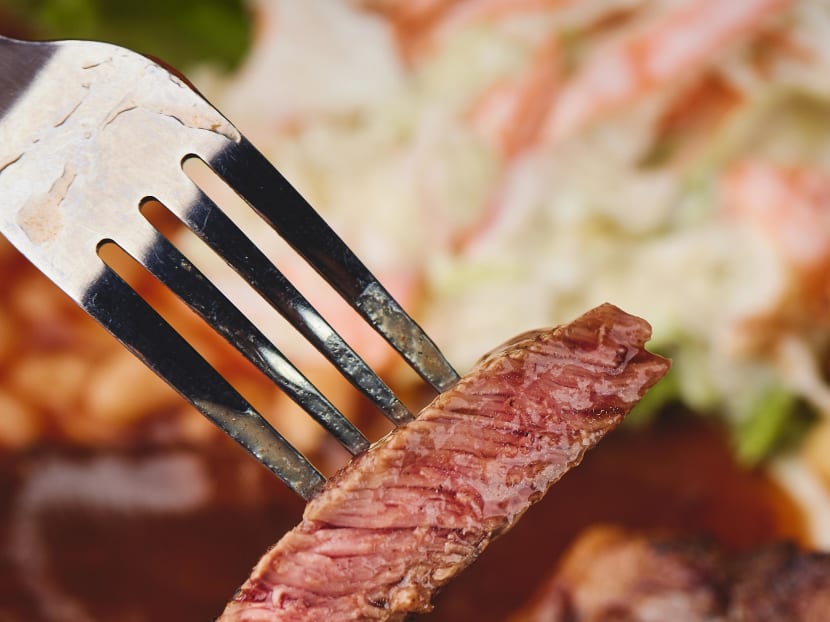 Though the New Zealand rib-eye is cooked to a rosy pink in the middle, the crust lacked a deep brown sear that would've given it more flavour. Good thing it was tender enough.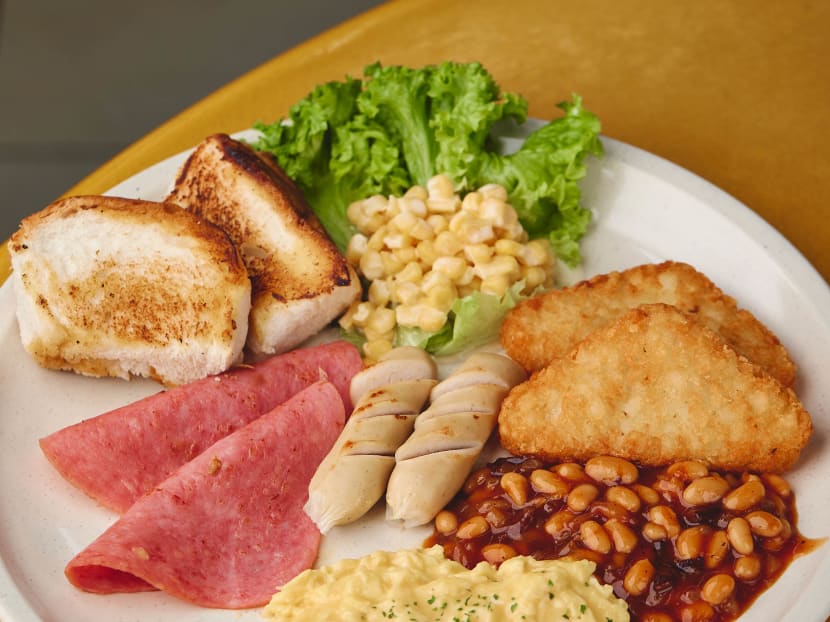 A brekkie set available only on weekends. Highlights on the plate include their riff on baked beans, a sweet-smoky concoction of bacon bits and barbecue sauce gussying up canned beans. The scrambled eggs are enjoyably luscious, comparable to café fare in terms of mouthfeel ("no milk or cream, the rest are secret," says Hong Rui). Again though, there isn't enough salt in the eggs. The house-made creamed corn on the plate faces a similar issue. Perhaps ask for a side of salt to sprinkle as desired.
Just two-and-half-months young, The Grill Fam is still finding its groove in the kitchen. Perhaps because the two young owners took over cooking duties from the more experienced mum during our tasting. But if you plan to check out the stall now anyway — zero in on the tasty, crispy Hainanese chicken cutlet draped in a moreish tomato sauce.