Olinda Cho's Petite $32 Japanese Grape Tart "Probably The Most Expensive In Singapore"
Yet, the bakes were sold out in three days. The tarts are part of the Singapore Idol alum's premium fruit store's new dessert line.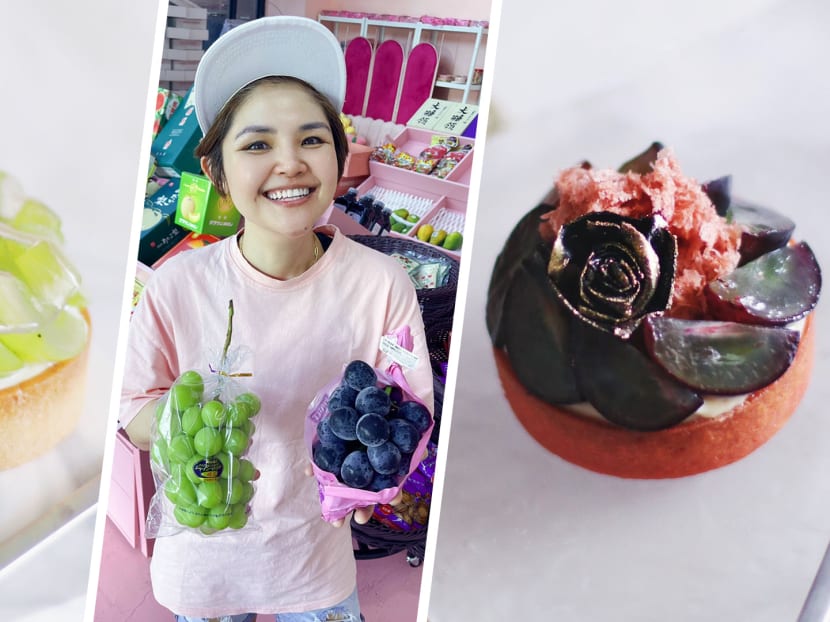 Singapore Idol alum Olinda Cho has taken her premium fruits business 888seasons to the next level with a new line of desserts. 888seasons, which specialises in upscale fruits and produce mostly imported from Japan, Korea and Taiwan, recently launched two tarts — Sweet Mamori made with Okayama Shine Muscat grapes, and Ai Yugen, which uses Nagano Purple grapes — on her online store on September 19 and they have been selling like hot cakes.
Prior to the launch, Olinda, 41, and her partner Freda Poh, 31, took pre-orders for their desserts via social media and 100 tarts were snapped up in the first two hours.
"I was pleasantly surprised by the response 'cos we didn't really shout [out] about them. We just shared [pictures of] them on Instagram and Facebook, but word got around and we sold out in three days. I was a bit nervous about sales initially," Olinda tells 8days.sg. She declined to reveal the total number of tarts sold.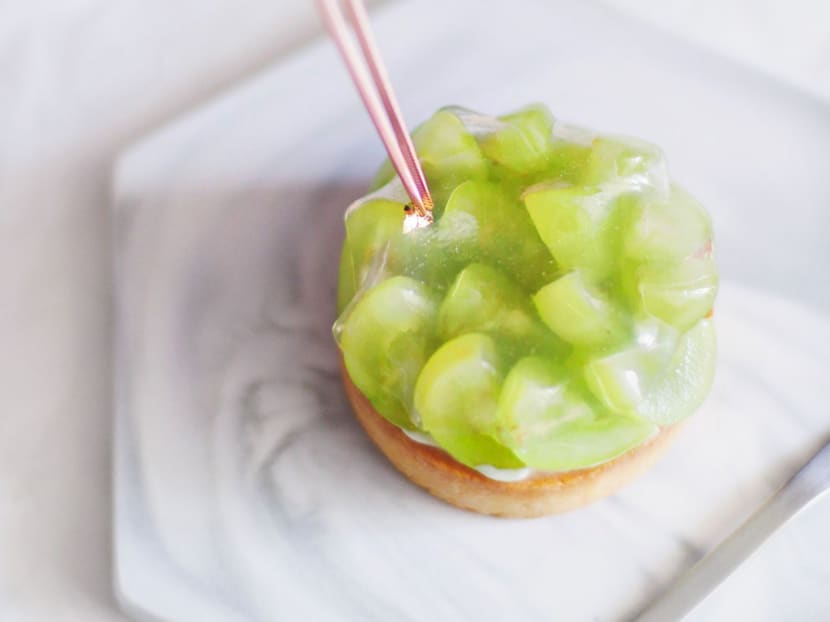 Her concerns are understandable. After all, priced at $32 a pop, the smallish palm-sized 8cm tarts are "probably the most expensive in Singapore". As a rough comparison, a similarly sized Shine Muscat grape (from Korea) tart from Les Amis Group's Tarte By Cheryl Koh costs $12.50 each. Olinda says the high price tag for her version is due to the premium ingredients that go into the tarts. The team spent a year on R&D and spared no expense to source for the finest ingredients which are flown in from over the world.
"It really makes a difference. The flour we use is from Japan and our gold foil used to decorate the tart, which costs $100, is from France. We had many rounds of taste tests 'cos we had to R&D with the different ingredients. Some people said we are crazy to charge $32 but we use the best ingredients 'cos we want people to get the full experience. We sell premium fruits so our customers understand, as long as the taste justifies the price," explains Olinda.
"[Socialite] Jamie Chua said she was very, very impressed and [actress] Ann Kok was blown away by the tarts. She told me, 'I feel like I have eaten the best tarts in Singapore and I am so proud to say that I know you guys'. That was really sweet and it makes it all worthwhile."
During our chat, Olinda kept referring to the tarts as her "babies", but like any proud mama, she couldn't pick a favourite. "I like green grapes in general, so I was very biased already. But when I tried the Nagano Purple tart, it was perfect. It was like a symphony in my mouth," she raves.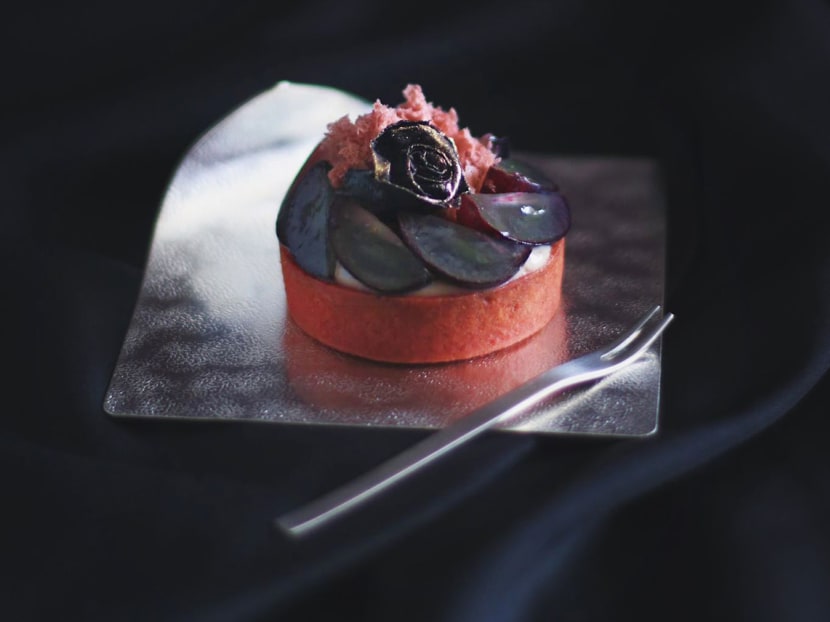 Created by 888seasons' "mystery in-house baker", the exquisite tarts took one year to perfect. As the grapes are very sweet, a lot of time was spent experimenting with different ingredients and components to achieve the perfect balance.
All the components are handmade from scratch by their baker, while Olinda and Freda help to assemble the tarts. "The three of us handle everything ourselves 'cos this is very top secret. We are also perfectionists by nature, so we didn't want anyone else to come in and put the tarts together for us. We have a certain standard, and we will not sell the tarts if they are not perfect," says Olinda.
8days.sg didn't get to sample the pastries as they were sold out at the time of writing, but here's what you can expect.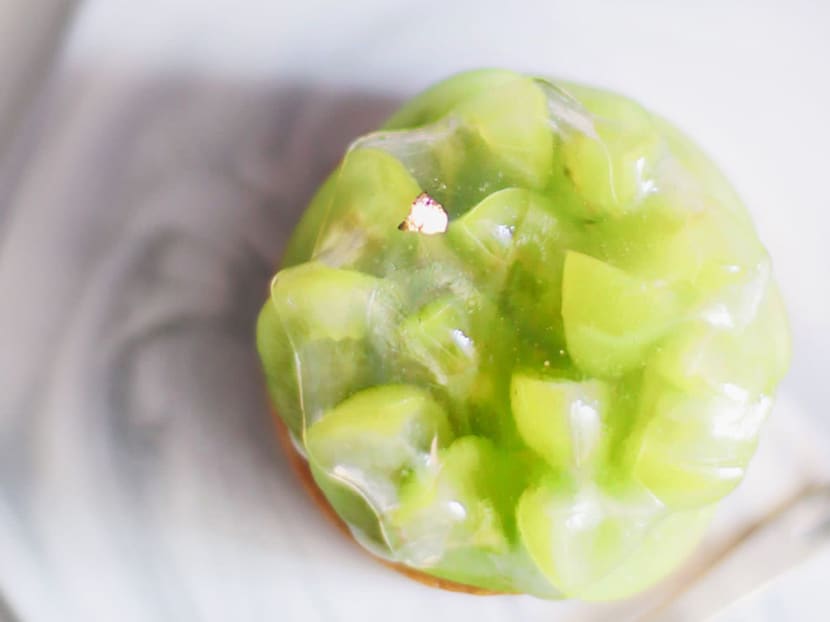 This is no ordinary Shine Muscat grape tart. Instead of Yamanashi muscat grapes which are typically used for tarts, Olinda opted for those from Okayama prefecture as they're the "freshest and taste the best during this period" (the fruit is only in season from June to October). Cultivated in greenhouses, they are considered a "high class variety" and farmers only grow one bunch of grapes per single grapevine to ensure the best flavour. They are known for their candy-like sweetness and floral scent and a bunch of these babies costs an eye-watering $168 (approximately 800g).

"Light and refreshing" yogurt-based filling is encased in an almond tart shell, topped with muscat grapes, honey jelly-like glaze and edible gold flakes. "We didn't want to do the usual glaze so we came up with this jelly, which is chewy and denser than bubble tea pearls. It does not consist of gelatin, and you can eat it on its own," says Freda.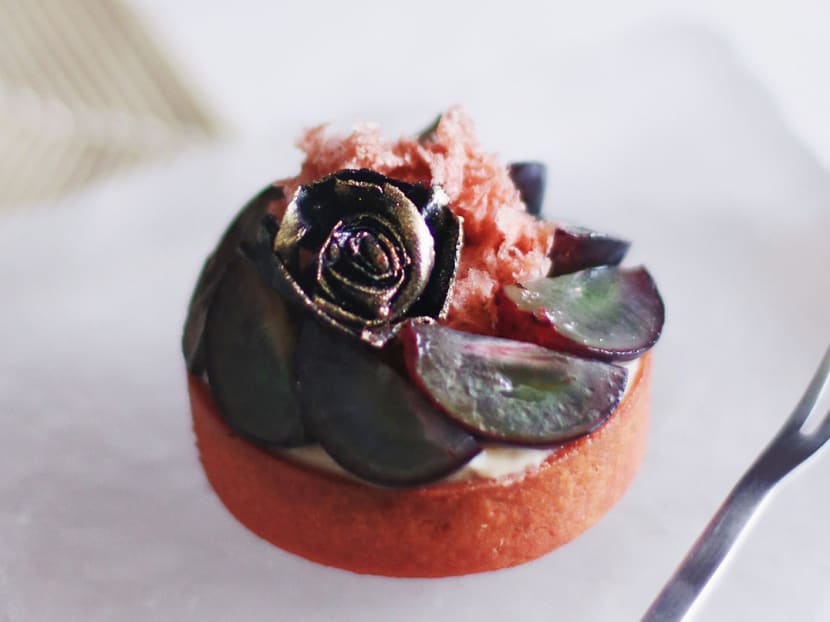 Olinda describes the Nagano Purple tart as the underdog between the two. It not only looks like a work of art, but also has a more "intricate and complex taste". A hybrid of the Kyoho Purple grape and green Rosario Bianco, Nagano Purple is loved for its jelly-like seedless flesh and rich, intense sweetness. Available only during autumn, the limited harvest yields make the Nagano Purple rather rare. A 600g punnet costs $78.

Instead of the usual almond crust, beetroot is added to give it a tinge of colour and "enhance the flavour of the Nagano grape". It is filled with a tea-infused "cream" and topped with grapes, sweet ume (plum) sponge, and a blueberry rose. Eureka blueberries from Australia are dehydrated to make fruit "leather" which is then crafted into a rose. "The taste of the rose is very intense and concentrated, and each bite of the tart is a symphony of flavours and textures," gushes Olinda.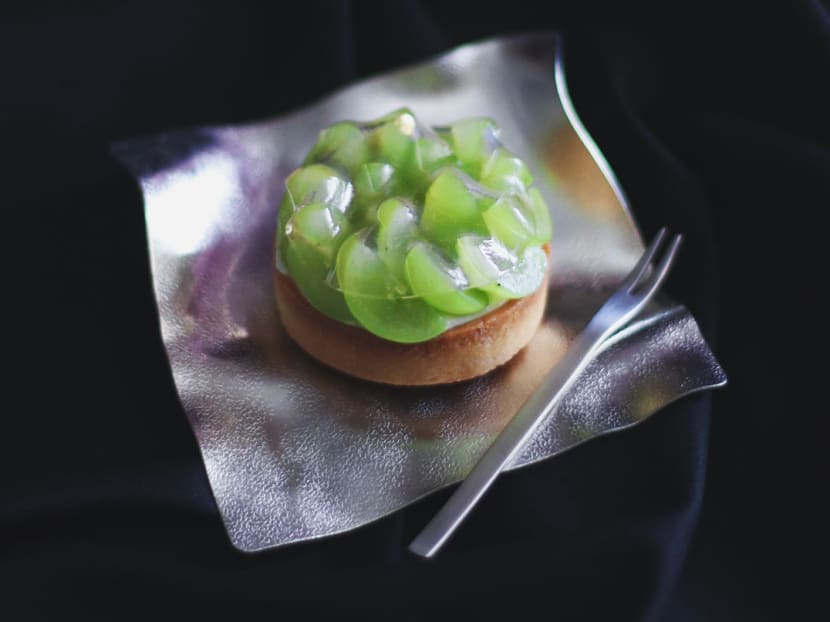 However, you'd have to wait at least three weeks before you can try the desserts. Due to popular demand, the first batch of tarts are sold out and Olinda is currently awaiting a fresh shipment of ingredients to begin work on new orders. "I have to get my friend in Japan to DHL the goods to me 'cos [the situation is not stable due to COVID-19 and] orders from Japan can suddenly get cancelled," says Olinda.
To maintain the quality, only a limited number of tarts will be made available. Pre-orders are accepted via their website till Oct 13, or until sold out, and will be delivered from mid-month. Olinda and her team are also working on their next collection of desserts, which they hope to launch at the end of October.
Also in the works is a café, though Olinda is cautious about jumping in with both feet. "I really want to open a café so that we can offer these desserts that we've been making, but I am a bit apprehensive 'cos of the whole COVID-19 situation," she shares. "I did consider [carving out part of her physical] store for it, but I'd rather open a proper café. So meanwhile, I will focus on selling the desserts online first. I am very happy with the response so far and it has given me a lot of confidence."

888seasons is at #01-01/02 Primax Building, 22 New Industrial Rd, S536208. Tel: 88926295. Open Mon-Fri 11am-6pm, Sat 11-4 pm. www.888seasons.com.

For more info, check Facebook and Instagram.

Photos: Kenneth Lim