Otah & Steak Sandos At Cool New Japanese-Style Café By Folks Behind The Refinery
Hello Arigato at Upper Thomson doesn't serve your usual cafe brunch fare.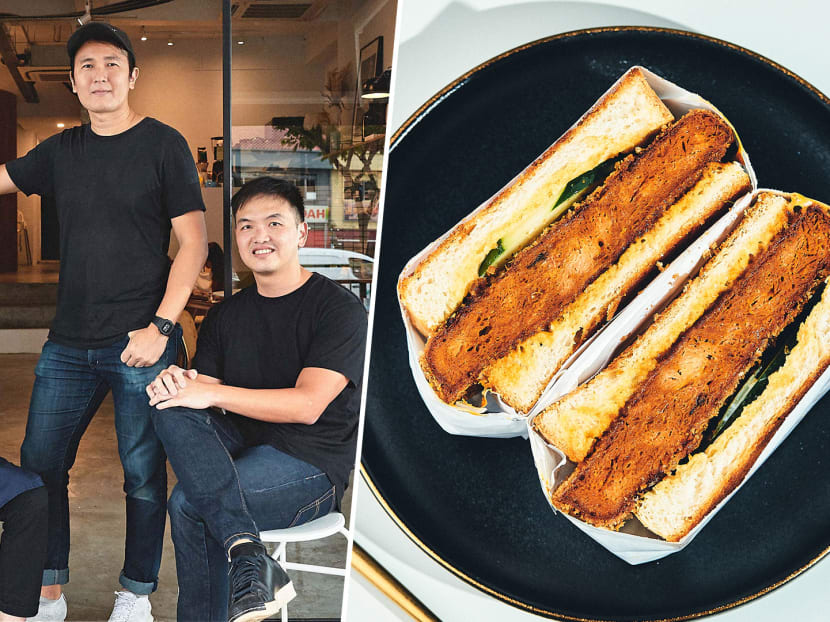 The bougie stretch of eateries and shops along Upper Thomson Road gets a new member in the form of Hello Arigato, a chic Japanese-inspired café just a couple of minutes away from the new Upper Thomson MRT station on the Thomson-East Coast Line. We were lured to the month-old outfit by posts (including an Instagram shout-out by Artichoke chef and Masterchef Singapore judge Bjorn Shen) gushing about the cafe's offerings, most notably a handsome-looking Gyu Sando, a Japanese-style steak sandwich ("sando" is simply a cute Japanese nickname for "sandwich ).
All photos cannot be reproduced without permission from 8days.sg

The cafe is owned by business partners Colin Chen (centre in pic), 38, Yingming Wong (right), 38, and chef Gabriel Tan (left), 30. Colin and Yingming are also behind The Refinery, a similarly Japanese-themed restaurant and bar in Jalan Besar. They met Gabriel when he worked as a cook at The Refinery years ago after finishing his culinary studies at At-Sunrice academy.
Gabriel moved on to be a sous chef at Hashida Garo, a now-defunct high-end Japanese tea house owned by sushi chef Kenjiro Hashida, where he picked up his skills in fine Japanese cuisine. He was later junior sous chef at mod European restaurant MACA, which has since closed down. In 2019, Gabriel moved to Myanmar to set up his own Japanese Izakaya-style restaurant, which he sadly had to shut down due to the pandemic, returning to Singapore in 2020. Back home, Gabriel reconnected with his old bosses, and together they dreamt up the idea of setting up an eatery serving Japanese and pan-Asian comfort food in a casual setting. It seems a pretty risky time to be setting up a new cafe, but Colin shrugs this off. "Even without Covid, any time is a bad time to open F&B," he says, adding that when the lease for this Upper Thomson space opened up they knew that they had to jump at the opportunity.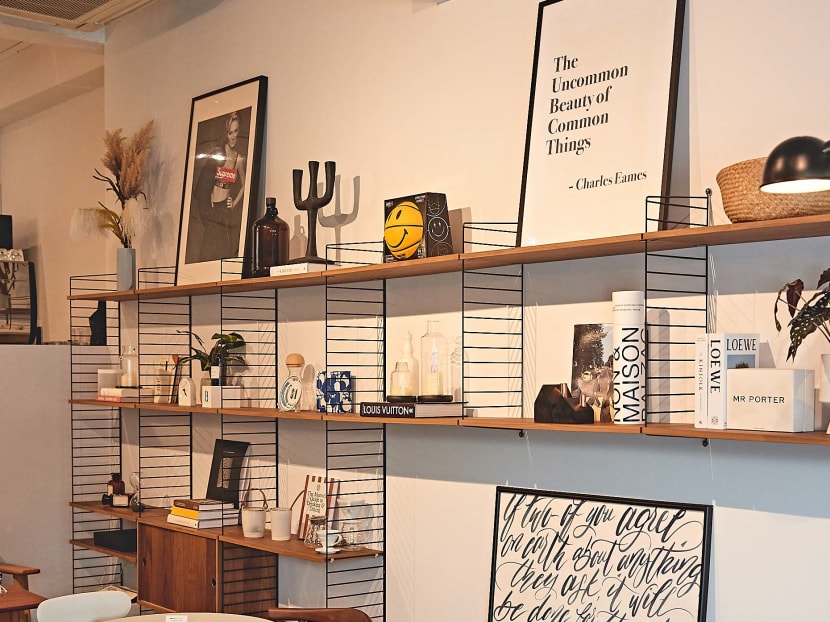 The space, painted mostly white with wooden and industrial touches, makes an attractive backdrop for the trendy-looking set of young people we find on our afternoon visit. A couple of families from the nearby neighbourhood stream in over the course of our meal. It's got a chill neighbourhood vibe, and we can imagine whiling away a couple of hours here. Colin tells us they've been pretty busy since their opening ("Because of Bjorn lah!" he jokes), and true enough, after our shoot, a couple of big tables arrive for dinner.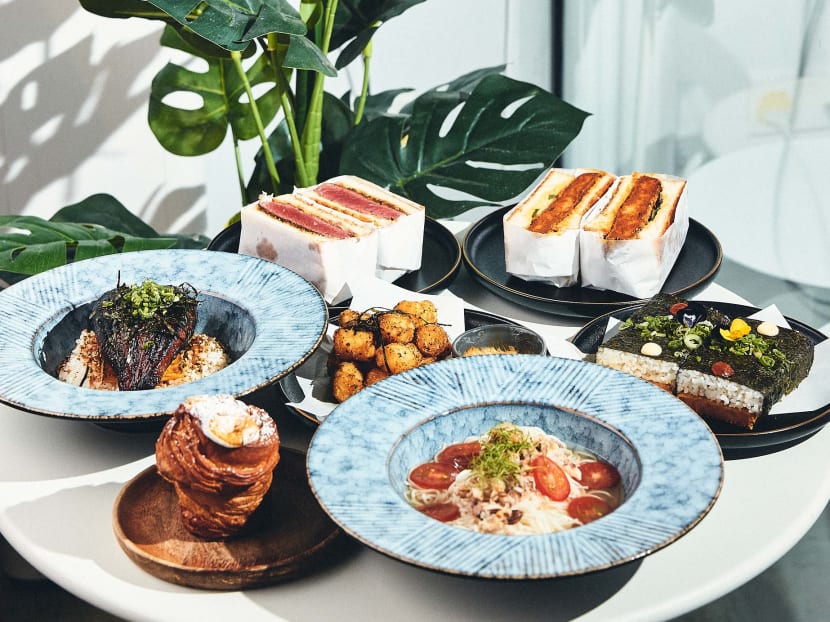 We can see the appeal: think a hipster cafe but with a menu that deviates from your usual all-day brekkie cafe fare. No eggs benedict or avocado toast here, instead Gabriel has created a cheffy menu of Japanese and pan-Asian comfort grub, plated up with a pretty designer aesthetic. On the menu are a selection of snacky appetisers with Japanese flourishes like furikake-kissed fried chicken or tater tots with a kombu-infused mayo. Mains here include four kinds of Sandos (Japanese style sandwiches featuring meaty fillings between soft milk bread), including the much-touted Gyu Sando and even an Otah number. There's also Donburi (Japanese rice bowls) and Japanese-style pastas. We visited during their soft launch phase, and were told the menu is likely to expand in the coming weeks.
We start out with some appetisers, like this classic Hawaiian-Japanese snack of fried spam and rice. Here, it's given a slight upgrade with koshihikari sushi rice, pretty edible flowers, and two kinds of sauces. One of them comes with a teriyaki glaze, the other with a home-made mala sauce. The chewy, pillowy combo of spam and vinegared rice is pleasant enough, though we find the sauces a little light and nondescript.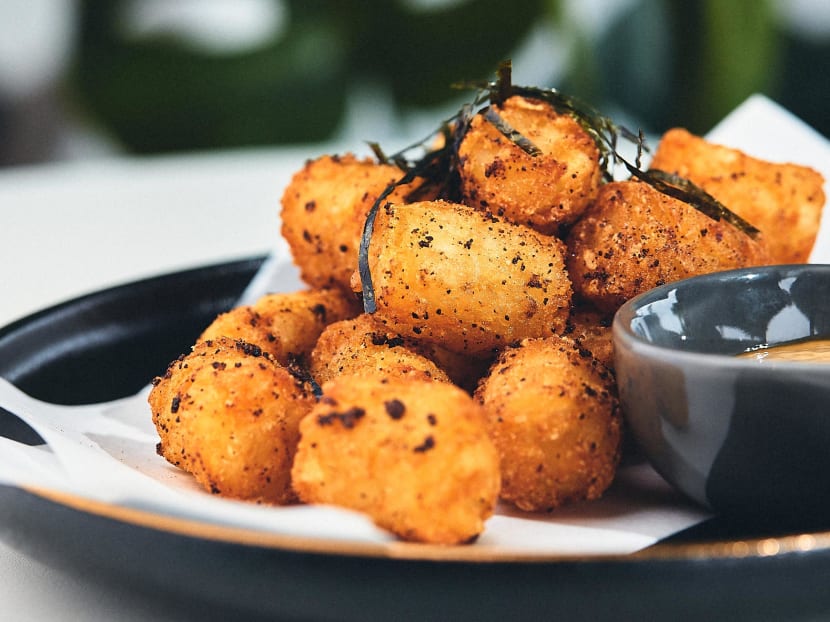 We much prefer this unfussy number. Leaning into comfort food vibes, these are straight up fried tater tots served with mayo that's been infused with dehydrated kombu powder and nori. The dip is outstanding: garlicky and sweet, with a pleasant umami hit, it makes a great pairing with the super crispy tater tots. Addictive stuff.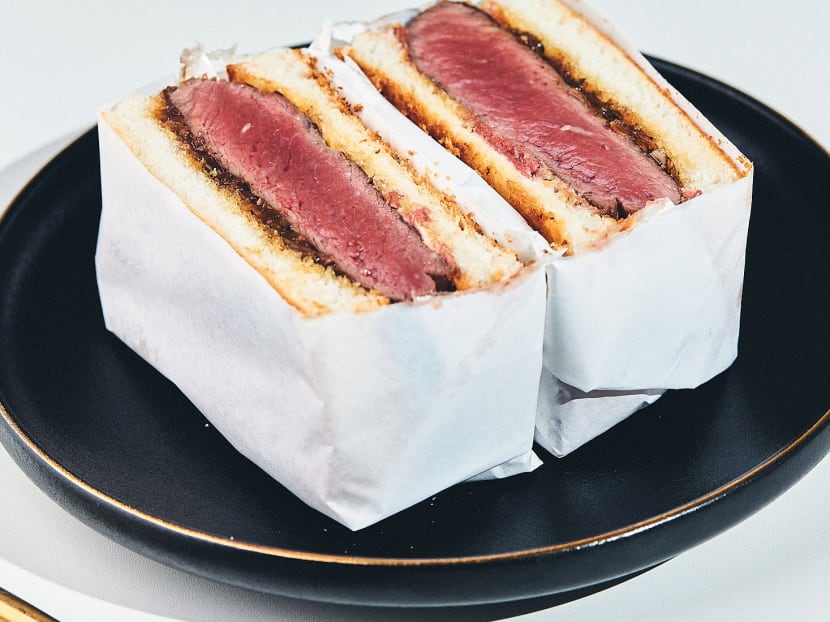 The sandos are made to order, and we're advised they take up to 15 minutes to prepare. Their signature item is this beefy number, featuring 160g of New Zealand Angus Beef Striploin that's seared, given a smear of caramelised onion jam, then sandwiched between lightly-toasted slices of fluffy Japanese milk bread. It's a simple but luxurious sandwich, and comes together in comforting bites of buttery toast, sweet onion jam, and rich, medium-rare steak. Our only gripe is that the beef is on the tough side, which makes eating the sandwich a little tricky. We end up having to use a knife to cut it up, which takes away from the fun of eating this sarnie in hand-held bites. We're told they're sourcing for better cuts of steak in the coming weeks, so this might well be a (literal) teething problem.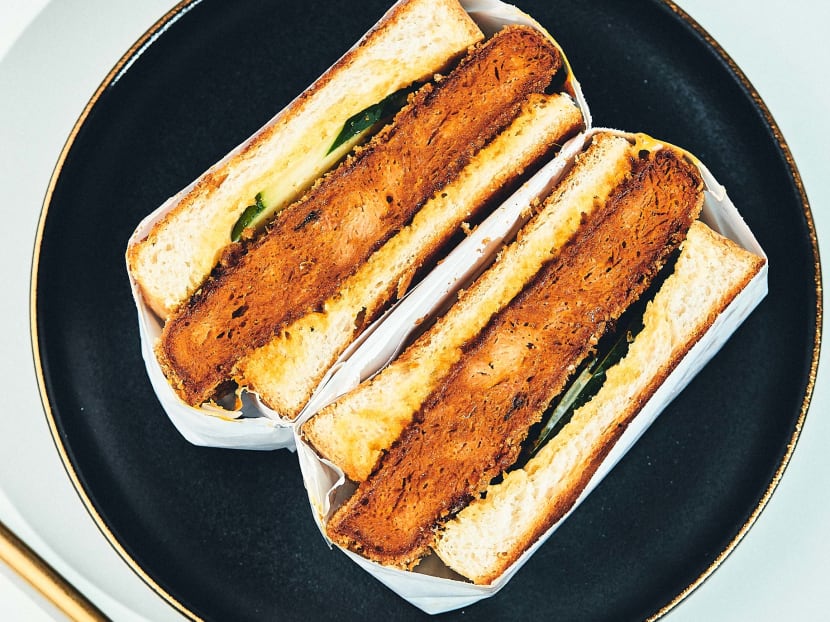 We much prefer this sando, which is humbler but works very well. Think an upgrade on the homey otah sandwich: the filling is a very thick slab of breaded Muar otah, smeared with kaffir lime sambal and coconut mayo, and amped up with crunchy cucumber. We really enjoy this. The otah is rich and tender, fragrant with aromatic spices, and the zippy, citrusy sambal lends this a gentle heat and extra burst of flavour. Together with the slightly sweet, milky toast, this really hits the spot.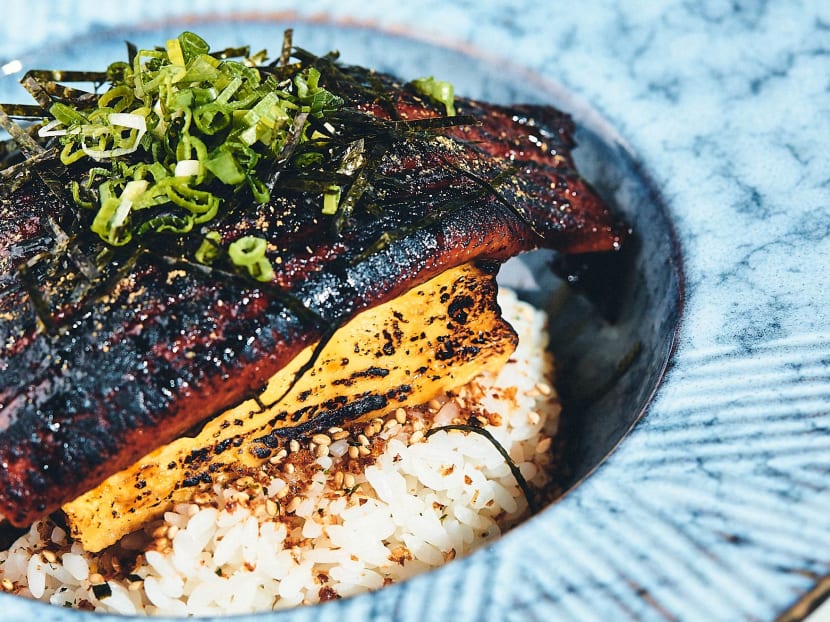 This item from their donburi selection, which also includes Teriyaki chicken ($14) and Miso pork belly ($18) rice bowls, features a large slab of grilled unagi over a hefty tamagoyaki block, the whole thing perched atop steaming hot koshihikari rice. This is very yummy. The deeply-charred Japanese unagi, fresh and tender, has a wonderful smokiness, which marries perfectly with the fragrant dusting of floral sansho pepper. Together with the slightly sweet and tender omelette, teriyaki sauce, and fluffy rice, this makes for deeply savoury-sweet flavours and pillowy mouthfuls.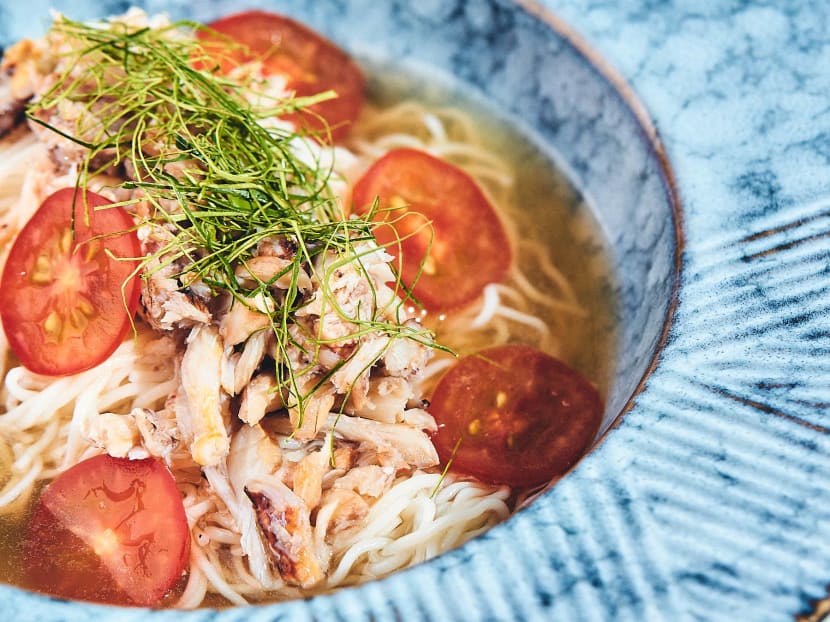 Amid more familiar-looking Japanese pastas like the Mentaiko Pasta ($18) and the Kinoko (Japanese for mushroom) Pasta ($16), we were drawn to this Thai-inspired somen dish. It's a cold pasta, and features a chilled tom yum broth served in a bottle on the side. You pour this over cold somen that's topped with flecks of blue swimmer crab and a chiffonade of kaffir lime leaf. The noodles are tender with some bite, and this makes for a very refreshing cold dish with lovely seafood flavours from the sweet crab and umami broth. It's good, but a tad too sweet and could use a little more acidity.
There's no desserts at the moment, so we settle for one of their baked goods, a cross between a muffin and a croissant, in this case stuffed with melty chocolate and crunchy hazelnut. They're currently sourced from local bakers, Breadyard, but will soon be baking in-house. This tasty cruffin is a little like a babka or brioche, and the Nutella-like flavours pair perfectly with their roasty, complex coffee (from $6), with beans currently sourced from Common Man Coffee Roasters, though they'll mix up the selection in future.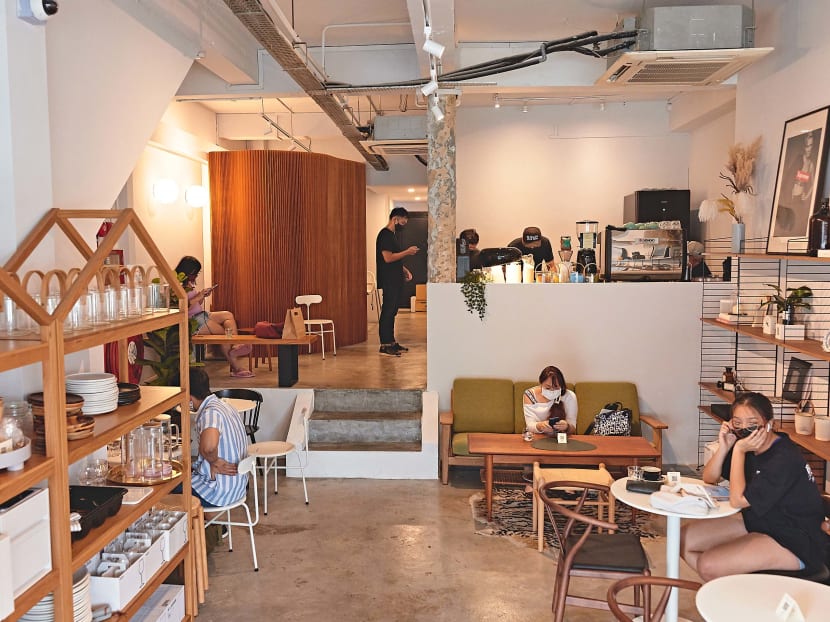 The Japanese-inspired plates here are ambitious and innovative takes on comfort food, and we like that it's not your usual, predictable cafe fare. Some teething issues aside, the food is tasty and pretty to look at (and photograph), and we especially like the dishes with nods to local and regional flavours. You're encouraged to make a reservation as they only have about 30 seats with social-distancing.
Hello Arigato is at 227 Upp Thomson Rd, S574359. Open daily except Mon. Tue-Fri 11am-4pm & 6pm-9pm; Sat-Sun 10am-4pm & 6pm-9pm. www.helloarigato.com
All photos cannot be reproduced without permission from 8days.sg

Photos: Alvin Teo