Chen Xiuhuan Made Rainbow Ang Ku Kueh At Ji Xiang Confectionery, Here's The Recipe
A simplified recipe of the colourful kueh sold at the popular shop.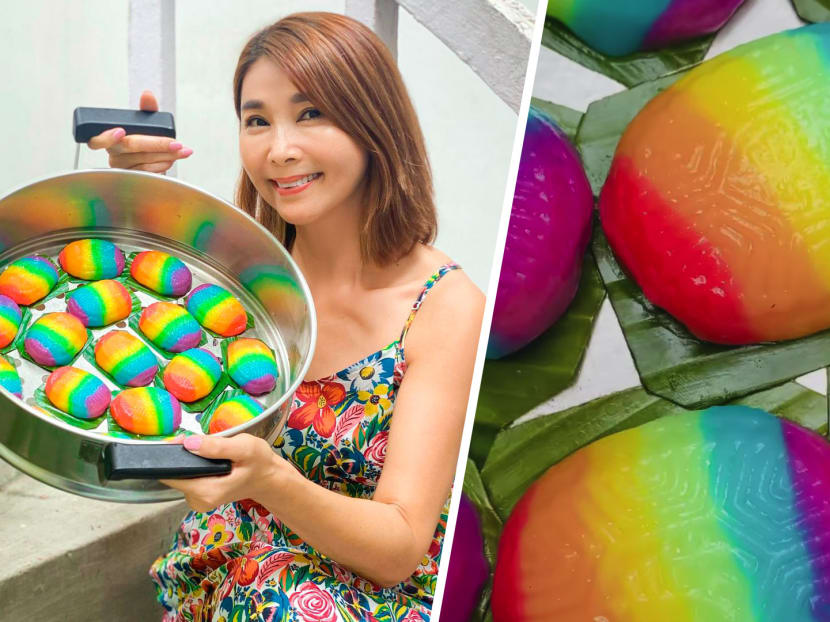 Have you ever seen something that looked so pretty you wanted to eat it immediately? That was how Chen Xiuhuan felt when she first laid eyes on some rainbow-hued ang ku kueh online. And when she learned that the popular Ji Xiang Confectionery at Everton Park, which specialises in ang ku kueh, sells them, she immediately got in touch with the boss and asked if he could teach her how to make it. Surprisingly, he agreed.

Ang ku kueh, loosely translated from Hokkien as "red tortoise cake", is an oval-shaped treat made with glutinous rice flour skin wrapped around a sweet filling, often mung bean or peanut. The traditional snack, which has its origins in the Chinese province of Fujian, resembles a tortoise shell and is usually red in colour, hence its name.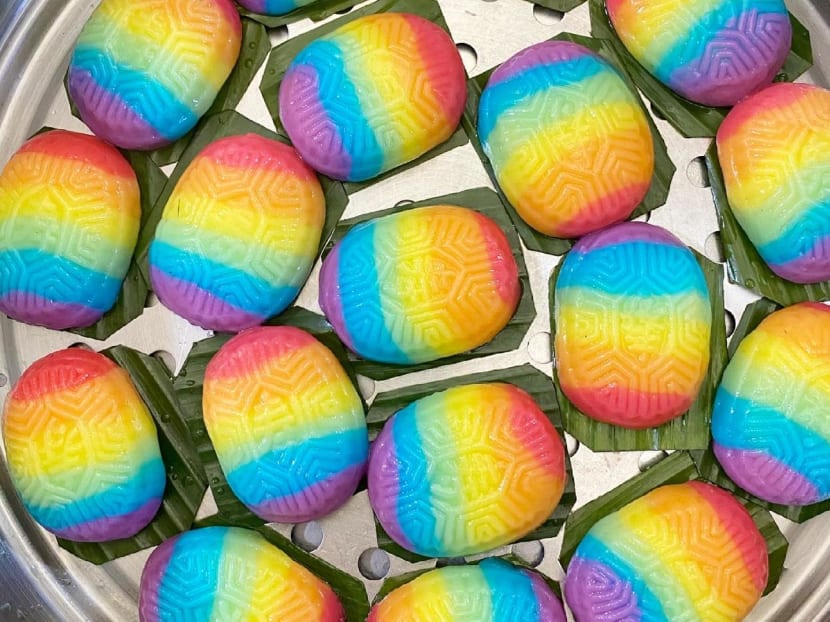 ​​​​​​​As it turns out, Xiuhuan, 55, was never a fan of ang ku kueh. It was only after seeing a pic of rainbow ang ku kueh online that sparked her interest in it. "Although it tastes like regular ang ku kueh but just with different colours, I was curious to find out how the rainbow effect is made. I love colours and I find it very special, so I was very happy when Ji Xiang's boss agreed to show me how to make it," she tells 8days.sg.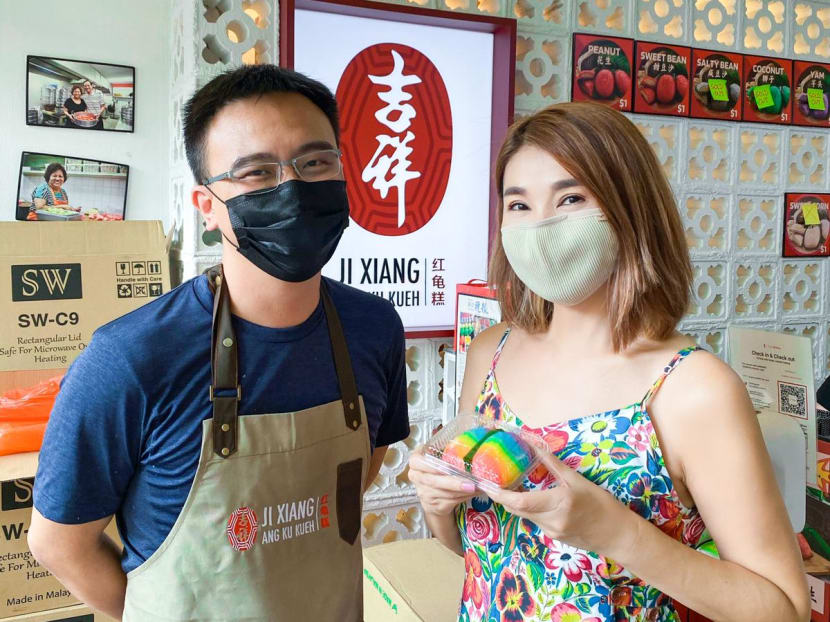 Started in 1988, Ji Xiang is one of the most well-known places for ang ku kueh in Singapore. Their kuehs are handmade the traditional way and queues often form at their Everton Park outlet.
They opened their flagship store at Victoria Street this year and according to Kelvin Toh, a second-generation co-owner of Ji Xiang, work is in progress to turn the next door shop unit there into a mini "museum" to share the history of ang ku kueh. It will also offer kueh-making classes when it opens mid-August.
Though Xiuhuan didn't actually make the fillings and dough for the skin herself, she spent an hour at the shop observing the pros at work and learning how to wrap the multicoloured kueh. The boss kindly shared a simplified version of this recipe with Xiuhuan and 8days.sg when we asked if we could publish it.
Unlike most people who'd probably fail on their first try, she took to it like fish to water. "The staff said my ang ku kueh was very beautiful, nicer than some of theirs. Maybe it's 'cos I used to be an art student and my motor skills are quite good. I nailed it on my first attempt, so I was very happy," gushes Xiuhuan.
The most challenging part, says Xiuhuan, is getting the skin right. "If it is too thick, it won't taste nice. I think I didn't like ang ku kueh in the past 'cos the skin of the ones I tried were too hard and thick. But the ones at Ji Xiang are very smooth, thin, and slightly chewy," she shares.
Ji Xiang has adopted the Nyonya style of making the delicacy. The key difference is the chewier skin that is primarily made with glutinous rice flour, rice flour, and sugar.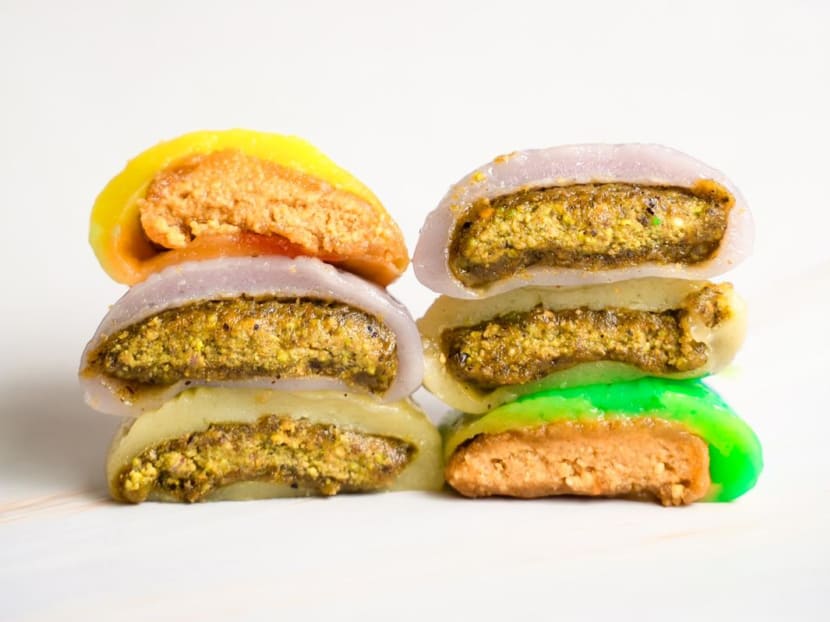 And when wrapping the ang ku kueh, Xiuhuan points out that using less strength is more.
"Initially, I thought I had to press on it hard, but the trick is not to use [much] strength. When you shape the ang ku kueh, just press it lightly with your fingers, then the skin will be smooth and the kueh will turn out beautifully," she says.
"This is the best ang ku kueh I've ever had. It's not too sweet and the skin is so nice. I didn't know ang ku kueh could be this yummy."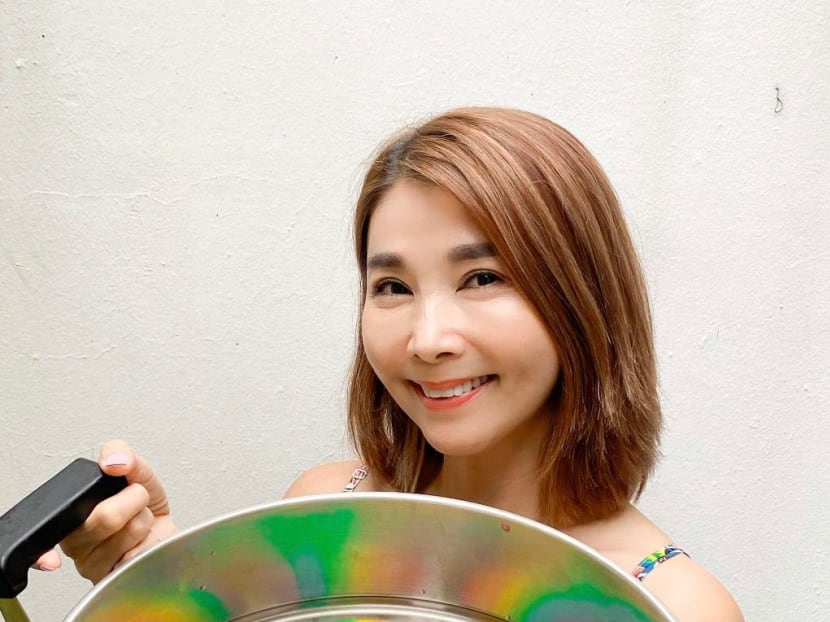 Makes 16 pieces
INGREDIENTS

Sweet mung bean filling (8 portions)

100g split mung beans (weighed when dry), washed and soaked overnight
3 pandan leaves, knotted
70g sugar
Pinch of salt


​​​​​​​Peanut filling (8 portions)
300g roasted peanuts
100g sugar
A bit of vegetable oil


Dough
250g glutinous rice flour
30g rice flour
15g sugar
240g water
30g vegetable oil
Various food colourings, as desired (up to 6)


To assemble
1 banana leaf, cut into small rectangles slightly bigger than the ang ku kueh mould


For the mung bean filling
1. Drain water from the soaked mung beans.
2. Line a steamer with cheese cloth and place mung beans with knotted pandan leaves on cloth.
3. Cover and steam over medium heat for 30 to 45 mins until the beans are soft.
4. Remove beans from steamer and place into a bowl. Mash beans with a potato masher till it becomes a smooth paste.
5. In a pan, heat up some oil over low heat, add mashed beans, sugar, salt and a sprinkle of water if it is too dry. Stir until paste thickens and no longer sticks to the wok. Remove from heat and set aside to cool.
6. When cool, divide into 25g portions, rolling each piece into a ball.
For the peanut filling
1. Grind roasted peanuts in a blender until morsels are around 2 to 3mm in size.
2. Add sugar and a bit of oil to the peanuts to moisten and blend briefly till it comes together.
3. Divide crushed peanuts into 25g portions, rolling each piece into a ball.
For the dough
1. In a clean bowl, add all the ingredients except the food colouring and knead into a dough.
2. Add more oil to achieve a soft texture. Keep kneading until dough is smooth and doesn't stick to your hands.
3. Section dough according to the number of colours desired (up to 6). Add a drop of colouring to each of the different sections — do not add too much, less is more.
4. Roll each coloured dough into a long strip, then cut into thin strips of around 6cm long. Depending on how many colours you have, line the thin strips according to how you'd like the colours to appear and join them to form a rectangle. The total weight should add up to 35g.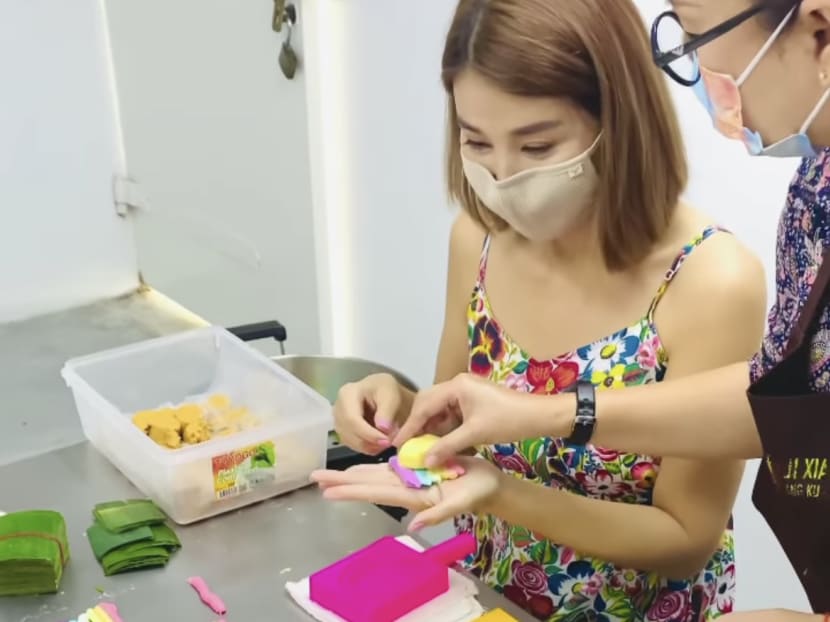 1. Flatten one portion of the dough lightly until it's about a quarter inch thick and place it on your palm. Flatten filling slightly with palm and place in the middle of dough.
2. Using your thumb and index finger, gently fold the edges of the dough in to seal the filling (see above pic).
3. Place assembled piece in mould (smooth side should be touching the top of mould), press gently to flatten and level the top. Lightly knock the kueh out onto your hand and place it on the shiny side of the banana leaf. Repeat process until all the kuehs are filled and shaped.
4. Place prepared kueh in steamer and steam for five to seven minutes over medium heat. Eat within 24 hours. Store in an air-tight container at room temperature if you are keeping it overnight.
You can order the rainbow kuehs online for $3.50 each (minimum order of 6 pieces).
Ji Xiang Confectionery is at #01-33, Blk 1 Everton Park, S081001. Tel: 62231631. Open Mon-Fri, 8.30am-5pm
235 Victoria Street, Bugis Village, S188027. Tel: 98888500. Open daily 9am–5pm.
Website
,
Facebook
,
Instagram
.
Photos: Chen Xiuhuan