Sharon Au Made French Chicken Stew On Cooking Show & It Was A "Disaster"
"They wanted to end with a bang, but in hindsight, I think they wanted people to laugh at me," she jokes.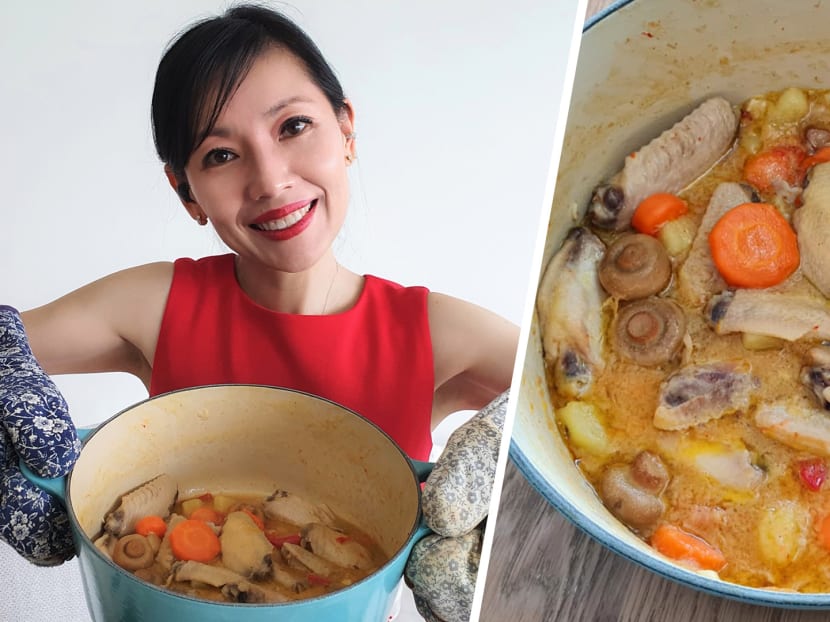 With the volatile Covid-19 situation and constantly evolving (and confusing) dine-in rules, many celebrities have taken to cooking at home and shown that they are quite handy in the kitchen.
Sharon Au isn't one of them.
But that didn't stop the Paris-based star, who's back in Singapore to visit her mum, from attempting to make a quirky version of a traditional French chicken stew, which uses soda water, on the second season of cooking show #StayHomeCookOff. In this week's episode, Sharon faced off against Golden Horse winner Yeo Yann Yann in a virtual showdown where the challenge was recorded via their e-devices. The pair received their assigned ingredient – chicken wings – just minutes before the start of the challenge and they had 30 minutes to whip up a dish using whatever ingredients that they had in their pantry.
"It was a disaster!" the 45-year-old tells 8days.sg. "I don't usually cook or bake, unlike all my famous friends. The only thing I am good at with regards to food is eating it, so when I was asked to take part in this challenge, I knew I was in for a catastrophe."
Despite this, she agreed to guest star in the finale episode as "the production team was really persuasive".
"They wanted to end with a bang, but in hindsight, I think they wanted people to laugh at me," she jokes.
Sharon shared her recipe with us and if you're interested in partaking in the challenge, you can recreate her dish (or Yann Yann's) and share the photo on Instagram with the hashtag #StayHomeCookOff. The winning pic will snag its owner S$100.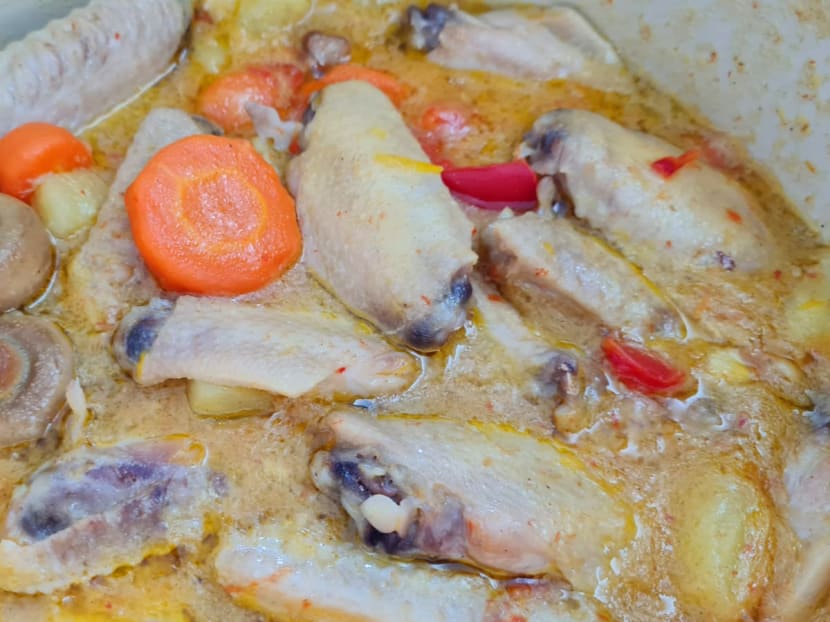 The "disaster" wasn't solely due to Sharon's less than adequate cooking skills. She learnt how to cook French chicken stew, a typical family dish, when she was living in Lyon in 2008 while on an exchange programme and has made it many times.
The one-pot dish is made by simmering pieces of chicken thigh with hearty vegetables in a rich, silky sauce of chicken broth, white wine, and lots of heavy cream and butter — all of which Sharon didn't have during the challenge. So, she got creative and substituted them with canned cream of chicken soup and, um, soda water. And this was when things started to unravel.
"I added soda water 'cos my helper, who was watching by the side, said it would enhance the 'batter' and also give it a light and fluffy texture. Before I added soda water, it was very thick," explains Sharon. The chicken pieces were supposed to be marinated in this mixture for some time before frying, but she eventually skipped this step due to time constraints.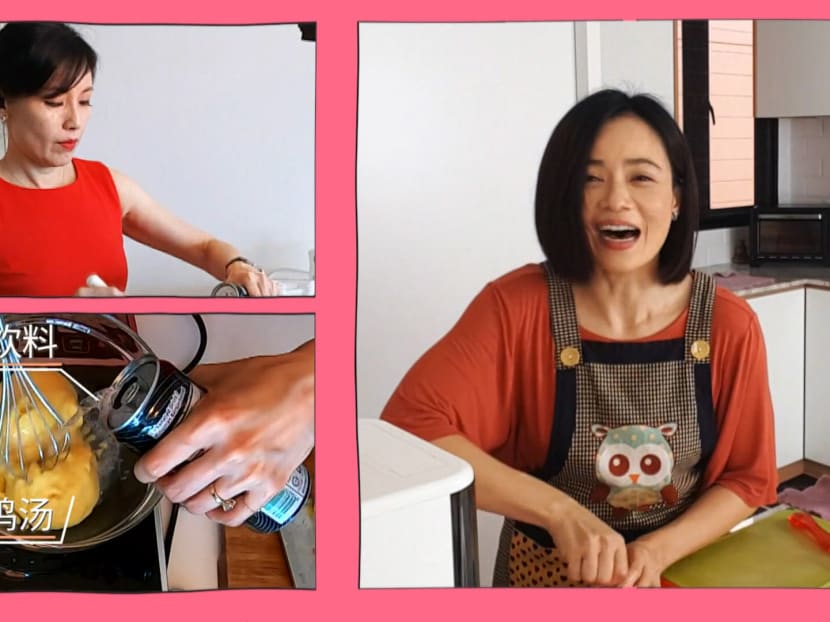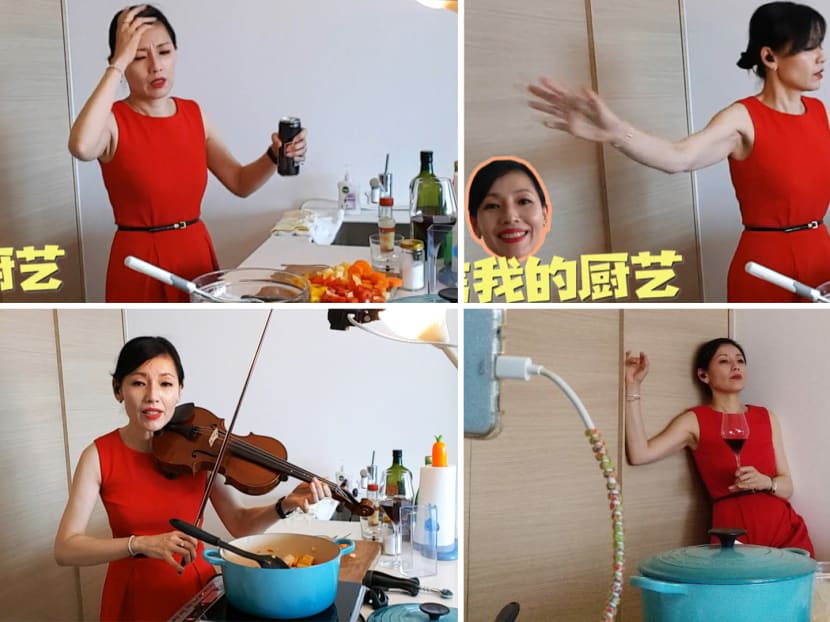 By that point, the frazzled and defeated-looking Sharon had given up on cooking and started playing the violin instead.
Ideally, the meat has to be marinated in the batter for 30 minutes before it is fried till golden brown and left to simmer with the vegetables in sauce for an additional 30 minutes.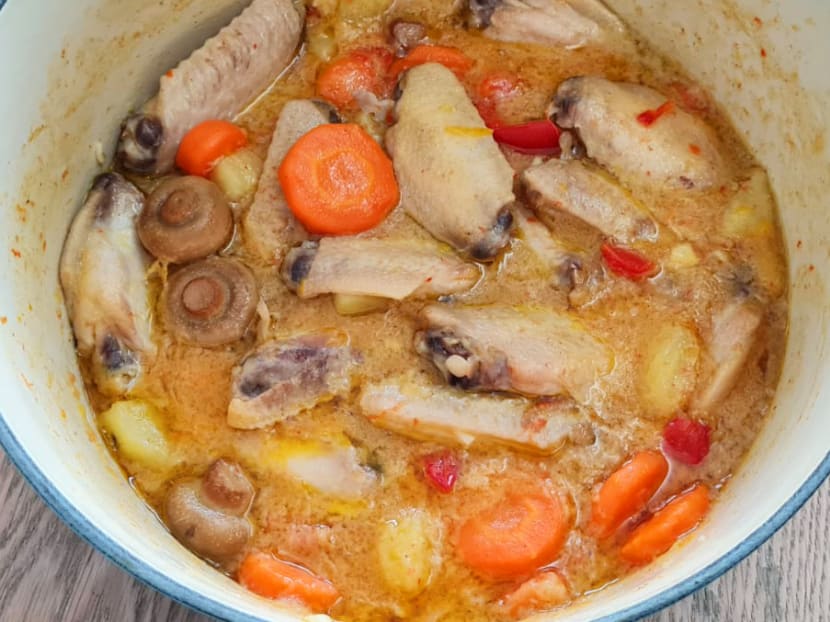 According to Sharon, unlike the traditional stew which is very rich, buttery, and "sinful", hers turned out sweet, light, and not oily, which was what she says she was going for. She believes the soda water played a part in enhancing the stew as she says acidic ingredients are known to tenderise meat.
"It actually tasted fine. But 'cos I have eaten the real thing cooked by a French madame, I know [my version] is far from perfect," she says.
She adds: "I felt so ashamed when I watched Yann Yann cooking. She was so calm and she even knew how to debone the chicken wings. Her dish looked so appetising that I wanted to drive over to her house to taste it."
Here is Sharon's recipe from the show — but an improved version that will require more than 30 minutes of your time.

Serves 2 to 3 pax
Ingredients:
1 can Campbell's Cream of Chicken soup
1 can soda water (325ml)
10 pcs chicken mid joint wings
1 tbsp garlic, minced
1 carrot, diced
1 medium potato, diced
1 capsicum, diced

1 can button mushrooms (whole)
Olive oil
Salt & pepper (to taste)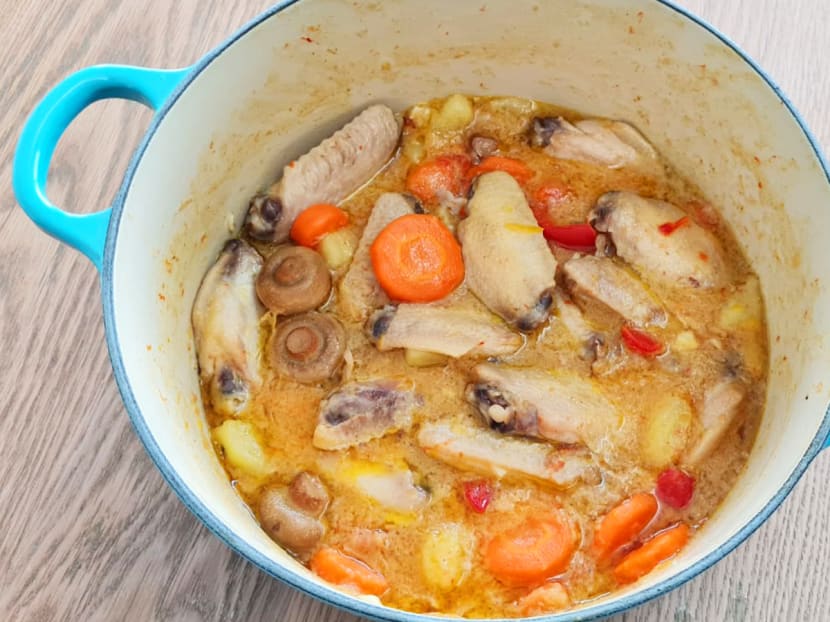 1. In a large bowl, whisk cream of chicken soup and soda water until well combined and smooth. Set aside. Add the chicken wings to marinate for 30 minutes.
2. Add two swirls of olive oil to a casserole dish and place over medium heat. When oil is hot, fry minced garlic till fragrant. Add carrot, capsicum and potatoes and fry for one to two minutes.
3. Remove chicken wings from marinade and add to pot to fry until light brown.
4. Add button mushrooms and the rest of the cream of chicken mixture into the pot and mix well. You can also add herbs like a sprig of rosemary or a couple of bay leaves to enhance the taste.
5. When sauce starts to bubble, lower the heat and simmer for 30 minutes. Stir regularly to prevent food from sticking to the bottom of the pot.
6. Season with salt and pepper.
7. Serve hot with rice (or a baguette). Bon appetit!
Tip: The stew can be stored for two to three days and is best eaten overnight.
You can watch all episodes of #StayHomeCookOff and its featured recipes on meWATCH here.
Photos: Sharon Au