Taiwanese Lu Rou Fan, A Comforting, Budget-Friendly Dish To Cook At Home
A hearty one-dish meal for a satisfying stay-home dinner.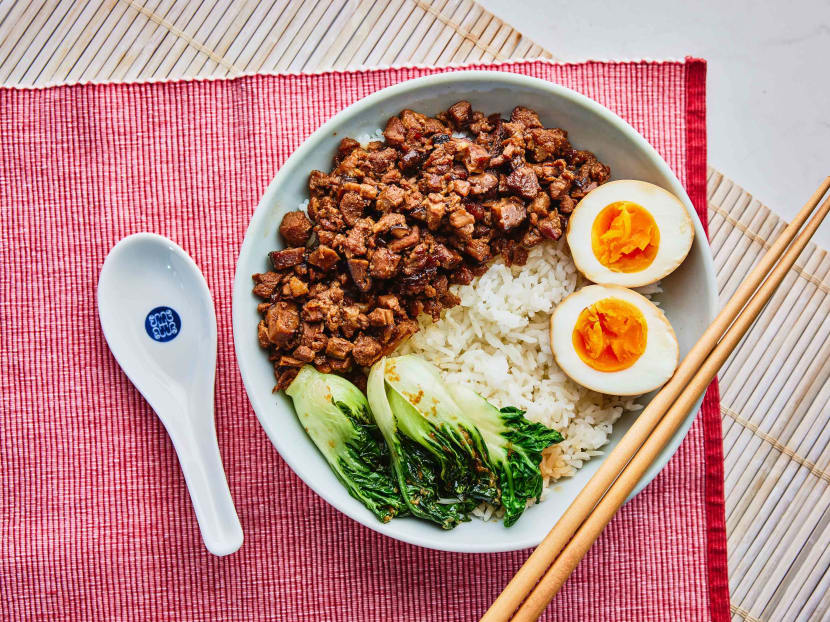 Thanks to our love for travelling, lu rou fan has won over the hearts of many Singaporeans. After all, what's not to like about a simple but comforting bowl of steamed white rice bathed in tasty braised-till-tender morsels of diced pork that you can just eat with a spoon?

And times like these call for great doses of comfort, so we found ourselves making large batches of lu rou to devour whenever the mood strikes, which unsurprisingly, has been quite often.
All photos cannot be reproduced without permission from 8days.sg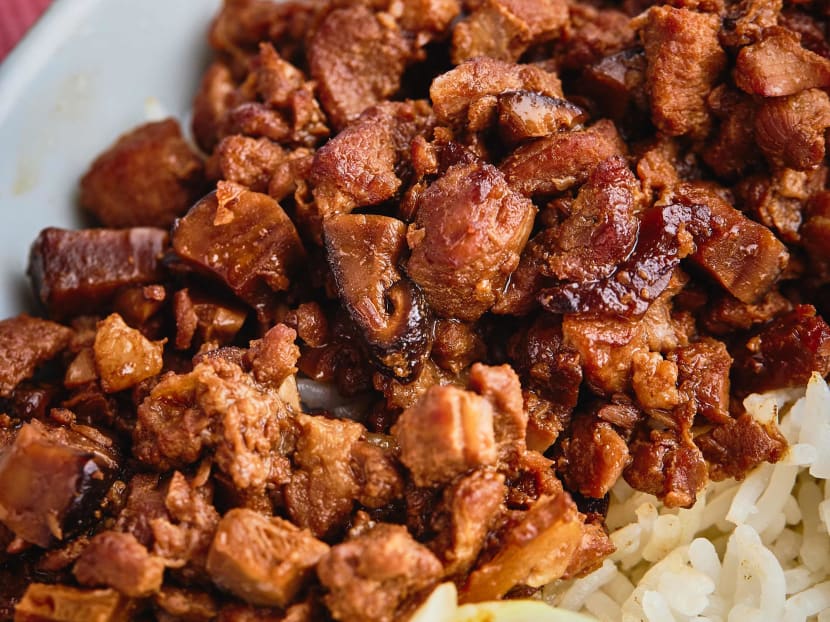 Lu rou fan is said to have originated in China during the Zhou dynasty and somehow found its way to Taiwan where it is the country's most iconic comfort food. While it is similar to many other Chinese pork braises like Hokkien lor bak, Taiwanese lu rou fan's distinct difference lies in its cooking method. Key to its rich flavour is frying shallots in oil till crisp, removing those shallots, and then frying the meat in the shallot oil. The crispy shallots are added back into the stew later on, where they melt into the gravy and give it complexity of flavour.

If you like a fattier braise, feel free to use pork belly instead of pork shoulder butt as we've recommended in the recipe. Alternatively, use a mix of pork shoulder butt and pork belly, both of which will give you lots of good texture and flavour. A higher ratio of fat will also give you a thicker gravy. The hardest part of this recipe is dicing the pork into small pieces. To ease the process, put the pork in the freezer till it is semi-frozen. The slighter firmer texture will make it easier to cut through. Suffice it to say, you're going to need a sharp knife regardless of whether you cut the pork when it is half frozen or not.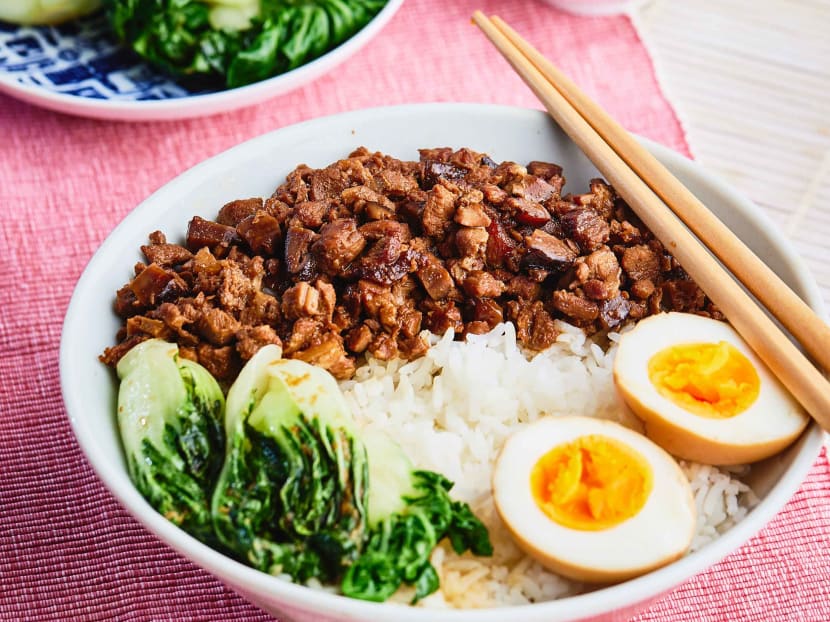 Making lu rou fan is a relatively inexpensive way to feed a family. Our recipe here, which feeds about three people, cost us about $10 in total using ingredients from the wet market. And you get to choose your lu rou-to-rice ratio. Think of this recipe as a guide and feel free to add other seasonings that might bring it closer to the memory of your favourite lu rou fan experience. Some extras you could add include a dash of five-spice powder, a clove or two, and even some fried garlic.

Braises like this tend to taste better the next day, so you could make this recipe up to step 14, let the lu rou cool and refrigerate it overnight. Add the hard boiled eggs and vegetables only after reheating when you're ready to serve.

It can feel like a fair bit of work, especially when dicing the pork, but leftovers freeze well, so you can whip up a double or triple batch, portion them out and freeze for up to two months. Simply thaw and microwave, or bring to a gentle boil on a stove to reheat.

Serves 2 to 3 pax

INGREDIENTS:​​​​​​​

500g pork shoulder butt (or a mix of pork shoulder butt and pork belly)
3 tbsp dark soy sauce
2 tbsp light soy sauce
2 tbsp Chinese rice wine (shaoxing wine)
8 dried shiitake mushrooms
2 thick slices of ginger
1 small cinnamon stick
1 star anise
2 slices dried tangerine peel
3 tbsp cooking oil
4 shallots, peeled and finely diced
15g rock sugar
2 eggs, at room temperature
a handful of leafy greens like kai lan or baby bok choy
3 cups of steamed white rice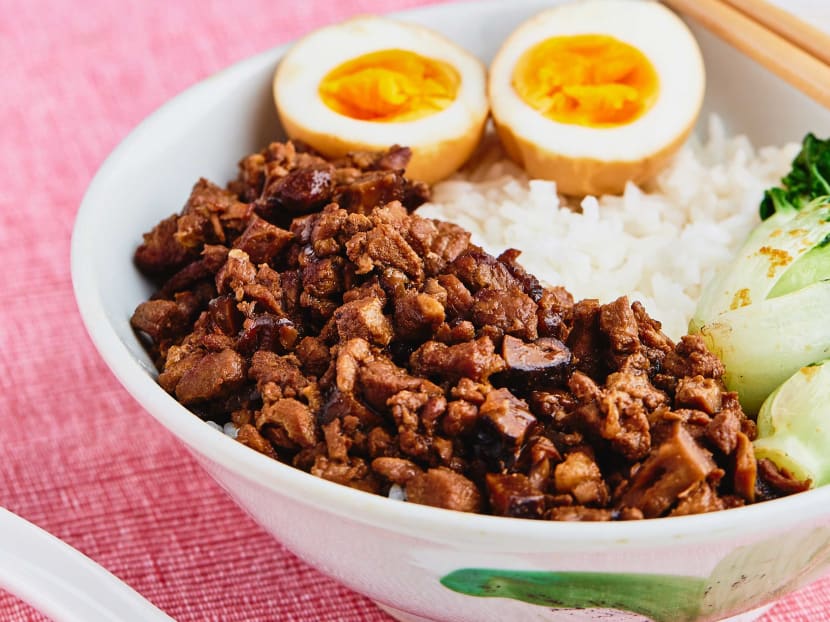 1. Place pork in the freezer until semi-frozen. This will make it easier to dice. Cut pork into 1-2cm cubes.
2. Place diced pork in a bowl with the light and dark soy sauces and Chinese rice wine. Rub the marinade into the pork and set aside.
3. Rinse mushrooms thoroughly and place in a medium bowl. Pour enough hot water to cover mushrooms. Cover the bowl with a plate and allow mushrooms to rehydrate, about 8 mins.
4. Place ginger, cinnamon stick, star anise and tangerine peel in a small muslin bag or empty tea bag. Seal with food-safe string and set aside.
5. When the mushrooms are rehydrated and soft, remove them from the water. Cut off the stems and discard. Dice the mushroom caps into small cubes. Reserve the soaking liquid.
6. Heat oil in a medium heavy-bottom pot over medium heat. Add the shallots to the pot and stir-fry for about 10 mins, allowing the shallots to brown and crisp.
7. Remove shallots from the pan and set aside.
8. Add diced pork to the pan and stir-fry until all the liquid evaporates, about 10 mins.
9. Pour the excess soy sauce from the marinade into the pan, along with the diced mushrooms, fried shallots, rock sugar and bag of aromatics.
10. Pour enough mushroom soaking liquid to cover the ingredients in the pot and bring to a slow boil. If you don't have enough soaking liquid, add water to the pan.
11. When the contents boil, lower the heat to the barest simmer and cover with a lid. Continue cooking for an hour, stirring occasionally, or until the pork is meltingly tender.
12. While the pork is cooking, bring another pot of water to the boil to cook the eggs. When the water comes to a rolling boil, add the eggs and cook for 7 minutes.
13. While the eggs are cooking, prepare a bowl of ice water that will fit the eggs. After 7 minutes, remove eggs and place them immediately into the bowl of iced water. Leave for 10 minutes before carefully peeling them.
14. After an hour, give the pork a stir and taste. Add more dark and light soy sauce, if necessary. Add eggs to the pot and place the leafy greens on the surface of the pork. Cover and cook for another 5 mins, or until the vegetables are sufficiently cooked to your liking.
15. To serve, portion the steamed white rice into bowls and ladle over the lu rou. Slice an egg in half and arrange on each bowl, along with the vegetables. Serve immediately.
All photos cannot be reproduced without permission from 8days.sg

Photos: Alvin Lim