Yvonne Lim Made Min Jiang Kueh To Ease "National Day Withdrawal Symptoms", Here's Her Recipe
She shared her peanut pancake with fellow homesick Taiwan-based Singaporean, Kelly Poon.
It's no secret that Yvonne Lim really misses Singapore. The 44-year-old actress, who is based in Taipei, talks about wanting to return to the little red dot every chance she gets and feels particularly homesick when National Day comes around. Her homesickness has gotten worse as she hasn't been back in one and a half years, no thanks to the pandemic. To ease her "National Day withdrawal symptoms", the mother-of-two recently cooked up a feast of braised duck, kway chap, and kueh pie tee from scratch. She even made min jiang kueh 'cos she was hit with a sudden craving for the peanut pancake.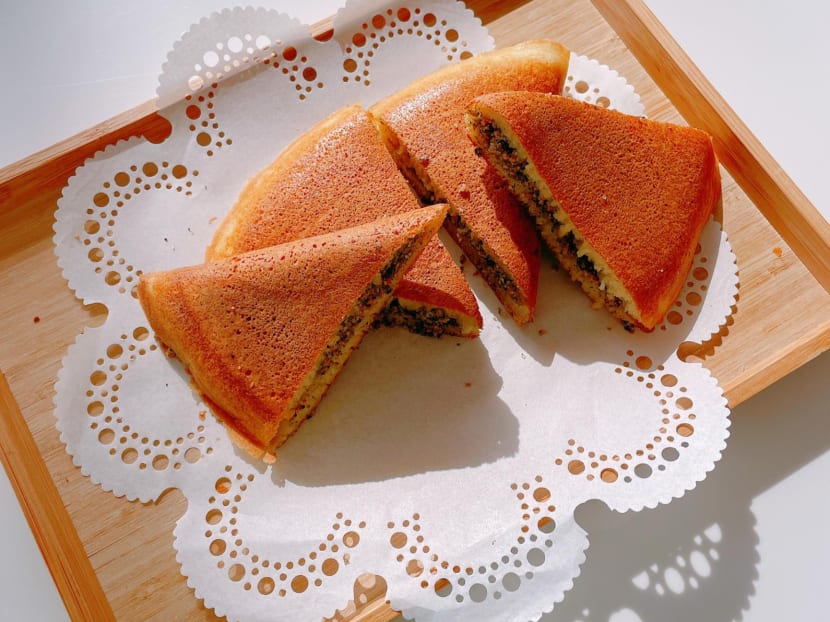 Turns out, 8days.sg was the one that sparked the craving.
"You guys featured a young hawker selling min jiang kueh. After reading the story, I really missed min jiang kueh," the self-confessed kueh girl tells 8days.sg. Yvonne shares that even though she's been away for seven years, she's still very much in touch with the hawker scene and would occasionally order food and have it delivered to her friends in Singapore.
"It's my way of showing support for the hawkers, who're having a difficult time now [with the recent dine-in ban]. After I started cooking local food like kway chap from scratch (she even made the rice sheets herself!), I realised how much work goes into it and have utmost respect for our hawkers. I'm always on the lookout for new hawker stalls and food, that's why I joined Facebook group Hawkers United – Dabao 2020," says Yvonne.
She also likens herself to an "ambassador for hawker food" in Taiwan. Singaporean food is all she cooks and whenever she succeeds at a new recipe, she will introduce it to her Taiwanese friends. Her fellow Taiwan-based Singaporean friends also turn to her for comfort food when they miss home.
"[Singer] Kelly Poon saw me posting about min jiang kueh and she asked if I could make some for her. She really liked it and was very happy when she ate it. It makes me happy when people like my food and say that it's similar to those back home," she gushes.
The breakfast favourite, which is believed to have originated in the Fujian province of China, consists of a thickish pancake folded over ground peanuts, red bean paste or bright orange shredded coconut. While Taiwan has the Japanese-influenced dorayaki and fish-shaped taiyaki filled with red bean, they're just not the same.
Yvonne's MJK recipe is a combination of "bits and pieces from different recipes" she gleaned online. Apart from peanut min jiang kueh, she recently tried making a rather unique peanut and black sesame version, which she says is sweeter and more fragrant.
"I like the taste of black sesame and it also has a very nice fragrance, so I decided to mix organic black sesame powder with crushed peanuts. I think it's a little healthier for my kids too. I prefer this mixture to the plain peanut filling now," she says.
What she also prefers is the thicker, fluffier pancake to the thin, crunchy ones. "A good min jiang kueh has to be chewy, fluffy, with a crisp golden-brown crust while still soft on the inside," she muses.
To achieve this, the batter has to be given enough time to rest to "allow the gluten to form to give the kueh a good rise".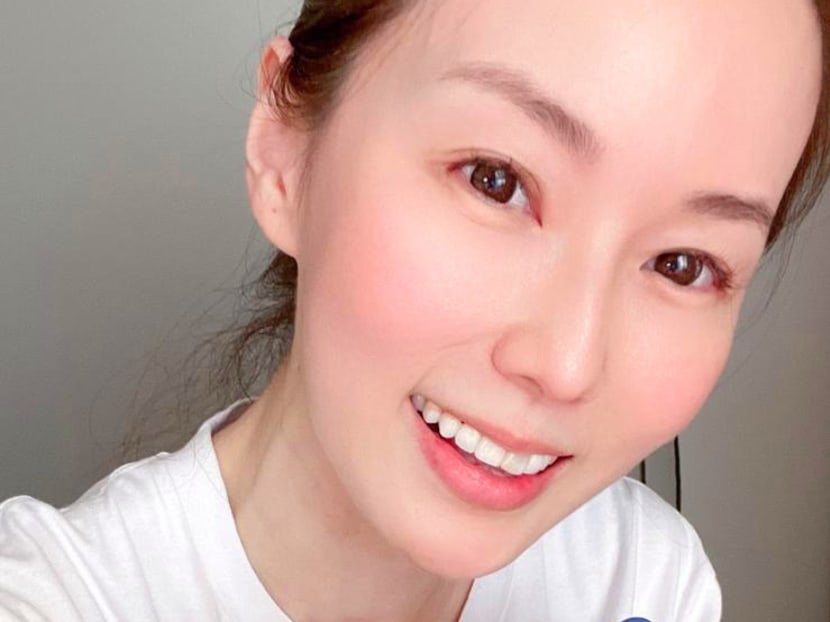 She says it's relatively easy to make too, though it might require some practice to nail the pancake. It's all about speed and heat control, says Yvonne. "You have to quickly swirl the pan when you pour in the batter. If you are too slow or if the pan is too hot, the batter will stick to the pan and you will not be able to coat the entire base of the pan. So, what I suggest is to take the pan away from the flame when you swirl. Also, be sure not to add too much oil or you will end up frying the pancake."

Makes 6 pieces

Ingredients:​​​​​​​
140g all-purpose flour
1/2 tsp instant yeast
1/2 tsp baking soda
2 tbsp sugar
1 egg
150ml water (room temperature)
A pinch of salt (optional)


80g raw, unshelled peanuts

1.5 tbsp sugar
1.5 tbsp black sesame powder (optional)
Vegetable oil
1.5 tbsp butter, cut into cubes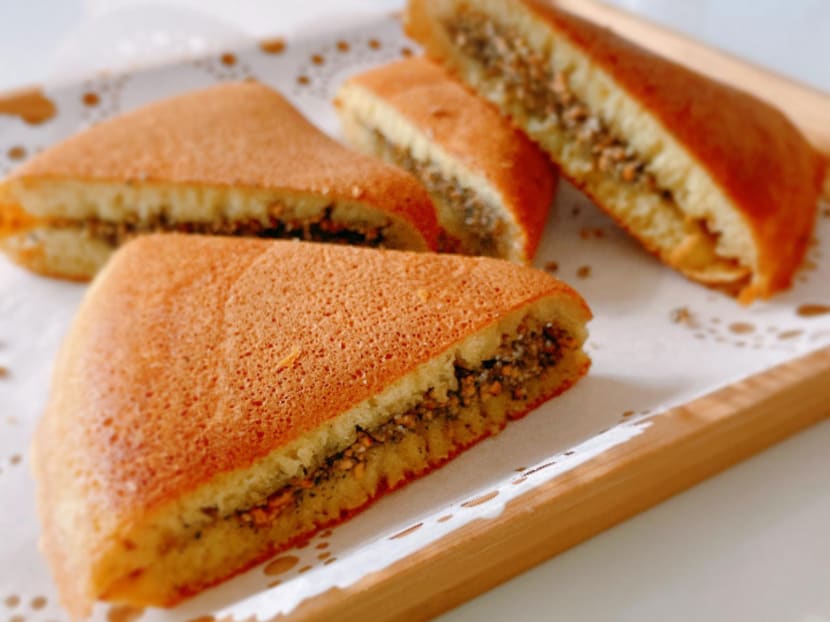 For the batter:
1. Sift flour into a bowl, then add yeast, baking soda and sugar. Mix well.
2. Add egg. Then slowly add water, whisking as you go along to remove lumps.
3. Add salt and combine.
4. Pour batter through a sieve to remove any lumps.
5. Cover the bowl of batter with plastic wrap and let it rest for at least one hour.

For the peanut filling:
1. Pre-heat oven to 180°C. Place a single layer of unshelled peanuts on a baking tray and bake for 10 mins. Allow nuts to cool completely on the tray placed on a cooling rack. No oven? You can also toast the nuts in a pan on the stove over medium heat. When the pan is hot, add a single layer of nuts. Stir frequently so they are roasted evenly. When they begin to turn brown, remove from heat and pour onto a plate to cool.
3. Transfer cooled peanuts into a colander and place it over a bowl. To remove the skin, rub peanuts between your palms as though you are lathering your hands with soap. Small bits of skin will be collected in the bowl.
4. Grind peanuts in a blender till it resembles rough sand.
5. Transfer ground nuts into a bowl, add sugar, black sesame powder, and mix well.


For the pancake:
1. Lightly grease non-stick pan with an oiled paper towel and place pan over medium-low heat.
2. Once the pan is hot, use a ladle to scoop and pour batter into the pan. Add more batter if you like your min jian kueh thicker. Remove pan from the heat and quickly swirl it so the batter coats its base evenly.
3. Return pan to the stove, cover and allow to cook for about three mins or until you see bubbles on the surface of the pancake.
4. When you see that it is slightly dry, spread half the butter over half the surface of the pancake (imagine a semi-circle). Spread peanut filling evenly over the same half of the pancake, and top with the remaining butter. Using a spatula, fold the min jiang kueh into half.
5. Remove min jiang kueh from the pan. Slice and serve warm. Best eaten on the day it's made.
Photos: Yvonne Lim