At The Reopened Chin Mee Chin Confectionery, Charcoal-Toasted Kaya Buns & Nostalgia Still Rule
8days.sg gets an exclusive preview of the space & its retro bakes — including new items like hae bee hiam & otak buns.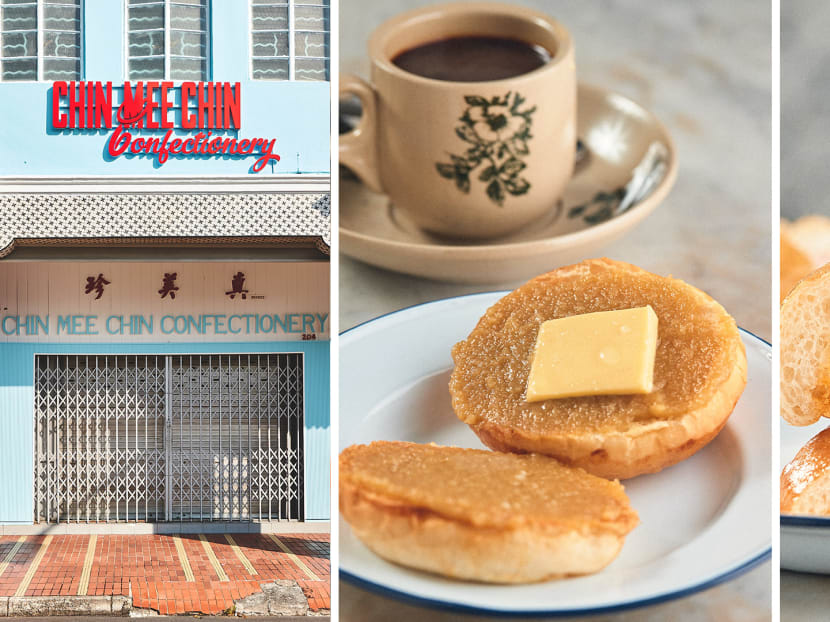 It's the reopening every die-hard Eastie and their best friend have been waiting for. Come 15 September, kaya toast and retro bake institution Chin Mee Chin will open its doors to the adoring public once again.

If you haven't kept up to date with its story, the historical Chin Mee Chin Confectionery, born in 1925, announced its permanent closure in 2018 citing a lack of succession and manpower issues. In July 2020, the Ebb & Flow Group, whose co-founder and chief executive officer Lim Kian Chun (second from left in pic below) is neighbours with the family who own it, finalised an agreement with them to revive the iconic coffee shop together.
All photos cannot be reproduced without permission from 8days.sg

Since then, the group's pastry chef Maxine Ngooi (she of the popular Tigerlily Patisserie, third from left in pic) has been working with Sharon Tan, granddaughter of the confectionery's late founder, and her mother Leong Kwang Ling, to recreate some of Chin Mee Chin's traditional bakes. Maxine has also updated the menu with locally inspired cakes and pastries of her own design.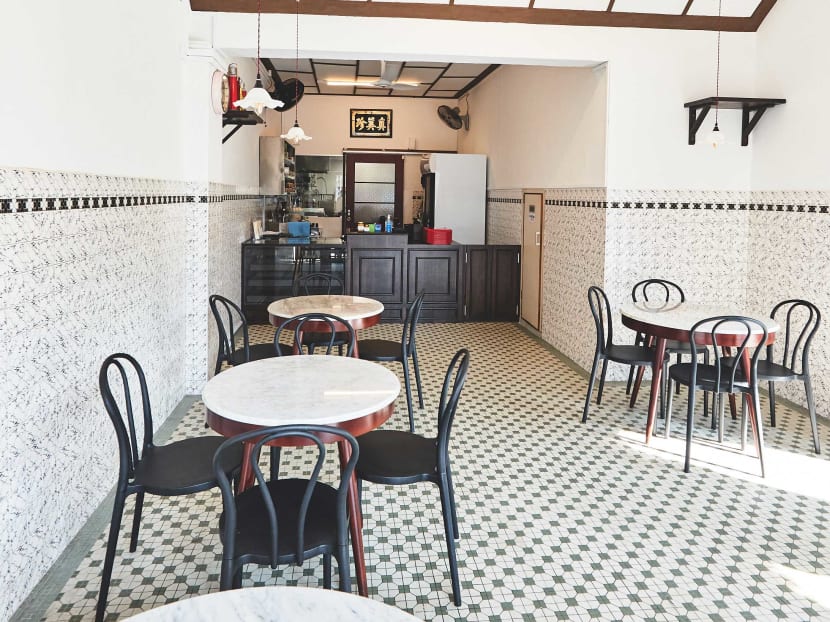 When news first broke of CMC's revival, it was said that it would reopen in March this year. That opening has since been postponed numerous times, but not for reasons like construction issues as was widely thought.

"Honestly, it was a lot harder than we thought it would be to recreate that old-school feel," says Chun. "There were no real recipes for the dishes so there was a lot of trial and error involved. We've had to tweak some things to modernise them a bit… For example, we had to source for higher quality ingredients and tried to recreate the old flavours using more commercial techniques. We've expanded the kitchen because this is quite a large operation now and we've also expanded the menu… so those things took time."

Madam Leong and Sharon remain partners in the business though they are not involved in its daily operations.
Chin Mee Chin is a beloved institution for generations of folks who grew up in Katong, including this writer. Many of us were practically weaned on and harbour fond memories of its confections like swiss rolls slicked with raspberry jam, cream horns, custard puffs and hot cross buns which punctuated every visit to Sunday school or mass at the Holy Family Church beside it. Before there were trendy buttermilk cupcakes and fancy dessert tables, there was CMC's margarine-laced cupcakes glazed with grainy royal icing and plain boxes holding rectangular slices of sugee and fruit cake to mark every occasion.

As grown-ups we returned to CMC for coffee and kaya buns that were split and toasted over charcoal, and to catch the familiar sight of its wizened proprietor hunched over the stove stirring a pot of jade-hued kaya.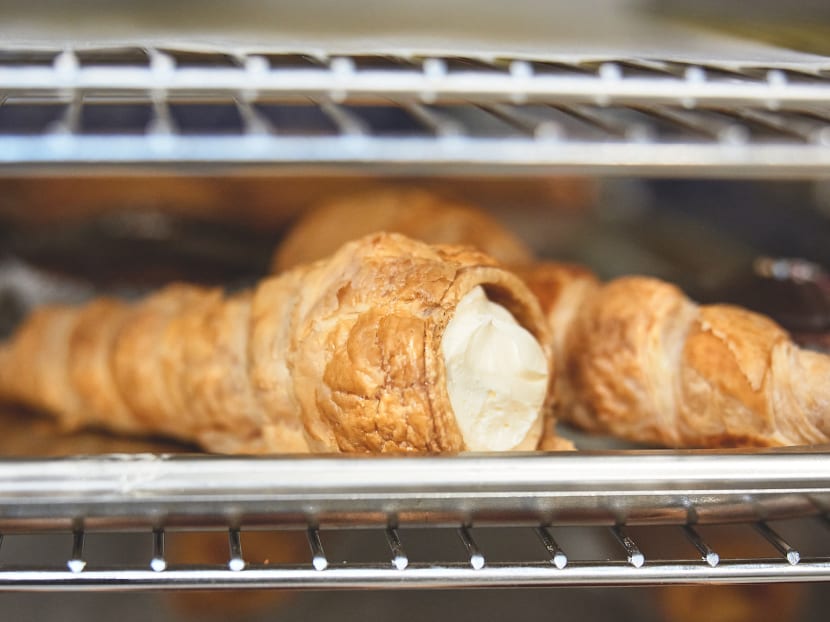 It cannot be denied, however, that CMC's offerings took a beating from time and fatigue in its final years. The teh-o peng we once adored evolved into a brew so bitter that it might well have been steeped for as long as the coffeeshop had been in business. After its second-generation owner Mr Tan Joon Ling passed away, the Swiss rolls and cream horns were the first things to disappear from its glass shelves. Happily, these confections are back now in CMC's new incarnation (more on that later).
Much of CMC's interiors remains the same. The original floor and wall tiles have been retained along with the marble-topped tables and classic coffee shop chairs that now take up the front half of the space, as well as the five-foot way facing the church. Gone are the glass shelves that used to line the coffeeshop's perimeter. Instead, a small counter by the cashier displays the bakes on offer. Customers place their orders and pay for them here, before receiving a buzzer that will notify them when their food is ready to be collected.

We also notice that the coffee shop's front of house is manned by genial silver-generation folks and ask Chun if the company has made a conscious effort to employ more mature workers. "No, it actually happened quite organically," he says. "I think (the older folks) gravitate to this kind of concept because the working hours are better. The kind of service they can extend, I think, is more suited to Chin Mee Chin though. We actually have a good mix (of staff throughout the space); we have a few young chefs in the kitchen."
Along with the classic bakes are other easy-to-appreciate treats like cheesecake brownies, gula Melaka coffee chiffon cake, and hae bee hiam buns. We are also happy to report that the drinks are as delicious as they are thoughtfully made. Prices had not been finalised at the time of writing, but they are just a little bit more expensive than before. They hover at around $2 each for the buns, $4.50 for kaya toast and eggs set, and below $2.50 for the cakes. Senior citizens enjoy 10 percent off the bill, too.

Fans of CMC will be pleased to hear that the confectionery's signature buns will still be toasted over charcoal, giving them a mildly smoky edge. The kaya tastes exactly the same as it always did — not too sweet, not too smooth and redolent of coconut milk. As for those milky buns, they are squishier than before but as close as it gets. Fun fact: The kaya is still made in the same metal pot that its founding owners used to stir it in.
The one thing that's changed about these buns is the amount of luncheon meat in them. The once meagre bar of meat has grown to about twice its size so that you get a better luncheon meat-to-bun ratio. Like the plain buns (all the buns are made from the same dough), these milk bread buns are soft and satisfying.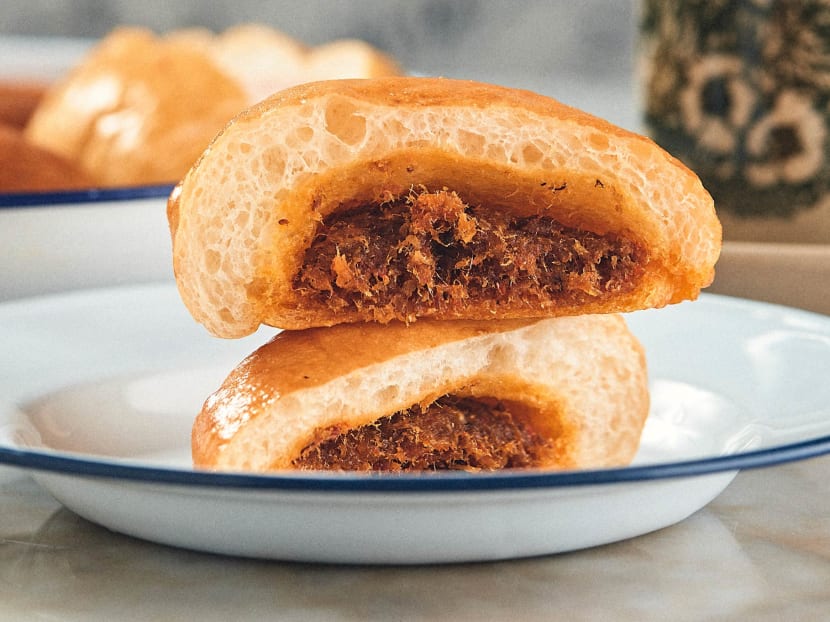 The hae bee hiam (dried prawn sambal) in this bun, which is a new addition to the menu, is divine. It's just the right amount of spicy and full of umami. It's hard to stop at just one.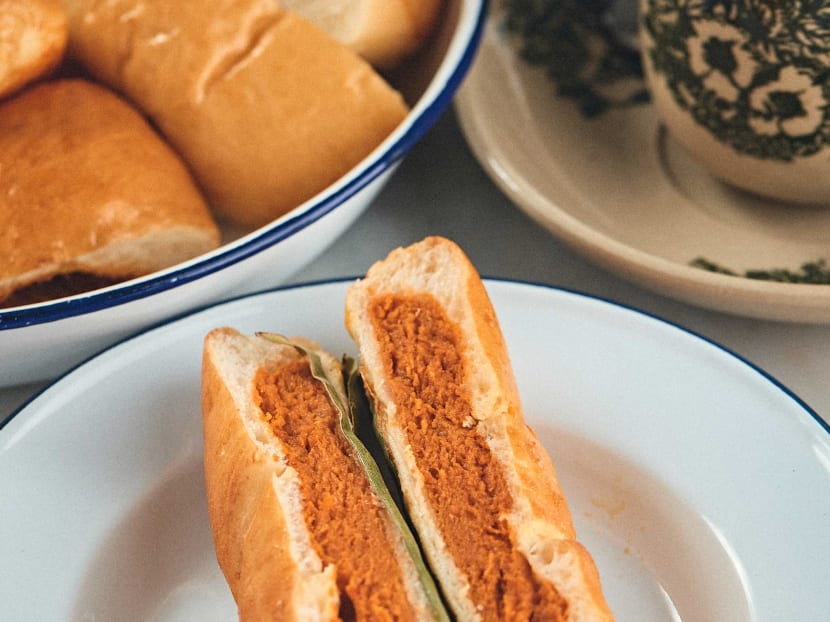 Also new to the menu, they contain a slab of smooth, not-too-spicy otak. Quite shiok.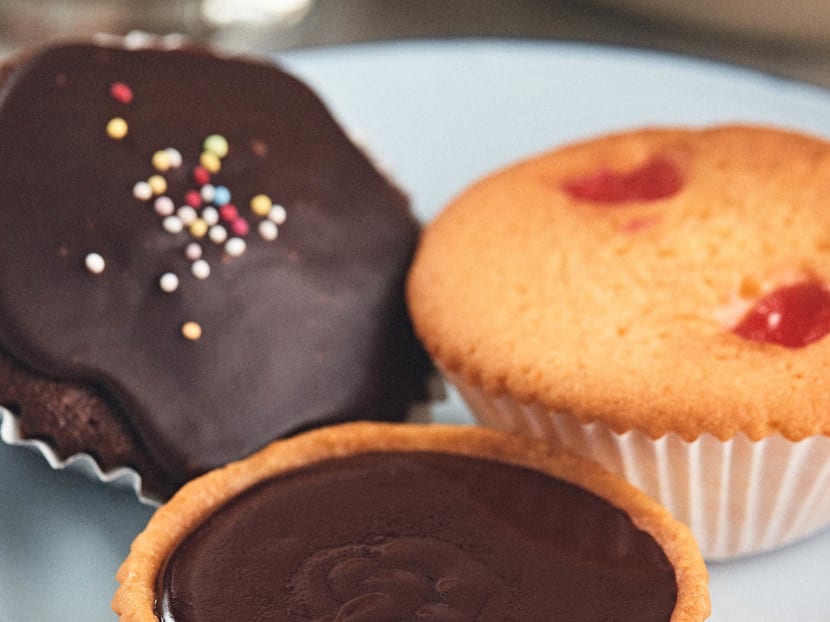 The Plain Cupcakes turned out to be the hardest bakes to get right, says Maxine. "It's quite funny because I thought I was making a cupcake from a generic cupcake recipe. (The founding owners) tried it and they were like, 'it should be moister or fluffier or crumblier'. I tried so many different ways and I actually started doubting myself as a pastry chef. I was like, 'how come I cannot make a cupcake??'" she quips. Eventually, it came down to the butter… and a judicious dollop of margarine, which as any old-school pastry chef will tell you, is integral to capturing the quintessential taste of a bygone time. Though nowhere close to the CMC cupcakes of old, these petite cakes topped with sliced maraschino cherries (remember those?) or slivered almonds, are still pleasant. They have a loose, buttery crumb and taste like traditional Chinese bakery cupcakes.

Meanwhile, modernisation has definitely improved the chocolate cupcakes. They actually taste like chocolate now. The cake is deeply chocolatey and the icing no longer grainy but blessed with a smooth, crystalline consistency.

The Chocolate Peanut Butter Tarts are a nice addition to the menu. The shortcrust pastry shell is thin and crisp and the creamy peanut butter and chocolate filling both smooth and not too sweet. They are also the perfect diminutive size.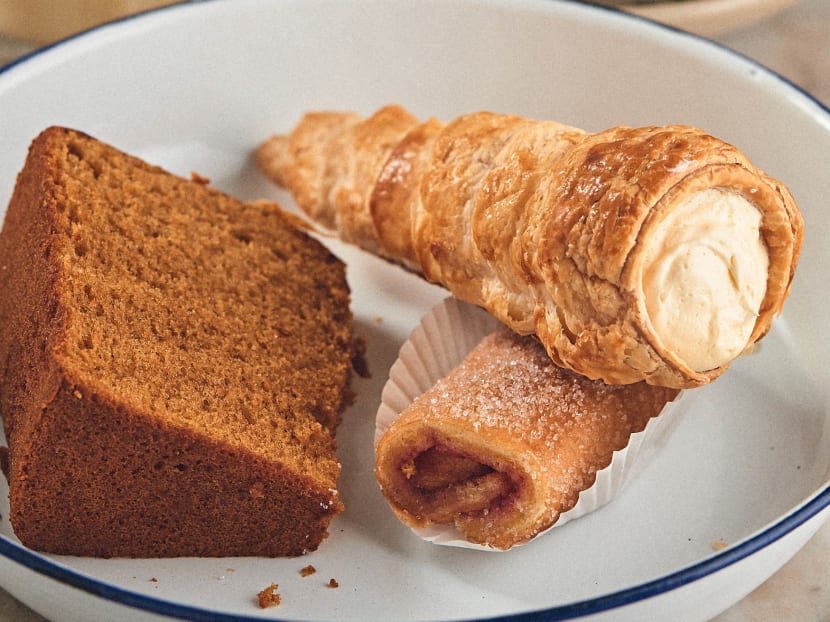 "We wanted these to be the same, right down to the brand of puff pastry that they used to use," says Maxine of the cream horns. "But no one brings that in anymore, so we chose the pastry that was closest." It's certainly not the same since these cream horns don't coat your palate with a greasy layer of trans fat after each bite as they did in the past. Other than that, the team has captured the old flavours and textures of this confection well. The puff pastry is light and friable, as is the vanilla buttercream that has an ethereally light texture and isn't overly sweet.

The raspberry swiss rolls are a lot skinnier than we remember them, but hey, so were we in 2003. They are buttery and fluffy with a generous slick of thin raspberry jam pinwheeled through them. The old-school flavour is strong in this one.

The coffee in the gula melaka chiffon cake gives it a lovely depth of flavour — it's like a mellow, sweetened cup of kopi in exemplary chiffon cake form.
"The sugee cakes here used to be served as whole cakes," says Maxine, "but now we serve them in slices." Made according to a recipe from Chun's aunt, the cake is studded with chopped almonds, very crumbly and a little dry.

The Cheesecake Brownie is a hit. Essentially a baked cheesecake layered atop a fudgy brownie, this sweet square is luscious, sticky, and just a joy to eat.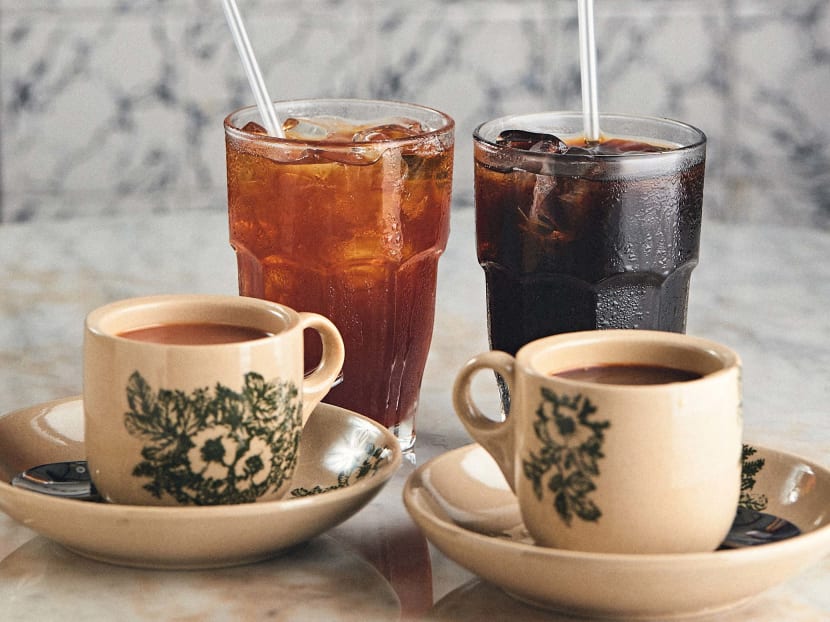 We are just thrilled about how the tea is the ideal blend of dark, intense and mildly floral, like how good teh should be. While they won't tell us the exact blend, they did let on that it is similar to a mix of breakfast and Ceylon teas. As for the kopi, it is smooth and chocolatey from a mix of Arabica and Robusta beans, without any edge of sourness. Super easy to drink.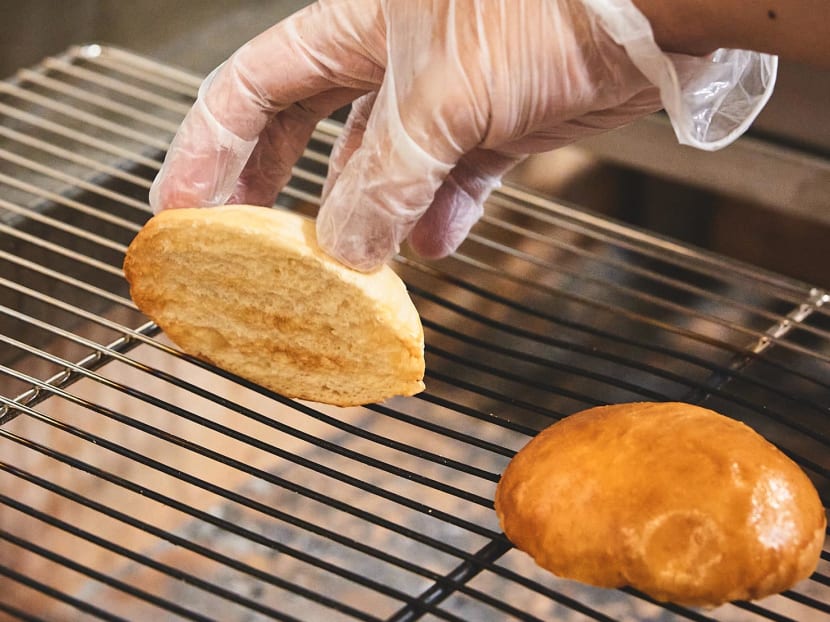 Being the institution that it is, just about everyone has their own ideas of what the revived incarnation of Chin Mee Chin should be. It's no easy task for the new team to live up to all that nostalgia. We think they've done a fine job of retaining the charm and spirit of the place that Singaporeans hold so dear and are impressed that they've kept prices low and accessible to everyone, especially the older community who have a real affinity towards everything that CMC offers.

Nothing is exactly the same as it was before — to come expecting them to be is to set ourselves up for disappointment — but it's close enough. If nothing else, the offerings are a lovely reminder of a cherished past that we're now lucky enough to not only experience once more, but whose joys we can pass along to a new generation. How often can we say that of anything anymore in ever-changing Singapore?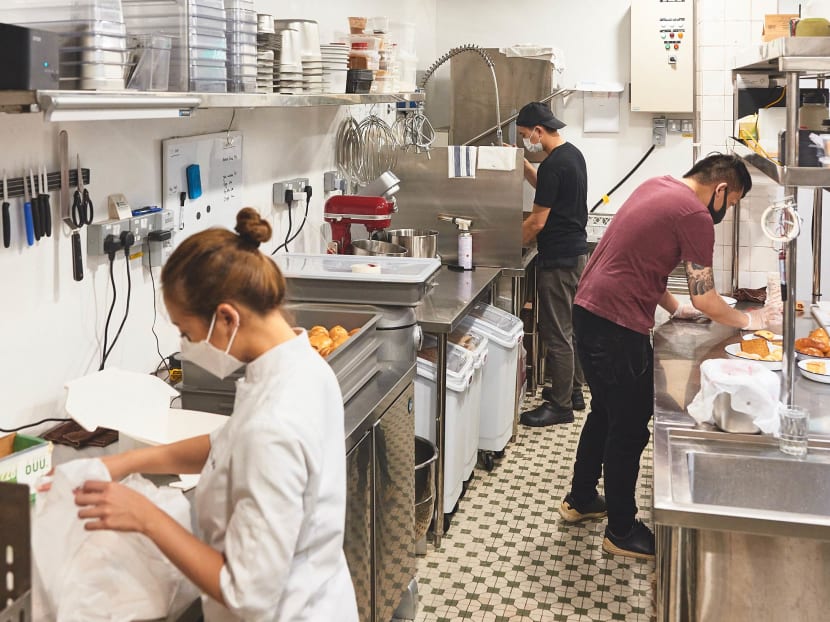 Chin Mee Chin reopens on Sept 15 at 204 East Coast Rd, S428903. Open daily except Mon, 8am to 4pm. Last orders at 3.45pm. https://www.facebook.com/chinmeechin.sg/
All photos cannot be reproduced without permission from 8days.sg

Photos: Alvin Teo