Restaurant-Quality Mod 'Cai Png' From $6 By Ex-White Rabbit Chefs At Café Near Yishun
Meanwhile, an ex-Ce La Vi mixologist mixes bubble tea to order here.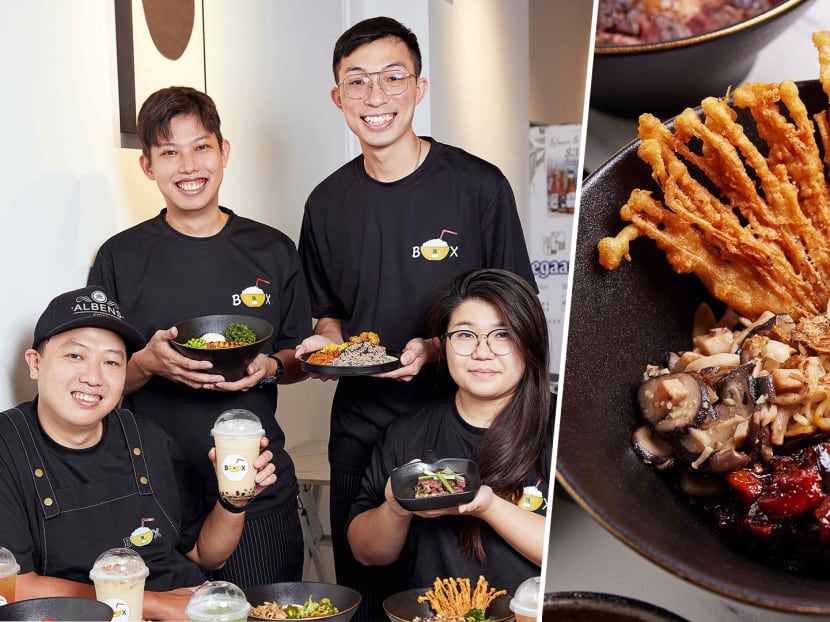 The quiet Springleaf neighbourhood bordering Yishun (where Benz Hui's daughter's cafe and the popular new Friends Cafe cha chaan teng are located) is slowly gaining traction among foodies. Now, there's another new reason to make the trip: to try food cooked by former restaurant chefs from just $6 (the most expensive dish here is $12).

Three of the four partners behind BoxFan (pronounced "box fun"), which opened on October 1 at The Brooks I condominium, cut their teeth at upmarket restaurants like the now-defunct White Rabbit, and at fine-diners in Mandarin Oriental and Raffles Hotel, before leaving to start their own Asian eatery offering tasty grain bowls (what we cheekily call mod 'cai png' here since you get to pick and choose the ingredients in your slightly elevated bowls).

All photos cannot be reproduced without permission from 8days.sg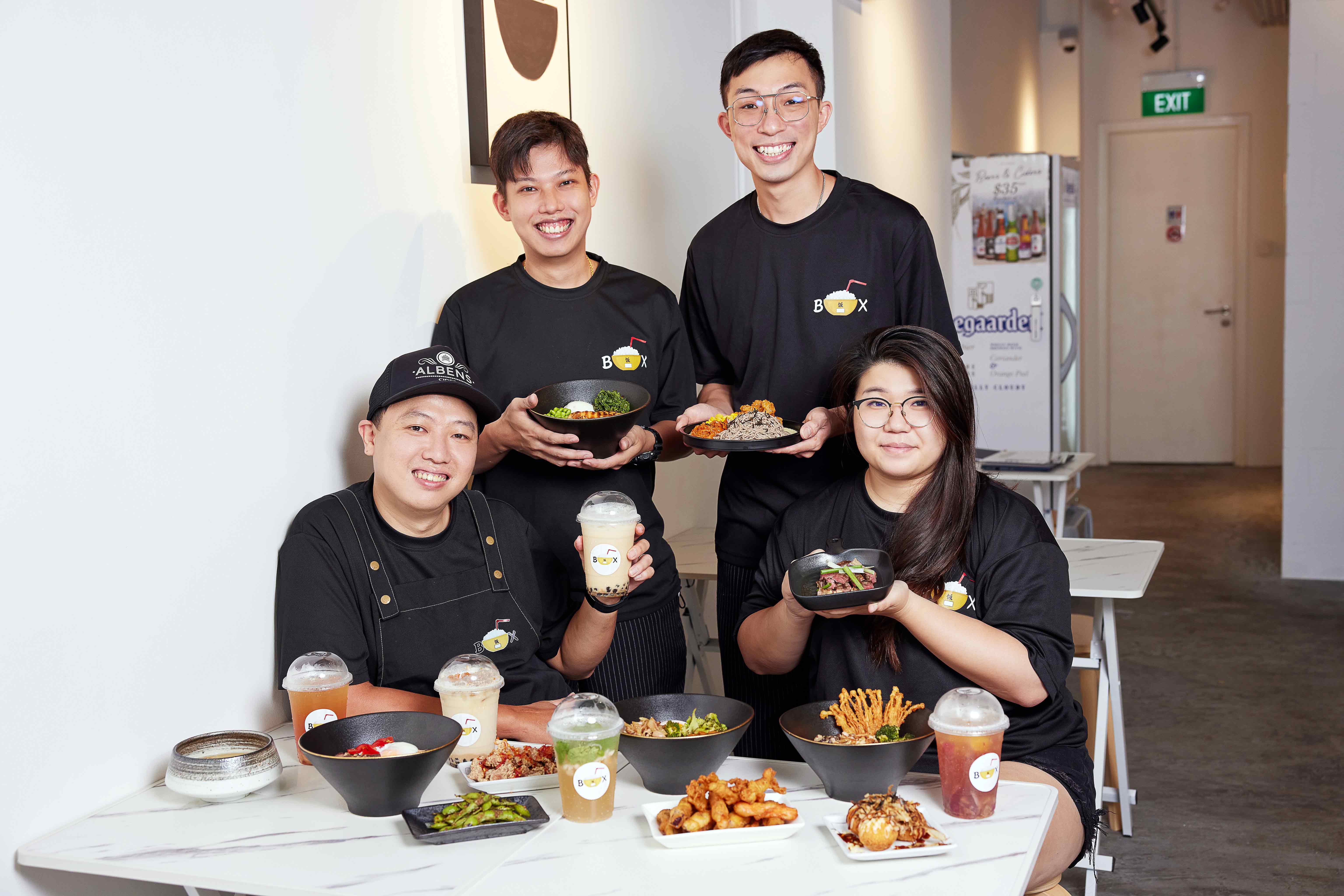 Half of the quartet behind BoxFan comprise two chefs: Ang Shu Rong, 32, (centre left in pic) and Tan Wei Xiang, 29 (centre right).

The other half is husband-and-wife duo Thomas Tang, 36 (far left), a bartender, and Wong Lin Lin, 27 (far right), the owner of an events company.

The chefs and bartender met each other while working under the Lo & Behold Group at upscale eatery Black Swan, whose founder Wee Teng Wen is supportive of their new venture, they say.

Shu Rong began his career as a cook at Raffles Hotel, then spent five-and-a-half years as sous chef for Lo & Behold concepts White Rabbit, Black Swan and Straits Clan before moving on to pan-Asian restaurant Coriander Leaf.

Wei Xiang spent a year at Mandarin Oriental, cooking for the hotel's buffets and wedding banquets, before joining Lo & Behold's Black Swan and White Rabbit between 2014 and 2018 as senior chef de partie.

Thomas spent four years as senior mixologist at MBS's Ce La Vi (previously Ku De Ta), before joining Hotel Indigo as bar manager. He then spent two years at Lo & Behold's Black Swan (occasionally being rotated to other concepts) before joining beer importer Pacific Beverages as a sales executive in 2019.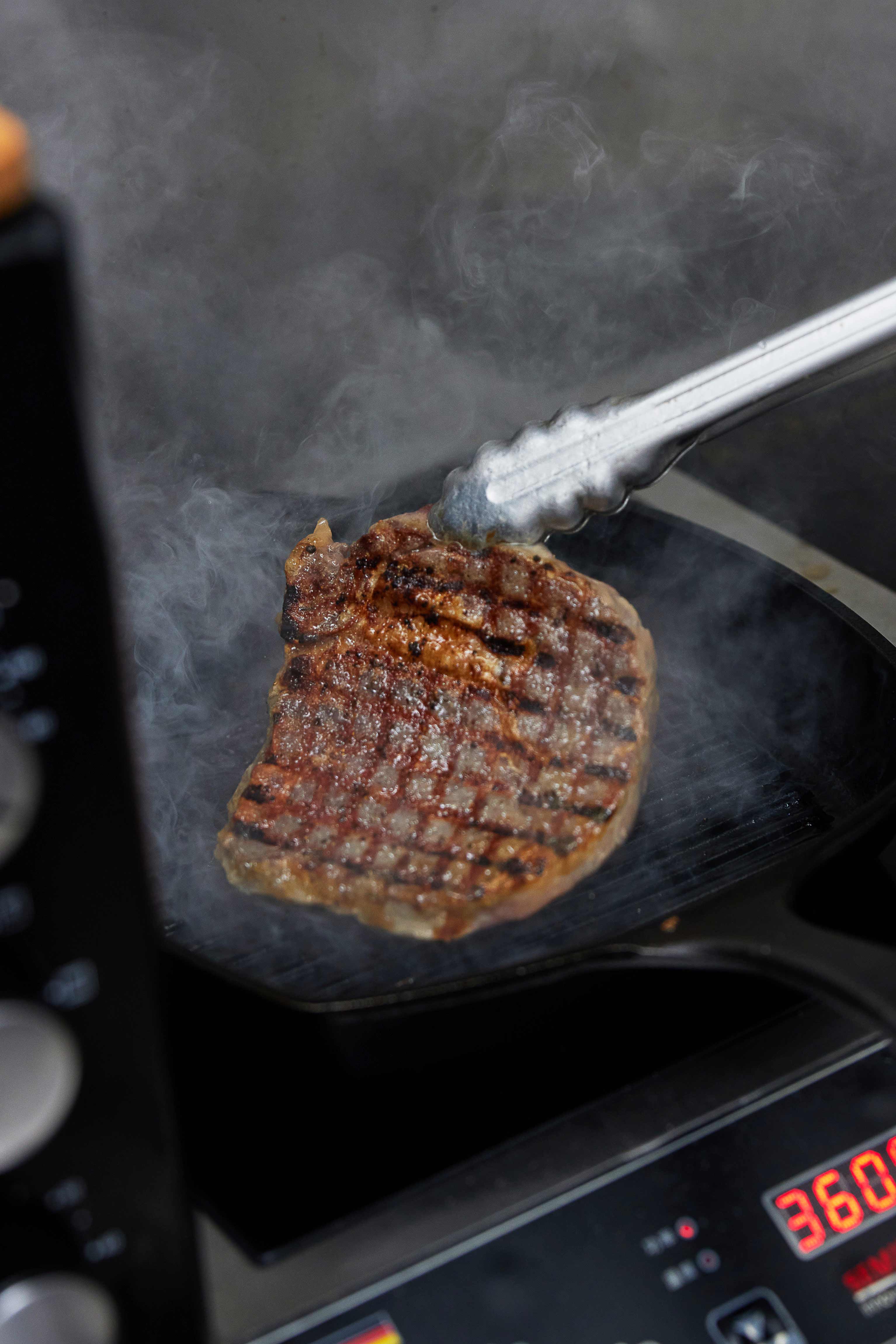 The idea for BoxFan was dreamed up when the four met for dinner earlier this year, and realised they shared the same goal of starting an F&B biz.

Lin Lin, whose events biz has been halted by the pandemic, is angling for BoxFan to supply catering when events resume. Adds Shu Rong: "I left (Lo & Behold) to experience something different from cooking Western fine-dining."

The items on BoxFan's menu are the same dishes the two chefs whipped up for staff meals at Lo & Behold, they say. They shortlisted their favourites (such as miso salmon and gong bao chicken) and refined the recipes.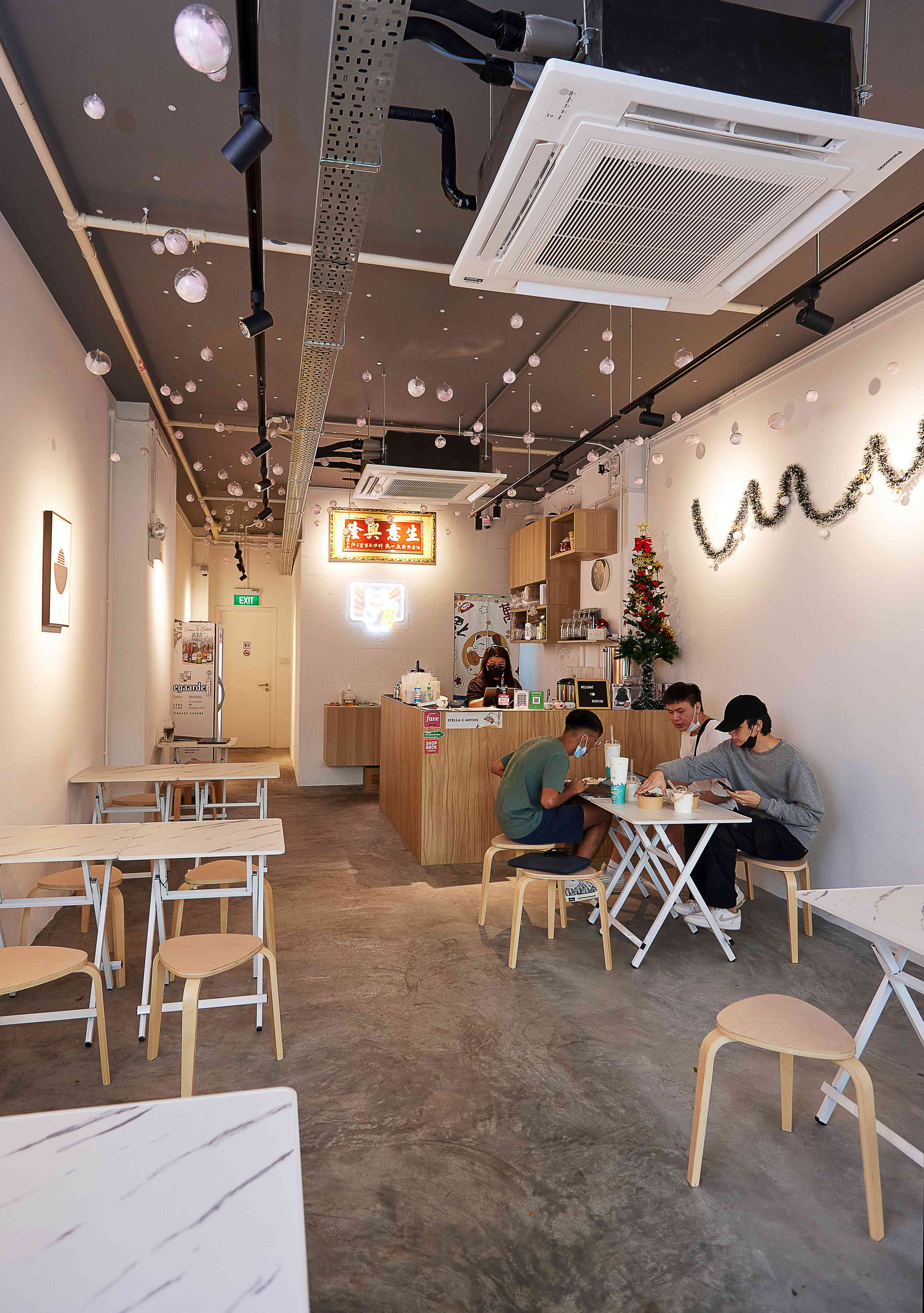 Planning for the new biz began in July, and the four sprung $80,000 on a small, simply-furnished 20-seater unit on Springside Walk. They like the neighbourhood's kampong feel.

Since launching, they've been happily enfolded into the community, they enthuse, with a steady pool of friendly regulars from the landed houses and condominiums nearby, plus army boys from the Nee Soon Camp opposite. "Some customers even invite us into their homes," Lin Lin says.

They sell about 60 bowls a day, and are earning enough to hire a third chef.
Apart from a little kitchen tucked in the back, the shop has a small counter where Thomas makes drinks to order with a practiced hand, applying precise measures of milk and syrup in a jigger and shaking the boba in a cocktail shaker. It's great to watch.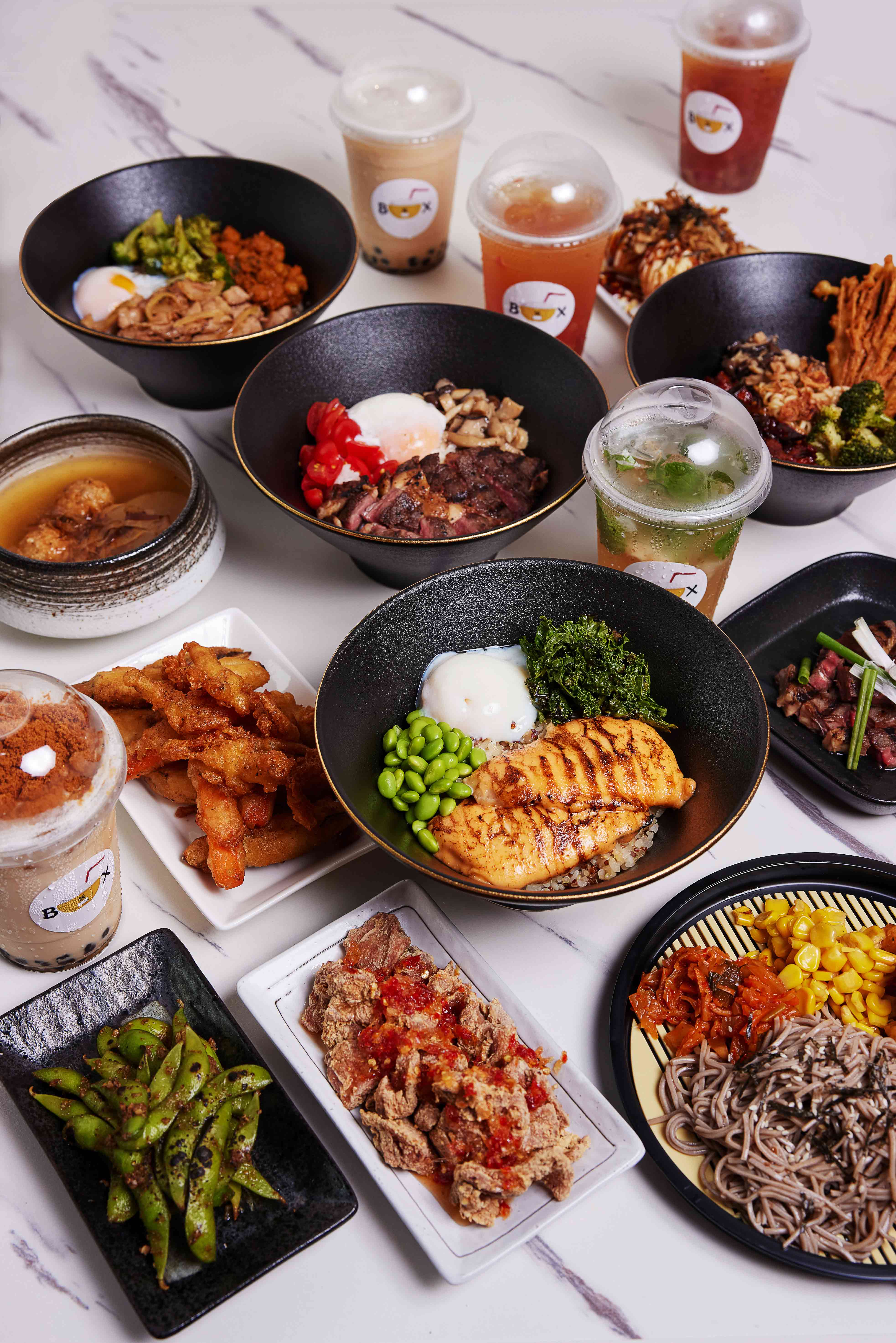 BoxFan serves side dishes and drinks, but the main offering is build-your-own grain bowls. Depending on the protein, prices range from $6 (for tofu) to $12 (for ribeye with mentaiko sauce).

With each order comes a base of rice, noodles like soba or lettuce, plus two toppings: choose from 10 options including corn, broccoli and cherry tomatoes. Additional toppings at $1 each.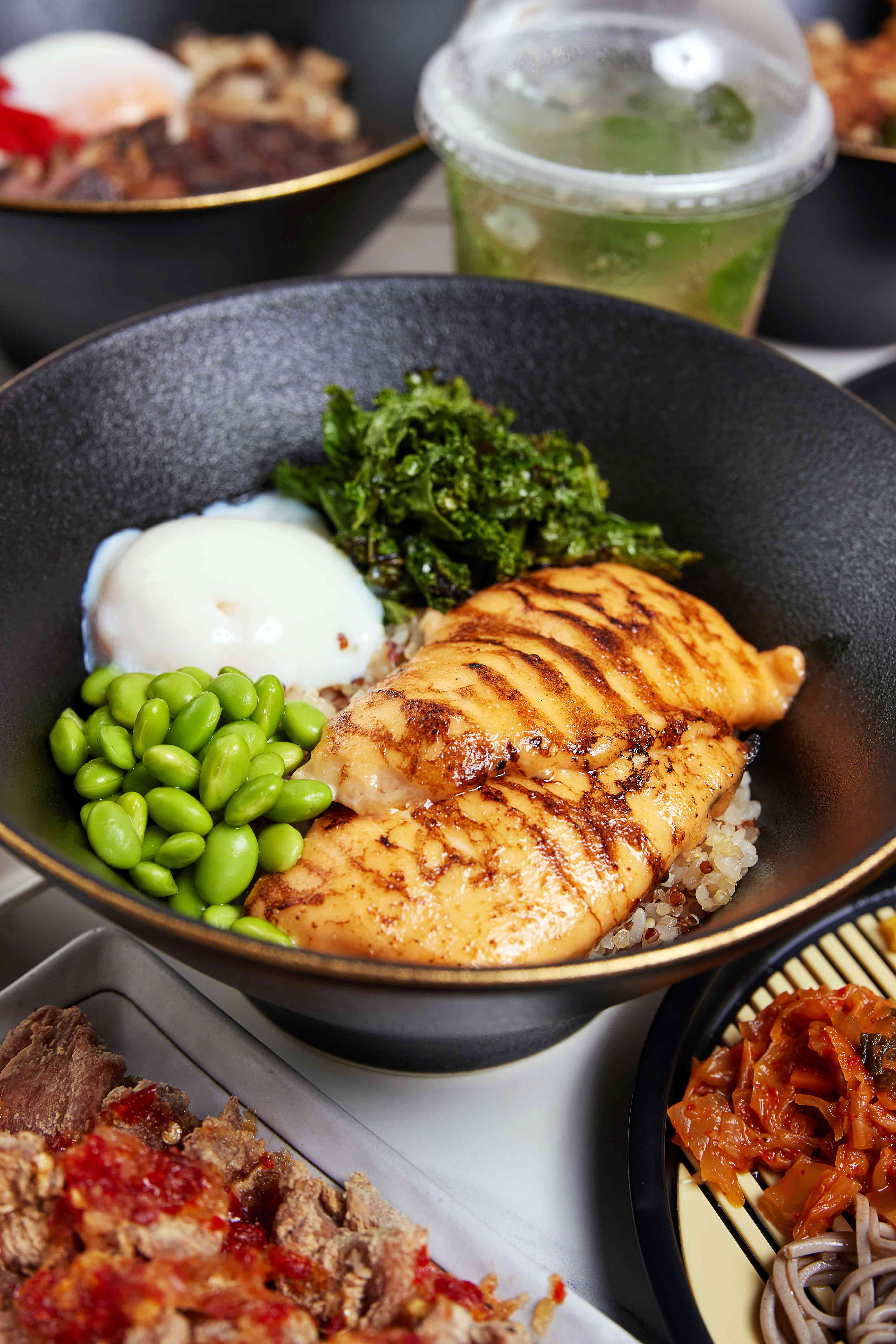 Ours comes with beautifully textured pearl rice mixed with quinoa, plus sides of edamame, onsen egg, and sauteed kale. The two medium-sized flaky salmon fillets from New Zealand taste quite sweet from the mirin and sake-infused miso marinade, and are bathed in yummy, creamy mentaiko sauce (all sauces are made in house).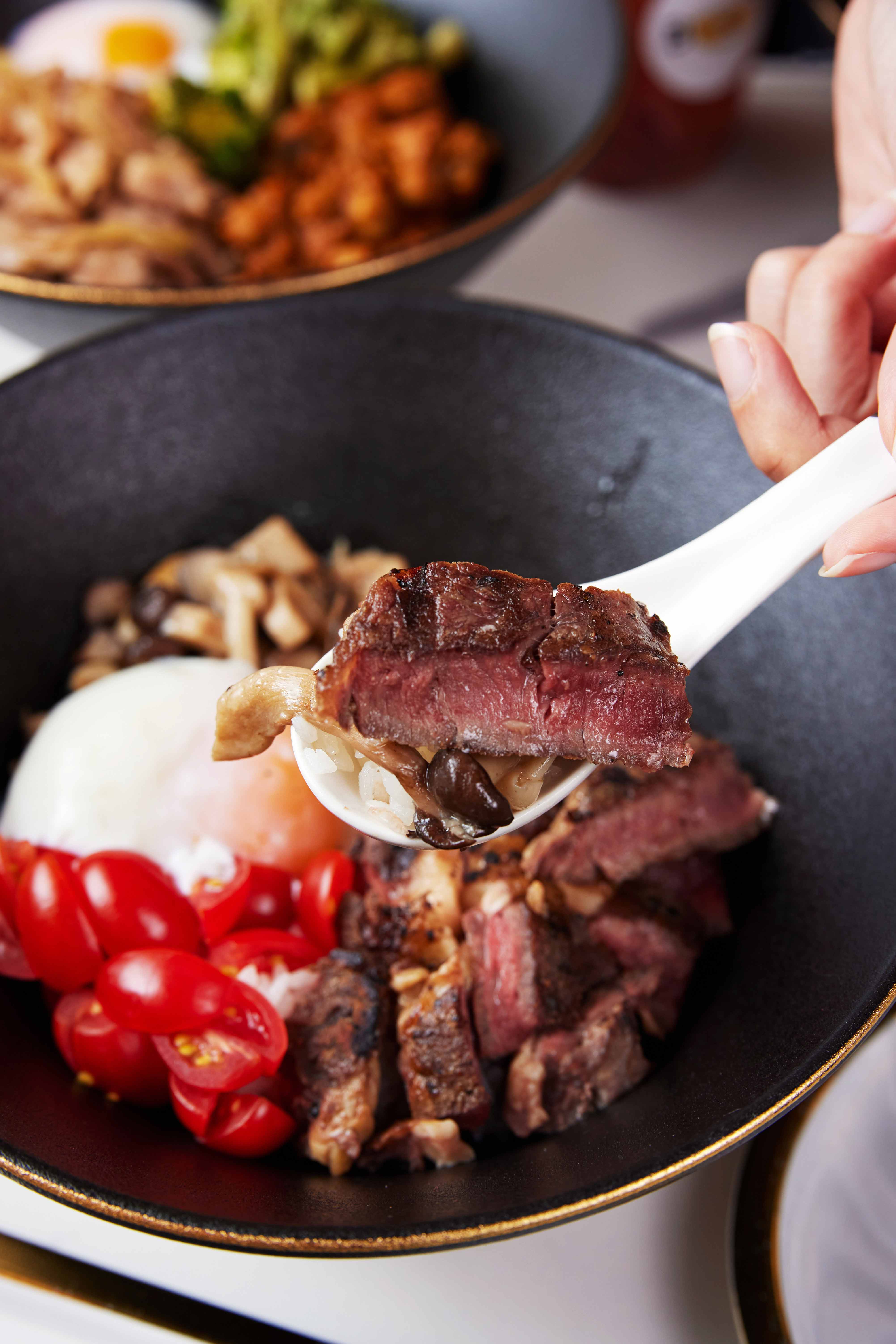 With pearl rice, cherry tomatoes, onsen egg, and garlicky sauteed mushrooms. The Australian rib-eye – first seared, then finished with a blowtorch – is fabulously smoky, and the meat is tender and juicy. Bigger eaters may find the protein portion a bit small, but the quality is undeniable. Still, we wish they could be more generous with the soya sauce accompanying the rice. Go for the side dish of Grilled Ribeye Cubes ($7) to let the meat shine on its own.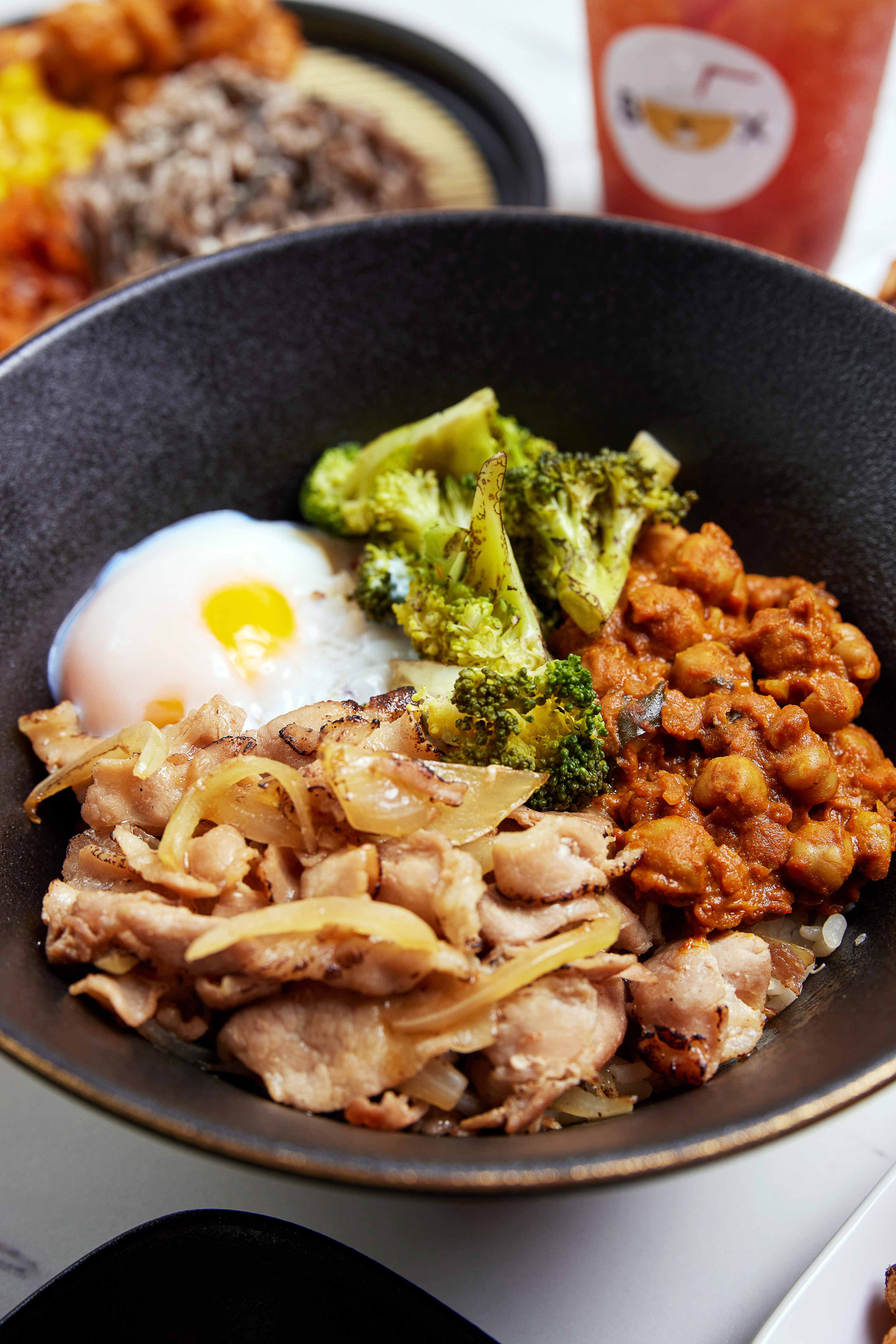 Similar to the beef, the fatty pork belly is torched to finish, and boasts an enticing smokiness. Thanks to the shoyu and citrus juice sauce it's cooked in, the rice is also wetter than the beef bowl. However, meat portions might not be enough for bigger eaters. We also don't love the side of curried chickpeas – the Indian notes don't gel with the Japanese flavours, though the beans themselves are cooked till soft and boast a good heat.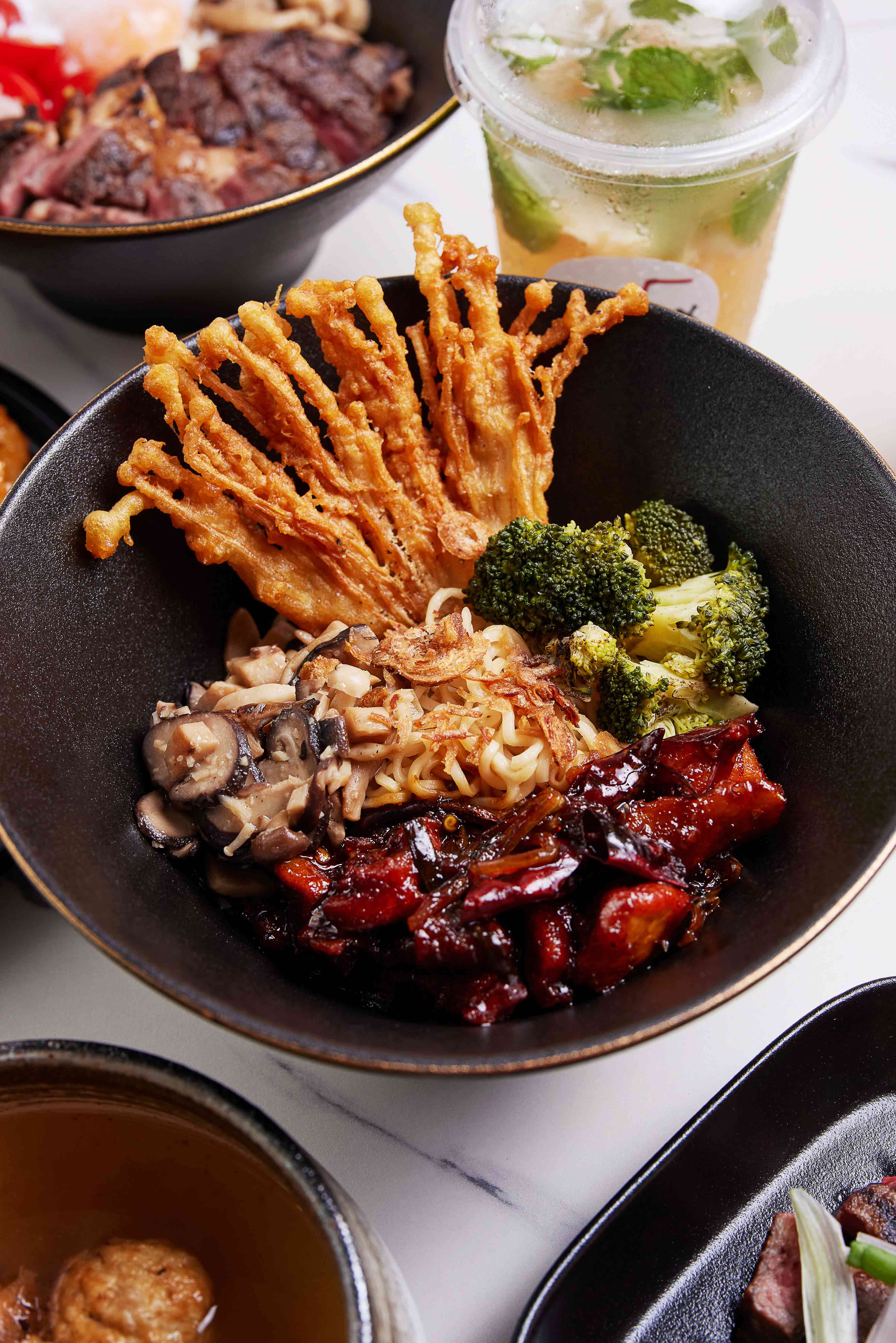 This one's a fancied up instant noodle combo, featuring addictive Koka noodles tossed in scallion oil, and sides of charred broccoli, sauteed mushrooms, and deep-fried enoki tempura. The stellar tempura boasts an unbelievably light and crispy batter – the only downside is it outshines the mushrooms within. As for the meat, the kung pao sauce has been tweaked to be sweeter and less spicy, with the result that the chicken thigh pieces look and taste a little bit like char siew, albeit with a pepperiness at the end.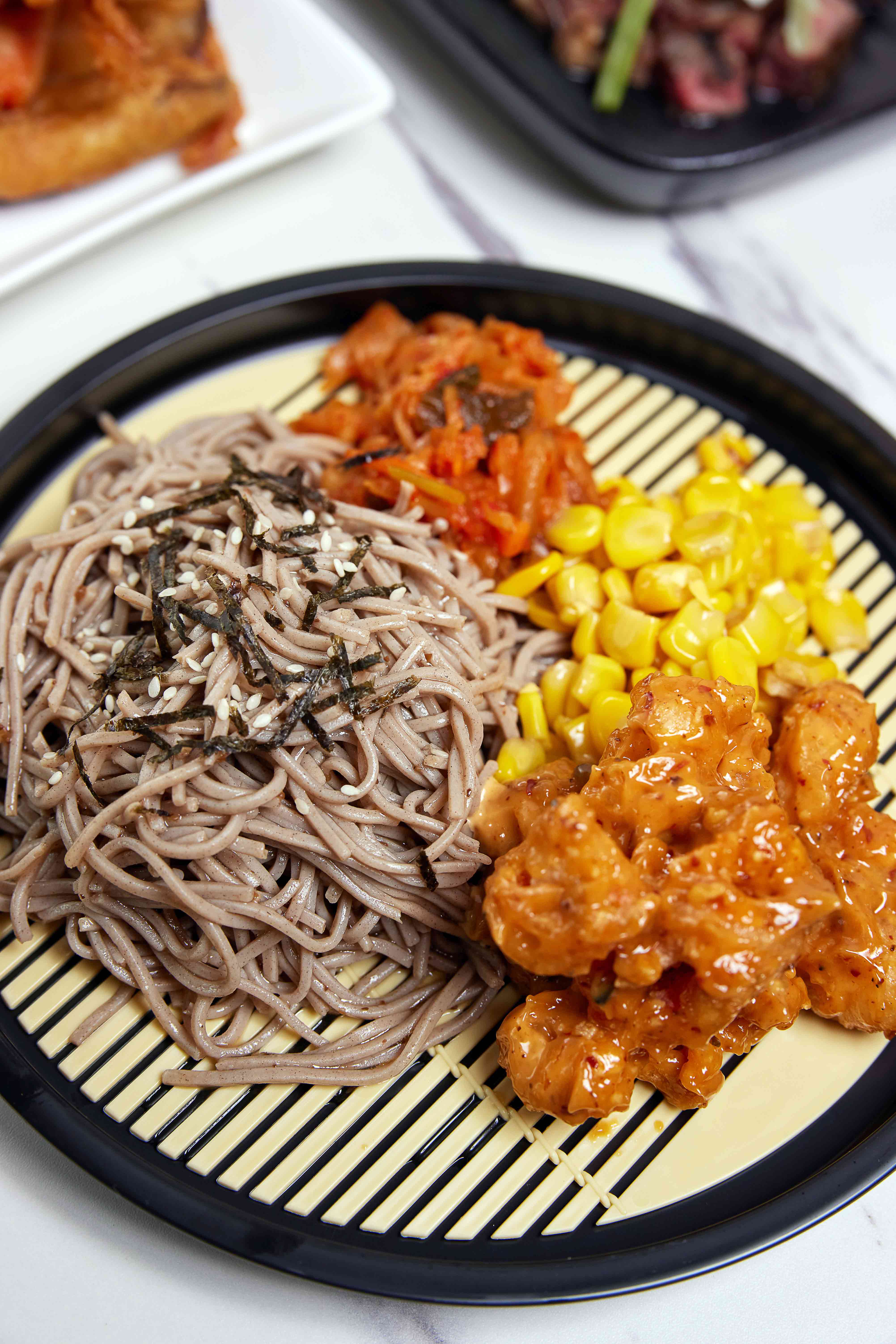 The prawns are coated in flour and deep fried, then slathered in a calorific mala-spiked mayonnaise. There's an authentic spicy kick, but it's toned down enough by the rich creaminess. The pairing with soba noodles dressed in lemon juice, sesame oil, and soy sauce is a bit odd at first, but it grows on us. Ours comes with corn and rather tangy homemade kimchi, which don't quite balance out the cold noodles and shrimp.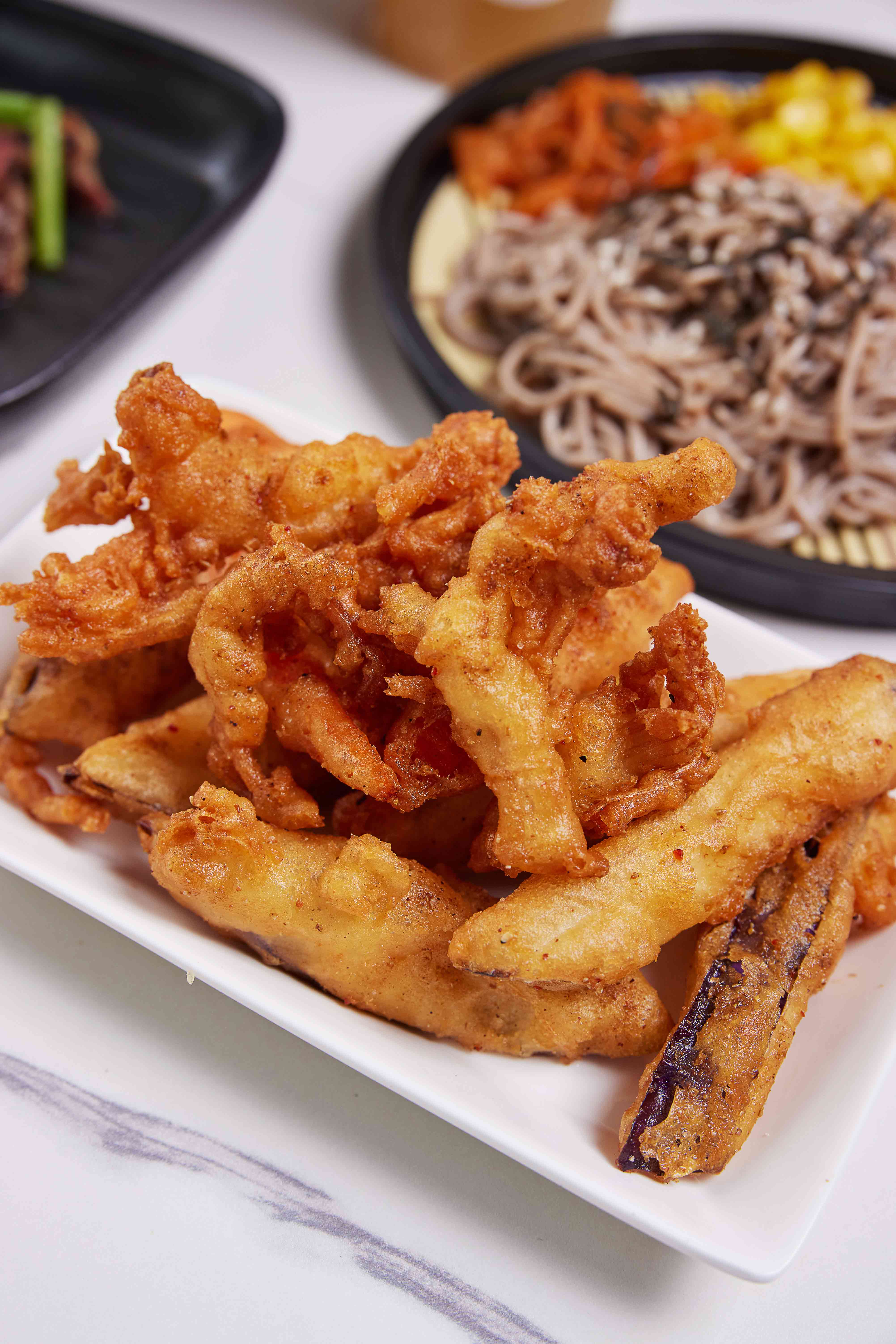 Even meat lovers will adore this tasty tempura, made with a homemade batter that stays crisp after several hours in the fridge in a takeaway box. The seasonal vegetables, including eggplant, mushrooms and carrots, are perfectly fried and not oily, plus there's a whisper of saltiness, heat, and a curry note from a seasoning mix including Sichuan peppers and cumin that's been roasted in-house.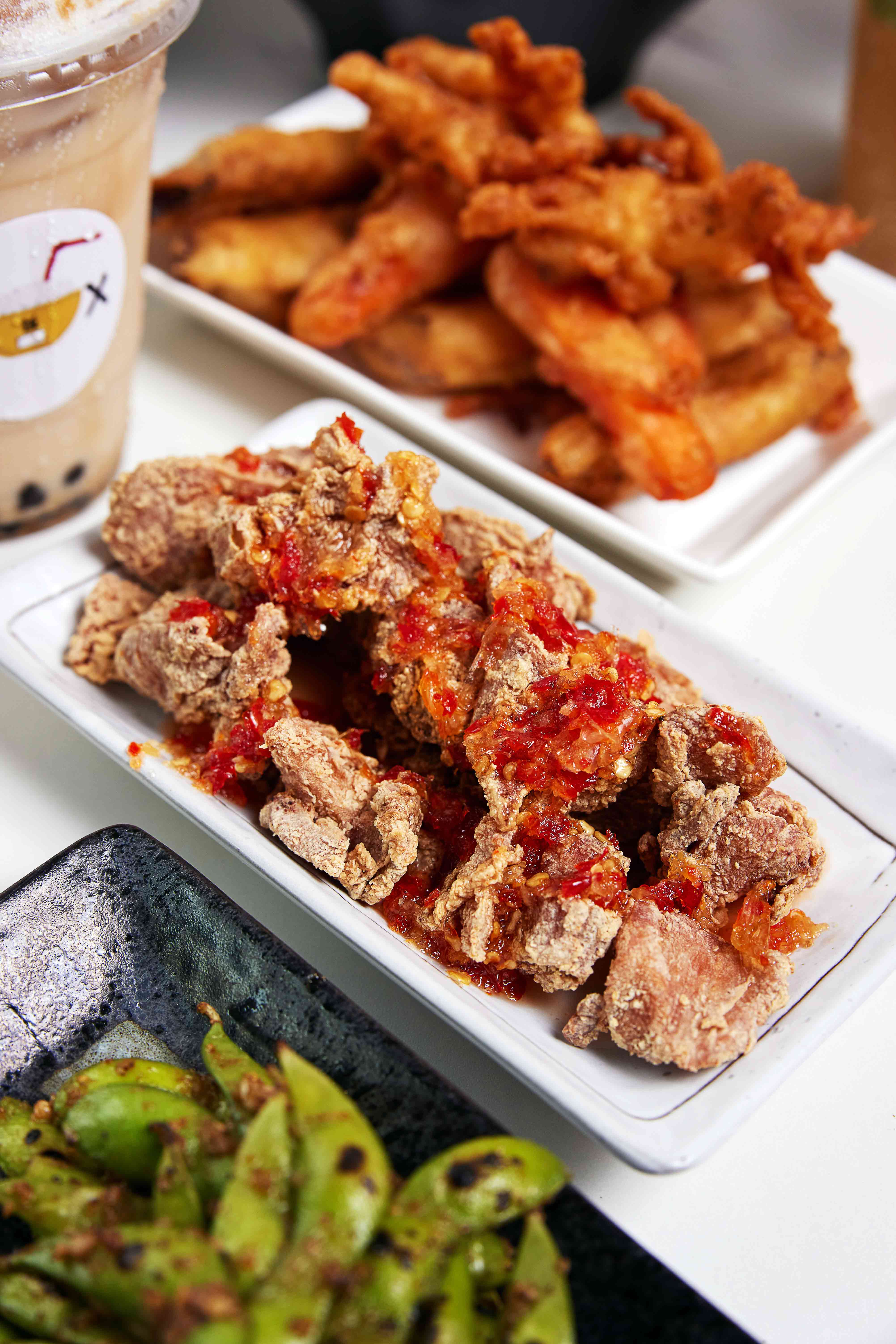 What we thought was deep-fried chicken skin turns out to be small pieces of deboned chicken thigh coated in the same seasoning as the tempura, giving it a peppery savouriness. The chefs' twist on har cheong gai involves infusing dashi into the prawn paste for greater umami, and slashing the amount of prawn paste to cut down on the saltiness. The result is delightfully light, perfectly seasoned fried chicken bits that are good enough on their own without the Thai chilli sauce.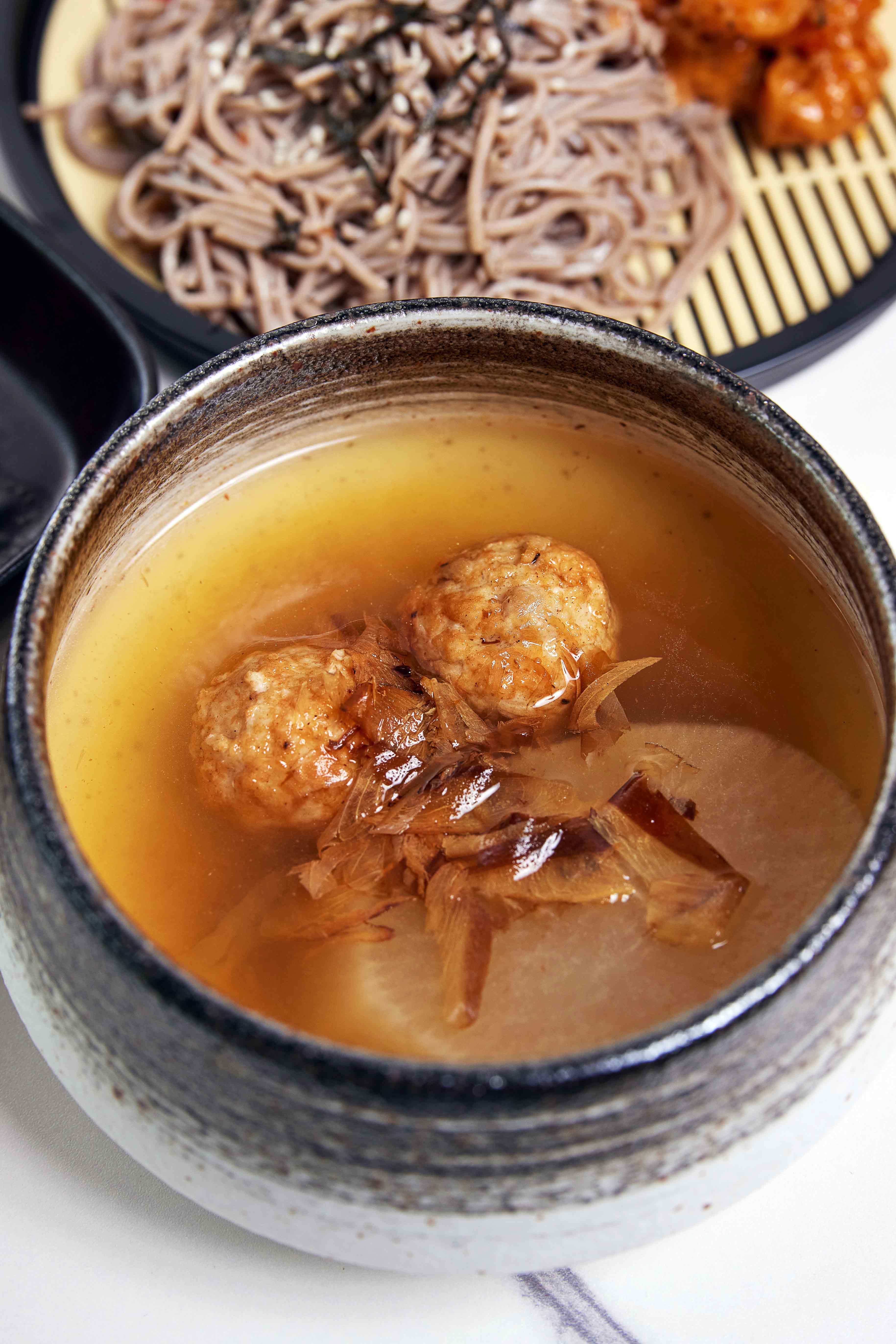 In a gentle, layered broth of dashi and bonito is a fall-apart soft slab of daikon. We've been so impressed by the food at BoxFan so far, it's almost disappointing that the two fish balls taste a bit processed (they're bought from a supplier).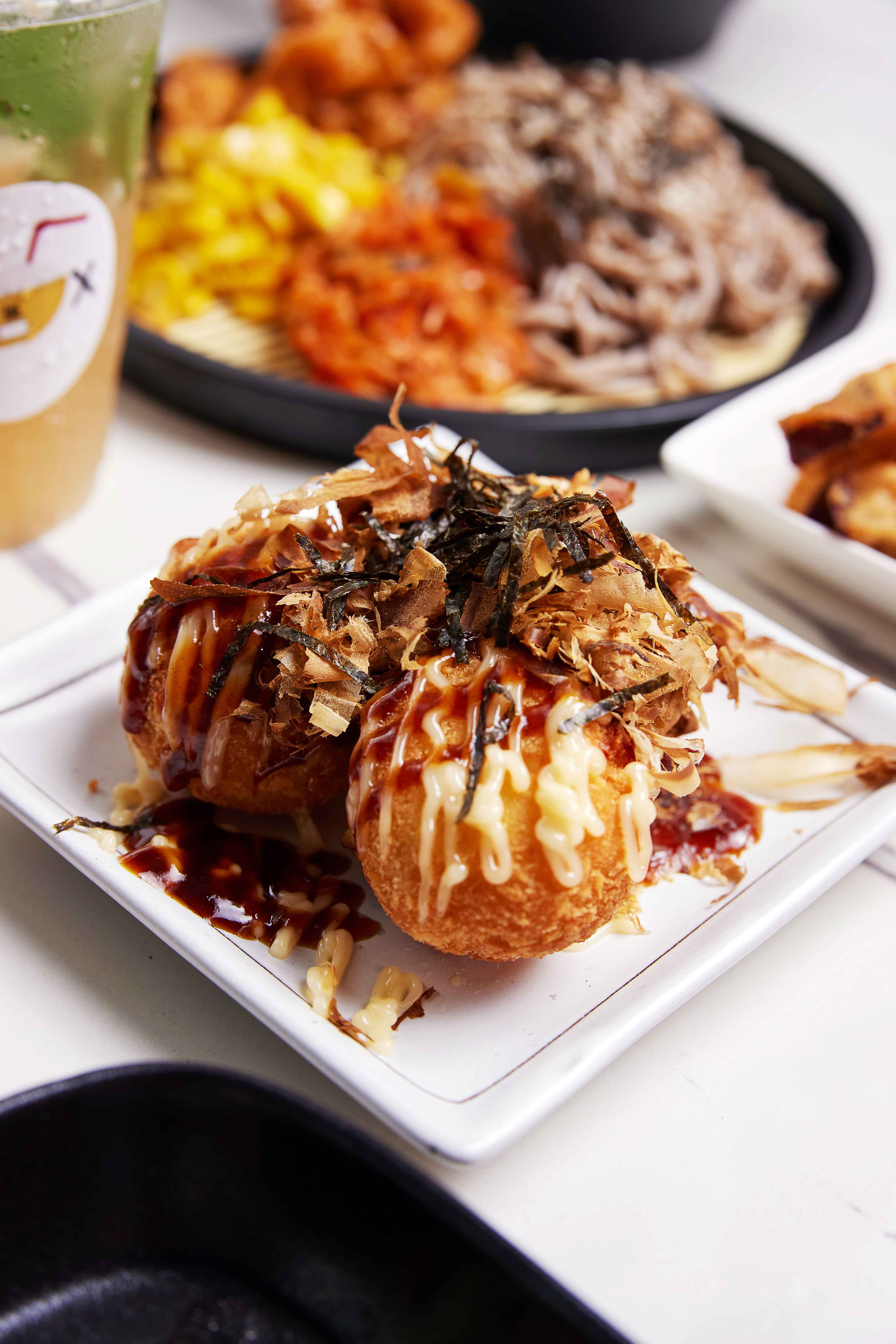 Not really takoyaki, but a mashed potato ball with scallion oil and spring onions. It's stuffed with a cube of salmon that's as soft as the potatoes, so the fish flavour does disappear. Nevertheless, the crisp breadcrumb exterior and fluffy mash are delish paired with the takoyaki sauce and mayo.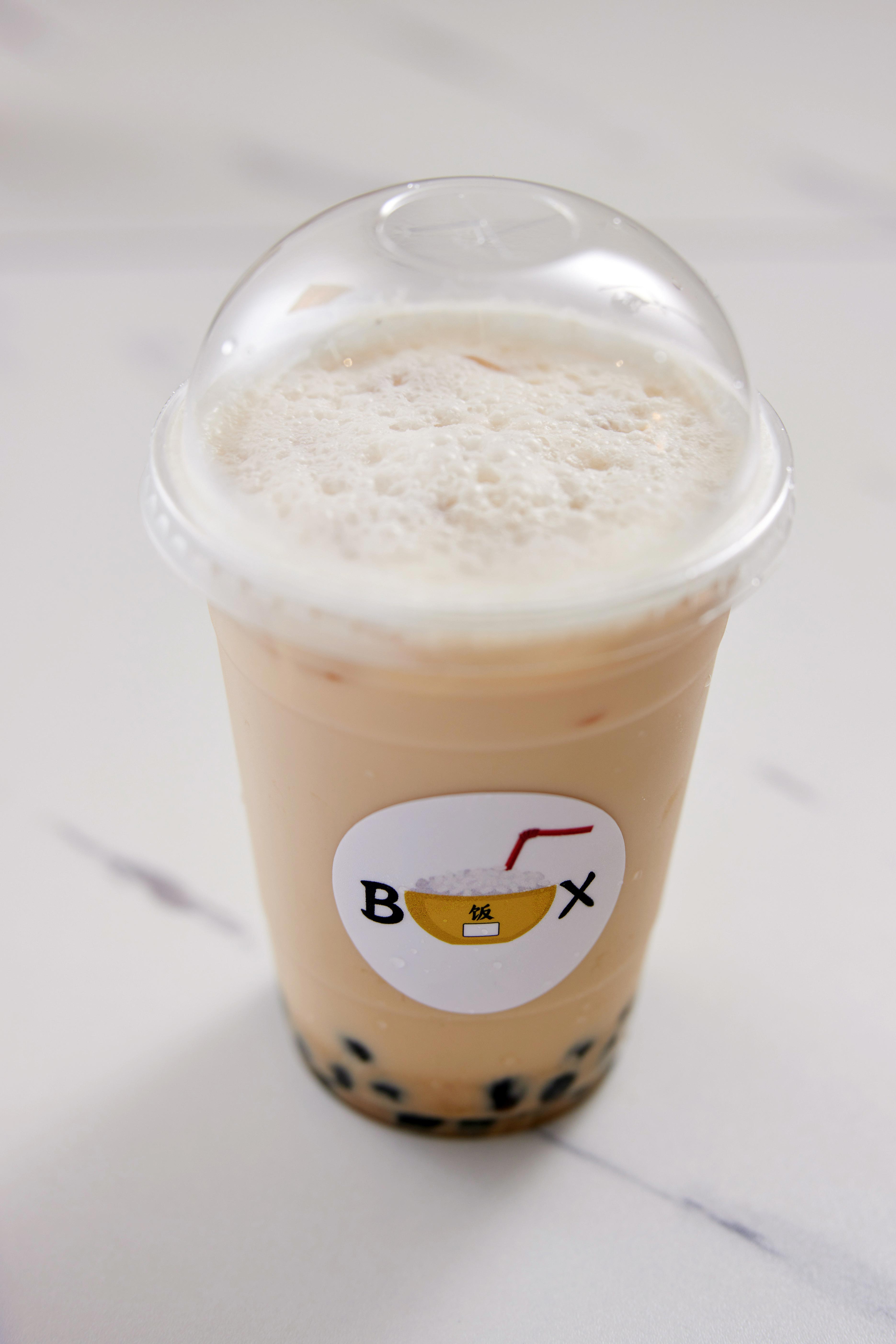 The tea is light and free of the usual powdered creamer (a mix of fresh milk and cream is used), but wants more richness and sweetness. "Tastes like teh si," our photographer remarks. Ouch. The small pearls are a touch too soft.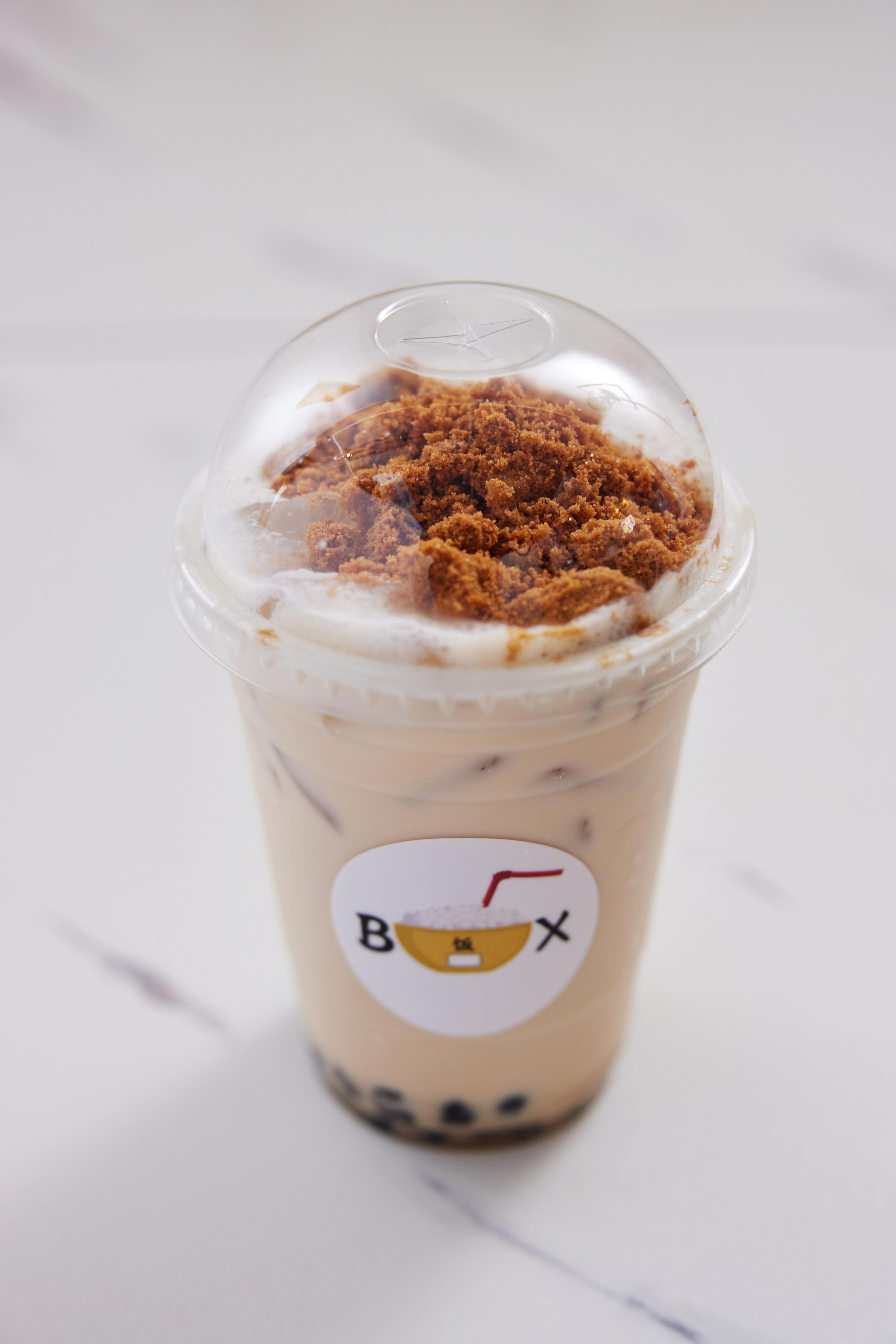 Thanks to the sweet, buttery biscuits, this one's a little tastier than the Signature Milk Tea.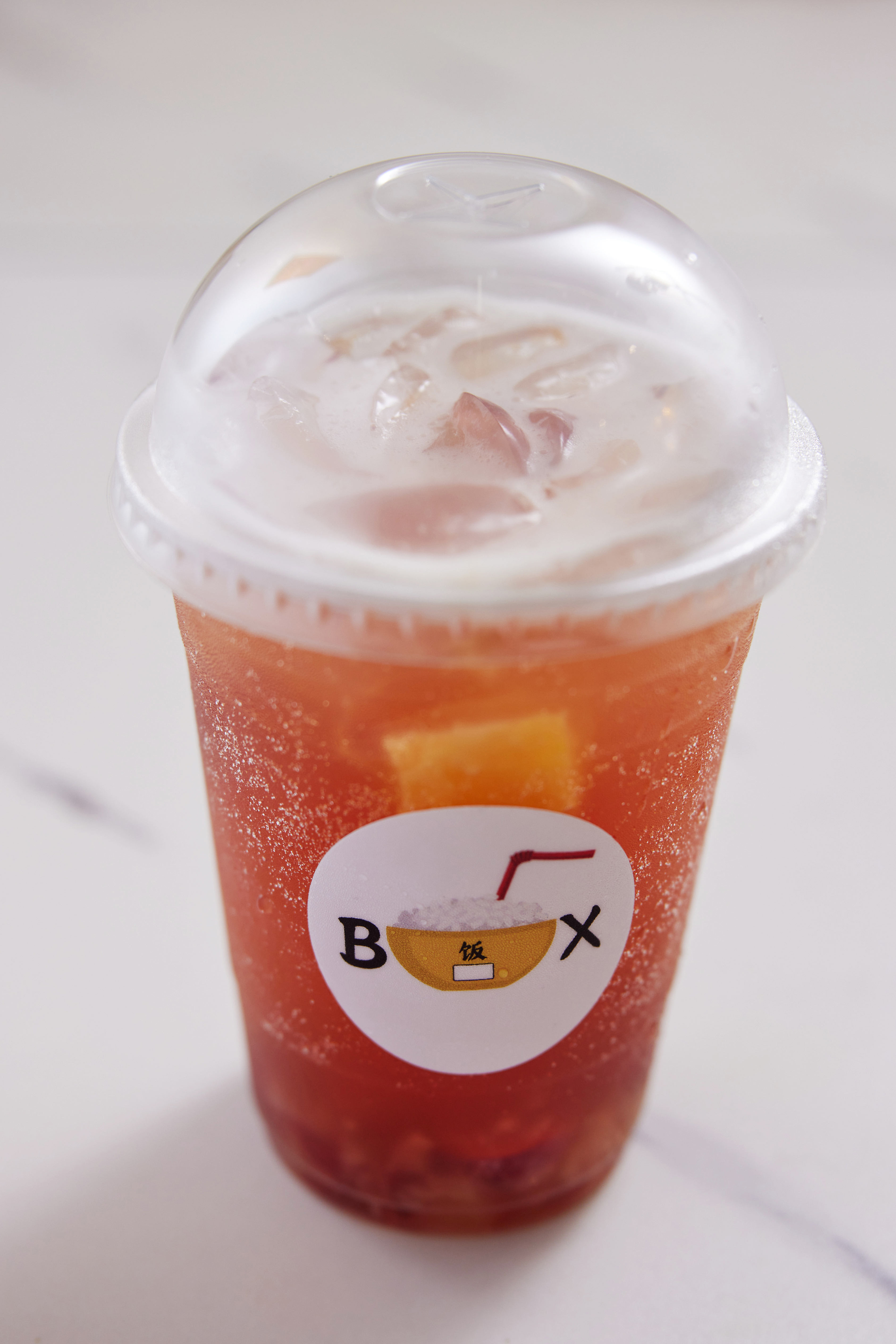 Thomas uses a muddler to press various fruits – grapes, oranges, lemons, grapefruit, and berries – to let out their sugars, then adds jasmine green tea, aiming to create a taste not unlike virgin sangria. It's promising, but could use some fizz.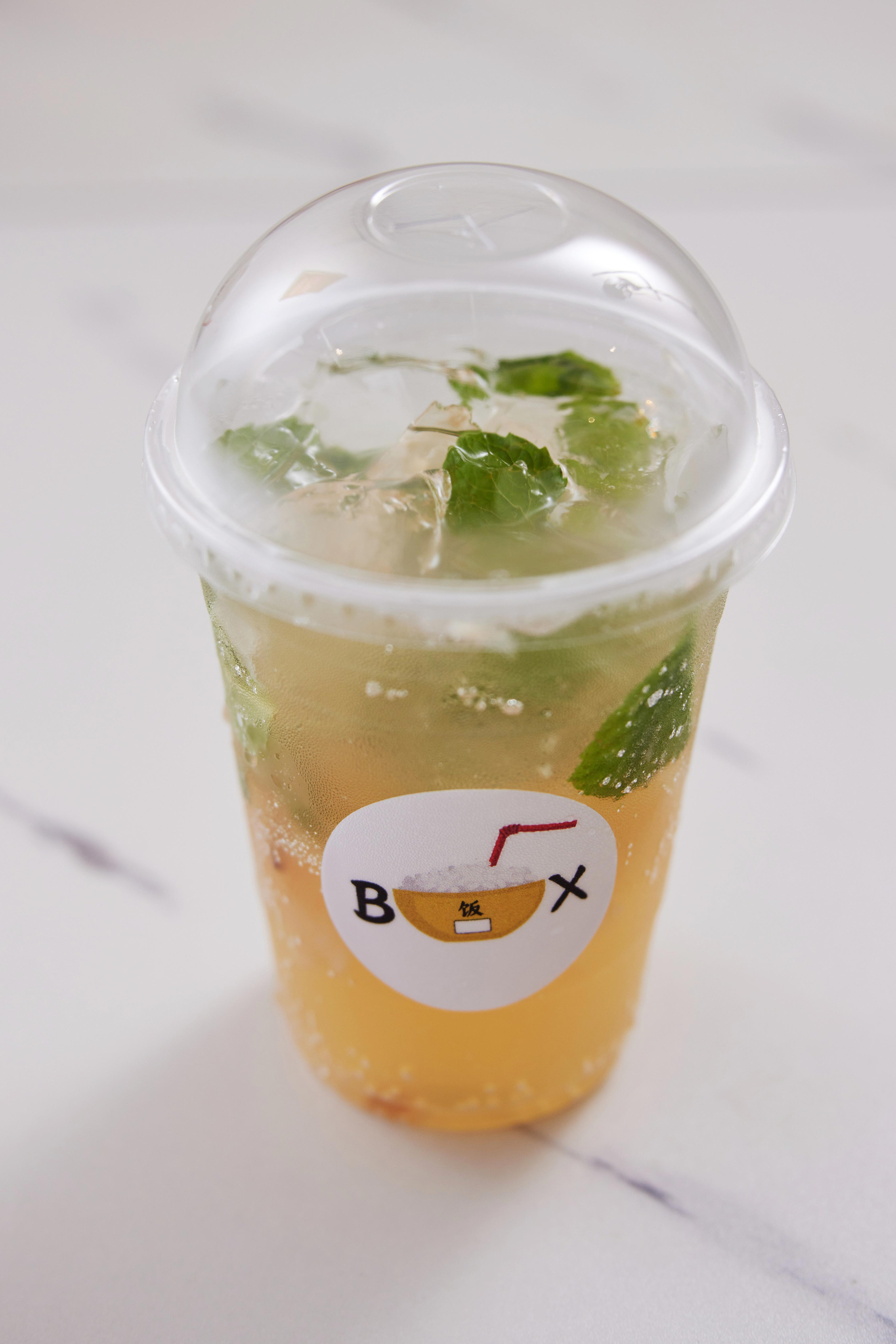 The fizz helps liven up this drink, which is refreshing from the mint leaves and green apple, but dominated by the taste of canned lychee syrup. It's a little too sweet.
Yummy grain bowls and side dishes that are clearly a cut above the usual offerings — you can tell experienced restaurant chefs prepped the items at this humble-looking eatery, in particular the beef and deep-fried dishes. Price-wise, it's on par with or slightly cheaper than other grain bowl competitors in town, though the meat portions here might not be enough for bigger eaters. Luckily, the side dishes are tasty and very reasonably priced, so top up your meal with some beef cubes or prawn paste chicken.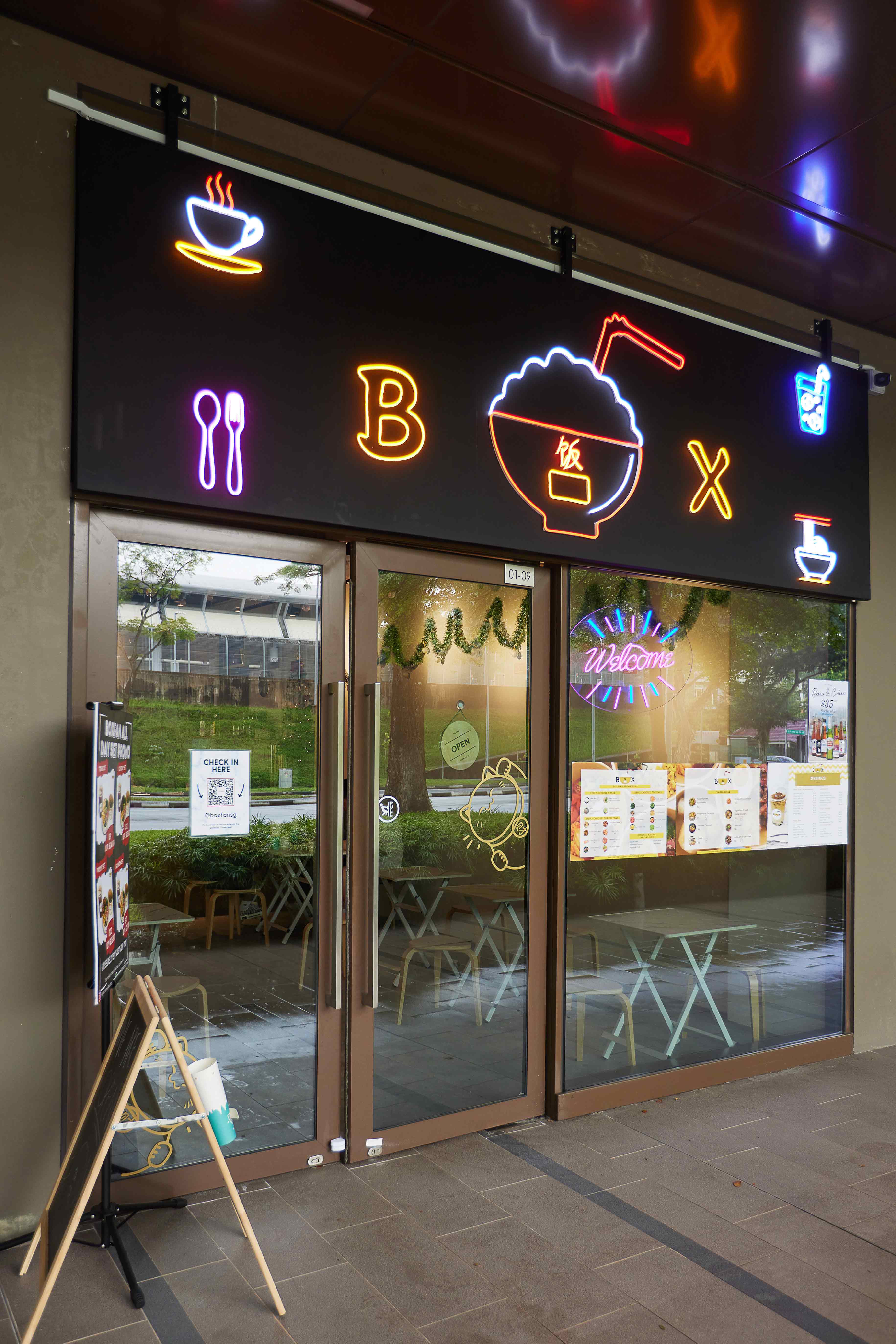 BoxFan is at #01-09, 60 Springside Walk, S786020. Open Tues – Sun 11am - 10.30pm.

All photos cannot be reproduced without permission from 8days.sg

Photos: Kelvin Chia