Free Pita Bread At S'pore's First Israeli Eatery Miznon, Opened By MasterChef Judge
The popular chain by Israeli celeb chef Eyal Shani boasts outlets in Paris, NYC & now, S'pore.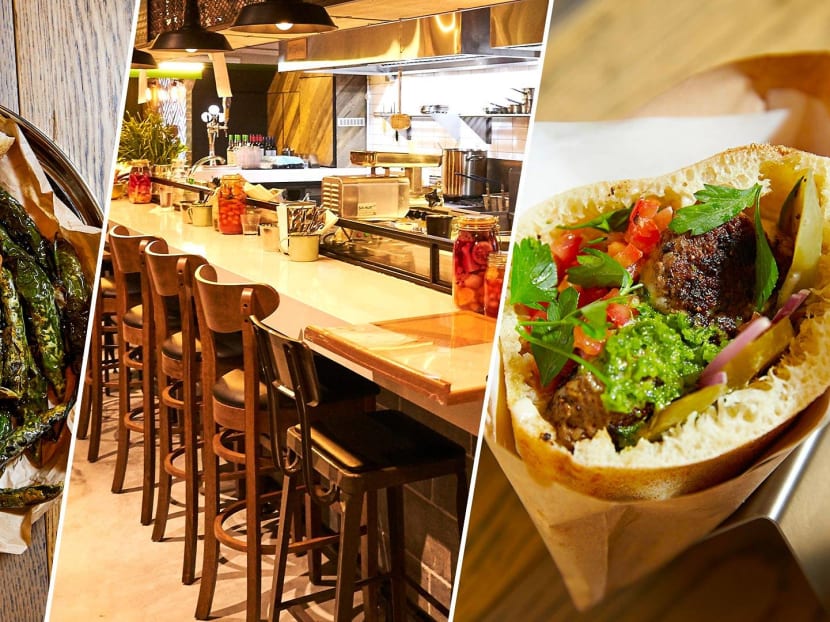 We weren't sure what to expect when we heard that Singapore was getting what is probably its first proper Israeli restaurant this week. Israel is not a destination we've had the pleasure of visiting, so the stereotypical kebabs, pitas and hummus of the Mediterranean culinary canon came to mind. It turns out we weren't wrong. But what we didn't foresee was how good it would all be at Miznon Singapore, which officially opened on 3 November along Stanley Street.
No photos can be reproduced without permission from 8days.sg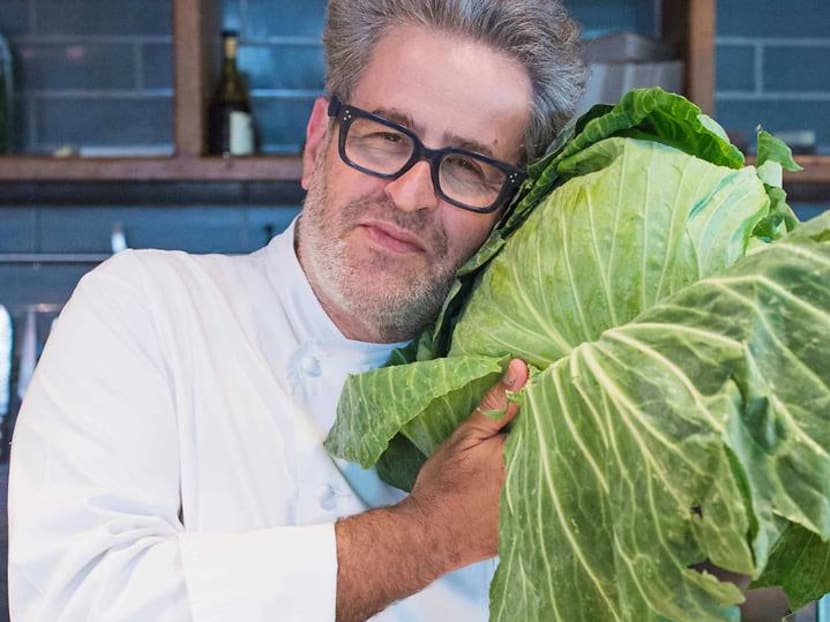 The well-travelled may have heard of Miznon ("canteen" in Hebrew), which has 10 outlets in cities like Tel Aviv, Vienna, Paris, New York and Melbourne. It was started by Israeli chef Eyal Shani, a huge food celeb in his homeland and a judge on MasterChef Israel. According to Shani, Israel cuisine isn't so much a cuisine but a culture defined by what Israelis eat and the ingredients they have. "It is a mix of Mediterranean fare with French influences," explains a spokesperson for the restaurant. So Shani started with that as a base and made food that, by all accounts, Israelis love. In fact, a certain Yotam Ottolenghi (the famous English-Israeli chef) reportedly calls Shani "the voice of modern Israeli cuisine". Till now, Singapore hasn't had a specialist Israeli eatery — other restaurants usually serve a mix of Middle-Eastern, Mediterranean and Israeli plates.
Miznon Singapore's 42-seat outpost is vibey, festive and warm, with cheerful Israeli tunes blaring, a bustling open kitchen, and polished wooden crates doubling as tables lining one side of the semi-air-conditioned dining room. This is where guests who want a quick lunch can perch themselves and devour their stuffed-to-the-brim pitas. There are a couple of proper dining tables and chairs just in front of the open kitchen and in the al fresco area that lines the five-foot way. Guests place their orders and make payment at the counter before their food is served to them at their tables.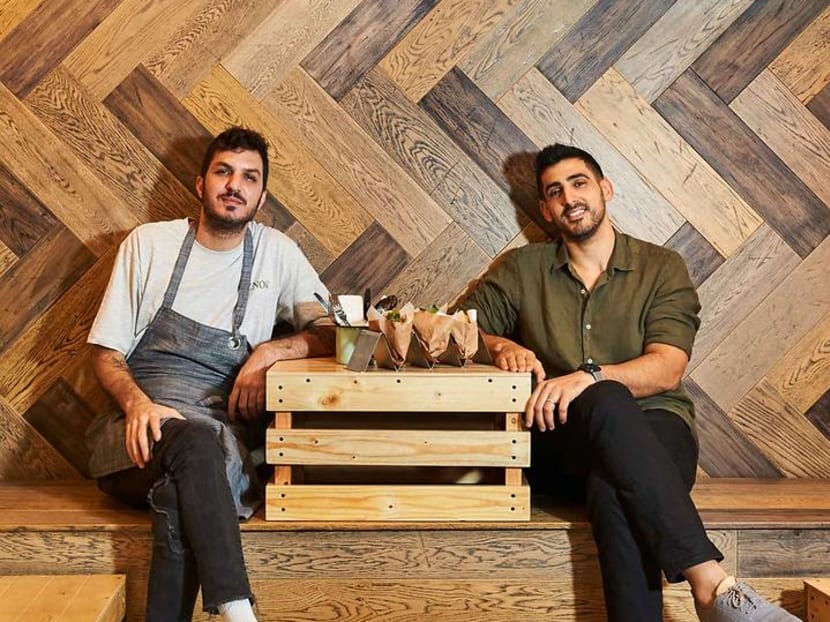 Miznon Singapore is a joint venture opened by Israelis and Singapore residents, co-owner Nadav Cohen (on the right, pictured with chef Or Hakmimi), 34, and Tal Eisenberg 40, who are also behind Aussie café Carrotsticks & Cravings.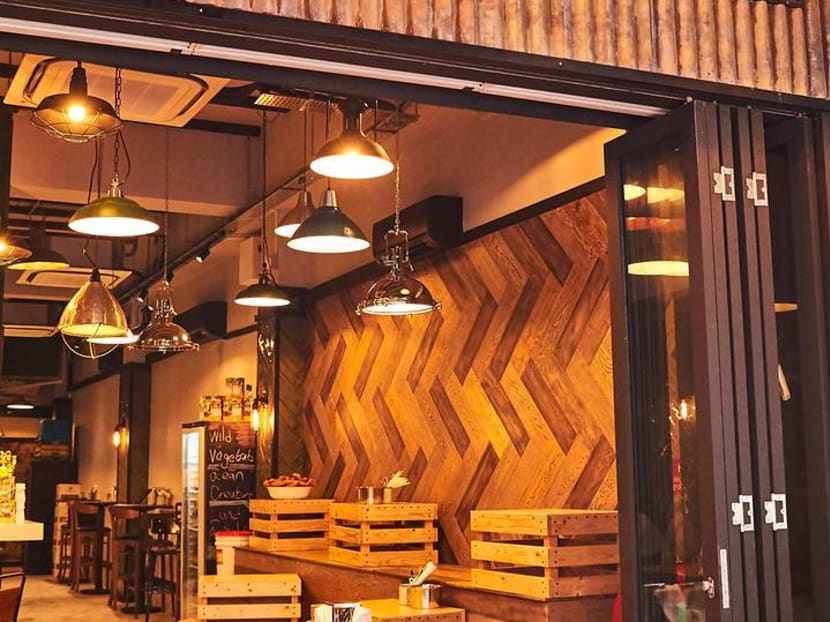 While chef Shani had plans to come to Singapore for the opening, Covid-19 happened and he has remained in Israel. He is currently filming the next season of MasterChef Israel and has plans to visit soon (quarantine and all). So who trained the kitchen team in Singapore? "At Miznon, it's all about the people so we hire people with some edge or different personalities to form the team — that is chef Shani's vision. Executive Chef Or has also spent many years perfecting Israeli cooking, making him a perfect fit for Miznon," says the PR rep.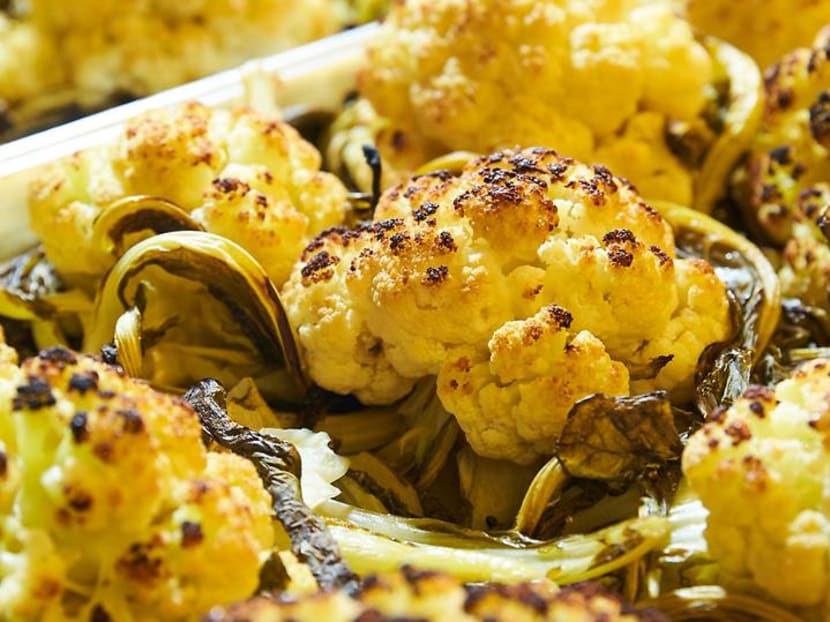 The highlights here are undoubtedly the pitas and tahini (see below, a sesame seed condiment; sorta like peanut butter, but made with sesame seeds), which are unlike any other versions we've tried here in Singapore. The tahini, which features in just about every dish, is runny and incredibly creamy unlike the paste-like consistency that most of us are accustomed to. To make the tahini, chef Shani sources what he deems are the best quality sesame seeds in Israel from a mountainous region he will not name. These are ground into a creamy paste and sent to Singapore, where Israeli executive chef Or Hakmimi, 34, mixes it with olive oil, lemon juice and salt to yield a creamy, nutty and earthy tahini that's really quite addictive.
Interestingly, when he was in his 20s, Hakmimi worked as a waiter in one of chef Shani's restaurants, which inspired him to pursue a career in the kitchen. In the years since, he has worked at well-known restaurant Shulchan in Tel Aviv and travelled the world cooking for private clients.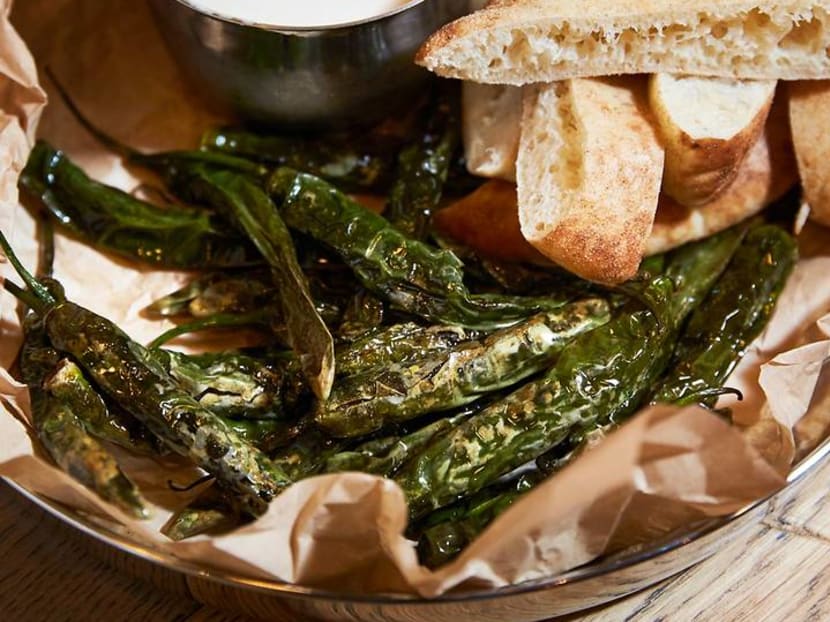 The same goes for the pitas, which are made of a secret blend of six different flours by a bakery in Tel Aviv and shipped frozen to Singapore. Forget the flatbread-like version you've come to know because these pitas are pillowy and fluffy, with a nutty toastiness. It's crazy how good these are. It's a good thing the pitas, tahini and some grilled local green chillies, are always available on the kitchen counter for guests to help themselves to buffet-style, free of charge. We're not sure if this is a good idea in the time of Covid-19, however the PR rep assures us: the items will be covered when customers are not at the counter and will be served with a thong to minimise hand contact .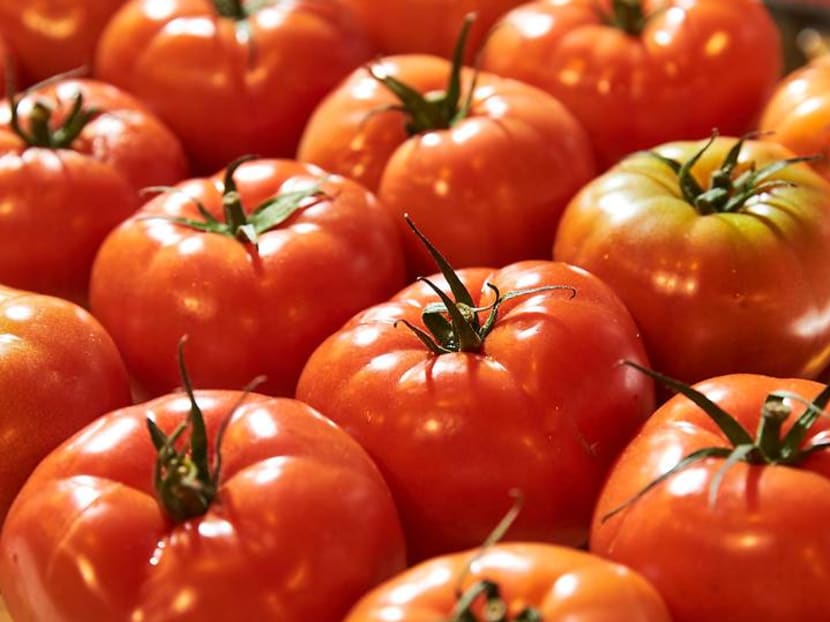 The menu is compact and vegetable-forward, with a dozen different stuffed pitas, lots of vegetables like a whole grilled cauliflower, grilled sweet potatoes, and falafel served with sour cream, tomato steak, chillies, onions and pickles. But it's hearty and communal, especially with all that delicious pita and tahini that you'll no doubt eat, so you won't miss the meat. Diehard carnivores however, will find salve in dishes like a beef short-rib stew and chicken schnitzel.

We tried a couple of Miznon's signature dishes the day before it opened to the public.
A warm, puffy pita stuffed with a light, brightly flavoured ratatouille made with carrots, onions, tomatoes and lots of melty eggplant. The hot, piquant stew, redolent of tomatoes, is topped with chopped hard-boiled eggs, a generous drizzle of tahini, and a chilli sauce made from green chillies, garlic and olive oil. The flavours and textures of this pita are complex, warm and comforting. A super satisfying meat-free number.
The Abu kebab is named after Abu Kamel, an old butcher shop in Jerusalem. Its owner gave chef Shani the recipe for his beef kebabs which are lightly spiced, tender and smoky from the grill. These go into the pita, slicked generously with tahini and tucked with onions, parsley and pickles. This is a smoky, meaty sandwich that'll fill you up for more than a few hours.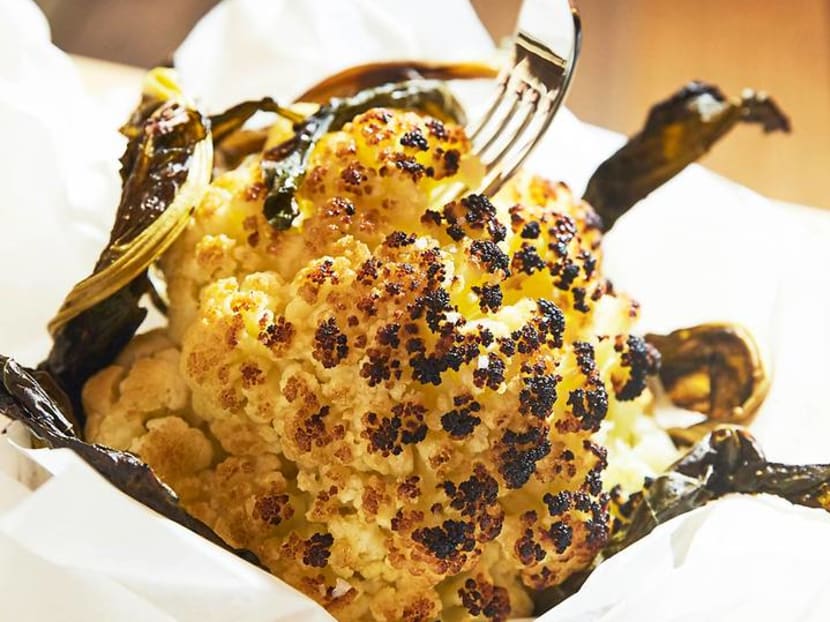 Why serve a giant, un-elegant roasted cauliflower when you can source beautiful heads of baby cauliflower from India and roast them over a hot griddle? Cooked till yielding, succulent and sweet, the smoky vegetable is simply dressed with salt and pepper and served whole. So lovely dipped in tahini.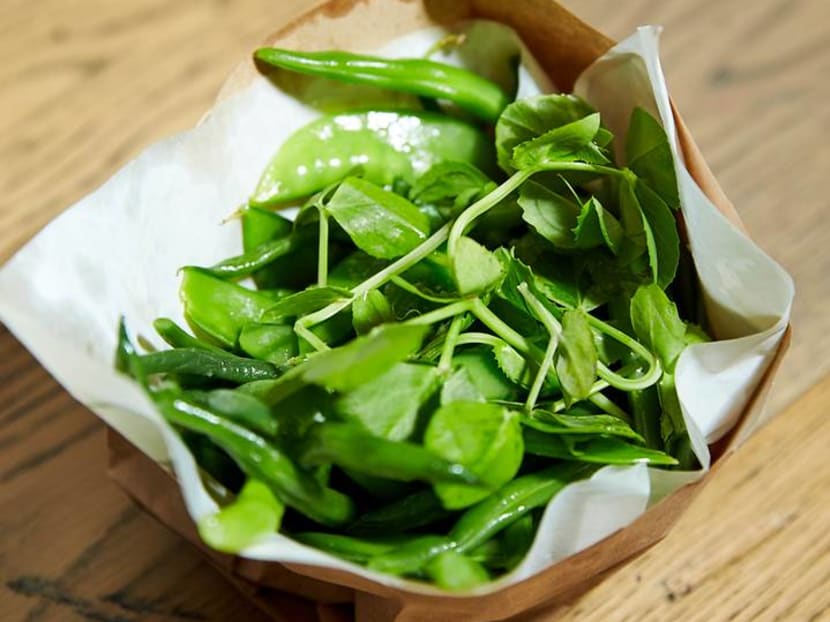 This is exactly that: a brown bag full of blanched sugar snap peas, green beans and pea sprouts tossed in garlic, lemon, olive oil and salt. Simple and, well, very green. Great if you really love your veggies. Again, a dip in that delicious tahini doesn't hurt.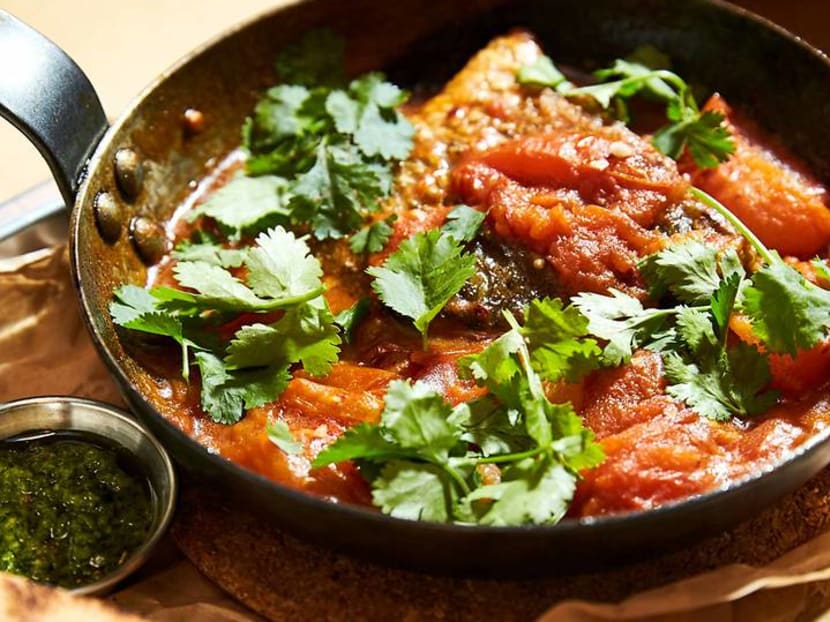 According to Miznon's owners, hraime (a light tomato and fish stew) is an everyday dish in Israel that varies from family to family. Here, chef Hakmimi spices the tomato stew with harissa (a paste made from fermented red chillies, garlic, paprika and cumin) and bathes a meaty barramundi fillet with it. The result is a perky-flavoured and garlicky tomato stew, with a mildly briny lilt from the beautifully crisped and seasoned fish. It is served with more pita, this time lightly charred over the grill, more tahini and chilli sauce. This is another one we'll definitely come back for.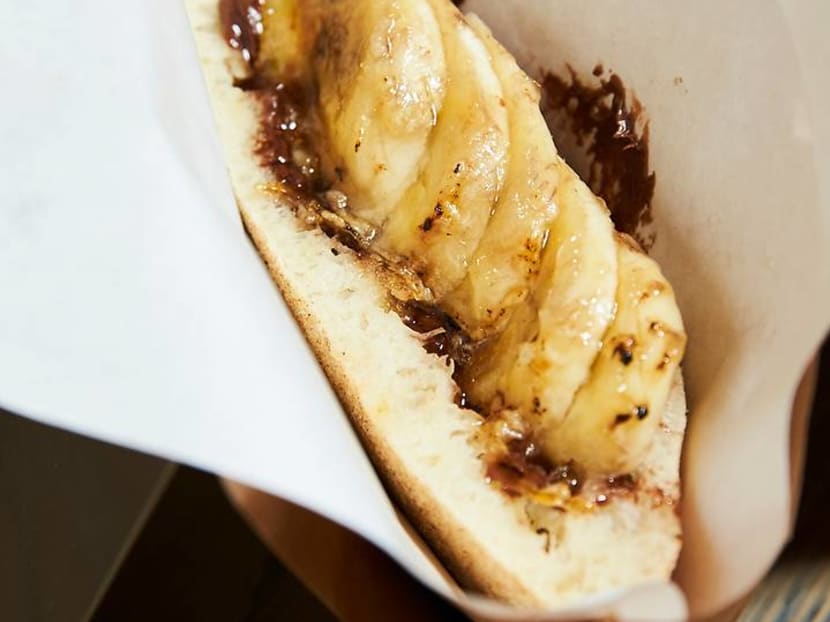 The tops of the pitas that are sliced off before they are filled are repurposed as little dessert pitas stuffed with either sliced bananas and Nutella or strawberries and sour cream. Honestly, after all that pita, it feels impossible to eat more pita, even if it's filled with sweet things. But we do our best. These are essentially sweet, fruity sandwiches that kids would really enjoy.
Great, super hearty Mediterranean food like we've never had before. It's evident that much attention has been paid to the quality of ingredients and textures, which make for really satisfying fare. The pitas don't come cheap — you're essentially eating a sandwich for between $16 and $24, but they are truly filling and robustly flavoured. The non-pita dishes, however, are more well-priced, between $11 and $26. Think of this as really elegant, modern Mediterranean food that's been missing from our scene. We hope they can sustain the quality of food when the hordes descend.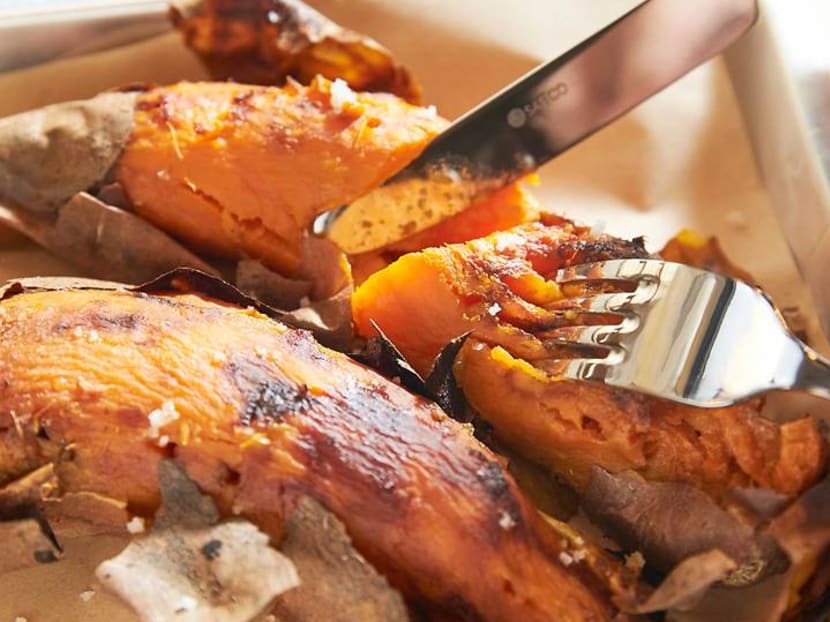 Miznon Singapore is at #01-01, 6 Stanley St. S068725. Open daily 11am to 11pm. Tel: 6223-0716. www.miznonsingapore.com.​​​​​​​

Photos: Aik Chen

No photos can be reproduced without permission from 8days.sg