Retrenched From Software Engineer Job, Myanmar-Born NUS Uni Grad Sells Ban Mian
The millennial hawker — who is now a Singaporean citizen — also serves a delish Myanmar noodle dish with pork balls.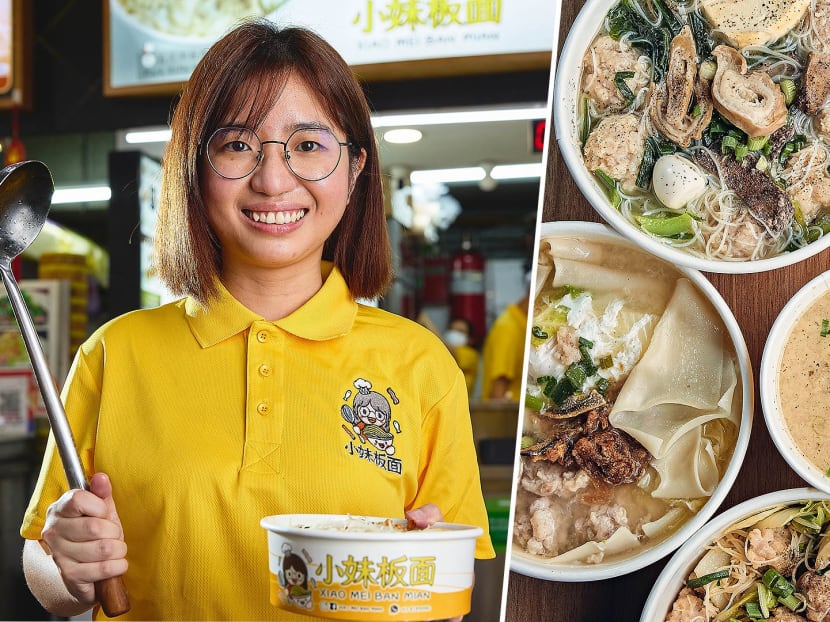 At first glance, newly-opened Xiao Mei Ban Mian looks like your typical ban mian joint. Take a closer look at the menu though, and you'd realise that it actually sells fusion-style noodles with a Myanmar twist. The girlish, diminutive hawker behind it is 32-year-old Khine Zar Lin, who was born in Yangon and now a Singaporean citizen. She opened her kopitiam stall on April 19 in Woodlands a couple of months after she lost her job as an application engineer. She named the stall Xiao Mei Ban Mian after, well, herself. "People always call me xiao mei 'cos I'm young and quite small," explains the 149cm-tall millennial. The mandarin phrase usually means little sister, but can mean little girl in this context.
Her stall dishes out both Singaporean-style ban mian in a robust broth flavoured by pork bone and ikan bilis, alongside Myanmar kyay oh (pronounced "jay oh"). The latter noodle dish, topped with pig's offal and quail's eggs, comes in two versions: doused in a homely broth comprising just pork bones and garlic; or dry, tossed with garlic, lard and soya sauce. Though vaguely similar to ban mian, Khine tells us that kyay oh is an altogether different dish whose name directly translates to "bronze pot", the cooking implement it's traditionally cooked in. To cap it off, she also serves a fusion version of the noodles with Myanmar-style toppings and Singapore ban mian-style soup.
All photos cannot be reproduced without permission from 8days.sg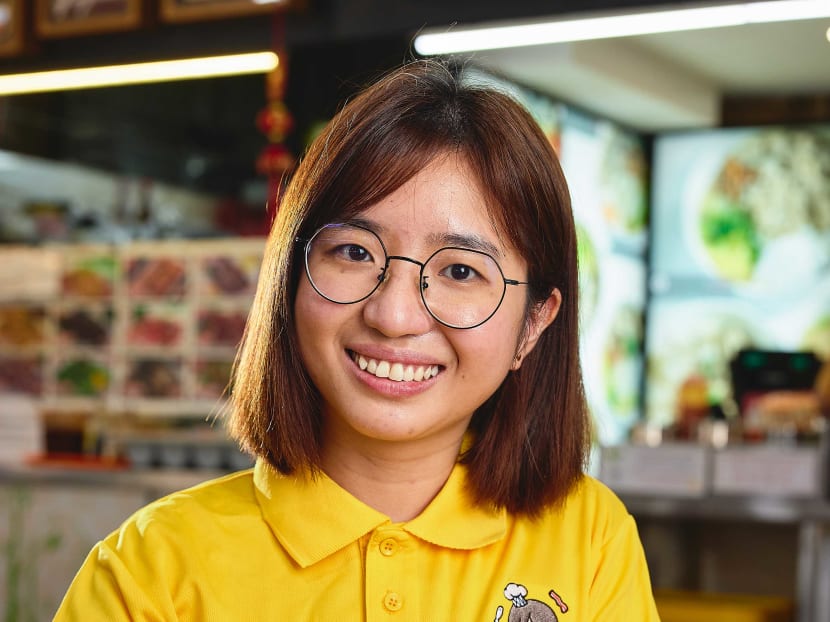 When Khine first came to Singapore in 2006, the goal was simple. "My parents wanted me to study, and get a job with a stable salary every month in an air-conditioned office," she shares with a laugh. Then 17-years-old, she got her diploma in Bioelectronics from Singapore Polytechnic before moving on to the National University of Singapore, where she graduated with a Bachelor's degree in Engineering. Thereafter, she spent two years as a software engineer before becoming an application engineer (developing a mix of software and hardware products) for another six years in a Japanese semiconductor company.

"I'd always wanted to start [some kind of food business]," Khine muses. "But while working [in the corporate world], I didn't have the courage to leave my stable job."
However, as fate would have it, the Covid-19 pandemic unfolded during her stint at her second job. "The company wasn't doing so well. In February, they decided to remove the whole department. Nine people, including my manager, were retrenched," she tells us. After some consideration and a job hunt that netted two offers, she opted to turn down the jobs and start a hawker biz instead. "If I never start now, I will never do so. I have no kids now, so there is less risk," she adds (her husband, also from Myanmar, works in the cybersecurity field at an investment bank).
"I picked ban mian because it is my comfort food and I am never tired of eating it," she says. "And the reason I didn't go for pure Myanmar food is that the addressable market is very limited. That's why ban mian is our main offering, while slowly introducing some Myanmar dishes to Singaporeans." She bought her ban mian recipe from a hawker (she doesn't wish to disclose who), while experimenting with recipes for the Myanmar version – referencing YouTube tutorials, and making plenty of calls back home to her mum and mother-in-law for cooking tips, she says.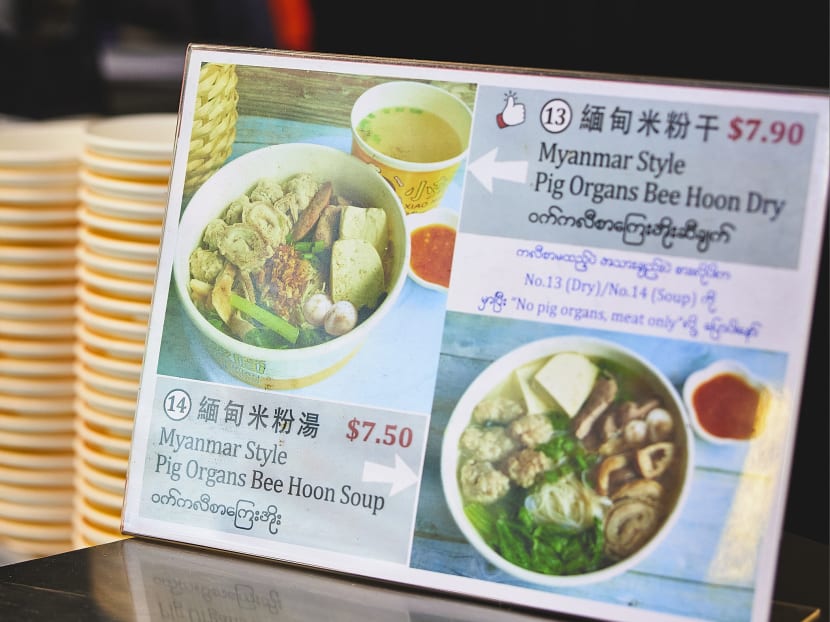 Initially, her parents (now retired, though they used to run a photo studio in Yangon) weren't too keen on the job switch. "They were thinking, after studying so much to be an engineer, why become a hawker?" Khine shares. She's amassed enough savings – including compensation from her retrenchment – for the business to run for at least "one year", on top of covering other expenses.
She and her younger brother, who came to Singapore after Khine and now works in a cybersecurity firm, are supporting their father who is also residing here. "He [had] a kidney transplant, and he is a foreigner so medical care is very expensive," she says, estimating around $2,000 in monthly medical bills. Incidentally, both her father and younger brother were present during our shoot – though dad declined to be named, he's clearly accepted her career switch and didn't hesitate to tell us how proud he was of her.
However, Mum is still in Yangon. "I'm very worried about her being in Myanmar because of the military coup. She is staying alone at home, and the Covid-19 [situation] there is very bad," the young hawker tells us. "She is hesitant to leave because of her one-year-old grandchild (Khine's older brother's kid)." She hopes to bring her mother over as soon as she is willing, though "in the meantime, I sent her oxygen cylinders and an oxygen concentrator to her house, just in case".

Unlike cuisine from neighbouring countries like Thailand and Vietnam, food from Myanmar doesn't get much of a spotlight in Singapore. "It is hard to find Myanmar food outside of Peninsula Plaza (a Myanmar enclave). Myanmar is a country bordered by Thailand, India and China, so most of our food has some influences from these countries," says Khine. "The flavour profile of Myanmar food is broadly captured in the phrase chin ngat sat, which literally means 'sour, salty, spicy."
Examples are "curries, salads and soup with rice", as well as different types of noodles served with soup, or dry. That includes the hawker's Myanmar Style Pig Organs Bee Hoon, or kyay oh, a dish commonly found "in Chinatown in Yangon".
"I think it is very similar to Singaporean food and hope that Singaporeans will like it," she adds, stating that she hopes to introduce more Myanmar-style dishes in future like mohinga, a rice noodle dish served in fish broth.

Khine has hired assistants to do the cooking while she handles backend work, including purchasing ingredients and cleaning offal. She pops by during peak hours to cook on occasion, though she's hoping to step back after a couple of months. "If I'm doing it all by myself I cannot make it for sure. I wanted a stall that can run by itself because next year, I'm hoping to have a baby," she tells us.
She also wants to open another stall in the north soon. "Actually, there are a lot of Myanmar people staying in the north of Singapore. But the main reason I decided to do biz in the north is because I live in Sembawang. It's easier to manage," she shares.

The five-month-old stall has been through two periods where dining-in was suspended. The drop in biz made the hawker almost call it quits. "The first month, we made a loss. The second month (May), we were going to make profit – then the restrictions started," Khine shares. "People want to sit down and eat noodles, they don't want to tapow."
They managed to make ends meet with group buys and deliveries by the end of May, but didn't fare as well during the second period of dine-in restrictions beginning July 22. "Biz was down 40 percent on weekdays, and 30 percent on weekends," the hawker lamented. "Being a hawker – I had a lot of worries. I even thought of giving up." Eventually, dining-in resumed and business returned – kopitiams being restricted to two people per table didn't hurt them too much, as "noodles are usually for individual customers."
Overall, Khine has "no regrets", as "I understand Singapore much better now. Last time, I was just studying, going home, working. Now I chat with customers, I can see the locals' daily lives." She's also not too worried about the high daily count for Covid-19 cases. "We have to live with it once more of us are vaccinated. If not, all businesses will have it very bad."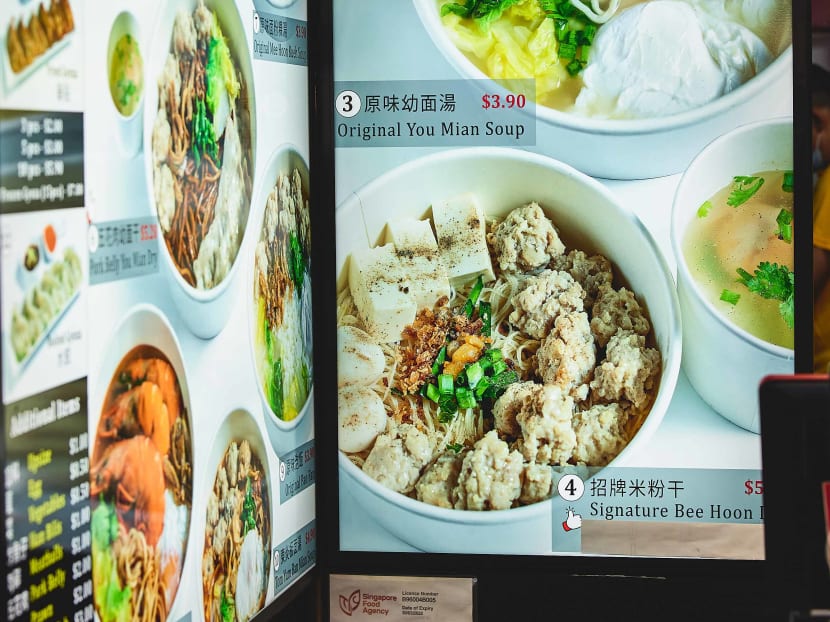 Flat, doughy ban mian is believed to have Hakka roots, while mee hoon kueh, traditionally hand-pulled into flattish, irregular chunks, has Hokkien origins. These noodle variations and thinner you mian, also made from a similar wheat dough, are all available at Xiao Mei Ban Mian, along with bee hoon and rice. The noodles are factory-made, but Khine hopes to eventually produce her own handmade ones. The ban mian is served with broth made from ikan bilis and pork bones; kyay oh with Myanmar-style toppings, broth and seasonings are also available, as is a fusion option that marries the two.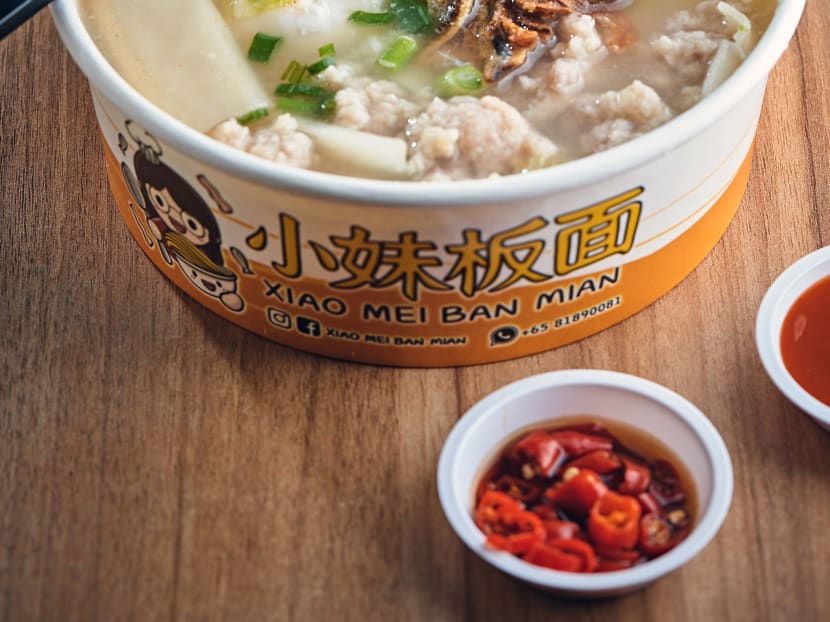 The broth is boiled for three hours to draw out the richness from pork bones, ikan bilis and onions. The result is a clear brew that's yummy and full-flavoured. An egg is dropped into the soup and cooked till runny on the inside, along with some white cabbage and delicious handmade meatballs fashioned from fish paste, fatty minced meat and dried sole. The springy, umami-packed orbs are the highlight of the dish – though we couldn't say the same for the supplier-bought mee hoon kueh, which was suitably QQ but a little too starchy.
We returned on a later date to try this with ban mian instead and found it slightly less doughy yet just as bouncy. They're also easier to slurp too, so we'd recommend that instead.

We enjoy the toothsome you mian (thin wheat noodles) tossed in dark soya sauce, lard and a blend of chilli, belacan, dried shrimp. On the side, you get broth with a soft-cooked egg.
The thinly-sliced pork belly is tender and a mellow foil to the punchier meatballs. However, we think that there's too much dark soy sauce, which makes the dish sweet rather than savoury. The chilli could also be spicier.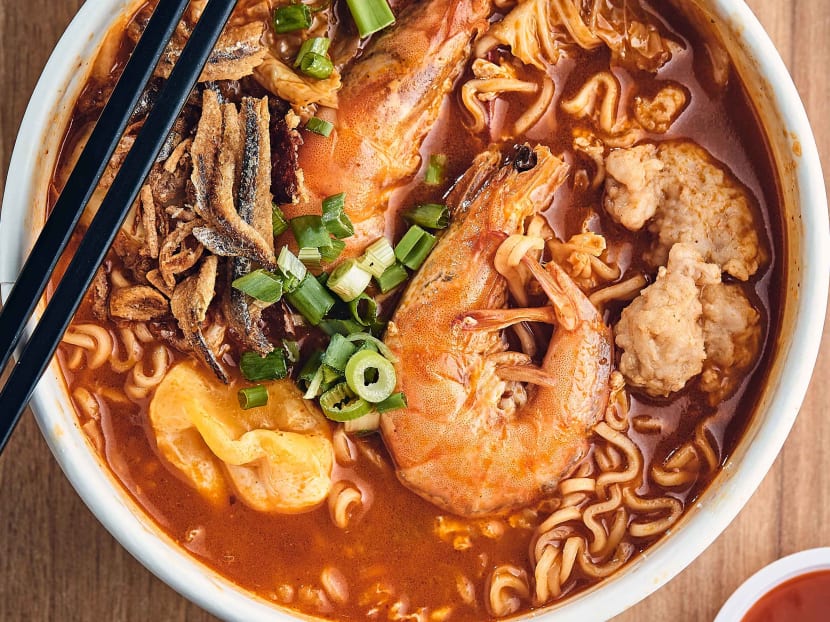 The same Singapore-style pork broth, now imbued with a mix of different store-bought tom yum pastes. It's sour-spicy, but not fiery enough to leave you sweating. You also sacrifice some meatballs for two large fresh prawns, which lend the broth a touch of briny crustacean goodness. The instant noodles are a comforting, familiar option.

This is for fans of clear, natural-tasting soup. The broth comprises only "pork bone, garlic, salt and rock sugar" boiled for twelve hours, paired with "the fragrance of green mustard leaves" added into the bowl. Khine's also opted to skip the MSG that's usually added in the stock back in Myanmar for a cleaner flavour.
Though we're not typically fans of lighter soups, this rendition captures our heart. Strong undertones of meaty goodness meet the vegetal, slightly astringent perfume of the green mustard leaves. A healthy hit of roasted ground pepper, imported from Myanmar, lends a further layer of fragrant complexity. Delish. Bee hoon is the noodle of choice here since it's the most popular in Myanmar, though we find it soaks up the soup rather quickly.
As for the Myanmar-style toppings, expect two boiled quail eggs, tofu and offal like pig's tongue and intestines. The offal is immaculately clean and cooked just right. The pressure-cooked pig's tongue is lean, slightly fibrous, and tastes pretty much like a concentrated shot of pork. Scrumptious, though we wish we had more than a tiny chunk. The meatballs make a return as well, though much larger as "that's how Myanmar people like it". Taste and texture-wise, it's pretty much identical to its smaller cousins.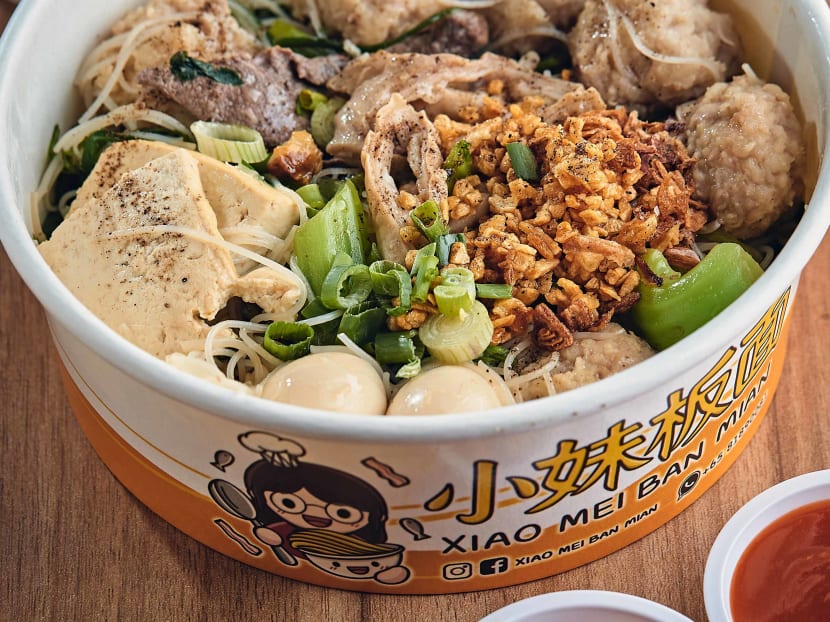 Instead of dark soya sauce and belacan, the Myanmar-style bee hoon is drizzled in lard oil, soy sauce and sesame oil (sort of like Taiwanese scallion oil noodles). To garnish, more Myanmar ground pepper, fried shallot and garlic. What's not to like? It's simple, but intensely aromatic and very moreish, so we easily scarf down a bowl.
The soup on the side comes sans egg – suitably clear if you need something hot and light to sip on while eating your noodles.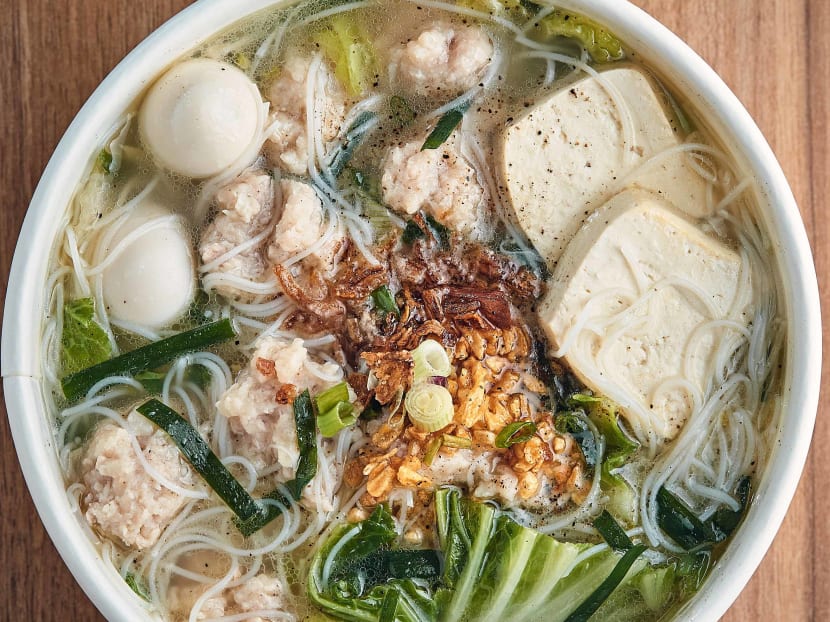 The 'signature' bowls are actually Khine's fusion-style noodles. Tofu, quail eggs, ground pepper, green mustard leaves and garlic oil intermingle with meatballs, ikan bilis and Singaporean-style ban mian broth. There's a bit too much going on flavour-wise, especially since we had this after the simpler Myanmar-style soupy noodles.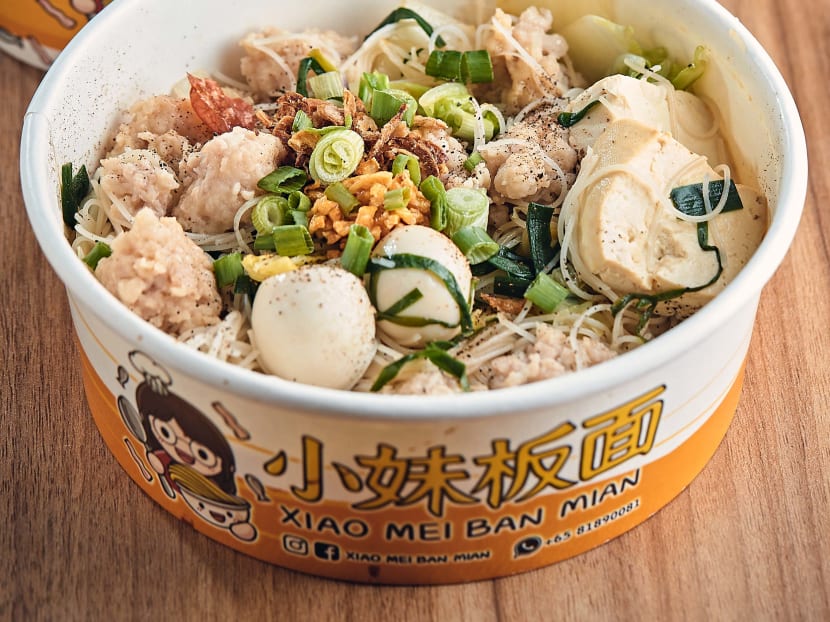 Almost identical to the Myanmar version, except for the omission of offal and smaller meatballs. Quail eggs and tofu are still added, with a bowl of soup (Singapore-style) and egg on the side. Get this if you aren't fond of offal.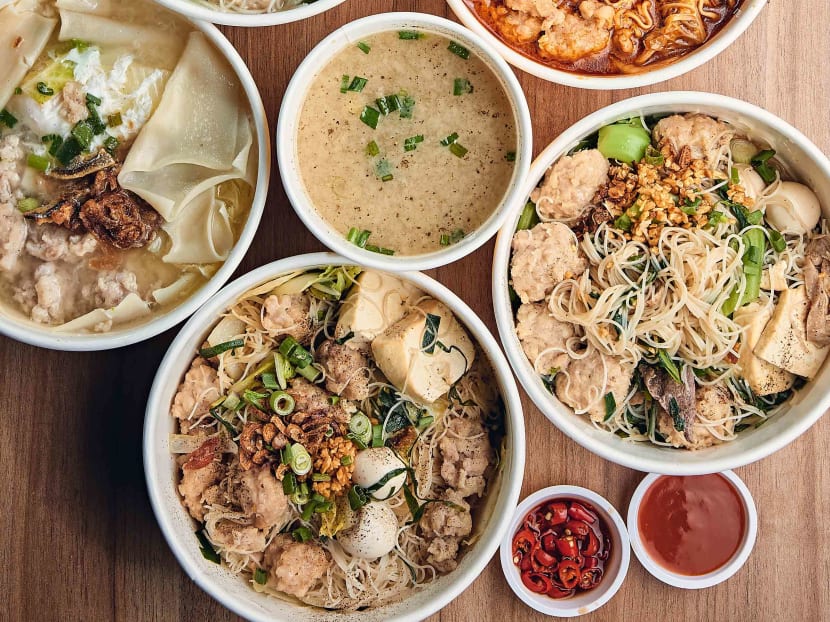 Decent ban mian, even better kyay oh (Myanmar-style noodles) — at least to this Singaporean writer who hasn't had much experience with Myanmar food. Both the soup and dry versions of the latter boast clean-tasting, yet comforting and moreish flavours. We'd skip the fusion ban mian, though.