Sales Director Who Used To Earn "Six Figures A Year" Now Sells Nasi Lemak From $3.80
He pivoted to the hawker life after his salary was affected quite significantly when his hedge fund firm was acquired by a rival.
Nestled in a kopitiam on 802 French Road — yes, that kopitiam where a man was filmed dramatically challenging police officers to a fight before being tased — you'll find newly opened hawker stall Mr & Mrs Nasi Lemak. The mister and missus, reimagined as cutesy mascots on the stall's signboard, are 40-year-old Ken Chong and his 35-year-old wife, Sofie Tsoi. Both quit their high-flying corporate jobs to open the stall mid-pandemic on July 7. They serve nasi lemak (obviously), with some newfangled add-ons to complement the usual suspects like fried chicken wings and ikan bilis.
All photos cannot be reproduced without permission from 8days.sg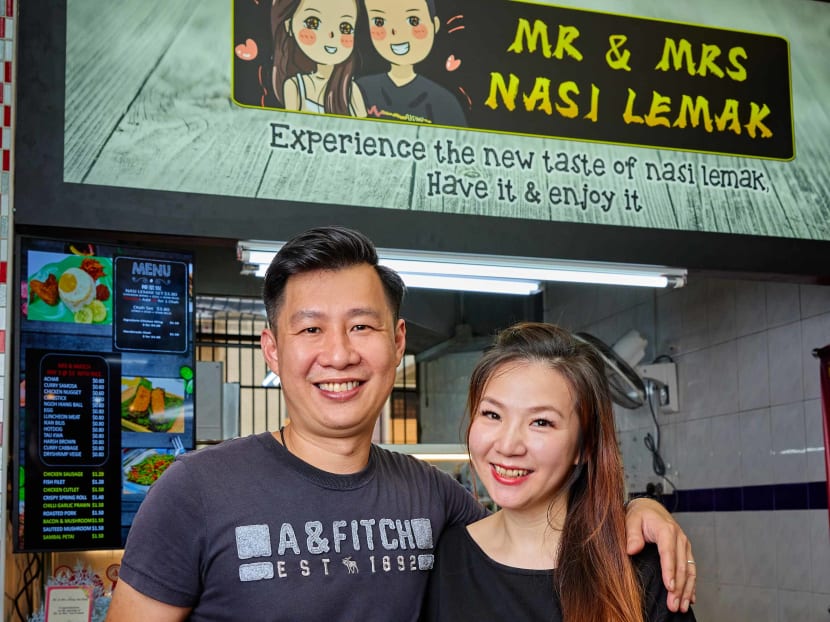 Ken, a first-time hawker, has been in the finance industry for the last fourteen years, most recently as a sales director in a hedge fund firm. He quit his job, where he was pulling "six figures a year", in January this year. "My company was acquired by our competitor last May. I wasn't let go, but I wasn't very happy in the [restructured] company either," he tells us. "My sales accounts were reshuffled after the acquisition and my salary was affected quite significantly."
"I could look for another job in the same industry," he explains. "But I was thinking that I do not want to go through another similar incident in the future. Mergers and acquisitions are very common in the corporate world and the same thing could happen again."
The father of three children (a 13-month-old daughter, plus two older kids from a previous marriage) then quietly began taking cooking lessons in his free time. "I began to work towards my dream of starting an F&B business. I was tired of working for other people."
Ken roped in his wife Sofie for assistance instead of hiring a worker — she quit her job as an accountant in an interior design firm to help run the stall. "I have a lot of secret recipes, hence [it's] easier if my wife helps me out," he explains. He handles all the cooking, while the missus takes orders and packs the food.
Of course there was a bit [of fear], she admits when asked about her decision to quit her accounting job to become a hawker. But she adds that although her previous salary at a small SME was stable, she wasn't earning too much . Moreover, she and the hubby have been discussing this idea for a long time, so it's not too [painful] of a decision for me [to quit accounting].
She shares: "Being a hawker is tiring but serving customers and [having] people say that our food is nice feels like something to be proud about. To be frank, I didn't think my husband would have any talent in cooking. But our customers are happy so far. We do have disagreements [working together], but they can always be discussed [and resolved later]."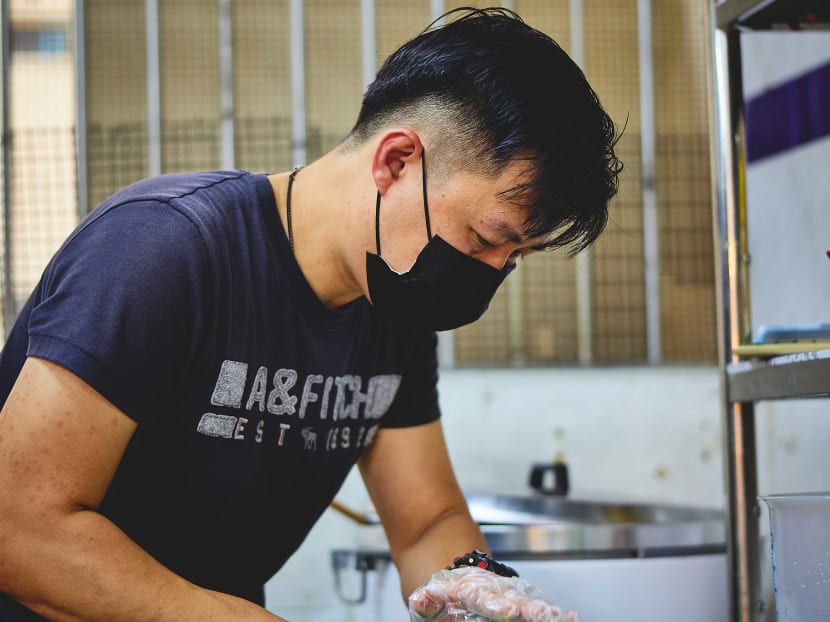 Prior to this biz, Ken was just a casual home cook who took guidance from YouTube tutorials occasionally. But after the Circuit Breaker, he kick-started his transition into towkay-dom by taking proper cooking classes from private instructors as well as culinary courses partially paid through the government initiative, SkillsFuture Singapore. He also got friends who used to be in the F&B industry to teach him how to whip up a couple of dishes. Out of all the stuff he learned to cook, which included chicken rice and laksa, Ken eventually settled on nasi lemak as his star dish. His reason: "I personally like nasi lemak and eat a lot of it, so I can at least [adjust] the taste to my liking." He decided to incorporate fusion items that he learnt in class too, including roasted pork and Vietnamese spring rolls at his new stall.
Ken then asked his friends and family to sample his food. "We approached around 80 people and [having received enough] positive feedback, we started looking for a stall," he shares.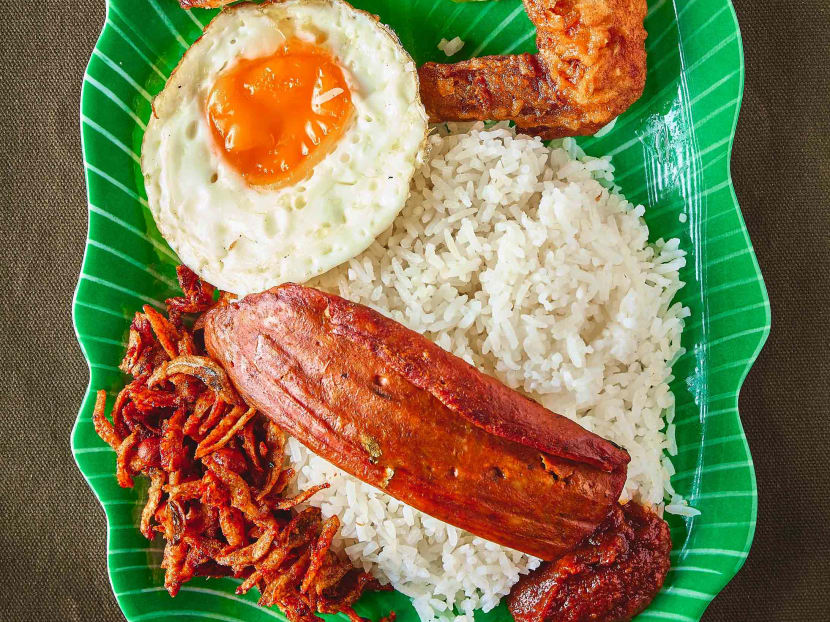 Though he initially hoped to start a café, he opted for a less risky hawker biz in the end. Ken says: "with all these heightened alerts and no dine-in rules, [a cafe] would've killed my business as the rent would be much higher."
In contrast, renting a hawker stall requires less commitment in finances and also contractually. Apart from an initial $15K for equipment, "rental is much cheaper," he explains. "It's a one-year contract, so I gave myself a year to try this. If it really doesn't work out, [I can] revert back to corporate life in future."
Ultimately, he aims to "perfect the [nasi lemak] recipe and hopefully build a brand for my future generations to enjoy our hard work. [My] kids are my motivation to chiong now," he adds.
Their opening day on July 7 was marred by some hiccups. "For our first day, we were offering this promotion - $3 a set for chicken wing, egg, and otak. There was a surprisingly good response," the hawker tells us. "It was our first time cooking in a commercial setting. So a lot of things went haywire." For example, he didn't monitor when the supply of rice was running low, and had to rush to cook a second batch. "It wasn't cooked 100 percent. We had some customers [complaining]."
Since then, he's been working hard to perfect his rice-cooking technique. "In the early days, if the batch of rice doesn't come out right, we'll throw it away and start again. I think we've gone through 50kg of rice," he muses.
During Phase 2 HA's restricted dine-in rules from July 22, Ken decided to close until August 4 instead of grasping for business. "We didn't have time to build our brand [before the measures hit]," he says. "Now, I'm glad to say that word is spreading – we've gotten a few regulars, as well as youngsters from the area."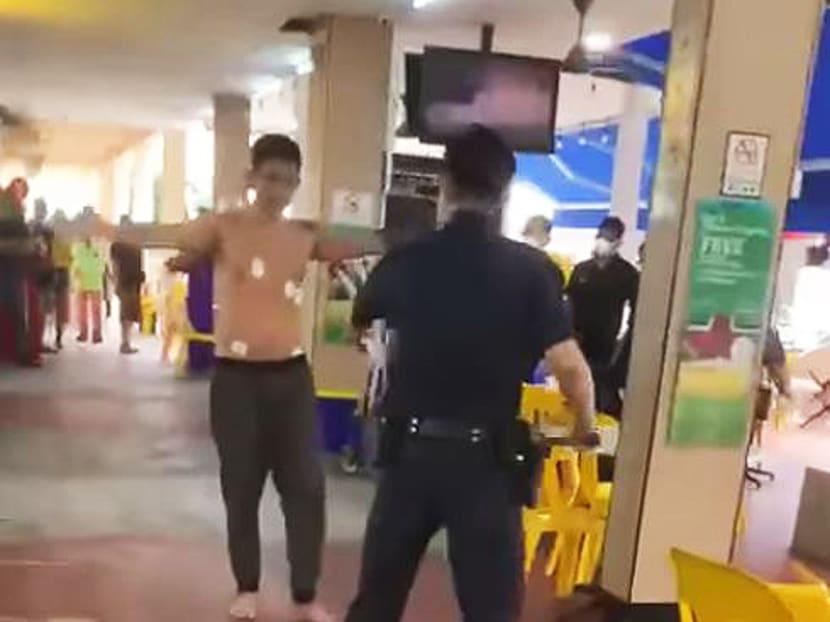 The kopitiam is also the site of July 16's taser incident. A man reportedly turned hostile towards paramedics and bystanders attending to him when he took a fall in the coffee shop. The shirtless dude, seen shirtless in a viral video by a bystander, allegedly threw chairs in the direction of other patrons as well. He challenged police officers to a fight and charged towards officers before being tased and subdued.
Ken describes it to us from his POV: "From our stall front, we could see everything. It's quite an unusual sight for [a member of] the public to openly challenge the police to a fight, [which is why] a lot of people started taking videos [of it]."
We ask if there are any lingering fears after the incident. He says, "I mean, Singapore is quite safe – you know that there won't really be an issue. But I heard from other stalls that on the next evening, there was a slightly bigger crowd. I normally close shop in the afternoon once I finish selling my food, so I did not witness it myself." He adds with a laugh, "[Our kopitiam] got famous for the wrong reason."
Photo: Dzar Ismail/Facebook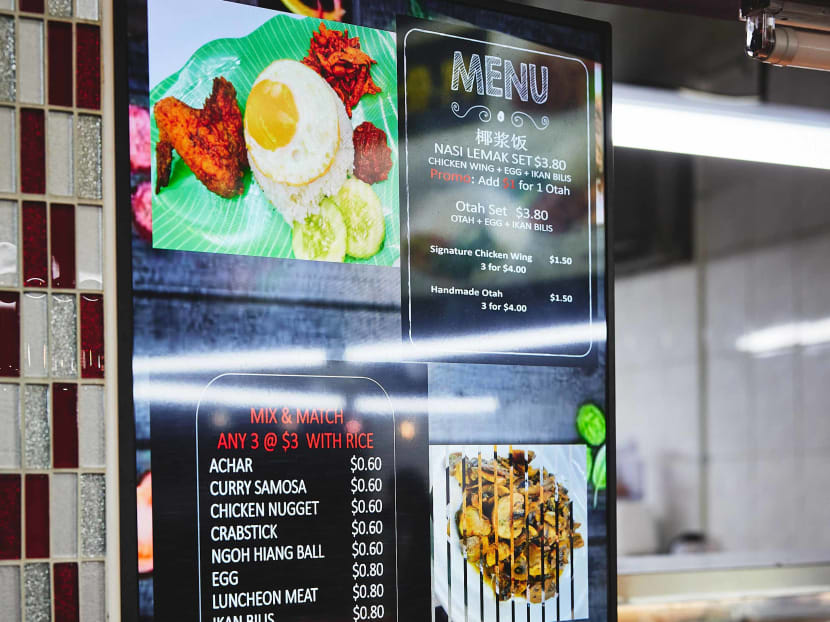 Expect the usual mix of generic store-bought nosh (nuggets, hashbrowns and so on) along with some housemade accompaniments, like curry veg or chicken wings. There are also fusion options that are harder to find – think oven-baked enoki mushrooms wrapped with bacon, or deep-fried Vietnamese netted spring rolls. We ask if he thinks that such an eclectic selection of dishes would work. He reasons: "Nasi lemak is like cai fan (mixed rice). You can mix and match dishes, as long as the combo works, it's okay." However, he also admits that he'll have to see which items "can move or not".
The stall's cheapest dish is the Nasi Lemak Set ($3.80), which includes a deep-fried chicken wing, sunny side up egg and ikan bilis, along with slices of cucumber and sambal.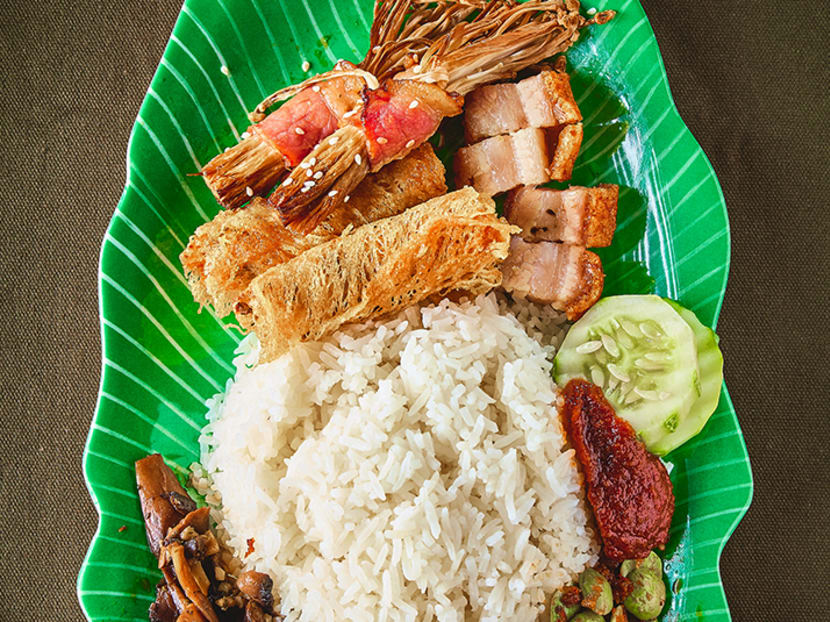 First off, the rice. It seems that Ken's largely gotten over his rice-cooking woes as the Jasmine grains he opts for are fluffy and well-cooked. There's an alluring aroma, thanks to a blend of pandan, coconut milk and an extra touch of coconut oil.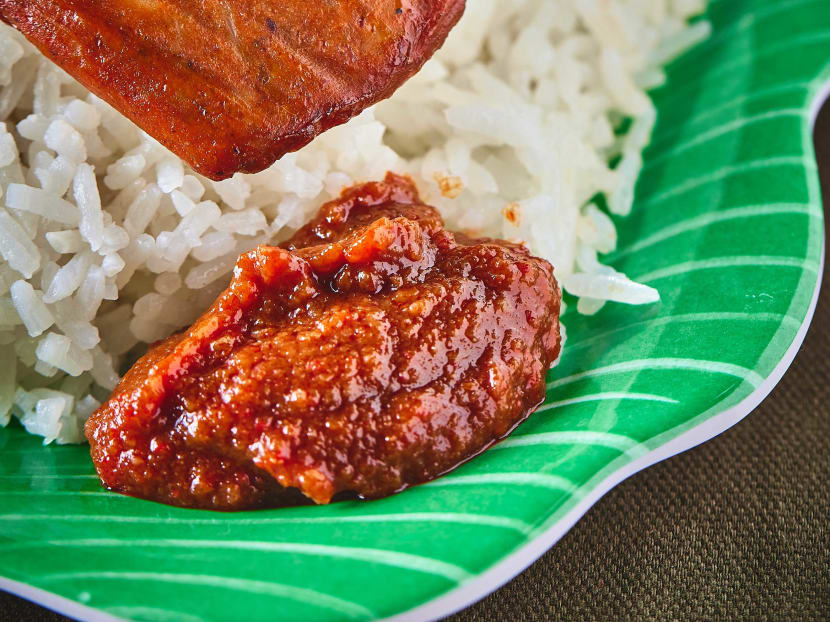 As for the sambal, it's a belacan, shallot and sugar mix that's spicier than usual. It's not as sweet or savoury as those we've tried at some nasi lemak joints, though Ken tells us that he's reduced the chilli's sweetness to suit the palate of older customers in the area. A decent companion to the coconut rice, and good for those who prefer more heat in their nasi lemak chilli.
Mr & Mrs Nasi Lemak offers two types of ikan bilis with nuts on the side – the standard deep-fried version, as well as a sweet-spicy rendition. The chewy anchovies are coated with a sticky sugar and chilli glaze that brings plenty of heat and sweetness, though we prefer the crunch and salt from the regular version.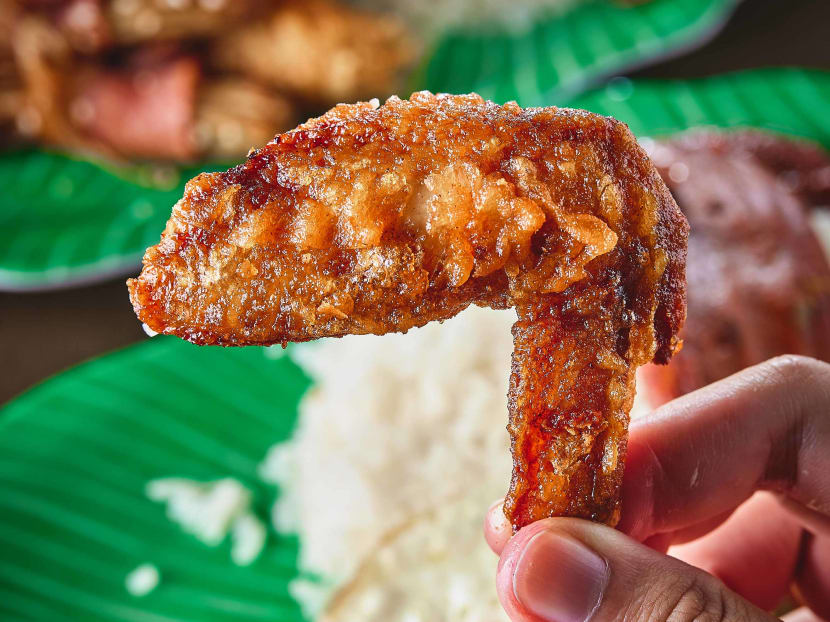 Ken's chicken marinade contains "a few different types of flour" – he declines to tell us what's in it, only revealing that sesame oil is another key ingredient.
It's a great chicken wing. Though ours had cooled considerably by the time we were done with our shoot, the skin was crisp, fragrant and moreish, without too much batter to make it jelak. Meanwhile, the meat within was also well-seasoned and cooked just right.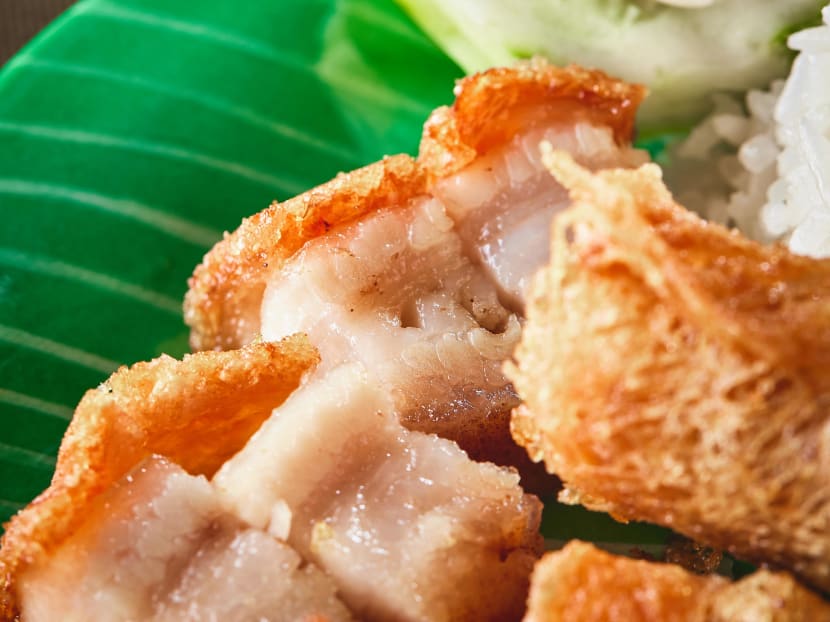 A dish that the hawker started out wanting to cook in-house after learning the recipe, though it quickly proved unsustainable. "Standing over [the pork] and poking holes takes a lot of effort," he says. Instead, he found a supplier through another friend who worked in a chicken rice store.
On its own, the roasted pork is yummy enough — it's crunchy and juicy. We're just not sure if it works with nasi lemak.
Another dish that Ken initially wanted to make in-house. "We were peeling fish and wrapping otak until 3am – and we had to get up at 7am the next day," he tells us. Now, he sources it from a supplier raw, before cooking it in the oven. The chunky slab is moist with a good bite, though it needs more char. An aromatic accompaniment for your nasi lemak nonetheless thanks to the coconut, lemongrass and chilli within.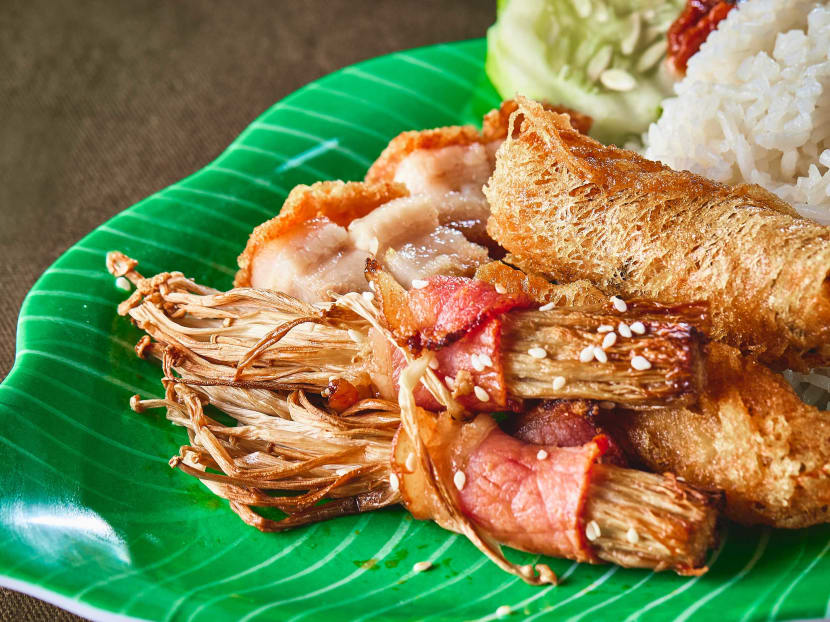 Bacon-wrapped enoki, tossed in the oven and finished off with sesame seeds. We find the dish a tad uninteresting, as most of the flavour's concentrated in the smoky bacon in the middle. The mushrooms are also a little dry.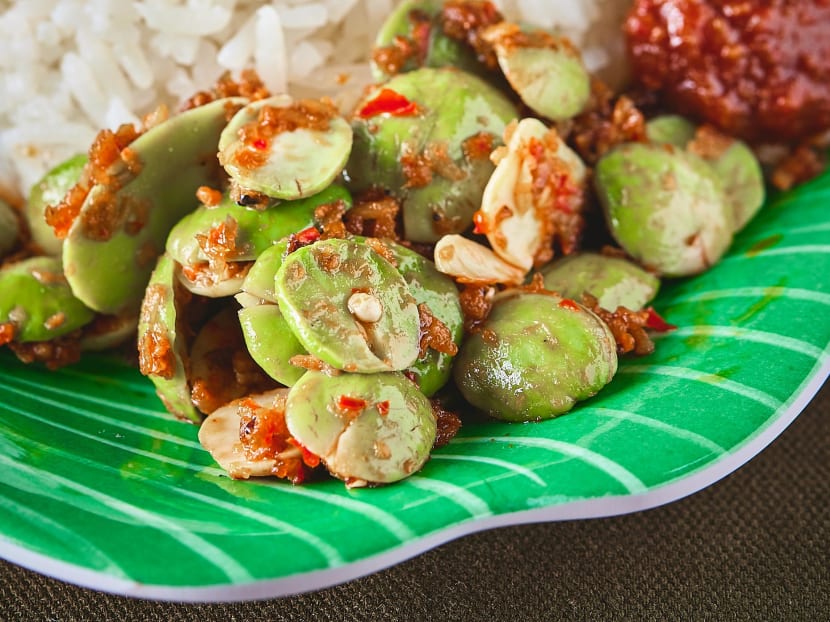 Ken also offers up petai (stink beans) stir-fried with sambal. The pungent, love-it-or-hate-it beans make for good eating on their own – sambal and petai is a classic punchy combo – but we find that the very same punchiness is too overwhelming alongside nasi lemak, where the coconutty fragrance of the rice should be king.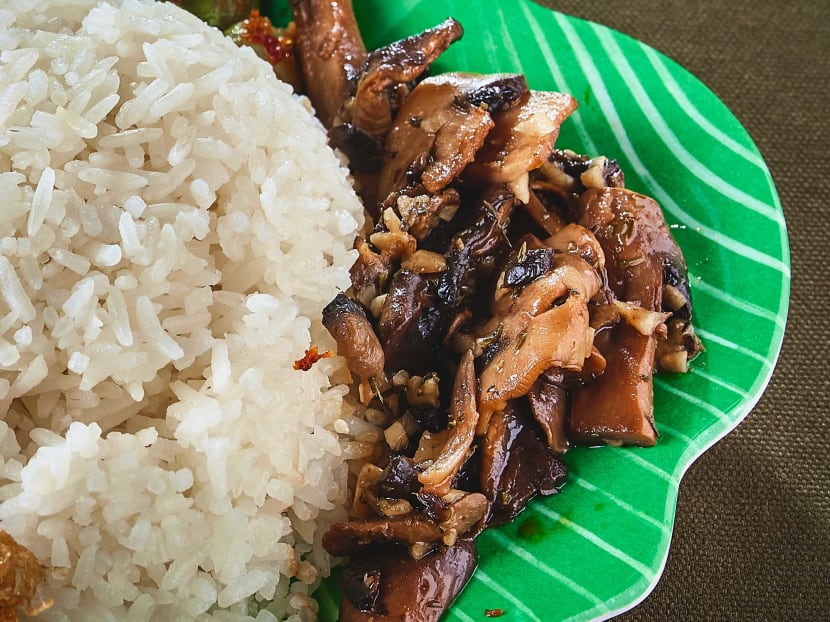 Ang moh-style sauteed button mushrooms with butter and thyme. Again, it's well-seasoned and pretty tasty on its own. It just feels a little out of place next to nasi lemak.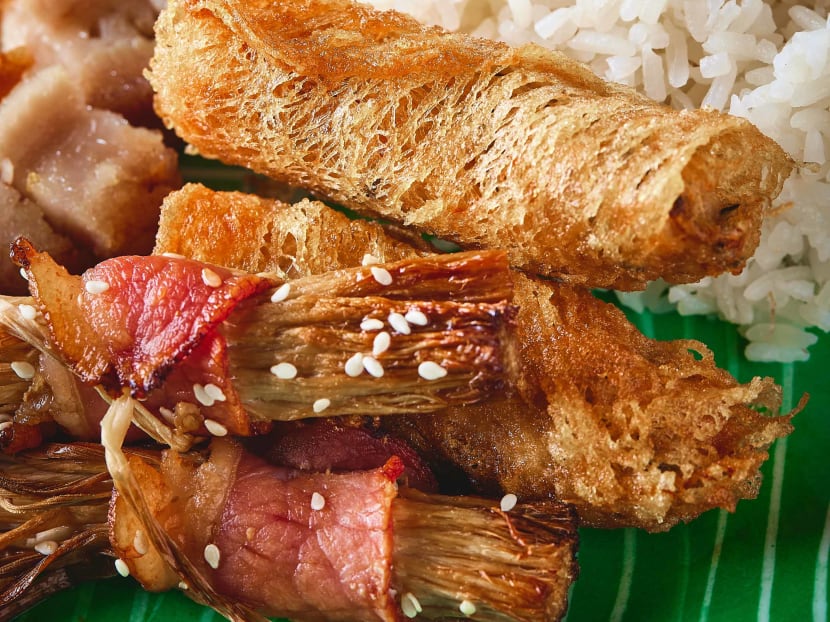 Pork, prawn, rice vermicelli and black fungus are wrapped in Vietnamese netted rice paper (reminiscent of roti jala in rice paper form) and deep-fried. Flavour-wise, the spring roll doesn't overshadow the nasi lemak unlike some of the other more unusual offerings. It's resoundingly crisp and featherlight – yum.
Competent nasi lemak with unique if sometimes slightly jarring add-ons that feel more like they belong in a typical home-cooked meal than with coconut rice. Still, the standard plate with the fragrant, fluffy grains, crispy chicken wing and ikan bilis are decent and worth trying if you're in the area. And if you're feeling more adventurous, the airily light Vietnamese spring rolls are worth the calories, too.

Mr & Mrs Nasi Lemak is at #01-69 802 French Rd, Blk 802, S200802. Tel: 9383-5689. Open Mon – Fri, 10am – 5pm; Sat – Sun, 10am – 3pm. More info via Facebook and Instagram. Delivery via Grabfood and Qashiereats.
Photos: Alvin Teo
All photos cannot be reproduced without permission from 8days.sg