Thai-Muslim Couple Open Rod Fai Night Market-Style Joint With Seafood Buckets From $12
You're given plastic gloves to dig into the seafood spread with your hands.
Seafood buckets are commonly found in Bangkok's bustling night markets. But since Singaporeans can't travel to Thailand now, Thai-born Singapore PR Foo Yiling, 25, decided to set up a joint offering the popular dish at Golden Mile Complex. Simply named Seafood Bucket, it serves a range of seafood tossed in sauces, which you savour by digging into the pile on a table with your hands.
Despite her young age, Yiling already has experience running an F&B business at the popular Thai haunt. "I grew up in Golden Mile, my mum moved from Bangkok to work at an eatery here," she tells 8days.sg.

Yiling's mum later set up her own business importing Thai products like tom yum paste and lemon juice, and opened a Thai karaoke pub called Premjai at Golden Mile Complex, where she cooked and sold Thai-style chicken noodles to customers sobering up after drinking.

After her mother retired this year, Yiling decided to take over the pub's unit (right across from new Thai boat noodle joint Thachang) for her seafood bucket concept, while her sister opened another eatery called Siam Bistro by Auntie Tukta in the same building to continue selling their mum's "famous" chicken noodles. "I'm not so good with cooking chicken noodles," chuckles Yiling. "But my sister has been helping my mum since she was 13."
Yiling (left in pic) partnered her civil servant husband Hykel Jumari (right), 25, to open Seafood Bucket. It's a wholly Muslim-owned joint, as Yiling had converted to Hykel's faith after they got married. "We want to offer a Muslim food option to Muslims who come to Golden Mile Complex to shop at the supermarket," explains Yiling. While they don't use any pork or lard, Seafood Bucket is not halal-certified.

The couple got the idea to sell affordable seafood buckets due to pandemic-restricted travel. "We couldn't go to Bangkok for Hykel's birthday this year, so we cooked up a feast with his favourite seafood at home," says Yiling.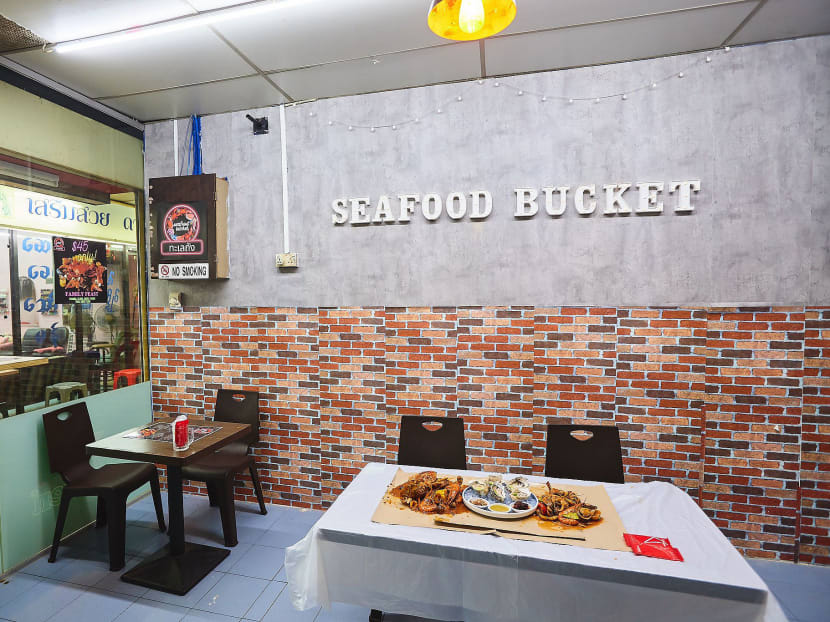 The 12-seat eatery is modelled after the gritty stalls found at Rod Fai Night Market in Bangkok. "The night market has closed [due to the pandemic], so we wanted to recreate its look here," Yiling shares.
The young bosses keep their menu wallet-friendly as a unique selling point. "We want to make it affordable, because [seafood buckets] should not always be an expensive, occasion kind of food," she says. The dishes are divided into Mains and Sets, with the pricier latter offering more varieties of seafood in a single platter.

Prices start from $12 for a main dish of cockles, scallops, mussels and clams, which can feed two pax, up to $45 for a Family Feast Set which comes with a flower crab, prawns, clams, squids and corn on the cob for four pax. You can also add sides like Maggi Noodles ($1.50), Steamed Rice ($1) and Crab Cake ($10).

It helps that Yiling works as a supplier at her mum's import biz, and already has lobangs for ingredients for making sauces and beverages. The seafood, however, are bought from a local supplier. "My job is usually only busy in the morning, so I can come here to work in the afternoon," she says.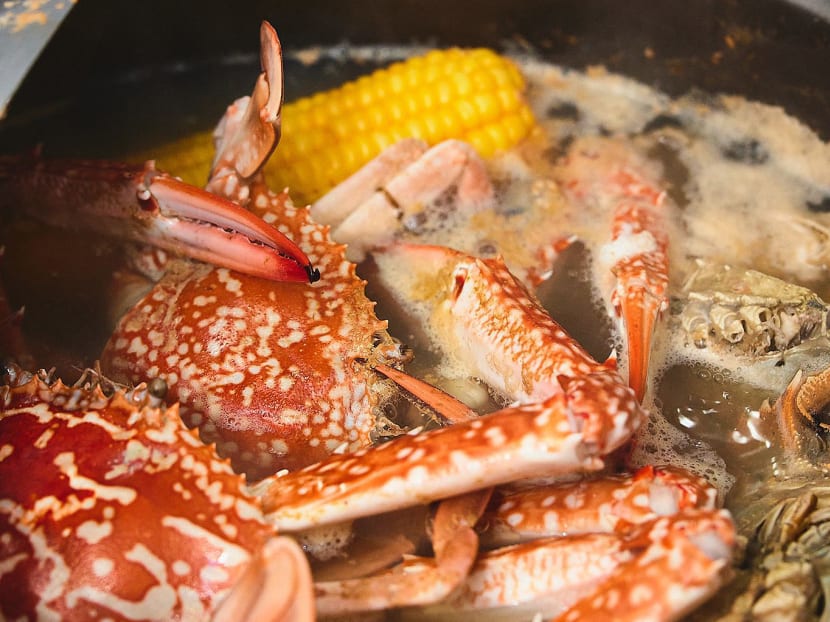 The seafood buckets are similar to the Louisiana seafood boil, but instead of Cajun seasoning, Yiling's joint has three types of Thai sauces: a spicy Signature Seafood Bucket Sauce that's similar to mala, Dry Tomyum Sauce and Green Curry Sauce.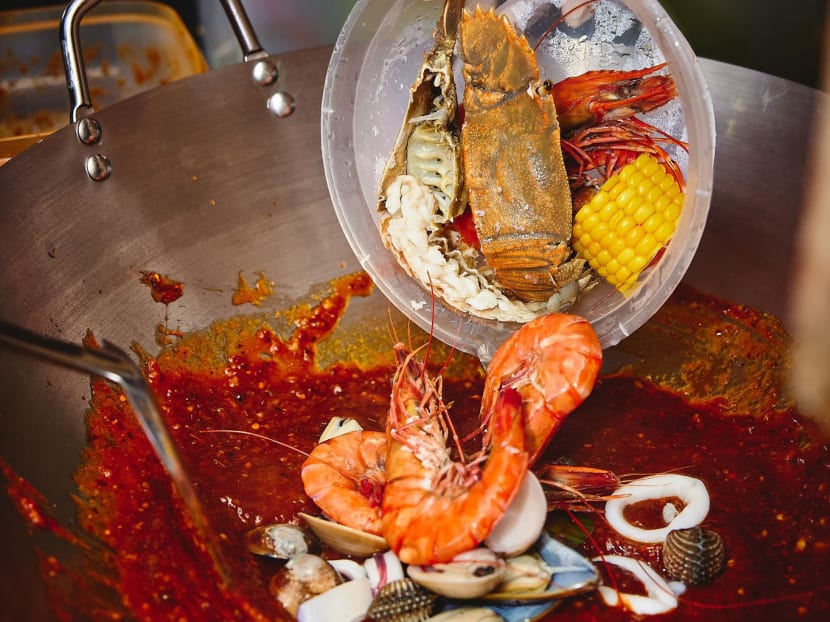 You can choose from three levels of spiciness for your sauces: Mildly Spicy, Spicy and Extra Spicy. The seafood is boiled in a large rice cooker, then transferred to a wok to be tossed with its sauce.
Instead of buckets, the seafood is served in large metal bowls, which are brought over to your table and dramatically emptied onto brown hawker paper. In true BKK night market style, you're given plastic gloves to dig into the pile, as well as wet tissues and serviettes to clean up (no wash basin here).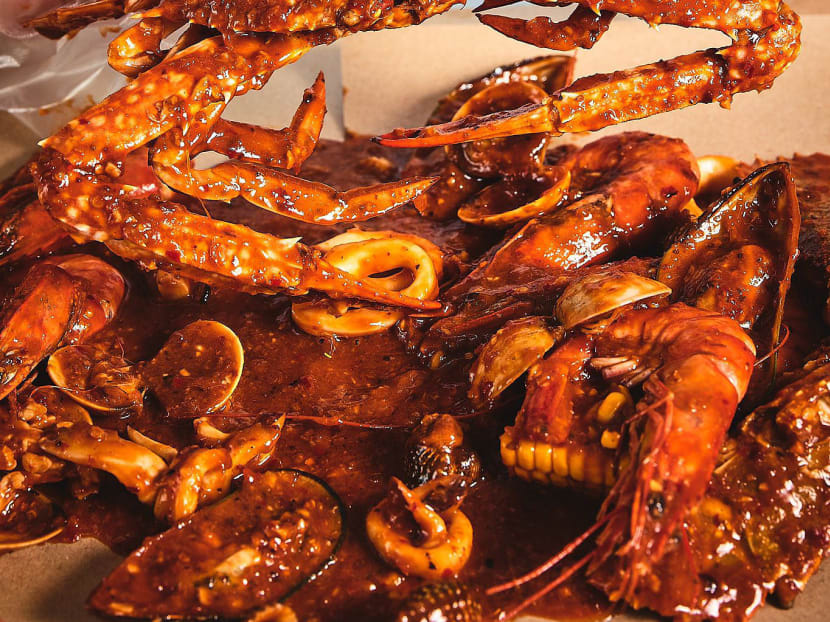 It's fun to tuck into this messy platter, which is drenched in Yiling's madly garlicky house-made spicy seafood sauce. The springy seafood like flower crabs, octopus, lala, blood cockles and crayfish is somehow even tastier when we eat with our hands, and we had no trouble demolishing the pile with gloves on. Our only bugbear is the portion; while it's meant to feed a group of four pax, we reckon this is just nice for two diners. Apt for the current dine-in restrictions, but be prepared to top up if you want a more substantial meal.
The seafood combinations here are practically endless, as you are also allowed to combine a variety of mains to create a platter. Yiling's proprietary dry tom yum sauce, which she cooks from scratch a la minute with ingredients like lemongrass and tomatoes, is a delish pairing with the assorted seafood including mussels, prawns and baby octopus.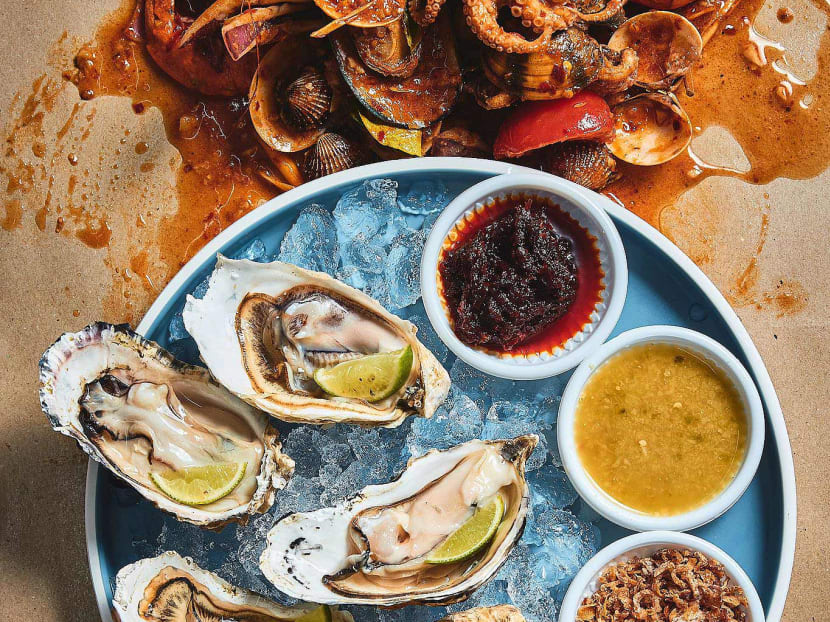 We didn't get to try this as there wasn't a fresh supply of oysters on the day of our visit. But for $20, you get half a dozen oysters with two types of spicy Thai dipping sauces and fried shallots. Interesting.

Address: #01-80/81 Golden Mile Complex, 5001 Beach Rd, S199588

Opening hours: Open daily except Mon. Tue-Fri 12.30pm to 10.30pm, Sat & Sun 12pm-10.30pm.

Instagram

Photos: Alvin Teo