Tonkotsu Ramen From $6.80 At New Hawker Stall By Founder Of You Ma You La Mala Xiang Guo Chain
With his mala outlets halved due to the pandemic, he now sells affordable ramen made with a Japanese chef pal's recipe.
What do you do when the 14-outlet mala xiang guo chain you founded – serving a spicy, numbing Sichuan stir-fry of mala spices and assorted ingredients like meat and veg – is losing favour in an oversaturated market, exacerbated by Covid-19 woes? You scale down operations and open an affordable Japanese tonkotsu ramen hawker stall instead. At least that's what Chongqing-born Yang Jian, the owner of one of Singapore's largest mala xiang guo chains You Ma You La, did. He explains: "There is mala xiang guo in almost every corner of Singapore. I had to think of something new. You can mostly only find a bowl of ramen for $13 minimum. I wanted to sell it at half that price."
Thus, the 42-year-old, who became a Singaporean citizen in 2018, opened Kumamoto Ramen on August 15 in a dingy, old kopitiam in Serangoon North. Diners are treated to a bowl of tonkotsu (pork bone soup) ramen – including a marinated egg and two slices of cha shu – for $6.80. The most atas ramen variation at his stall goes for $9.80.
All photos cannot be reproduced without permission from 8days.sg
Yang Jian served in the military in China for three years. Thereafter, he had his first taste of F&B when he received training to be a chef at a culinary school. After graduating, he got a job as head chef at a Chinese restaurant in Jiangsu, eventually taking over the running of the joint until 2008 when the financial crisis swept across the world.
"I had to close the restaurant. I did some odd jobs for a while, before coming to Singapore in 2010," he tells us. "Singapore looked like it was prospering then, and it's a lot safer, more hygienic too."
In Singapore, he worked in various Chinese restaurants once more. "I used to work at a mala duck neck stall. It was very popular; I remember having to prepare three to four big pots of it a day." Eventually, in 2015, he decided to open his own mala xiang guo business.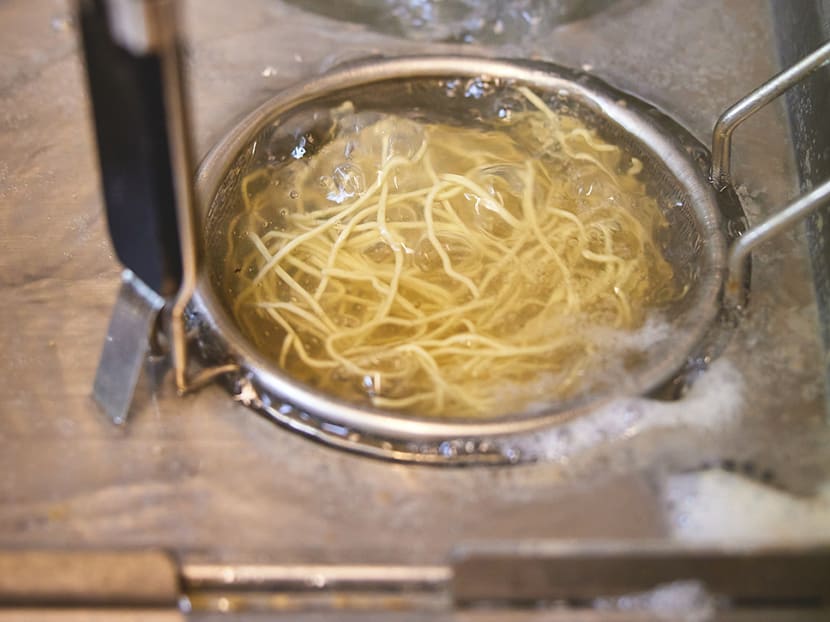 When Yang Jian first opened You Ma You La, mala dishes weren't as widely accepted in Singapore as they are now. "Back then, 90 percent of our customers were Chinese[-born citizens]. They enjoyed it super spicy, super salty and super oily. It wasn't until we tweaked the flavours and added other options that Singaporeans started enjoying it too," he says.
Competition was stiff in the burgeoning mala xiang guo (think a stir-fried version of mala hotpot) scene. Not all of his You Ma You La branches made a profit – though he had as many as 14 at one point, he's now left with six outlets. "I closed some branches within six months – [the mala space] was too crowded, and they weren't making money. My remaining branches are patronised by regulars; they've all been around for three to four years."
Some were closed more recently due to the pandemic. "Mala xiang guo is a communal dish. When Covid-19 hit, there was a big effect on business . It was down by about 40 percent – he sustained a loss of "around $23K" so far due to the pandemic.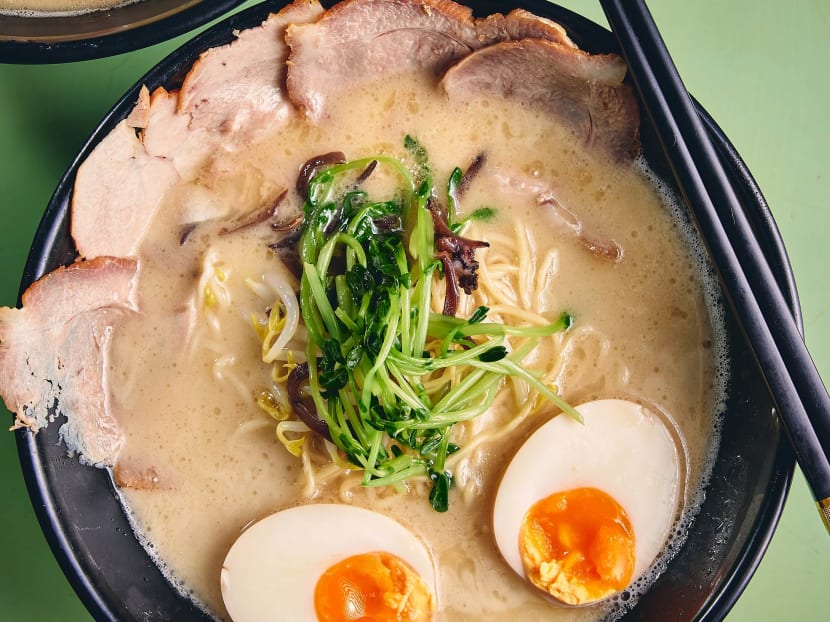 Armed with recipes that the hawker got from a Japanese friend based in Tokyo, who's "been a chef for 10 years", he started Kumamoto Ramen, with a focus on doling out affordable grub. The stall's sauces and stocks are prepped at a central kitchen manned by four cooks, which is also how his mala joints currently operate. He says he uses cheaper, though still tender cuts like pork shoulder for cha shu, and other store-bought ingredients to keep things budget-friendly.
"Most dishes in a kopitiam cost about three or four dollars. At $6.80 a bowl, customers don't feel so pressured and are at least willing to try it. If it's $13, many older customers won't even try it at all." Indeed, most of his current customers are "young people, or parents buying for their kids."
The hawker hopes to open "six hawker outlets within the next three years", and is currently looking for other suitable locations.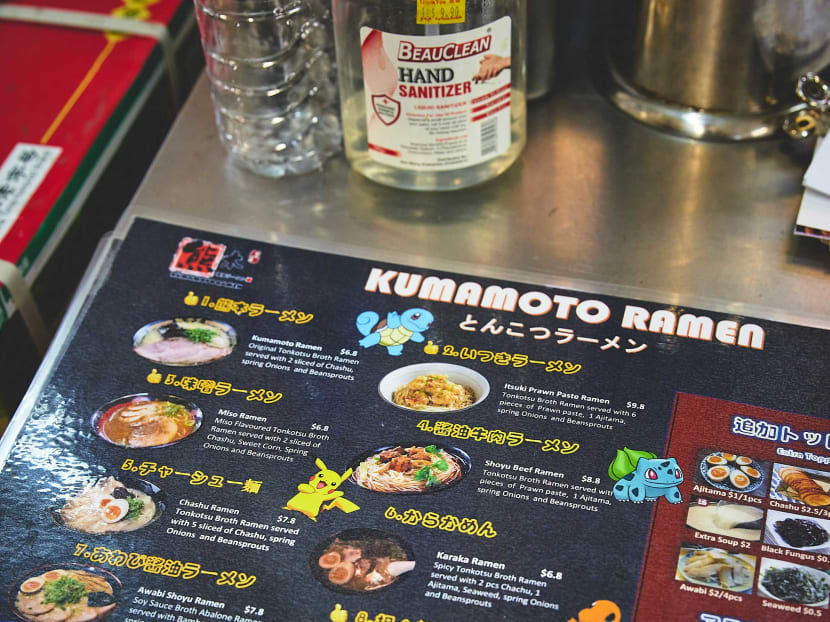 For now, Yang Jian helms the kitchen at Kumamoto Ramen, along with his 40-year-old wife Chen Li Yun (who declined to be photographed). "We're still researching for now, so I want to be here until it's more stable," he says.
What's done at the stall is mostly assembly, since many of the components are prepped off-site at the central kitchen. Great for consistency, especially once he expands. He's even got an automatic noodle boiler – just a 45-second blanch for each handful of thin, Hakata-style noodles.
The cheapest bowl here, Kumamoto Ramen ($6.80), comes with two slices of cha shu, a soft-yolked marinated egg and other toppings. In comparison, Takagi Ramen, one of Singapore's larger affordable ramen chains, sells its entry level Takagi Ramen bowl at $6.90, sans egg.
Expect other variations, like miso or chilli-oil spiked ramen bowls, as well as side dishes like gyoza.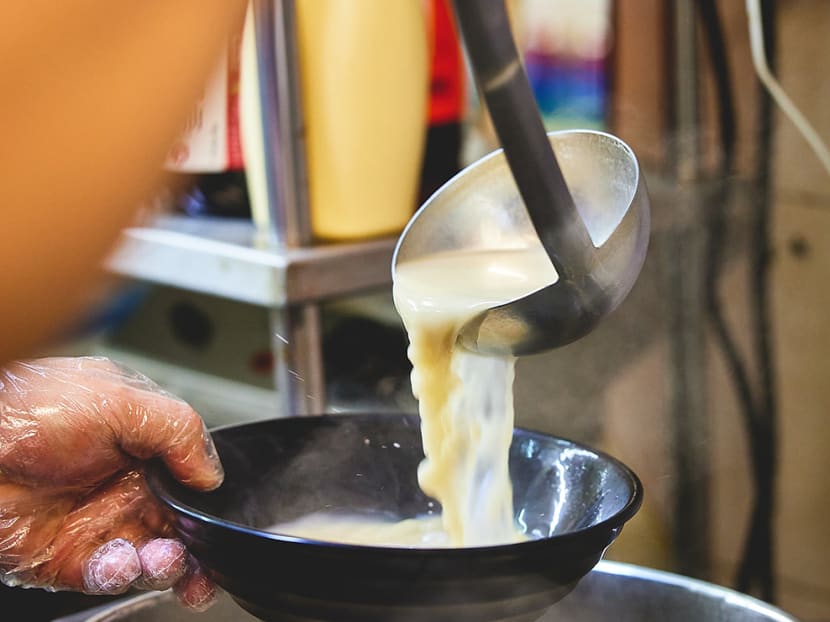 Tonkotsu ramen is built on soup stock and tare (a sauce or paste added to the bottom of each bowl before soup is added). Here, the soup is simmered with pork bones, pig's skull, pig trotters, chicken feet and chicken bones for 10 hours to draw out all the meaty goodness and collagen.
Yang Jian's tare contains around "20 ingredients", including dried oysters, chicken stock, mirin and kombu, boiled for three hours into a thick, umami-rich reduction. He mixes the two, along with an extra splash of lard and gives it a whirl with an immersion blender before dumping in the noodles and other ingredients.
The result is a slurpable broth that's full-bodied and almost creamy – a welcome surprise, considering its rather affordable price point.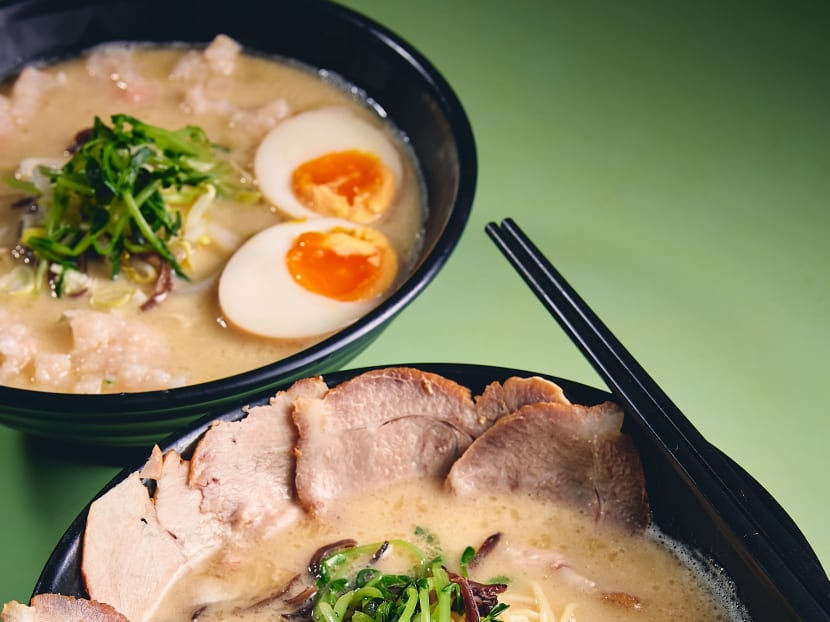 The pimped up version of the entry-level $6.80 Kumamoto Ramen, with five slices of pork cha shu instead of two. Pork shoulder is simmered on low heat for forty minutes before being marinated in a soy-and-mirin concoction and sliced wafer-thin. A soft, yummy bit of no-frills protein, though the marinade hasn't quite permeated the pork fully and there's barely any bite 'cos of how thinly it's cut.
The same can be said for the ramen egg, boiled for six minutes and left overnight in a soy-sugar bath. There's some gooey lusciousness from the yolk despite it being a tad overcooked at the edges, but again, the seasoning is too faint. Meanwhile, the soup clings to the thin noodles well, though we find the texture could be a little more QQ. Other toppings include sliced black fungus, bamboo shoots and, oddly, dou miao (pea shoots), whose grassy flavour kinda distracts from the savoury soup. Nonetheless a competent bowl of ramen for the price.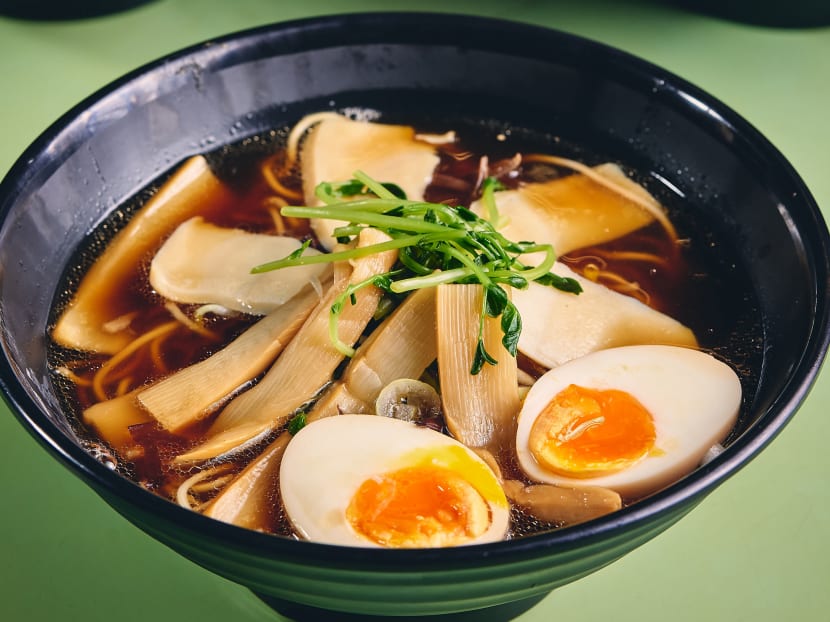 A lighter, shoyu-based soup bolstered with chicken bones and anchovies takes centre stage here. It's paired with supplier-bought slices of mock abalone. We find the shoyu ramen a little too light on flavour. We also prefer the tender cha shu over these chewy slices of "abalone".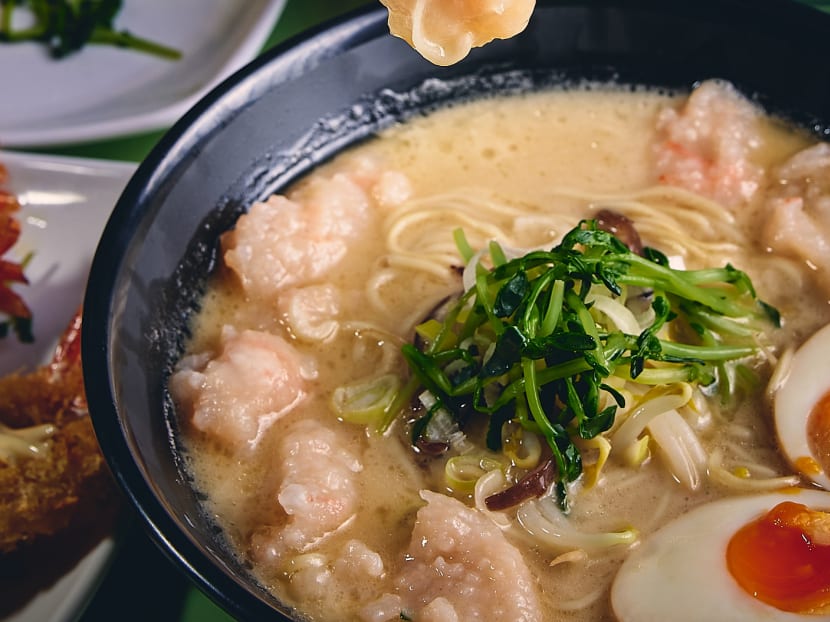 You get chunks of chewy prawn paste in this bowl – reminiscent of Le Shrimp Ramen's ebiko-dotted ones, but a humbler version. The misshapen lumps have an enjoyable springiness that yields to a tender, briny interior, though we find the subtle sweetness of the crustacean is overshadowed by the robust tonkotsu soup.
Chicken and scallion potstickers that are supplier-bought and deep-fried. It's crisp and juicy enough, though a tad greasy. We also wish they pan-fried the gyoza instead of deep-frying it.
The pale, crunchy exterior of the orbs – deep-fried, rather than pan-griddled as it's traditionally done – reveal gooey batter and a mini chunk of octopus. There's a generous drizzle of sweet-savoury tonkatsu sauce, but none of the other usual suspects like dried bonito flakes and mayo. Not quite worth the calories.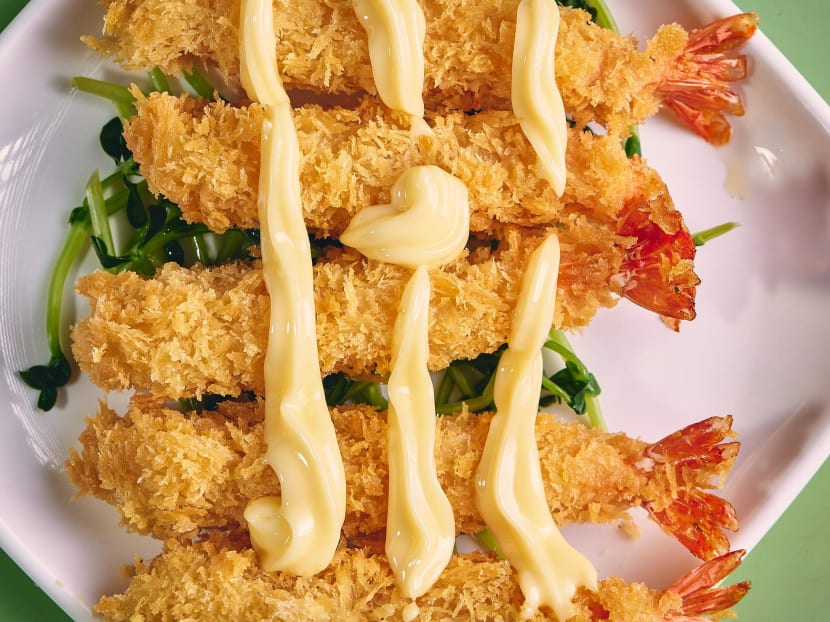 A value-for-money side dish considering you're getting five deep-fried, store-bought panko-crusted prawns, slathered with Japanese mayo. Nothing to shout about, but pleasant nonetheless. Get a plate to share with the fam if you want a little something extra with your noodles.
Surprisingly decent ramen for the price point — the tonkotsu soup was richer than we expected and the fixings comparable to those from some casual ramen restaurants (aside from the odd addition of grassy dou miao). Might be worth a trip for ramen on a budget — if you don't mind dining in an old kopitiam that has seen better days.