Ex-Pasta Chef Sells Chewy Hand-Kneaded Mee Hoon Kueh At Old Airport Rd Food Centre
The former pasta chef comes from a family of hawkers — he now serves shiok mee hoon kueh at his stall, Kai's Handmade Mee Hoon Kueh. 
 
Kane Sia, 28, is a man of action. After earning his IT degree and working at an MNC for two years "where I troubleshoot computer problems until I got bored", he went back to school to earn his diploma in Culinary Arts. All because he takes his food seriously.
For the last three years, he honed his craft in the restaurant and premium inflight catering sectors. He has done stints as a line cook at now-defunct contemporary Australian restaurant Salted & Hung, and made fresh pasta at Italian eatery Supply & Demand. But having grown up in a hawkerpreneur family, he always wanted to run his own hawker business.

So he opened Kai's Handmade Mee Hoon Kueh at Old Airport Road Food Centre mid-September, serving both traditional versions of the dish as well as a fusion option like Miso. He runs the business with his girlfriend, the be-dimpled Deborah Tan, 29, who worked in corporate marketing and dreams of opening her own bakery someday.

No part of this story or photos can be reproduced without permission from 8days.sg.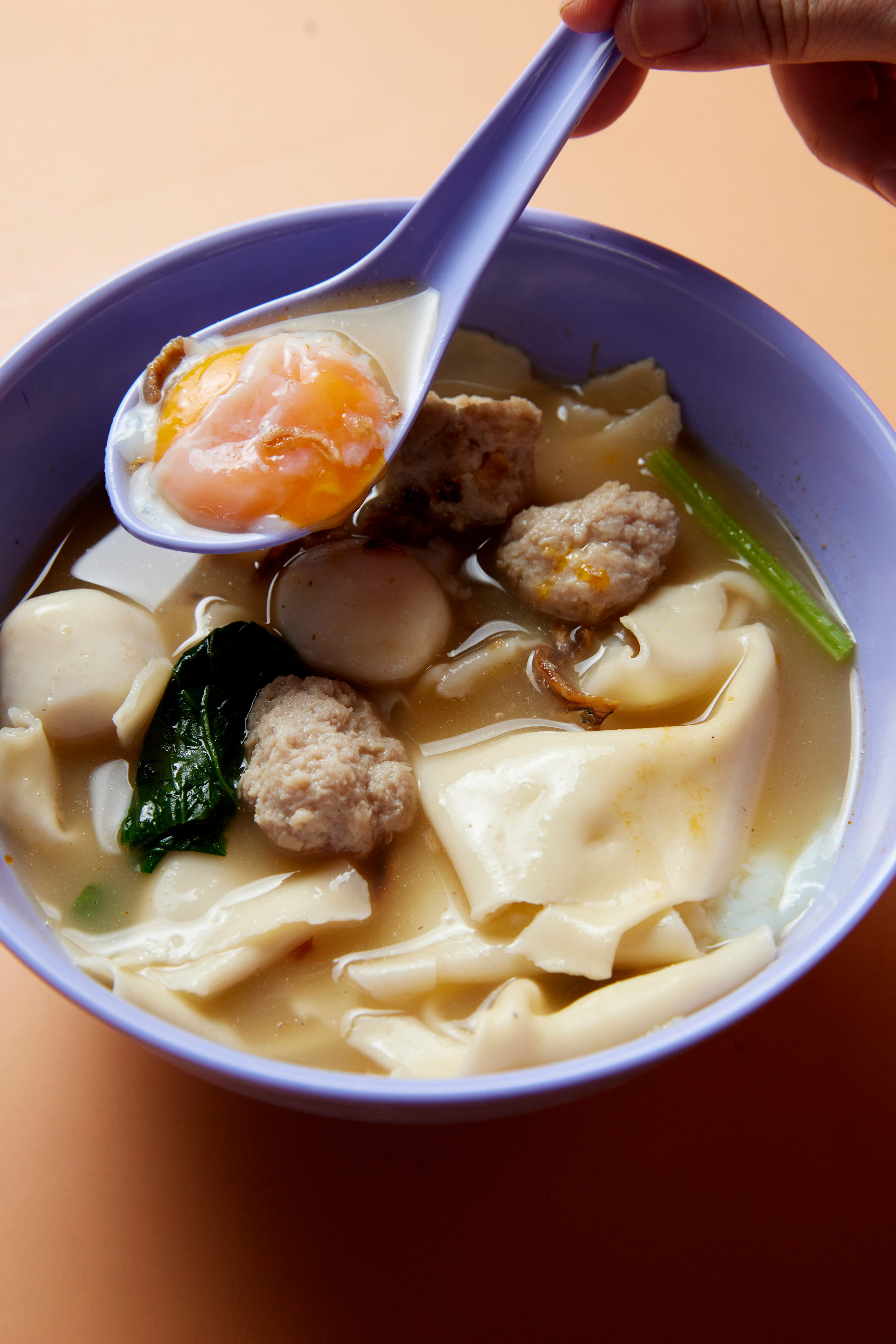 Originally wanted to sell fish soup
He originally wanted to sell fried fish soup but the management at the hawker centre turned his request down as there were too many similar offerings there already. His grandma, a fish soup hawker (more on that later) made an astute observation that the Dakota-Mountbatten area are mature estates with many elderly residents who would appreciate homey comfort food. She thus suggested selling traditional handmade mee hoon kueh.
Kane developed his original broth and noodle recipes over a few months. It has an assortment of bones, chicken feet, vegetables like corn and carrots, and herbs, all brewed for hours to extract maximum flavour.
Grandma paved the way for this 3

rd

Gen hawker
His maternal grandmother was a Blanco Court hawker who relocated to Old Airport Road Hawker Centre to sell fried fish noodles, before moving the business to Beach Road in the early 2000s, which Kane's aunt currently helms (the shop is called Blanco Court Fried Fish Noodles). He helped out at his grandmother's stall for a few months where he learnt to cook her speciality dish, as he'd intended to open a second outlet at the hawker centre previously. Fortunately for Kane, grandma retained the hawker license and stall and passed it to his mum, who then made him a nominee to operate the stall.

"We've spent an estimated $5,000 in Kai's Handmade Mee Hoon Kueh thus far," says Kane, who uses his Chinese name 'Kai' in his brand. They were fortunate to have the stall (they're in the last row and closest to the ladies' toilets) and license passed down to them. Starting from the ground up would've cost them at least triple their initial investment, says Kane.

 
Noodles and MHK freshly made upon order
Tapping on his prior restaurant experience in making fresh pasta, Kane tweaked the recipes to create a dough that suited the humidity of a hawker centre. He uses a high protein flour with a wet gluten index of at least 30 percent, which helps the dough to hold its structure and stretch when he kneads it. "Making MHK is similar to making pasta, but the key difference is that MHK dough requires more hand kneading as the dough is stickier, which results in a smooth yet pliable dough that's easy to work with," explains Kane. We've seen many other mee hoon kueh hawkers using machines to do the kneading instead. 

Each piece of MHK is hand-torn, too. The ragged edges and visibly thicker, bigger slices offer a much more satisfying, chewier mouthfeel than the thin pieces we usually get from other hawker stalls.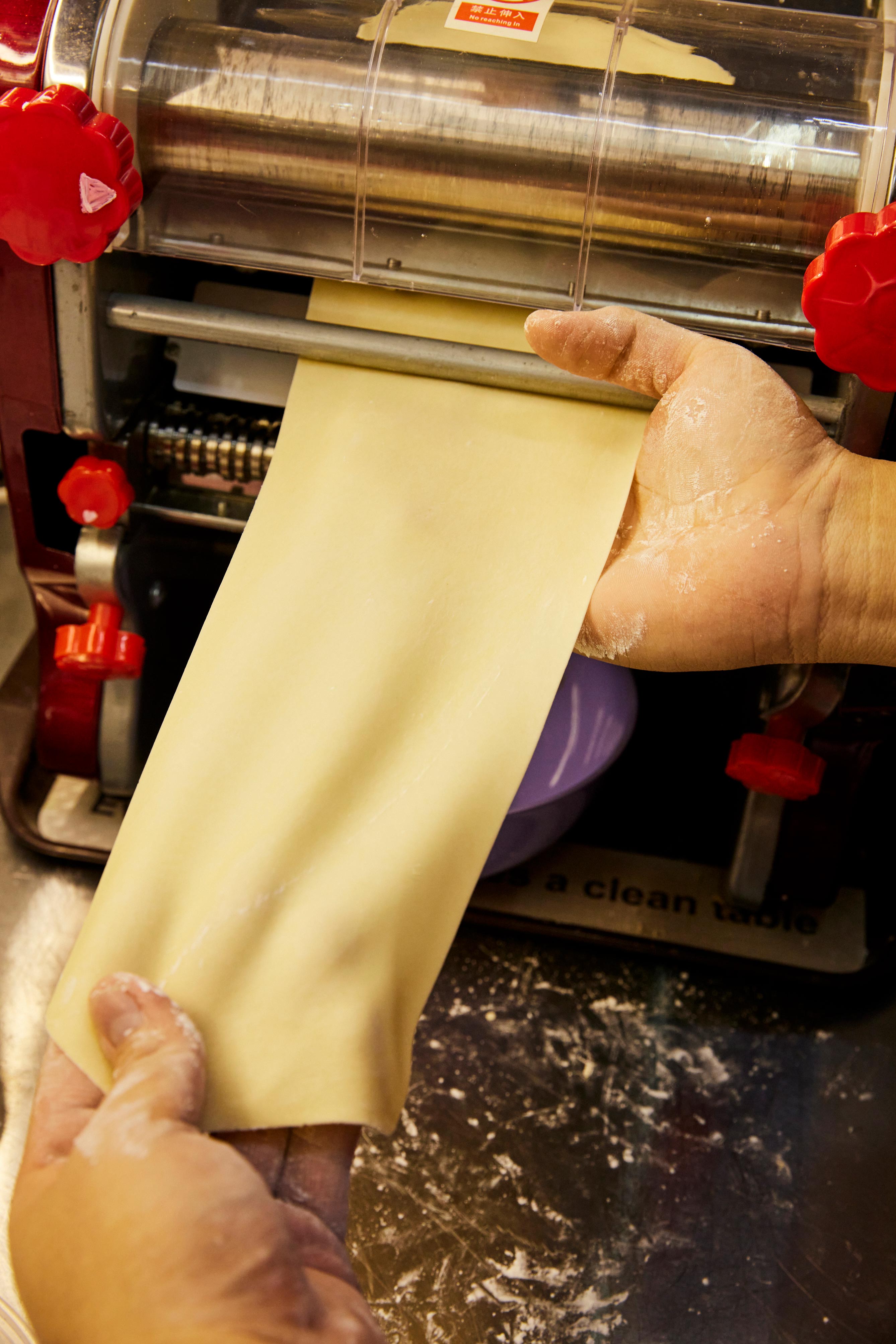 Each portion of noodles is made upon order. After kneading by hand, the dough is then stretched using a $300 noodle machine, which comes with a built-in automatic cutting function, to help them get the consistency that they want for every portion.
The menu
Currently, there are four options on offer - dry, traditional soup, miso soup and tom yum soup. The latter two are basically the signature soup base mixed with store-bought miso or tom yum paste. Every order ($4.50 per bowl – only one standard option) is cooked with three meat balls, two fish balls and veggies. Choose from mee hoon kueh, ban mian and la mian. You can add extra ingredients from 60 cents for a poached egg, to $1.50 for more meat.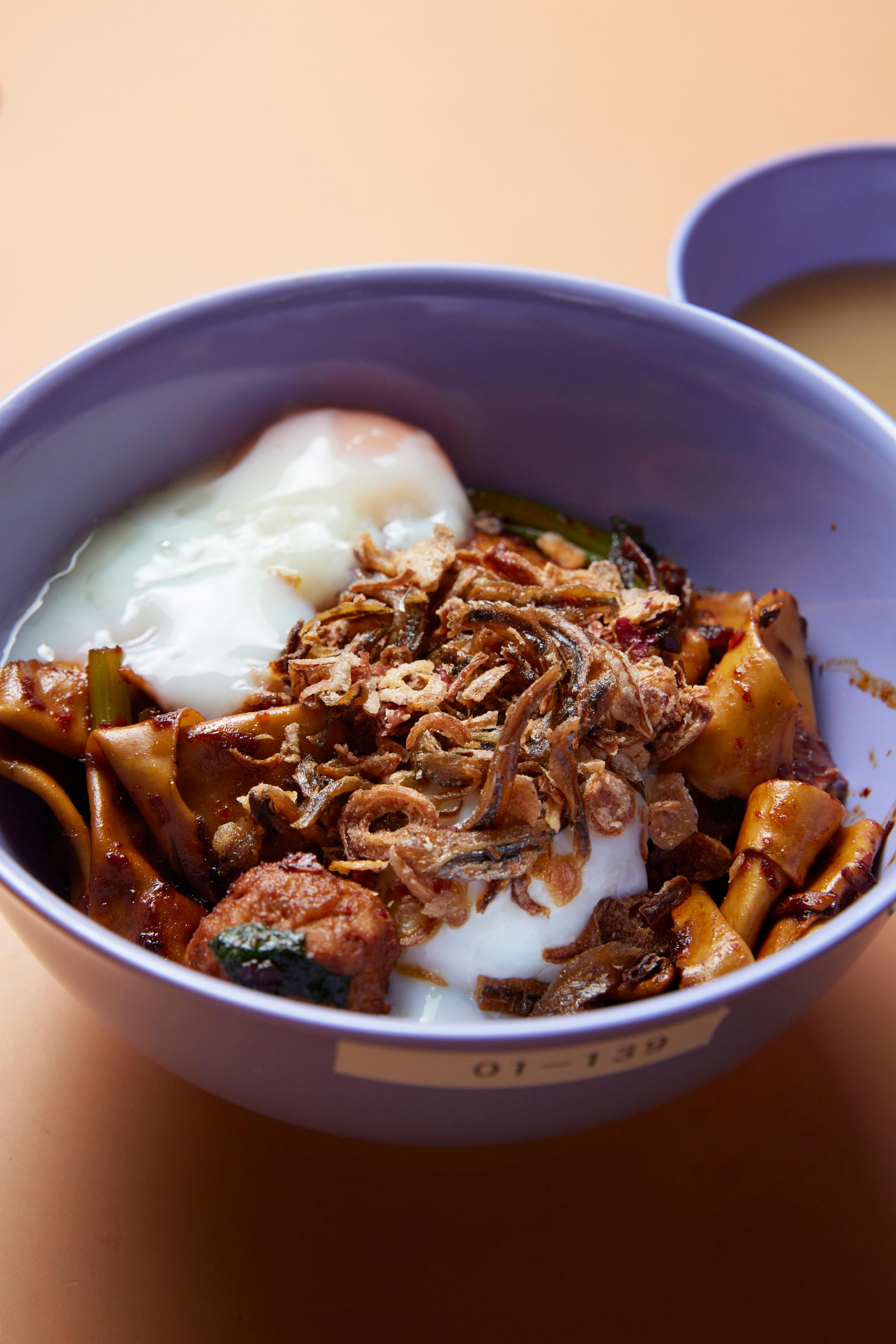 Dry Mee Hoon Kueh, $4.50 (

8 DAYS Pick!)
For the dry version of MHK, Kane blanches the ingredients in soup, before draining it back to the giant pot boiling in the background. We imagine the broth will taste yummier as the day goes by.

The signature dry mee hoon kueh is well tossed in Kane's special mix of dark soy sauce, vinegar (we'll request for more next time) and housemade shrimp chilli oil, his take on hae bee hiam. There is enough fire to eat this plain, though you can also add chilli padi and their house-made chilli dip.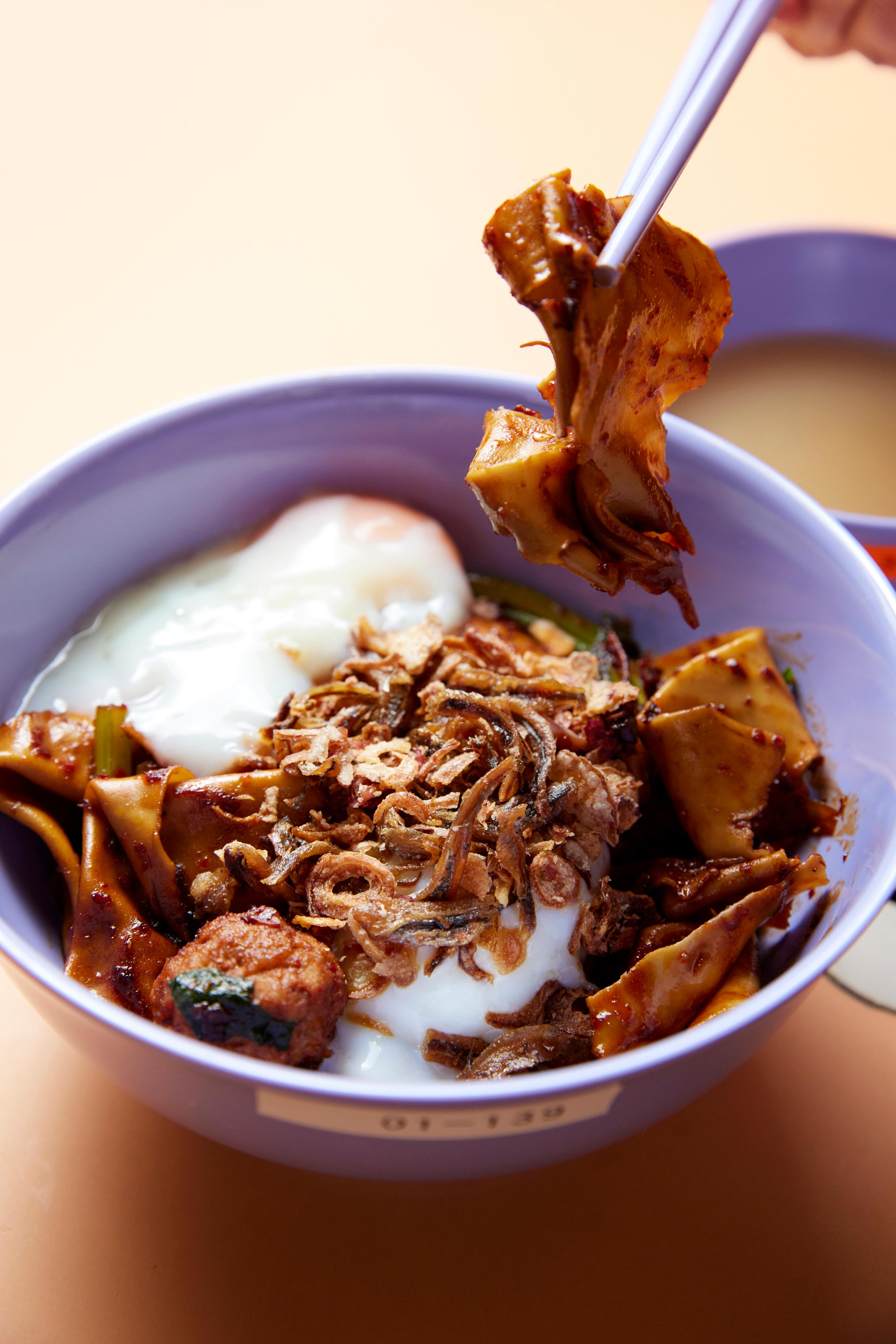 We love that a sous vide egg is cracked into every bowl and a generous spoonful each of fried anchovies and fried shallots added. Mix the dry MHK well and each piece is coated with the silky yolk. Drink up the light and sweet soup served on the side, a welcome reprieve from the riotous flavours of the dry kueh. Customers are already asking for extra soup, which is a real compliment to the chef, says a happy Kane. "If you love our soup and want seconds, we'll be happy to refill your bowl!"
Traditional Mee Hoon Kueh Soup, $4.50 (

8 DAYS Pick!)
The traditional soup version, flavoured by the anchovies, is bolder and more flavourful. The meatballs are tender and well-seasoned though we don't care much for the store-bought fish balls. Dip the meatballs in their chilli sauce, which they make a fresh batch weekly with large chillies, chilli padi, vinegar and coriander root.
More international flavours on the way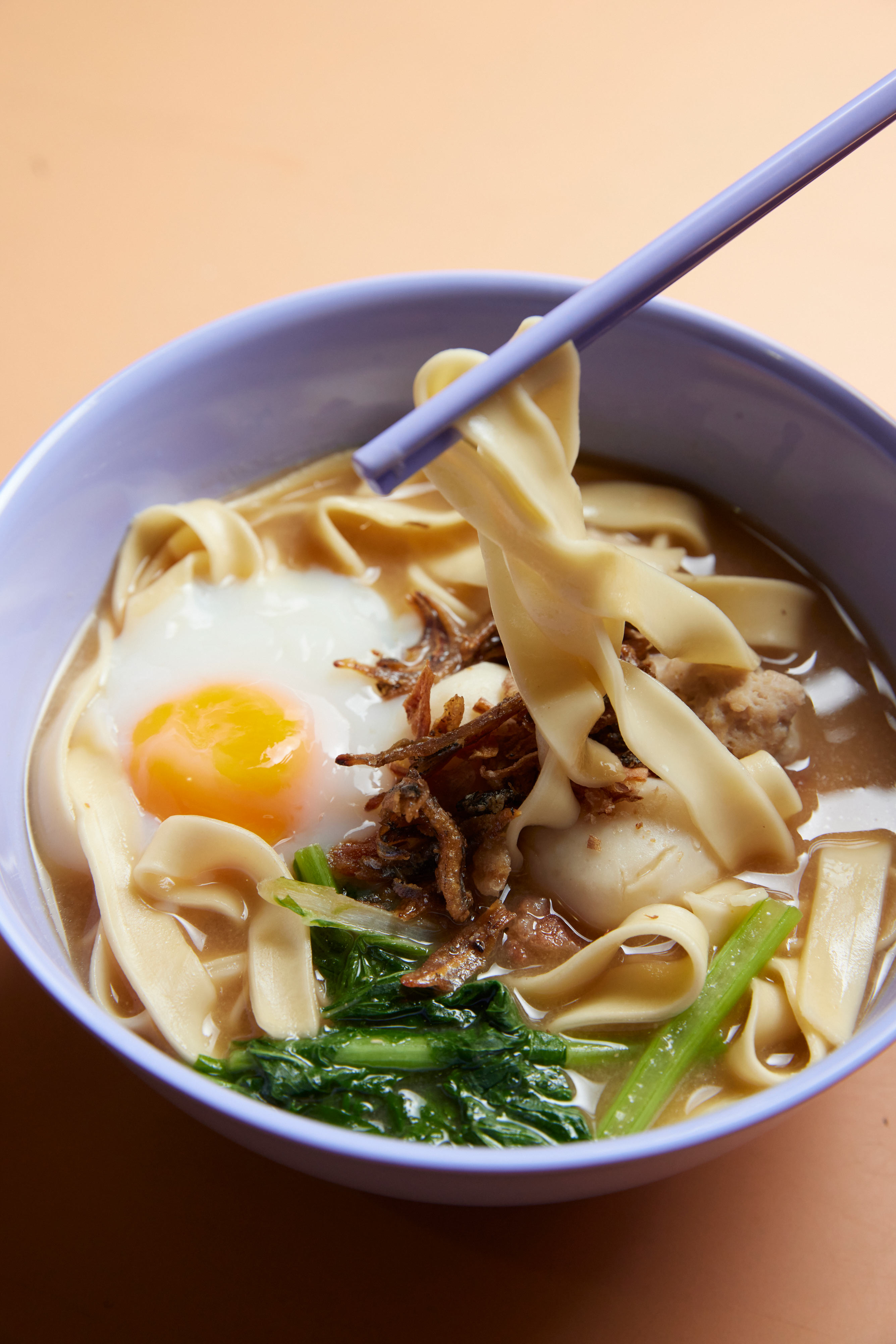 Miso Ban Mian Soup, $4.50 
Kane and Deborah recommend their miso soup base for an umami burst that coats the broader ban mian nicely. Adding a dollop of briny miso does elevate this simple dish but call us purists; we still prefer the original broth, which is cleaner and reminds us of mum's cooking.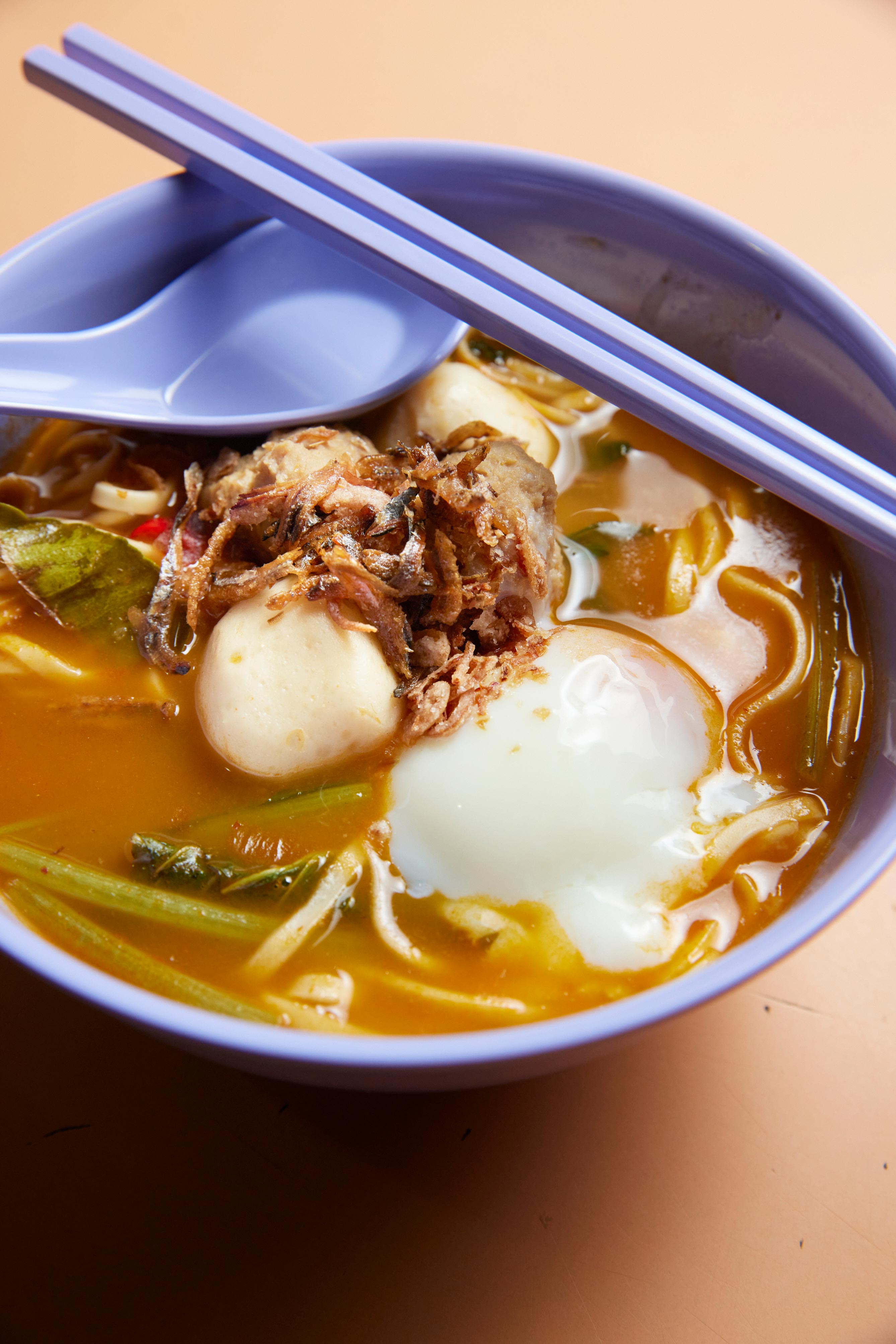 Tom Yum Noodles, $4.50
The Tom Yum version comprises tom yum pre-mix stirred into the soup. We'll skip this for the original or the dry version. Other international flavours that they are planning: "Jajangmyeon flavour as it would pair well with our la mian, and Bakso from Indonesia as it has a similar broth base."
Bottom line
Good quality mee hoon kueh for $4.50 a bowl. Kane's experience in making fresh pasta shows in the more toothsome, thick and chewy texture of the noodles here. We recommend coming with a friend and sharing a bowl each of the Dry and Original Soup versions. Make sure you ask for more of that wholesome broth.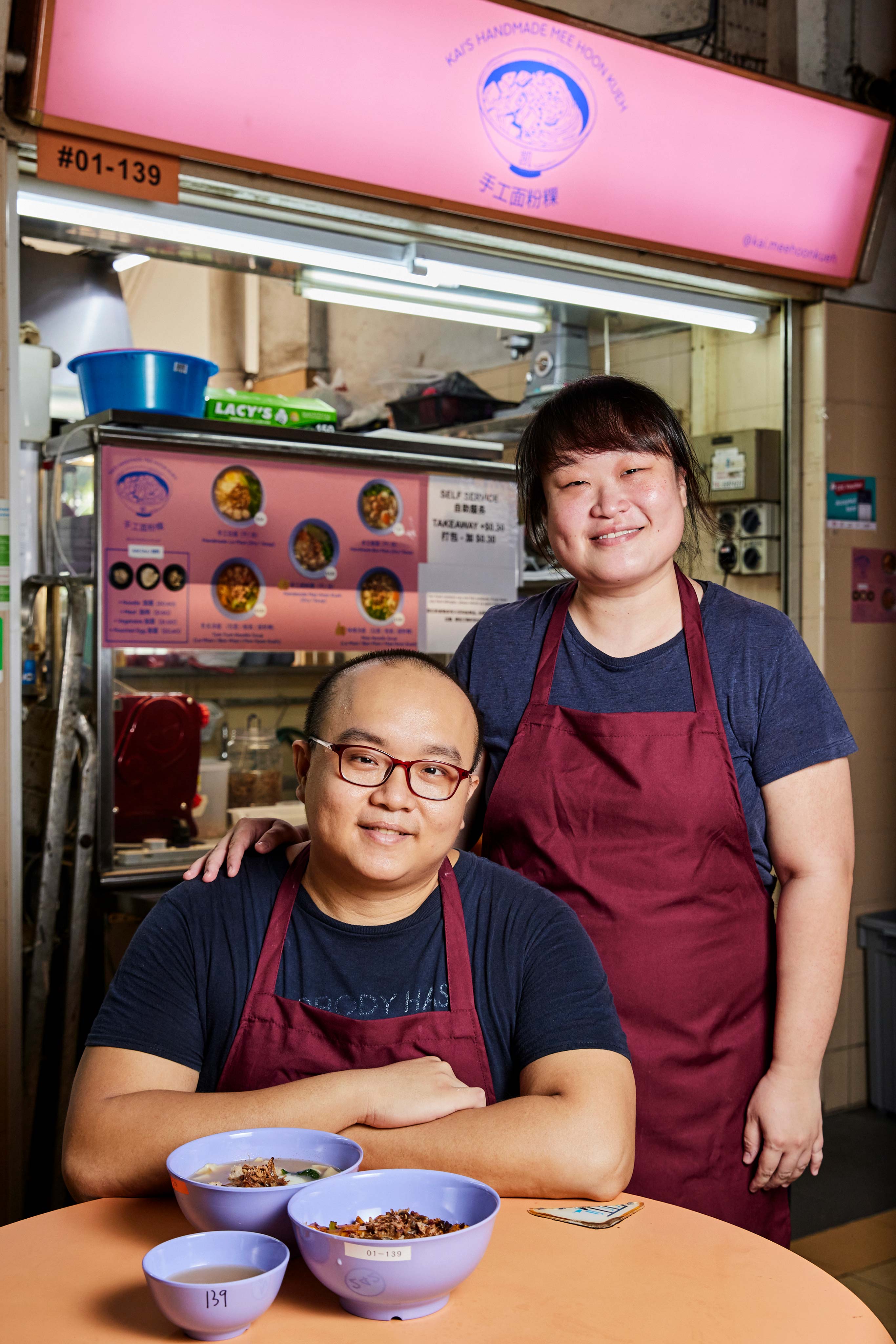 The details
Kai's Handmade Mee Hoon Kueh is at #01-139 Old Airport Road Food Centre, S390051. Open daily except Tue 11am – 7.30pm or till sold out. More info via Facebook & Instagram.
Photos: Aik Chen
No part of this story or photos can be reproduced without permission from 8days.sg.