Fish Farm Boss Who Turned Hawker Because Of Pandemic Sells $6 Premium Giant Grouper Soup
With an 80% dip in biz, the towkay pivoted to opening King Grouper Fish Soup, a chain of affordable hawker stalls selling the prized giant grouper, a delicacy in restaurants.
For over 20 years, Chew Kim Hwee, 47, has devoted his career to producing and distributing giant grouper — a highly prized fish in Cantonese cuisine and seafood restaurants. As the owner of Fish Vision, a hatchery farm at Pasir Ris Farmway, and a seafood distribution biz, he supplied "hundreds of tonnes" of the premium fish to restaurants mainly in Hong Kong every year for the past decade. Affluent Hong Kongers are known to splurge on seafood.
The farm took a hit during the pandemic with HK's frequent shutdowns — Kim Hwee estimates that sales dropped by around 80 percent. So the enterprising boss chose to diversify his biz by launching hawker chain King Grouper Fish Soup, which sells giant grouper fish soup at affordable prices. This month alone, Kim Hwee opened two outlets — the first stall in Bugis, and another at Changi Village Hawker Centre. 8days.sg checks out King Grouper's first outlet in a Waterloo Street kopitiam.
All photos cannot be reproduced without permission from 8days.sg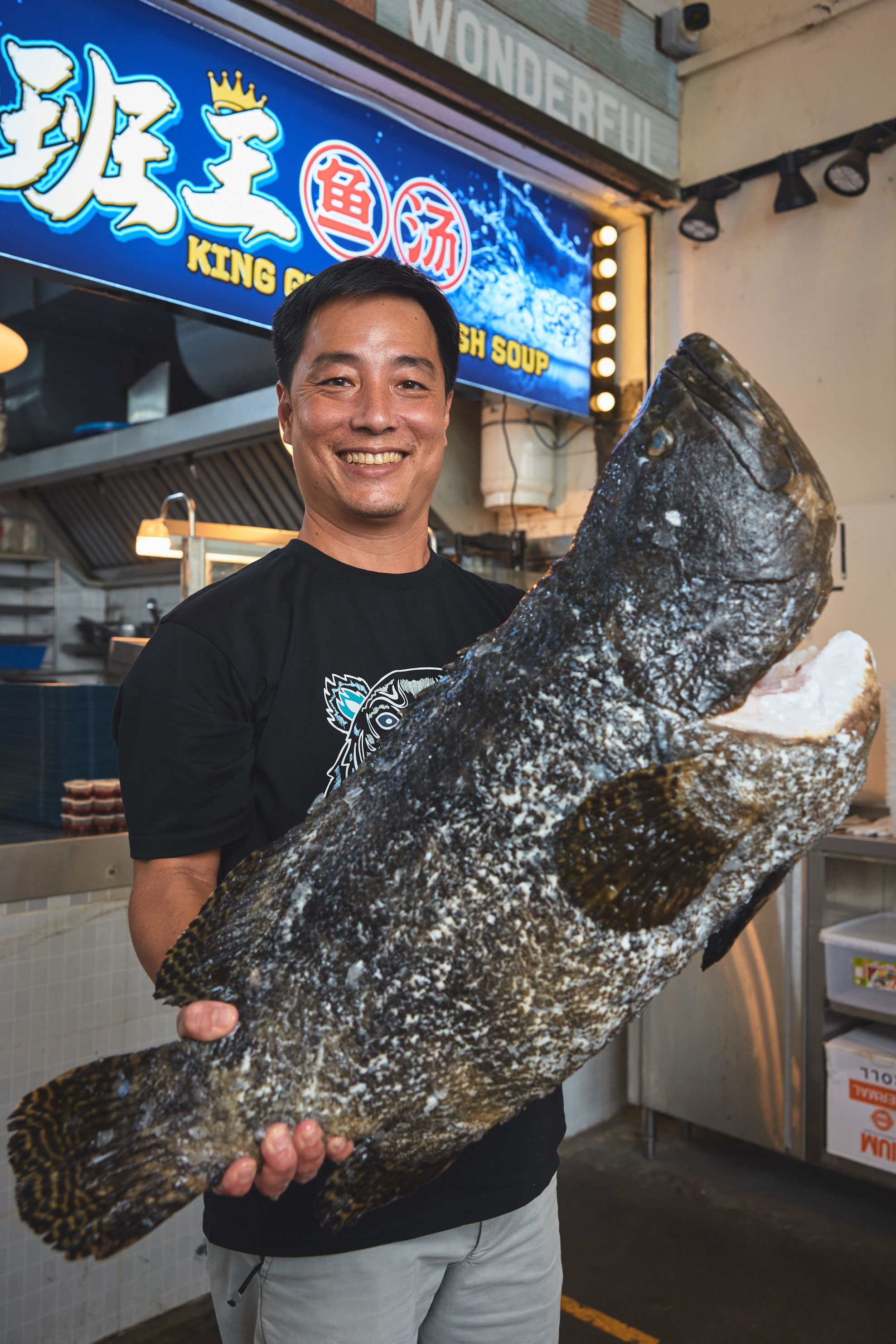 What is a giant grouper?
Giant groupers are the largest members of the grouper family — they can grow to almost 3m long and weigh up to 400kg (hence its fitting name). Prized for its thick, chewy collagen-rich skin and firm yet fine flesh, the fish is considered a delicacy in Chinese cuisine.
King Grouper Fish Soup only uses giant groupers that are at least 10kg for their dishes. "This is to ensure the fish skin is thick and chewy enough," explains Kim Hwee, who proudly rocked up to our photo shoot with a hulking dark grey catch that meets his criteria.
While we've had giant grouper fish soup before at one or two other kopitiam stalls (631 Teochew Fish Porridge in Ang Mo Kio serves it claypot-style with portions starting at $8 — but we found its quality inconsistent) it's certainly not common. In fact, the large fish is mostly found in more upmarket eateries.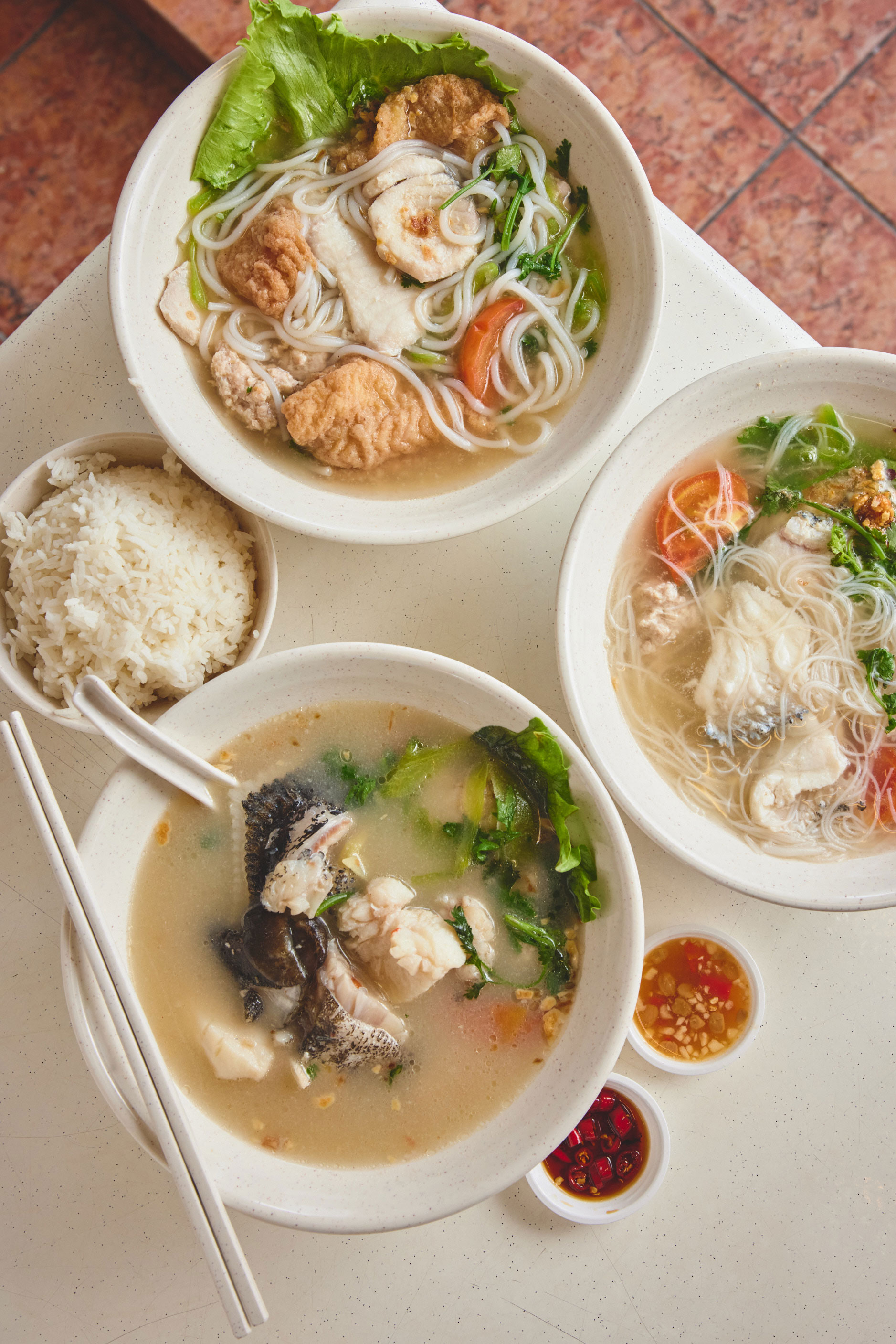 Atas fish at lower prices
"Few people get to try long dan (the Chinese name for giant grouper) as prices can be quite high when you order it at a restaurant. We wanted to offer this high-value fish at hawker stalls so more people can try it," says Kim Hwee. We're told restaurant prices for giant groupers can range from $50 to $100 per kg.
Kim Hwee says the lease to his hatchery farm expires in June. He has decided to cease operations of both the farm and his seafood distribution biz to focus on his new hawker venture instead. The towkay is able to keep prices affordable as he also owns a kelong off Changi, where he rears giant grouper, and has access to a network of fish farms in Malaysia to ensure a steady supply at wholesale prices.
Roped in sis to help, plans to open eight more stalls this year
King Grouper Fish Soup has four other partners, including Kim Hwee's sister, Jennifer Chew, 48, who handles marketing, and Alex Ngow, 42 (left in pic), who helms the Waterloo outlet. The remaining partners (who were not present at the shoot) are in charge of finance and human resources.
"I'm quite familiar with the seafood biz as our dad was a fishmonger. We used to help out at his stall when we were young," says Jennifer, who works in real estate. The siblings also run Mister Fishmonger, an online seafood marketplace launched in 2019. Jennifer often hosts Facebook live streams to sell their products.
Two weeks after opening their first stall at Waterloo Street on 1 March, the team expanded to a second branch at Changi Village Hawker Centre. "We weren't planning to expand so quickly, but a stall was available at Changi Village and we decided to take it as it's near our kelong. We're very familiar with the area," says Kim Hwee.
The ambitious boss tells us they plan to open eight more stalls this year. "We're in a unique position to offer giant grouper at an affordable price and I think there's a market for us," he says. The partners decline to reveal how much has been invested into the venture so far.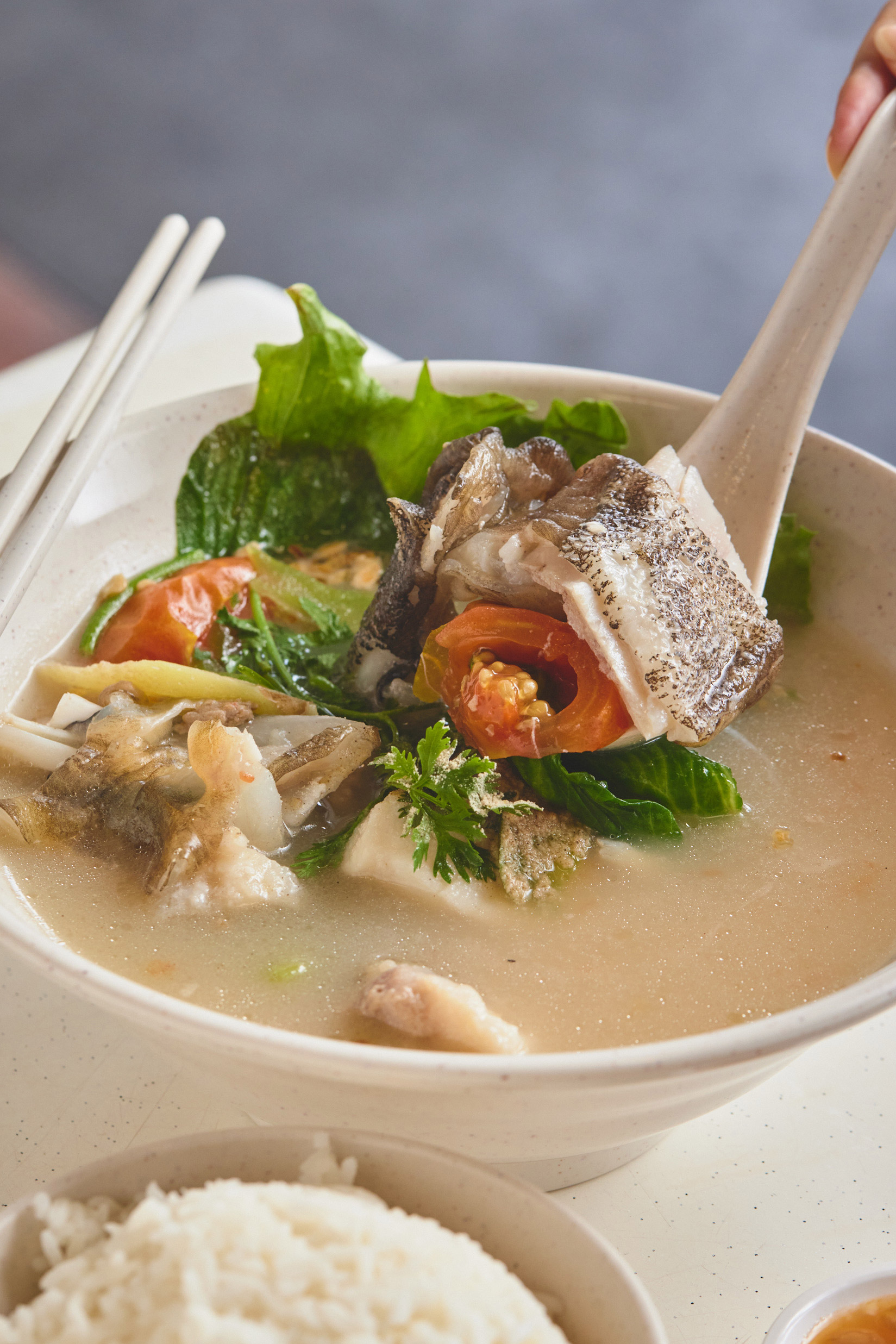 The menu
There are four types of fish soup available at the Waterloo stall, including Grouper Fish Head Soup ($6), Sliced Grouper Fish Soup ($6), Sliced Batang Fish Soup ($6) and Fried Fish Soup ($6) with deep-fried mackerel. It's off the menu, but you can also order a bowl of Mixed Fish Soup ($6) for a combination of boiled and fried batang. Top up 50 cents to add carbs – choose from steamed white rice, thick or thin bee hoon, mee sua or crispy noodle.
The newer Changi Village hawker stall has a bigger menu, with items like Red Grouper Fish Soup ($8) and Mixed Seafood Soup ($6), which has sliced batang, prawns, sotong and lala. We're told these new items will be added to the Waterloo outlet menu soon.
Grouper Fish Head Soup, $6 regular; $9 large (8 Days Pick!)
Alex, who cooks at the Waterloo stall daily, tells us the broth is made from simmering giant grouper fish heads, mackerel bones and vegetables for three hours. The result is a clean-tasting, slightly cloudy soup that we found pleasantly saltier compared to most, which pairs well with rice or noodles. The recipe was tweaked from a version shared by Kim Hwee's friend, a hawker who sold fish soup.
Dealing with the pesky bones of the giant grouper fish head chunks is a small price to pay to enjoy its thick, gelatinous skin and collagen bits — after all, this is the most desired part of the large fish. The satisfyingly QQ skin is indeed tasty. Do note that there isn't much meat on the fish head chunks, though the fish soup is further bulked up by dollops of minced pork and vegetables.
Sliced Grouper Fish Soup, $6 regular; $9 large; add 50 cents for noodles (8 Days Pick!)
Once again, the elegant soup allows the natural sweetness of the thickly sliced grouper to shine. Cooked just right, the delicate flesh has a fine, slightly chewy texture accompanied by an even chewier skin (though there's less of the skin here vs the head). As a mild-tasting fish, there isn't a great distinction between the flavour of the giant grouper compared to smaller groupers, but we do find the former to have a firmer, bouncier texture.
There are six slices in this smallest bowl and nine in the larger $9 option. We added thin bee hoon to our order for a heartier meal, while regular fixings like tomato, lettuce, bitter gourd, ginger and coriander add a welcome freshness to the bowl.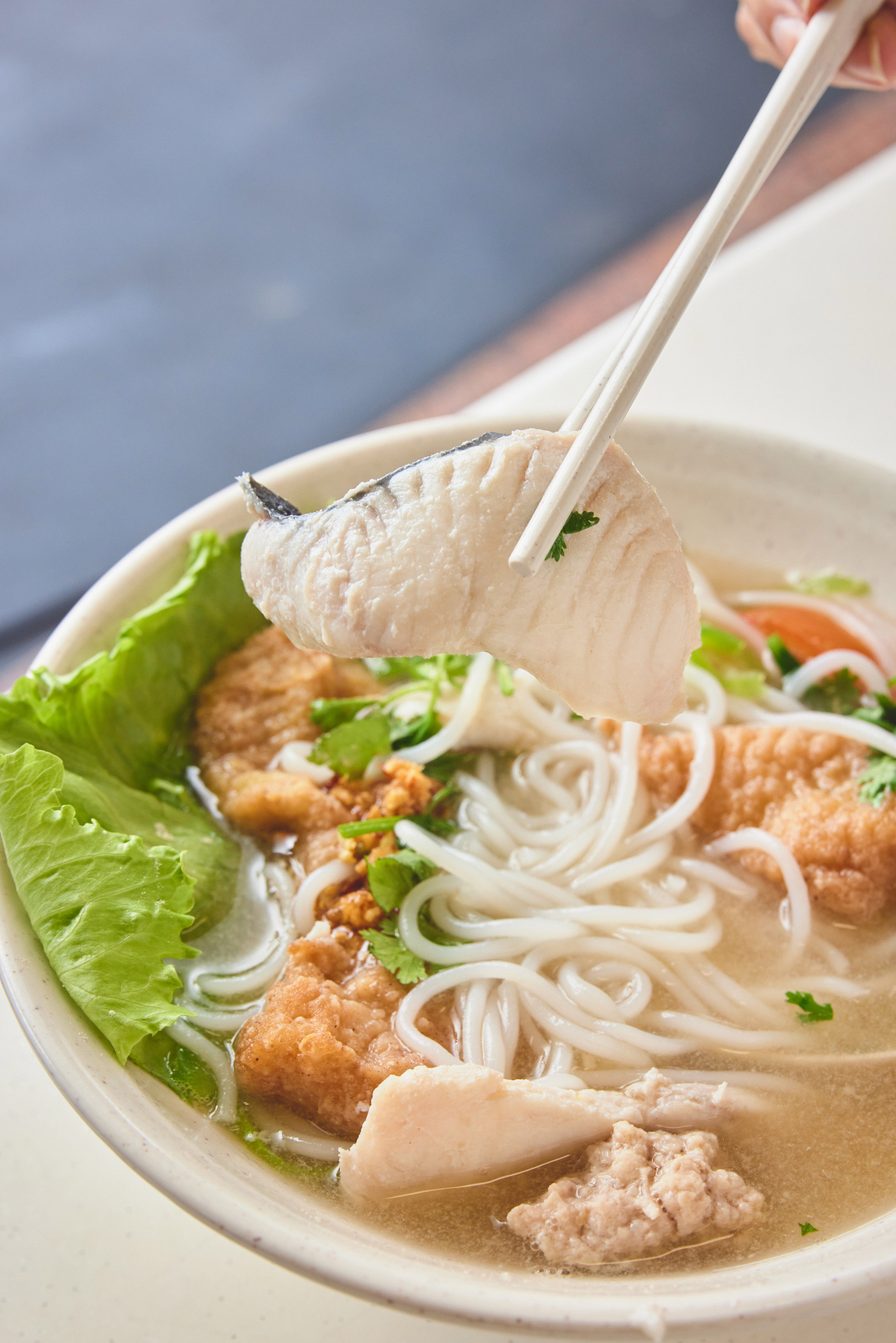 Mixed Fish Soup, $6 regular; $9 large; add 50 cents for noodles
We wondered why this humbler batang fish soup is priced the same as the grouper, but all was revealed when the bowl was served. Our $6 bowl of mixed fish soup brims with larger, meaty slices of fresh, blanched batang and succulent chunks of fried mackerel (that could be crispier). Again, there are six pieces of fish in this option. The larger cuts of fish, paired with silky thick bee hoon, make this a more filling bowl compared to the sliced grouper soup. But the flesh and flavour are less delicate compared to the more premium fish. There're also no collagen bits to nibble on. To add a little heat, try the tasty tau cheo (fermented bean paste) dip with chilli and garlic.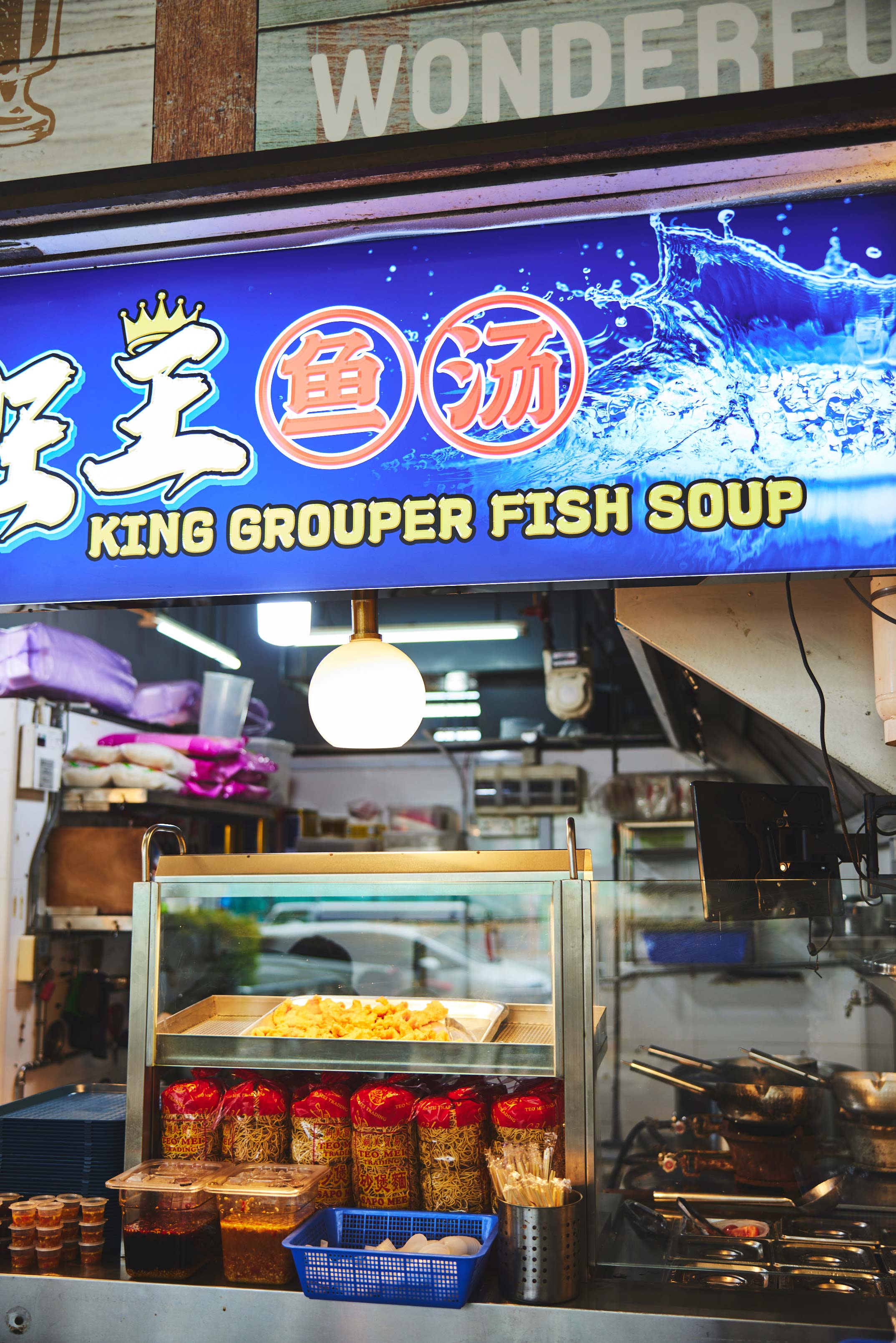 Bottom line
King Grouper Fish Soup is one of the rare hawker stalls in Singapore offering giant grouper soup. It's a great way to sample the prized fish on a budget, since a bowl here starts from $6. The broth is clean-tasting yet flavourful and complements the exceptionally fresh grouper beautifully. Is it worth a try? Well, yes, if you love the chewy collagen-y bits in your seafood, which the giant grouper is known for. Order the fish head soup here if you're willing to wrestle with bony chunks in return for more of the coveted collagen-rich skin. Otherwise, the sliced grouper option is more than satisfactory, though expect the flesh of this large fish to be slightly firmer than its smaller cousins.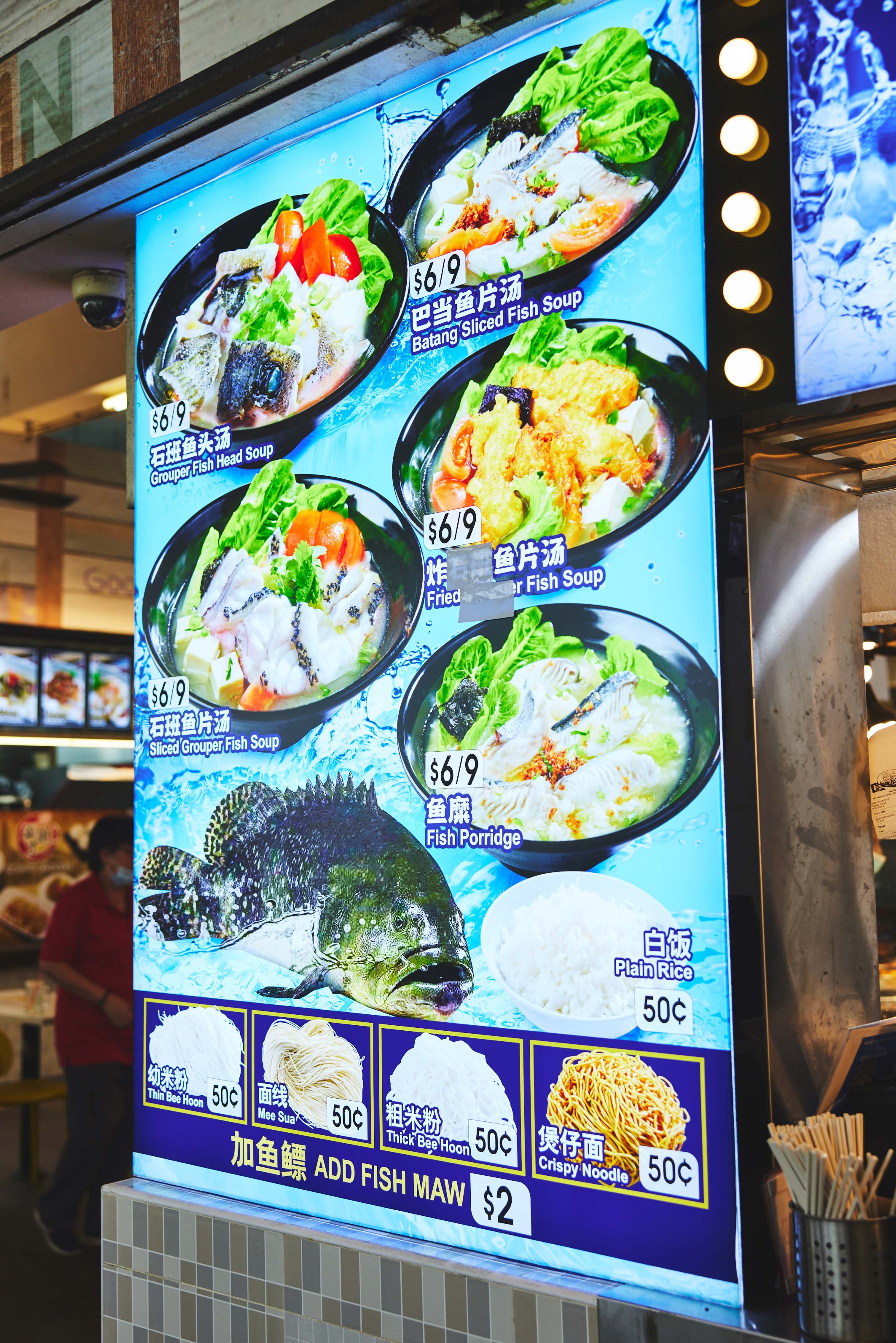 King Grouper 7208
King Grouper Fish Soup is at #01-29, 261 Waterloo St, S1800261 & #01-54 Changi Village Hawker Centre, 2 Changi Village Rd, S500002. Open daily 8am - 8pm. Facebook Instagram
Photos: Alvin Teo
All photos cannot be reproduced without permission from 8days.sg