Foodie Friday: What The Stars Ate This Week (Aug 19-26)
All the photos that made us hungry this week.
This week, Chen Liping and Ya Hui met up with former Mediacorp actor Chunyu Shanshan's family, Thomas Ong, Pan Lingling and Huang Shinan queued up for their fave hawker eats, and Guo Liang and Desmond Ng shared a bromantic moment over mooncakes. Read on for more.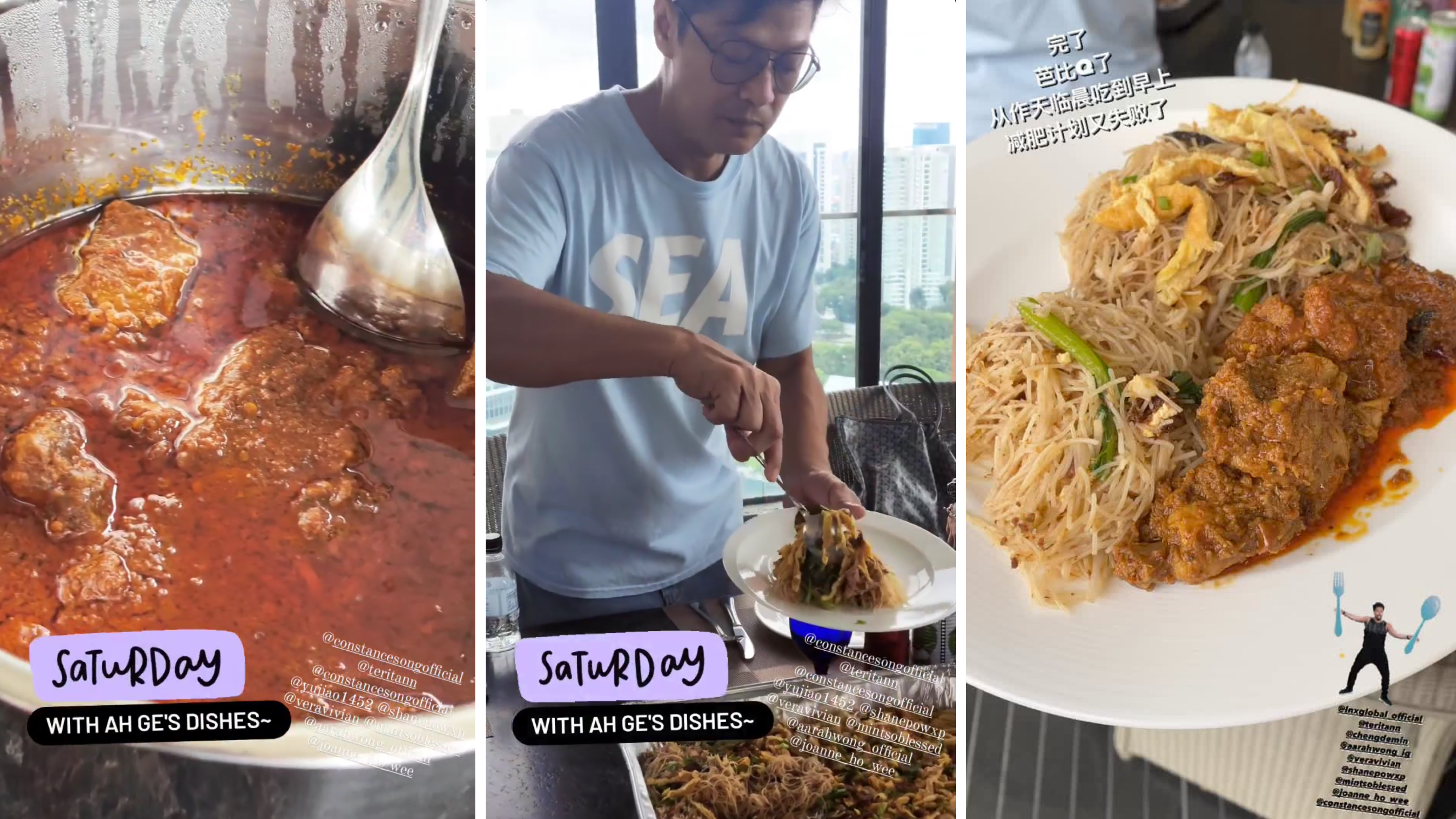 Li Nanxing
What he ate: Home-cooked eats
Yummy factor: Nanxing got busy during the weekend whipping up comfort eats like fried beehoon (he was very generous with the ingredients, we must add) and rendang for pals like Vivian Lai and Shane Pow, and boy did the combination look like a winning one.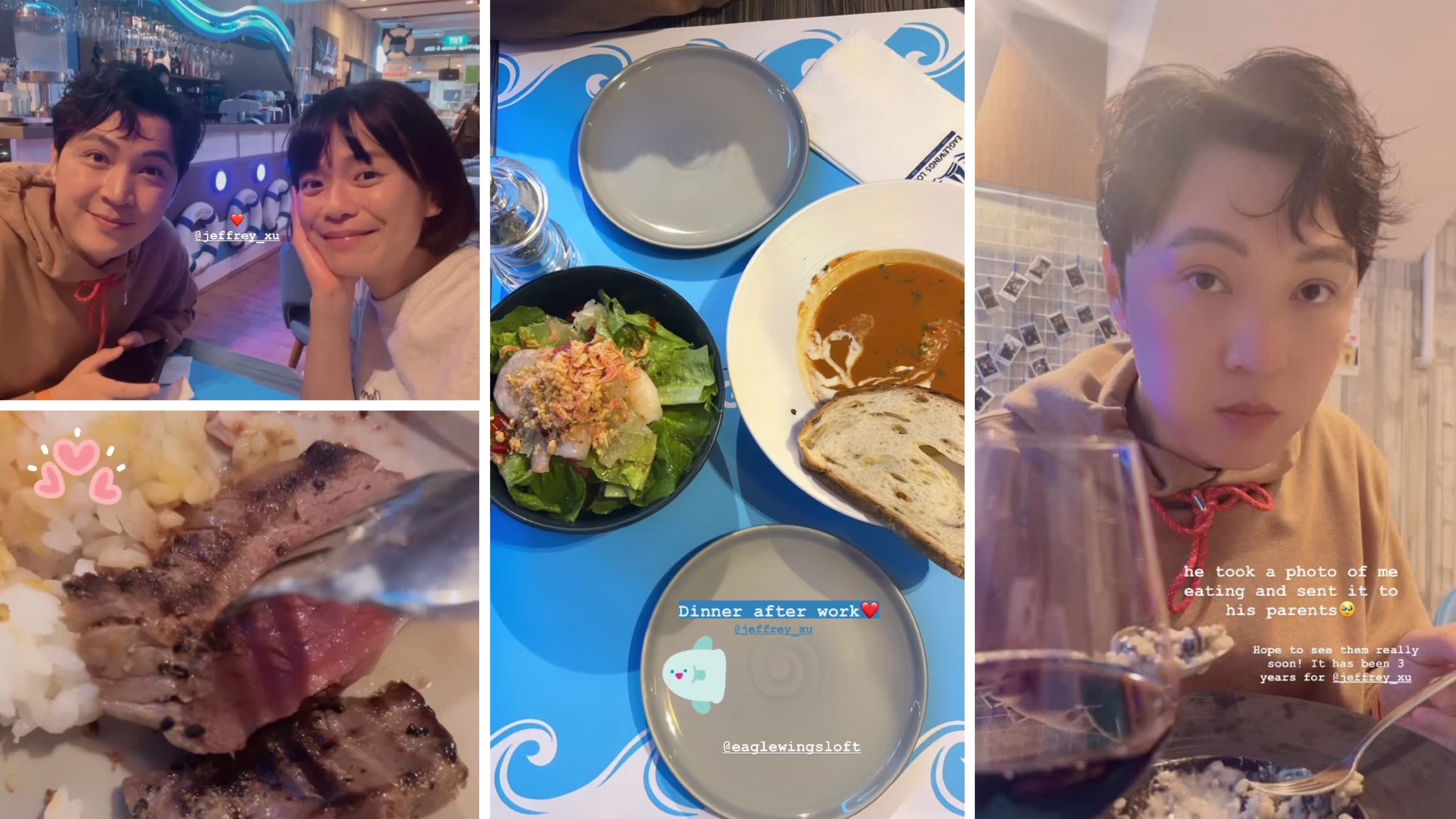 Jeffrey Xu and Felicia Chin
What they ate: After-work meal
Yummy factor:
Mondays don't have to be dreary when there's date night to look forward to. Jeffrey and Felicia headed to EagleWings Loft for dinner where they had a salad, soup and wagyu beef don. The don was so delish that Felicia polished off most of it before she remembered to snap a photo.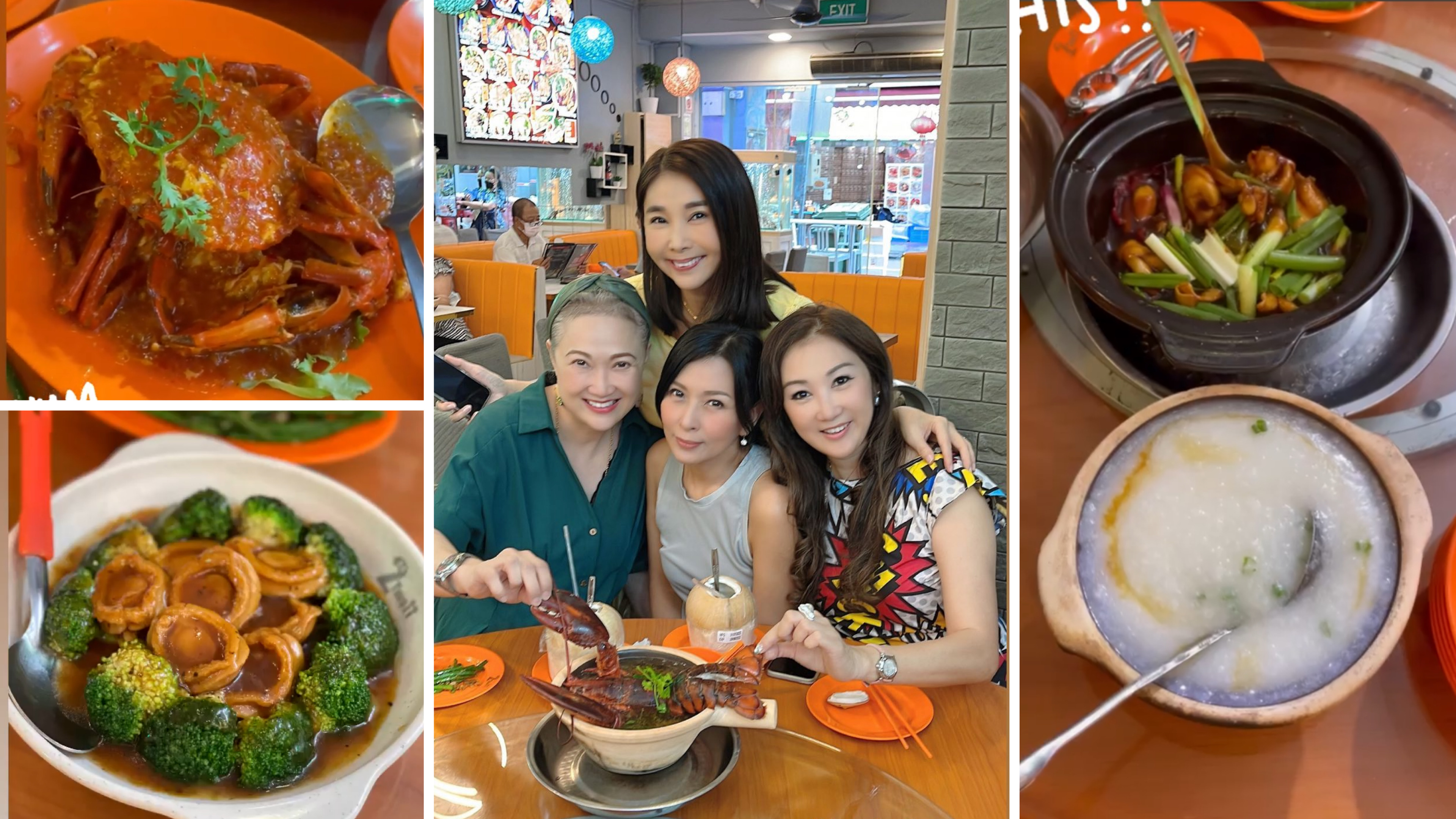 Hong Huifang, Chen Xiuhuan and Tang Miaoling
What they ate: Seafood and claypot favourites
Yummy factor: A trip to Dragoncity Claypot House saw Huifang, Xiuhuan and former Mediacorp actress Miaoling digging into sumptuous dishes like chilli crab drenched in its signature sweet and spicy sauce, as well as a whole lobster cooked in Chinese herbs and kung pao frog leg porridge.
Chew Chor Meng
What he ate: Asian street eats
Yummy factor: It's no secret that Chor Meng's a fan of newly-opened hawker stall NiuNiu Tea & DuDu Rice. This week, he headed down to support his good friend and towkay Ryan Tan, ordering both the shiok lu rou fan and oyster mee sua, as well as kimbap (Korean-style sushi rolls) and spiced crispy chicken skin.
Chen Liping and Ya Hui
What they ate: Fancy eats
Yummy factor: Liping, who's currently holidaying in Melbourne with Ya Hui, met up with former Mediacorp actor Chunyu Shanshan's wife and son, Shirley and Ian (they are based there), and they celebrated her 57th birthday (Aug 22) in style at Mediterranean restaurant Nomad. There, the pals tucked into appetite-whetting creations like smoked sardines, lamb rump paired with a peppery tomato-based sauce, and raw kingfish served with avocado and coriander crackers.
Ben Yeo
What he ate: DIY burgers
Yummy factor: Do you find regular picnics too mainstream? Take a leaf out of Ben's (recipe) book and set up your own mobile kitchen outdoors instead. And would you look at his professional set-up? Ben sure looked like he was in his element whipping up burgers with pan-fried patties, fried eggs and fresh greens for his family.  
Thomas Ong
What he ate: Curry rice
Yummy factor: With Beo Crescent Curry Rice — also known as No Signboard Curry Rice — shutting for good on Sep 4, Thomas made sure to have his fill of their shiok curry-laden rice with sides like fried chicken and bull's eye eggs, minced meat patty, and more. 
Quan Yifeng
What she ate: Lor mee
Yummy factor: Yifeng's back at Old Airport Road Food Centre for her lor mee fix from Xiang Ji. The host is a fan of the stall's thick savoury gravy, and generous ingredients like pork belly slices, fish chunks, ngoh hiang and hard-boiled eggs.
Guo Liang and Desmond Ng
What they ate: Mooncakes
Yummy factor: Caught Guo Liang and Desmond's bromantic moment on Mediacorp live streaming shopping series The Wonder Shop? Guo Liang enjoyed the liqueur truffle snowskin mooncakes from La Levain so much that he just had to feed his co-host some — there's just something about the perfect harmony of Valrhona chocolate with subtle notes of hojicha with the citrusy sudachi fruit.
If you're thinking of trying the mooncakes, there are exclusive offers of up to 30% off on selected items till Aug 29. You can get your Mid-Autumn goodies here, and witness Guo Liang's talent at coming up with poetry on the spot while you're at it.
Yvonne Lim
What she ate: Cakes galore
Yummy factor: From fluffy Swiss rolls in flavours like chocolate ovomaltine, peanut butter and pandan cheese to Yvonne's favourite Indonesian-style lapis surabaya (layered cake), the moist bakes from home-based bakery Dorisgoz are a winner in Yvonne's books.
Chen Hanwei, Chew Chor Meng, Hong Ling, Nick Teo, Carrie Wong, Pan Lingling and Sheila Sim
What they ate: Heart-shaped cake
Yummy factor: Seeing how Hong Ling and Nick first met on the set of long-form drama 118 eight years ago, it seemed only fitting for the cast to throw a party for the newly-engaged couple. And what better way to celebrate their love than with bubbly and a luscious tiered chocolate cake, complete with a 3D heart design in a romantic shade of pink?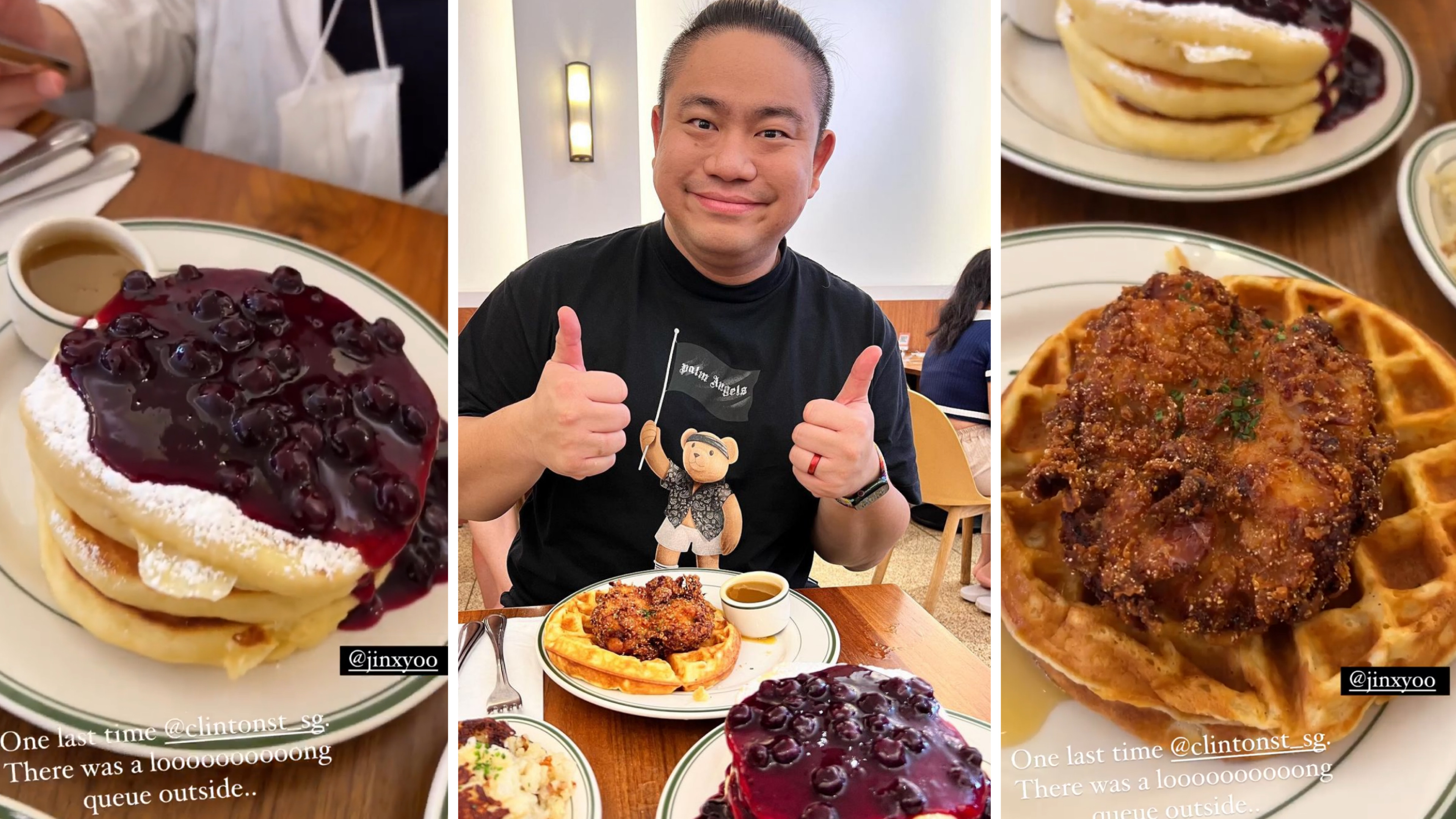 Justin Ang
What he ate: Last meal at Clinton Street Baking Company
Yummy factor: For now.. at least. With Clinton Street Baking Company exiting Singapore — it has stores in New York, Dubai and Tokyo — on Aug 30, Justin just had to get his hands on their well-loved American breakfast classics once more. The foodie is definitely going to miss their sinful fried chicken and waffle combo, as well as the glorious blueberry pancake stack with warm maple butter. If you're thinking of having one last taste of its comforting nosh, do note that there is a waiting time of at least an hour.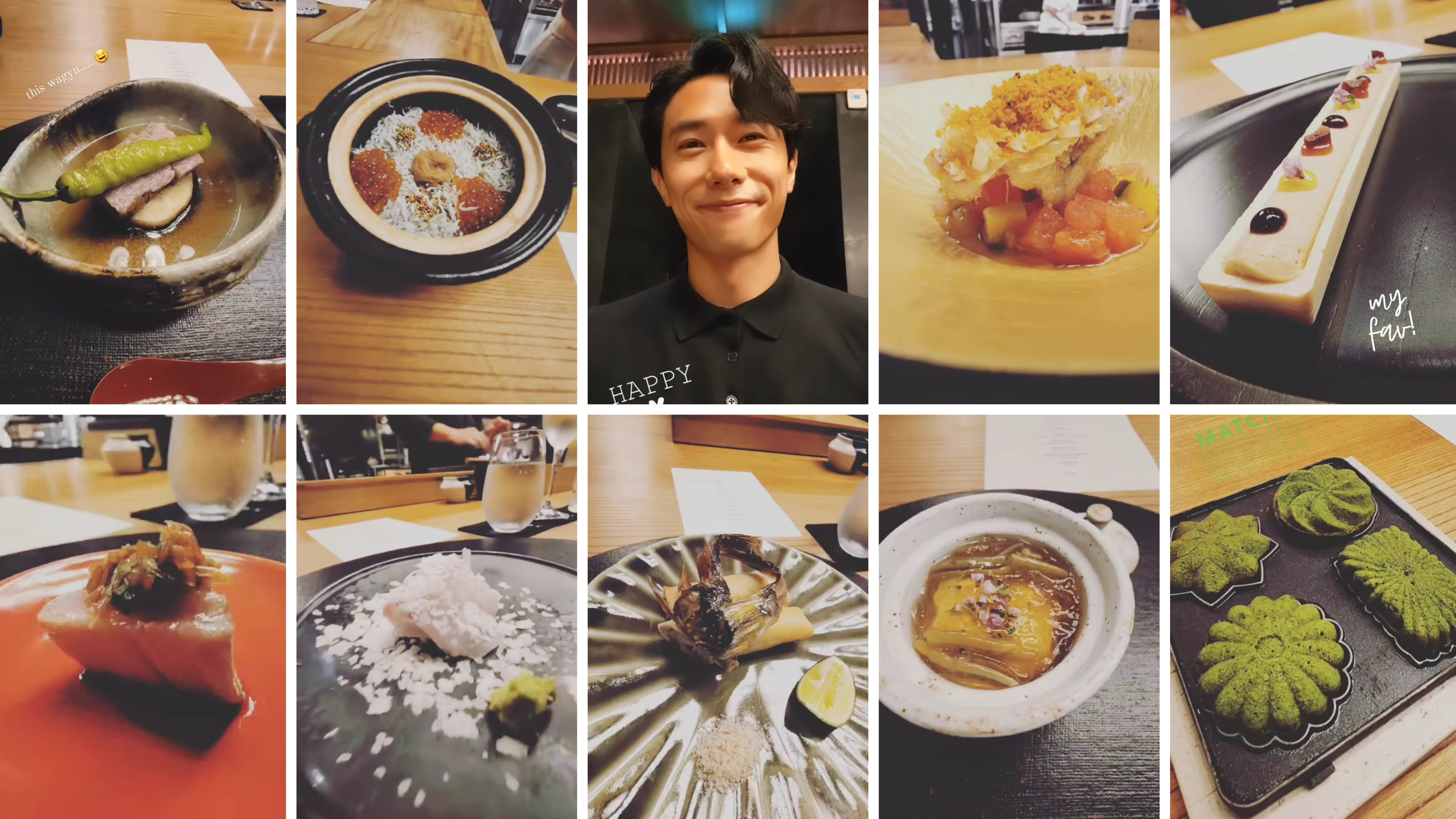 Desmond Tan
What he ate: Birthday dinner
Yummy factor: For his 36th birthday (Aug 19), Desmond indulged in the summer dinner menu at Japanese restaurant Takayama. Safe to say, his taste buds were in for a treat with highlights like foie gras with yuzu, wagyu beef with eggplant and claypot rice made tasty with whitebait fish and umami fish roe. He ended the meal on a sweet note with some uniquely shaped matcha financiers.
Carrie Wong
What she ate: Scrumptious lunch
Yummy factor: Carrie had a French-tastic start to the week at French restaurant Atout, tucking into signatures like their tender pepper-crusted ribeye steak and buttery oven-roasted chicken served piping hot in a claypot. And no one says no to an indulgent order of crispy fries.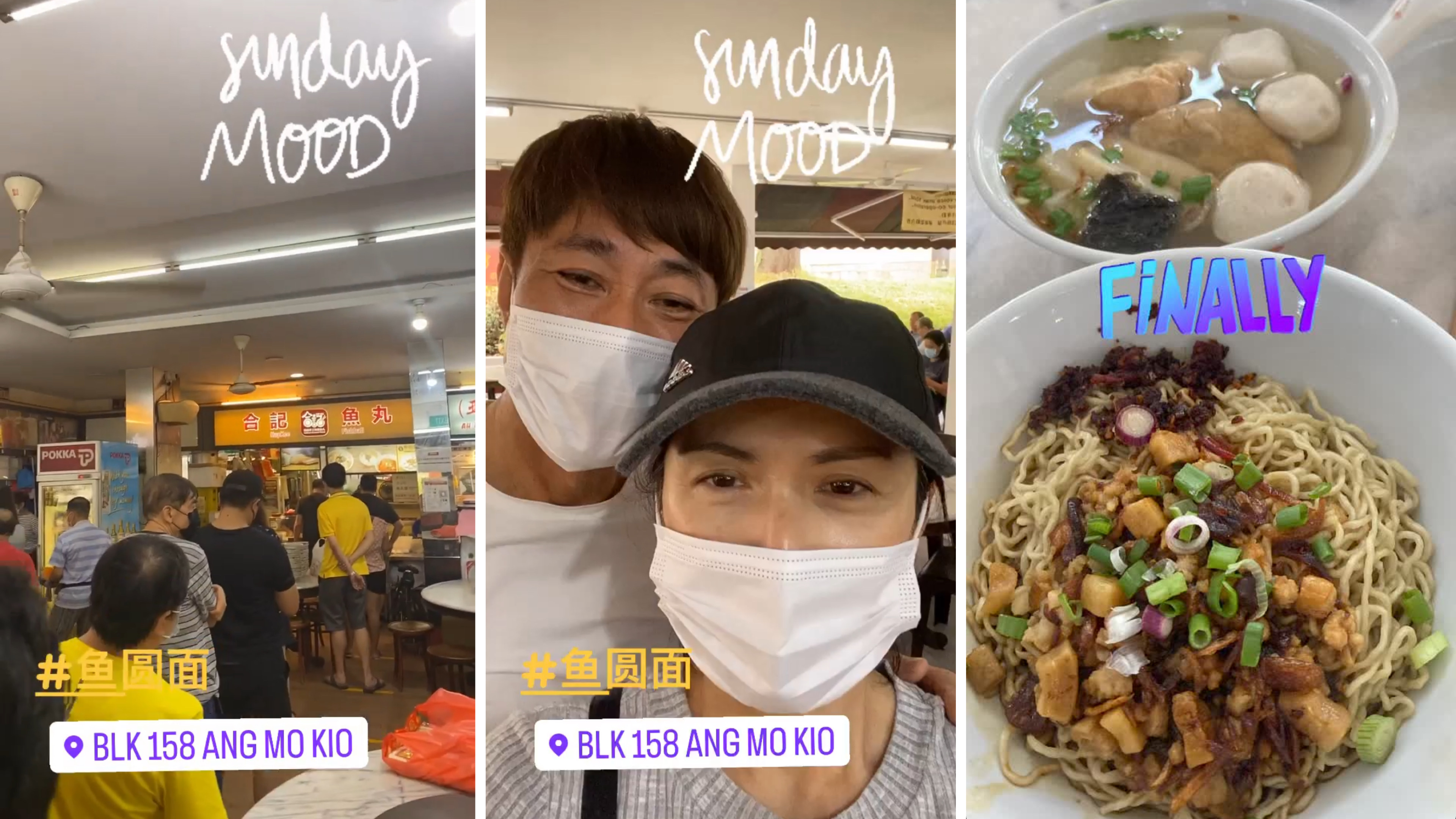 Huang Shinan and Pan Lingling
What they ate: Fishball noodles
Yummy factor: Shinan and Lingling spent Sunday morning queuing up for a hearty brekkie at popular fishball noodle stall Hup Kee. There was a snaking queue when they arrived at the Ang Mo Kio coffee shop, but it didn't deter them from waiting patiently in line. Their patience rewarded them with a shiok bowl of mee kia topped with copious amounts of crispy pork lard and shallot oil — perfect to enjoy with the sliced fishcake, taupok and handmade fishballs.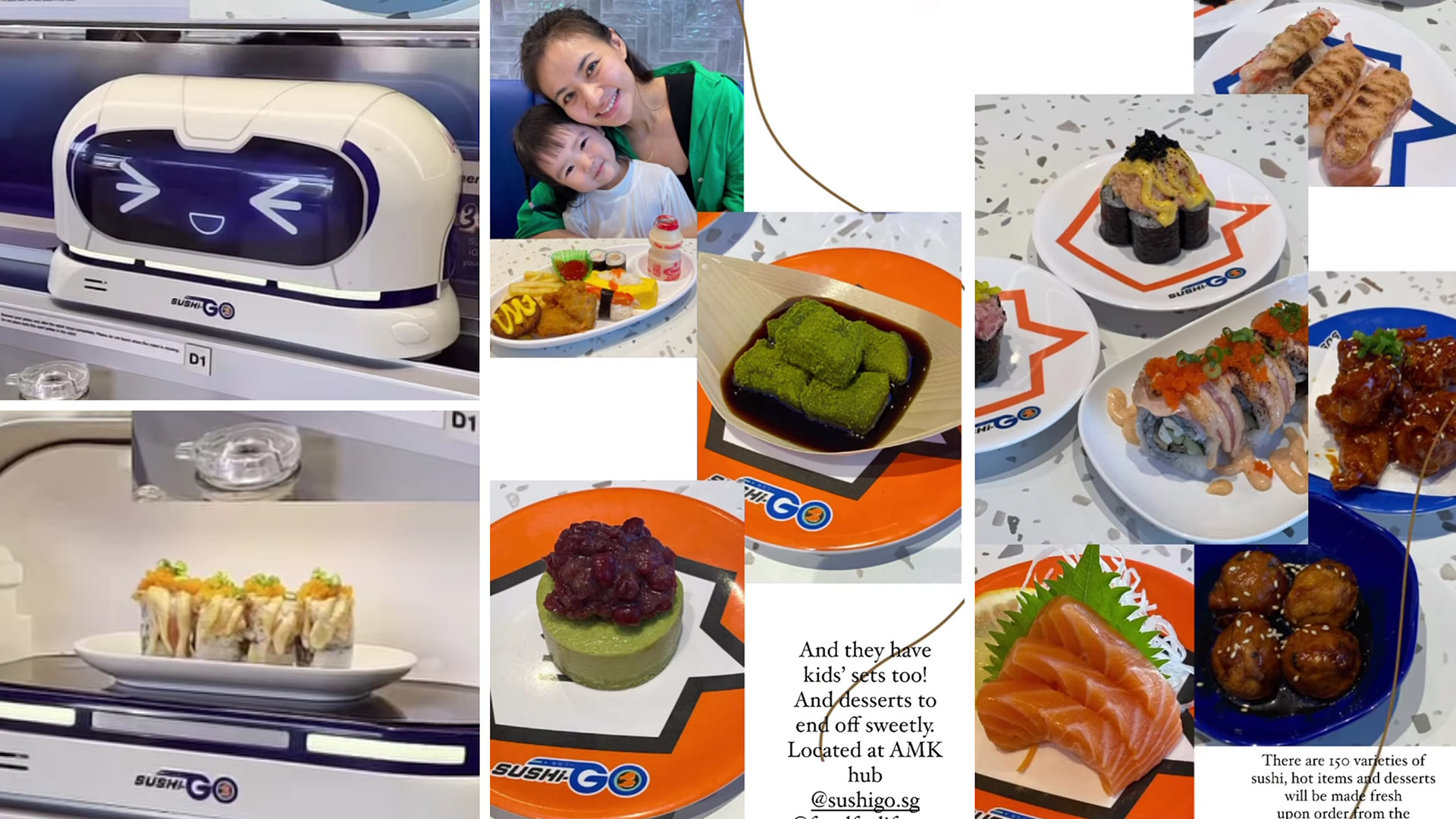 Cheryl Wee
What she ate: Sushi feast at Sushi-Go
Yummy factor: When dining out with young kids, it helps when a restaurant's features are entertaining. Cheryl's children, Marc and Emma, were captivated by the robots that delivered freshly-prepared food like the kids' sets and matcha-themed desserts to their table via the conveyor belt. As for Cheryl, her fave picks were the salmon dragon roll and lobster salad.
Leon Jay Williams
What he ate: Western delights
Yummy factor: This week, Leon and his daughter Harper paid a visit to their go-to western food stall Eightisfy to get their fix of breaded fish and chips as well as spaghetti carbonara. Fun fact: Eightisfy includes both bacon and tasty pork lard in their version of the creamy pasta dish for added oomph, and Leon's a convert.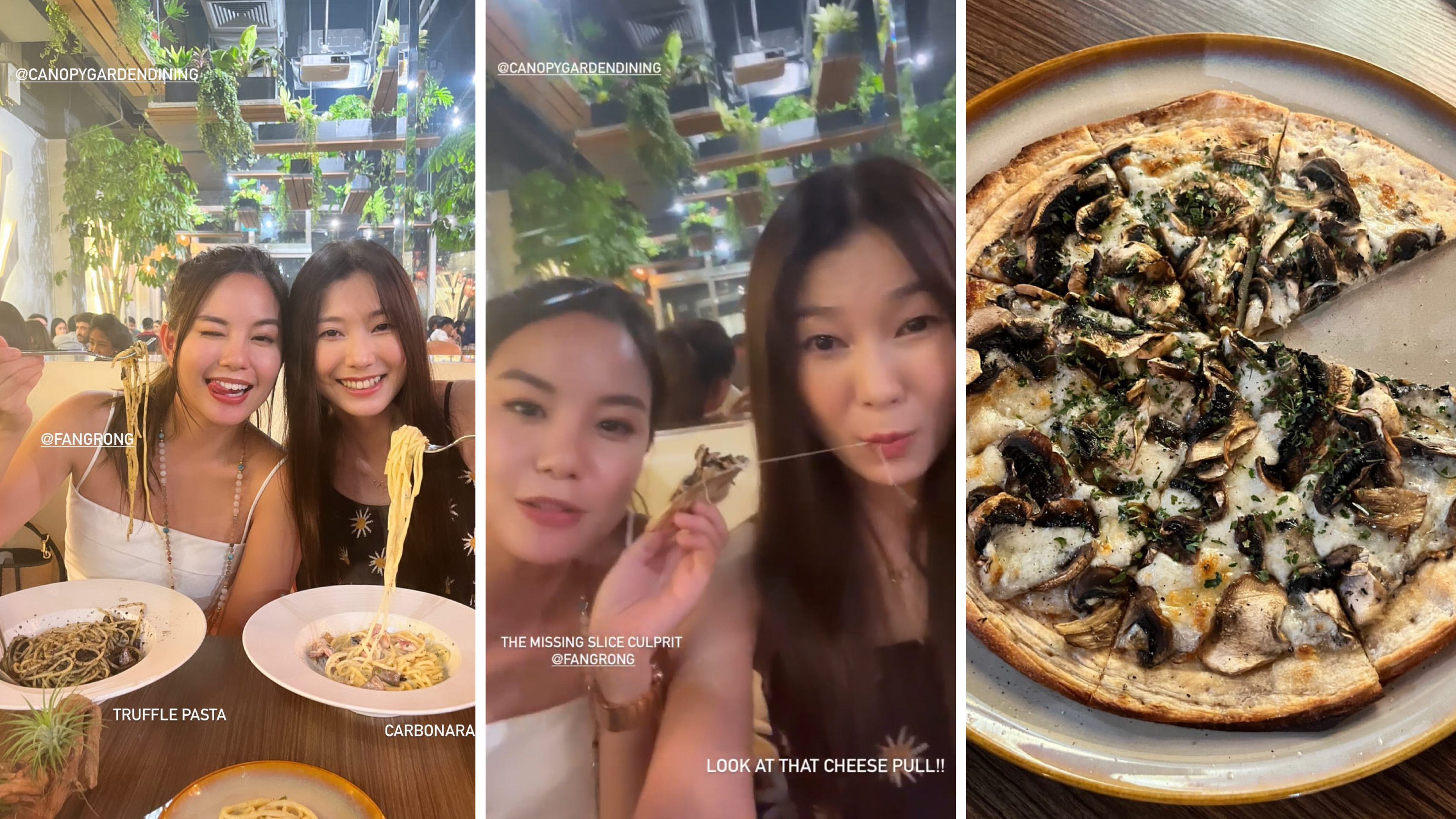 Ferlyn Wong and Fang Rong
What she ate: Comfort nosh
Yummy factor: It was a full-on carbs kind of day for Ferlyn and Fang Rong at Canopy, and the ladies were all for slurping up truffle pasta and creamy carbonara. And that's a pretty decent cheese pull for the truffle mushroom pizza.
Seow Sin Nee
What she ate: Assam laksa
Yummy factor: Sin Nee may be sitting on the ground and crouching over the coffee table to have a simple bowl of assam laksa, but there's just something about the tangy and savoury goodness with canned tuna that looks oh so satisfying.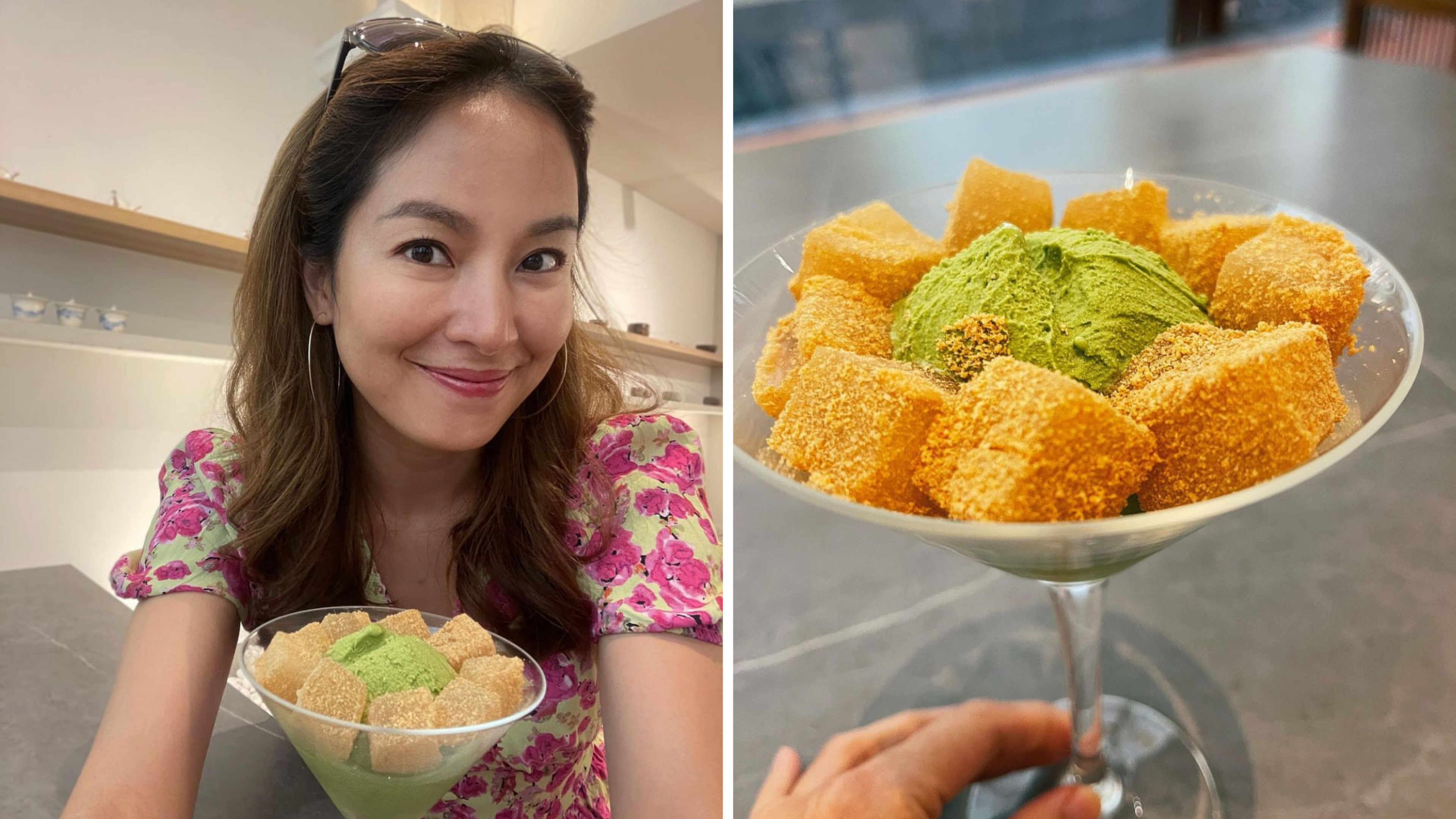 You Yi
What she ate: Matcha dessert
Yummy factor: Fancy rewarding yourself with decadent desserts? You Yi indulged her sweet tooth at Japanese-style cafe Hvala, where she got herself their Instagram-worthy matcha gelato with pillowy-soft Japanese warabi mochi dusted with nutty soybean powder.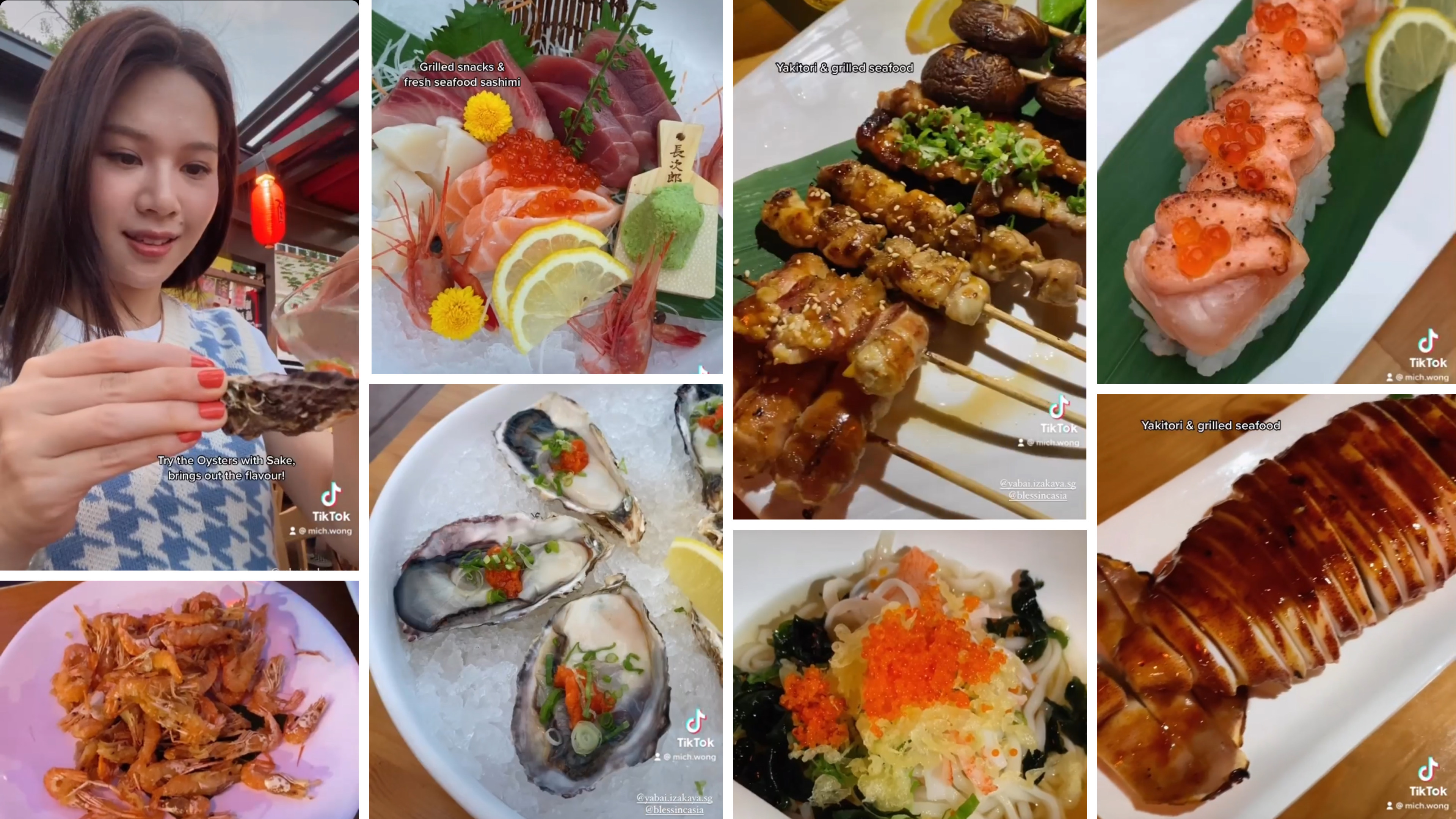 Michelle Wong
What she ate: Japanese cuisine
Yummy factor: Grilled seafood, fried sakura shrimps, fresh sashimi and mentaiko salmon sushi were just some of the oishii choices Michelle picked out at Yabai Izakaya. But the star pairing of the night had to be the Japanese oysters with a sip of sake — it brings out the flavour of the shucked treats.