Foodie Friday: What The Stars Ate This Week (Aug 5-12)
All the photos that made us hungry this week.
This week, the cast of Mediacorp drama Your World In Mine caught up with fans over a mukbang session, Terence Cao, Dawn Yeo and Tong Bing Yu, who were in Paris, surprised Sharon Au with an early birthday celebration, Irene Ang hosted Jeff Wang at her noodle bar, and Michelle Chong celebrated National Day in style with celeb pals like Romeo Tan, Elvin Ng, and Ann Kok. Read on for more.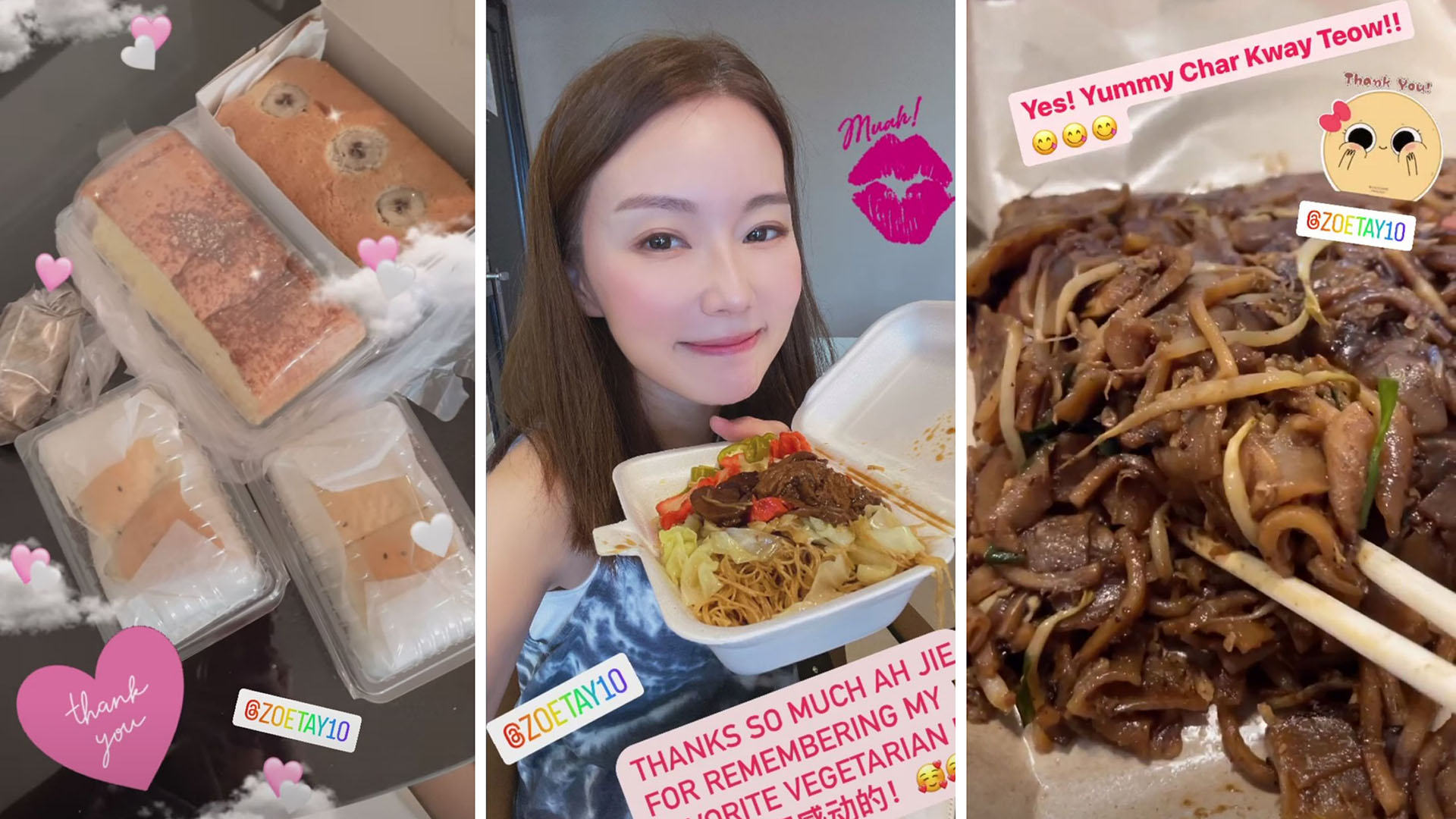 Yvonne Lim
What she ate: All her favourite food
Yummy factor: Could Zoe Tay be any sweeter? Ever the thoughtful friend, she dropped by Yvonne's place with everything she had been craving for — Zion Road char kway teow, her fave vegetarian bee hoon with cabbage and mock meats, as well as plenty of fresh bakes.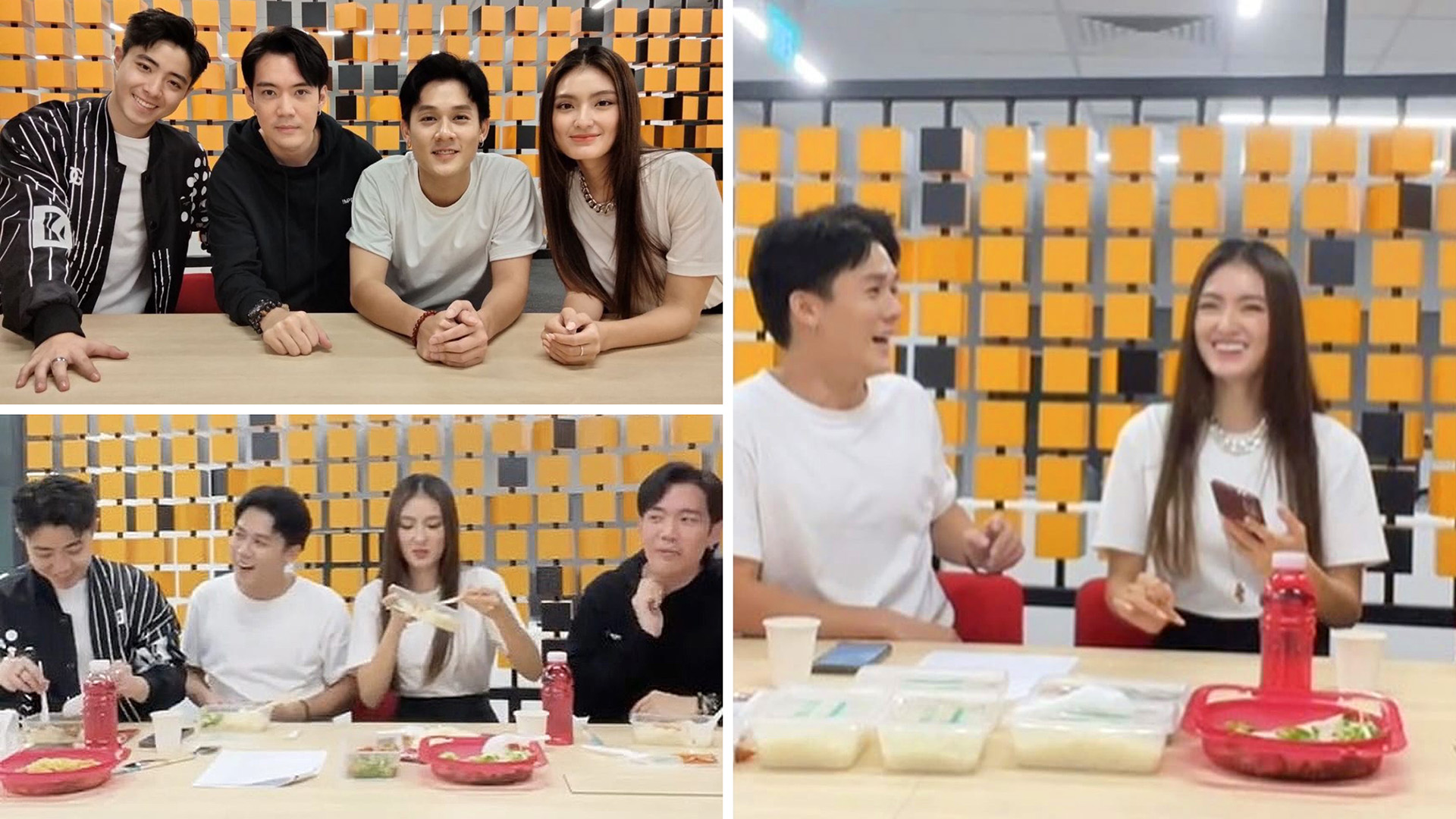 Zong Zijie, Desmond Ng, Richie Koh, and Hong Ling
What they ate: Chicken rice
Yummy factor: Earlier this week, the cast of Mediacorp drama Your World In Mine caught up with fans over a mukbang session on Facebook which saw them digging in to chicken rice ('cos Desmond's character Hong Mao Dan runs a chicken rice stall), biscuits and red coloured drinks (Richie's character Zheng Tian Cai's favourite). In case you're wondering, Hong Ling says the chicken rice was "very nice".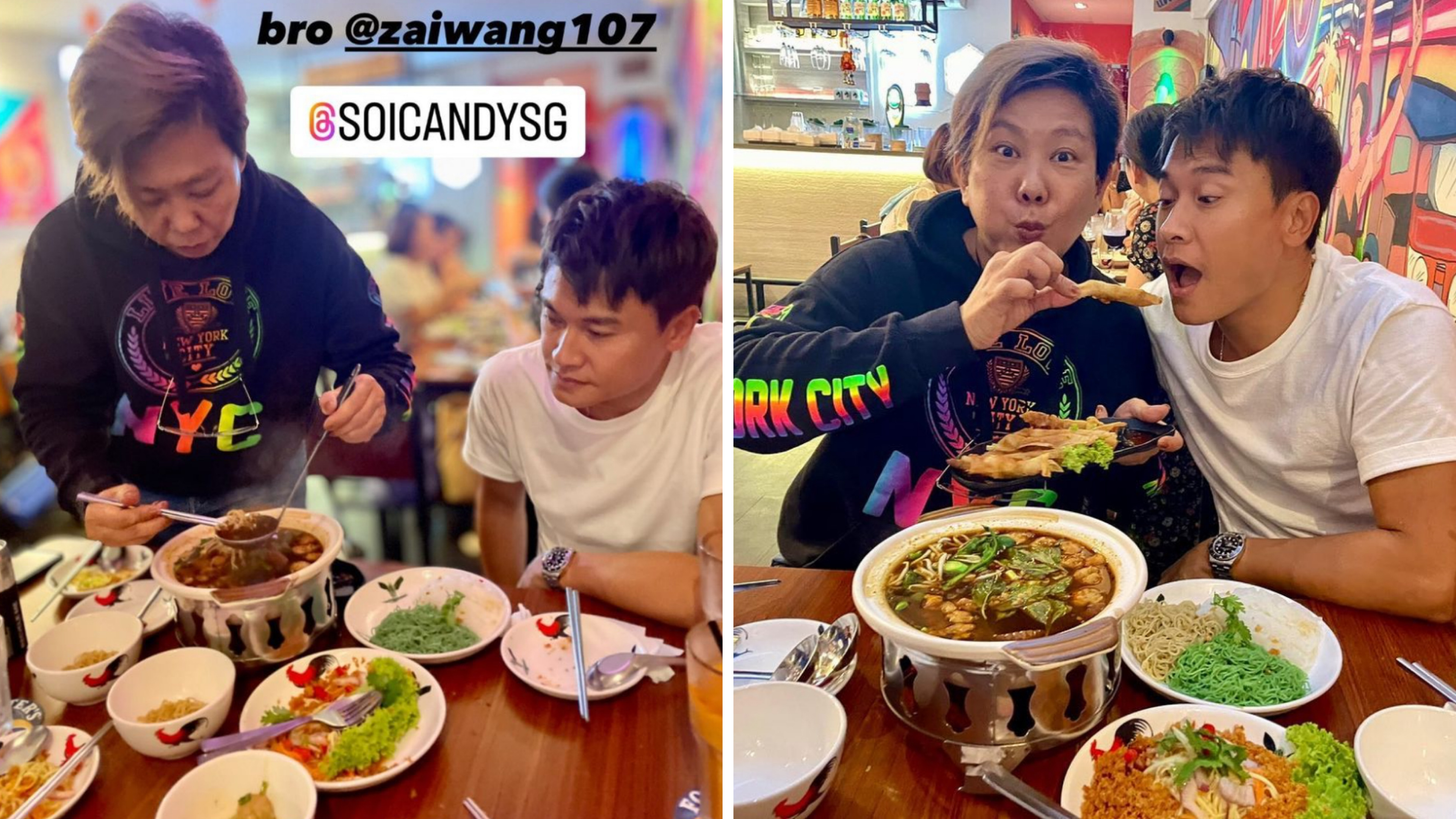 Irene Ang and Jeff Wang
What they ate: Thai food
Yummy factor: Former Mediacorp actor Jeff Wang is back in Singapore so of course he had to check out his "dearest sister" Irene's noodle bar Soi Candy. The pals caught up than over piping hot noodles, stew and finger food and Irene even served her special guest by hand.
Chen Xiuhuan
What she ate: National-Day themed chicken rice
Yummy factor: For her National Day dinner with family, Xiuhuan got creative and made a patriotic version of the well-loved dish. The Singapore flag was fashioned out of rice, and the top red half was tinted with red dragon fruit and topped with stars and crescent cut from fish cakes. Not only did she arrange the poached chicken to resemble the map of Singapore, vegetables were put together to mimic the fireworks as well — talk about effort.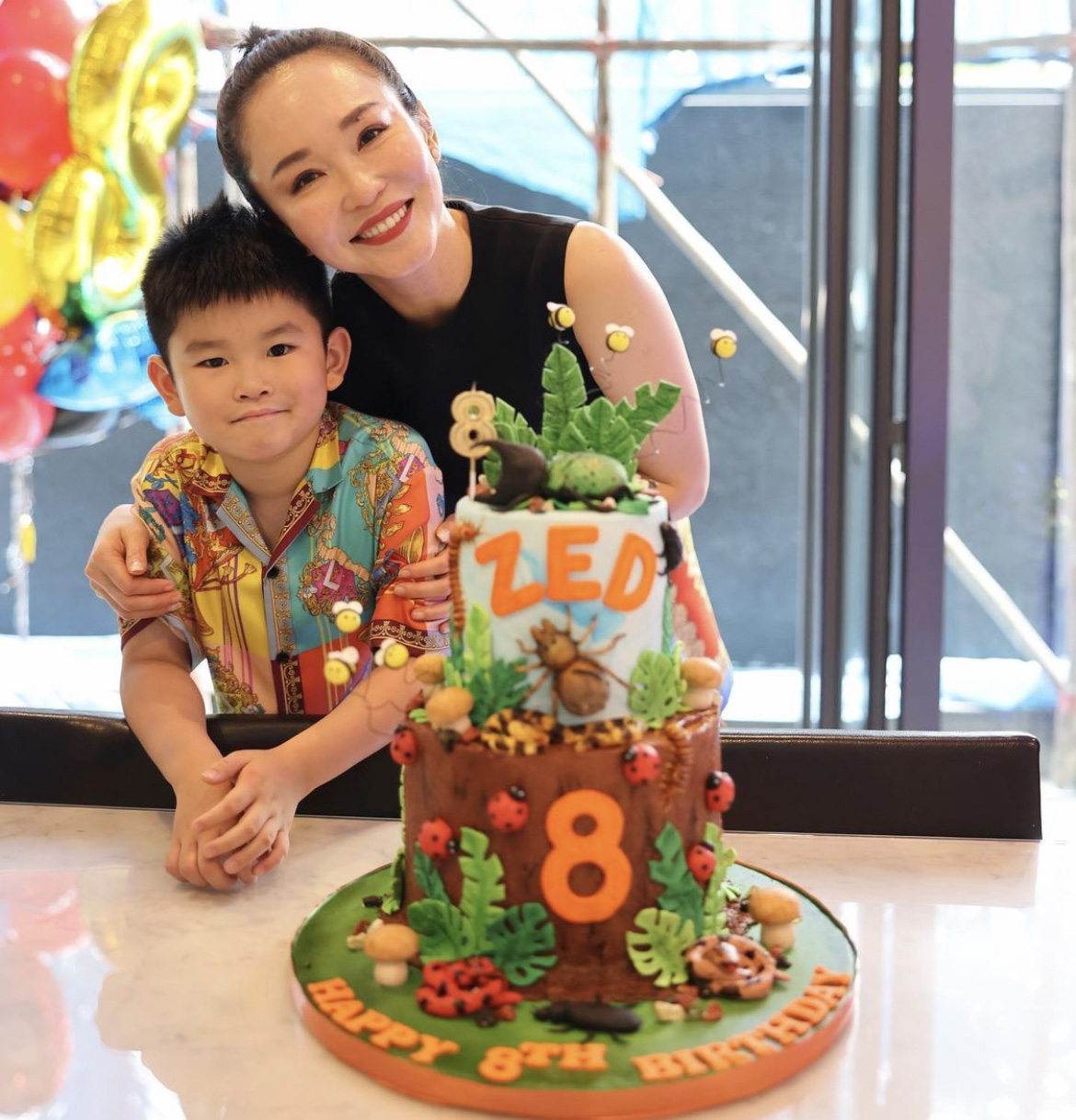 Fann Wong and Zed Lee
What they ate: Critter-themed birthday cake
Yummy factor: Zed turned 8 on National Day and the family celebrated the occasion with a two-tiered, critter-themed cake from Baker's Heart. If it takes fondant spiders, beetles and ladybugs to make Zed a happy boy, we're sure mama Fann will oblige.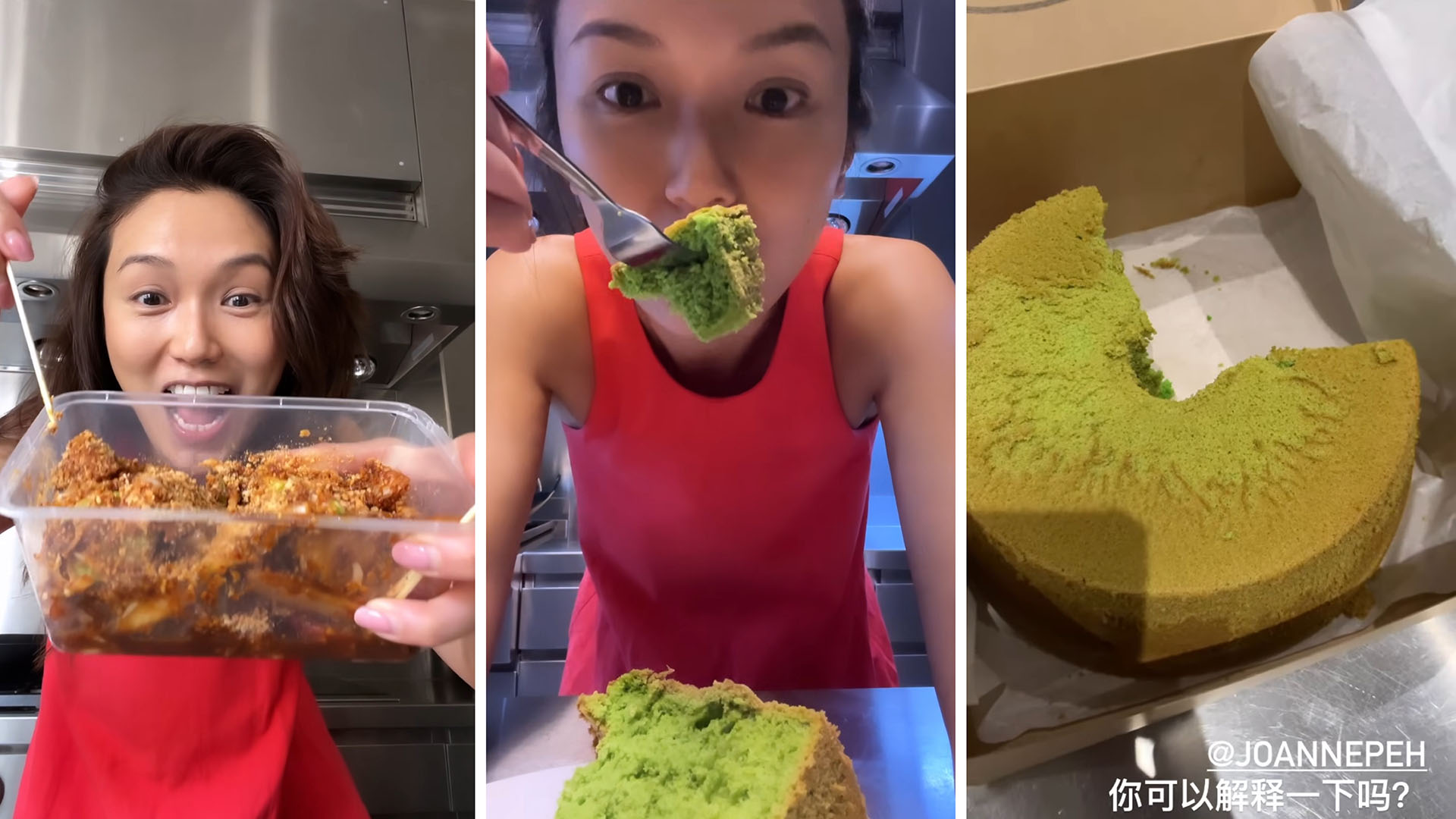 Joanne Peh
What she ate: Local favourites
Yummy factor: In the spirit of National Day, Joanne decided to have both her favourite rojak, as well as the pandan chiffon cake from home-based bakery Mad About Pandan Cake. And it seems like she managed to finish a substantial amount of the delish cake — hubby Qi Yuwu came home and found a whole quarter of it polished off. Her excuse? She was trying to "create a crescent with the cake".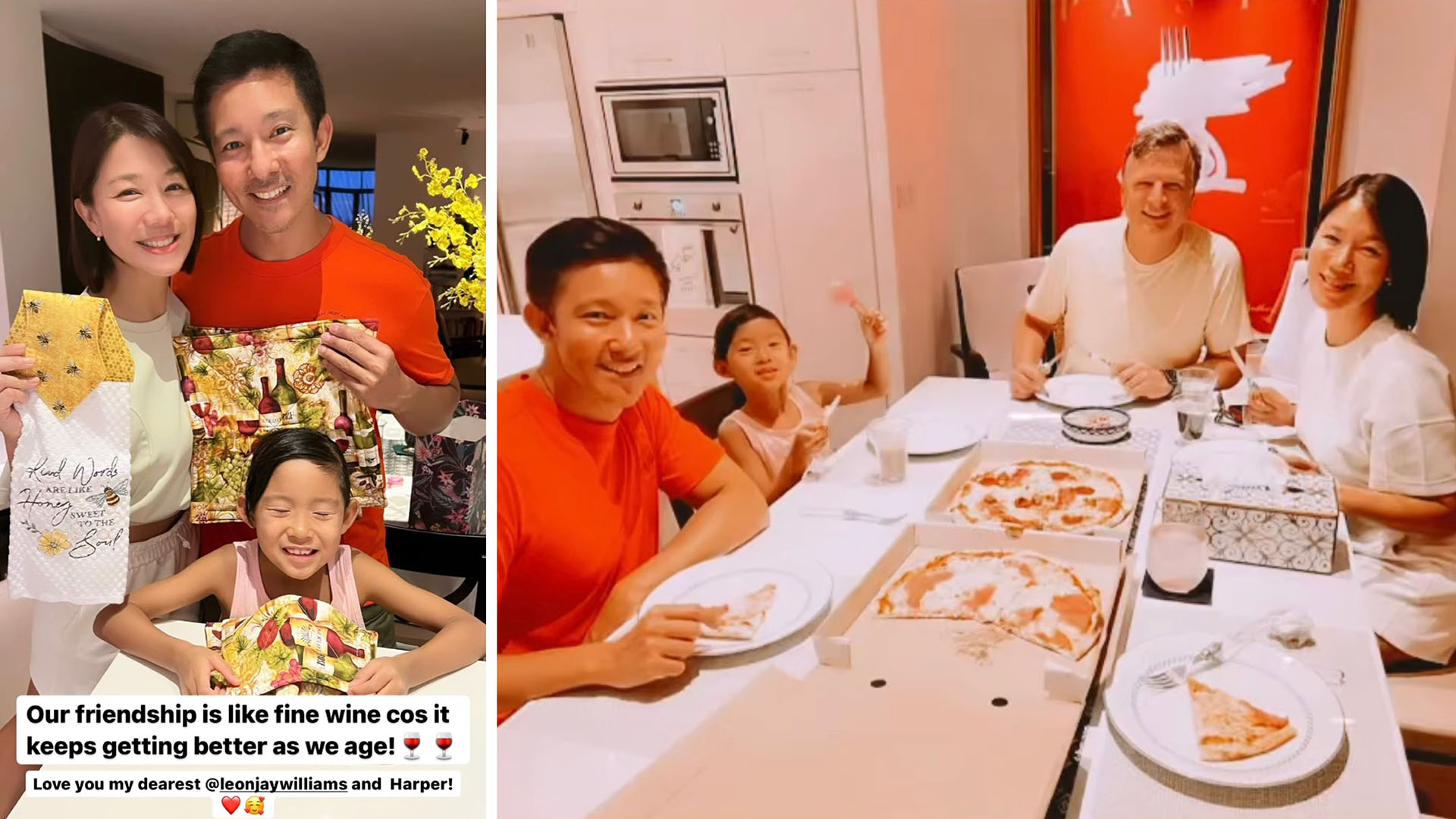 Leon Jay Williams and Belinda Lee
What they ate: Pizza
Yummy factor: Aside from bringing souvenirs from her travels for Leon and his seven-year-old daughter, Harper, Belinda and her hubby met up with the father-daughter duo for some pizza too. Harper looks like she can't wait to go in for a bite of the pizza.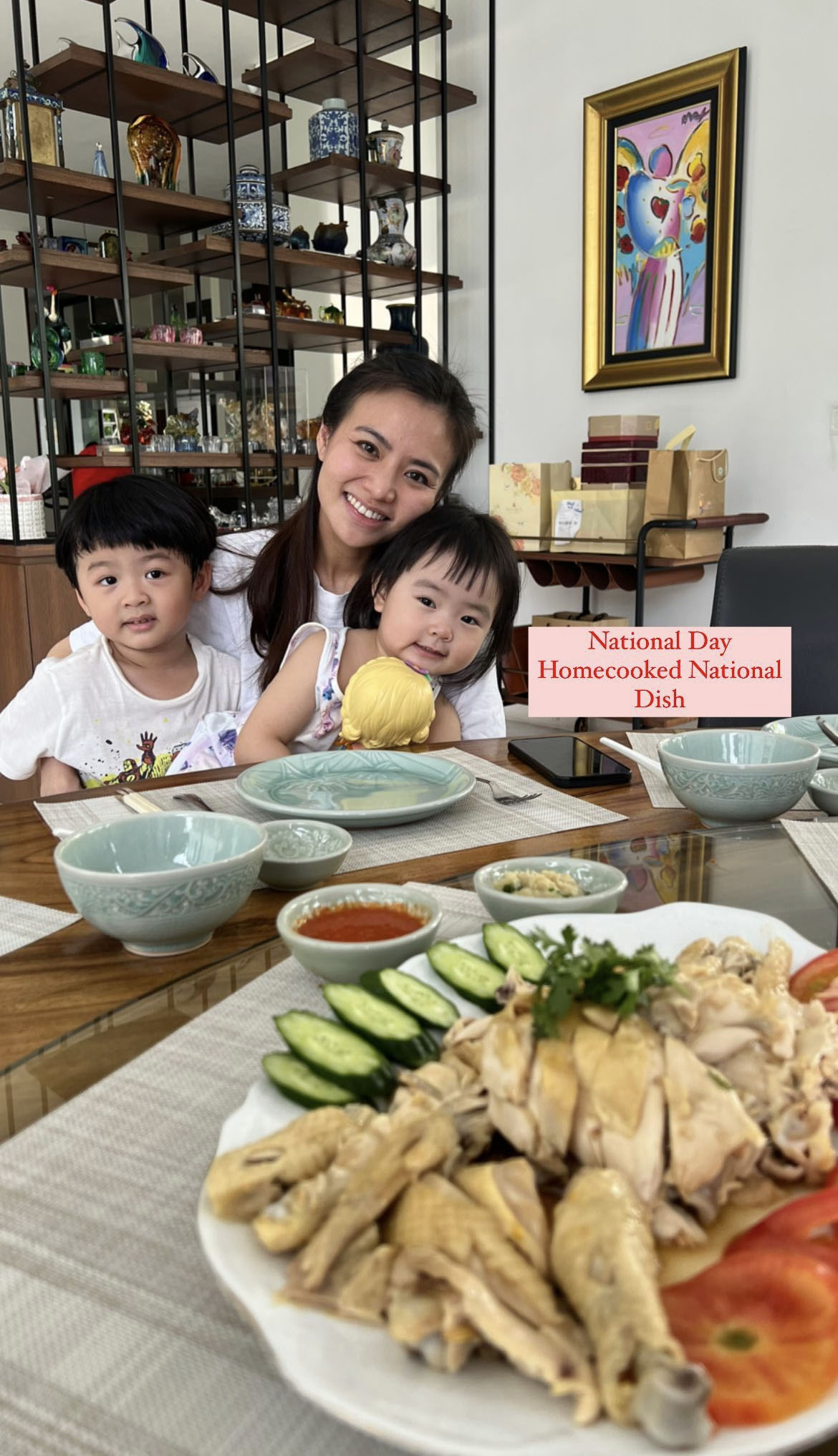 Cheryl Wee
What she ate: Homemade chicken rice
Yummy factor: It seems Xiuhuan wasn't the only celeb inspired to have homemade chicken rice on the nation's birthday. Cheryl's family, however, chose to have it the classic way served with cucumber and tomato slices, as well as ginger paste and garlic chilli sauce on the side.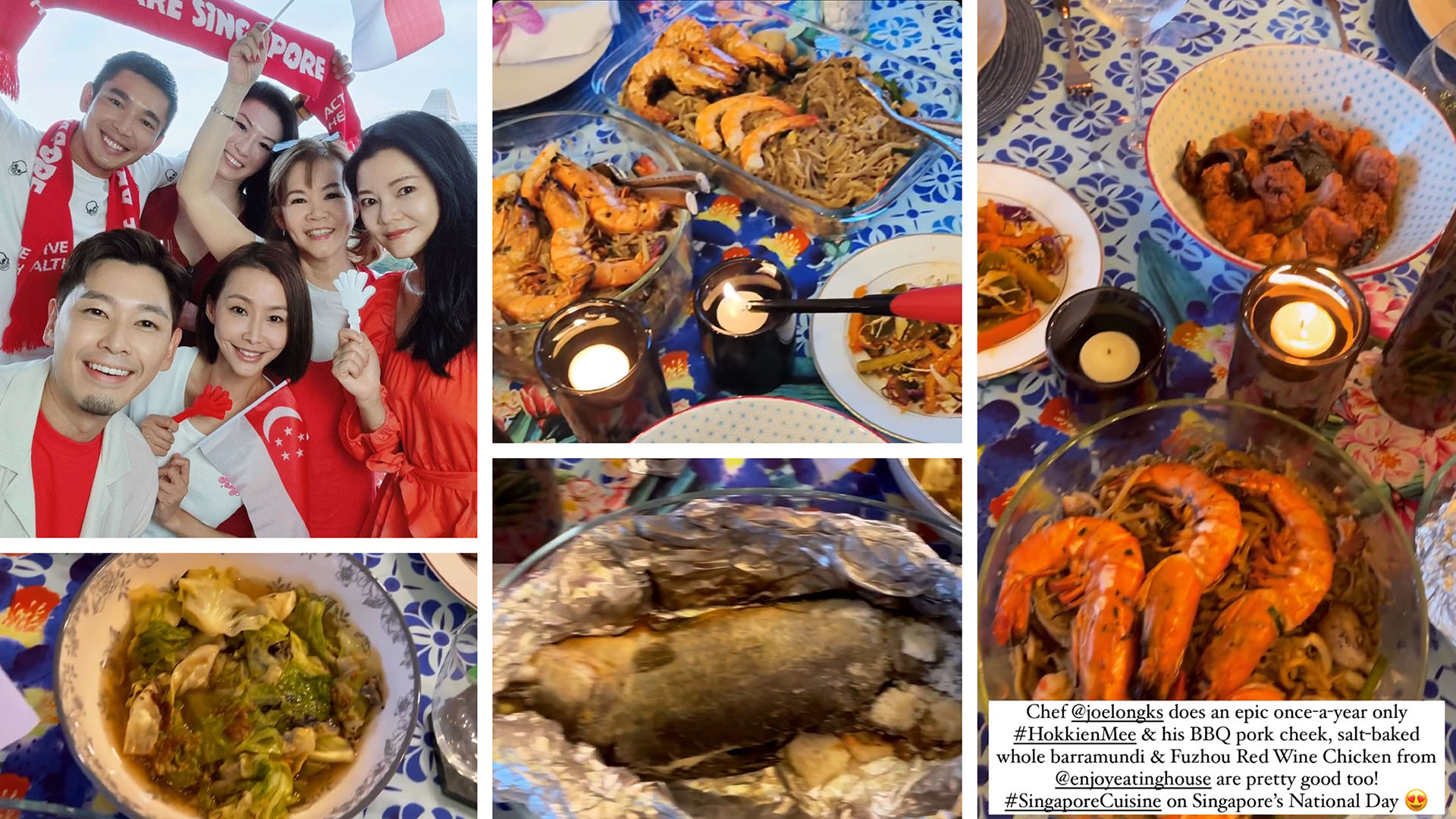 Elvin Ng, Romeo Tan, Ann Kok and Michelle Chong
What they ate: National Day dinner
Yummy factor: Michelle proved to be an impeccable host to celeb friends like Elvin (yes, he's back from his study stint in New York), Romeo and Ann who visited her place for dinner and a sublime view of the fireworks on National Day. Not only did she decorate her home with Singapore flags and balloons, she made sure to set the table properly for her guests to savour the feast — Hokkien mee, barbecued pork cheek, salt-baked barramundi and Fuzhou-style red wine chicken — she got from Enjoy Eating House & Bar.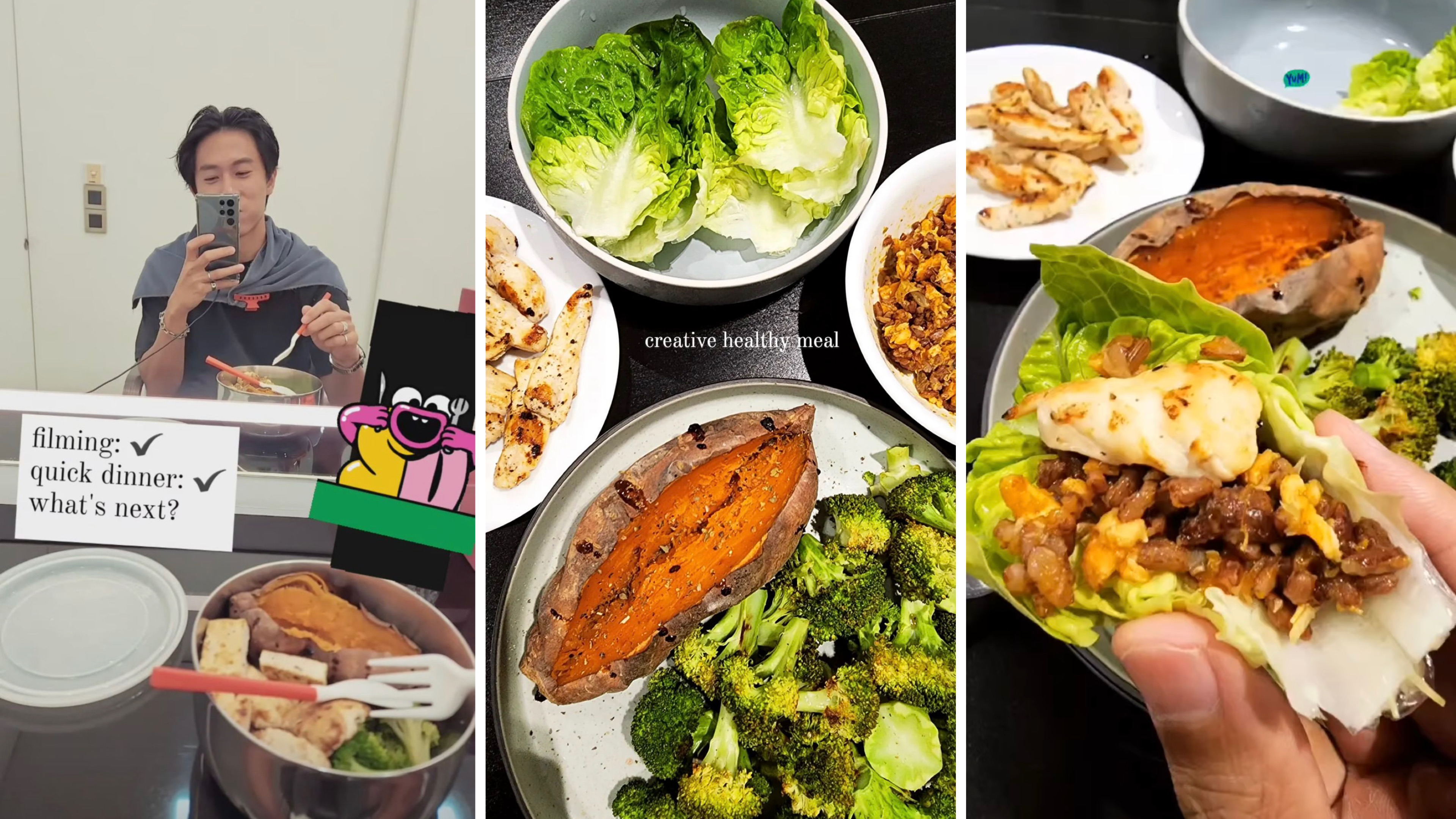 Desmond Tan
What he ate: Healthy meals
Yummy factor: Desmond has been keeping his diet clean the past week, choosing to fuel up on roasted broccoli and sweet potatoes with a hint of salt and pepper, as well as what looks like eggs, brown rice and grilled chicken breasts. Could that be the secret to his chiselled frame?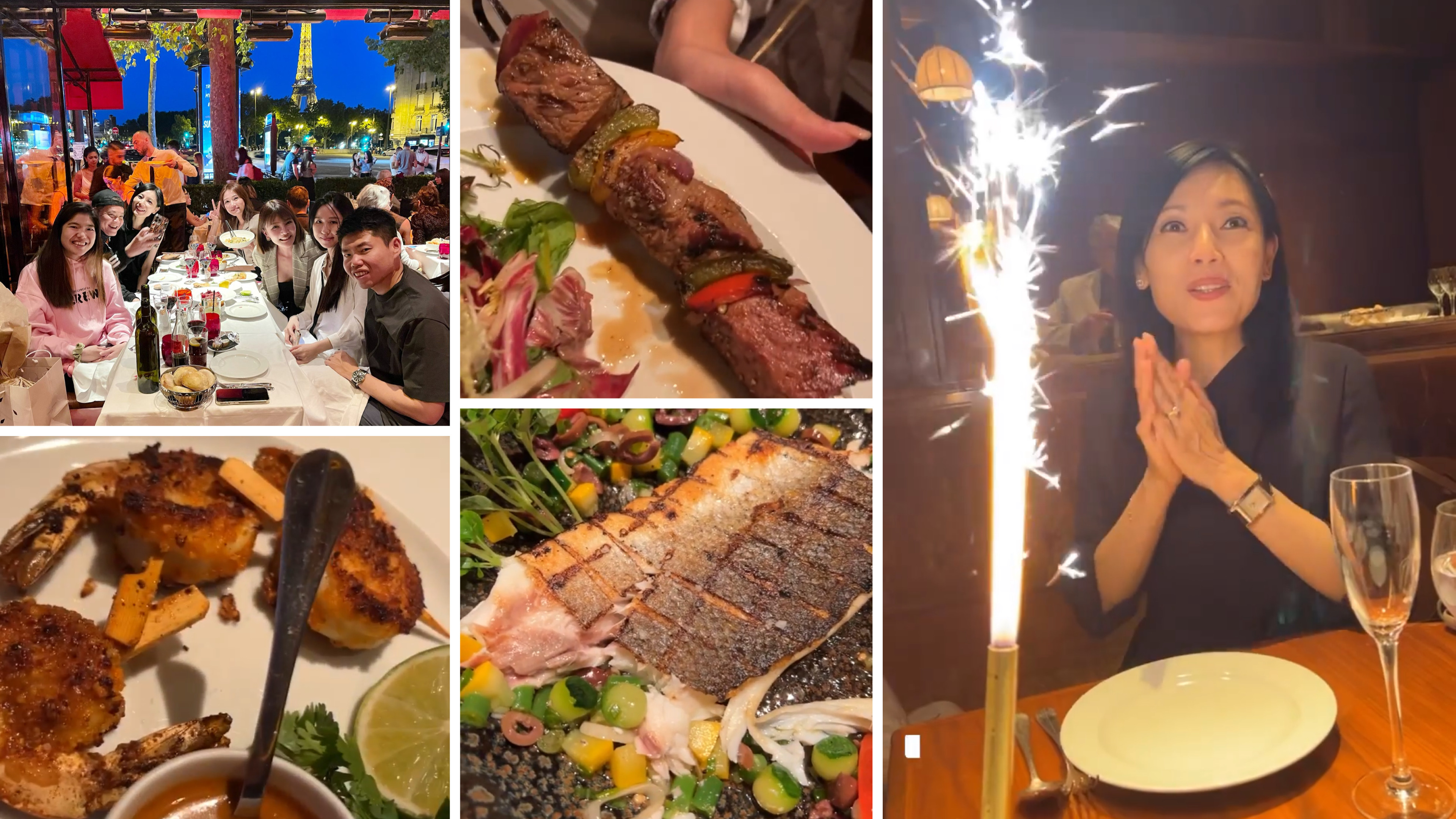 Terence Cao, Sharon Au, Dawn Yeoh and Tong Bingyu
What they ate: French cuisine
Yummy factor: The Sibay Shiok team couldn't miss out on meeting up with Sharon when they were in Paris. Earlier in the week, they caught up over dinner at one of Sharon's fave restaurants like Chez Francis and on their last day in the city, Sharon brought Terence, Dawn and Bing Yu to La Rotonde de la Muette for delish eats like grilled meats, battered prawns and pan-seared fish. But little did she know that they had planned a birthday surprise (she turns 47 on Aug 13) for her — complete with desserts and a sparkling candle. How sweet.
Xu Bin
What he ate: Tau huay
Yummy factor: Late night shoots call for sweet treats, and Xu Bin got his much-needed energy boost thanks to his Love At First Bite co-star Chantalle Ng, who got him some soya beancurd pudding as a snack.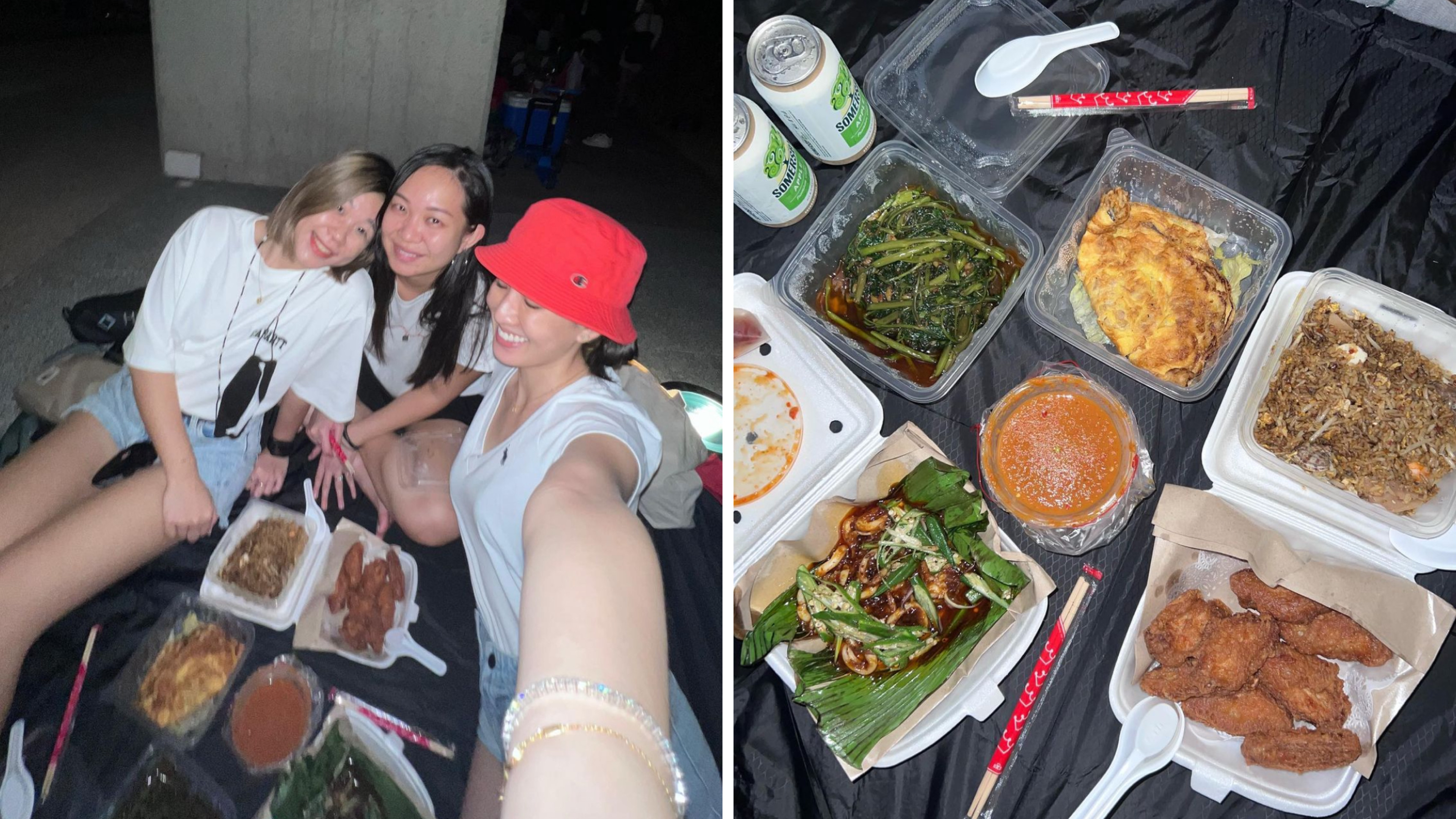 Kimberly Wang
What she ate: Picnic
Yummy factor: Now, that's one shiok evening picnic. Kimberly celebrated Singapore's birthday the best way locals know how — by tucking into hawker food like sambal sotong, har cheong gai while catching the National Day Parade with friends. She even managed to snag a selfie with president Halimah Yacob.
Hong Huifang, Calvert Tay, Zheng Geping and Tay Ying
What they ate: Japanese cuisine
Yummy factor: It must have been an enjoyable evening dining with a view for the Tay family. Over at Yabai Izakaya, they indulged in everything from decadent sushi to grilled prawns, meat skewers, and Geping's favourite sashimi platter.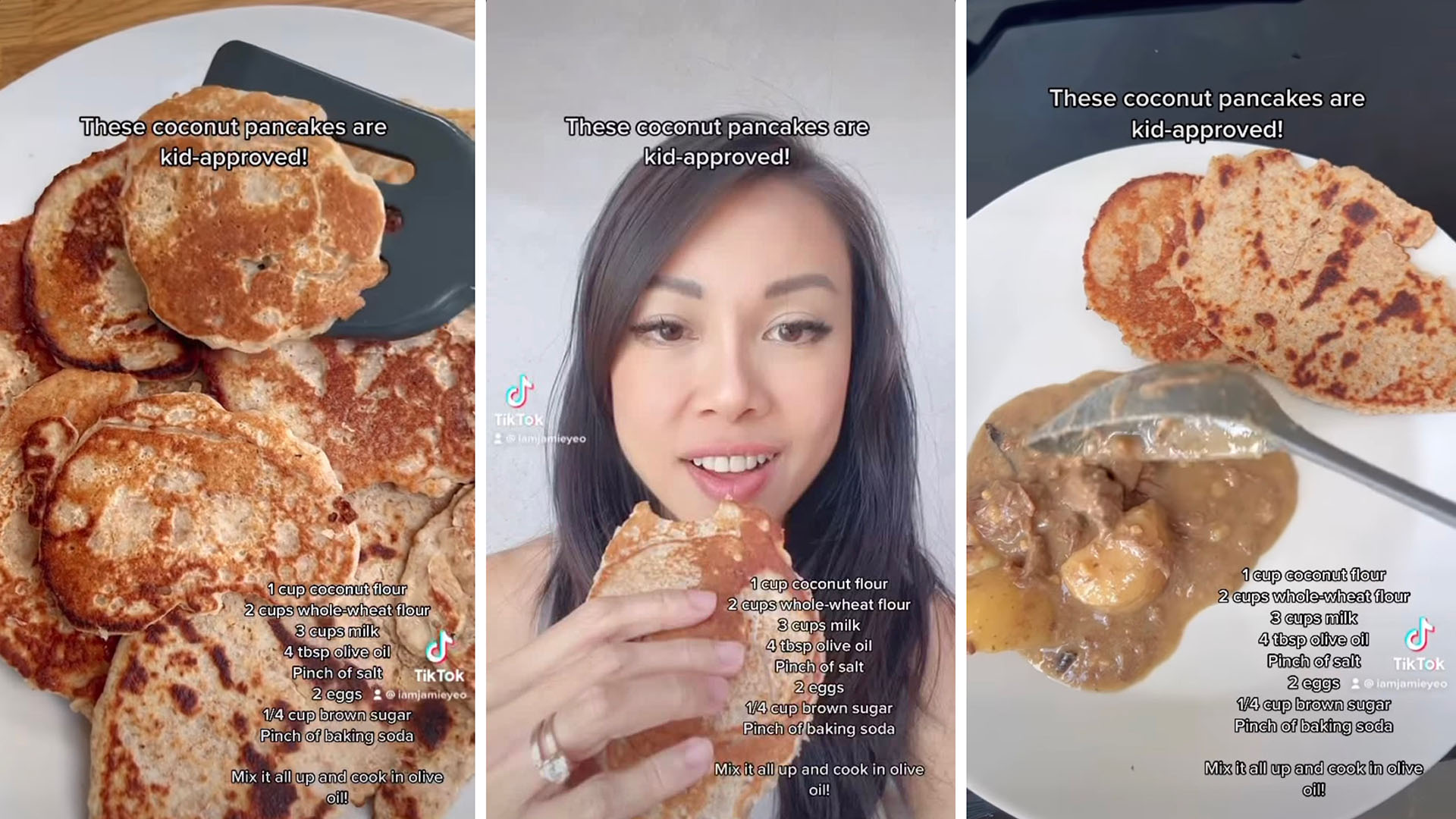 Jamie Yeo
What she ate: Coconut pancakes
Yummy factor: Fancy a twist to your usual choice of carbs? Jamie shared a "kid-approved" recipe for coconut pancakes pan-fried with olive oil, and it looks like a great alternative to rice or noodles with savoury stews and curries.
Zhang Yaodong
What he ate: Uni and fried rice
Yummy factor: When the amount of creamy sea urchin served is more than the garlic fried rice it comes with, you know you're in for a treat. Also, it gave Yaodong the opportunity to savour the uni off the back of his hand like a pro.
Chen Diya, Carrie Yeo and Gao Mei Gui
What they ate: High tea
Yummy factor: The trio had headed down to Furama Riverfront Creatr to support MasterChef Singapore runner-up Leon Lim's F&B collab with the hotel. The two-day high tea pop-up featured locally-inspired creations like black pepper seafood kueh pie tee, salted egg chicken vol-au-vent (a type of puff pastry) and gula melaka coconut mochi. And could Diya and Carrie's teeth have gotten stained by the black sesame cheesecake? In any case, at least they seem happy about it.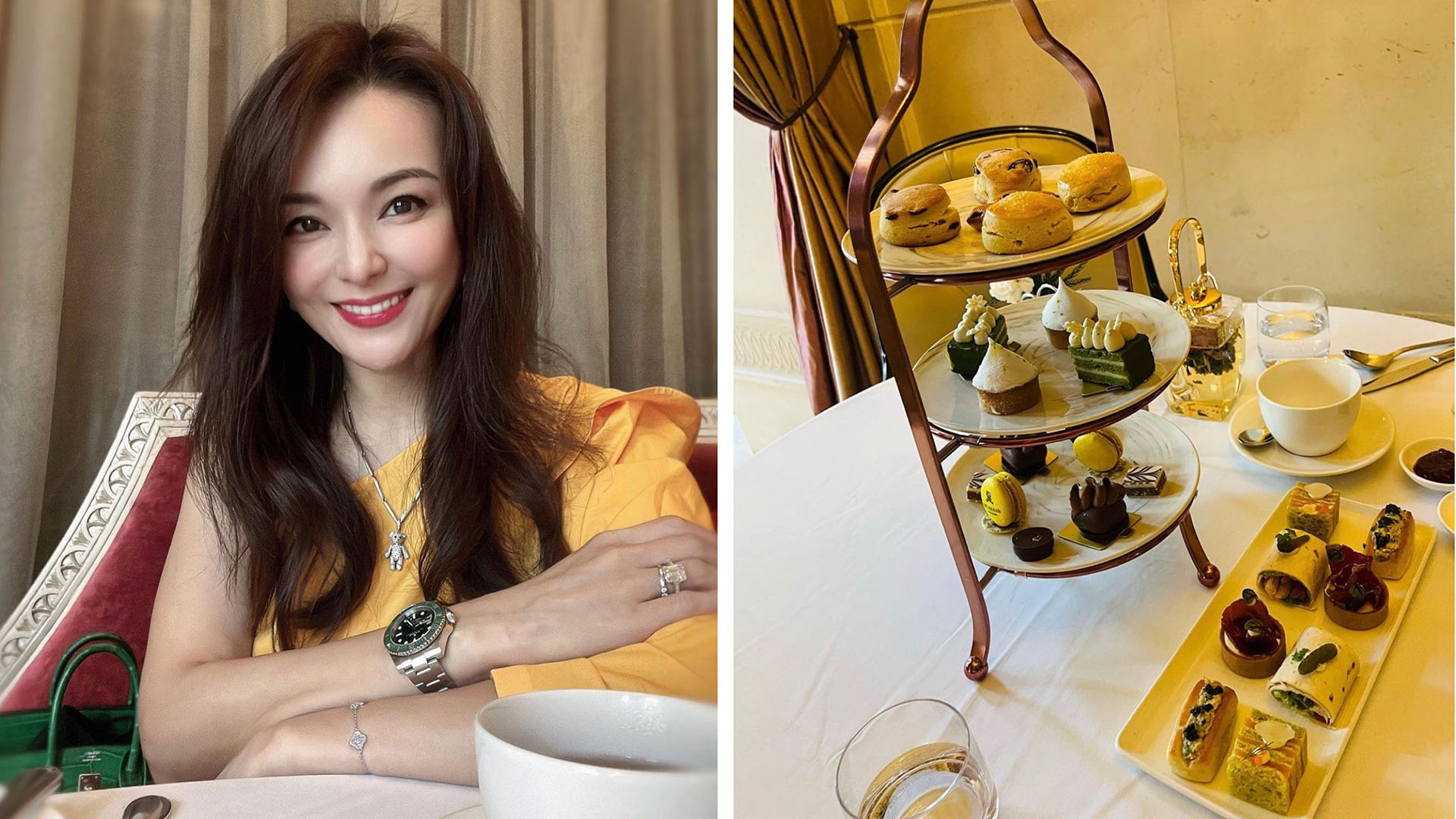 Apple Hong
What she ate: High tea
Yummy factor: There were certainly no Monday Blues for Apple, who indulged in a decadent high tea sesh complete with tiers of both savoury and sweet treats — think buttery scones, cakes and bite-sized sandwiches.
Nick Shen
What he ate: Hong Kong-style wanton mee
Yummy factor: It appears that both Nick and his dad are fans of the springy noodles (made from duck eggs)  and plump wantons from Chef Kin HK Wanton Noodle. If you are thinking of checking it out, be sure to try their beef brisket noodles too.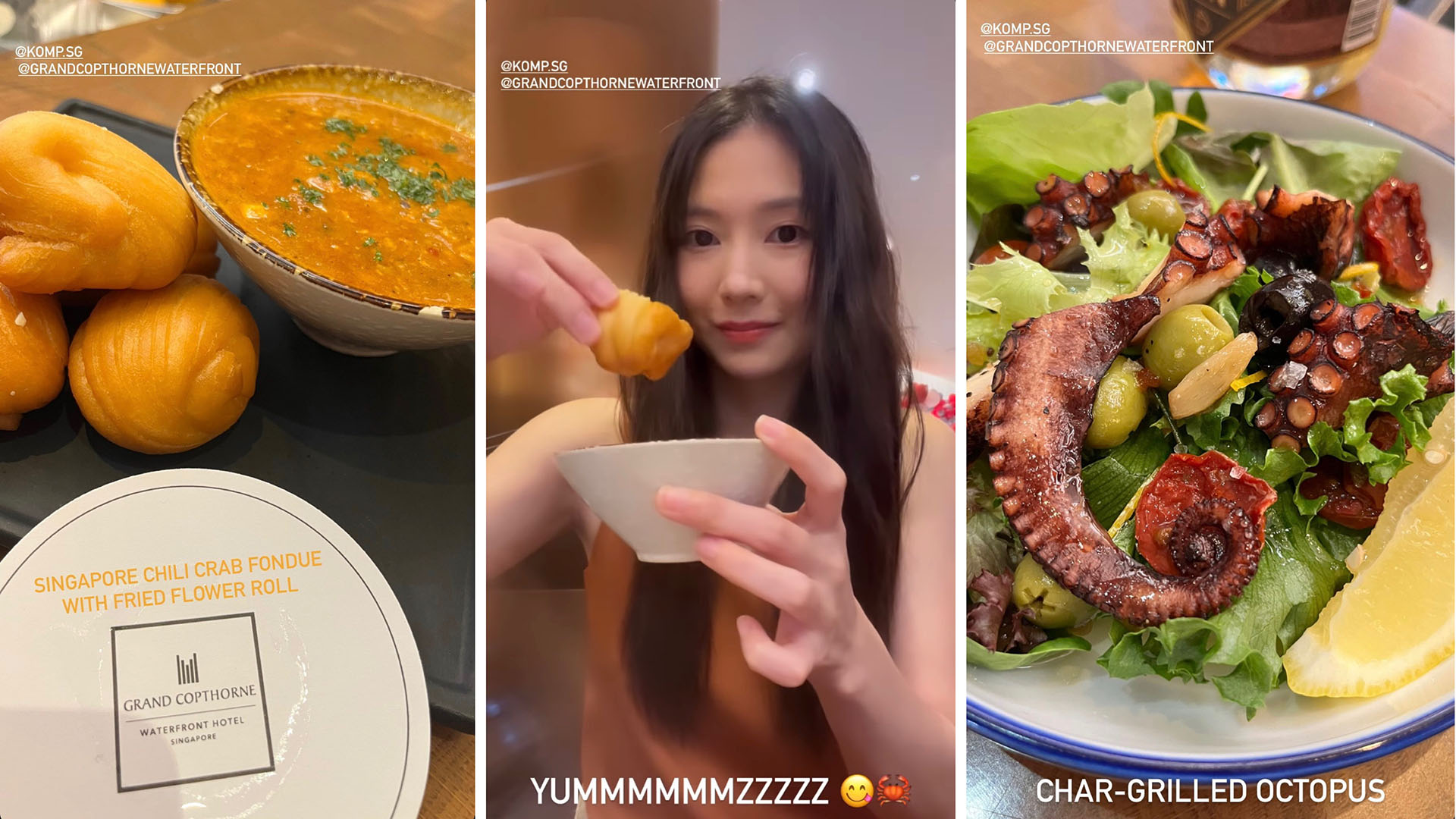 Ferlyn Wong
What she ate: Bar bites
Yummy factor: Small plates don't have to be boring. Safe to say, both the succulent char-grilled octopus at cocktail bar Tempo, as well as the fried flower rolls paired with chilli crab fondue, have found their way to Ferlyn's heart (and stomach).