Foodie Friday: What The Stars Ate This Week (Dec 3-10)
All the photos that made us hungry this week.
Food tastes better when it's shared, and celebs agree too. This week, chef JJ Lin whipped up a mean steak for pal Hong Junyang, Carole Lin and Thomas Ong caught up over Taiwanese nosh, and the cast of The Heartland Hero lunched at one of their regular haunts. Read on for more.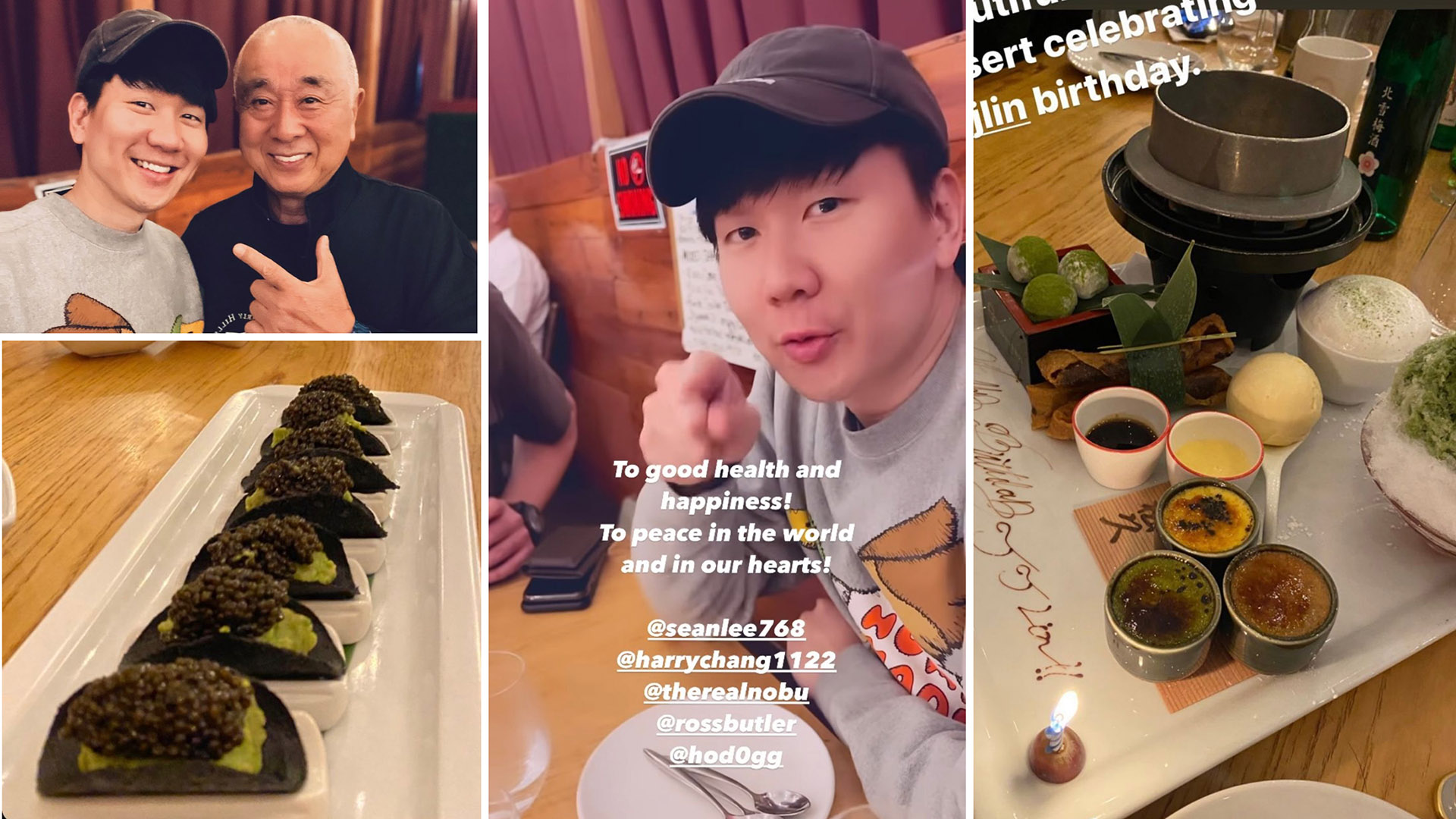 JJ Lin and Hong Junyang
What he ate: Juicy steak
Yummy factor: JJ's making the most of December by spending time with his nearest and dearest. And not only did he manage to catch up with good friend Junyang this week, he also whipped up a succulent slab of wagyu ribeye steak for them to enjoy. And from the looks of the beautiful pink centre, it was perfectly executed too.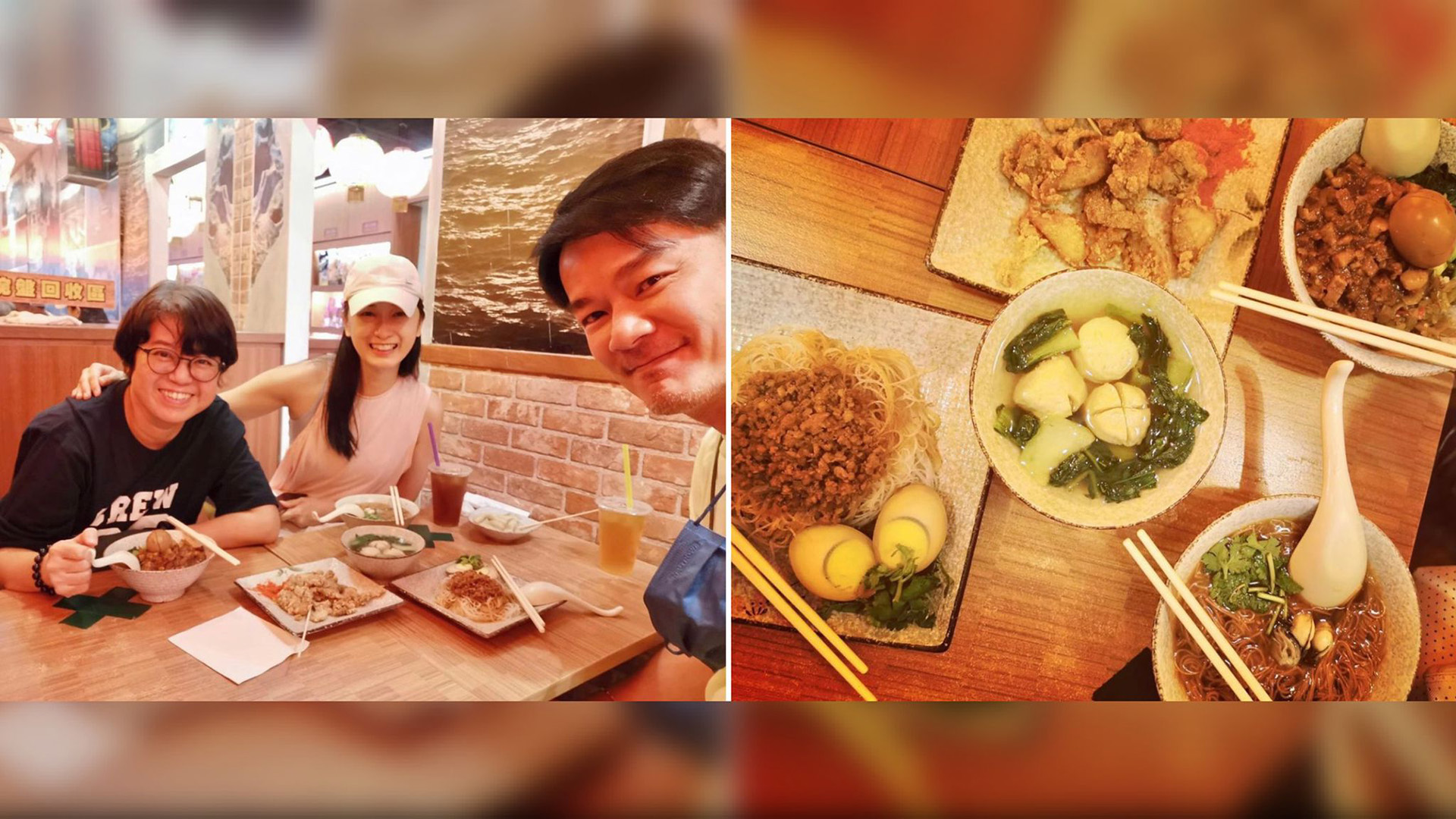 Carole Lin and Thomas Ong
What they ate: Taiwanese street food
Yummy factor: Thomas and Carole got a taste of Taiwan at 5 Little Bears, a street food joint in Paya Lebar Square serving authentic staples like oyster mee sua, fried chicken cutlet and lu rou fan. Well, this is probably as close as it gets to the ones from Taiwan's night markets.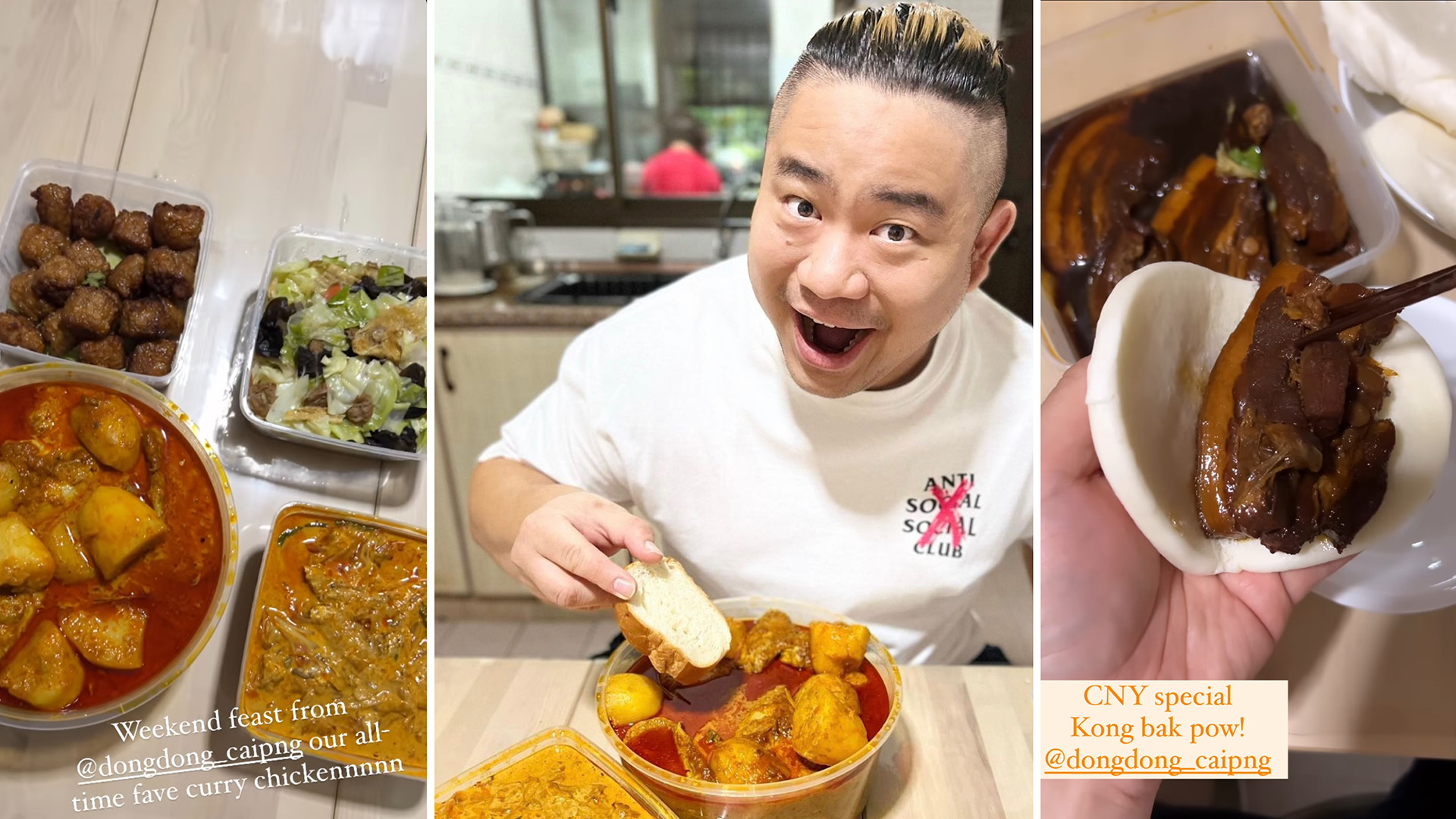 Justin Ang
What he ate: NYC favourites
Yummy factor: From munching on NYC-based Levain Bakery's decadent cookies to towering pastrami sandwiches ("it's the stuff of dreams") from Katz's Delicatessen and meat platters topped with white sauce and chilli from The Halal Guys, Justin definitely ticked off his bucket list of must-have eats in New York. C'mon, he even got to have Ichiran ramen — talk about a foodie trip.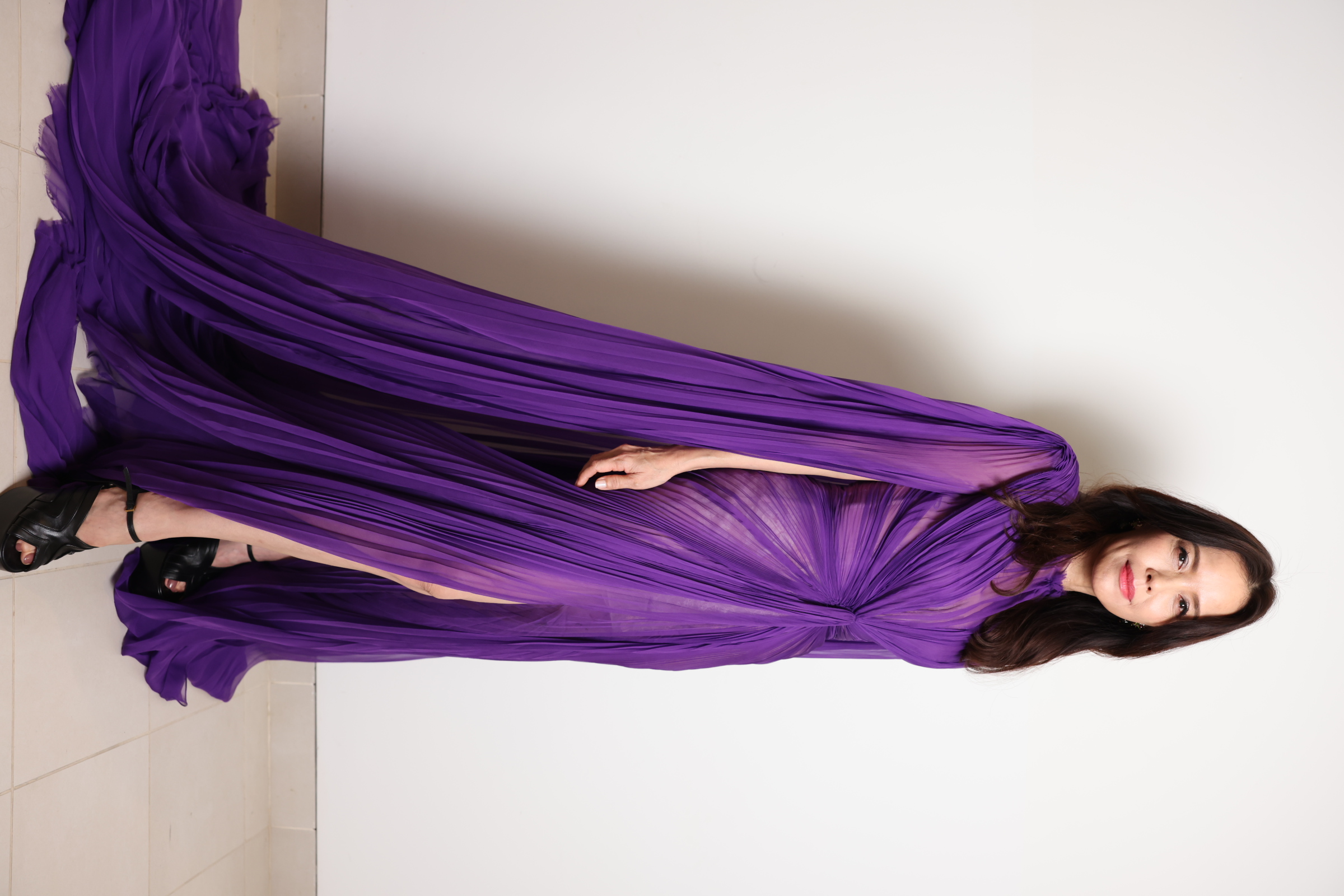 Zoe Tay and Hong Zhaorong
What they ate: Mee sua
Yummy factor: Zoe and Zhaorong were all praise for the soupy mee sua they had at Chye Lye Ah Ma Mee Sua in Bukit Panjang. Featuring homemade meatballs, liver, stewed mushrooms and runny egg, the piping hot noodle soup must've been a comforting treat after their hike.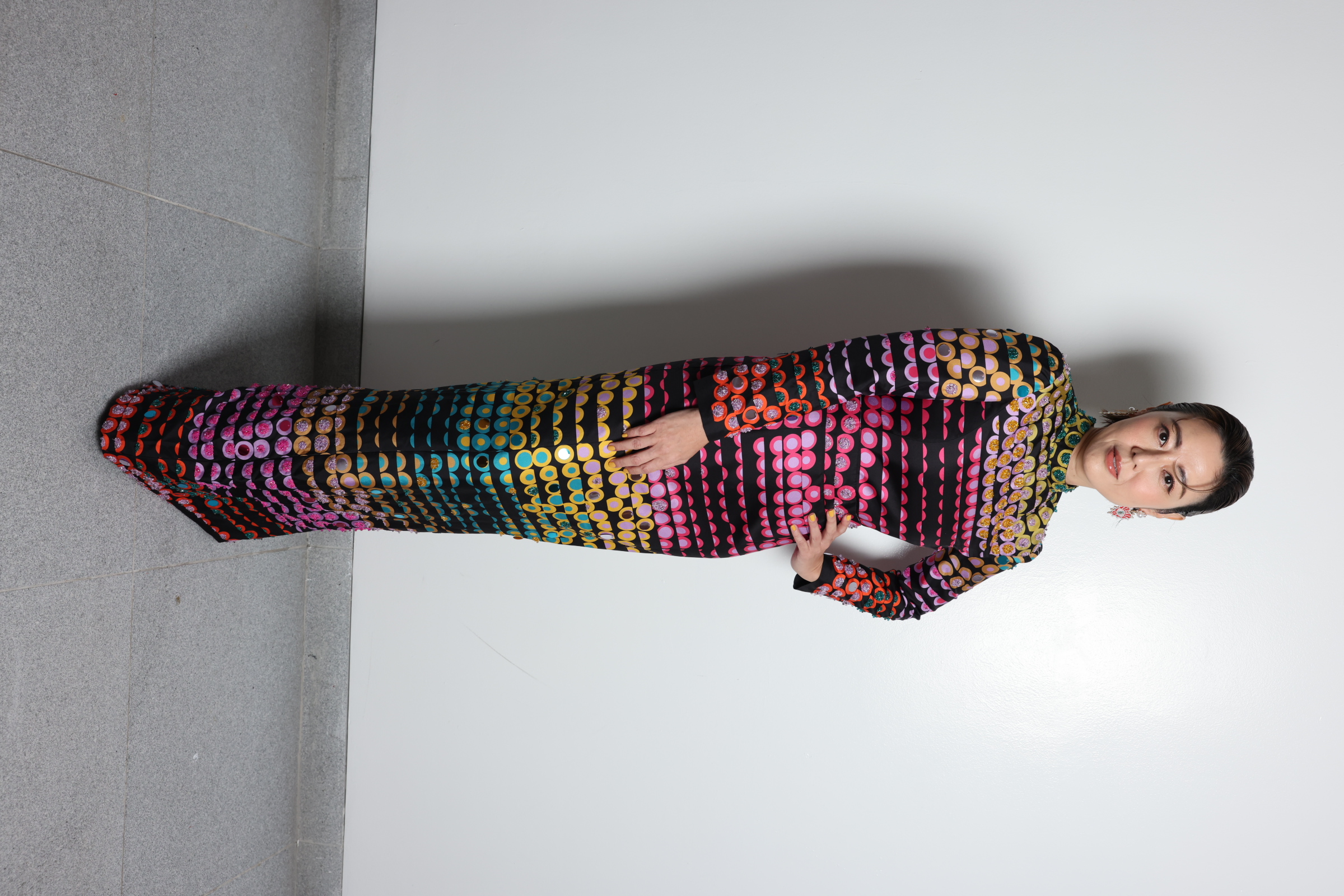 Cynthia Koh
What she ate: Plenty of sweets at Singapore Coffee
Yummy factor: "Feast first count the calories later," wrote Cynthia. Well, considering how good she looked in her sexy gown at the Asian Academy Creative Awards, we wouldn't worry too much if we were her. Cynthia indulged her sweet tooth in desserts like tiramisu, Amaretto milk chocolate caramel tart and mulled wine pear tart, which are part Singapore Coffee's Christmas menu. Her favourite? The festive quiche with cranberry sauce and the Mistletoe Wonderland cocktail.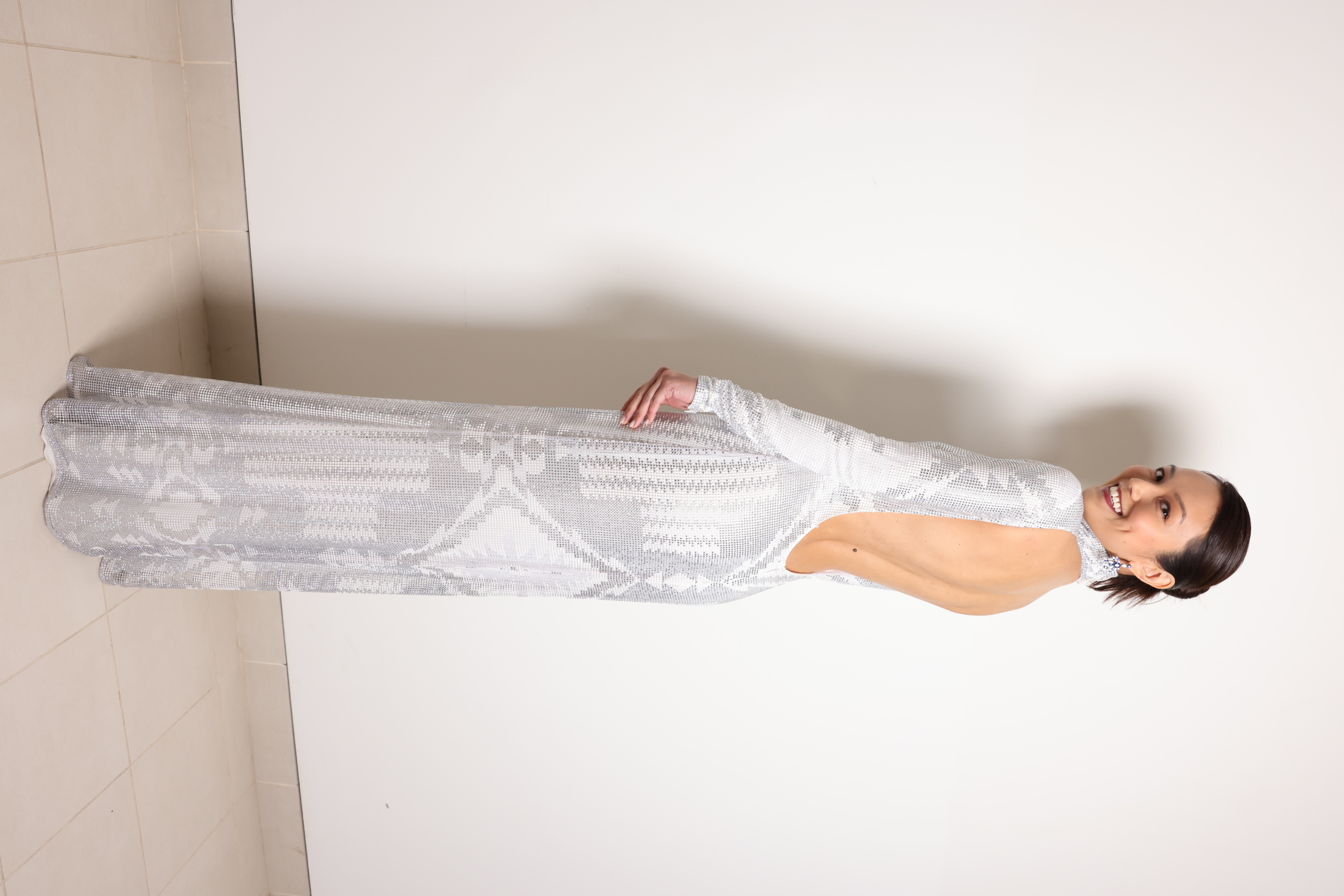 Joanne Peh
What she ate: Greek food
Yummy factor: Date night for Joanne and Qi Yuwu this week was a delish affair at their fave Greek resto, Bakalaki Greek Taverna. And refreshing tipples aside, of course they had to start their meal with some pita bread and yummy accompanying dips.
Zhang Zetong
What he ate: Healthy lunch bowl
Yummy factor: Thanks to Zoe, Zetong and the crew of upcoming drama You Can Be An Angel 4 got to load up on omega-3 with healthy eats from Norwegian fast-food joint Pink Fish. There were poke bowls, salads, and salmon burgers. Looks like Zetong opted for the healthy lunch bowl of dry quinoa noodles with grilled salmon and fiskekaker (a traditional Norway fish cake made with white fish).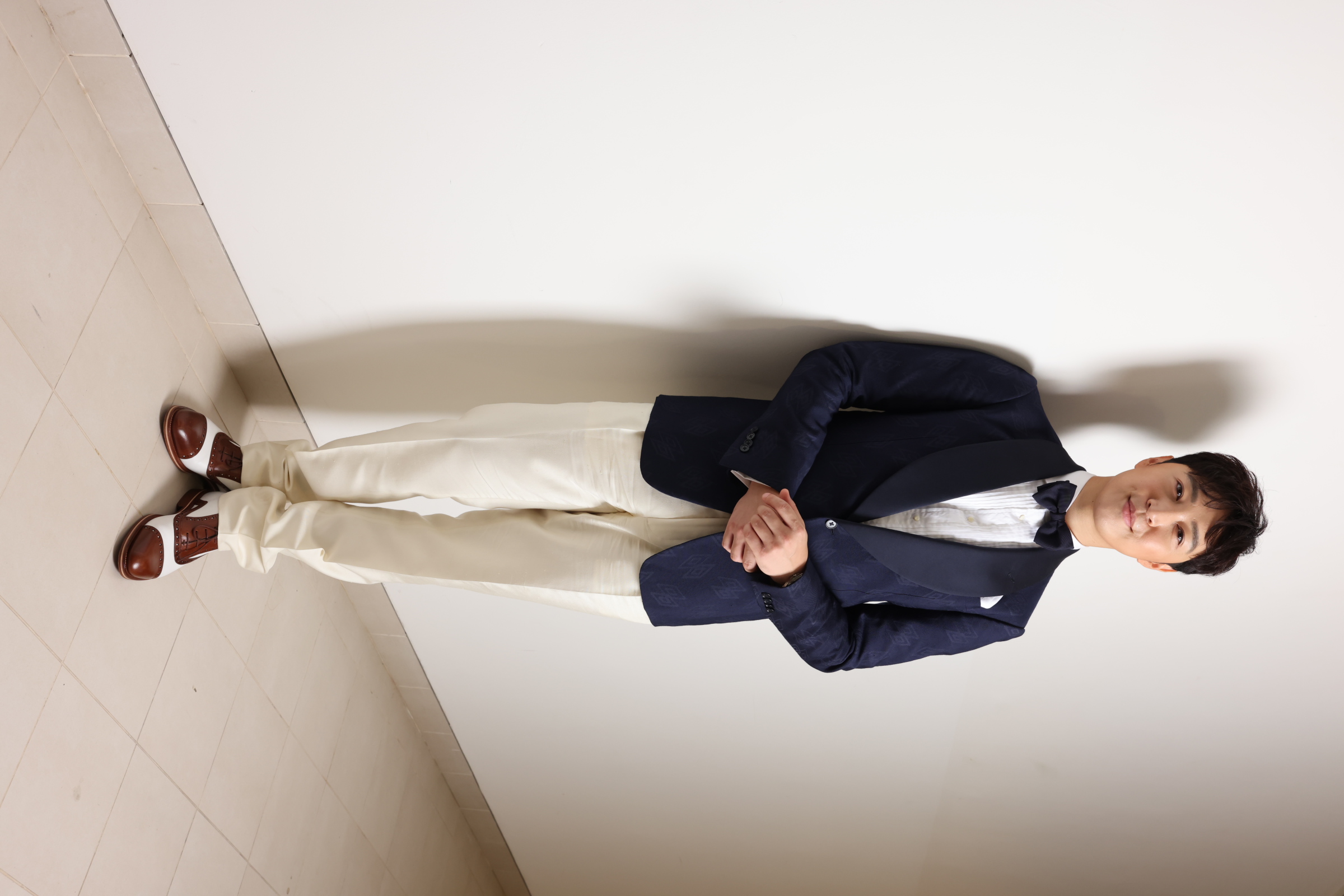 Jeffrey Xu
What he ate: Burger
Yummy factor: Jeffrey must've been starving before his juicy burger arrived — just check out how he's munching on it with gusto. Stacked with a thick patty, tomatoes, beetroot, lettuce, and dripping in sauce, that looks like one satisfying burger.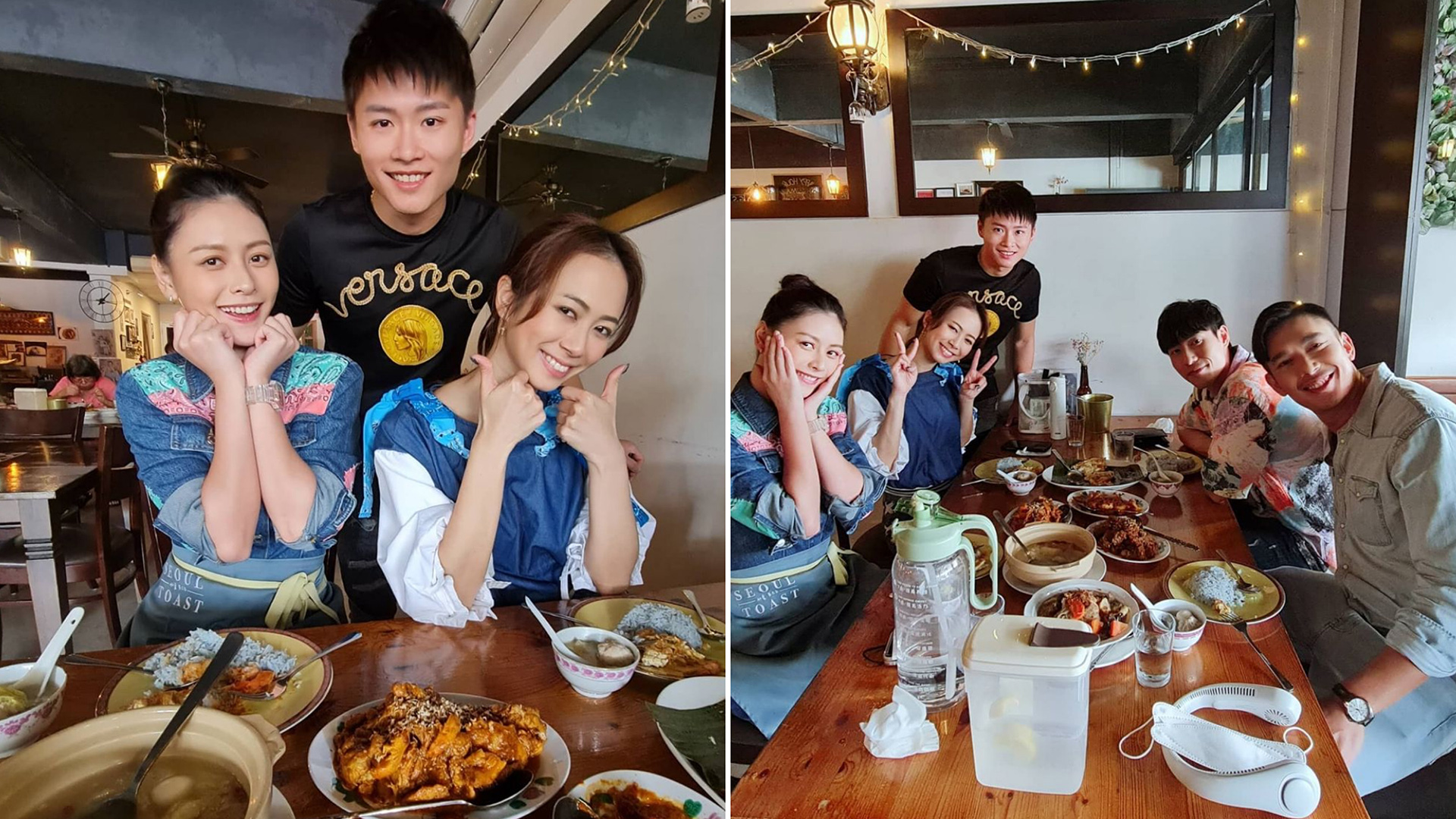 Cast of The Heartland Hero
What they ate: Peranakan delights
Yummy factor: It sure looks like Elvin Ng, James Seah, Bonnie Loo and He Yingying had a hearty lunch over at their regular haunt Nyonya Taste by Brew & Bar, where they dig into plenty of flavourful Peranakan dishes like fish maw soup and beef rendang with blue pea rice.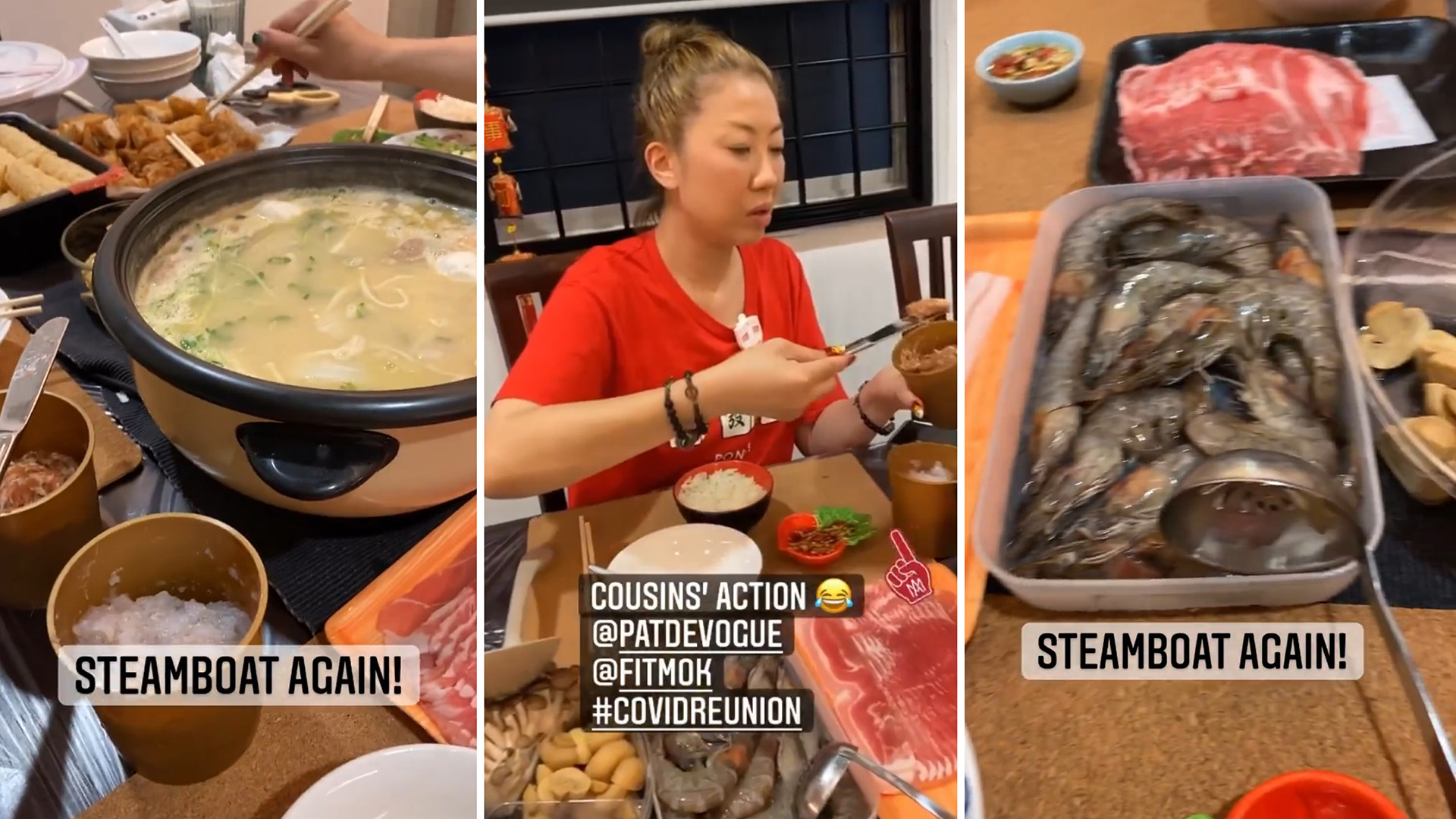 Patricia Mok
What she ate: Contemporary Chinese food
Yummy factor: Avid foodie Patricia paid a visit to her friend's newly-opened restaurant, Crown Prince Wine & Dine, and could not stop raving about the fresh seafood — lala, prawns and fish — cooked in a flavourful broth, braised meat and seafood burnt bee hoon. But the dish that stole the show was the tender braised pig trotter — she devoured in 15 minutes.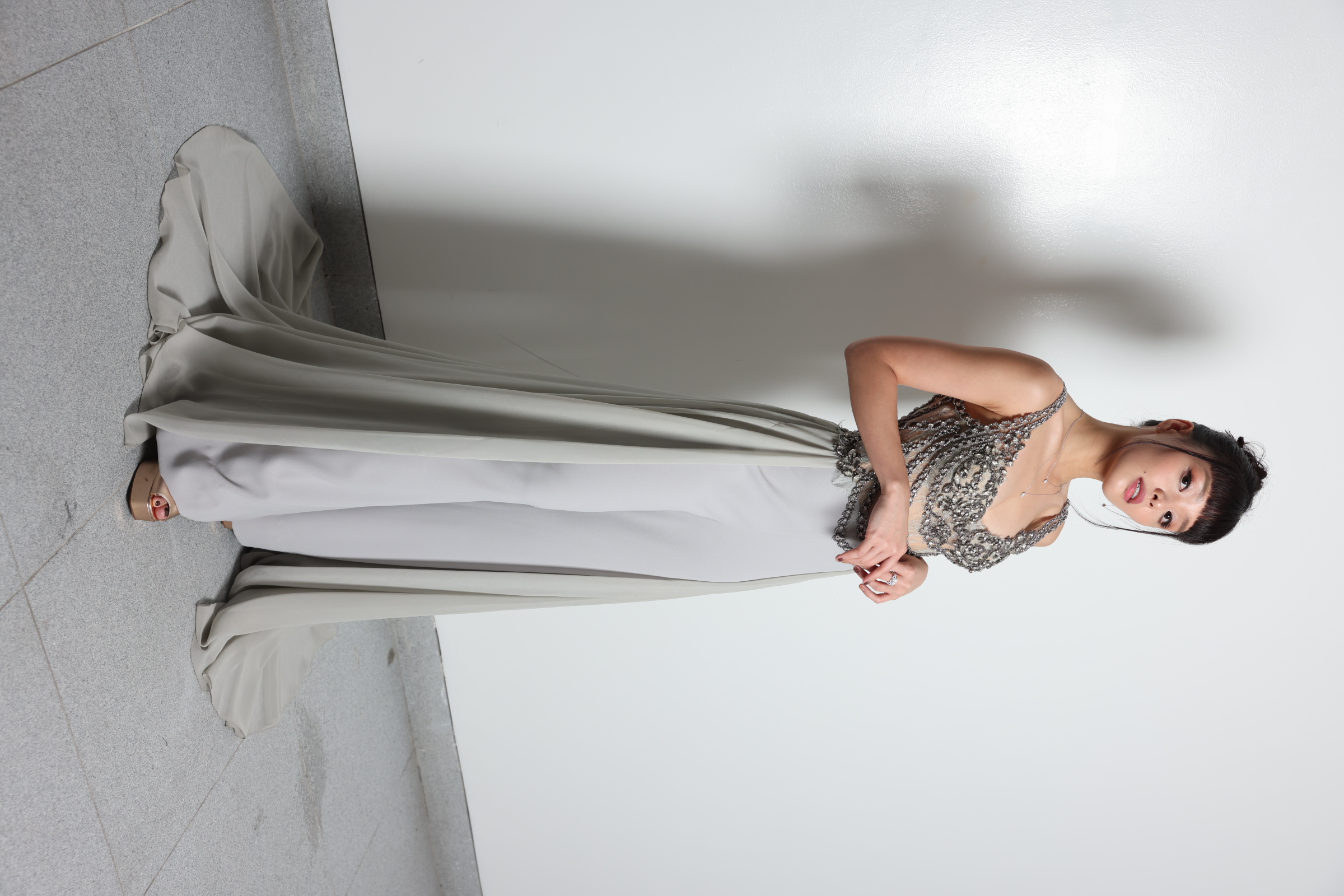 Hazelle Teo and Zhu Zeliang
What she ate: Roast meats
Yummy factor: The YES 933 DJs satiated their post-gym hunger with succulent roast meats as well as carbs — noodles for Hazelle and fluffy rice for Zeliang. Never mind the roast duck was a little on the fatty side, at least they loaded up on protein with an additional braised egg each.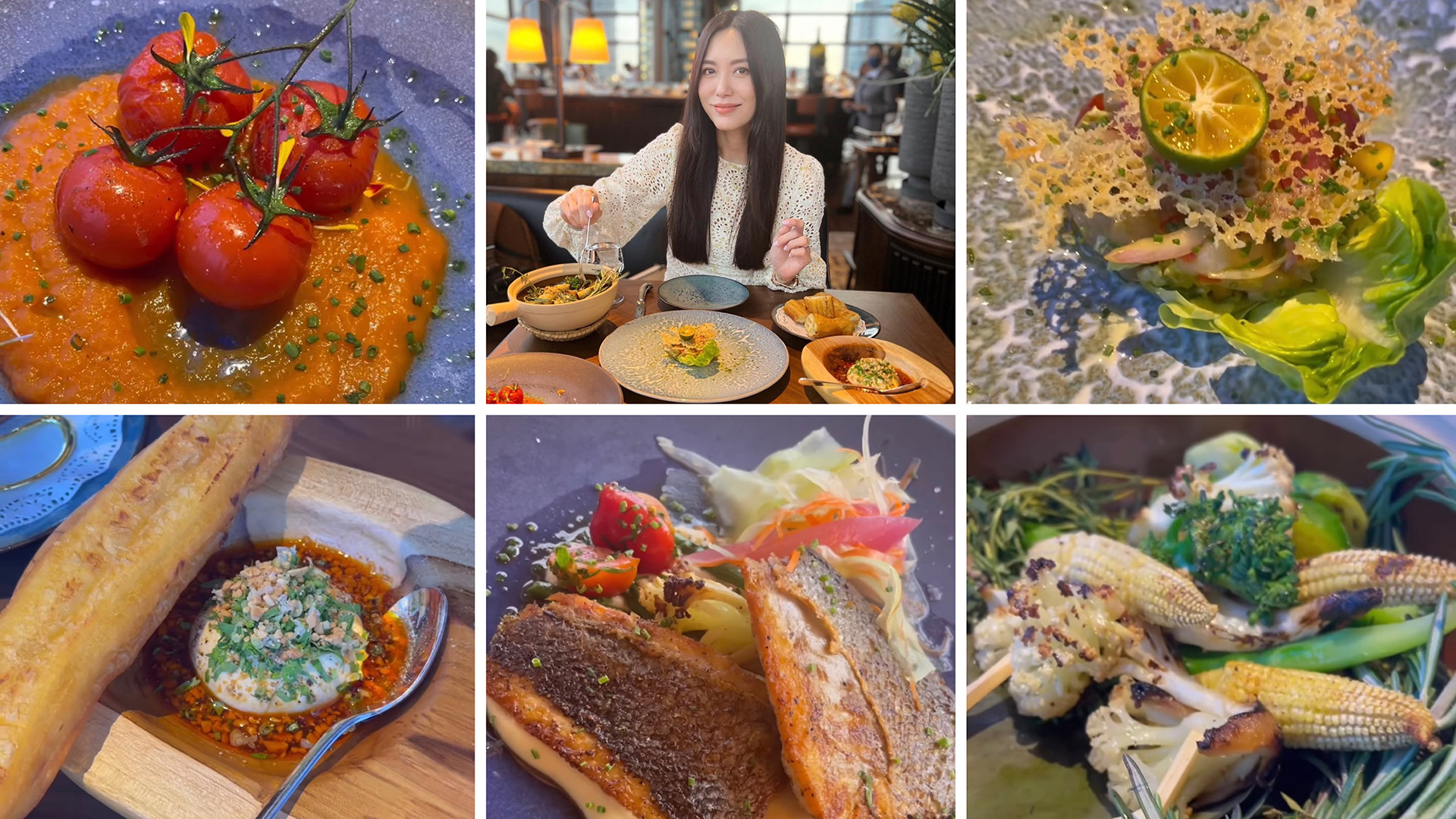 Phyllis Quek
What she ate: Homemade toastie
Yummy factor: Forget kaya toast for a bit... Now that Phyllis is back home in Sydney, she decided to make herself a hearty Aussie-style toastie with avocado and chicken for breakfast, and we love how fuss-free and yummy it looks.
May Phua
What she ate: Fish soup
Yummy factor: It appears that May was so hungry, she got herself $10 worth of fish soup, with a mix of fried and sliced fish. Well, with all the calories she's been burning with her intensive workouts, she deserves the upsize.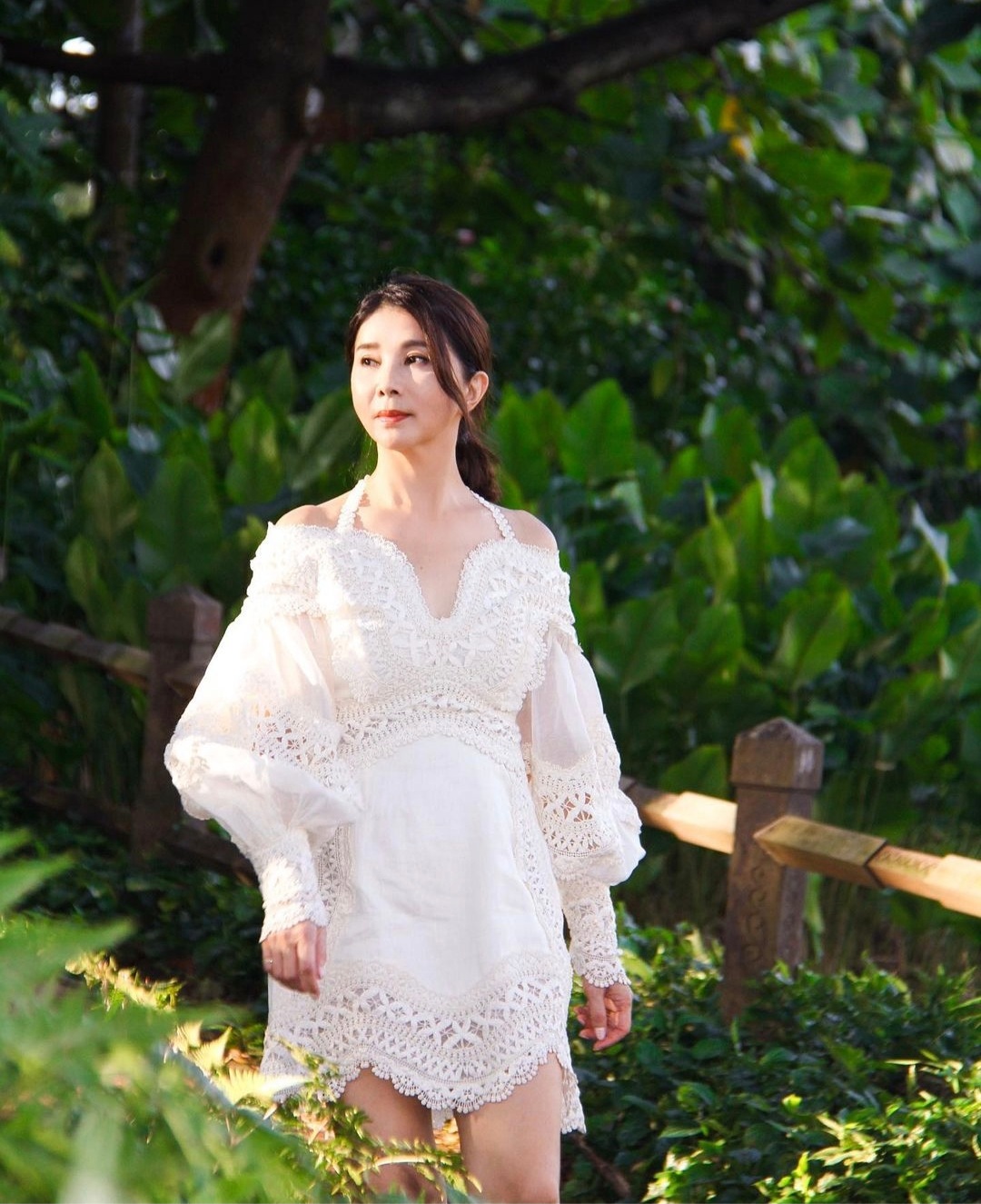 Chen Xiuhuan
What she ate: Edible bouquet
Yummy factor: It's lovely to receive flowers, but an edible bouquet? Even better. Just ask Xiuhuan, who received White Restaurant's fried chicken mid-wings and ngoh hiang in the form of a most appetising-looking bouquet.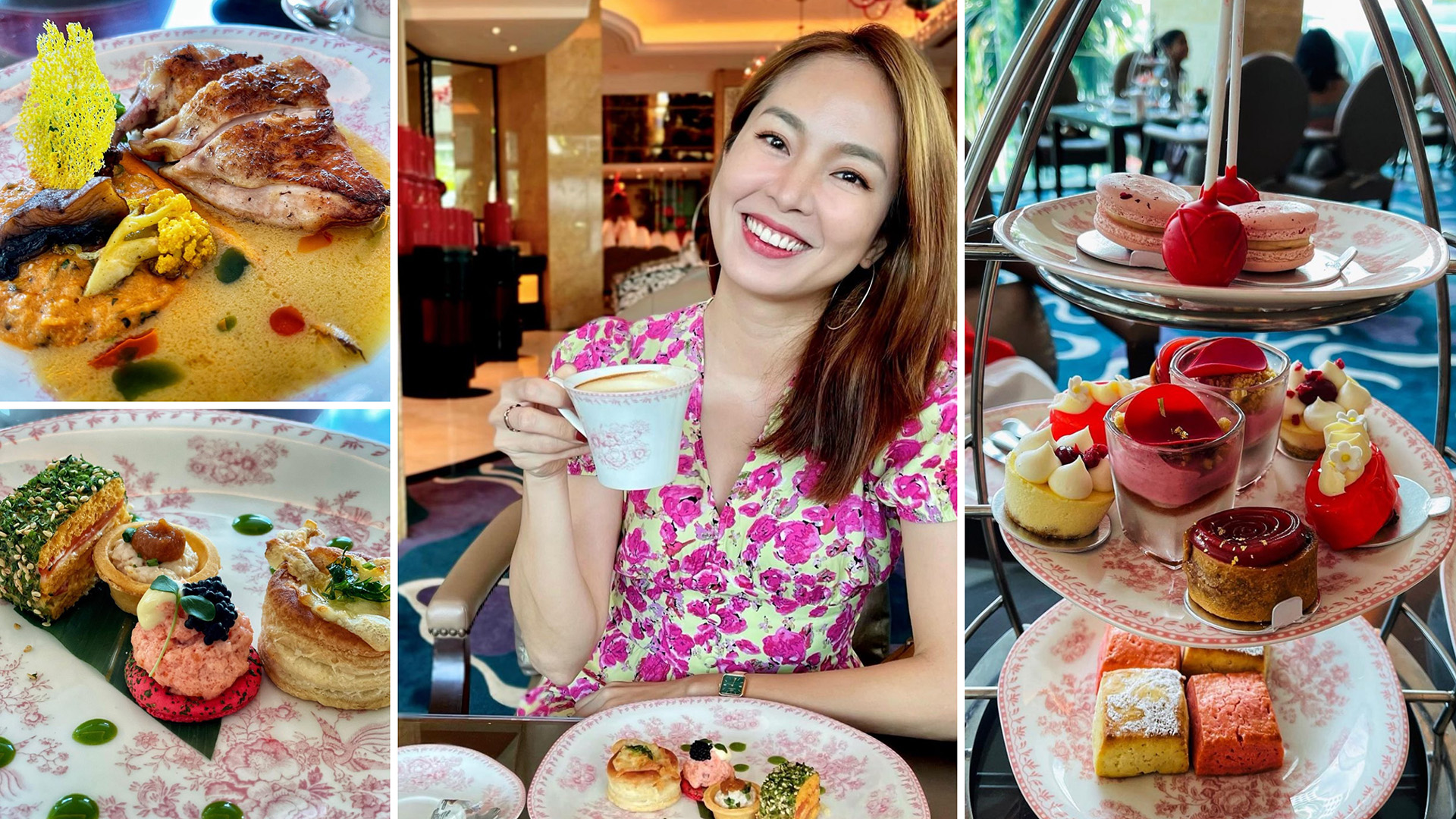 You Yi
What she ate: Italian feast
Yummy factor: 'Tis the season for merrymaking, and You Yi is probably still reminiscing her meal at Italian restaurant Ristorante Pietrasanta — the festive menu featured creamy burrata, porchetta, truffle pasta and a massive Florentine steak. And of course, wine and cheese cake always make for a great addition to any meal.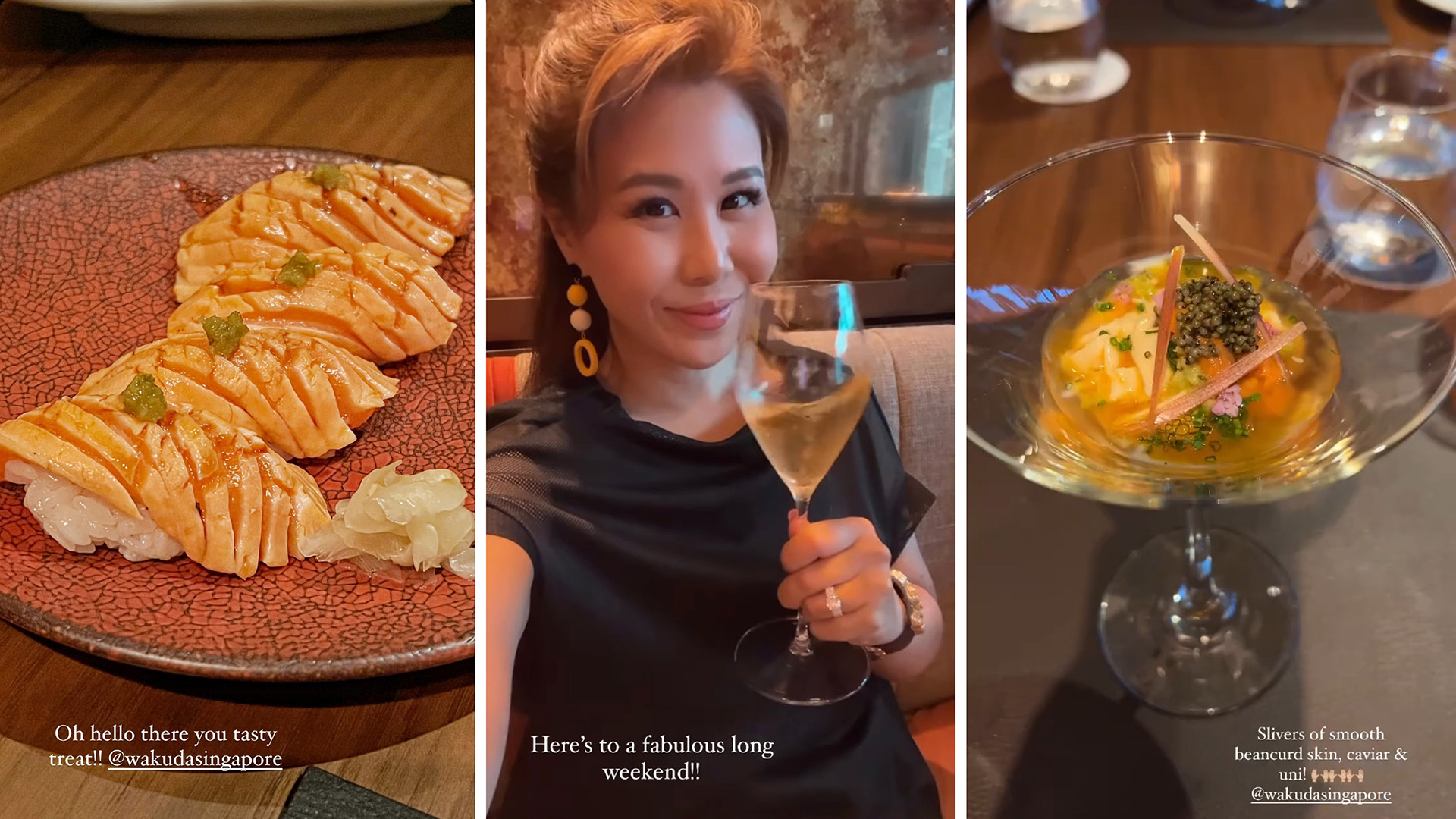 Yasminne Cheng
What she ate: Tamjai Samgor Mixian
Yummy factor: The cool weather has got Yasminne craving for the Hong Kong-style rice noodle dish, and she managed to call up a pal to join her for an impromptu noodle sesh. She recommends the wu la soup (charred pepper and spices) at spice level 7 for a real kick.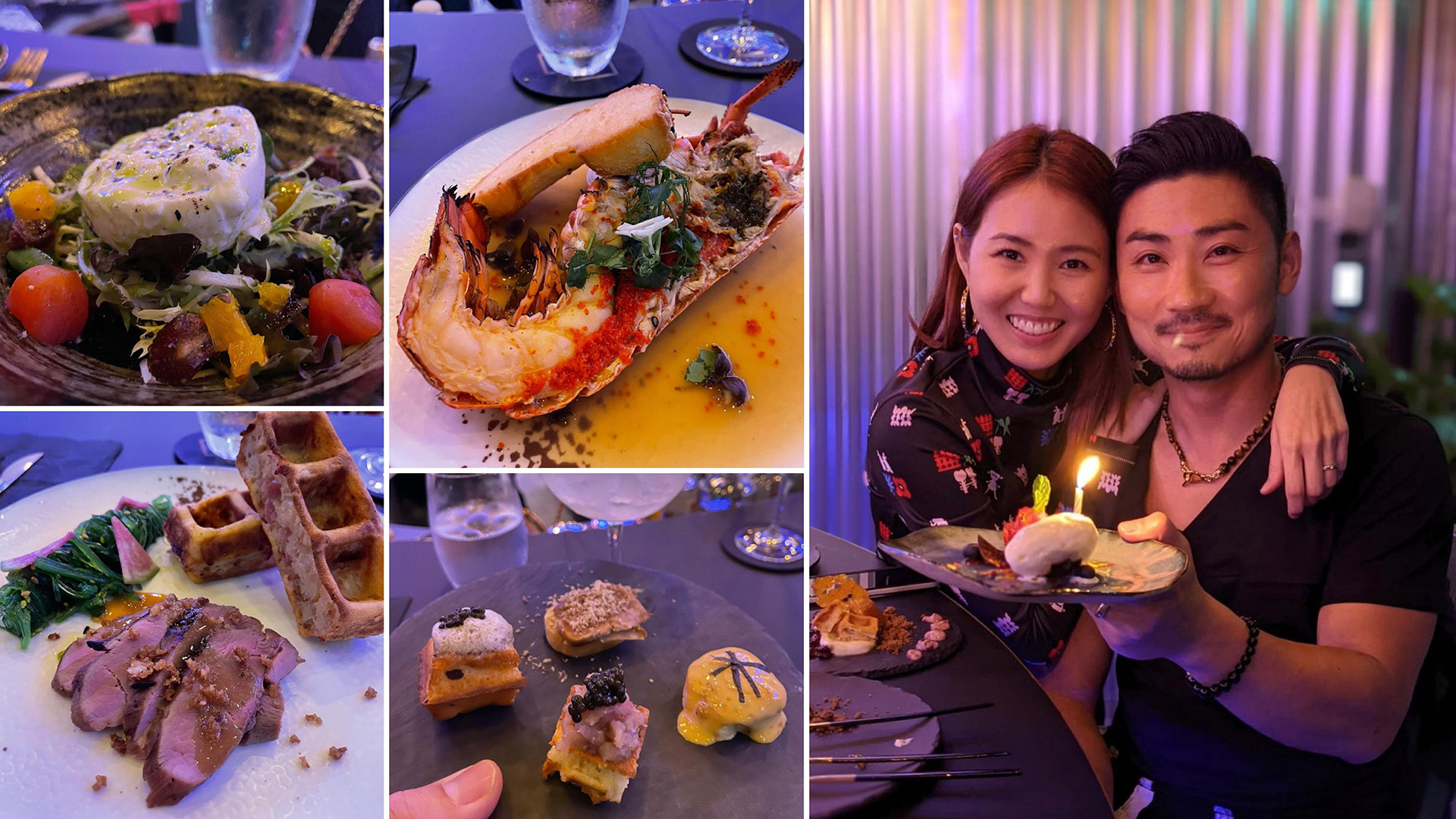 Alfred Sim and Tay Kewei
What they ate: Fusion creations
Yummy factor: Busy parents Alfred and Kewei managed to squeeze time out for a date night at KM Bagel & Waffle, where they indulged in the highly recommend the five-course Chef's Curation with bespoke cocktail pairing. There were fusion fare like canapés, burrata salad, sous vide duck breast with potato bacon waffles, and what seems to be Kewei's favourite — succulent Boston lobster paired with a chrysanthemum-infused broth.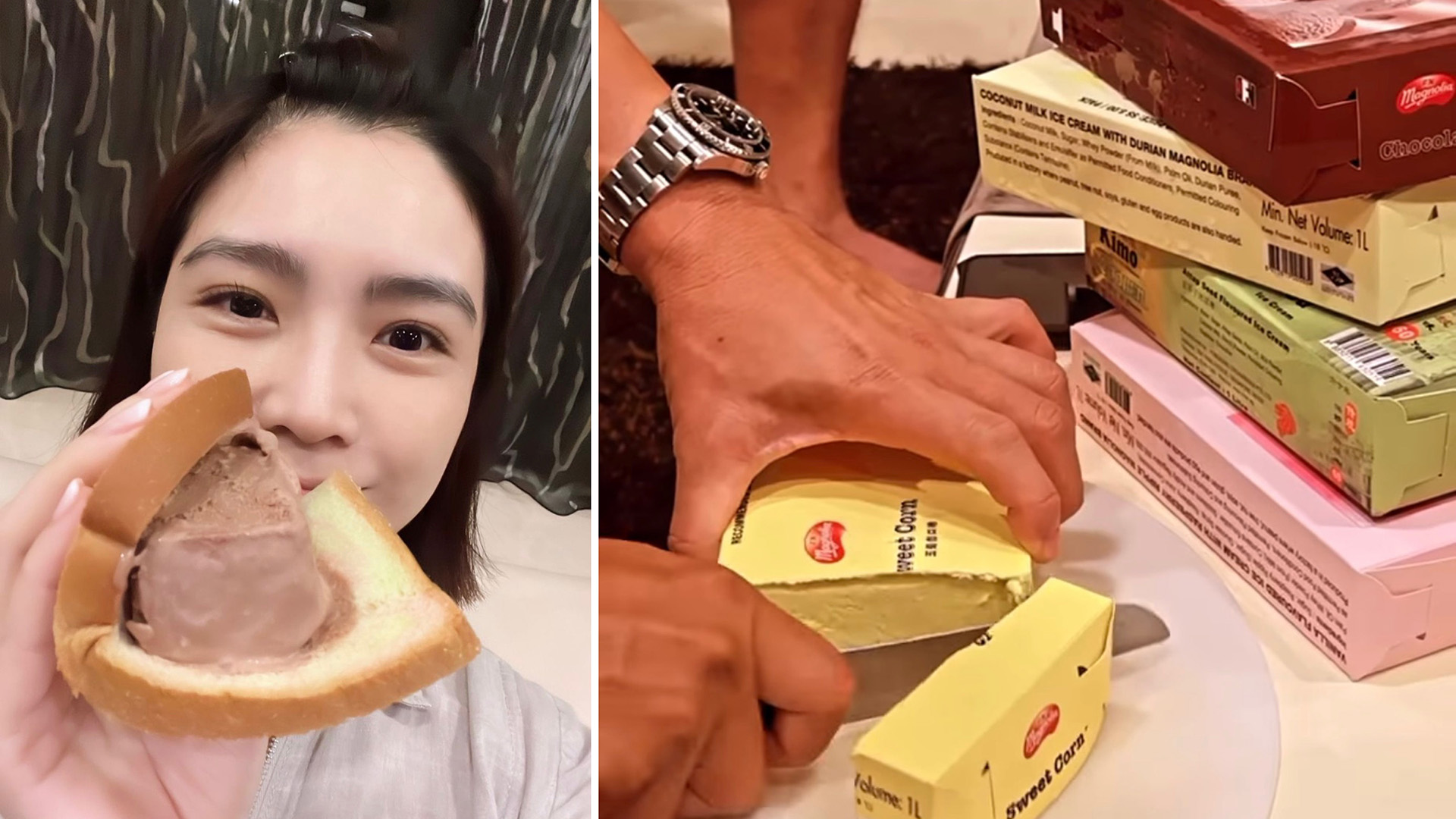 Sora Ma
What she ate: Japanese nosh
Yummy factor: Sora ate her meal with such relish, it's tempting us to have some too — think oishii eats like creamy uni sushi, freshly-fried tempura, grilled unagi don and more. BRB, placing an order stat.
Siau Jiahui
What she ate: Birthday noms
Yummy factor: Jiahui's favourite way of celebrating birthdays is with good food. On her special day (Dec 5), the YES 933 DJ treated herself to delectable eats like risotto with Boston lobster and hokkaido scallops at French restaurant Atout. Dessert was a real treat too — the seasonal special featured a petite chestnut and pear log cake with vanilla ice-cream.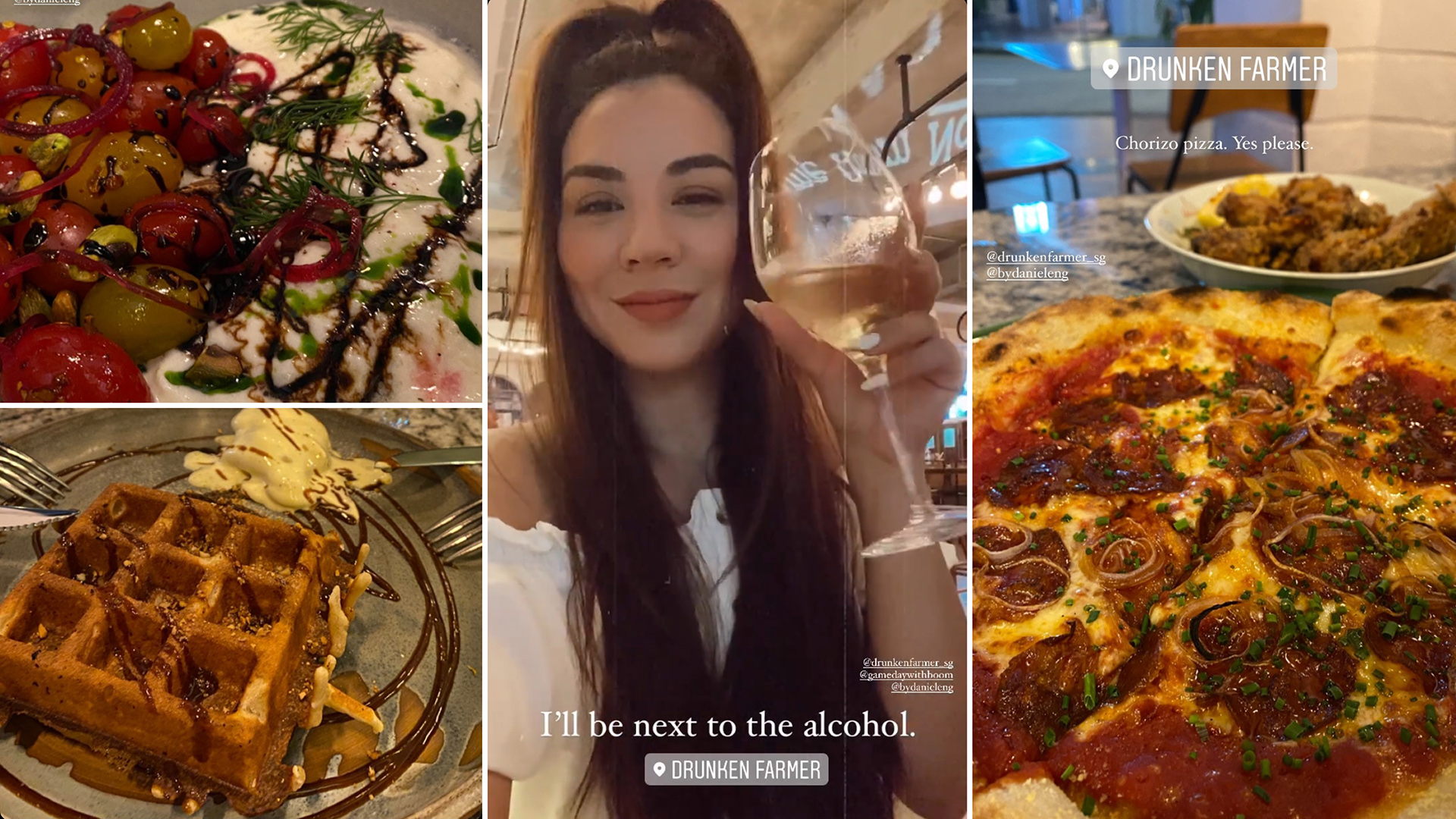 Carla Dunarearu
What she ate: Comfort food
Yummy factor: Plenty of wine, comfort food and amazing dessert — that probably sums up Carla's night at Drunken Farmer, where she enjoyed the chorizo sourdough pizza, fried prawn sticks, a creamy stracciatella dip with heirloom tomatoes, waffles with ice-cream and more.