Foodie Friday: What The Stars Ate This Week (Jul 1-8)
All the photos that made us hungry this week.
This week, Elvin Ng satisfied his craving for local food before his month-long trip to New York, Zoe Tay treated herself to fried carrot cake, Desmond Tan unleashed his inner Salt Bae, and Fann Wong threw Christopher Lee a surprise birthday party. Read on for more.
Desmond Tan
What he ate: Thai signatures
Yummy factor: Desmond didn't just live the beach life while vacationing in Phuket, the budding chef took cooking classes, channelling his inner Salt Bae while whipping up Thai-style curry with fresh greens, as well as a colourful barley salad. The best part? He got to dine al fresco with his appetising creations by the waters after.
Andie Chen and Kate Pang
What they ate: Cafe nosh
Yummy factor: A rare date out for Andie and Kate saw them spending precious couple time at Neptune, where they ordered the garlic butter shrimp scampi and burnt brussels sprouts, much to Andie's initial chagrin. However, all that changed when Andie took his first bite of the charred greens — the tasty dish may have just changed the meat lover's mind about vegetables.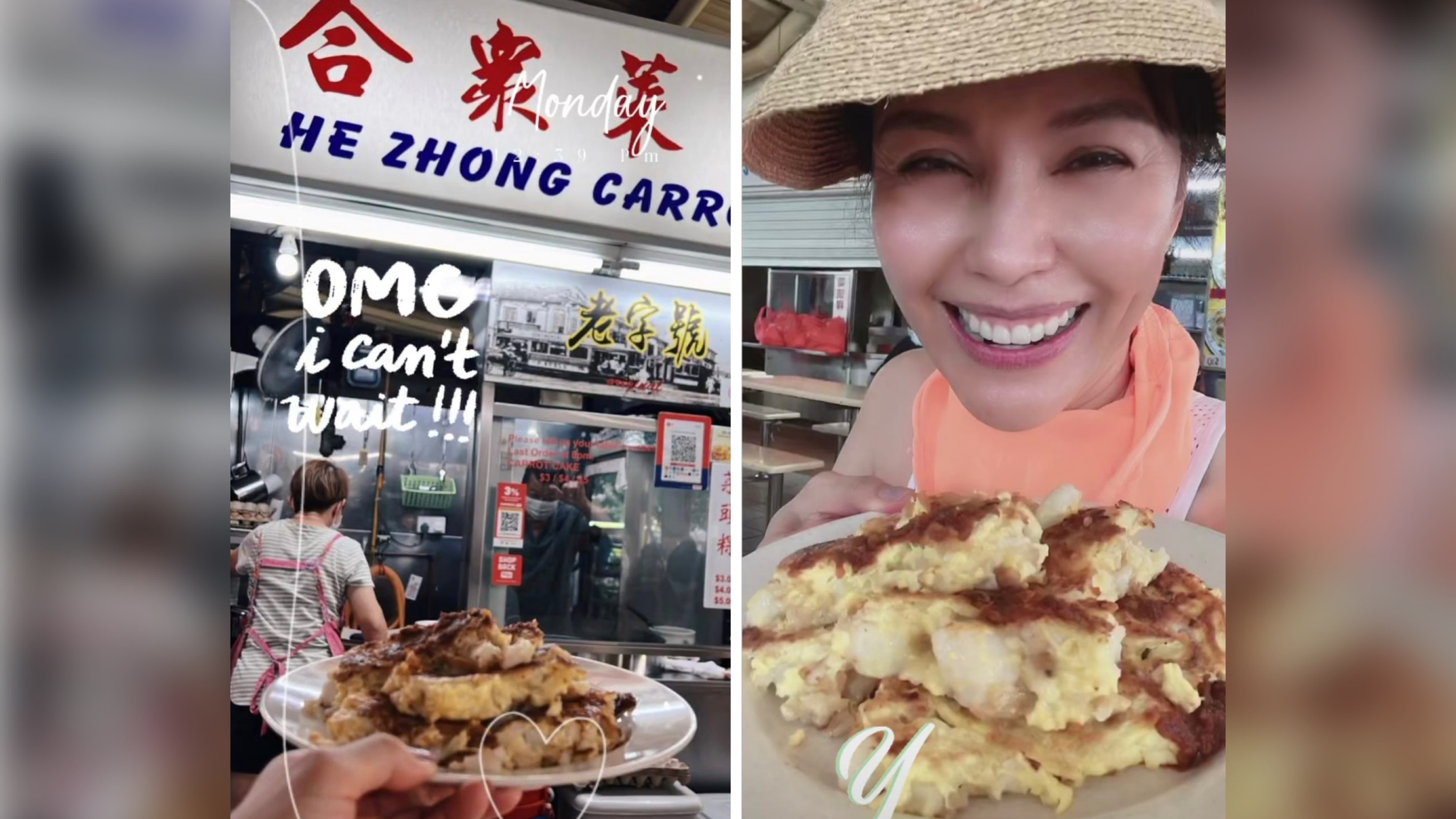 Zoe Tay
What she ate: Fried carrot cake
Yummy factor: Does Zoe's plate of fried carrot cake from He Zhong's look shiok or what? The food stall at Bukit Timah Market & Food Centre only sells the white version, where chunky pieces of heaven are fried with plenty of garlic, chai poh and eggs — perfect an indulgent post-workout treat.
Shane Pow
What he ate: Yakitori don
Yummy factor: Since travel to Japan is currently restricted to tour groups, Shane eased his wanderlust with a satisfying meal at Japanese restaurant Nanbantei. The actor treated himself to a sumptuous yakitori don topped with hearty ingredients like grilled chicken meatballs, pork, mushrooms, asparagus and salmon.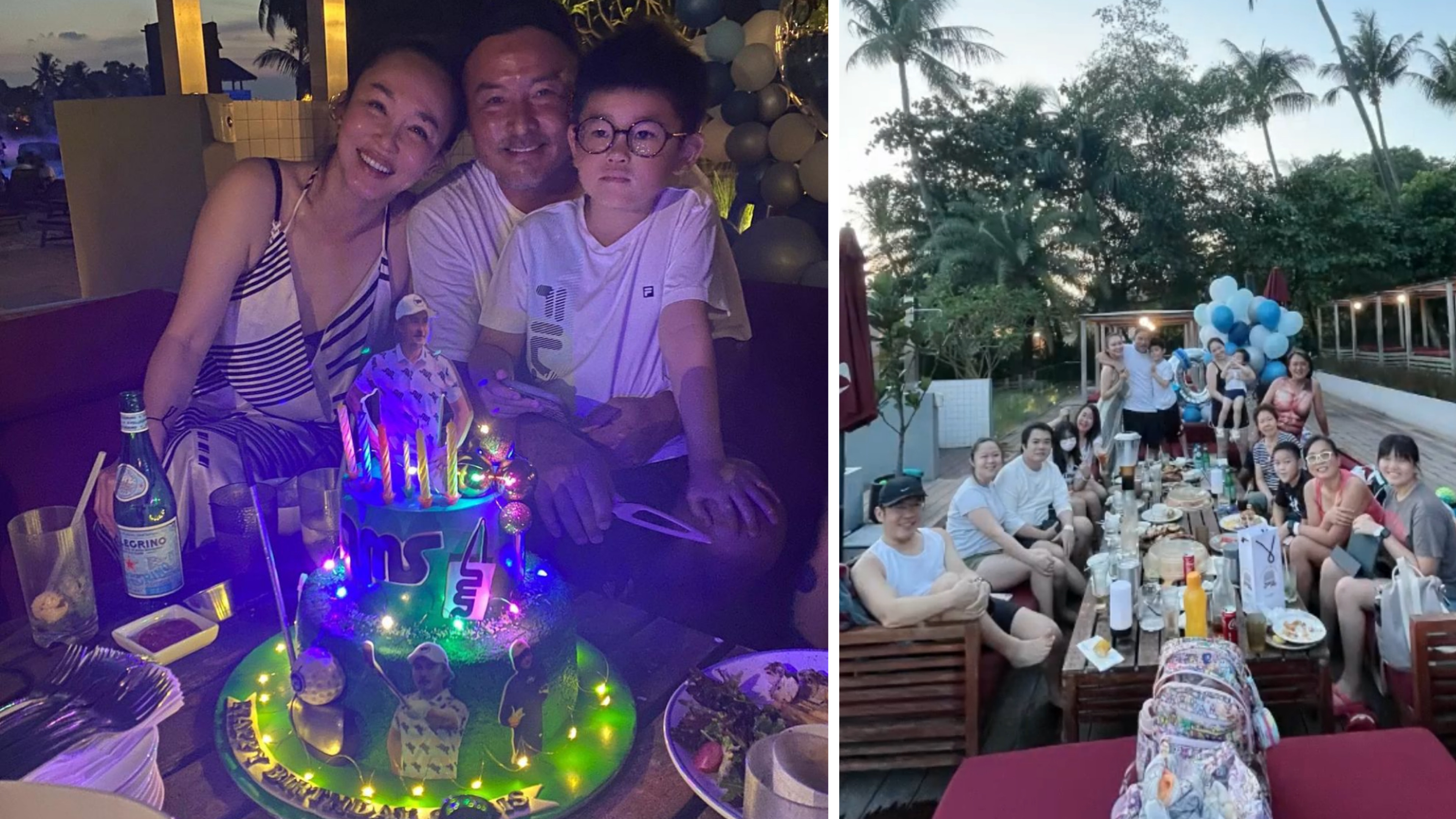 Fann Wong and Christopher Lee
What they ate: Golf-tastic cake
Yummy factor: Fann loves surprising Christopher so much, he nicknamed her the "Surprise Queen". And for his upcoming 51st birthday (Jul 23), the missus managed to pull off yet another surprise by gathering their loved ones for an advanced celebration at Rumours Beach Club. The golf-themed cake she got for him had to be the highlight of the party — the two-tiered creation came complete with cut-outs of Christopher dressed in his own line of golf apparel, a miniature club and even flashing LED lights.
Elvin Ng
What he ate: Local brekkie
Yummy factor:
Elvin made sure to get his fix of local fare before he

flew off to New York

for his month-long acting course. His filling brekkie at the airport was a glorious combination of curry noodles, toast and soft-boiled eggs. Oh, and of course he got a teh peng for good measure too.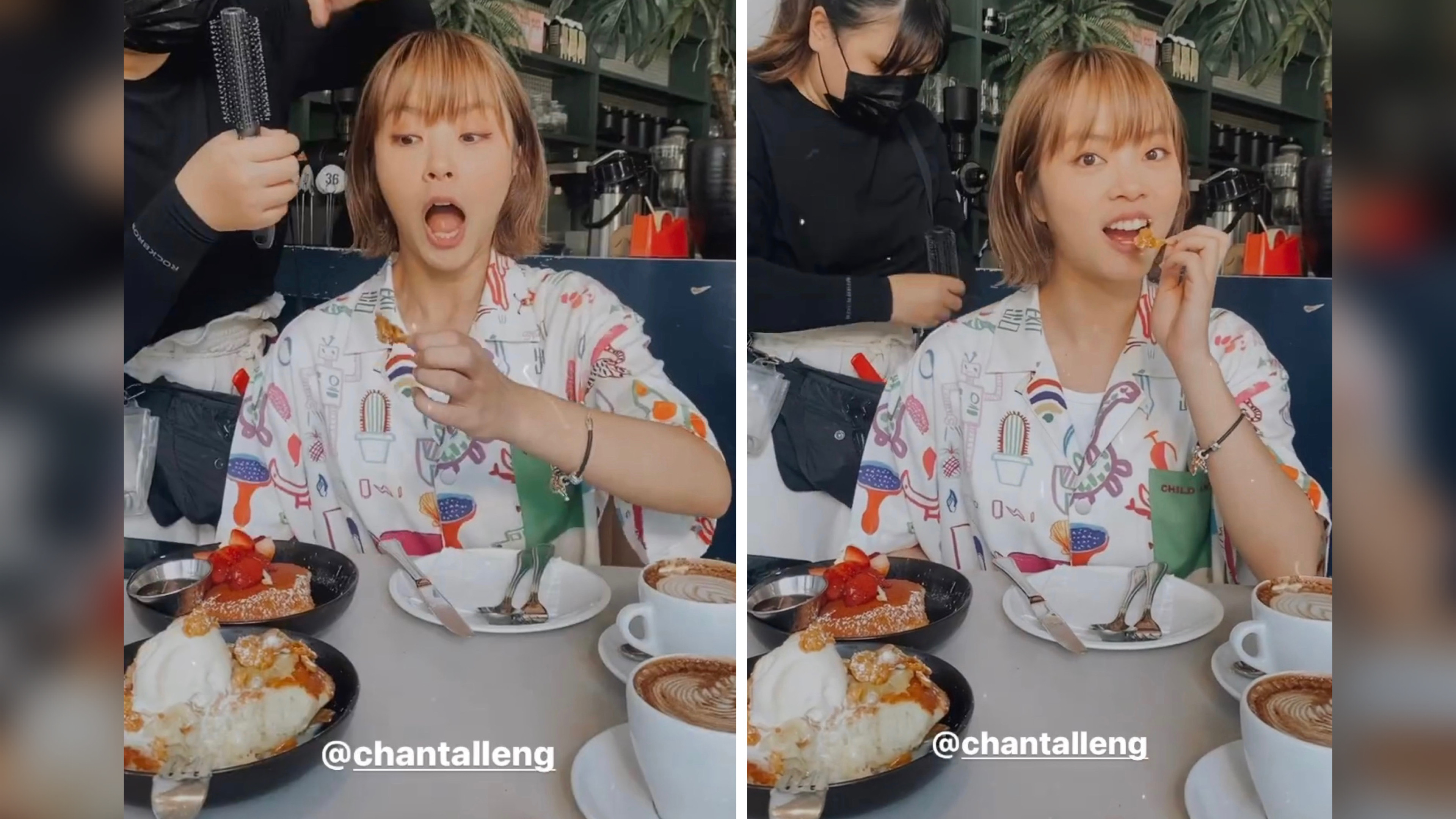 Chantalle Ng
What she ate: Edible props
Yummy factor: Chantalle sure looked happy to be able to have a cuppa and tuck into thick and fluffy pancakes with fresh fruits, ice-cream and maple syrup — and it's all in the name of work. Wonder who's her date in the scene.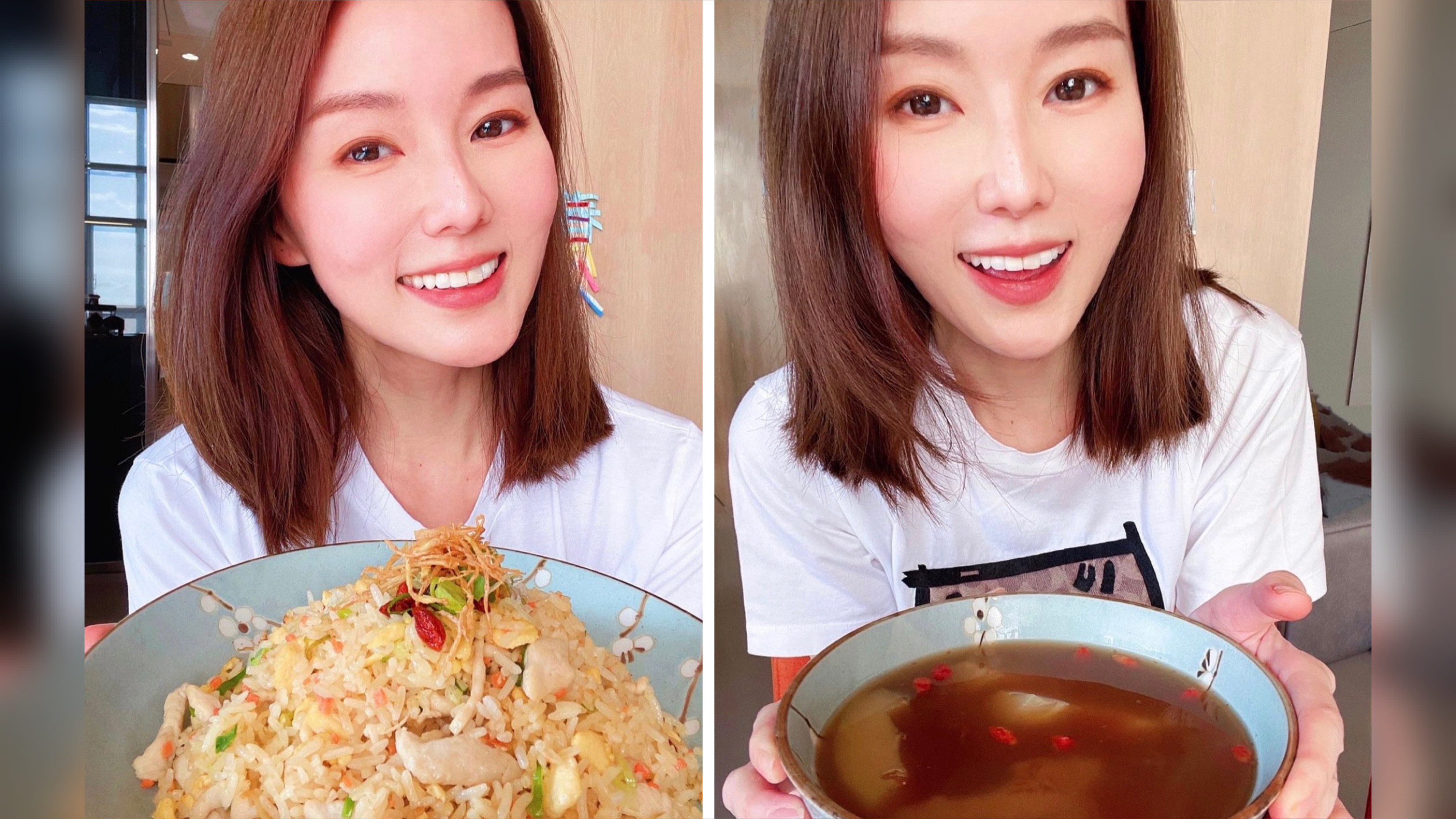 Yvonne Lim
What she ate: Confinement food
Yummy factor: Nope, Yvonne, who is back to star in a new Mediacorp drama, isn't expecting her third child. The avid cook has been experimenting and learning how to cook confinement food like ginger chicken fried rice and green papaya fish soup for a dear friend, and nutritious eats have never looked more splendid.
Thomas Ong
What he ate: Penang favourites at Oh Yeah Noodle House
Yummy factor: A true foodie, Thomas crossed the Causeway — upon his godmother's recommendation — for his fave Penang-style prawn noodles and silky chee cheong fun. And bonus points for the unassuming kopi peng, which turned out to be a solid brew.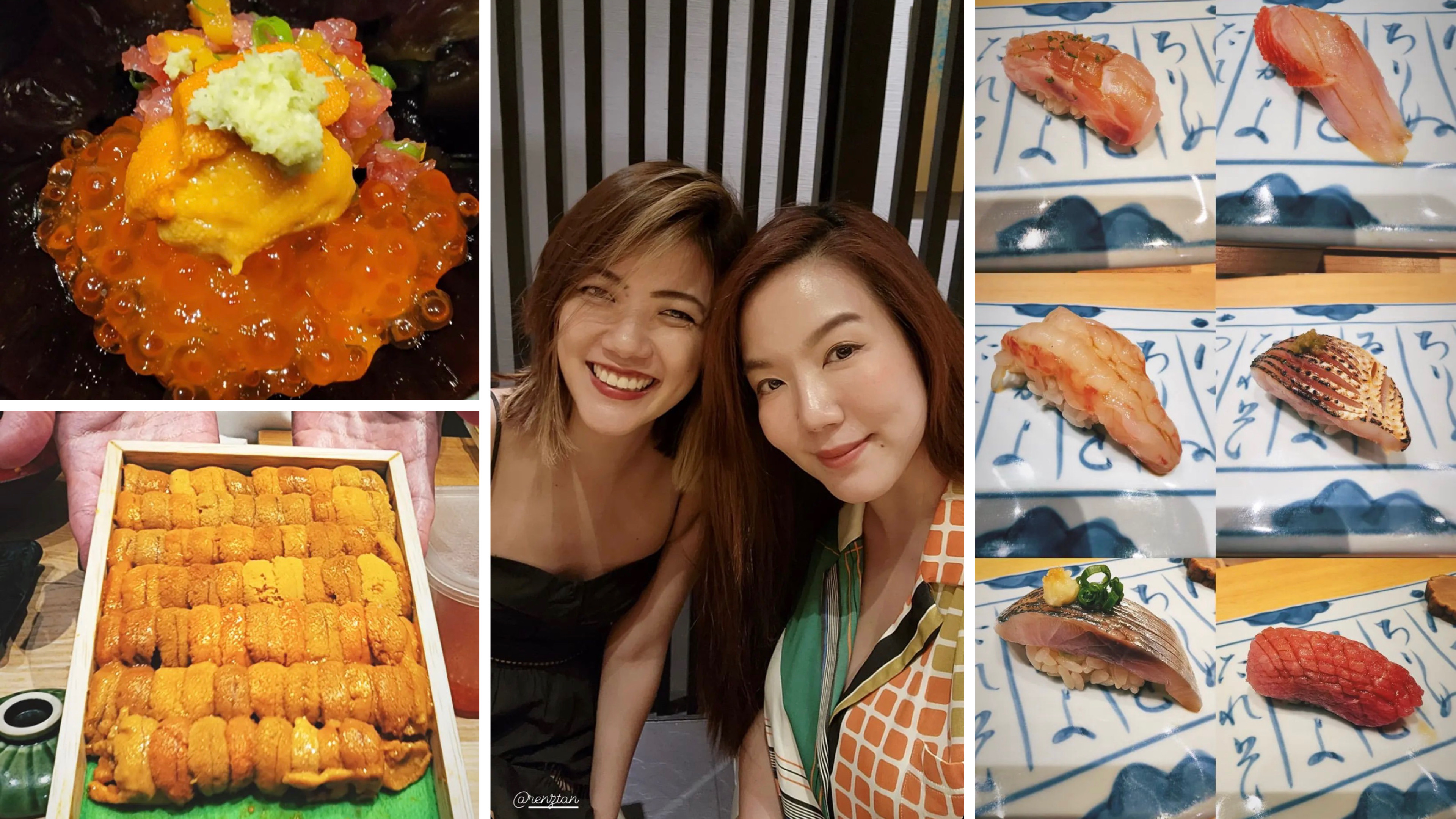 Rui En
What she ate: Japanese omakase
Yummy factor: Dinner at Chiharu for Rui En was all about immersing herself in the flavours of the sea. At the 12-seater sushi counter, her taste buds were treated to everything from fresh sashimi to juicy ikura and buttery uni, as well as handmade nigiri sushi.
Michelle Chia
What she ate: Tiramisu
Yummy factor: Few things can probably top receiving half a dozen freshly-made jars of creamy tiramisu for one to savour at a leisurely pace — Michelle probably had enough to last her for a week. And it looks like she got started on the desserts early — is that a half-eaten jar we spy?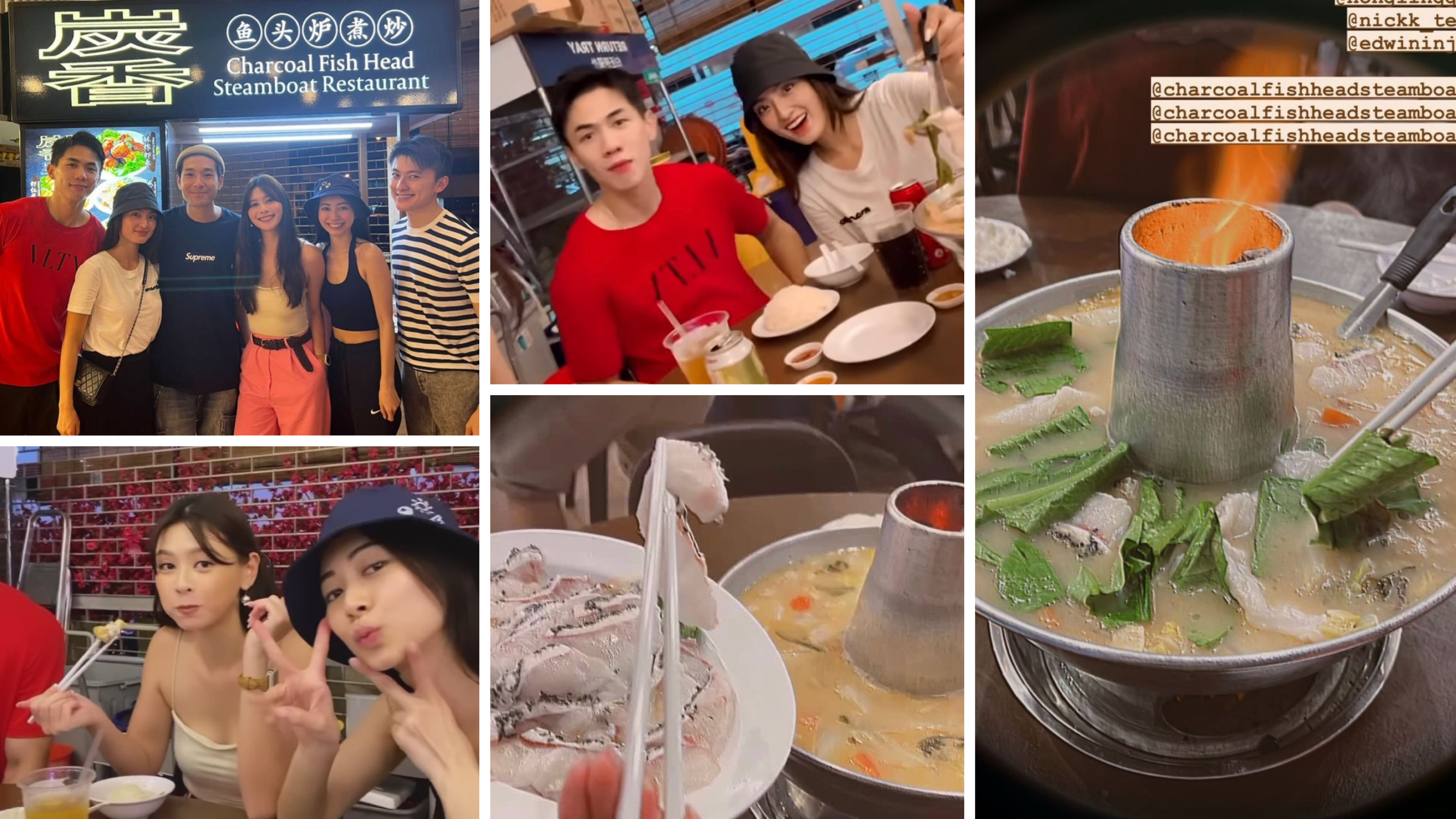 Nick Teo, Hong Ling, He Ying Ying, Bonnie Loo and Edwin Goh
What they ate: Charcoal fish head steamboat
Yummy factor: Celebs have been heading down to Playground to support Ben Yeo's latest steamboat venture, and the quintet was no exception. There's just something comforting about tucking into a sweet and flavourful broth filled with yam, vegetables and fresh fish slices. We hear the zi char dishes are good too.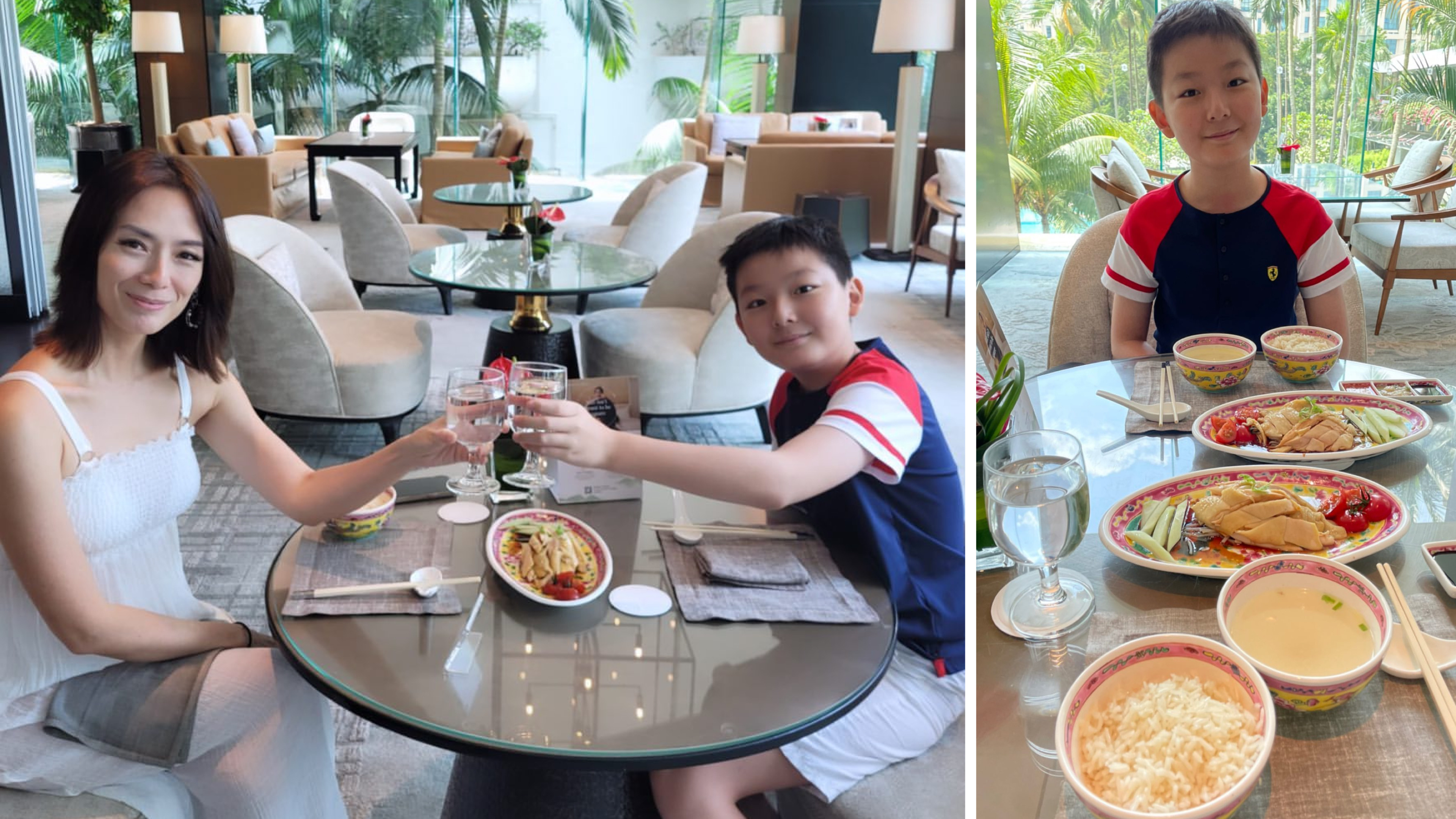 Jacelyn Tay and her son Zavier
What she ate: Atas chicken rice
Yummy factor: As delicious as their "very expensive chicken rice" lunch at Shangri-La's The Lobby Lounge looked, Jacelyn's 11-year-old son Zavier mused that he would rather have the poached chicken at a kopitiam for $5 (the one at the restaurant cost $24 a pop). Talk about being wise beyond his years.
Edmund Chen and Xiang Yun
What they ate: Putian cuisine
Yummy factor: Love Putian cuisine? Edmund and Xiang Yun may just have the place to recommend — Pu Tian Shun Ying Restaurant. The foodies tried the lor mee, fried mee hoon, sweet and sour lychee pork, and deep-fried mackerel from the food stall, and from what we can see, the homely dishes sure looked legit.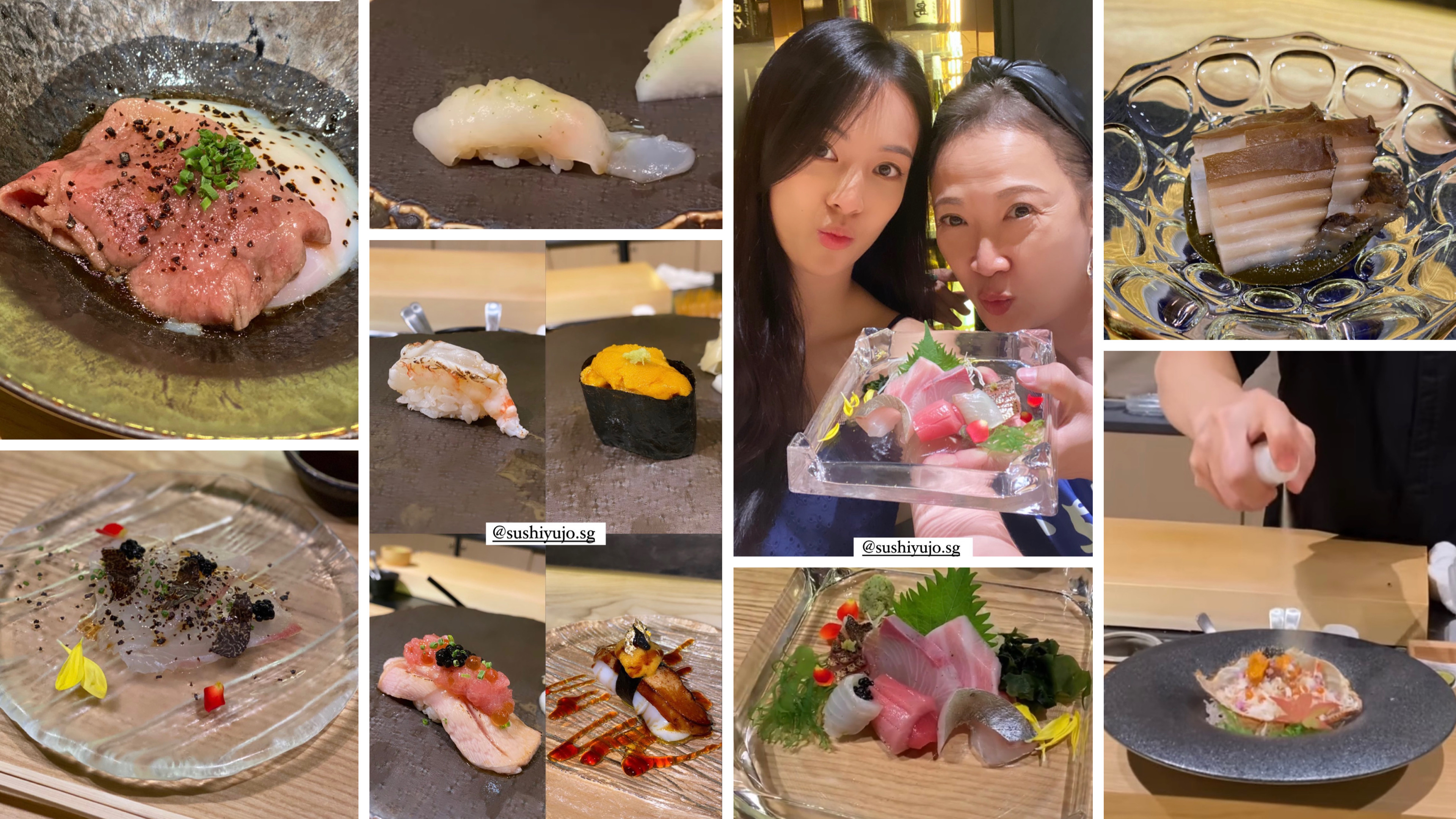 Tay Ying and Hong Huifang
What they ate: Japanese cuisine
Yummy factor: With menu highlights like tender wagyu beef slices atop an onsen egg and slow-cooked abalone nestled in umami liver sauce, there's plenty to love about Tay Ying's meal with Huifang at Sushi Yujo. Plus, it's not every day you get a spritz of edible gold dust on your yuzu crab.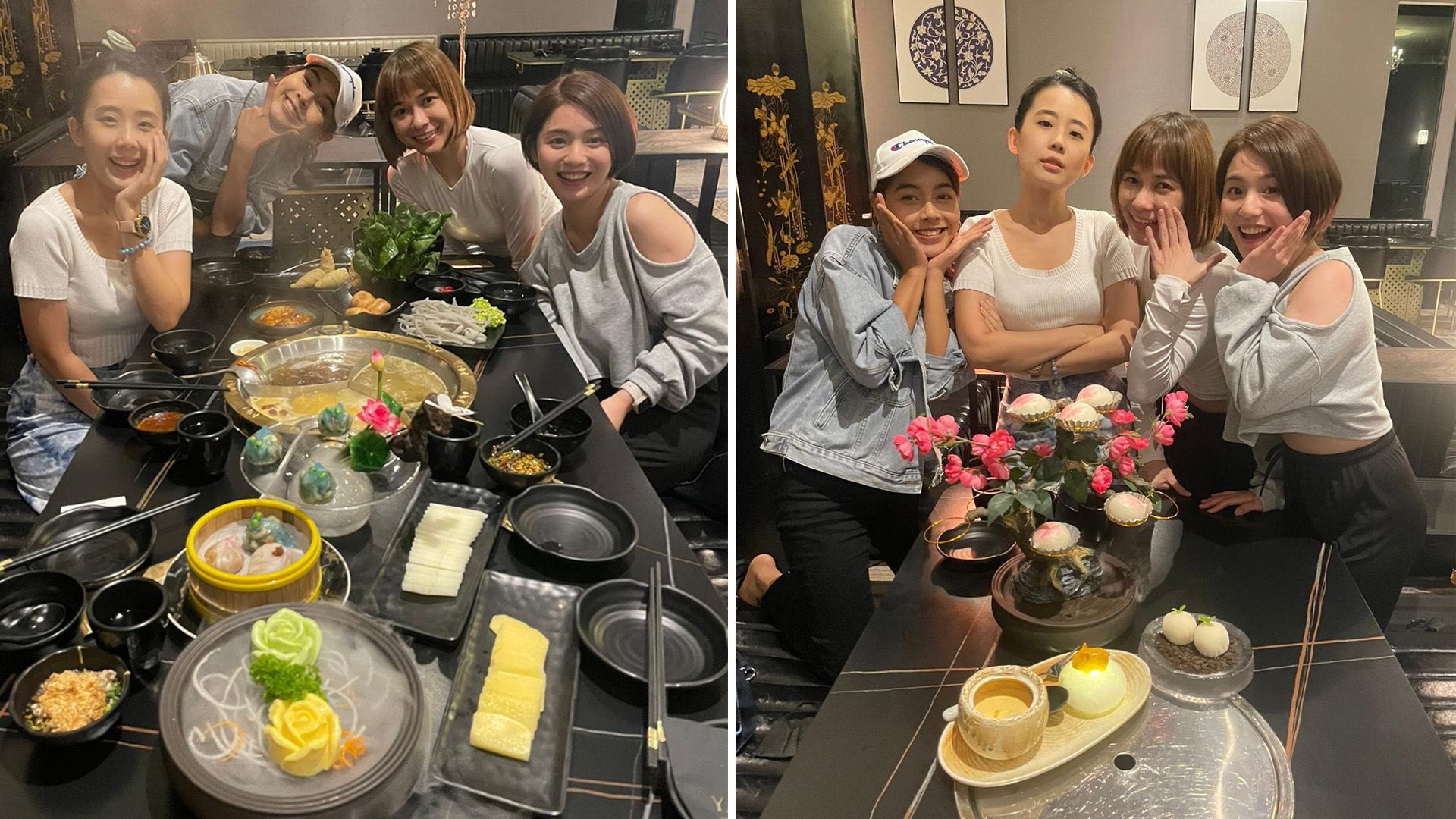 Jernelle Oh, Seow Sin Nee, Juin Teh and Gini Chang
What they ate: Hotpot dinner
Yummy factor: The close pals didn't hold back at Jernelle's belated birthday celebration (she turned 28 on Jul 3) at Yanxi Dim Sum & Hotpot. Check out the plethora of ingredients and multiple soup bases for their hotpot sesh, as well as the accompanying steamed dim sum fare and longevity bun "tree".
Chen Xiuhuan
What she ate: Modern Cantonese fare
Yummy factor: Aside from her favourite fried carrot cake with XO sauce, there were plenty more dishes for Xiuhuan to go gaga over at Madame Fan's - crispy roast duck, crab meat coconut soup, as well as luxurious abalone siew mai and other dim sum specials.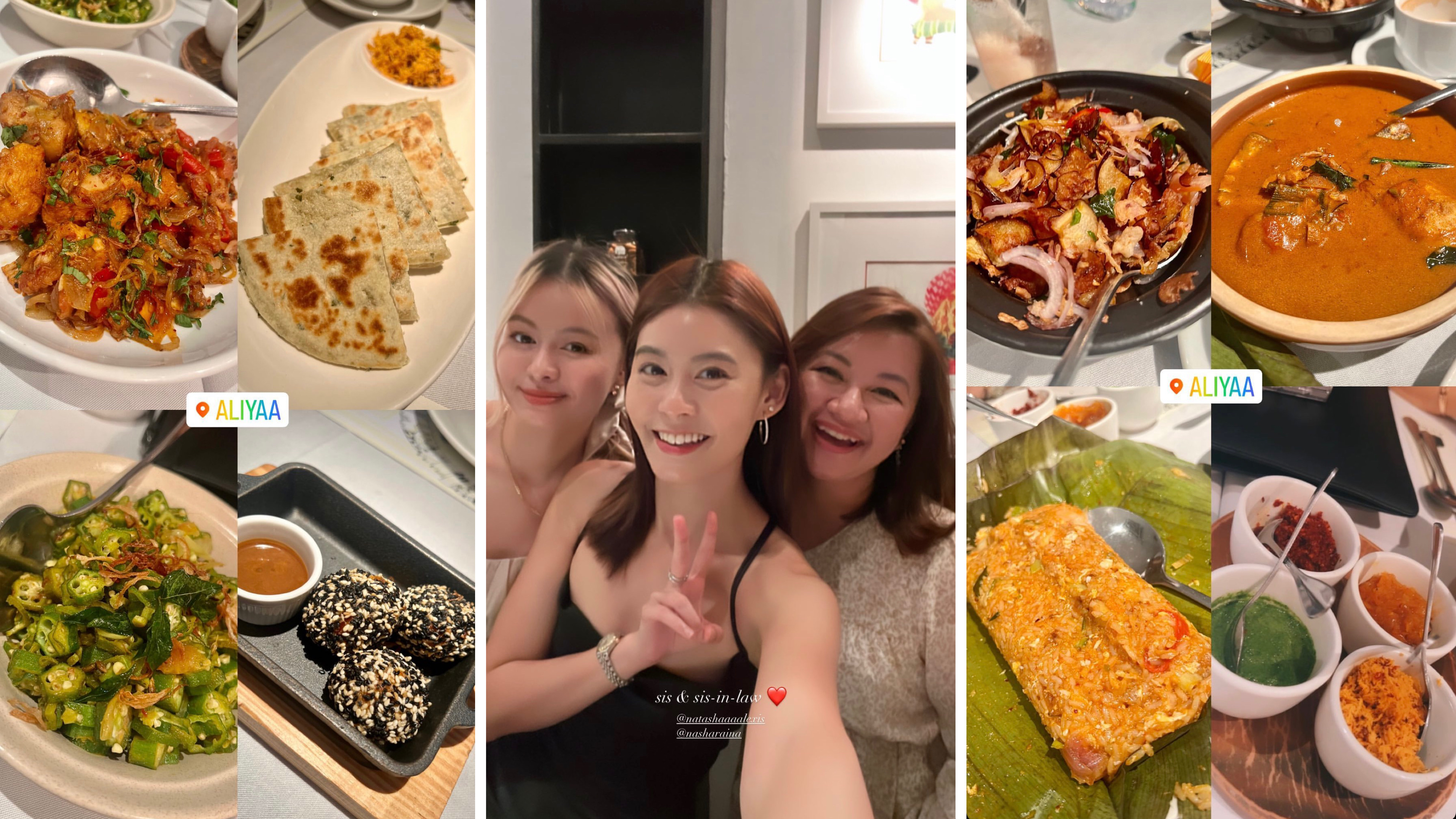 Denise Camillia Tan
What she ate: Sri Lankan food
Yummy factor: Denise's dinner with family at KL-based restaurant Aliyaa was a riot of colours and flavours — think vibrant sambal dips, stir-fried okra, rich curries (perfect with the coconut flatbread), fried rice with eggs and more.
Chen Diya
What she ate: Korean buffet
Yummy factor: Fancy having unlimited amounts of bulgogi, banchan and army stew at a wallet-friendly price? Take Diya's advice and head on down to newly-opened food stall Eonni Korean BBQ for a feast — just go easy on the instant ramyeon, or else you'll be full in no time.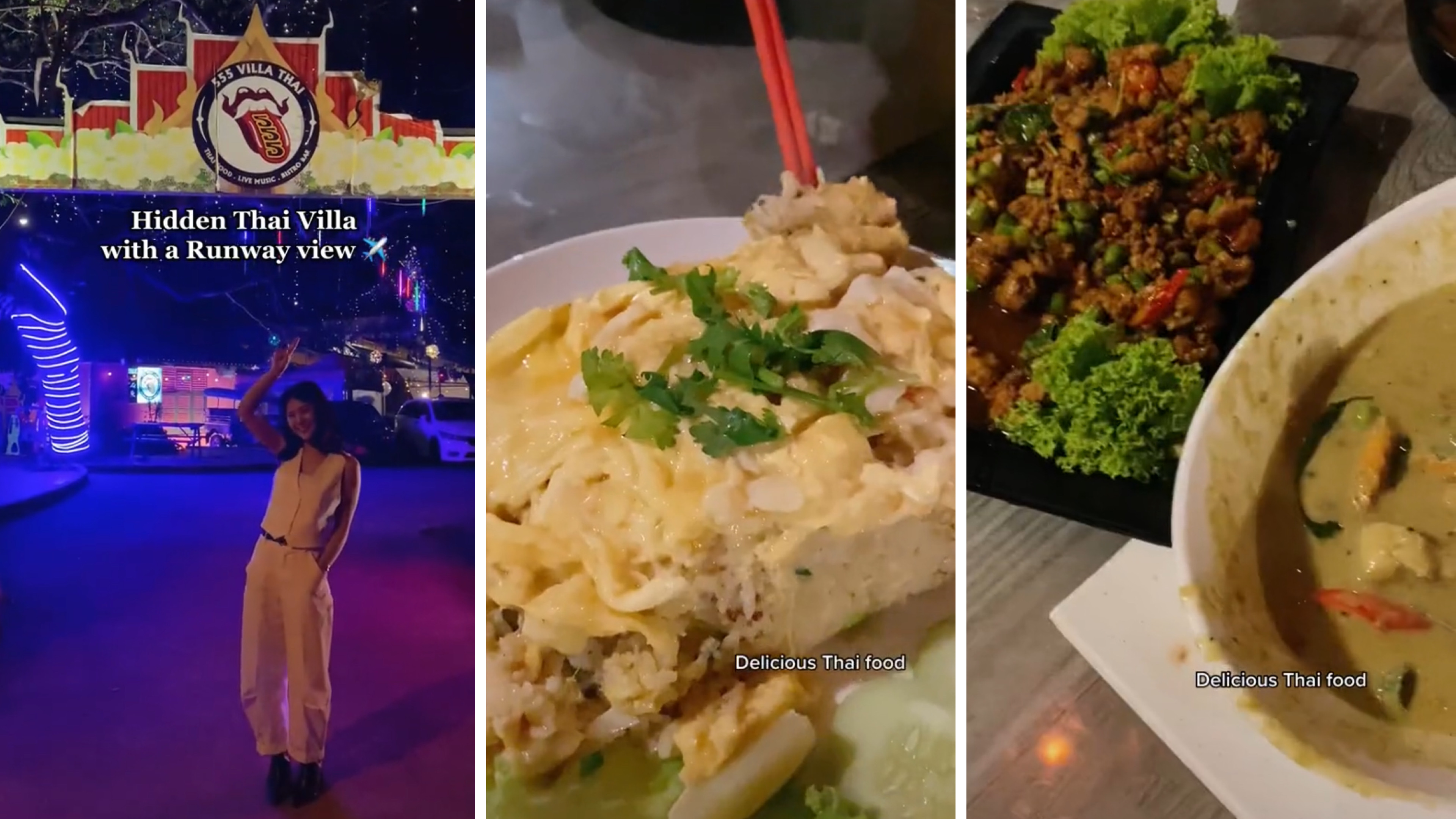 Michelle Wong
What she ate: Thai food
Yummy factor: Looking for a pseudo getaway? At 555 Villa Thai, Michelle enjoyed a quintessential Thai experience without having to leave Singapore. There, she dined al fresco and enjoyed views of the airport runway while munching on Thai classics like basil pork, green curry and more.