Foodie Friday: What The Stars Ate This Week (Jul 15-22)
All the photos that made us hungry this week.
This week, Apple Hong celebrated getting her Singapore citizenship with a yakitori feast, Romeo Tan, Zoe Tay, Priscelia Chan and Jeffrey Xu enjoyed a hotpot dinner, and Felicia Chin met up with Elvin Ng in New York for a spot of sightseeing and lunch. Read on for more.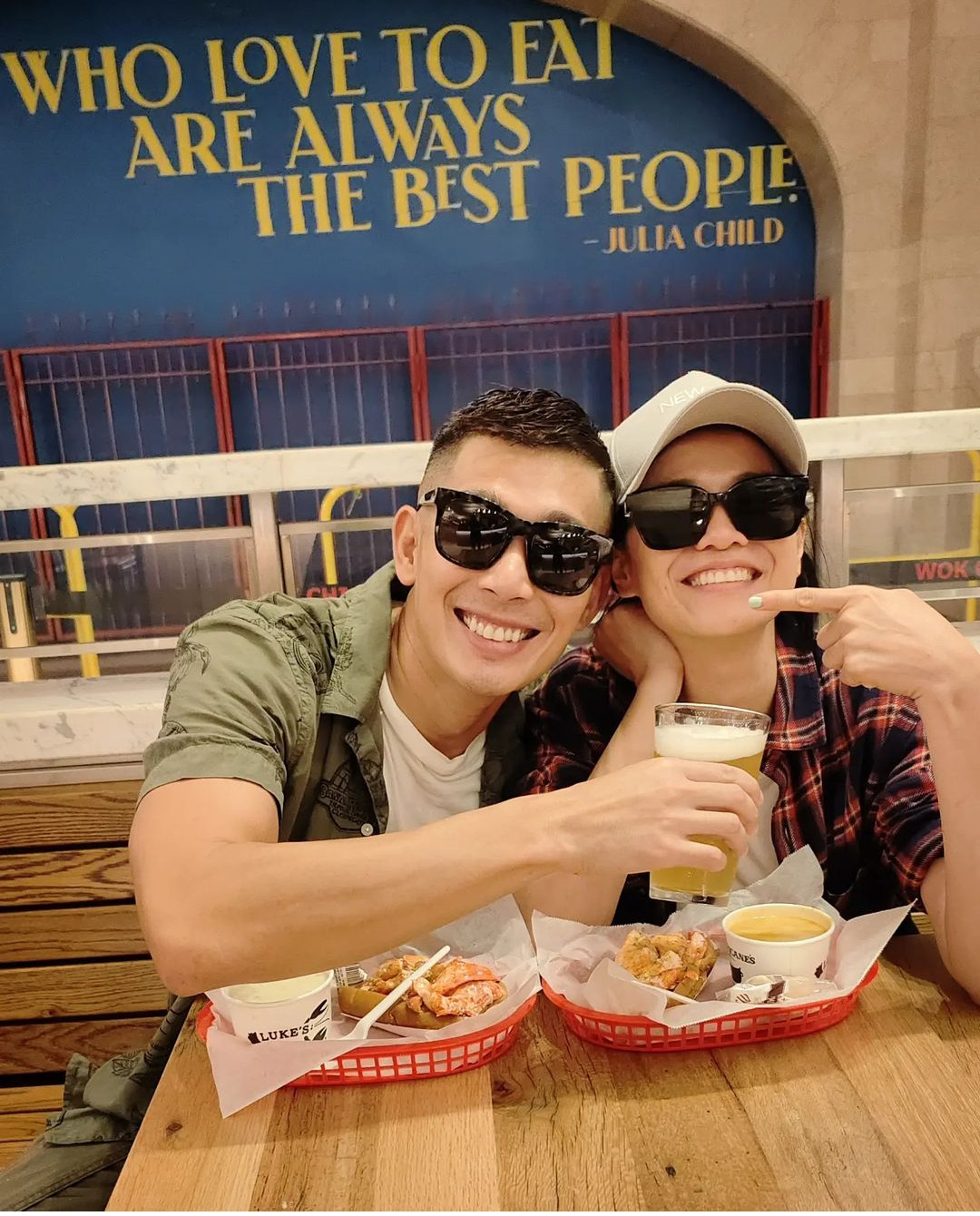 Elvin Ng and Felicia Chin
What they ate: Lobster rolls
Yummy factor: Now that's one meet-up we were not expecting. Felicia, who's holidaying in Vancouver, surprised Elvin by making her way down to New York, where he's currently taking an acting course, and the pair enjoyed a weekend that included sight seeing and indulging in chunky lobster rolls from Luke's Lobster. Now that's definitely one buttery and garlicky meal to remember for them both.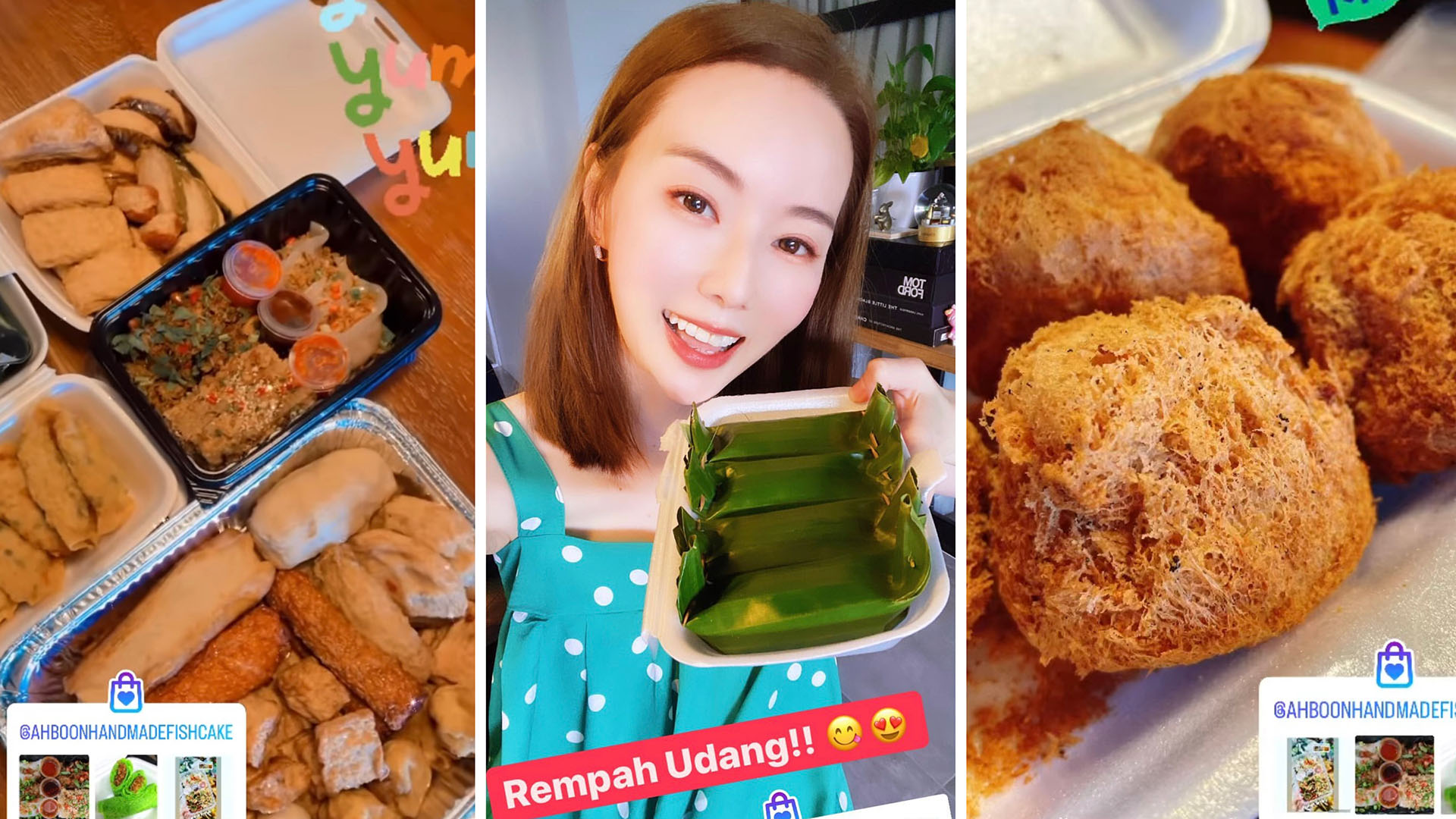 Yvonne Lim
What she ate: Local favourites
Yummy factor: It must feel liberating for Yvonne to be able to enjoy her favourite eats in Singapore without having to toil away in the kitchen. This week, she ordered in a feast from Ah Boon Handmade Fish Cake — aside from their namesake specialty, she also got the rempah udang (spicy dried shrimp wrapped in glutinous rice), fried yam dumpling, kueh platter, and more.
Romeo Tan, Priscelia Chan, Jeffrey Xu and Zoe Tay
What they ate: Hotpot dinner at Uncle Fong Hotpot Restaurant
Yummy factor: While the mala soup base looked most appetising, it was the fruit and vegetable broth that included ingredients like fresh sugarcane and apple and pear slices that caught our eye. The Hong Kong hotpot chain had specially created the flavour for its Singapore outlet, and the celebs enjoyed it with their meats, fish, innards and more.
Chen Xiuhuan
What she ate: Peranakan cuisine
Yummy factor: Xiuhuan brought her second daughter Shalynn Tsai to Violet Oon's to satisfy the latter's cravings for Peranakan food, and we bet both of them left satiated after the rich meal — think chunky grilled satay, kueh pie tee with prawns and beef rendang.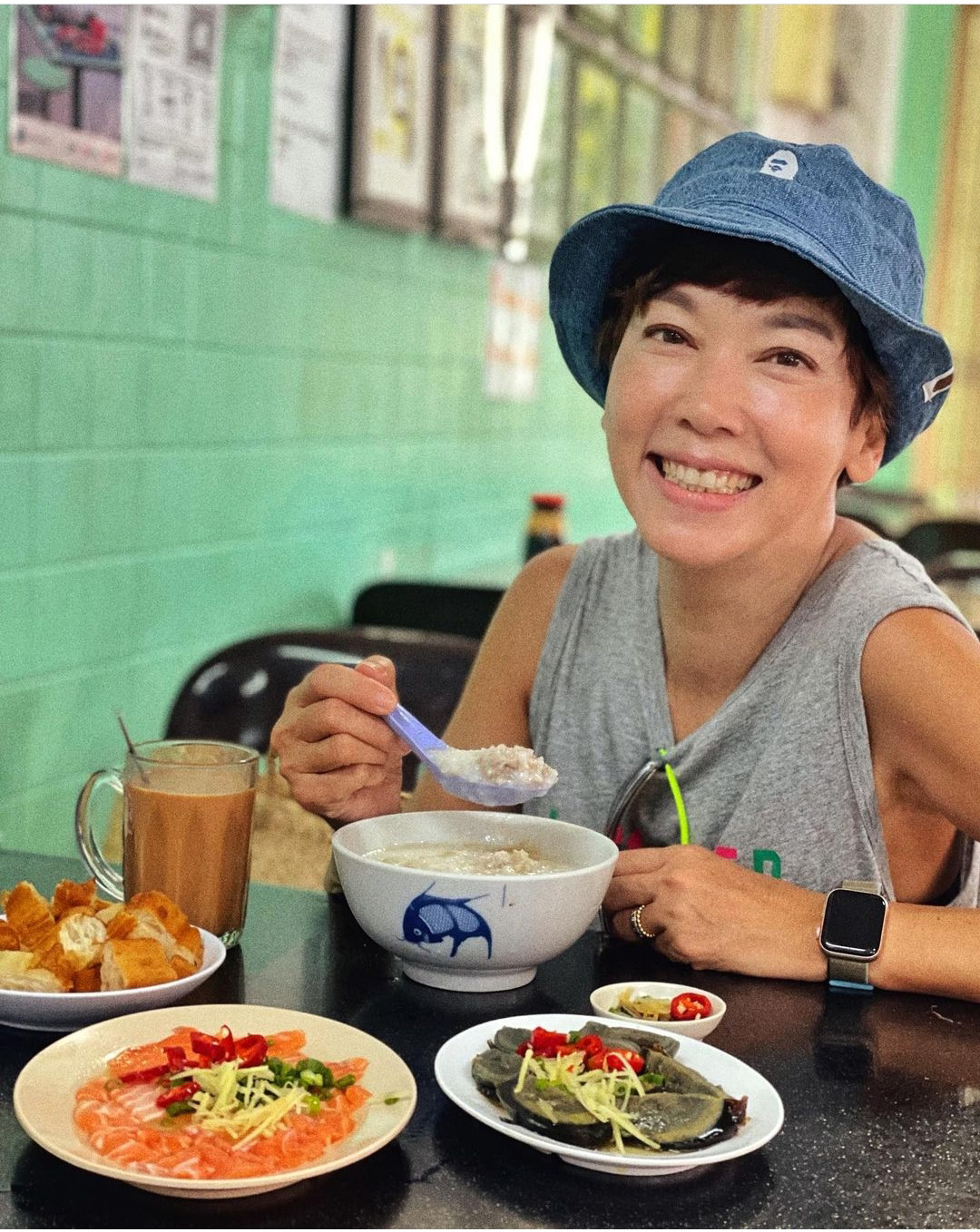 Kym Ng
What she ate: Comfort food
Yummy factor: While the weather may have been balmy, Kym had no qualms about digging into a piping hot bowl of porridge over the weekend at Ah Chiang's Porridge. After all, nothing goes better with congee than yu sheng and sliced century eggs on the side, as well as lots of crisp youtiao.
Belinda Lee
What she ate: Thoughtful dinner
Yummy factor: Although it must have felt unpleasant for both Belinda and her husband David Moore to have contracted Covid-19, thoughtful gestures from their neighbours definitely cheered her up. A nutritious meal with fish, stir-fried greens, soup and even steamed rice was delivered to their doorstep, and Belinda couldn't be more thankful.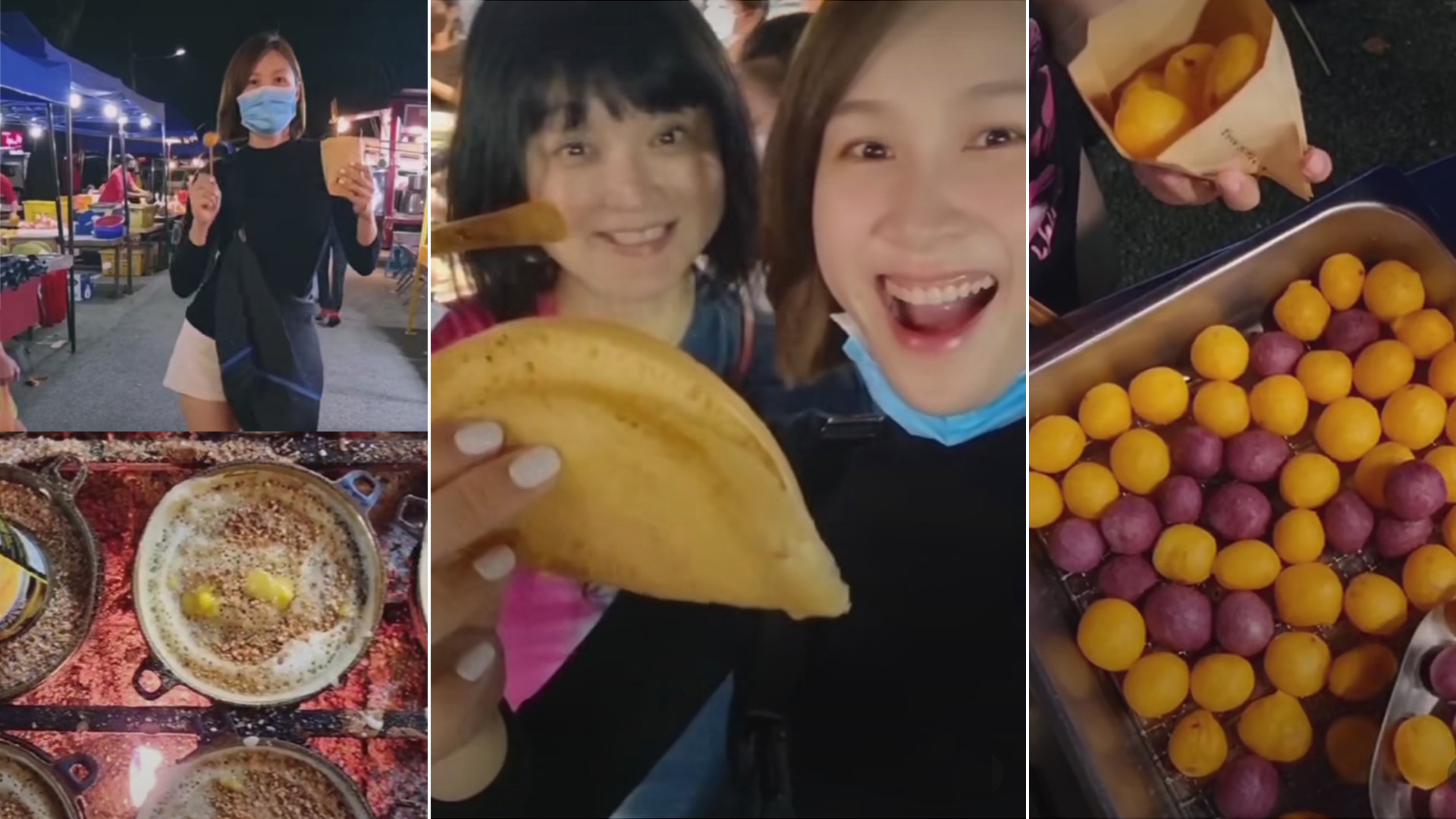 Ya Hui and Chen Liping
What they ate: Street food
Yummy factor: Ya Hui, who is a fan of street food, could not contain her excitement when she spotted a pasar malam during her recent trip to Johor Bahru with BFF Liping. The actress felt so "blissful" after indulging in snacks like fried sweet potato balls and min jian kueh that she broke out into a happy dance.
Apple Hong
What she ate: Yakitori
Yummy factor: Malaysian-born Apple celebrated getting her new pink identity card with a shiok yakitori dinner at Kazu Sumiyaki, which came highly recommended by Michelle Chong. Besides the delectable skewers and grilled wings, Apple said she will be back soon for the fresh abalone and chicken soup.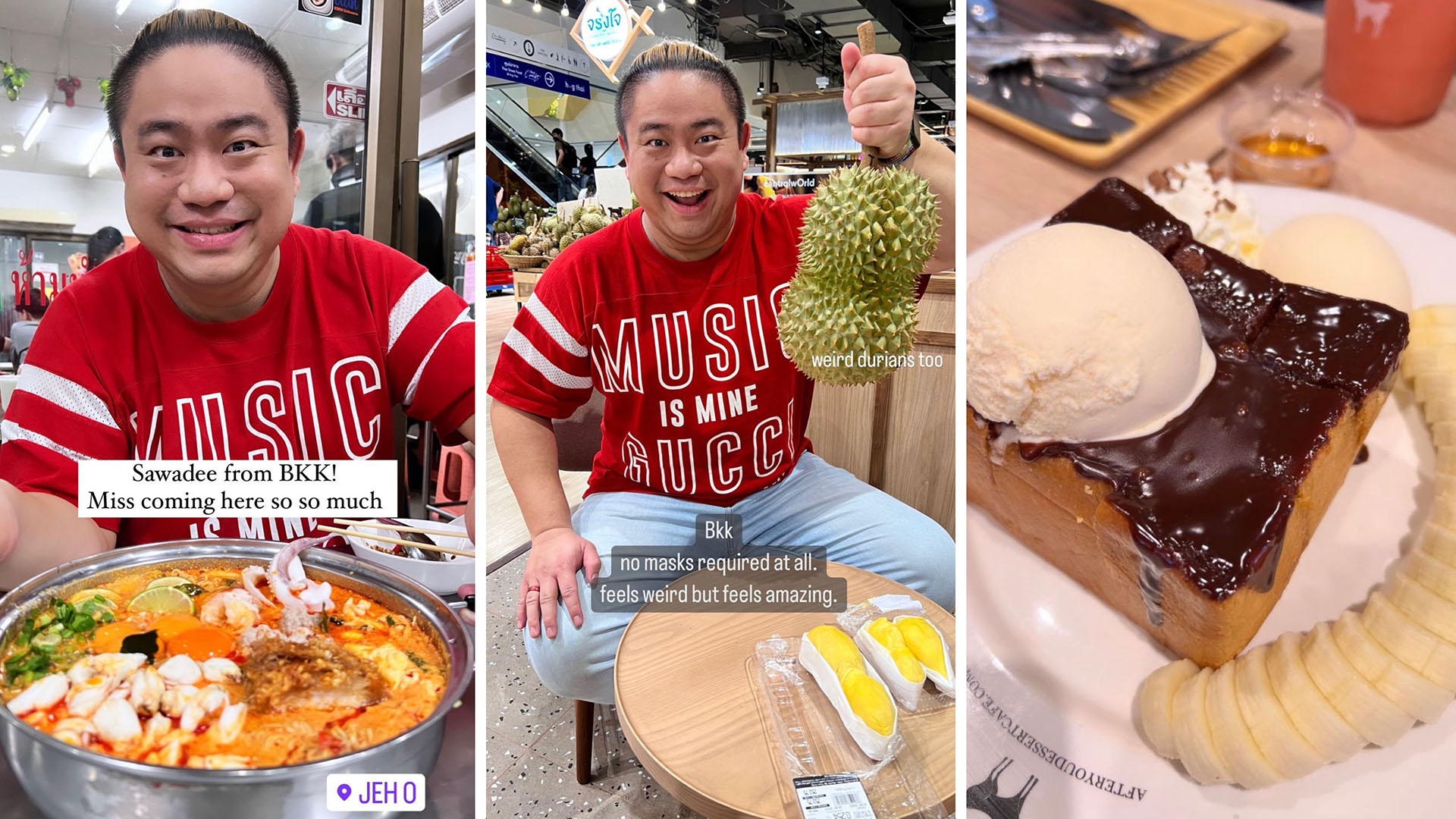 Justin Ang
What he ate: Vacay noms
Yummy factor: From famous supper place Jeh O's tom yum mama noodles (topped with roast pork, seafood, eggs and more) to Thai durian and After You Cafe's Shibuya honey toast, Justin wasted no time in savouring the best of what Bangkok had to offer. Calories don't count on vacays, right?
Jamie Yeo
What she ate: Homemade pho
Yummy factor: It couldn't have been easy for Jamie, who is now based in the UK, to whip up pho from scratch, especially since she probably had to source for Asian ingredients. Nonetheless, she made it happen. Beef bones were simmered with spices and aromatics for depth of flavour, and we love how colourful and wholesome-looking the rice noodle dish turned out.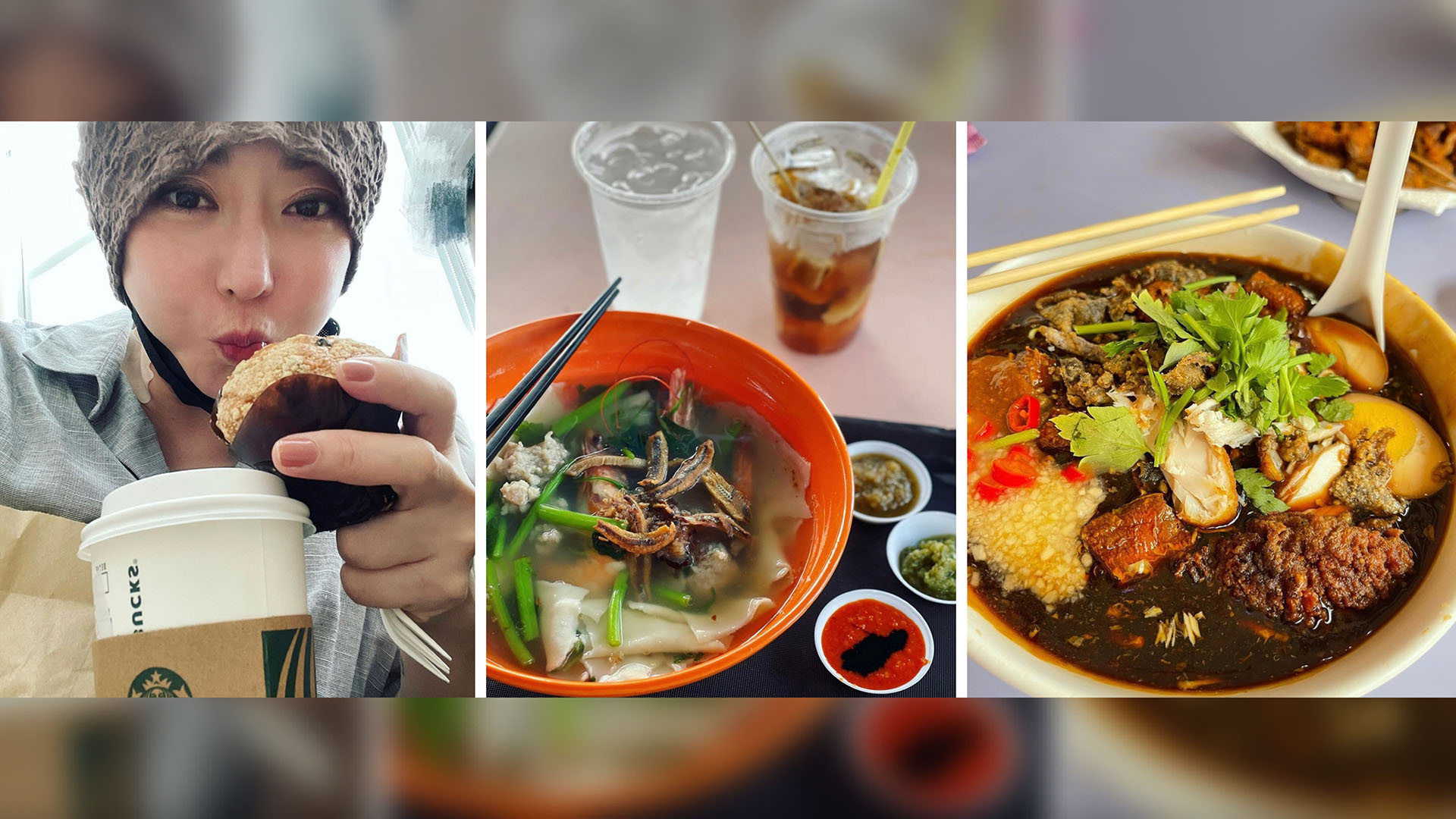 Quan Yifeng
What she ate: Nostalgic favourites
Yummy factor: Yifeng made the most of her day off to indulge in some of her favourite local eats including China Whampoa Ban Mian's mee hoon kueh and glorious lor mee from Xiang Ji's at Old Airport Road Food Centre. And as if that wasn't enough, she got herself a coffee and muffin at Starbucks to conclude her foodie day out with a good book.
He Yingying, Bonnie Loo and Hong Ling
What they ate: Korean barbecue
Yummy factor: Safe to say, Bonnie had a sizzling time at Chang Korean Charcoal BBQ for her belated birthday celebration (she turned 28 on Jul 12). There, the trio grilled marbled beef, pork belly and more while tucking into Korean side dishes and kimchi pancake.
Cynthia Koh
What she ate: Brunch
Yummy factor: Cynthia teased us with snaps of her scrumptious meal at Alice Boulangerie, where we spy mouthwatering highlights like the beef burger with streaky bacon and cheese, steak and tiger prawn capellini. Plus, doesn't the twice-baked strawberry cheese croissant look oh so tempting?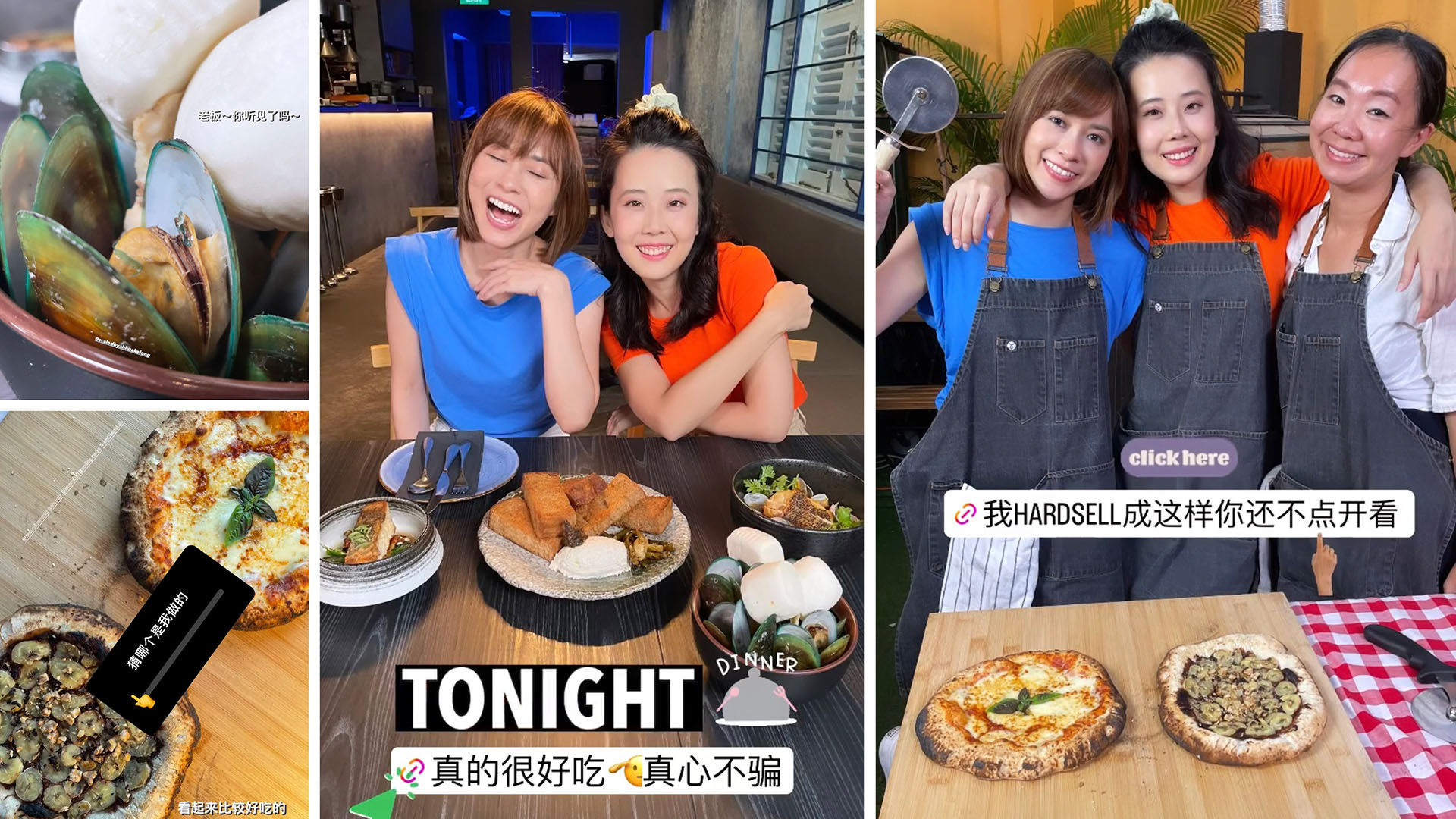 Juin Teh and Jernelle Oh
What they ate: Farm-to-table nosh
Yummy factor: It's all in a day's work for #JustSwipeLah hosts Juin and Jernelle, who ventured out to a local kelong for the freshest catch and unique dishes like dang gui mussels with steamed mantou. Plus, they also got to make their own wood-fired pizzas — formaggi for Juin and nutella banana for Jernelle — at a rooftop farm and lounge. Tune in to #JustSwipeLah for the deets.
Cheryl Wee
What she ate: Indulgent desserts
Yummy factor: While in Bangkok for a quick getaway, Cheryl and her husband Roy Fong visited After You Cafe's original outlet — a popular haunt for desserts in the Thai capital — for their famously thick and buttery Shibuya toasts with ice cream, whipped cream and honey syrup. We know, it sure sounds tempting.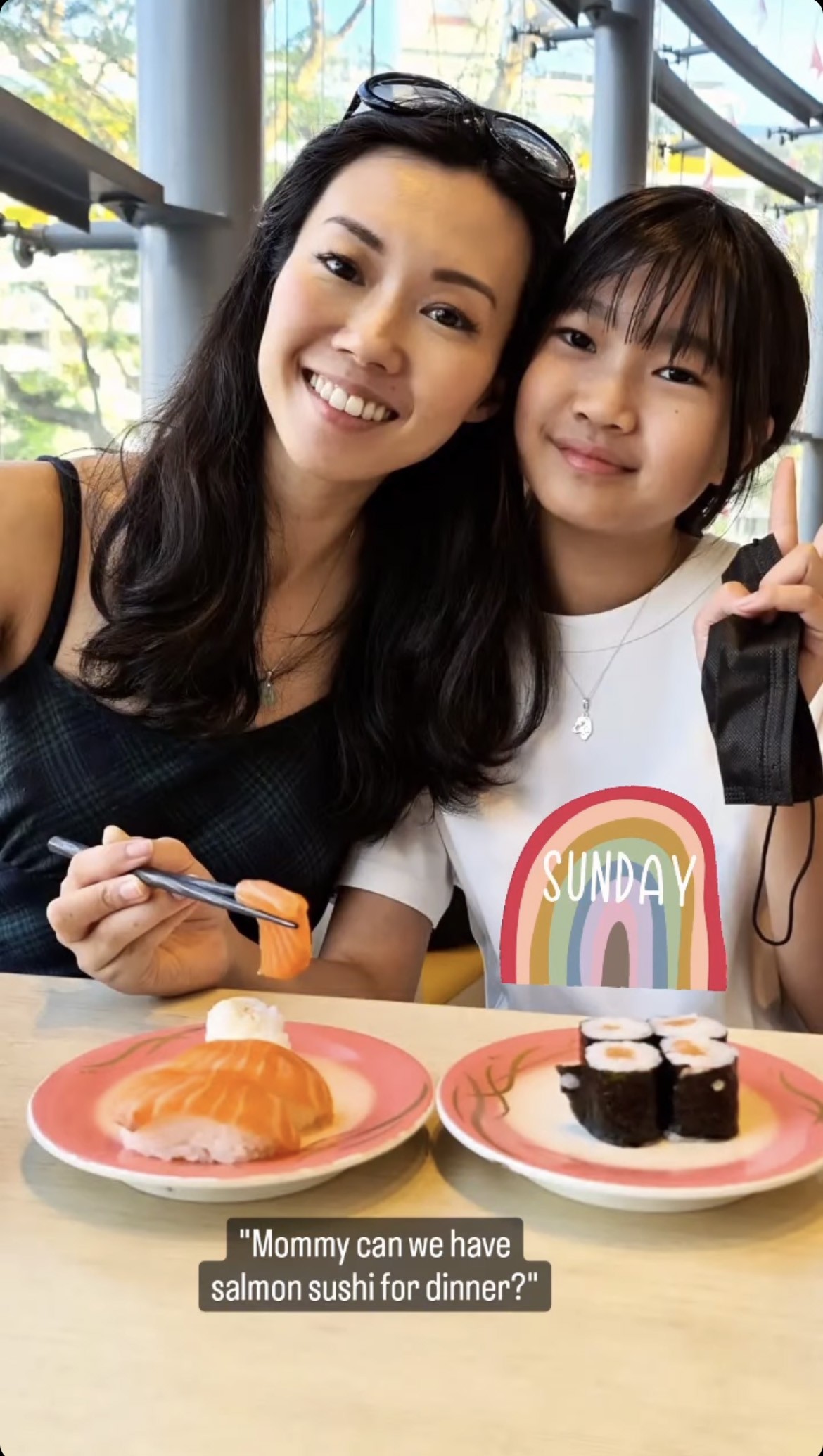 Jaime Teo
What she ate: Sushi
Yummy factor: When Jaime isn't filming Tiktoks with her daughter Renee Ong, the pair can probably be found bonding over food. And since Renee had requested for salmon sushi, Jaime brought her out for a Sunday dinner date to have her fill in both nigiri and maki roll styles. 
Chen Diya
What she ate: Seafood galore
Yummy factor: Even a quick look at the feast Diya had at Orchid Live Seafood Restaurant is inducing a food coma — there were roe-filled crabs, steamed fish, bamboo clams with vermicelli and more. Oh, and it seems like she got to pick out her own lobster to go along with the mayonnaise-coated fruit salad too.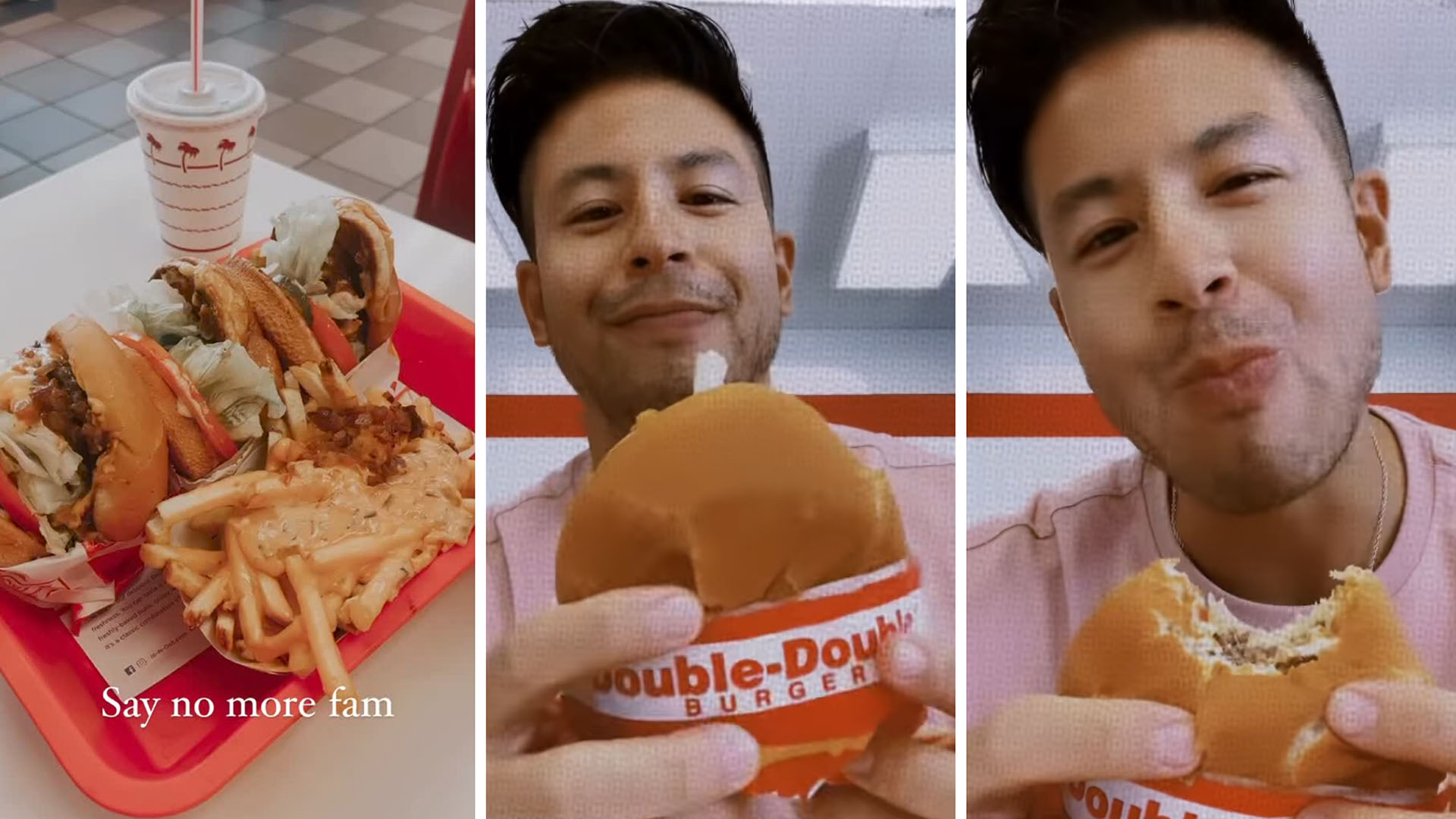 Alan Wan
What he ate: Tantalising burgers
Yummy factor: "Dreams do come true", and for Alan, that means being able to chomp down on loaded fries and a Double-Double burger at fast food chain In-N-Out Burger in the States. We're talking double beef patties, melted cheese and their special house spread sandwiched between fluffy buns.
You Yi
What she ate: Tacos
Yummy factor: You Yi shooed away the Monday blues at cocktail bar 28 HongKong Street, where she managed to enjoy a handcrafted drink or two with their Mexican Monday specials — a trio of hearty tacos with pulled pork, fiery chilli and a spritz of lime.
Nurul Aini
What she ate: Brunch
Yummy factor: Both Nurul and her realtor husband Sofian Roslan squeezed time out for a quick brunch to celebrate his wins at work, although the latter quipped that the spread, which includes what looks like roast beef ribs, lasagne and mushroom soup, was all for him (save for the drops of oil on Nurul's plate). That would explain the actress' pained expression.
Sharon Au
What she ate: Brunch at Saint Martin restaurant La Cible
Yummy factor: Good food can be healing for the soul, especially when it's enjoyed with a picturesque view of sand and sea. Sharon was all smiles as she enjoyed her beachside meal — shucked oysters, cod fritters, Vietnamese spring rolls and more — at the restaurant bar.