Foodie Friday: What The Stars Ate This Week (Jul 29 - Aug 5)
 All the photos that made us hungry this week.
This week, Felicia Chin celebrated her first day at her new job with a comforting dinner with Jeffrey Xu, Chantalle Ng made porridge for Romeo Tan, and ex Mediacorp actor Jeff Wang, who's back in Singapore, met up with pals like Apple Hong, Michelle Chia and Zhang Yaodong. Read on for more.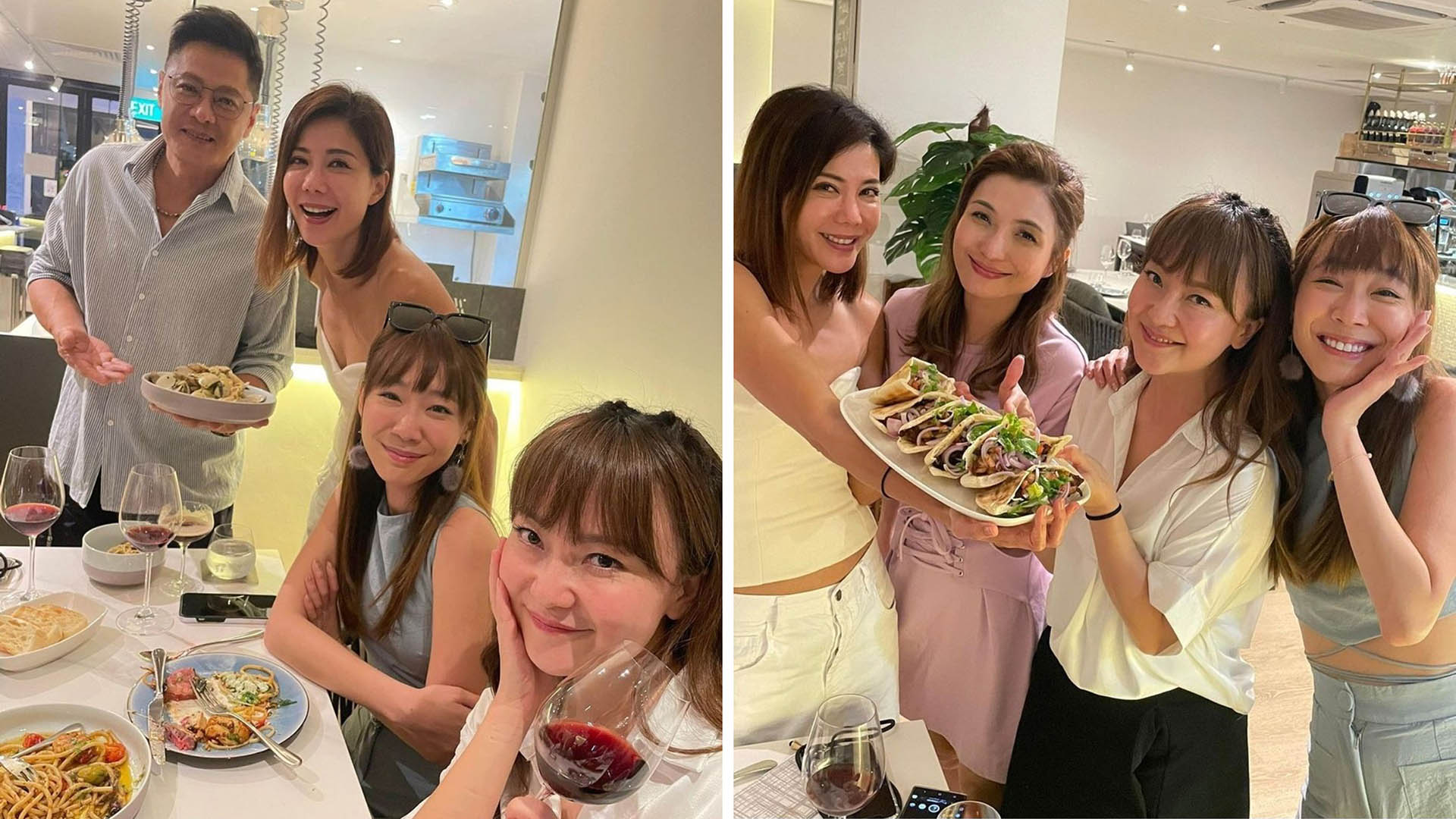 Li Nanxing, Constance Song, Julie Tan, Kemin and Vivian Lai
What they ate: Mediterranean cuisine
Yummy factor: The celeb pals looked like they had a fab time at Mediterranean grill restaurant White Marble sipping on wine and savouring pastas like linguine vongole and prawn bucatini puttanesca. The pita bread — stuffed with all things delicious — looked like the crowd favourite though.
Chen Xiuhuan
What she ate: Penang food
Yummy factor: Xiuhuan gave in to her cravings and headed to Penang Kitchen to have her fill of Penang-style classics — think char kway teow with lots of wok hei and kueh pie tee. We've got our eye on the assam laksa that was chock full of pineapples.
Felicia Chin and Jeffrey Xu
What they ate: Fish head steamboat
Yummy factor: Thanks to Jeffrey, Felicia ended her first day at her new job on a delicious note. The supportive boyfriend picked her up from work, took her for fish head steamboat (Felicia's pick), and even gave her all the greens in the broth when she mentioned that she liked them. Too sweet.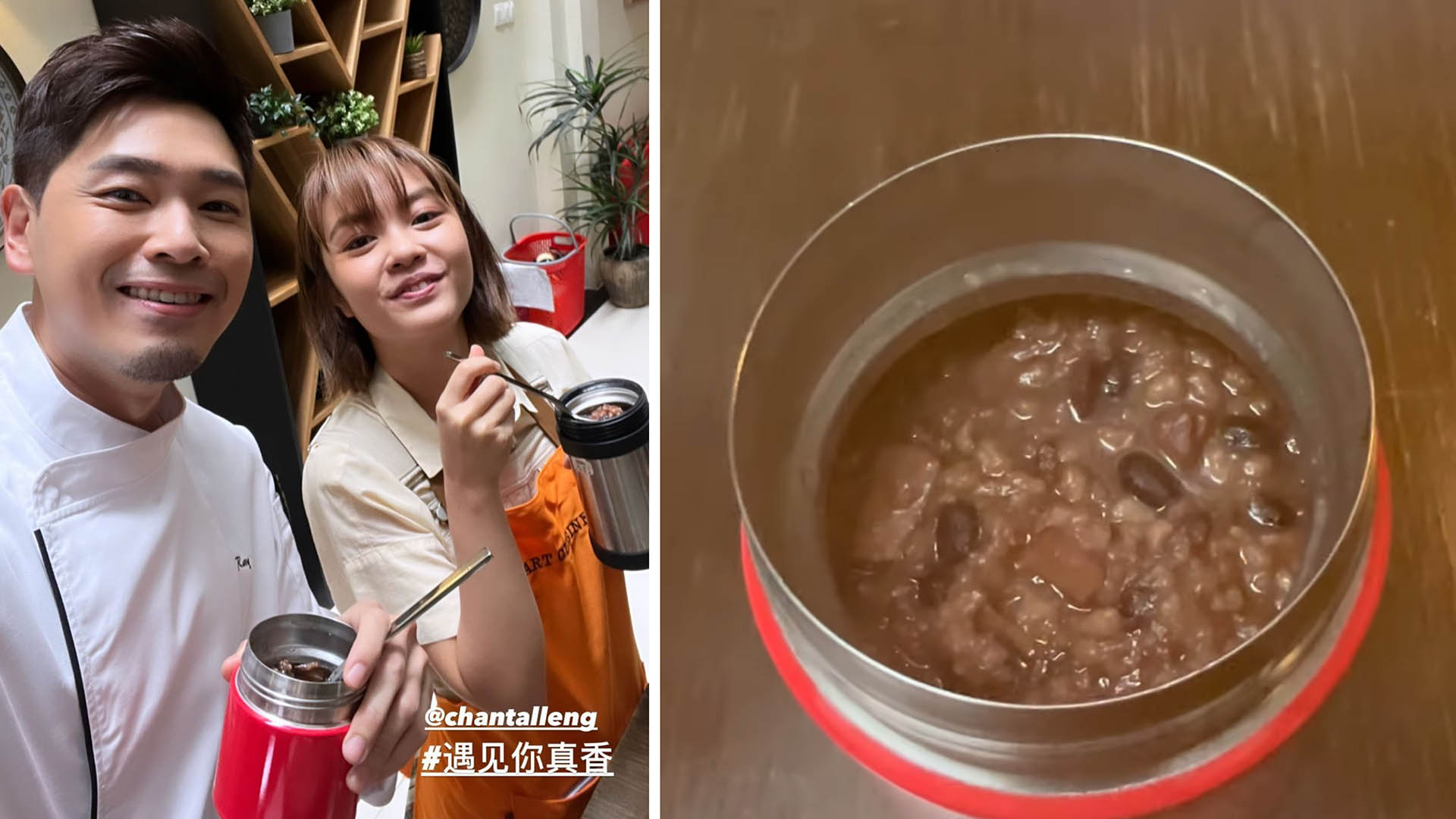 Romeo Tan and Chantalle Ng
What they ate: Homemade porridge
Yummy factor: Chantalle scored brownie points with Romeo this week when she made porridge for breakfast and brought along a portion for him. She even made sure to pack it in a thermo flask so that it'd be piping hot when he opened it. How thoughtful is that?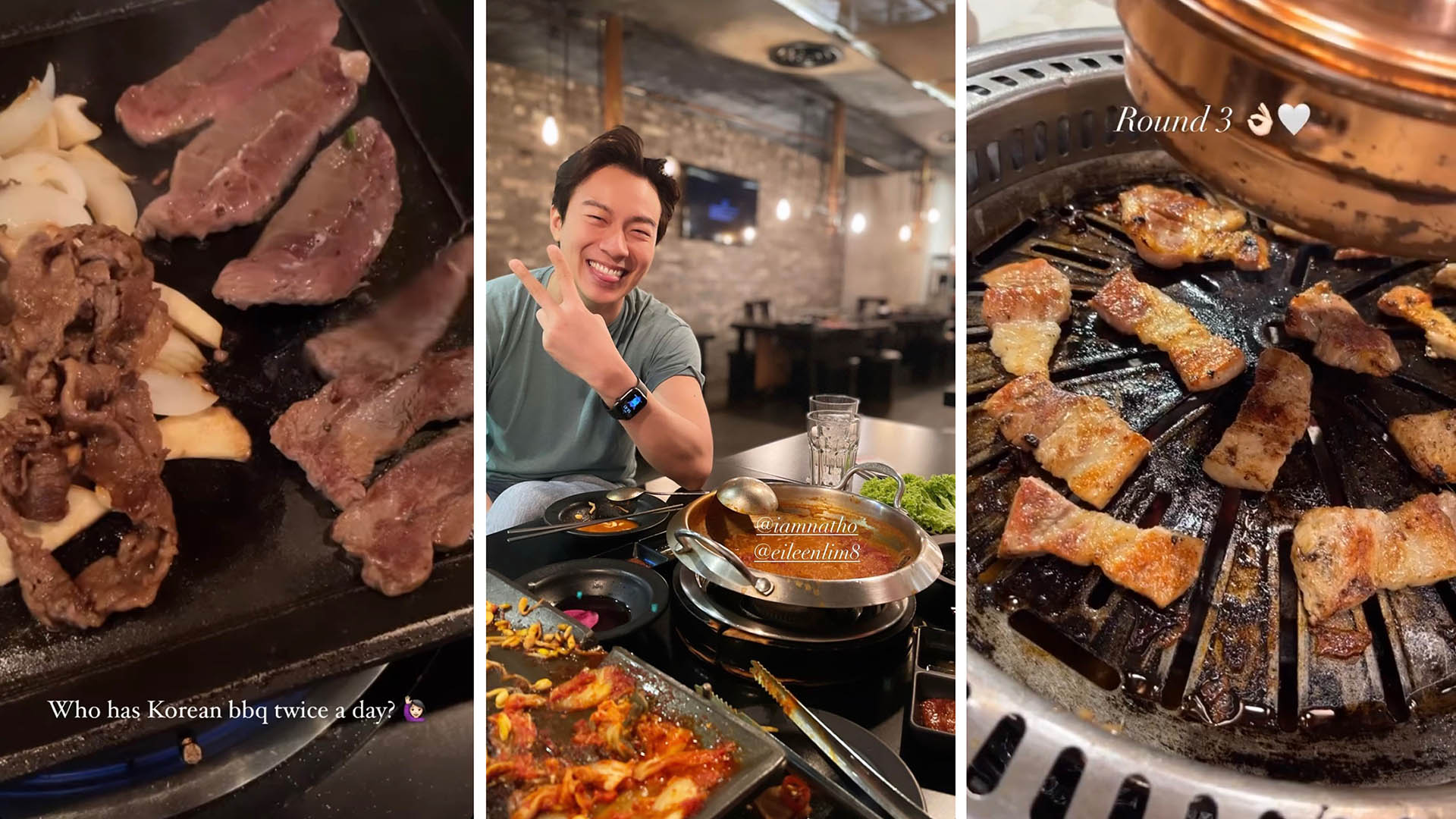 Nat Ho and Rebecca Lim
What they ate: Korean BBQ
Yummy factor: Looks like Rebecca has been on a K-food eating spree. The actress met up with Nat for what looks like army stew and Korean BBQ (her second one of the day) and even had another round later in the week.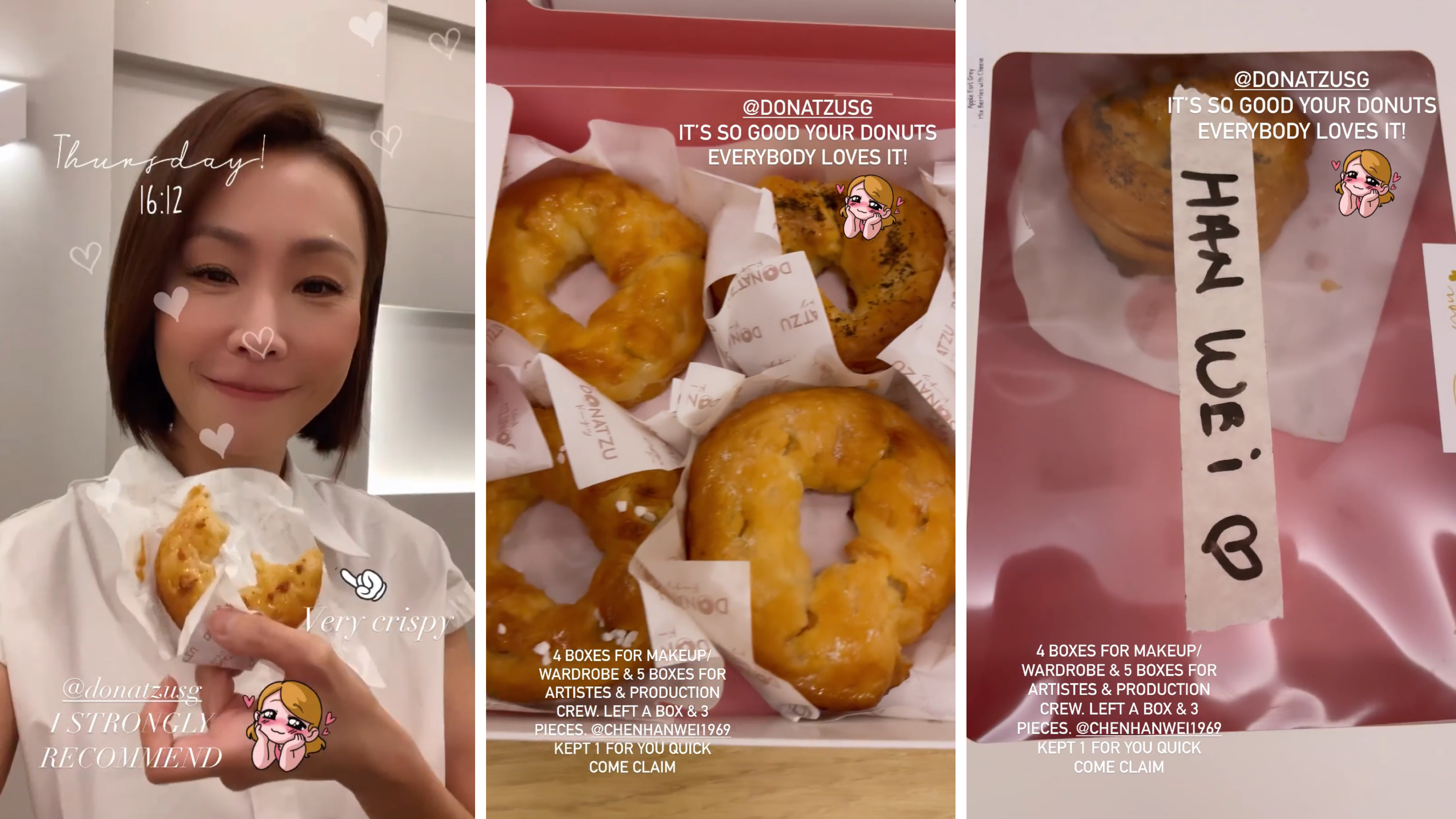 Ann Kok
What she ate: Japanese donuts
Yummy factor: Thanks to Ann's sweet gesture, everyone on the set of upcoming long form drama Healing Heroes got to munch on delish donuts from Japanese bakery Donatzu. And even as Ann enjoyed her durian-flavoured treat, she made sure to keep one aside for her co-star Chen Hanwei.
Edmund Chen and Chen Xi
What they ate: Steamed fish
Yummy factor: Both father and son were back at Golden Mile Food Centre for their favourite steamed fish set from hawker stall Chi Le Ma. And this time, they made use of their CDC vouchers to pay for their shiok meal — talk about double the joy.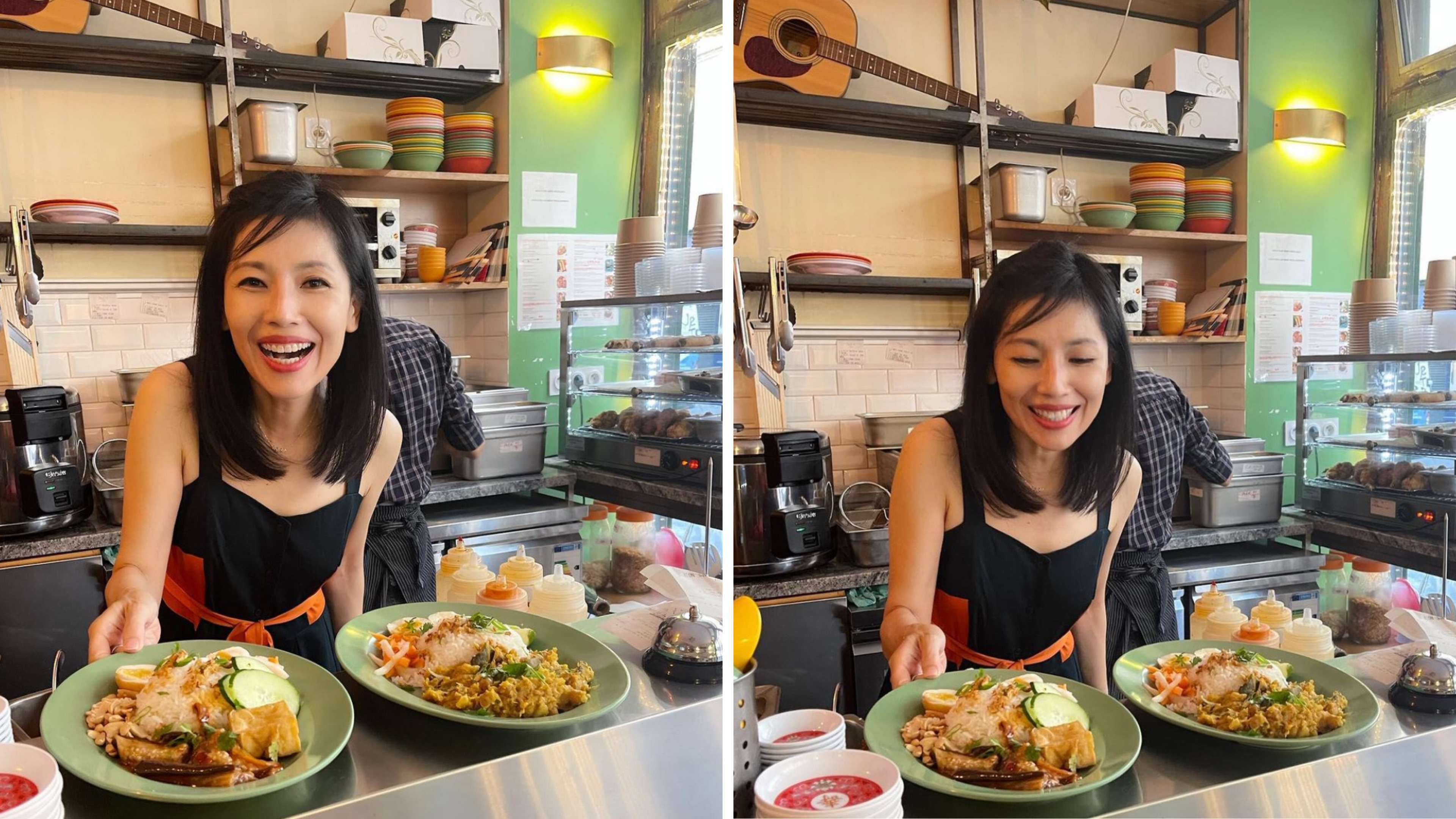 Sharon Au
What she ate: Chicken rice
Yummy factor: Sharon, who's in Paris, celebrated her lunar birthday — which happens to fall on Qixi, or Chinese Valentine's Day (Aug 4) — by having a taste of home at her go-to cafe, The Hood. Although she mentioned that she had Singapore-style chicken rice, we noticed that the version she had came with a couple of twists like fried chicken and peanuts.
Ben Yeo and Violet Fenying
What they ate: Pandan snacks
Yummy factor: It was all things pandan for Ben and LOVE 972 DJ Violet. Not only did they get their hands on slices of pandan chiffon cake, there were also pandan-flavoured egg tarts from Tai Cheong Bakery to snack on. With so much green going on, Violet even quipped that Ben was dressed to match.
Jeff Wang
What he ate: Italian dinner
Yummy factor: What a scrumptious reunion it was for ex Mediacorp actor Jeff Wang — who's back in Singapore — and his pals (we spy Apple Hong, Michelle Chia and Zhang Yaodong) at Italian restaurant Supply & Demand. There, they caught up over mussels simmered in white wine, truffle mushroom arancini (risotto croquettes) and more. And as simple as grilled bread may sound, the bite-sized tomato bruschetta topped with smoked salmon, parma ham and cured sausage was a popular choice. 
Hazelle Teo, Seow Sin Nee and Guo Liang
What they ate: Stir-fried beef vermicelli and potato salad
Yummy factor: Will Hazelle and Guo Liang's culinary skills match their eloquence on screen? The Wonder Shop hosts got busy in the kitchen for #JustSwipeLah, and Sin Nee was full of praise for the potato salad Guo Liang whipped up. Sweetened with apples and tossed in mayonnaise, it's reminiscent of the appetisers he used to enjoy in Shanghainese western restaurants as a kid. As for Hazelle's attempt at stir-frying beef vermicelli... well, Sin Nee's expression says it all. Watch #JustSwipeLah to find out how her dish turned out.
Patricia Mok
What she ate: Roast chicken noodles
Yummy factor: Instead of having her usual wanton noodles from Toong Kwoon Chye in Kuala Lumpur's sweltering heat, Patricia decided to go for roast chicken noodles and dine in air-conditioned comfort instead. Not a bad idea.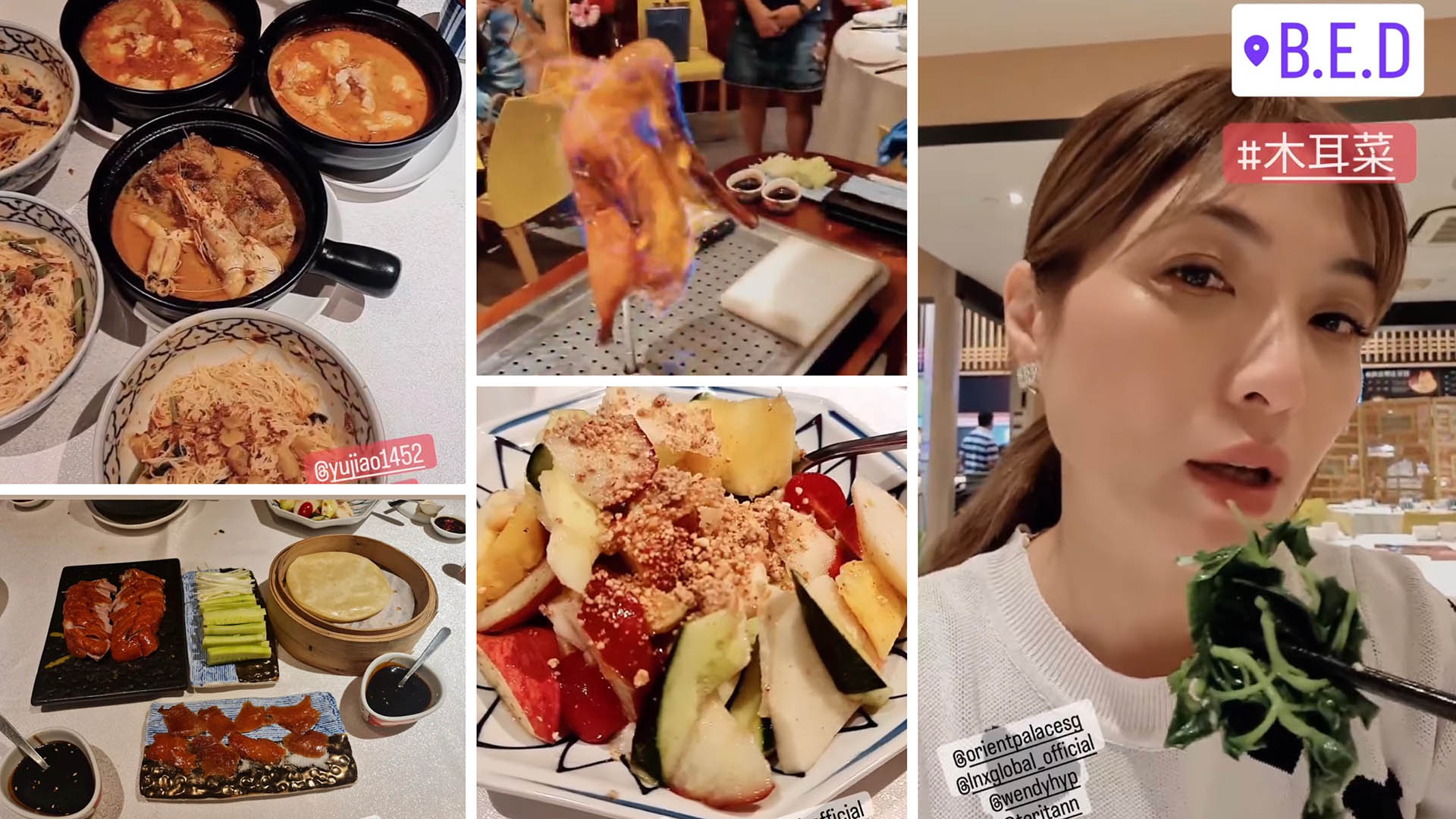 Vivian Lai
What she ate: Delectable spread
Yummy factor: Boy did Vivian eat her fill of delish nosh at multi-concept food hall B.E.D. Not only did she try mu er cai, which is like spinach, from Orient Palace for the first time, she also got to indulge in their signature flambe applewood Peking duck, as well as tasty prawn noodles from House of Shrimp King. And how could she resist a refreshing fruit rojak from The Good Food Life?
Michelle Wong
What she ate: Potluck dish
Yummy factor: Michelle made a creamy sun-dried tomato and chicken dish for a dinner party with friends, and it was a hit. She recommends pairing it with burrata cheese for an even more decadent meal, or with pasta. Check out her recipe on Tiktok here.
Nick Shen
What he ate: Crepe
Yummy factor: The Titoudao star, who's in Phuket, enjoyed what looks like a dessert crepe stuffed with fruits from a street food stall. It must have been a pretty satisfying treat with the thick chocolate sauce on the side.
Tay Ying, Hazelle Teo and Kayly Loh
What they ate: Cafe noms
Yummy factor: What better way to start the day than with your pals and a hearty breakfast? The dance buddies met up at the Five Oars Coffee Roasters' newest outlet at Tanjong Pagar for a cup of joe and brunch fare like toast with eggs, mushrooms and hashbrowns.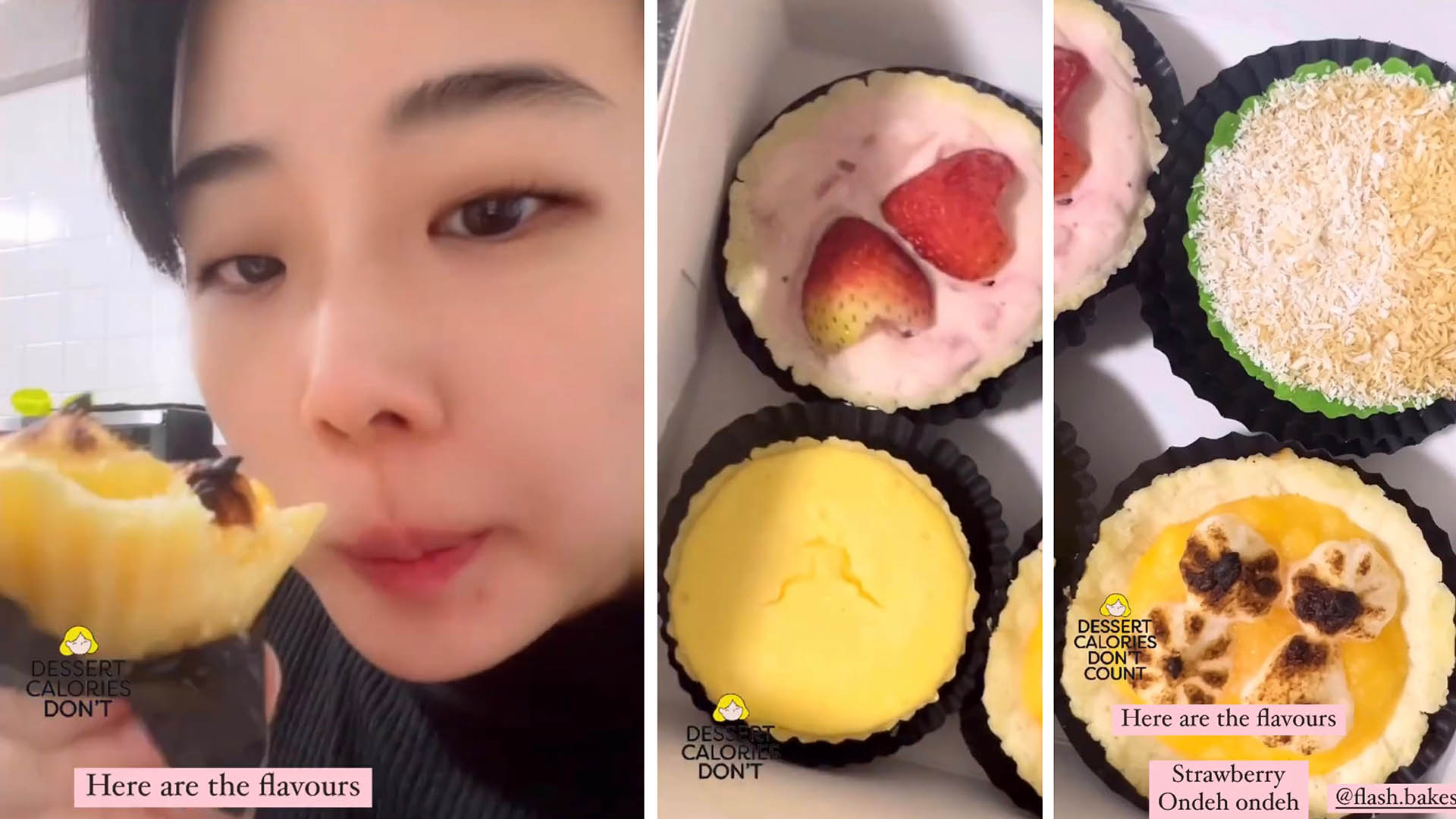 Jernelle Oh
What she ate: Egg tarts
Yummy factor: Fancy egg tarts with thin crusts and unique flavours like ondeh ondeh and lemon meringue? Jernelle got her hands on some from home-based bakery Flash Bakes, and the fusion bakes sure look delish with their vibrant colours and toppings.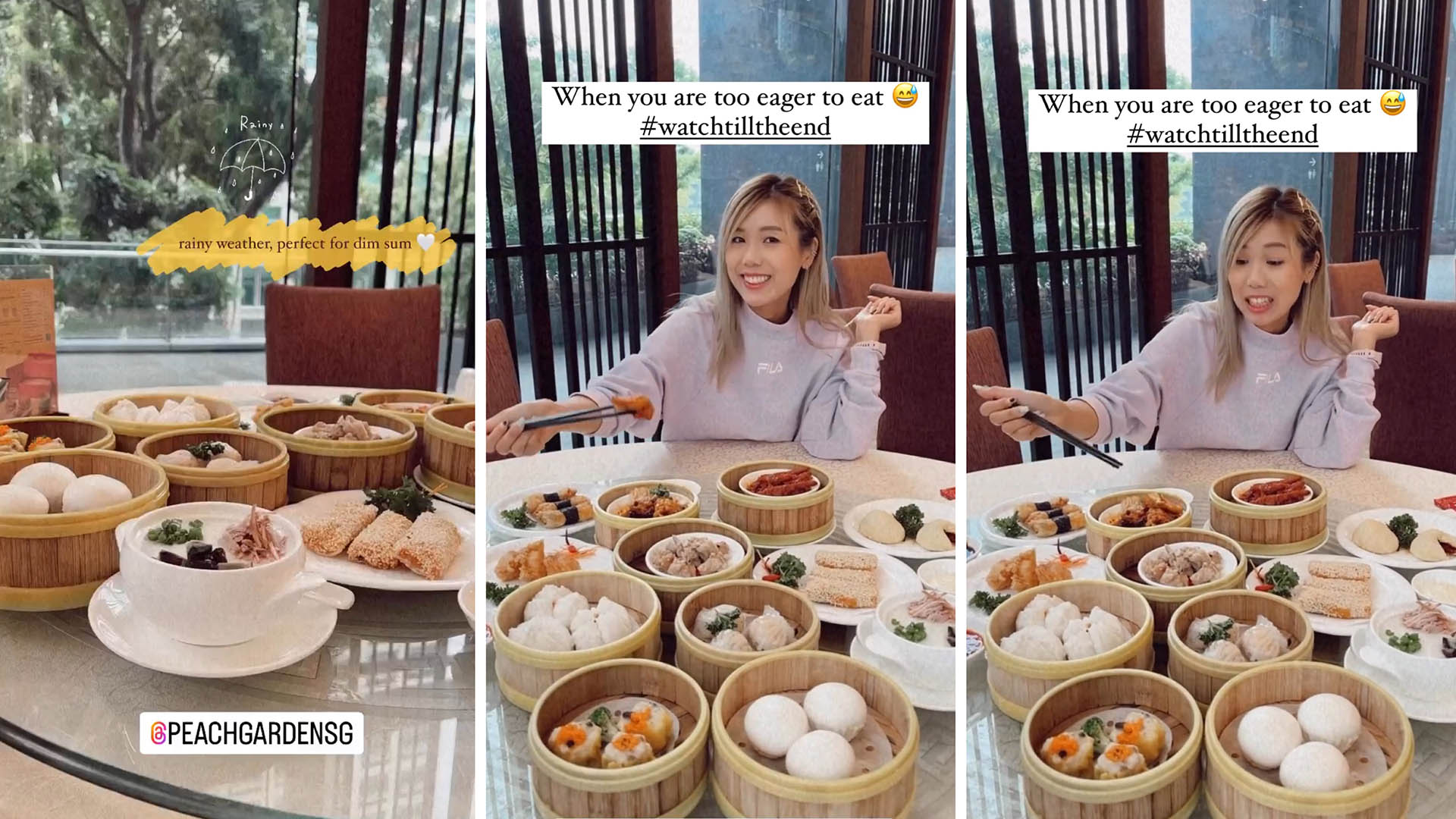 Evelyn Tan
What she ate: Dim sum at Peach Garden
Yummy factor: Sweater weather has got nothing on Evelyn. The YES 933 DJ had a cosy time at the Cantonese restaurant munching on steaming hot dim sum like siew mai, char siew pau, century egg porridge, and more. She was so eager to get started on the food that she dropped her fritter.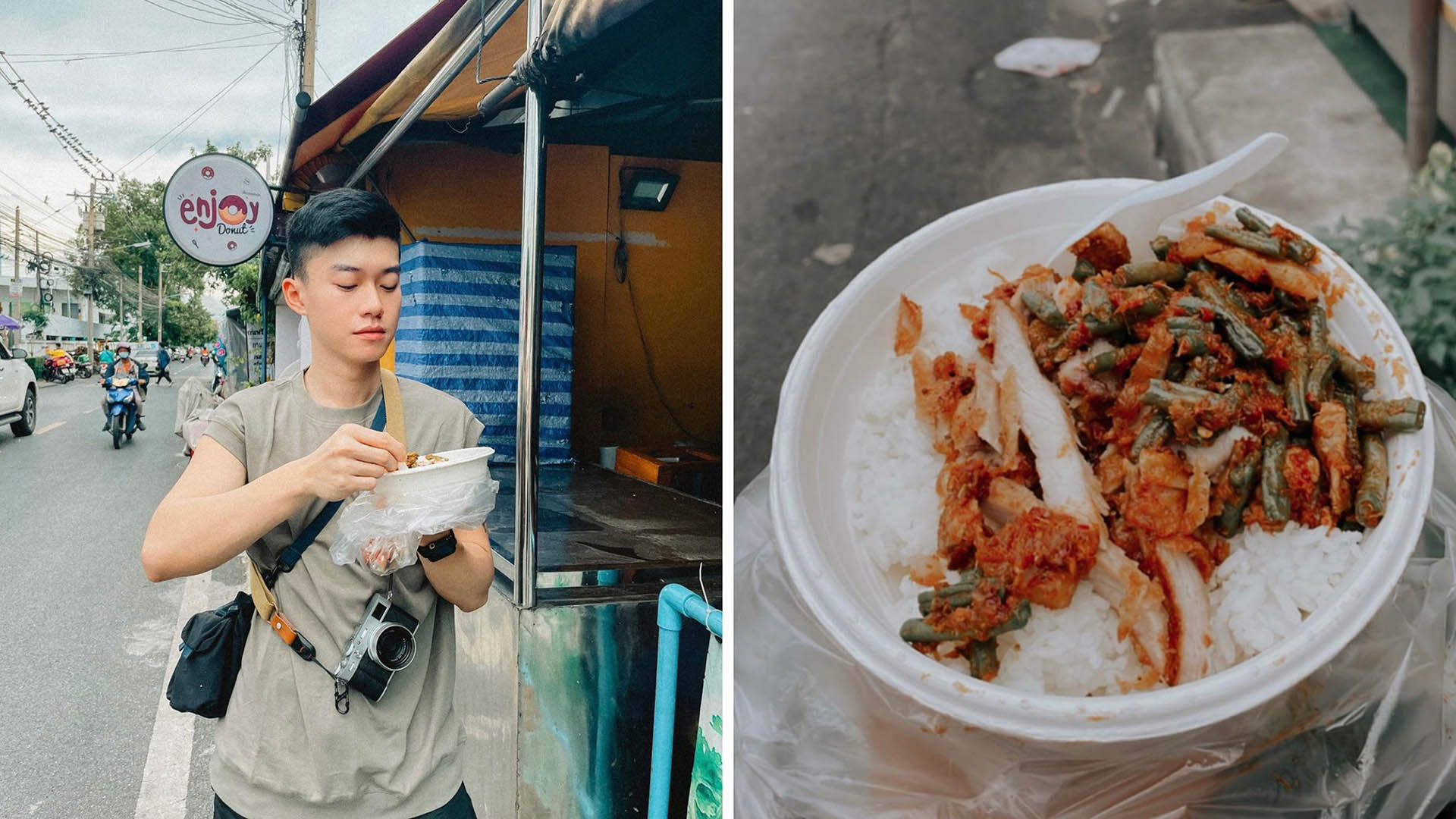 Zhu Zeliang
What he ate: Thai street food
Yummy factor: With his sling bag, camera and street food — rice topped with fried cutlet and what looks like spicy stir-fried long beans — in hand, the YES 933 DJ certainly looked the part of a tourist while exploring Bangkok.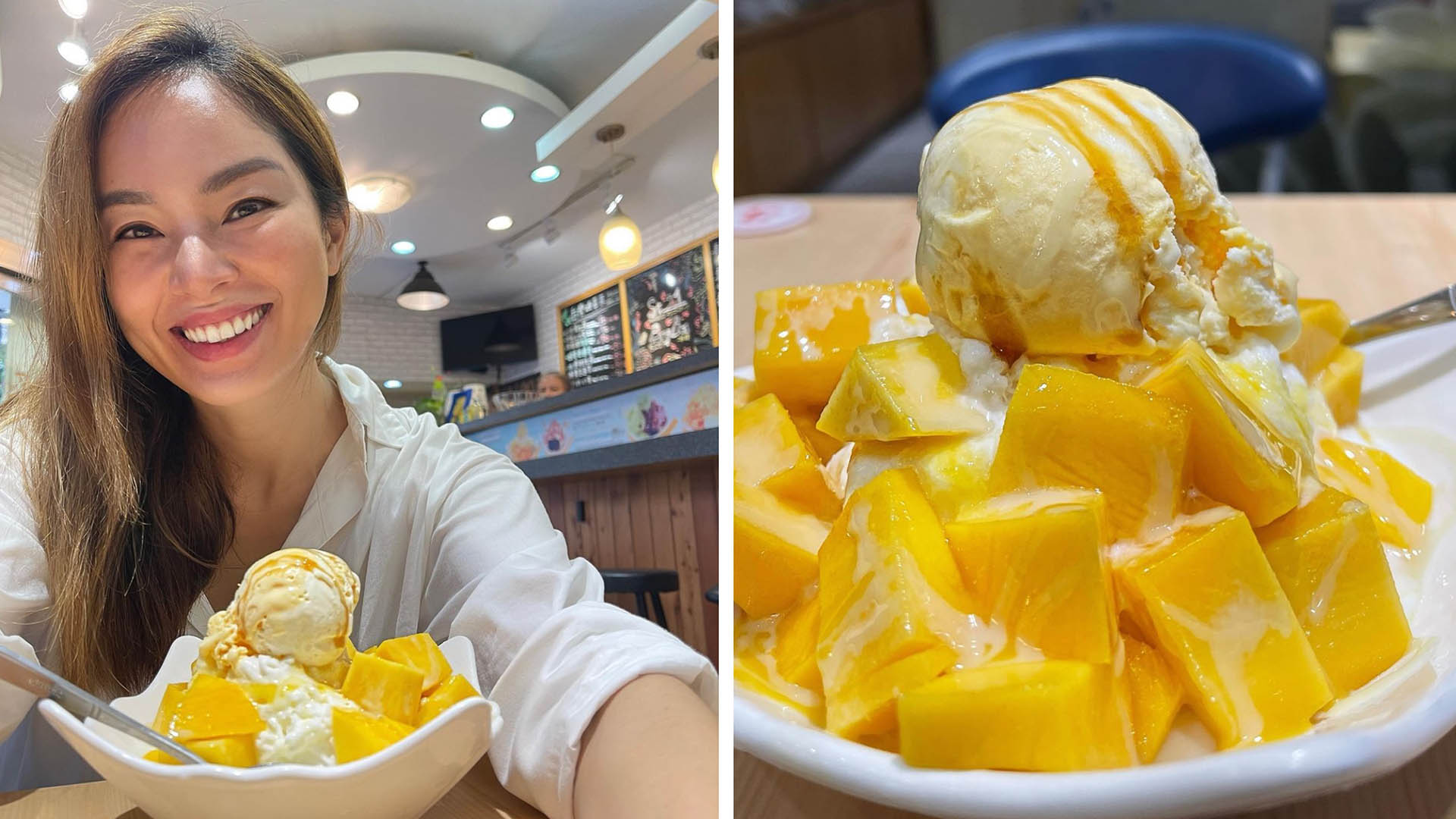 You Yi
What she ate: Mango shaved ice
Yummy factor: Ah, the joys of getting out of quarantine. The first thing You Yi did after leaving her hotel in Taiwan was to head to dessert store St. 21 Bing Zhan for a refreshing bowl of mango shaved ice topped with ice cream and cubed fruit. Mangoes are in season and she probably needed something indulgent after being cooped up in her room for days.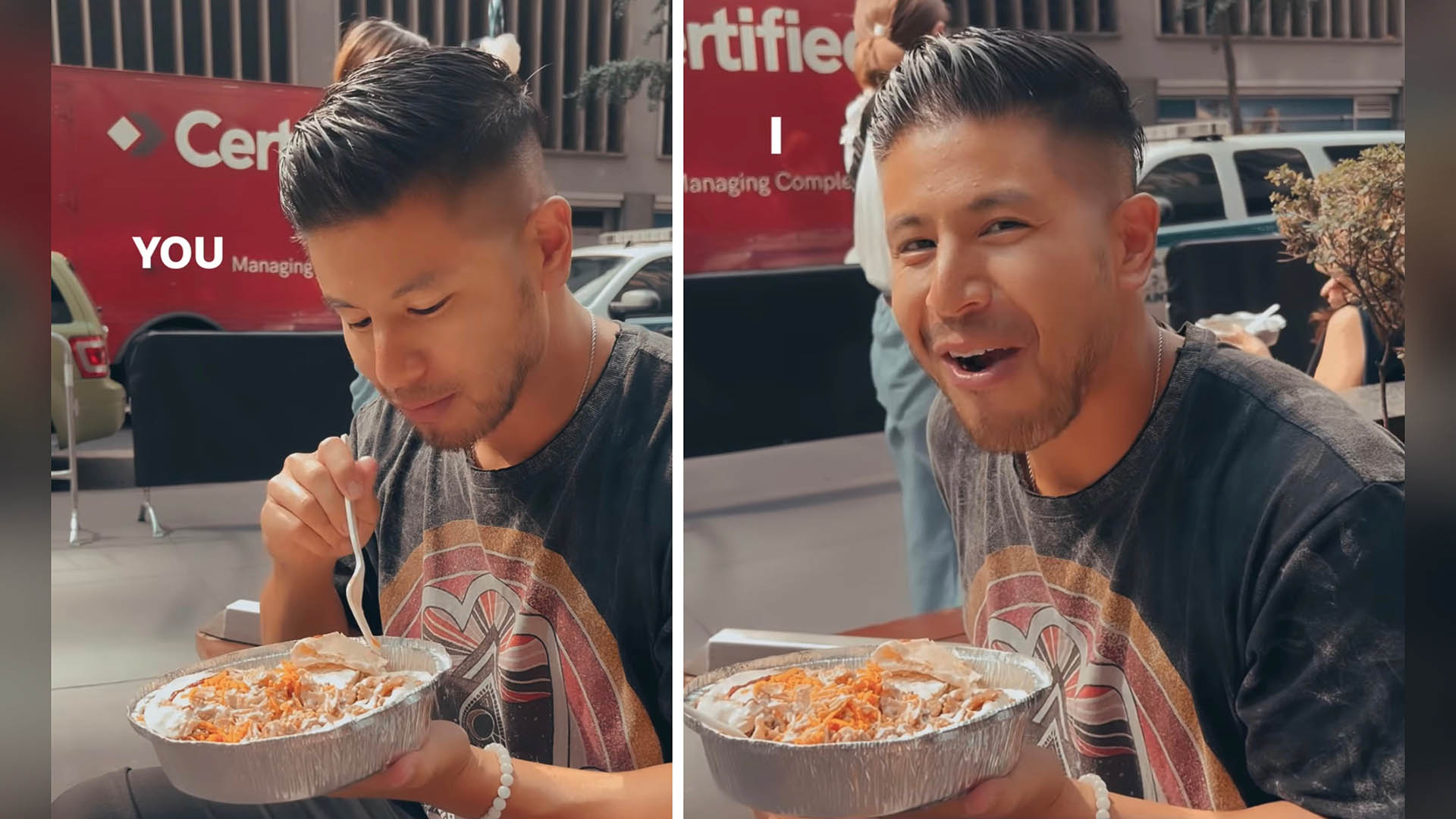 Alan Wan
What he ate: American halal nosh
Yummy factor: Alan's recommendation for anyone visiting New York City? Head straight to one of The Halal Guys' food carts for the good stuff. And while the aluminum foil dish doesn't look like much, a generous meat platter piled with spiced rice, creamy white sauce and chilli awaits.