Foodie Friday: What The Stars Ate This Week (May 13-20)
 All the photos that made us hungry this week.
It's been an adventurous week when it comes to food for the celebs. Cheryl Wee found herself drinking from a milk bottle and licking her plate clean at a fine dining establishment, Hong Ling and Nick Teo enjoyed a nostalgic breakfast, and Xiang Yun finally got her hands on a hawker dish that she's been meaning to try. Read on for more.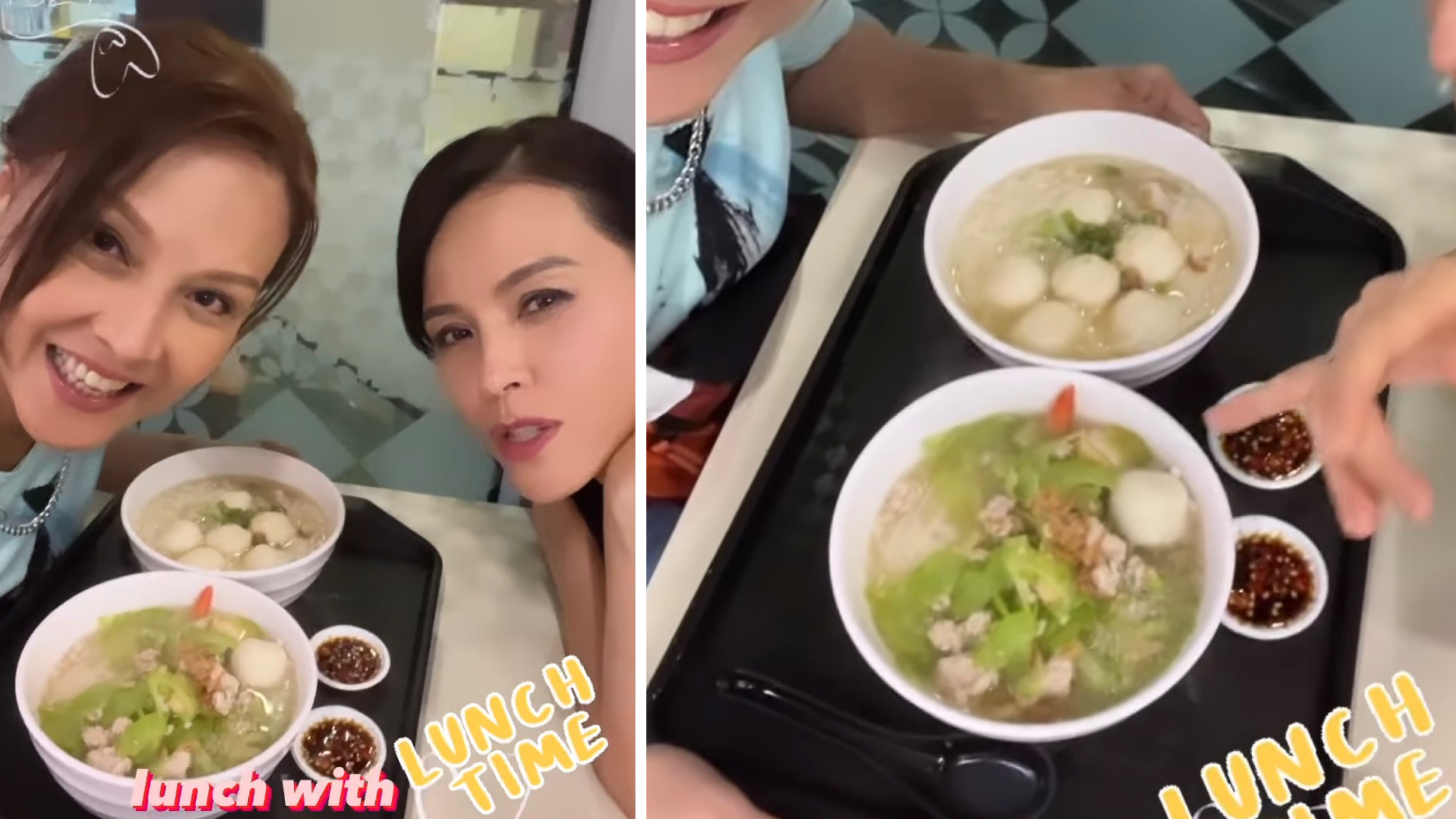 Aileen Tan and Zoe Tay
What they ate: Fishball soup
Yummy factor: Despite the abundance of bitter gourd slices in her soup, which also came with plenty of fish balls and minced meat, lunch wasn't the least bit bitter for Aileen, who scored a treat from Ah Jie.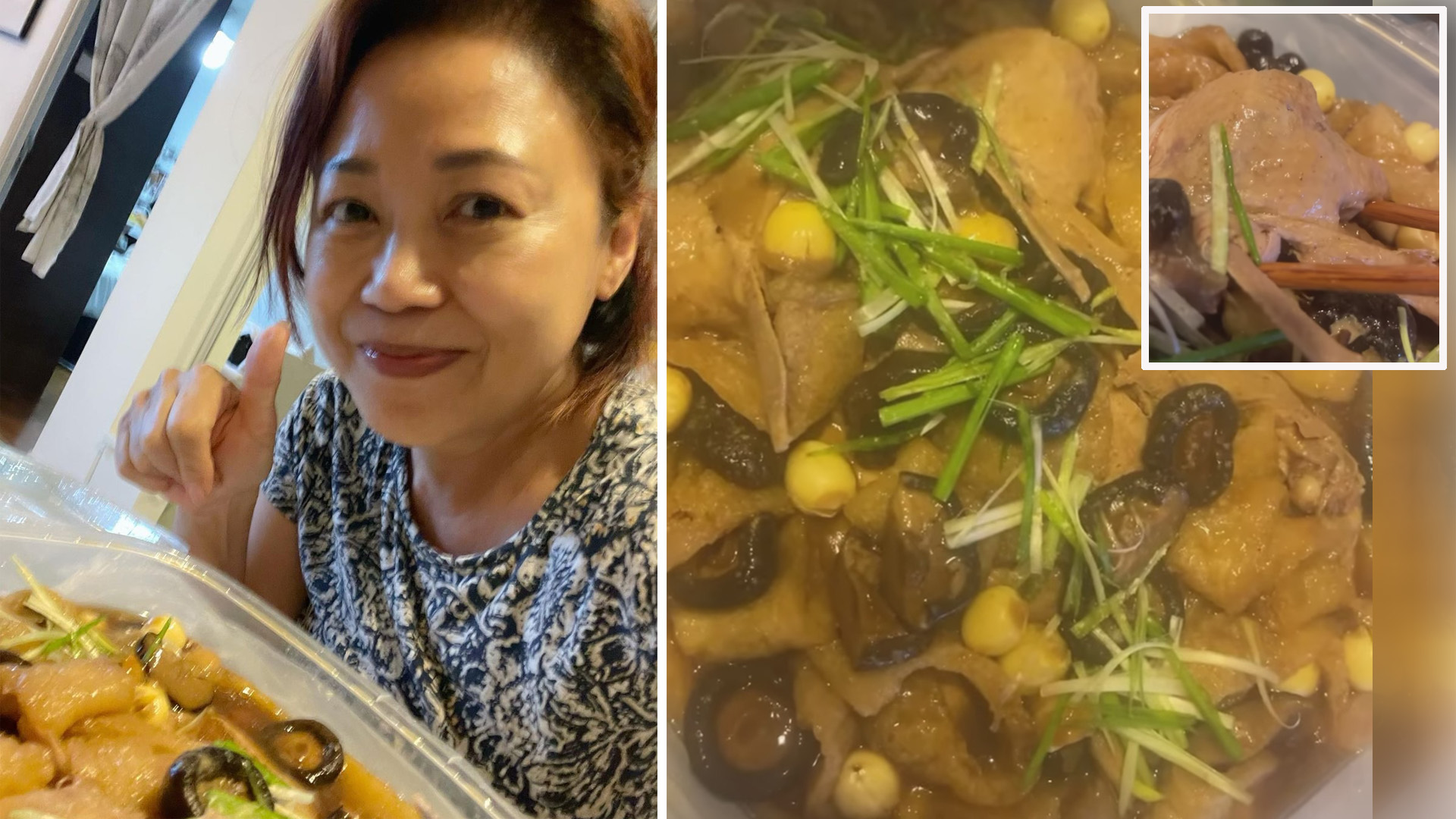 Xiang Yun
What she ate: Stewed duck
Yummy factor: Xiang Yun's new favourite dish may just be the stewed duck from Soh Food, a stall at Empress Road Market and Food Centre. Not only was the meat fall-off-the-bone tender, the portion was generous as well with accompaniments like mushrooms, fish maw and lotus seeds.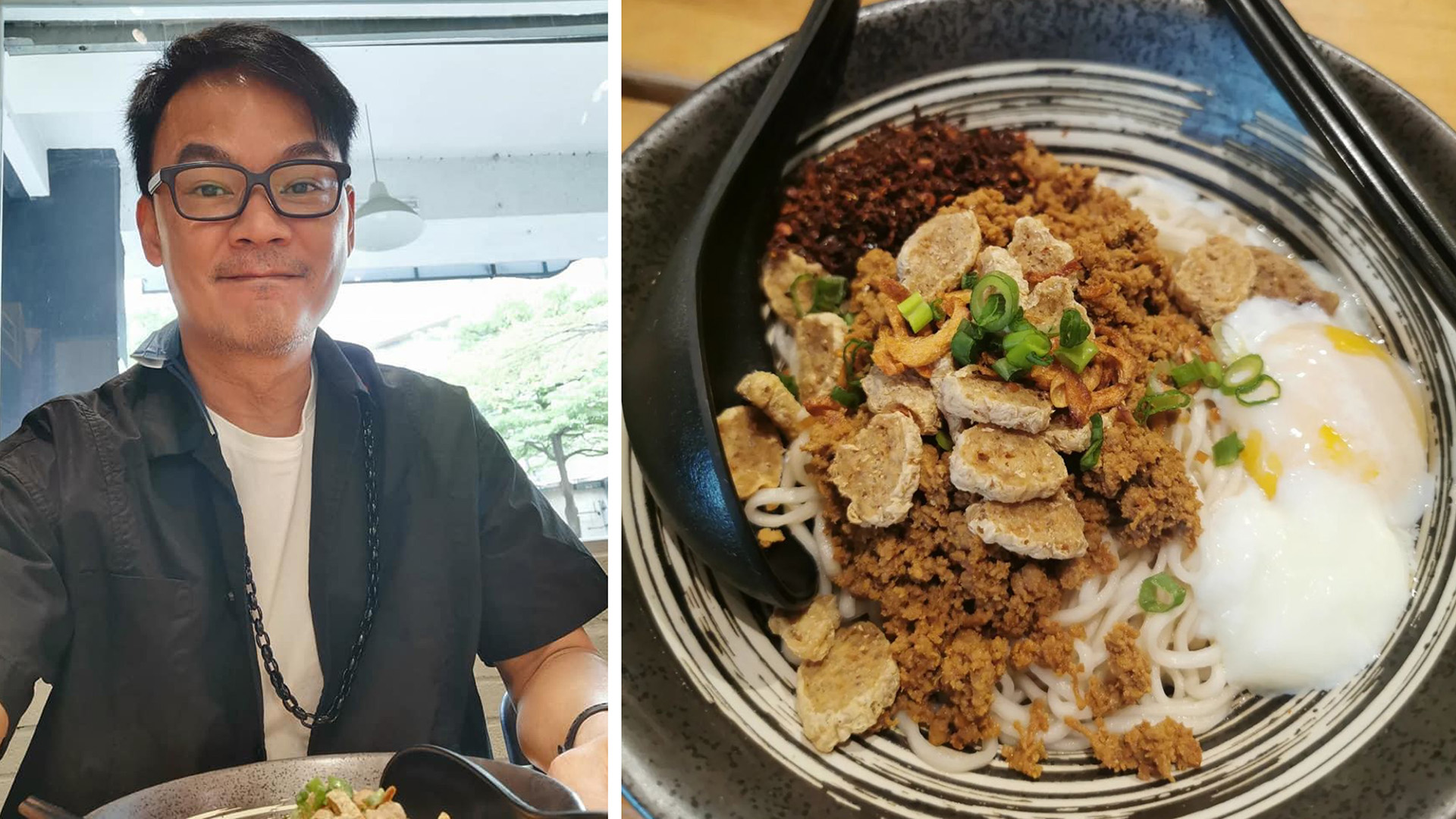 Thomas Ong
What he ate: Chilli ban mian 
Yummy factor: Always on the move, Thomas found himself digging into a mean bowl of ban mian topped with spicy chilli oil, minced meat, sliced fish cake and a wobbly onsen egg at Meet Mee, an eatery in Kuala Lumpur. And while their instant packets sold online taste good, there's just nothing like slurping up freshly-made noodles at their flagship outlet for him.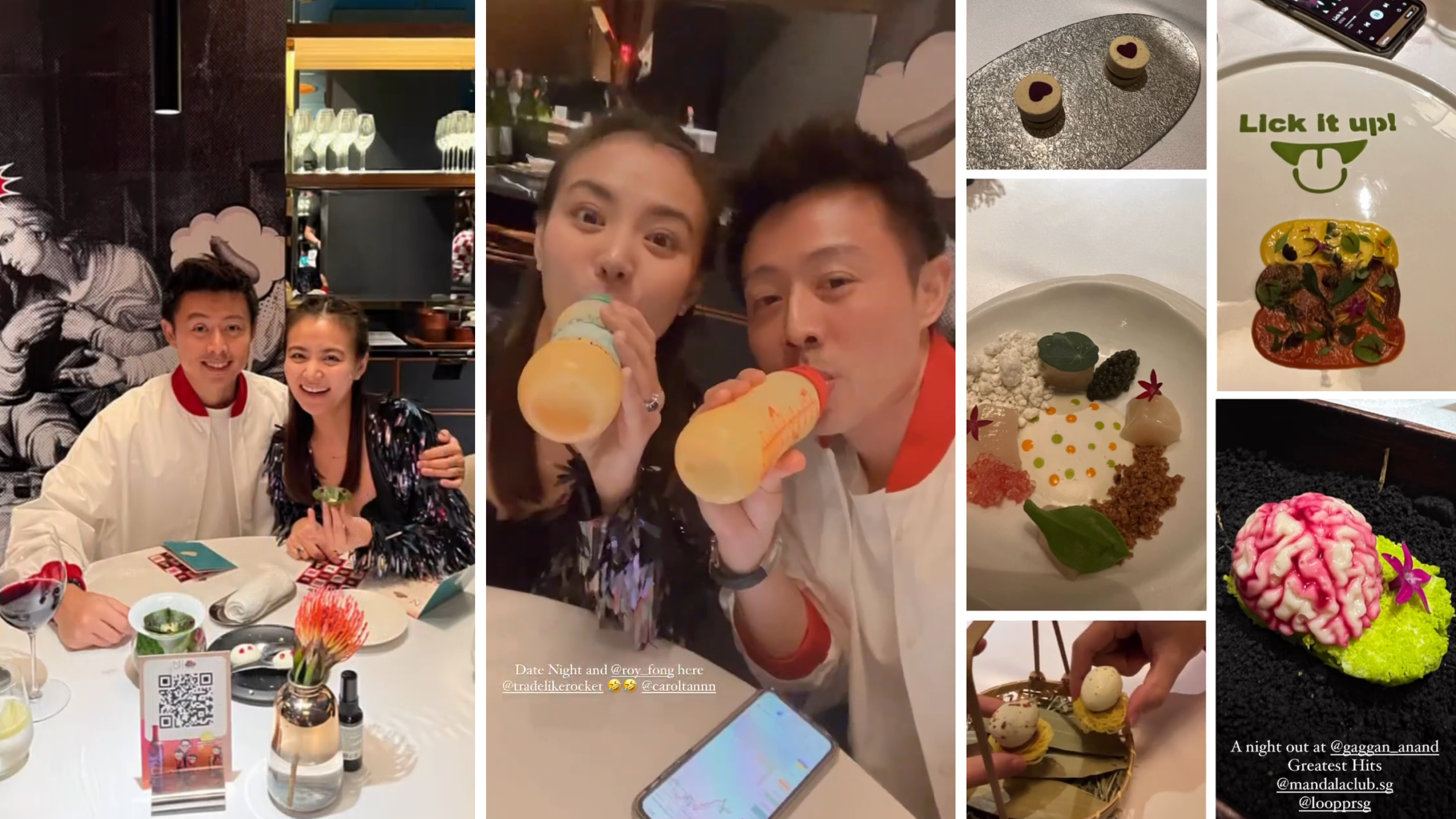 Cheryl Wee
What she ate: Fine dining... with a twist
Yummy factor: Cheryl's all for a lickin' good time at the members-only Mandala Club, where guests are encouraged to lick their plates clean — literally. Safe to say, it probably wasn't hard to do so, with each dish looking like a work of art. And could those be cocktails in milk bottles, and "brains" for dessert?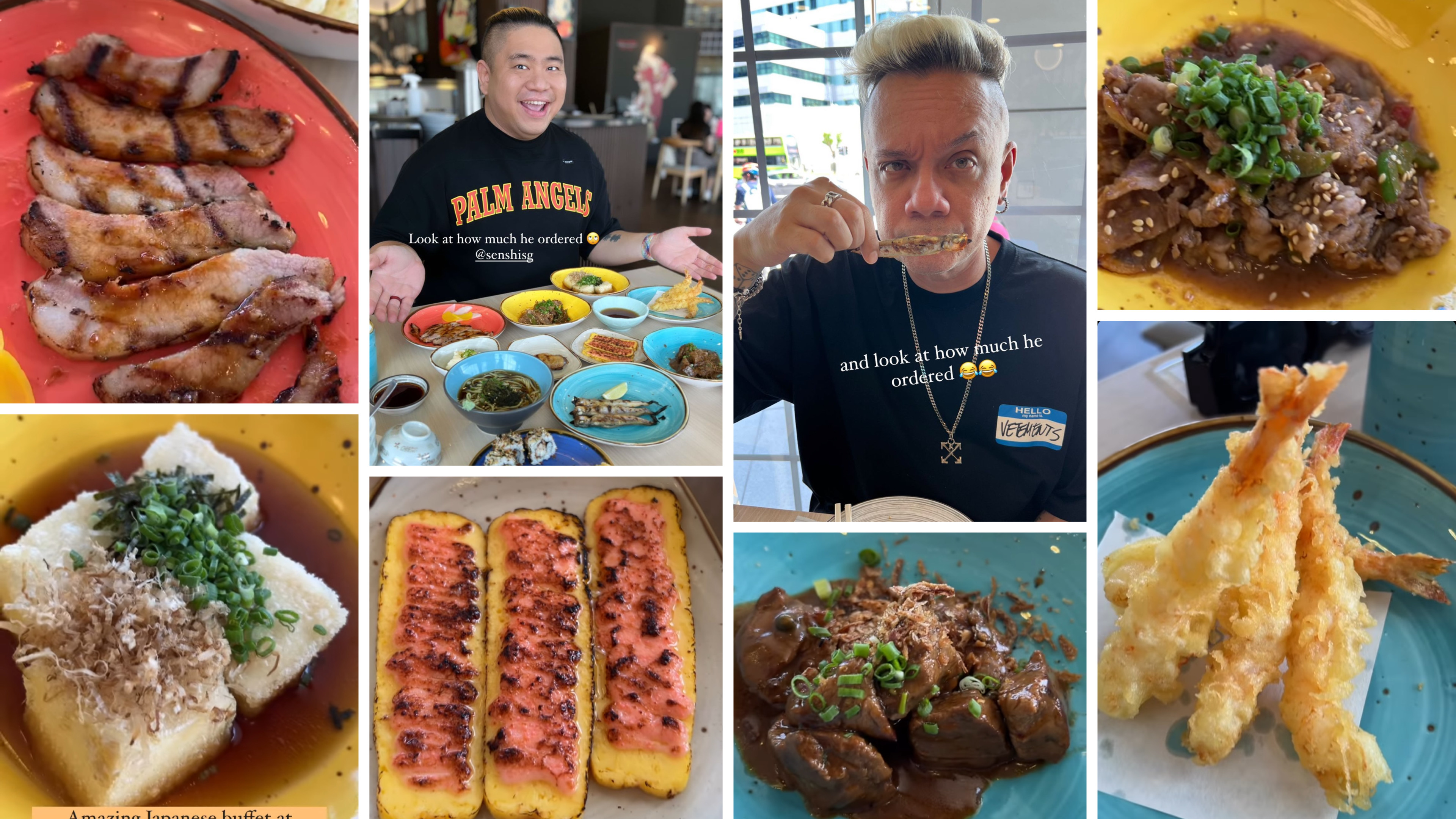 Vernon A and Justin Ang
What they ate: Japanese buffet
Yummy factor: While Justin may have ordered a little too much food at Senshi Sushi & Grill, what's a buffet without variety? With more than 40 dishes on the menu, he probably got carried away, ordering everything from agedashi tofu to ebi tempura, mentaiko tamago, yaki gyu (stir-fried beef cubes) and more.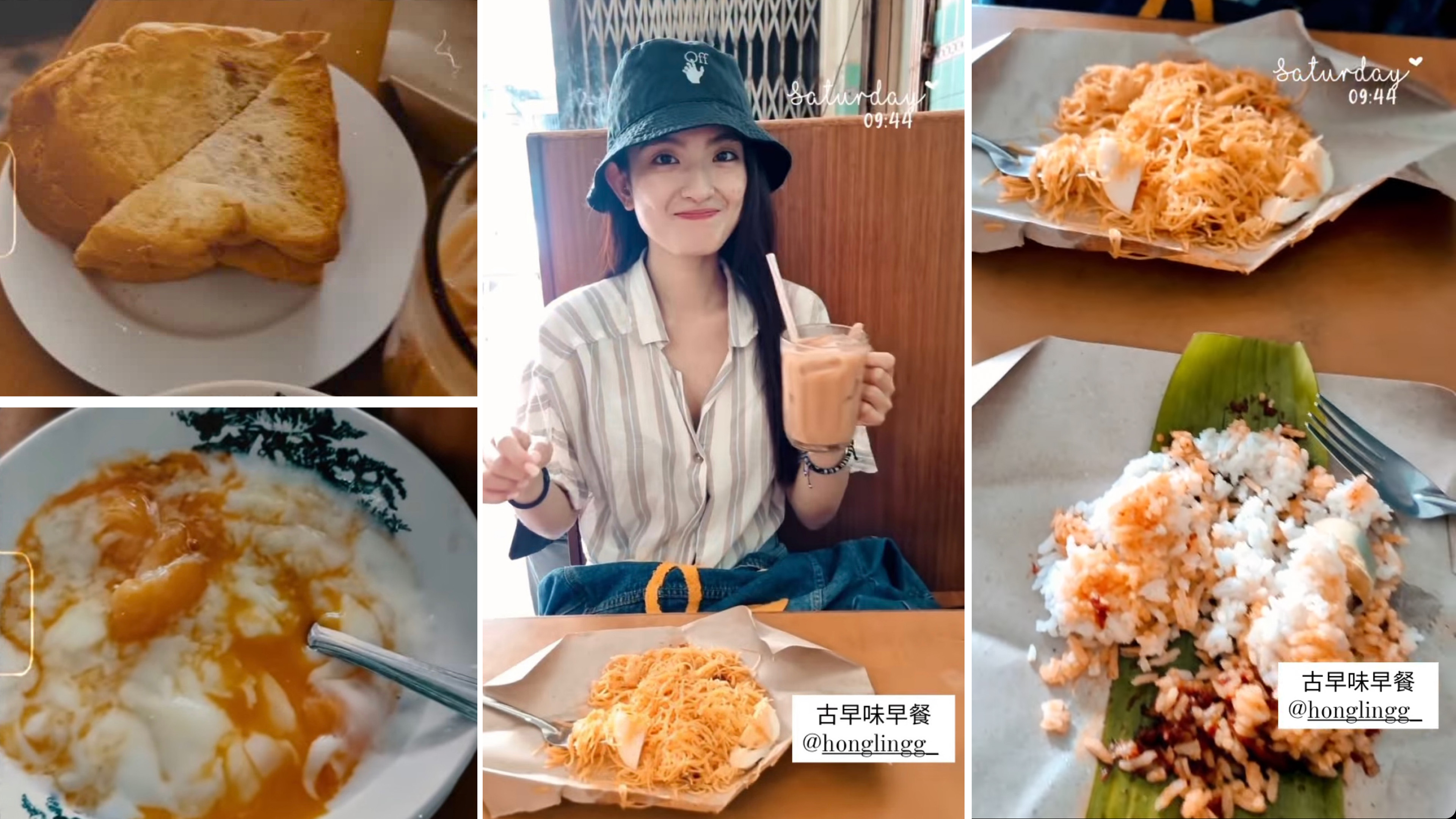 Hong Ling and Nick Teo
What they ate: Old-school brekkie
Yummy factor: On their way to Tioman, the couple stopped by at Sri Mersing Cafe in Johor for breakfast. While it ain't fancy, it gave us major #throwback vibes with basic but sedap fare like toast and soft-boiled eggs, plain nasi lemak mixed with a generous dollop of sambal chilli, as well as dry mee siam.
Mark Lee, Chiou Huey and Henry Thia
What they ate: Sichuan-style grilled fish at Tian Tian You Yu
Yummy factor: Mark, along with talents from his production company, King Kong Media Production like Chiou Huey and Henry Thia, dined at Marcus Chin's restaurant, where they indulged in dishes like century eggs doused in chilli oil, as well as both the signature fiery mala grilled fish and its new healthy corn version in a milky chicken and pork broth. Speaking of hot soup, Chiou Huey may just be in it herself for insisting that Mark hadn't covered the fish in its entirety while he was pouring broth over it. 
Chen Xiuhuan and Cassandra See
What they ate: Tau suan from Bedok Reservoir Food Centre
Yummy factor: Cassandra was eagerly waiting for Xiuhuan to give the go-ahead for them to have their tau suan for breakfast — it must have been tough resisting the tempting bowl of warm dessert and you tiao while posing for the camera.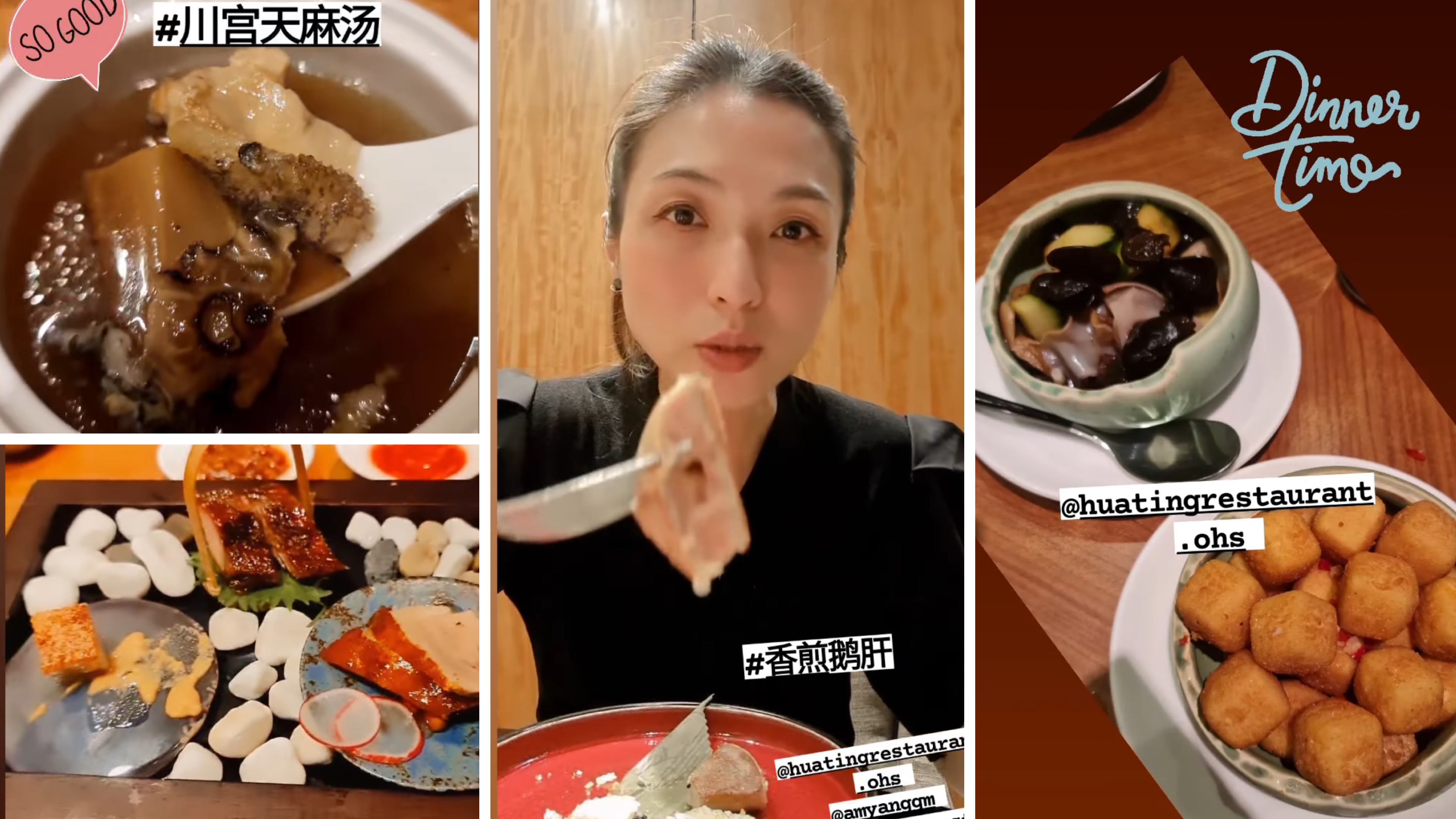 Vivian Lai
What she ate: Modern Cantonese creations at Hua Ting Restaurant
Yummy factor: With menu highlights like pan-fried foie gras to Iberico char siew, roasted pork and crispy diced beancurd, it was indeed a sinful meal for Vivian. Well, at least she had some nourishing soup on the side too.
Yvonne Lim
What she ate: Local favourites
Yummy factor: Cravings aren't a problem for Yvonne, who somehow always manages to whip up her favourite local eats while in Taipei. This time, she made shiok eats like kueh salat, chicken biryani and even Thai-style pineapple fried rice topped with meat floss for the family.
Phyllis Quek
What she ate: Healthy nosh 
Yummy factor: After an intense workout at the gym, Phyllis wasn't going to waste her effort by indulging in junk food. Instead, she went for a nutritious combination of turmeric-flavoured chicken with fluffy quinoa, sweet corn and cherry tomatoes.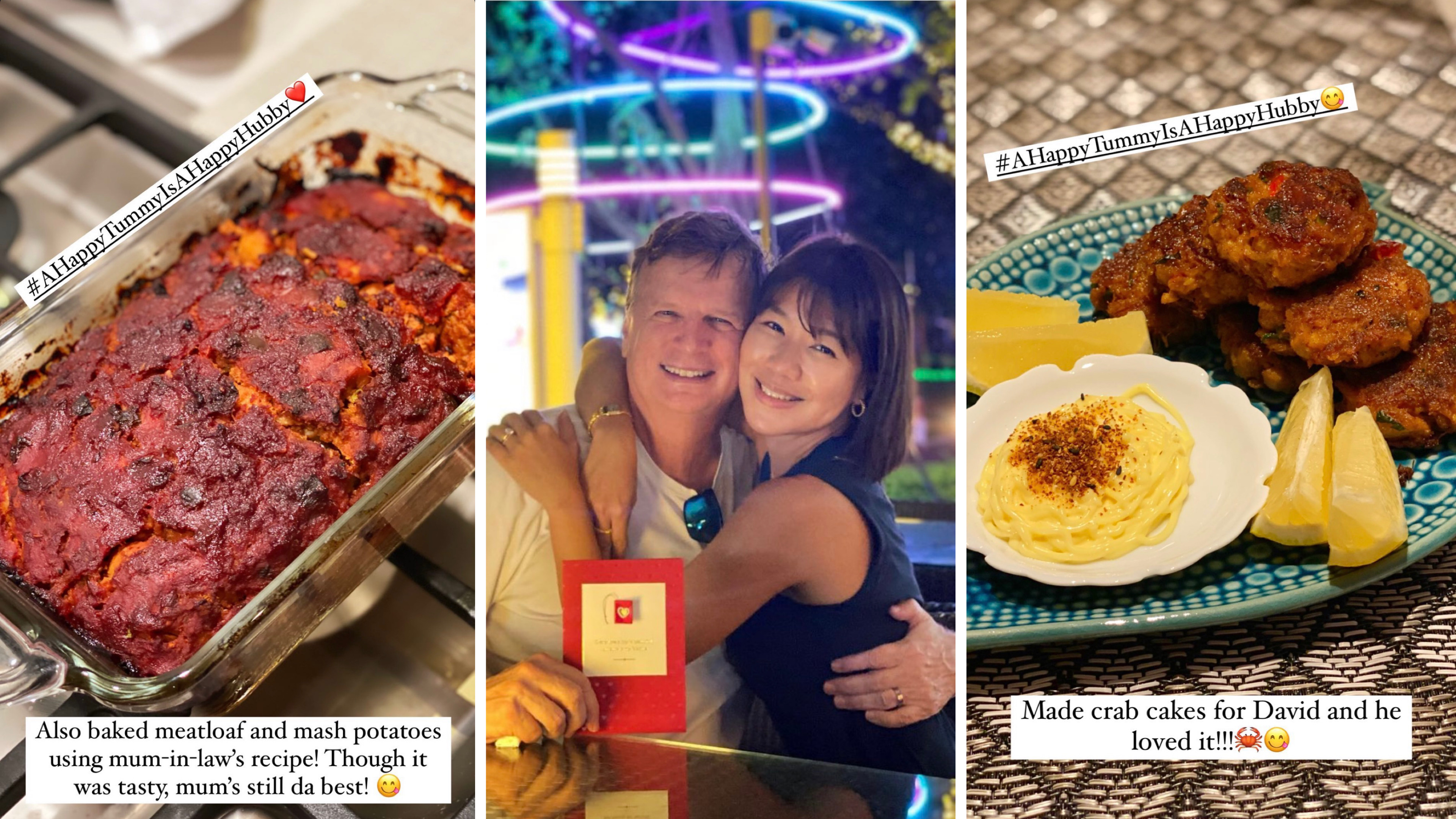 Belinda Lee
What she ate: Homemade feast
Yummy factor: Instead of heading out to celebrate husband David Moore's birthday, Belinda chose to have an intimate dinner at home. She spent the entire day whipping up his favourite dishes from scratch — moist crab cakes, as well as a hearty meatloaf and mash (with her mother-in-law's recipe, no less).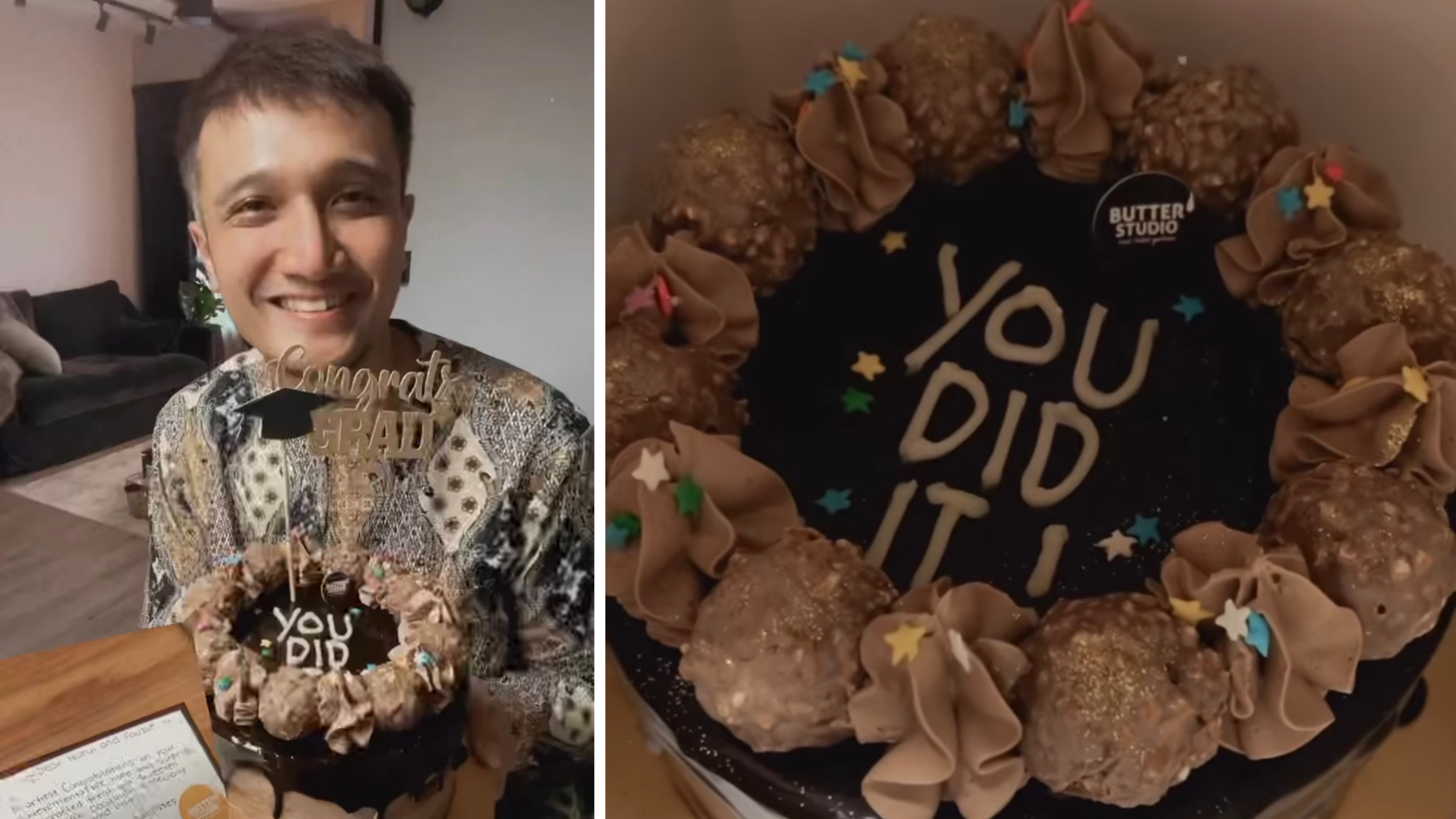 Fauzie Laily
What he ate: Congratulatory cake
Yummy factor: Fauzie, who recently graduated with a first class honours degree in broadcast media production, received the sweetest congratulations — in the form of a Fancy Nutella cake from bakery cafe Butter Studio. We bet the decadent and chocolatey treat made his day that much sweeter.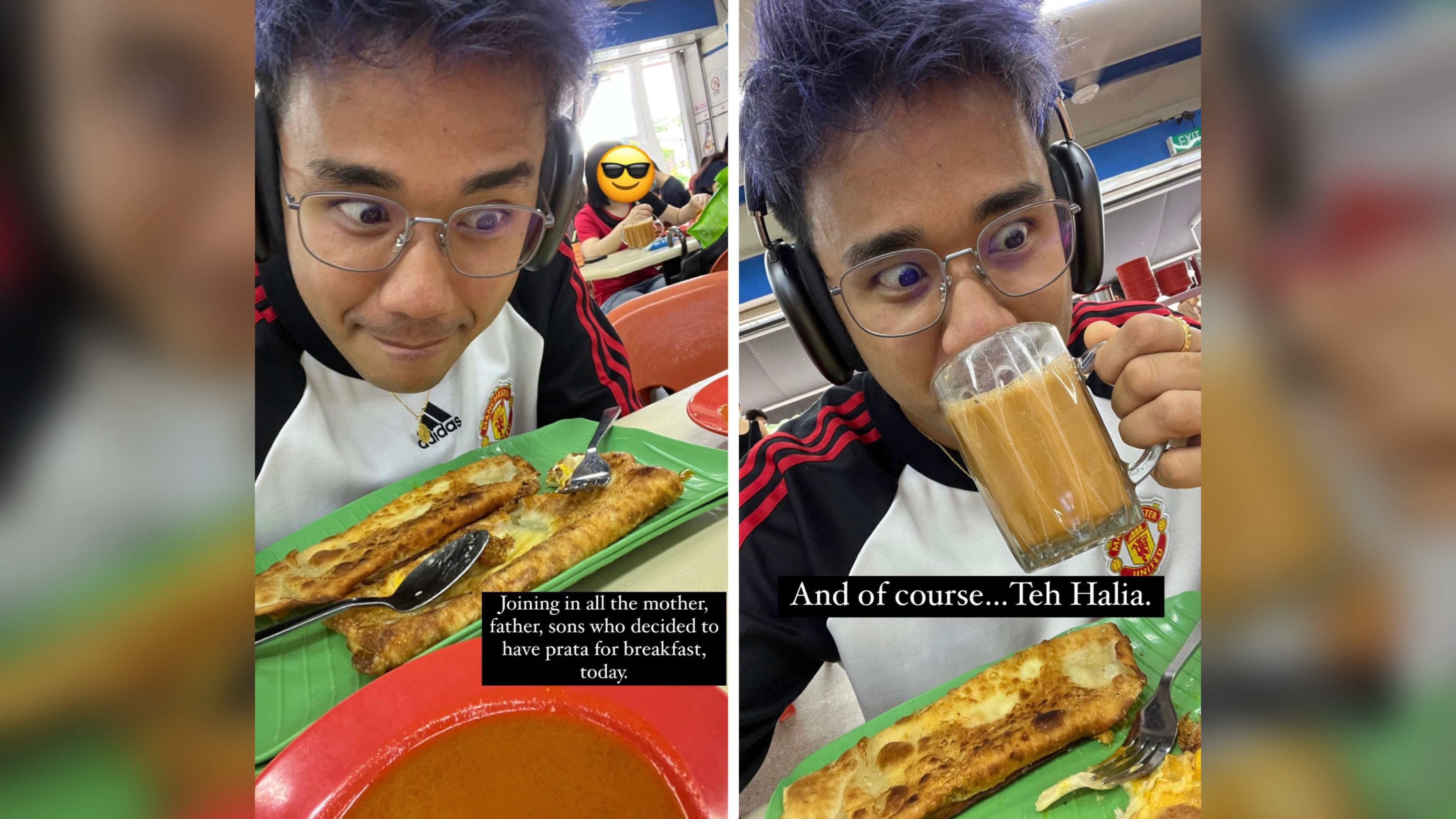 Joakim Gomez
What he ate: Heavy breakfast
Yummy factor: Joakim had everything going on for him at breakfast — he had his headphones on with two egg pratas and a side of curry gravy, as well as an invigorating mug of hot teh halia to kickstart his day.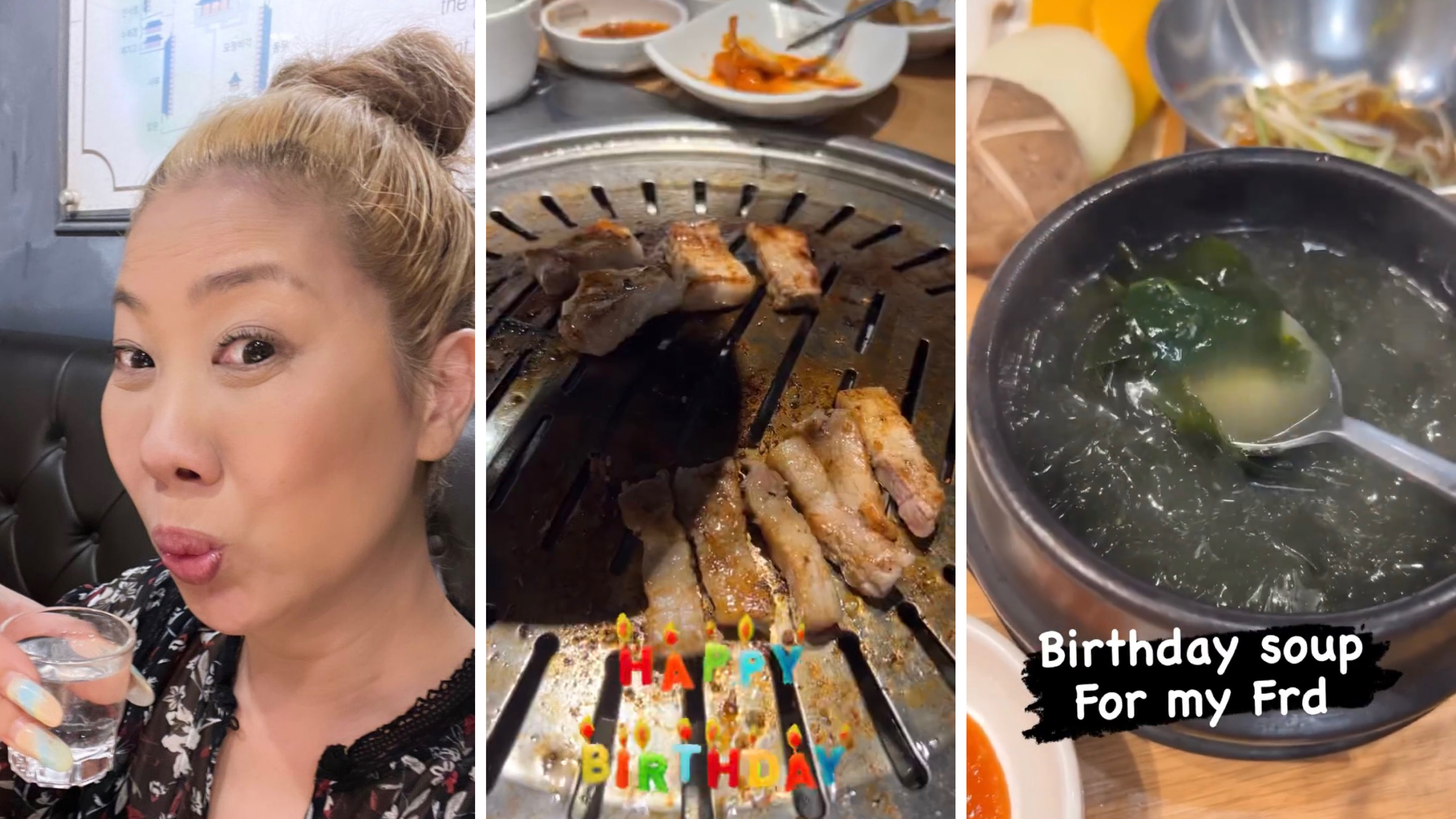 Patricia Mok
What she ate: Korean barbecue
Yummy factor: Patricia ate and drank to her heart's content at a K-BBQ restaurant while celebrating a friend's birthday earlier this week. In addition to lots of grilled meats, she had her fill of banchan (side dishes), soju, and seaweed soup — a must-have in South Korea on birthdays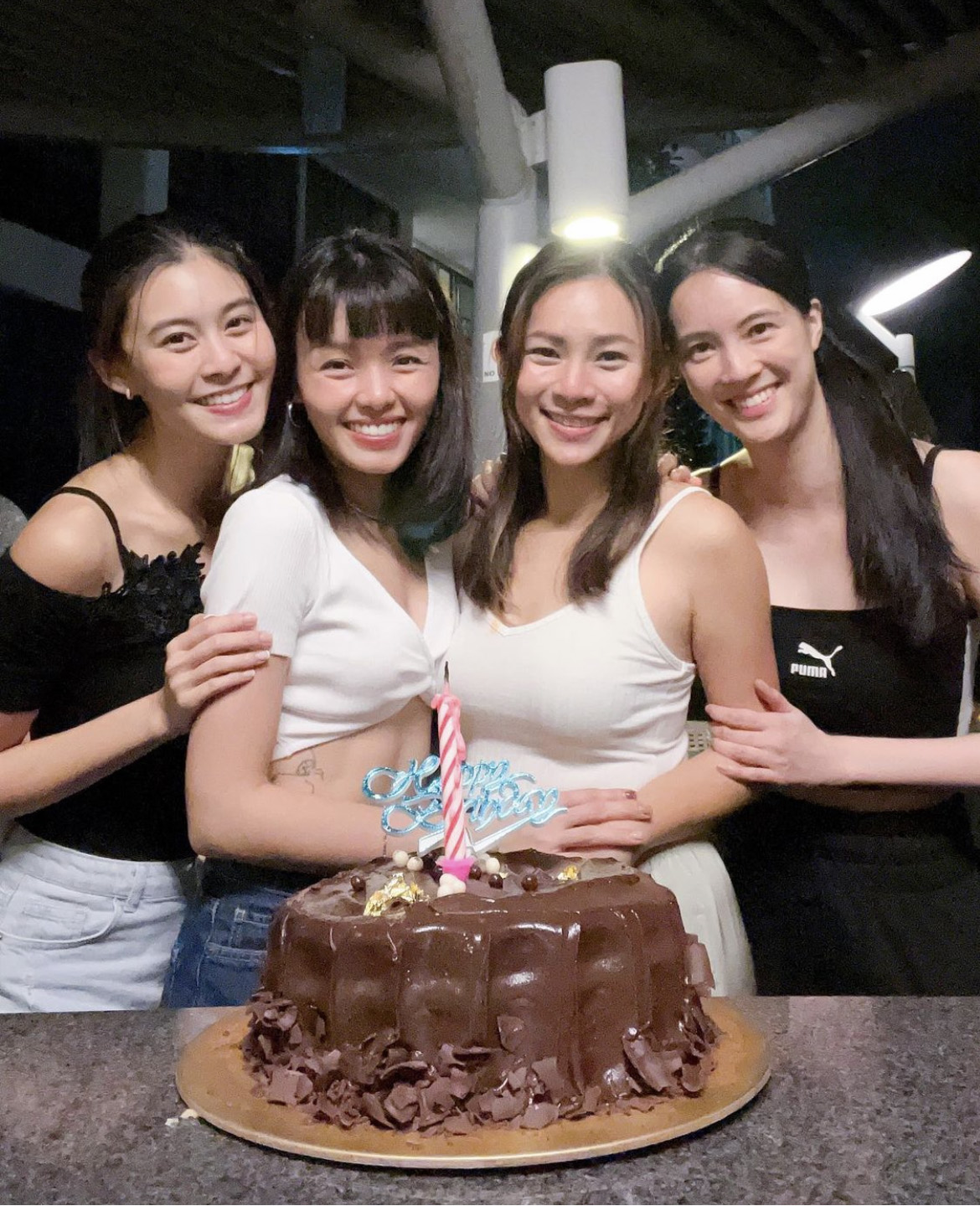 Denise Camillia Tan, Hazelle Teo, Kayly Loh and Tay Ying
What they ate: Chocolate cake
Yummy factor: For Kayly's 34th birthday (May 16), her gal pals got her a rich chocolate mousse cake topped with chocolate balls and edible gold from Twelve Cupcakes, and we couldn't help but notice how moist and decadent the truffle glaze looked.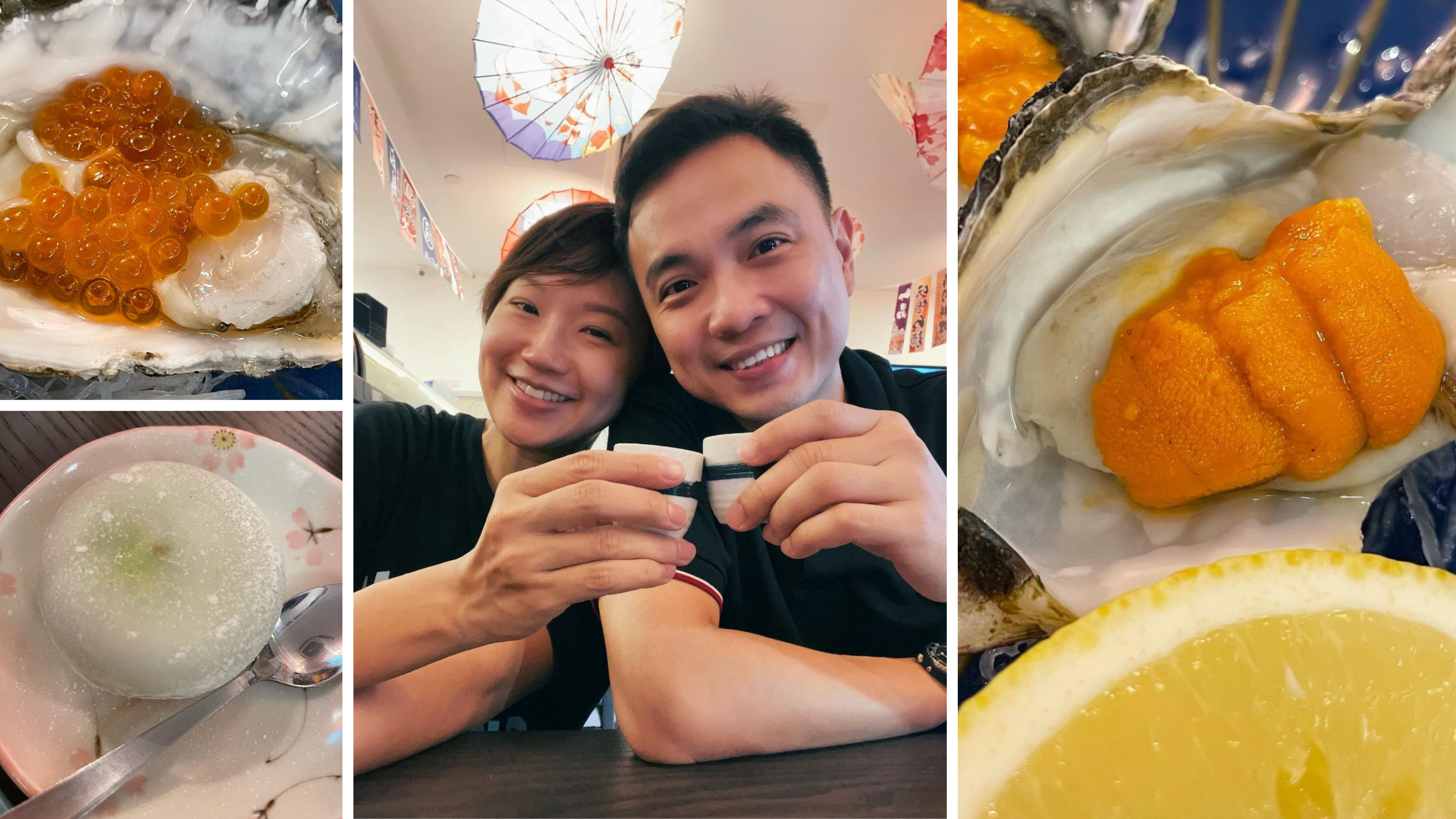 Lin Peifen
What she ate: Japanese meal
Yummy factor: What better way for Peifen to commemorate her 8th wedding anniversary (May 17) than with a scrumptious meal? Together with her husband, computer engineer Lie Wei Xiang, Peifen indulged in dishes like fresh oysters paired with ikura and sea urchin at Shifudo, as well as chewy mochi for dessert.
Jaime Teo
What she ate: Meaty dinner
Yummy factor: How could Jaime refuse her daughter's request for a sumptuous dinner together? Thanks to Renee, the duo dined at Angus Steakhouse, where they indulged in freshly baked buns, sizzling tenderloin with herbed butter, threadfin on mash, as well as tiramisu to share. Yum.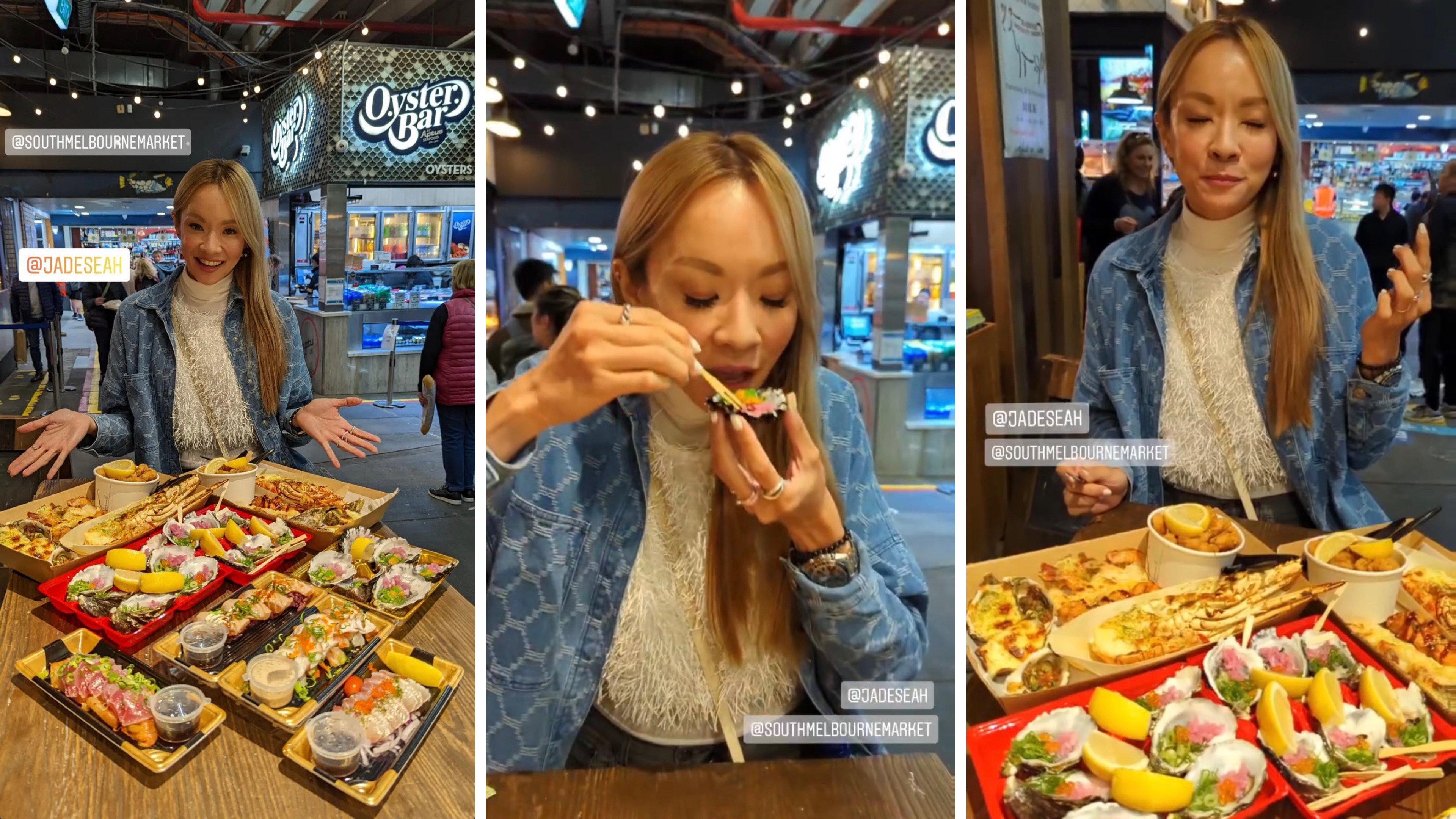 Jade Seah
What she ate: Seafood
Yummy factor: Jade, who's was in Melbourne for work earlier this week, was a picture of bliss savouring the freshest seafood at South Melbourne Market. There, she had her pick of delish eats like cheese baked lobsters, slurp-worthy oysters with uni and ikura, and tuna sashimi with kimchi — talk about interesting combinations.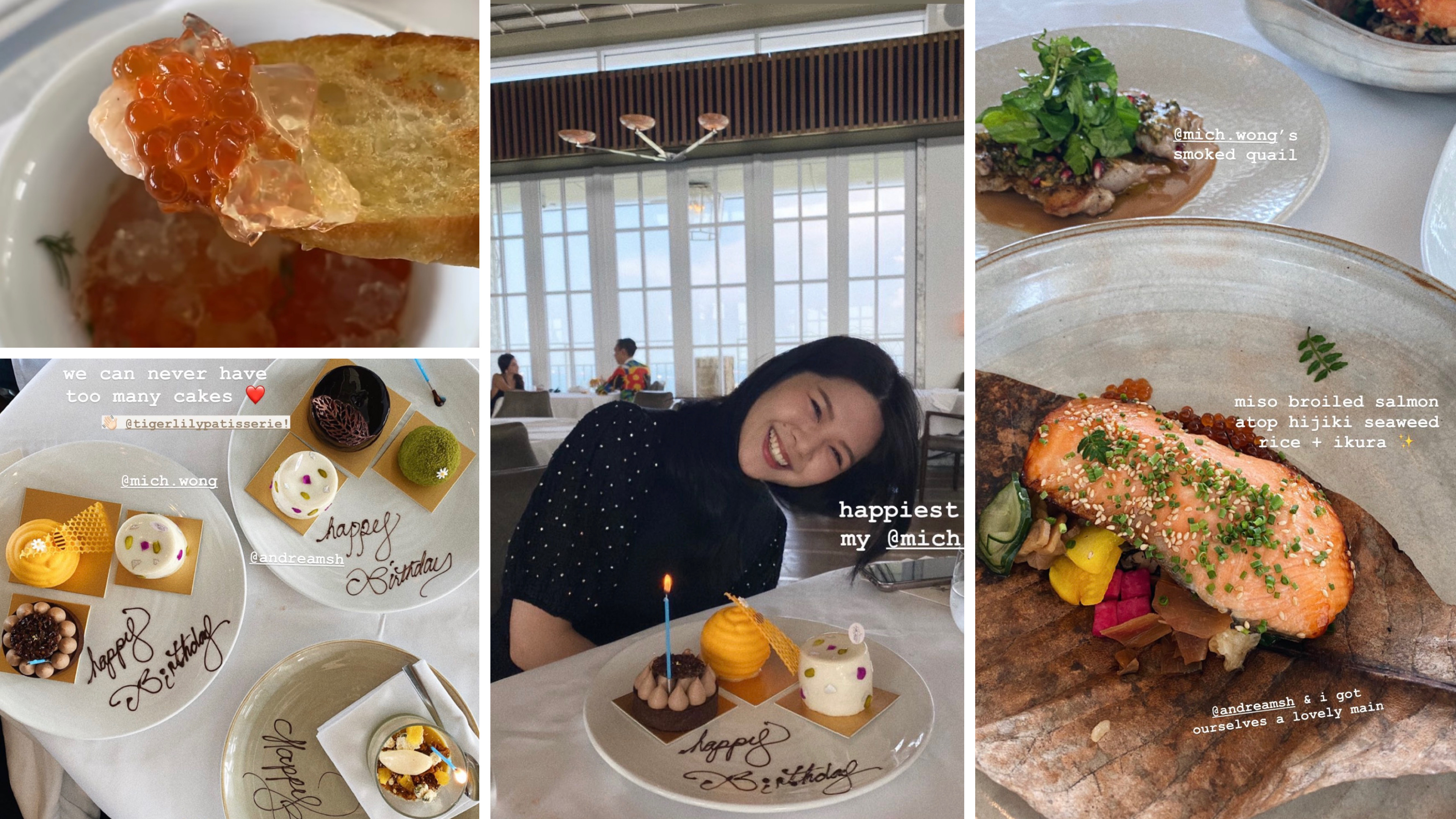 Michelle Wong
What she ate: Birthday eats
Yummy factor: Michelle sure looked like she had the best time celebrating her 30th (May 15) with friends at the swanky Spago by Wolfgang Puck where they tried the salmon rilettes with ikura, smoked quail, miso-broiled salmon and more. As for desserts, they brought along the prettiest petite cakes from Tiger Lily Patisserie to share.