Foodie Friday: What The Stars Ate This Week (May 20-27)
All the photos that made us hungry this week.
This week, Marcus Chin hosted celeb pals like Chen Hanwei, Ben Yeo, Felicia Chin and Jeffrey Xu to dinner at his restaurant, Chantalle Ng couldn't resist having two dinners, and Zoe Tay found her Thai-style kway chap more delicious than usual. Read on to find out why.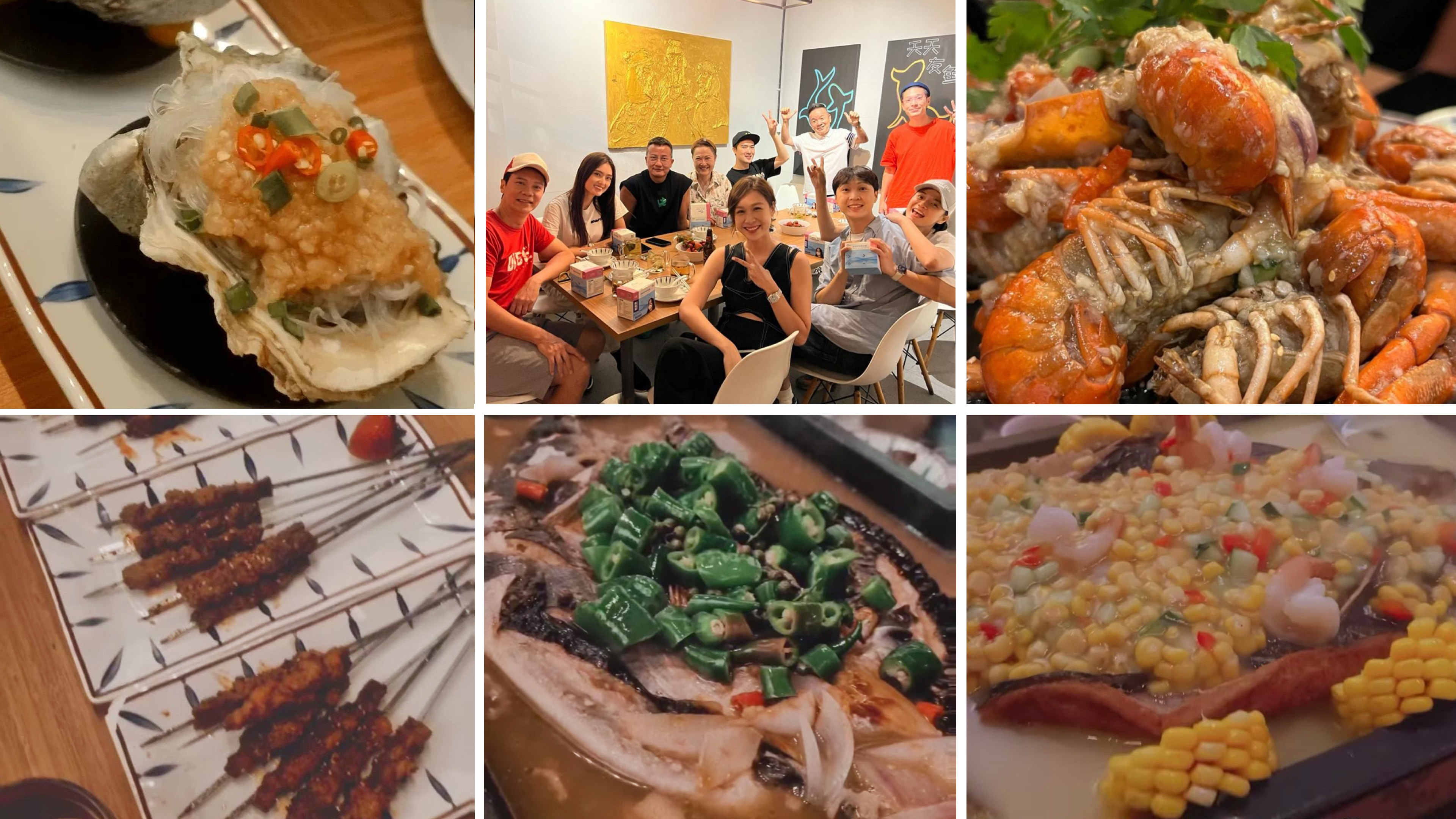 Brandon Wong, Hong Ling, Chen Hanwei, Hong Huifang, Lee Teng, Marcus Chin, Ben Yeo, Felicia Chin, Jeffrey Xu, and Ya Hui
What they ate: Sichuan food
Yummy factor: The celeb pals met up for a sumptuous meal with towkay Marcus Chin at his Sichuan restaurant Tian Tian You Yu's new outlet at East Coast Road. Aside from the restaurant's popular green pepper grilled fish, they also tried the corn version which comes in chicken and pork broth, grilled meat skewers, la zi ji, oysters with minced garlic and vermicelli, and stir-fried xiao long xia.
Cynthia Koh
What she ate: Yong tau foo
Yummy factor: With so many yong tau foo ingredients to choose from at Restaurant Ah Koong, Cynthia was spoilt for choice. The restaurant is a popular pitstop in Johor Bahru for hungry Singaporeans (Jaime Teo was spotted there this week too), and Cynthia definitely ate her fill of springy noodles alongside her comforting bowl of yong tau foo soup, ngoh hiang, and, of course, fried fish cakes and fish balls, which the eatery is known for. And as if that wasn't enough, she and her pals headed for ice cream at the Godiva after.
Zoe Tay, Aileen Tan, and Lina Ng
What she ate: Thai-style kway chap
Yummy factor: Remember when Zoe treated Aileen to lunch last week? Well, the latter returned the favour by footing the bill for their kway chap. Ah Jie quipped that the Thai dish — topped with plenty of meat, salted vegetables and a hard-boiled egg — tasted even better on Aileen's tab.
Rui En
What she ate: Korean barbecue
Yummy factor: Rui En had a sizzling good time at Korean restaurant Wang Dae Bak with friends, where they enjoyed grilled meats, as well as sides like K-style fried chicken with truffle fries. Yum.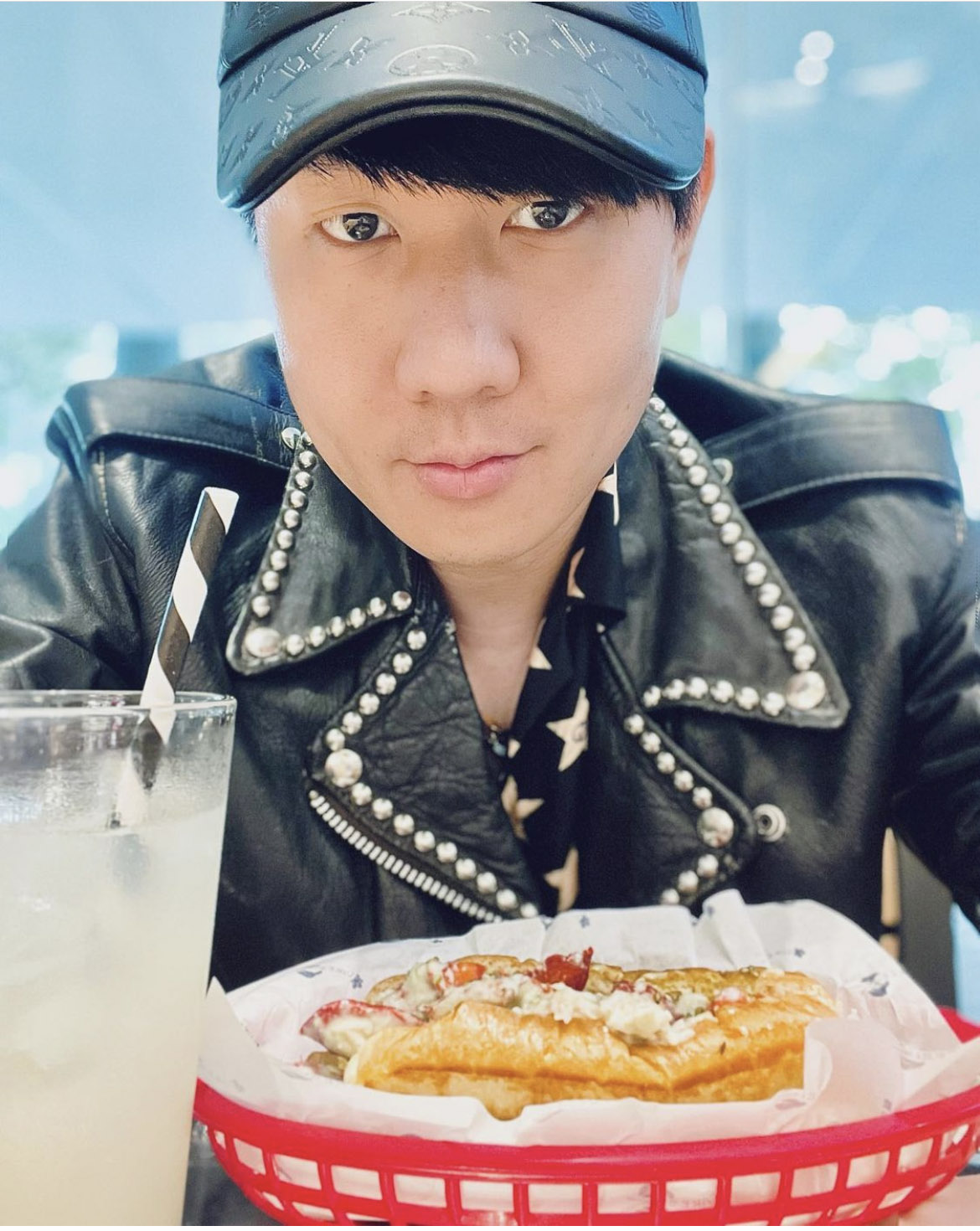 JJ Lin
What he ate: Lobster roll
Yummy factor: On May 20, which is known as the Chinese Valentine's Day because 520 sounds a lot like "I love you" when said in Mandarin, JJ treated himself to what looks like a lobster roll from New York's famed F&B chain, Luke's Lobster. Well it's definitely a form of self-love to be tucking into a buttery bun stuffed with Maine lobster chunks.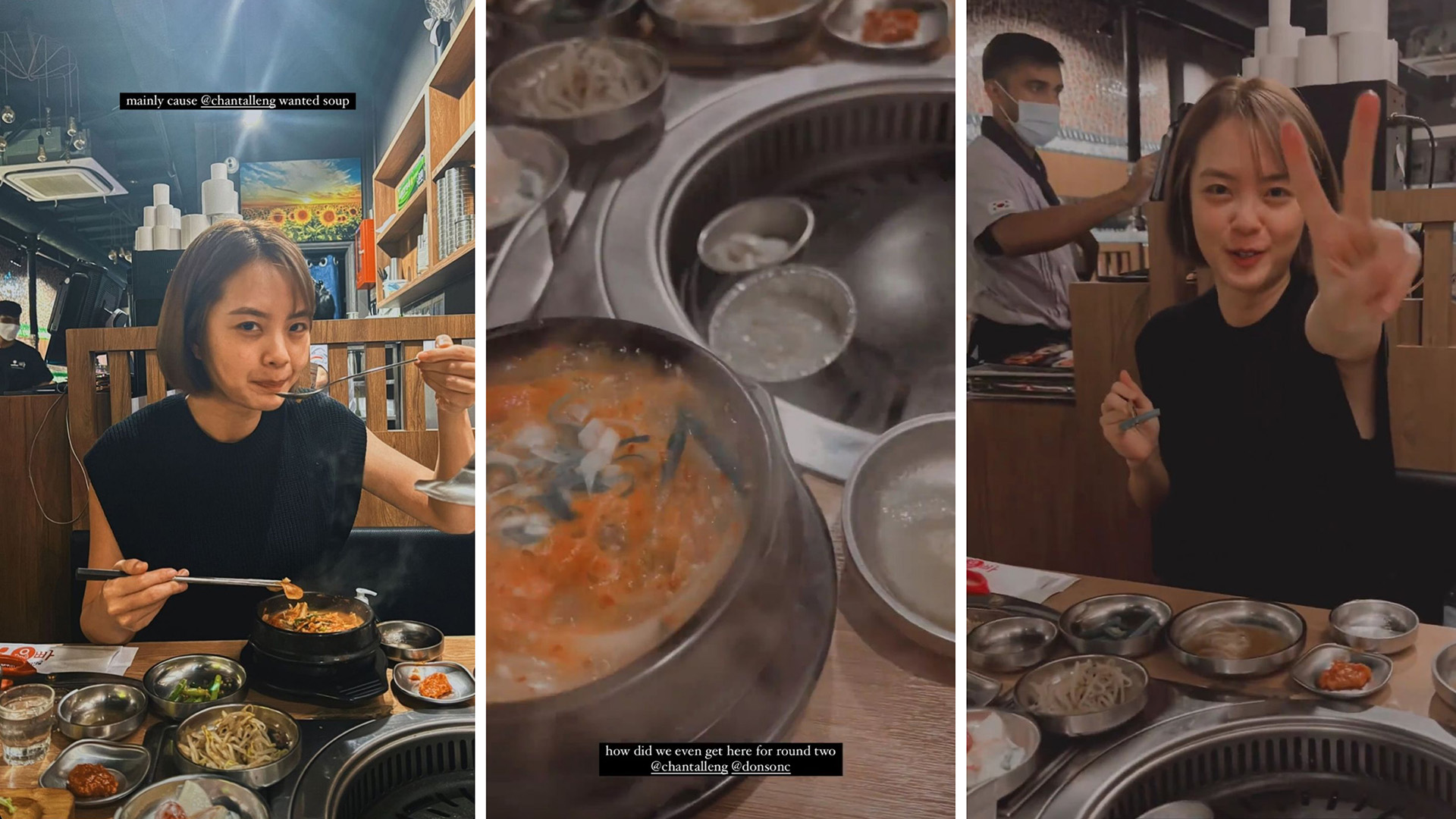 Chantalle Ng
What she ate: Korean stew
Yummy factor: Chantalle sure loves a delicious soup. When she isn't having hotpot with her Yuan collagen broth, she may very well be at a Korean restaurant digging into appetite-whetting side dishes and sipping on piping hot kimchi jjigae — never mind that it was her second dinner that evening.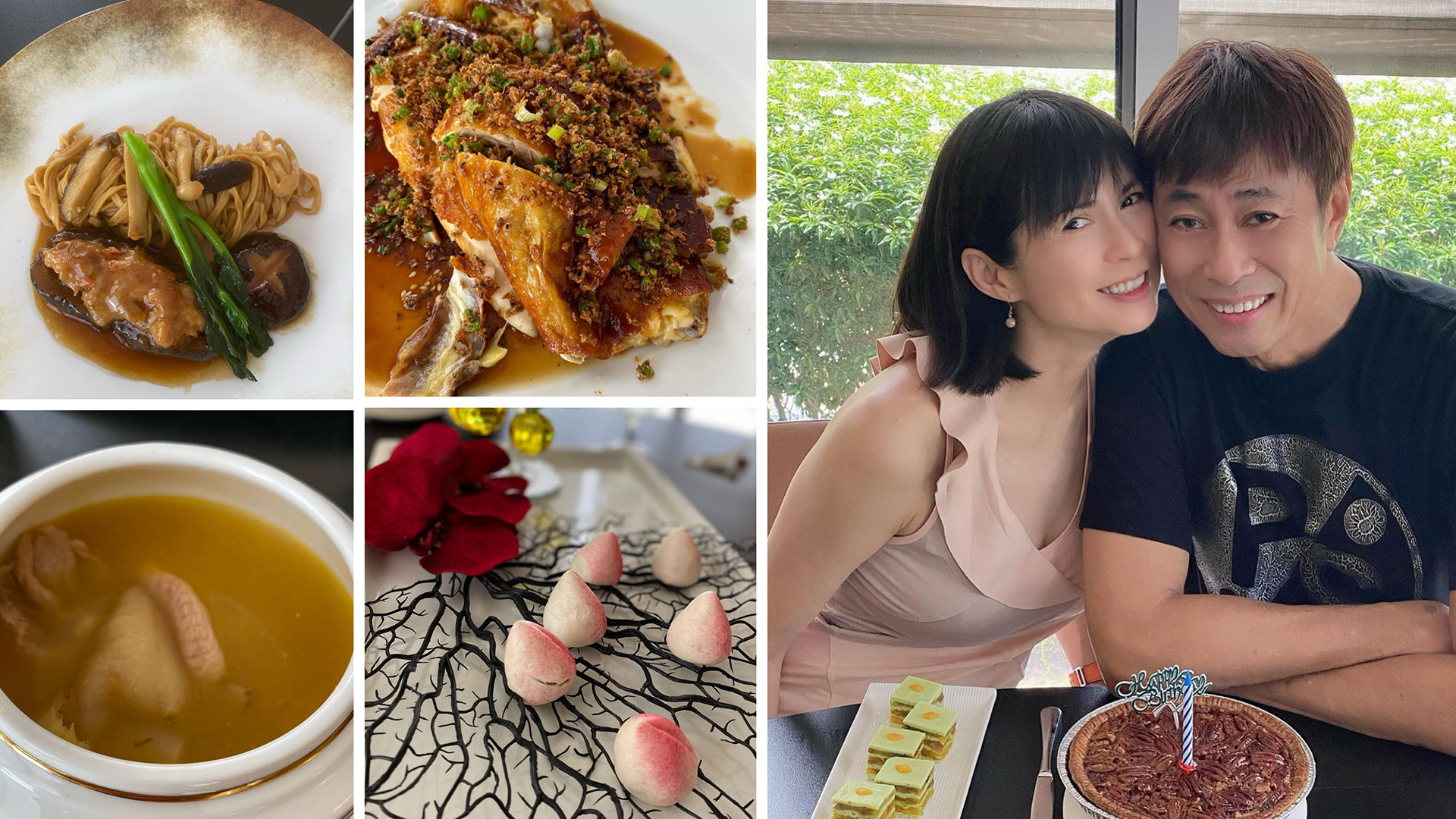 Pan Lingling and Huang Shinan
What they ate: Cantonese cuisine
Yummy factor: The couple celebrated Shinan's 61st birthday (May 23) at Cantonese restaurant Fu Lin Men, where they indulged in classics like double-boiled soup, roast chicken and ee fu noodles with stuffed sea cucumbers and mushrooms. As for dessert, they had plenty to pick from — cakes, longevity peach buns and even a whole pecan tart.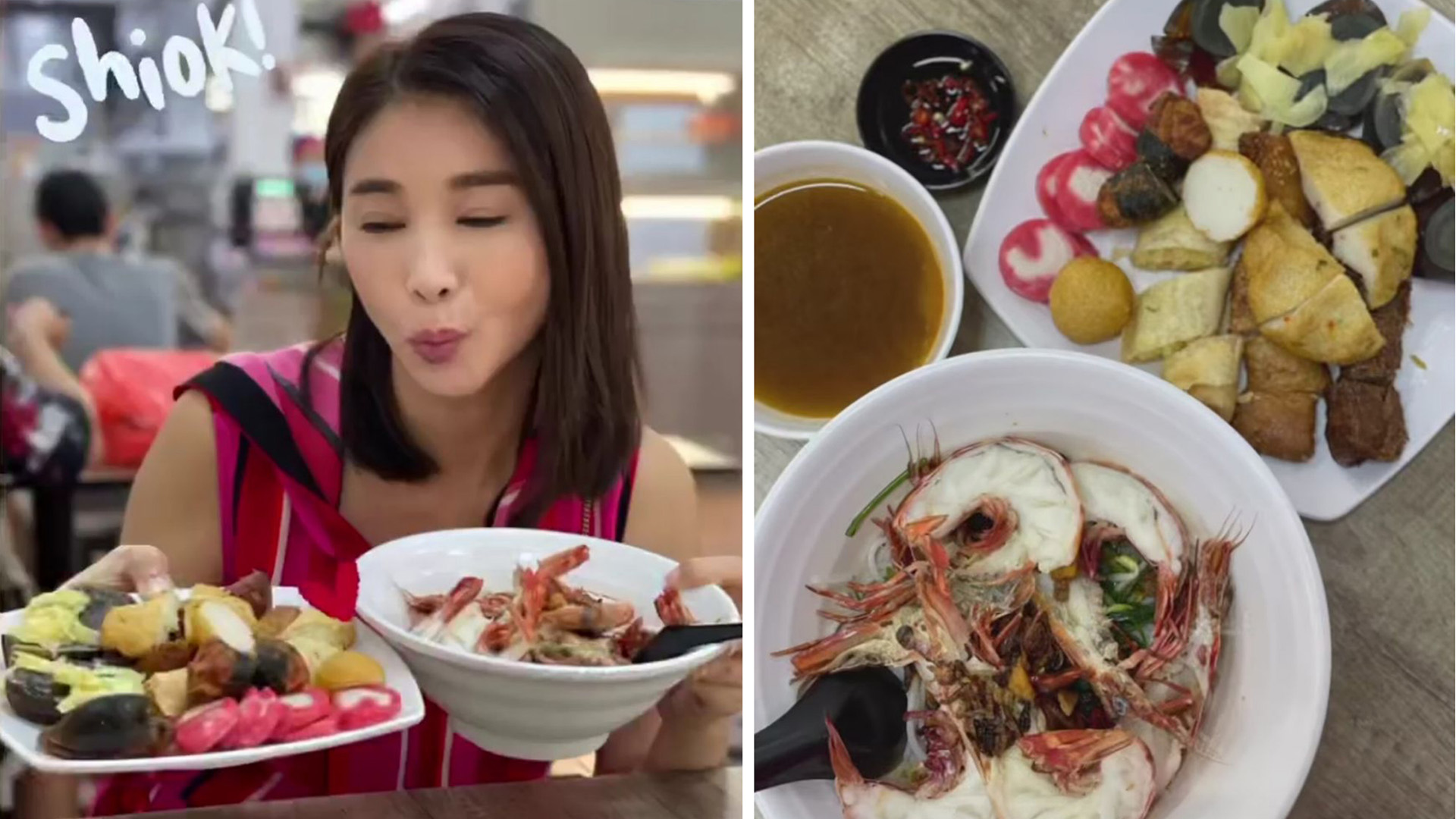 Chen Xiuhuan
What she ate: Hae mee and ngoh hiang
Yummy factor: Xiuhuan satisfied her craving for the local favourites at Blanco Prawn Noodle House, where she enjoyed her hae mee dry with lots of fried lard, along with a platter of fried goodies and sliced century eggs with plenty of pickled ginger.
Cheryl Wee
What she ate: Family lunch
Yummy factor: Cheryl took things slow for the weekend and enjoyed a leisurely Italian lunch at Shangri-La's Waterfall Ristorante Italiano with her family. And what a spread it was — cheesy pizzas, beer pork belly with sauerkraut, seafood pasta, handmade cannoli with chocolate balls for dessert and more.
Terence Cao
What he ate: Nasi ambang
Yummy factor: Singaporeans have been crossing the borders to Malaysia in search of sedap nosh, and Terence was no exception. And while the JB eatery had no air-conditioning, that didn't stop Terence from enjoying his hearty plate of nasi ambang with a fried drumstick and fish, complete with a generous dollop of curry and sambal chilli.
Belinda Lee
What she ate: Potluck dinner
Yummy factor: Who needs to head out for dinner when everyone around you is a fab cook? A homemade feast couldn't have looked better — there were dishes like prawn salsa and crab cakes by Belinda, as well as chicken curry, clams, and a whole zesty lemon tart by her talented friends.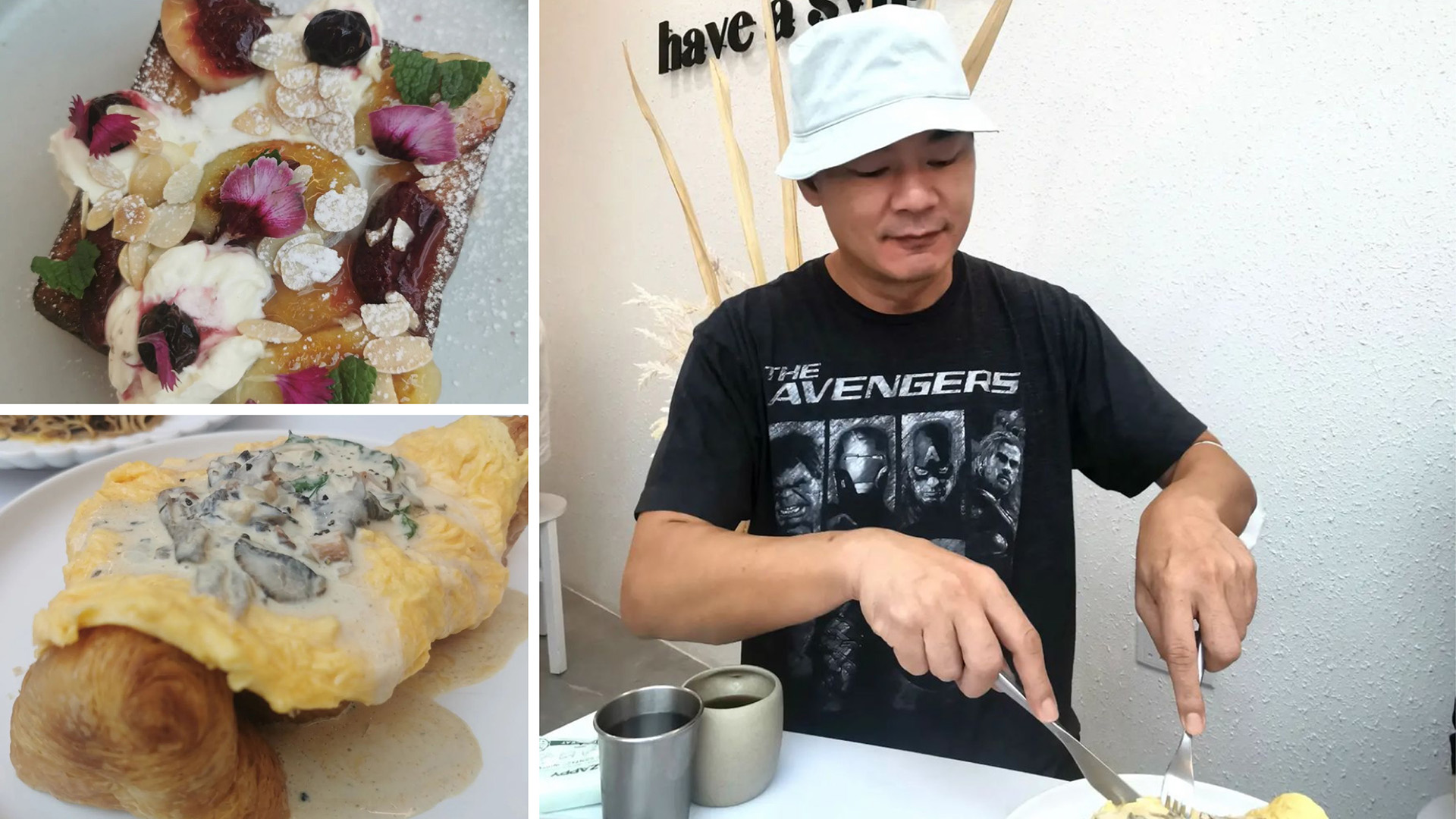 Thomas Ong
What he ate: Cafe nosh
Yummy factor: Thomas visited minimalist cafe SYIP over the weekend, where he found himself tucking into a creamy chicken and scrambled eggs croissant, as well as a very pretty French toast with berry compote and caramelised bananas. Coupled with a cup of Joe, it probably made for a satisfying brunch.
Fauzie Laily
What he ate: Crepes
Yummy factor: Fauzie and his wife Nurul fell in love with the street food while holidaying in Bangkok — there's just something about having copious amounts of chocolate sauce and Nutella spread on freshly-prepared crepes. And it doesn't hurt that the addictive crepes have been sliced into bite-sized pieces — perfect for snacking on the go.
Jeffrey Xu
What he ate: Durian puffs
Yummy factor: It doesn't take much to make Jeffrey happy, as seen in these snaps by an amused Felicia Chin. Simply get him a box of choux puffs filled with pure mao shan wang from fruit and dessert retailer Durian Lobang King, and he's a contented man.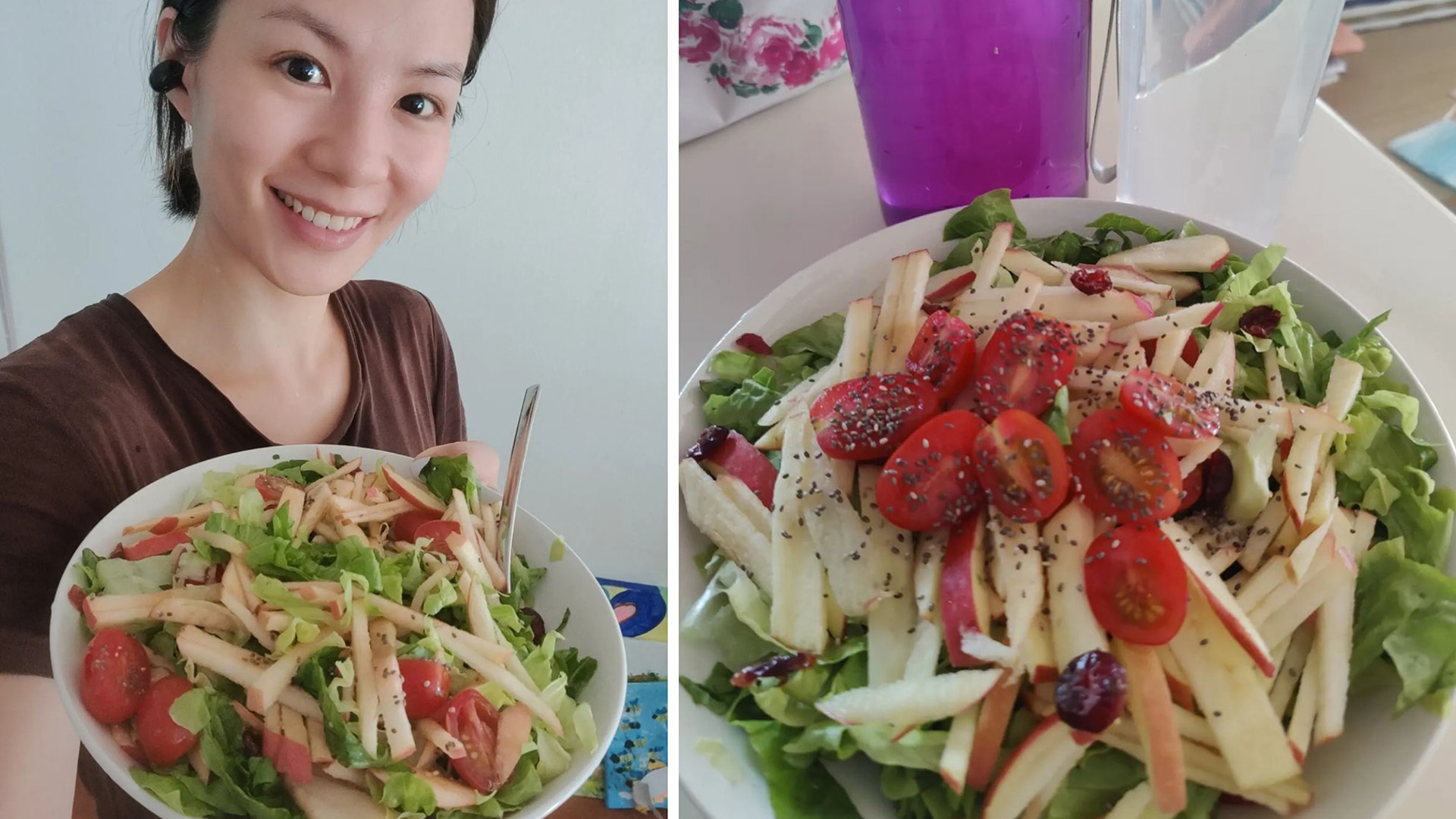 Tracy Lee
What she ate: Homemade salad
Yummy factor: Crunchy, sweet and juicy, Tracy couldn't be happier with her homemade salad. The simple pairing of iceberg lettuce with sliced apples, cherry tomatoes and chia seeds probably made for a refreshing alternative to heavier meals.
Justin Ang
What he ate: Brunch buffet
Yummy factor: If there's something that beats Sunday brunch for Justin, it's probably having unlimited amounts of it. And that's what he got at the new Estate restaurant at Hilton Singapore Orchard. Must-tries for him amidst the "phenomenal variety" include the lobster thermidor, soft shell crab popiah and the black truffle roasted duck (top right in pic). Don't be deterred by the bird's burnt appearance (it's probably just squid ink) — Justin reckons one will go for four to five servings of it.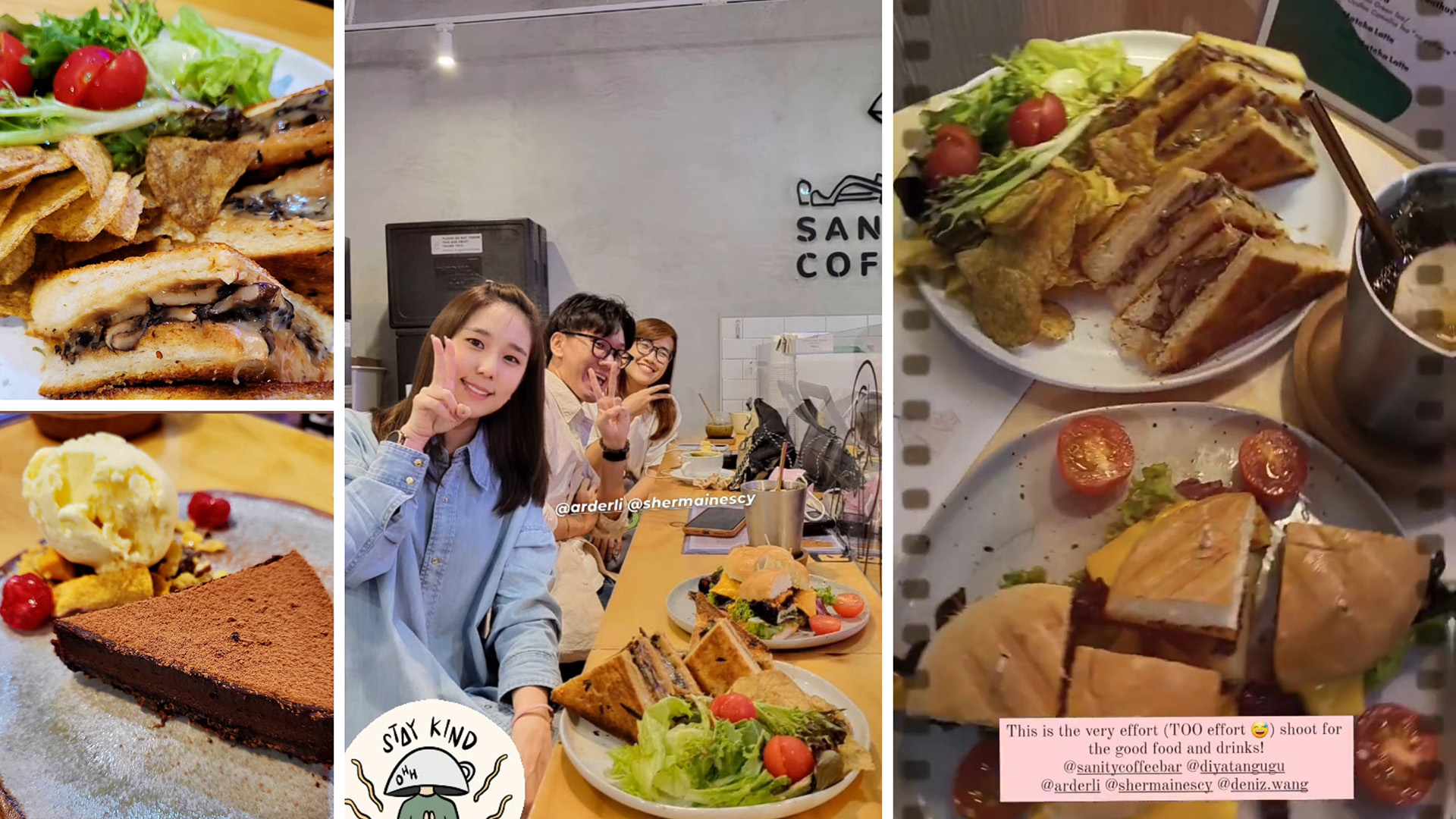 Gao Mei Gui
What she ate: Weekend brunch
Yummy factor: SPOP Wave! champ Mei Gui tempted us with snaps of her brunch at singer Chen Diya's Sanity Coffee Bar, and we couldn't help but notice the punny names of the dishes she had, like the cocoa-rich Nama-haochi chocolate cake, as well as the Chewbakkwa burger with housemade bacon bak kwa and spicy mayo. And while the shroom toasties with chips didn't have a fancy name, it looked delish all the same.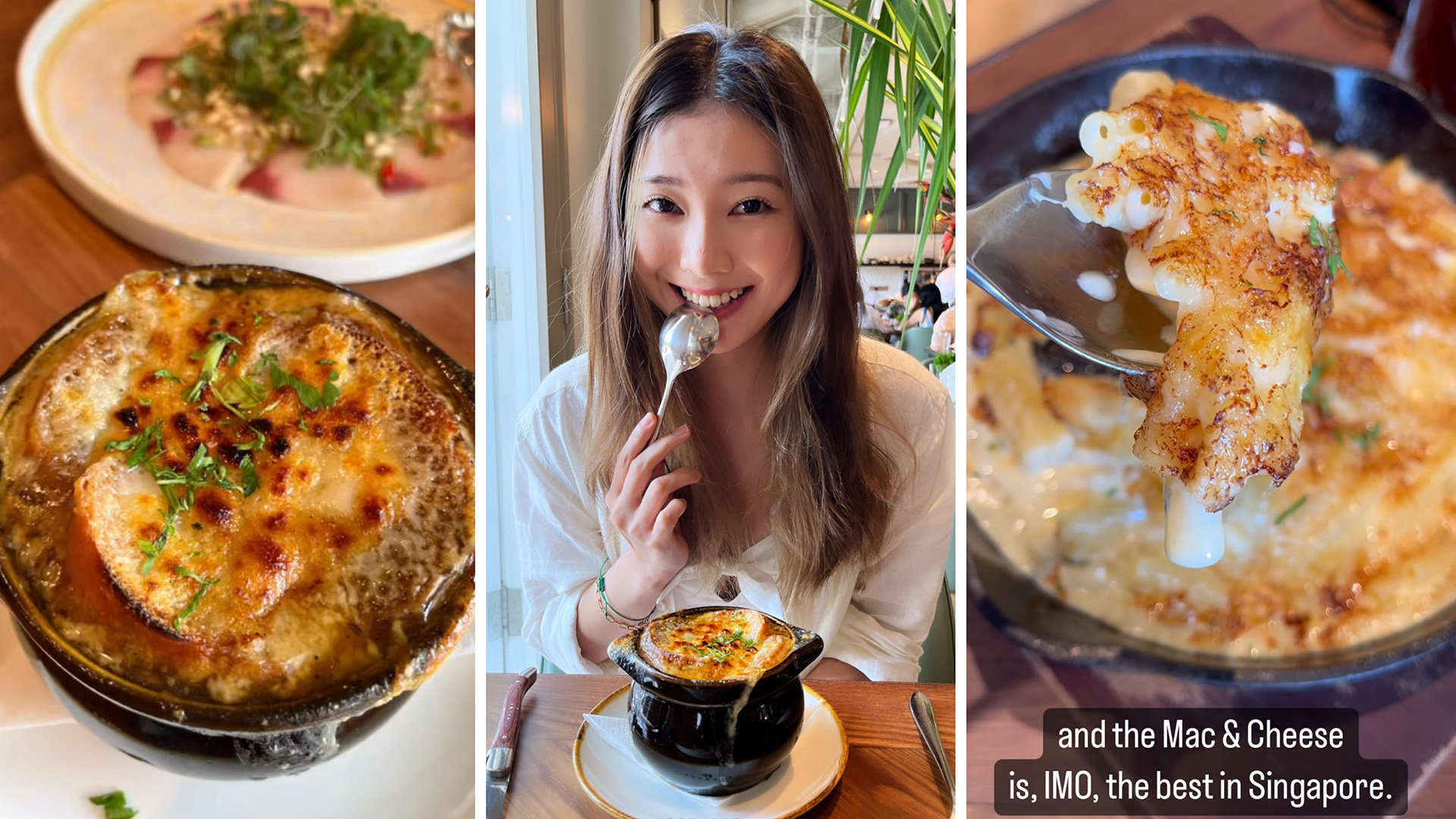 Ferlyn Wong
What she ate: Comforting nosh
Yummy factor: Ferlyn chased away the Monday blues with her sublime lunch at Bedrock Origin, where she tucked into the perfect French onion soup served in a mini cauldron, as well as the best mac and cheese she's had in Singapore — just look at it in all its glorious gooeyness.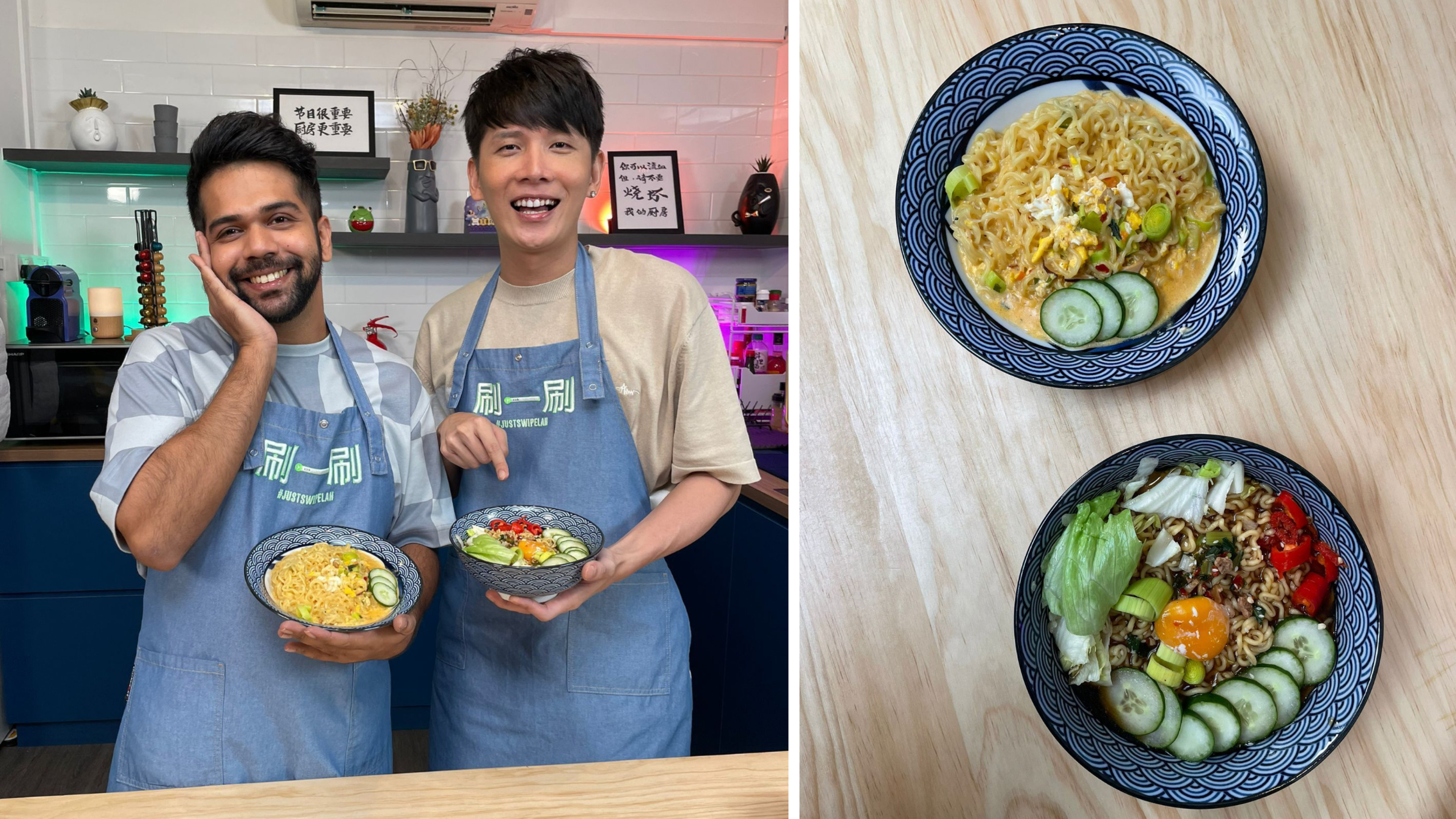 Das DD and Rao Zijie
What they ate: Zhng'd ramyeon
Yummy factor: Forget plain ol' instant noodles. The #JustSwipeLah hosts jazzed up the humble dish with a couple of hacks and came up with two creative creations — a refreshing chilled version by Zijie, as well as a rich and cheesy one by Das. Tune in to #JustSwipeLah to find out which tasted better.