Foodie Friday: What The Stars Ate This Week (May 6-13)
All the photos that made us hungry this week.
This week, Rui En bumped into Desmond Tan when they were chiong-ing for dim sum, Joanne Peh and Qi Yuwu enjoyed a hotpot date, and hiking buddies Zoe Tay, Phyllis Quek, Felicia Chin and Jeffrey Xu visited one of their favourite haunts for hawker fare. Read on for details.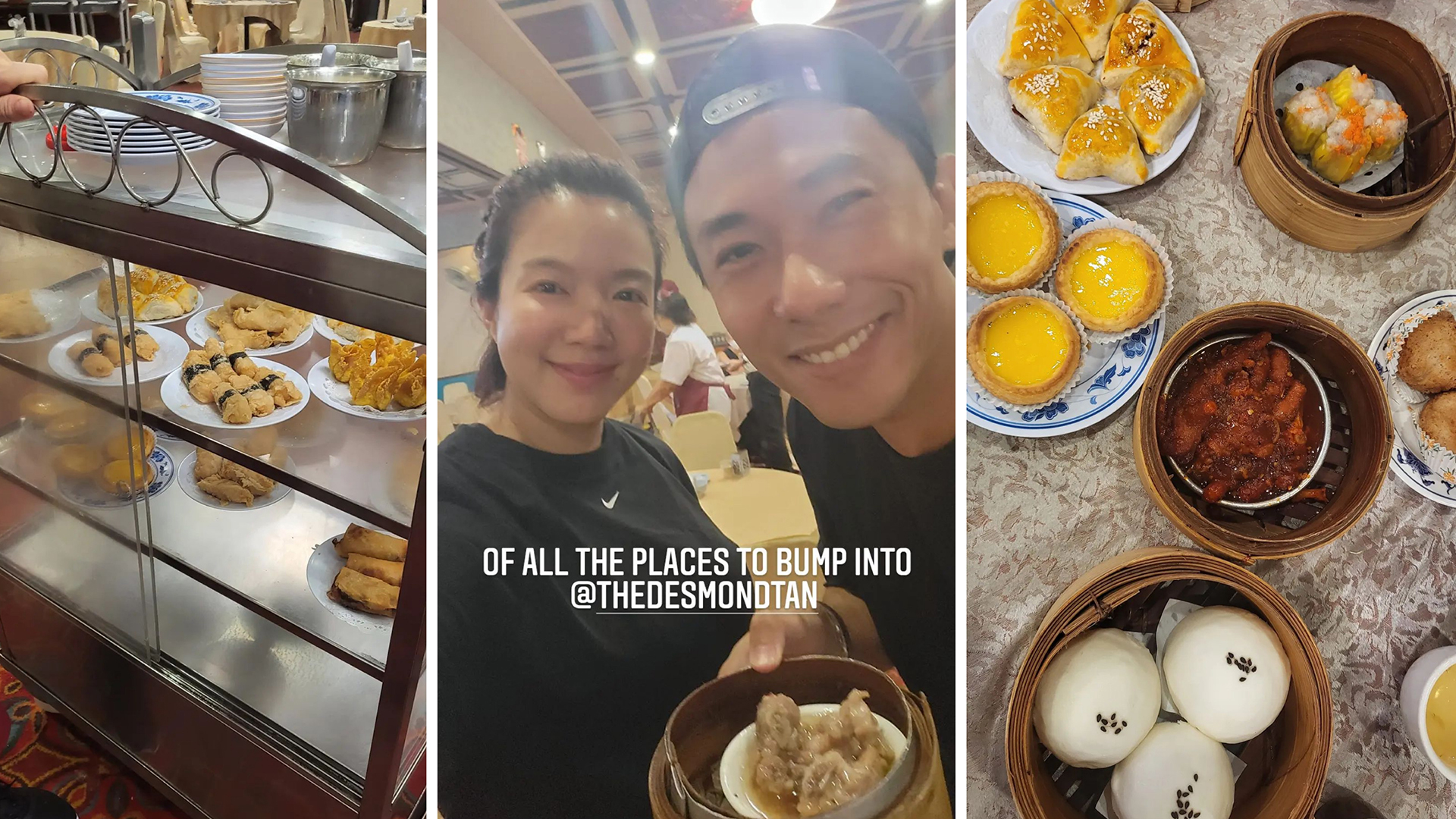 Rui En and Desmond Tan
What they ate: Dim sum
Yummy factor: What are the odds that they would both head out for dim sum at the same restaurant? Rui En bumped into Desmond at Red Star Restaurant, where they were both dressed down and busy choosing their dim sum dishes like cheong fun, egg tarts and char siew sou from the old-school mobile cart.
Carrie Wong
What she ate: Comfort eats
Yummy factor: Carrie spent her long weekend in Seoul where she played tourist and dug into some of her favourite eats like cheesy Korean stew, fried finger food with beer at casual resto BBQ Chicken & Beer. We're surprised she didn't get herself some crispy fried chicken though.
Joanne Peh and Qi Yuwu
What they ate: Hotpot at Xiao Long Kan Hotpot
Yummy factor: Who knew a spicy mala hotpot sesh could lead to a discussion about happiness? Well, for Joanne, it's definitely having Yuwu picking out the choicest cooked ingredients from the hotpot for her enjoyment. As for Yuwu.. Well, a happy wife equals a happy life!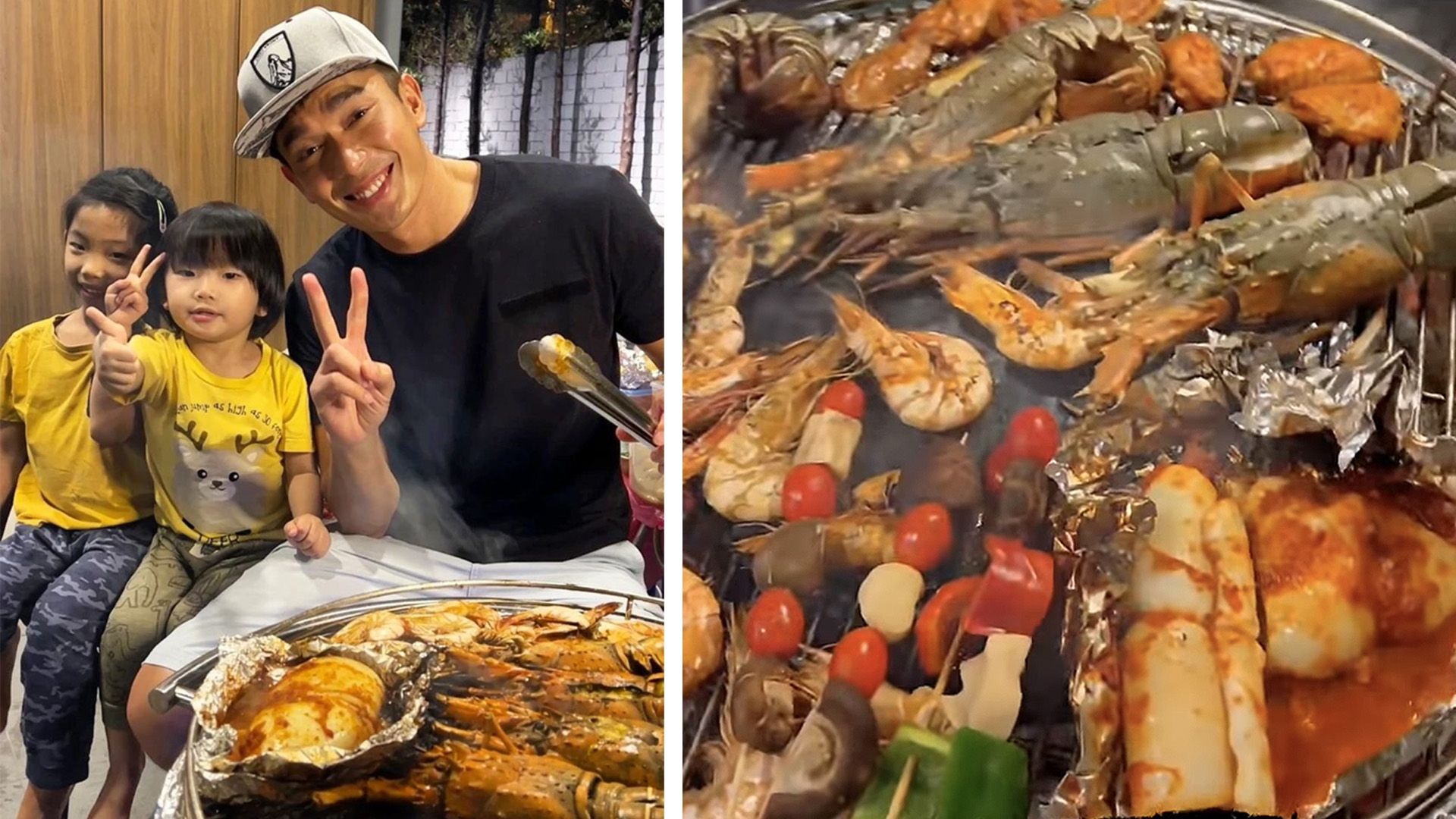 Elvin Ng
What he ate: BBQ seafood
Yummy factor: Mother's Day turned out to be a smoky affair for Elvin, who got behind the grill to whip up a sumptuous feast for his loved ones. And what better way to spoil them than with fresh lobsters, prawns, and kebabs? We've got our eye on the sambal squid.
Zoe Tay
What she ate: Hawker noms
Yummy factor: After a solid hike, one of Zoe's fave places to head to for a hearty meal is Beauty World Food Centre. This time, she went with pals Phyllis Quek, Hong Zhaorong, Felicia Chin and Jeffrey Xu, and they looks like they all couldn't wait to dig into the sliced fish soup, as well as the sharing platters of Korean fried chicken and dumplings.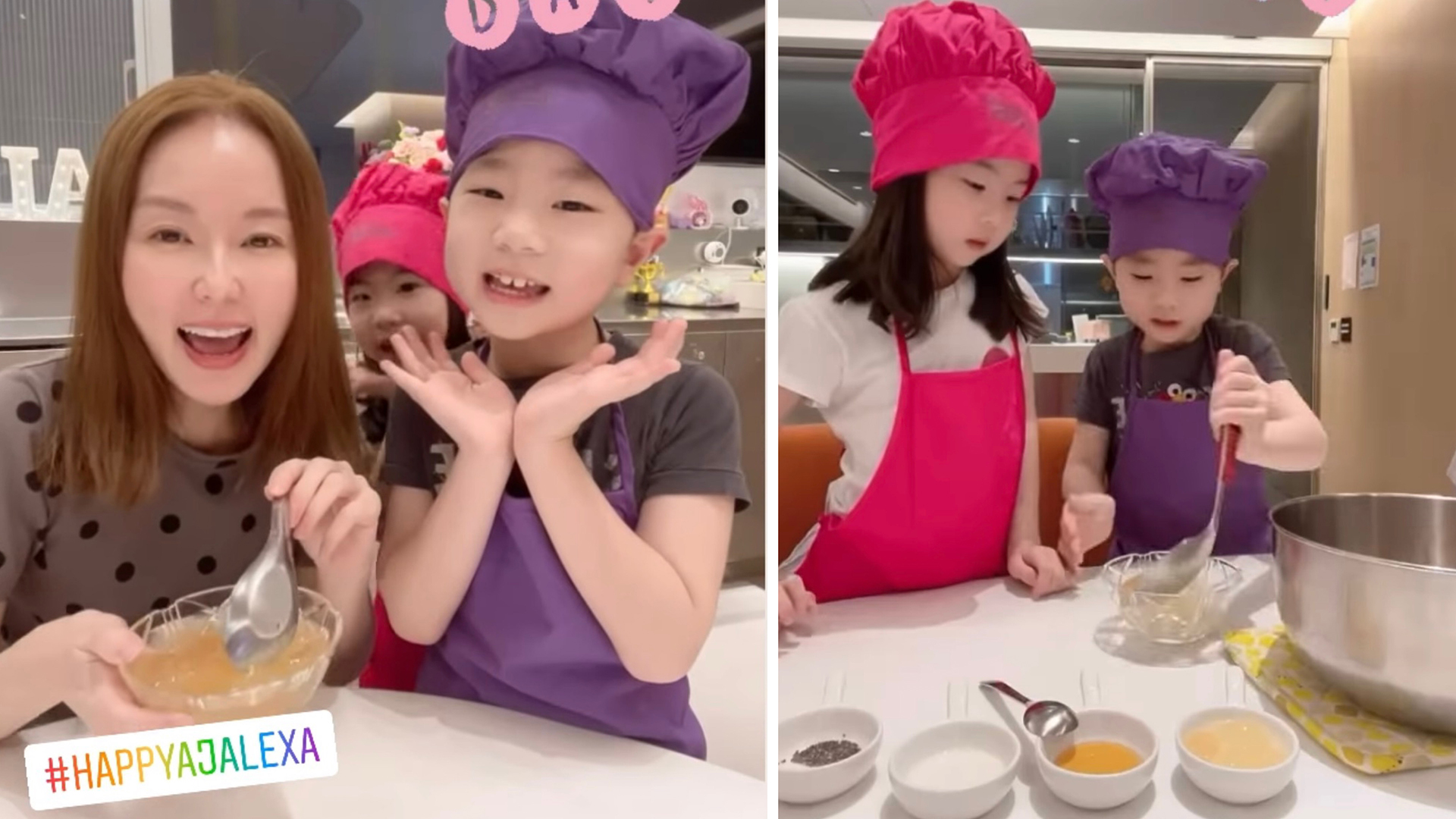 Yvonne Lim
What she ate: Aiyu jelly
Yummy factor: Could Yvonne's kids AJ and Alexa be any sweeter? The munchkins made her the Taiwanese dessert from scratch for Mother's Day, and included ingredients like chia seeds and lemon juice. The best part? They even remembered to add Yvonne's all-time favourite attap chee.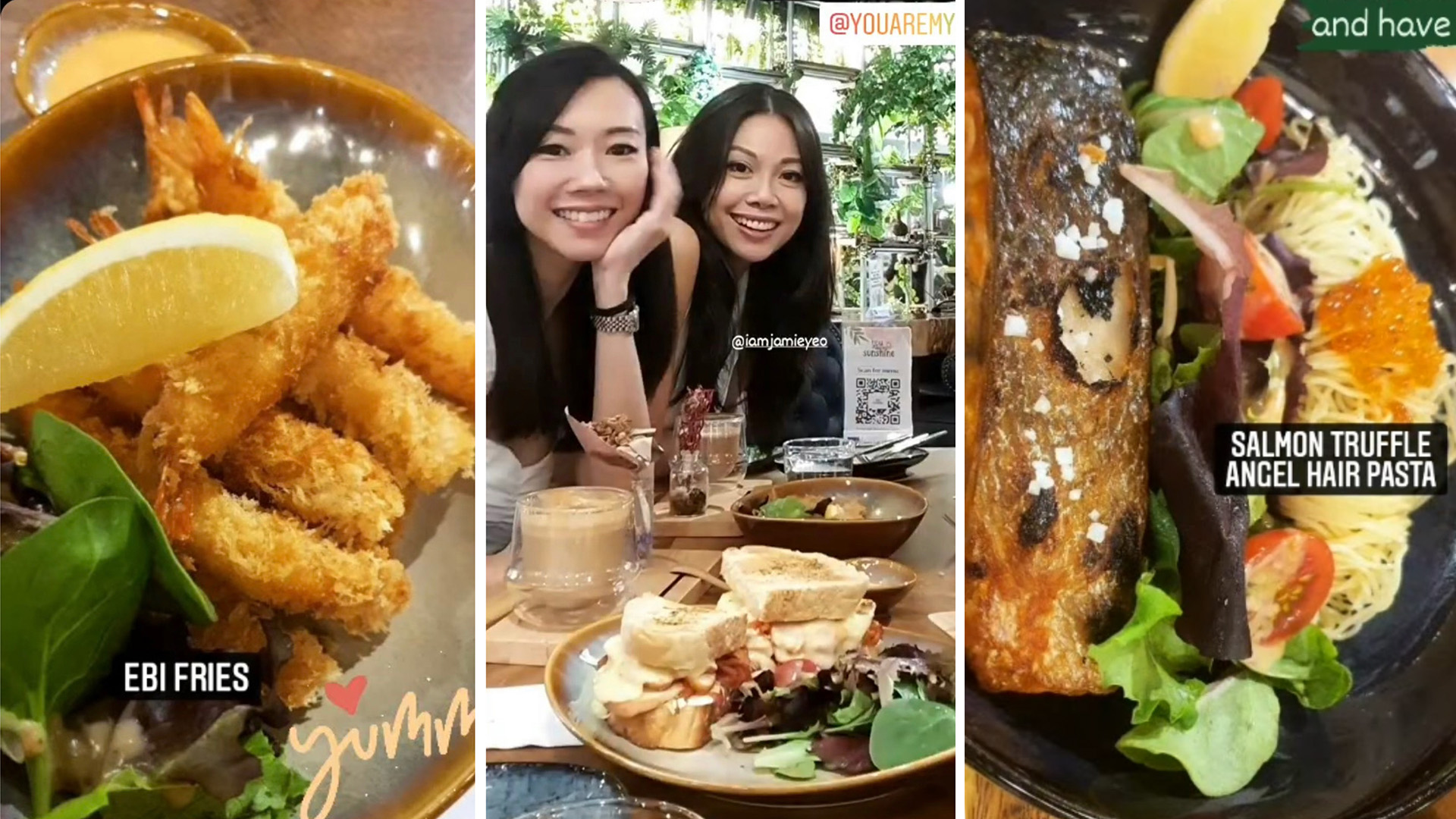 Jaime Teo and Jamie Yeo
What they ate: Cafe nosh
Yummy factor: The "twins" decided to check out K-inspired brunch cafe You Are My Sunshine and were impressed by both the food and nature-inspired decor. Some of the dishes they enjoyed include the truffle angel hair pasta with grilled salmon, grilled chicken and cheese kimchi sandwich, and ebi fries.
He Yingying, Michelle Wong, Joel Choo and Edwin Goh
What they ate: Argentinian fare
Yummy factor: The pals met up for a Friday night feast at Argentinian restaurant Bochinche, where they shared all things delectable — perfectly-executed steak, risotto, sangria, and more.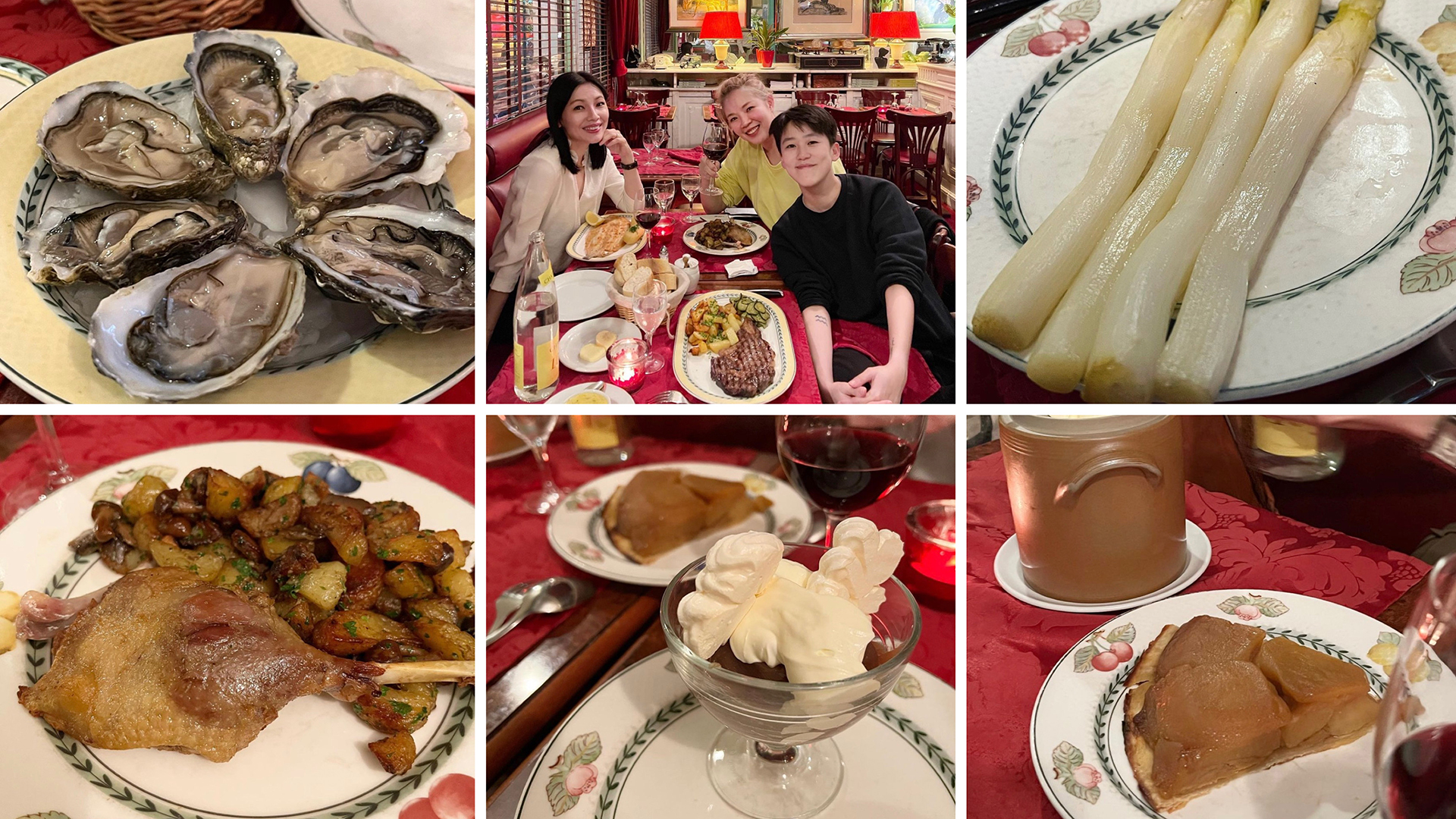 Sharon Au and Carrie Yeo
What they ate: Parisian fare
Yummy factor: The stars aligned for Carrie and Sharon, who managed to meet up while the former was holidaying in Paris. Sharon made arrangements for them to dine at Le Relais du Bois, a quaint family restaurant that Carrie took to, what with homely dishes like shucked oysters, duck confit, a generously-sized steak and tantalising desserts with plenty of cream.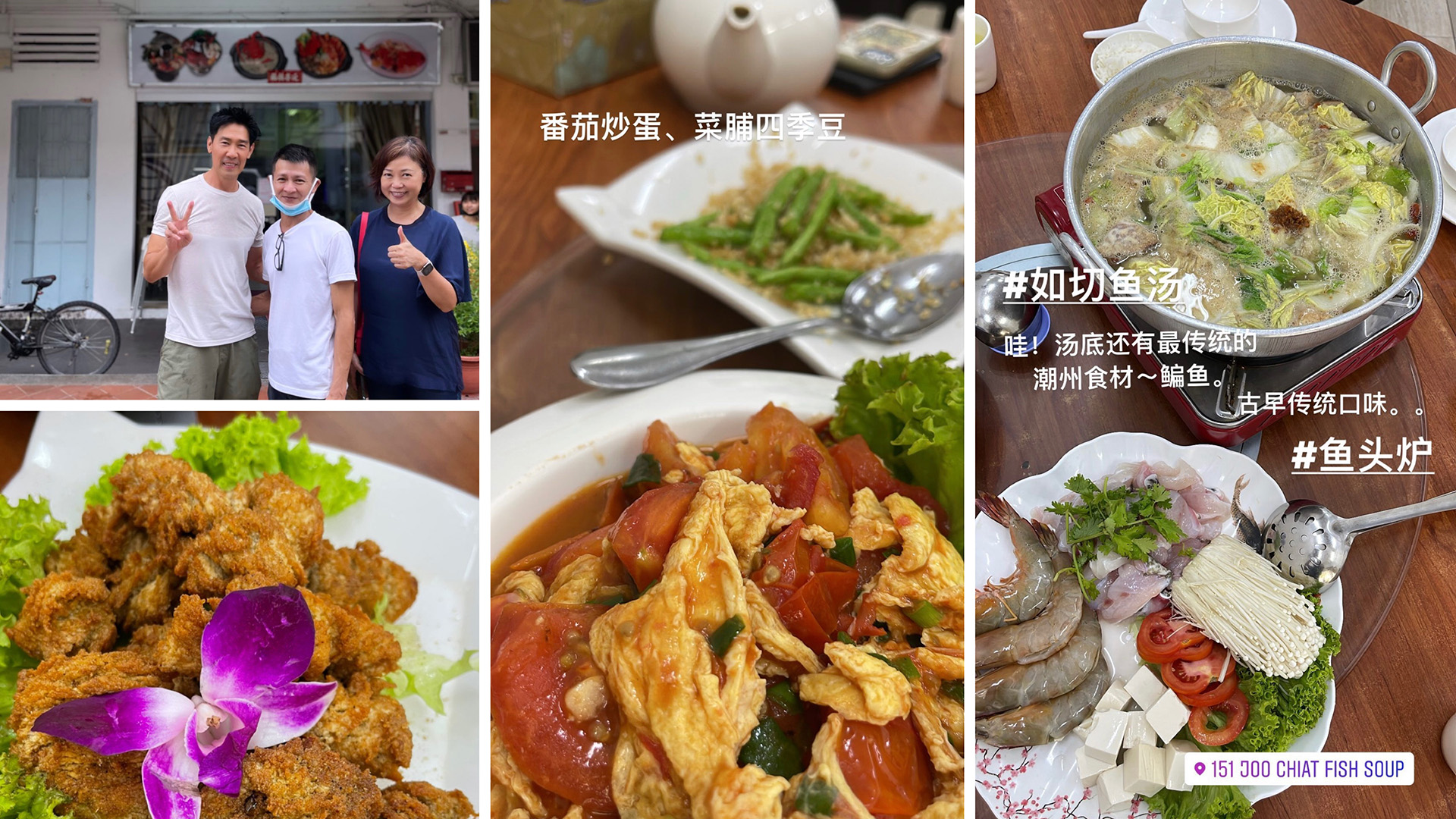 Xiang Yun and Edmund Chen
What they ate: Fish steamboat
Yummy factor: The couple enjoyed their meal at Joo Chiat Fish Soup so much, they couldn't help but wax lyrical about it. The Teochew-style fish steamboat came filled to the brim with fresh ingredients, and Xiang Yun appreciated the traditional flavours. Paired with fresh prawns on the side, as well as additional dishes like fried fish roe, tomato omelette and stir-fried French beans with savoury chye poh, it sure made for a satisfying lunch.
Chen Xiuhuan
What she ate: Exotic meats
Yummy factor: Reunited with her daughter Shalynn Tsai in Adelaide, Xiuhuan has been busy catching up with her over delish nosh, and we're intrigued by what she had at local restaurant Two Pot Screamer. Aside from fresh oysters and kingfish sashimi, there were also exotic menu items like kangaroo tartare on toast and fried crocodile meat.
Vernon A and Justin Ang
What they ate: Japanese cuisine
Yummy factor: Whilst the celebratory meal at Ichiban Boshi wasn't the cash present Vernon had requested from on-air partner Justin for his 50th birthday (May 12), it proved to be a lit present — quite literally — all the same. We're talking dishes on fire, like the flaming salmon sushi and wagyu beef they got to try.
Jeanette Aw
What she ate: Chocolatey treats
Yummy factor: What could the patisserie boss have up her chef's sleeves this time? Well, whatever it is, we're liking the looks of what's on her cocoa powder-dusted tray. Could these delightful treats be chocolate truffles?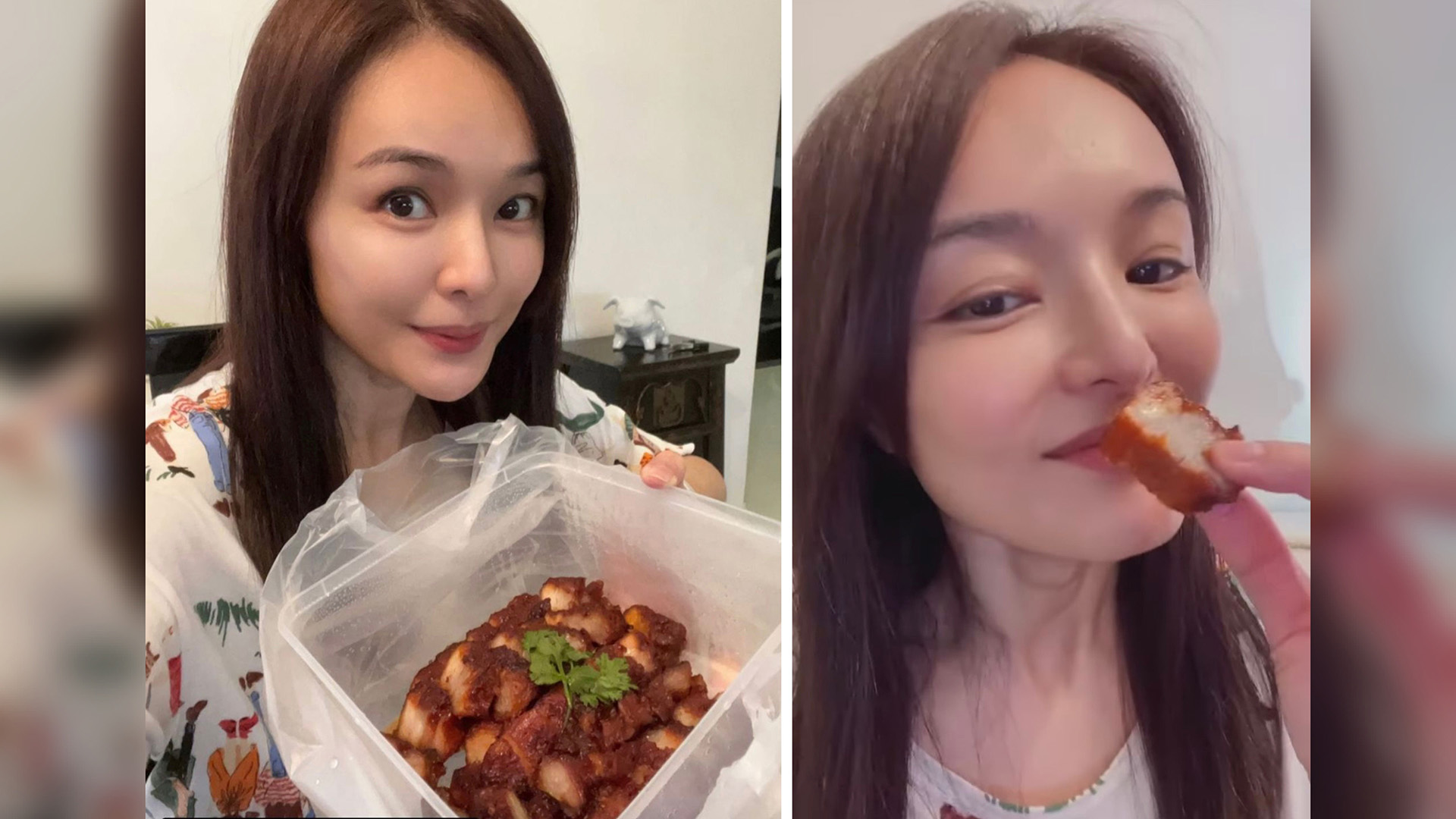 Apple Hong
What she ate: Specially-delivered char siew
Yummy factor: Receiving a box of char siew probably has never been more touching for Apple. She had casually mentioned that she has never tried the famed char siew from Michelin-starred Cantonese restaurant Chef Kang's, only to have the tender and juicy barbecued pork delivered to her doorstep the next day by a friend.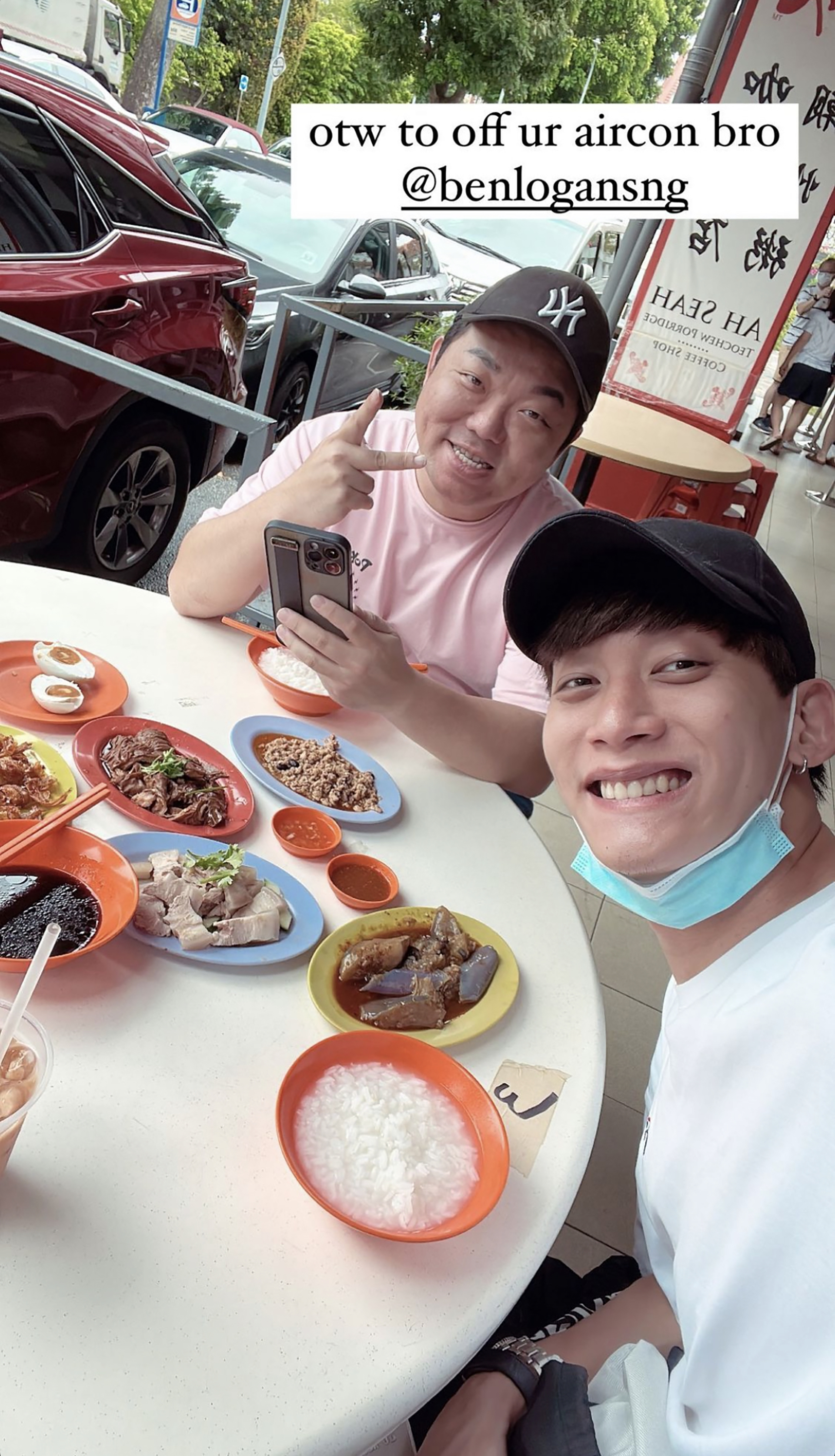 Noap Yap
What he ate: Teochew porridge
Yummy factor: A simple meal of Teochew porridge like Noah's becomes a shiok one when enjoyed with flavourful side dishes like minced meat, pork belly, braised innards, salted duck eggs and more. And of course, savoury gravy is a must.
Jade Seah
What she ate: Satisfying dinner 
Yummy factor: Jade got to have her fave seafood at wine bar and grill Bar Uva, as well as juicy oysters with smoked caviar and wood-fired sourdough bread. But it may have very well been the grilled Iberico pork jowl flavoured with Japanese spices that stole the show with its tenderness.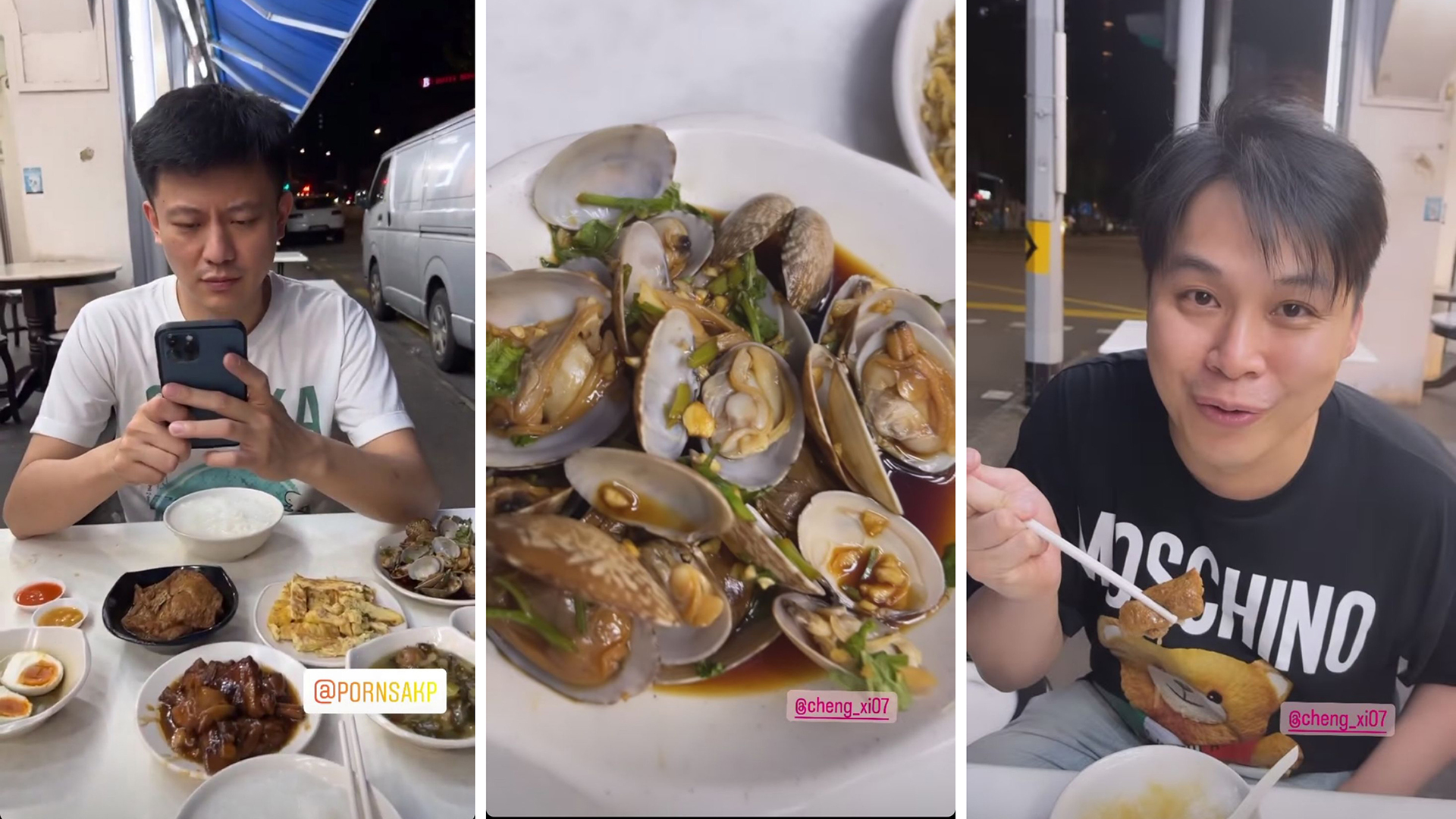 Pornsak and Kang Chengxi
What they ate: Teochew porridge
Yummy factor: It looks like Noah wasn't the only one who had his porridge fix this week. Supper buddies Pornsak and former artiste Kang Chengxi slurped up theirs with different side dishes like saucy stir-fried lala, fried omelette, salted vegetables, and braised trotters and tau pok.
Kayly Loh and Hazelle Teo
What they ate: Lunch
Yummy factor: The ladies' luncheon at a press event was a scrumptious affair with creamy eggs and sauteed mushroom on toasts and fried tater tots to share. Plus, the iced lattes topped with cocoa powder were probably perfect as a mid-day treat.
You Yi
What she ate: Taste of the sea
Yummy factor: You Yi brought mummy dearest to Tanuki Raw where they both tucked into fresh oysters, chilled jumbo prawns and the restaurant's signature donburis topped with hearty ingredients like beef, tempura, sashimi and wobbly onsen eggs. Yum.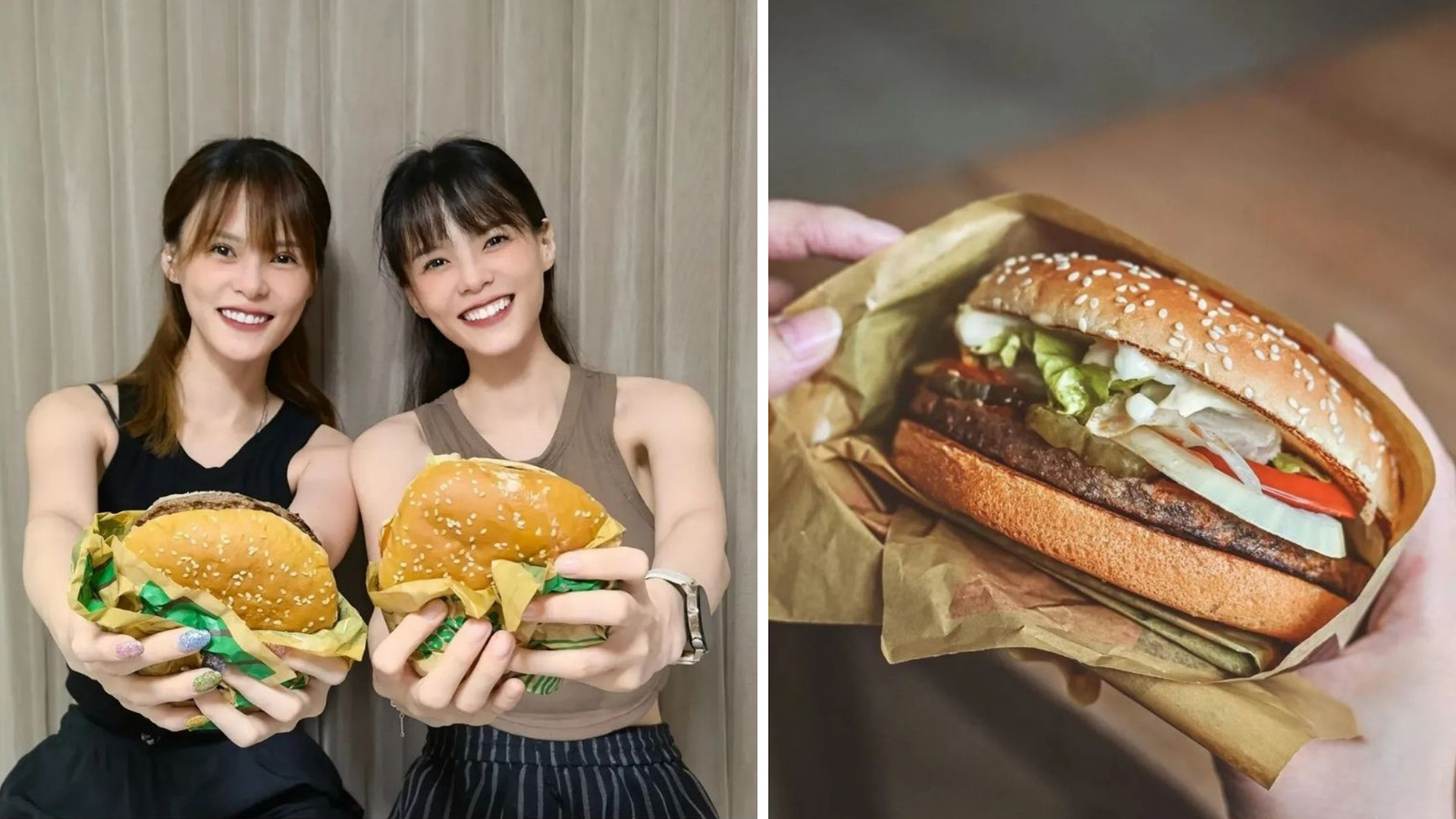 Jayley and Hayley Woo
What they ate: Plant-based burgers
Yummy factor: Could meat-free burgers be just as delicious? Well, it's a yes from the Woo twins, who tried out Burger King's plant-based Whopper burger and found it similar to its original beef version. And in case you were wondering, the flame-grilled patties used are from The Vegetarian Butcher and made from soy.