Foodie Friday: What The Stars Ate This Week (Oct 14-21)
 All the photos that made us hungry this week.
If you're a fan of hawker fare, you're in for a treat as the celebs shared some yummy recommendations this week. Ann Kok checked out a newly-opened Hainanese chicken rice eatery, Lina Ng and Carole Lin caught up over nasi lemak, and Cheryl Wee brought friends to have her favourite prawn mee. Meanwhile, JJ Lin indulged in fried chicken, and Oon Shu An had one last hurrah at her former workplace Fosters Steakhouse before it closes for good on Oct 26. 
Ann Kok
What she ate: Chicken rice
Yummy factor: It was a protein-rich lunch for Ann at Sin Ming Road Chicken Rice, where flavoured rice was accompanied by both poached and roast chicken, as well as an additional order of gizzards. We've tried the chook here and especially love the steamed chicken, which boasts the coveted jelly-like layer beneath the skin — perfect with a dash of dark soy sauce and ginger sauce.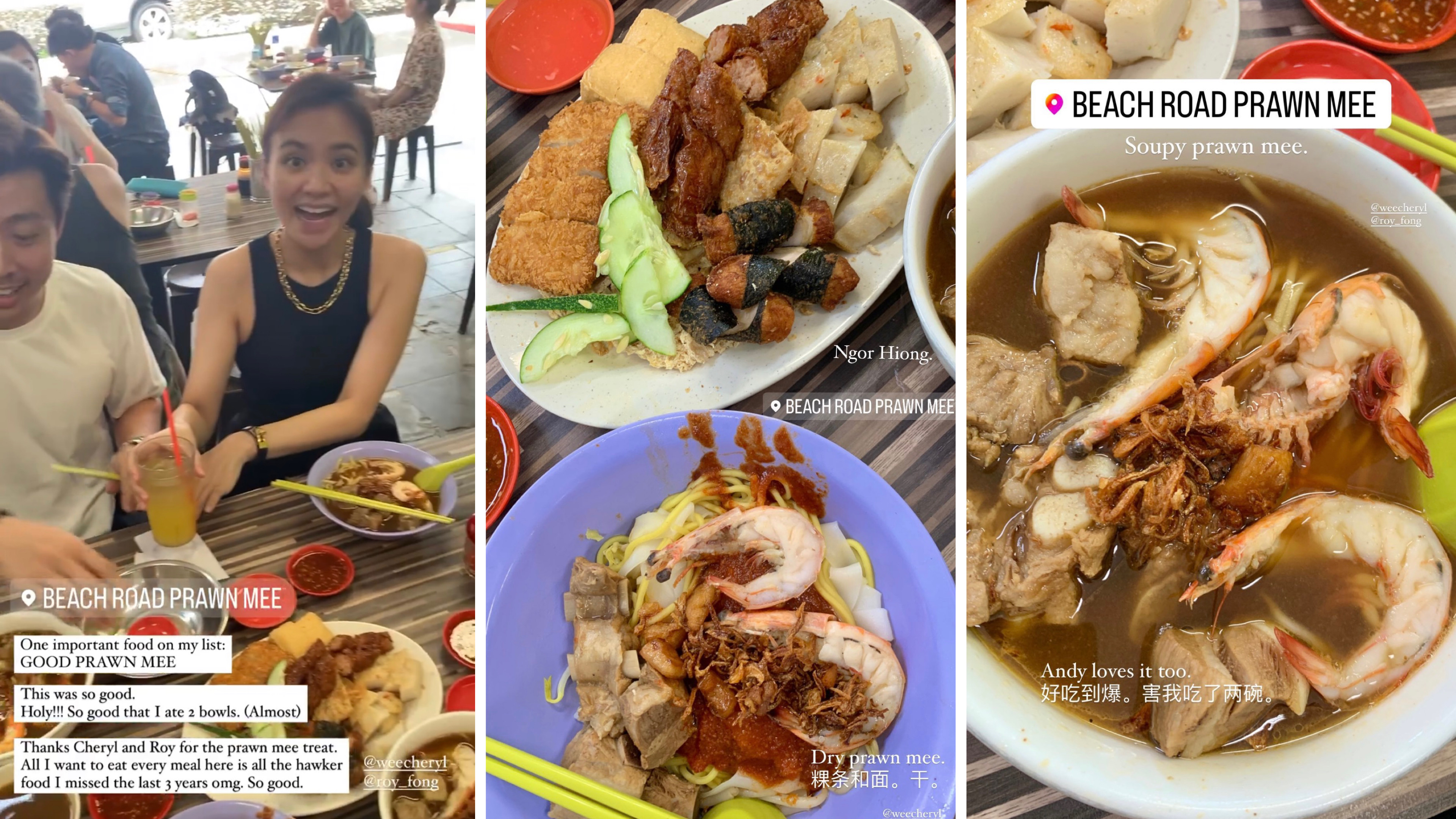 Cheryl Wee
What she ate: Prawn mee
Yummy factor: Where's a makan spot you'd definitely bring a friend who's back in town? For Cheryl, it's likely Beach Road Prawn Mee for bowls of umami goodness. Both the dry and soup versions with pork ribs and pig's tail will surely satisfy hungry folks — especially with a fried ngoh hiang platter on the side.
JJ Lin
What he ate: Scrumptious supper
Yummy factor: JJ, who's in Seoul preparing for his upcoming JJ20 world tour, treated his dance crew to boxes of Korean-style crispy chicken in varying flavours, and boy did the late-night spread look scrumptious. Should JJ indulge in fried chicken at 2am? Well, why not? After all, we bet he was ravenous after the rehearsal sesh.
Carrie Wong
What she ate: Comfort food
Yummy factor: It may have been a simple fix of regular instant noodles, but the toppings were nowhere near humble. Carrie's mum pimped up the dish with seven (!!) mini abalones, fried omelette, and brightly-coloured garnish. Yum.
Lina Ng and Carole Lin
What they ate: Nasi lemak
Yummy factor: Lina and Carole met up at Ponggol Nasi Lemak for hearty plates of nasi lemak, choosing appetite-whetting sides like otah, stir-fried long beans, fried eggs and chicken wings to go with the fragrant rice. And of course, the sambal chilli is a must.
YES 933 DJs

Kevin Chua, Zhong Kunhua, Hazelle Teo, and Zhu Zeliang
What they ate: Japanese favourites at Yabai Izakaya
Yummy factor: The YES 933 DJs had a decadent lunch to say the least, indulging in everything from sashimi to grilled squid and tantalising maki sushi topped with seared salmon slices and juicy mentaiko. Also, Kunhua looks really pleased with his Japanese curry udon.
Kayly Loh
What she ate: Scissors-cut curry rice
Yummy factor: Kayly made the most of her work break and headed out to get herself a packet of scissors-cut curry rice from Beach Road Scissor-Cut Curry Rice. Never mind the questionable socks and slides she had on — her shiok lunch of curry-laden rice and ingredients like soft cabbage and fried egg was well worth the fashion faux pas.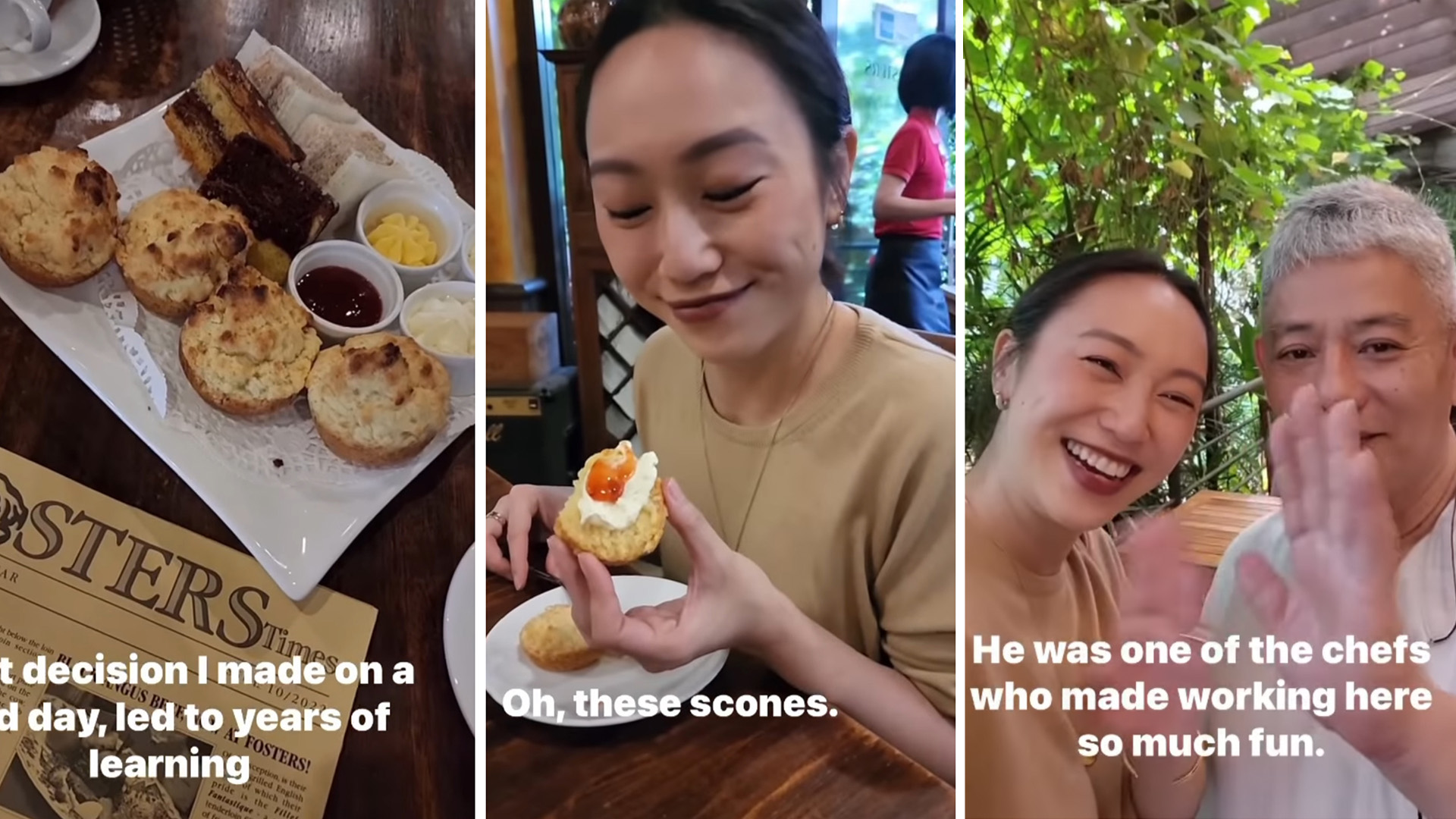 Oon Shu An
What she ate: A bite of history
Yummy factor: Do you remember what your first job was like? For Shu An, it was a waitressing job at Fosters Steakhoue at Holland Village, which she applied for on the day she found out that she had to repeat her first year at junior college. Nonetheless, a sad day turned out to be the start of a memorable learning experience that she'll always look back fondly on. Now that the decades-old restaurant will be closing for good on Oct 26, she made sure to visit once more to relive the good ol' times with a last taste of their freshly-baked scones with homemade strawberry preserve and cream. Luckily for Shu An, she also managed to catch up with longtime staff members like Peter, a chef who made the establishment a fun place to work for her.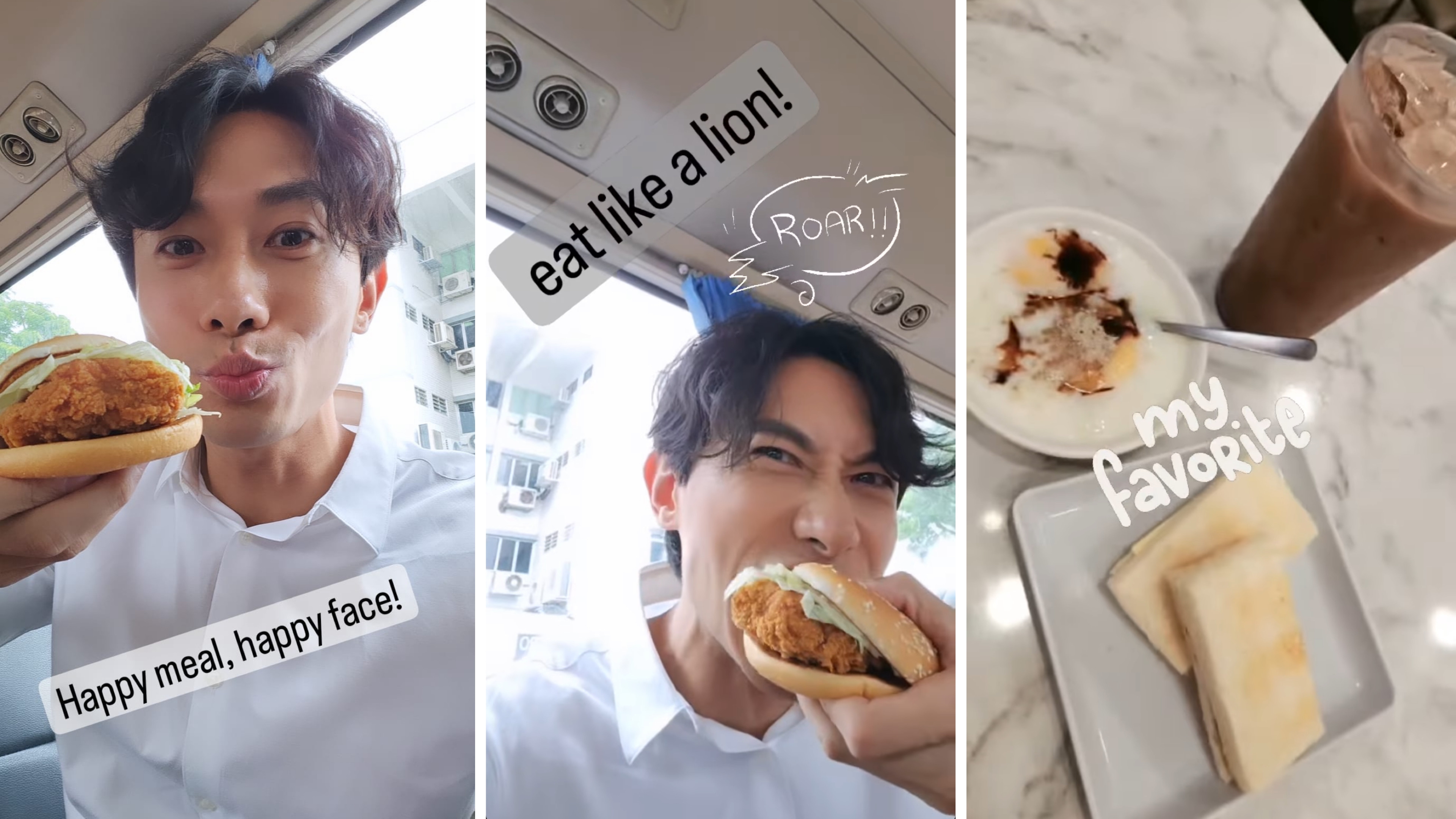 Desmond Tan
What he ate: Post-diet noms
Yummy factor: After three whole months of having to settle for plain chicken breast and steamed broccoli every day to maintain his ripped physique for upcoming Mediacorp drama Strike Gold, Desmond can finally "eat like a lion". In fact, he couldn't be happier to sink his teeth into a McSpicy burger after his swimming scene, and he also got to have his fave kaya toast with soft-boiled eggs and iced milo.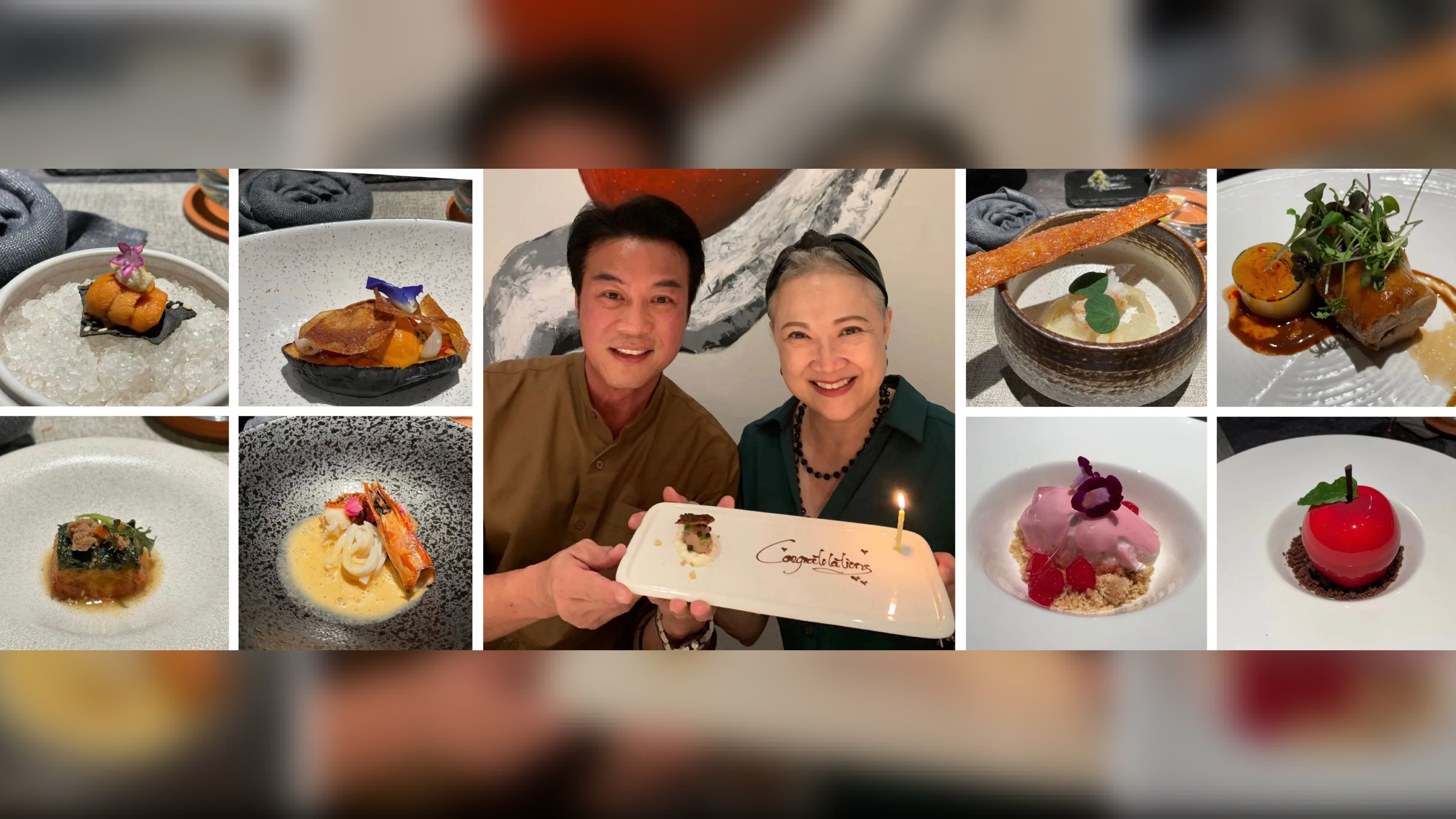 Zheng Geping and Hong Huifang
What they ate: Celebratory meal
Yummy factor: With feature film Ajoomma's recent success, it's no wonder leading lady Huifang has been celebrating with her loved ones. A recent omakase dinner with hubby Geping and friends saw them indulging in creations like think creamy sea urchin, rich soup and delectable desserts (there's even one shaped like an apple).
Edmund Chen
What he ate: Local breakfast
Yummy factor: Edmund had a nice surprise when he went to Marine Parade Central Food Centre for breakfast. When ordering his kaya toast with half-boiled eggs and hot kopi, he spotted a decal featuring My Little Red Dot — a children's activity book he wrote — on the stall's refrigerator.
Mark Lee
What he ate: Birthday desserts
Yummy factor: Mark had no lack of sweet treats for his 54th birthday (Oct 16). However, we bet Fann Wong's brown butter pecan tart, the latest addition to her pastry shop Fanntasy, and J Petite Patisserie's super huat money pulling cake (complete with gold coins, ingots and mahjong tiles) probably made for memorable gifts.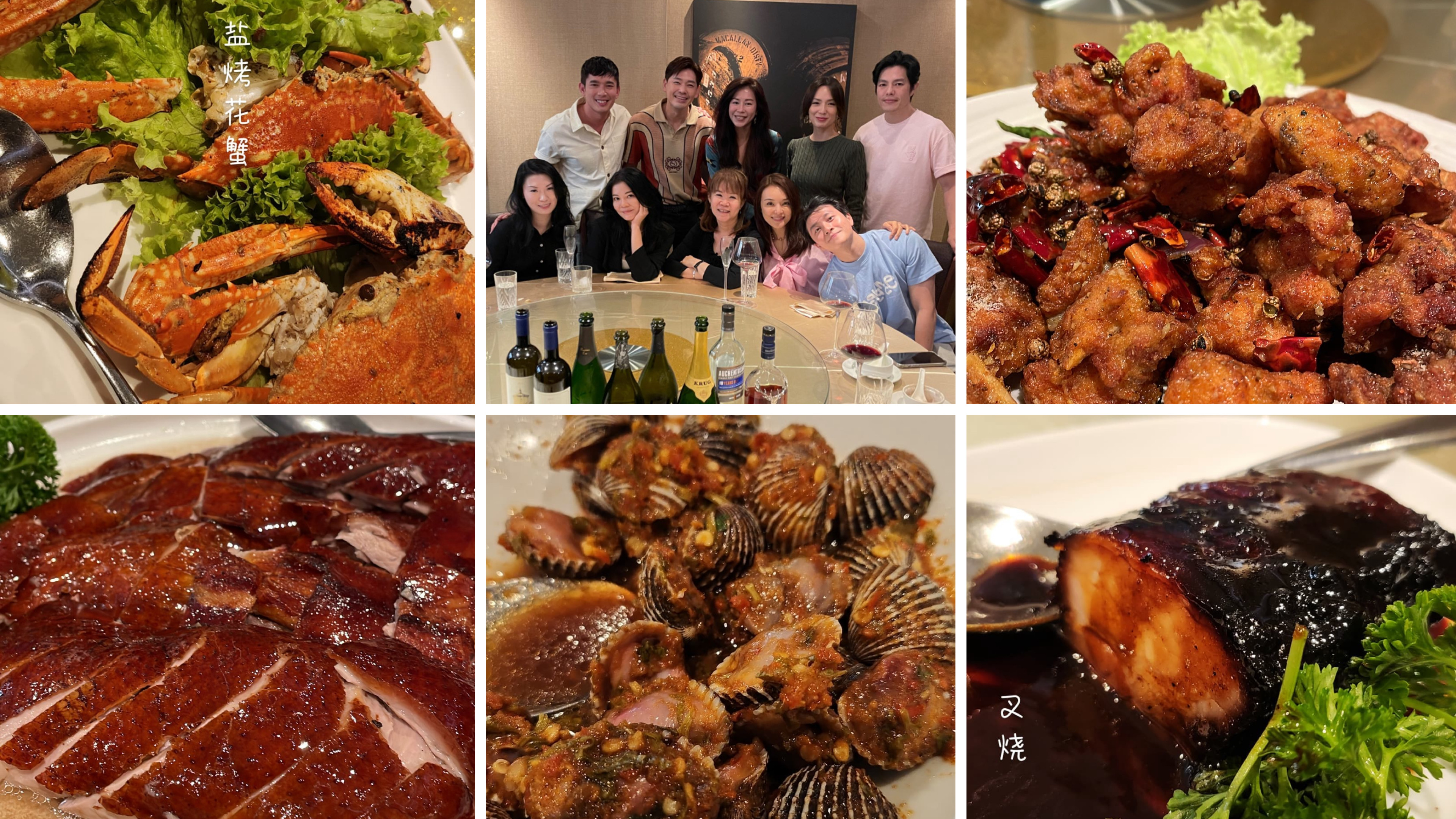 Elvin Ng, Michelle Chong, Romeo Tan, Michelle Chia, Apple Hong, Jacelyn Tay, and Zhang Yaodong
What they ate: Chinese delights
Yummy factor: Famous Treasure has always been these celeb pals' fave haunt. This week, they gathered for a sumptuous dinner and ordered the likes of salt-baked flower crabs, la zi ji, roast Irish duck, and chilli cockles. And whenever Michelle Chong's at a gathering, there's bound to be booze. Even Jacelyn, who's quit alcohol for a while, had a swig.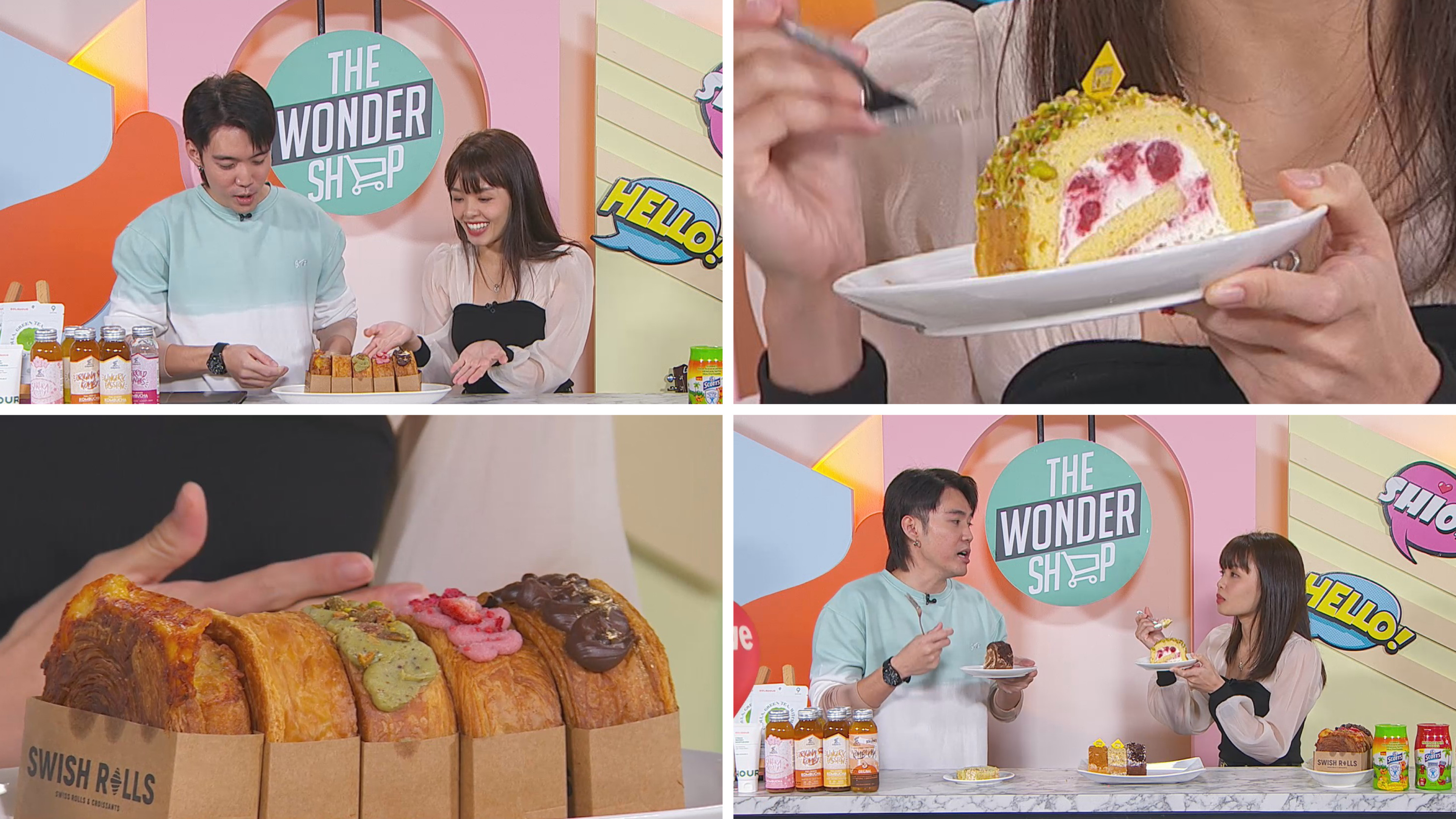 Desmond Ng and Hazelle Teo
What they ate: Indulgent bakes
Yummy factor: Got your hands on the coveted croons aka circular croissants from homegrown patisserie Swish Rolls yet? You can now score these TikTok-viral pastries on Mediacorp's live shopping programme The Wonder Shop at exclusive prices till Oct 31. Buttery and flaky, the hybrid croissants are stuffed with cream filling in flavours like Loaded Pistachio, Super Summer Berries and Deep Dark Valrhona Chocolate. Desmond enjoyed them so much, he said he could easily down two at a go. As for the Swiss rolls, Hazelle liked how they are soft and generously filled with luscious cream. Flavours include Strawberry Pistachio and Caramel Biscoff, and you'll be happy to know that they aren't overly cloying or too sweet. Watch The Wonder Shop for more details.
Sharon Au
What she ate: All things eggs
Yummy factor: For an egg lover like Sharon, having brunch at Shake Eat Oeuf in Bordeaux, France, must have been a fabulous experience. The restaurant is known for its egg-based dishes and customisable bowls. As for Sharon, it seems like she had picked out a healthy bowl of greens and 'shrooms to go with her soft-boiled eggs and crispy bacon strips.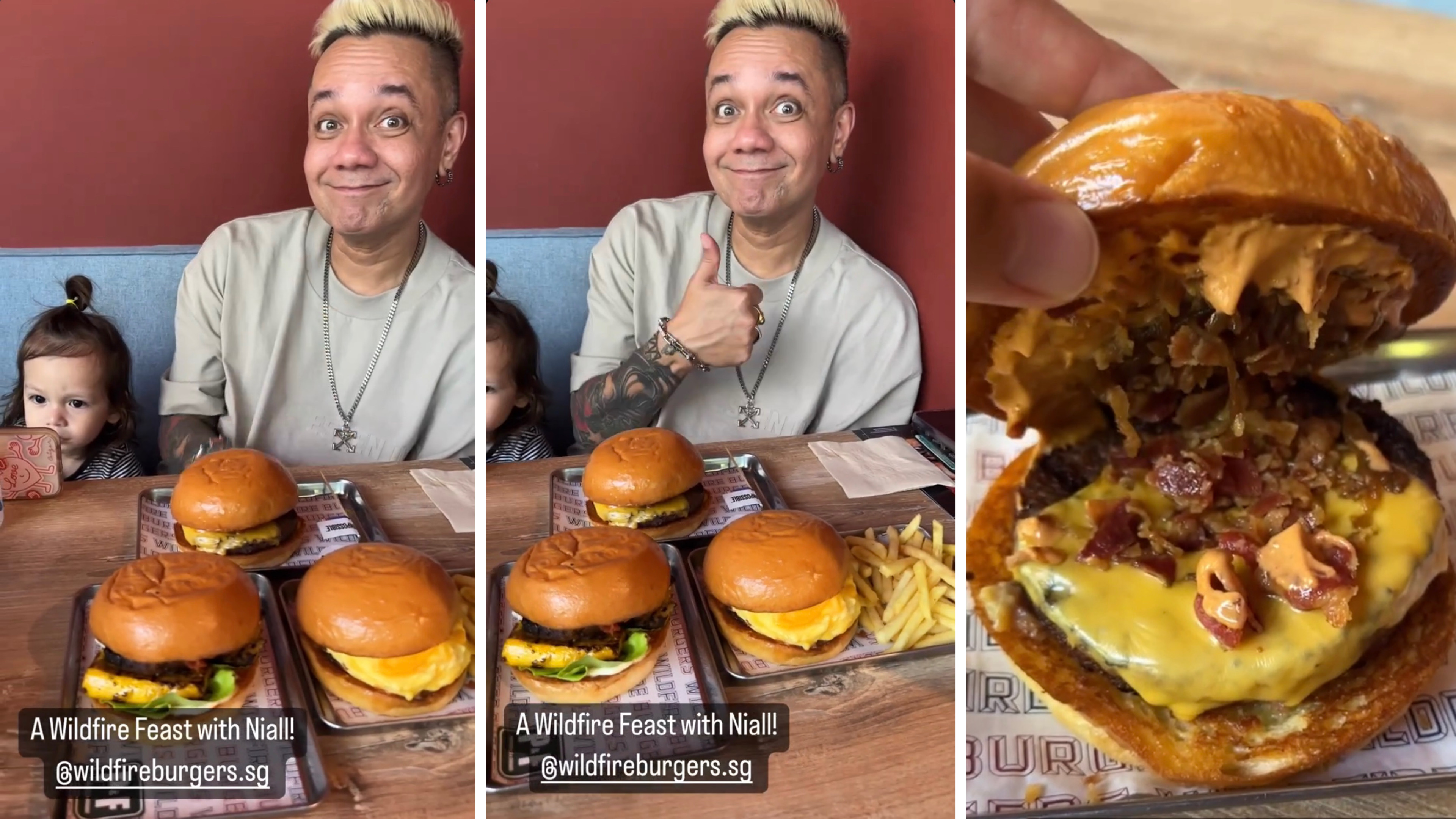 Vernon A
What he ate: Burgers
Yummy factor: It was a boys' day out for Justin Ang, Vernon A and his son Niall who headed to Wildfire Burgers to try their Contrarian Burger, a seasonal creation that's put together with a juicy meat-free patty seared with beef tallow, lots of crispy bacon, cheese and more. While Vernon couldn't wait to dig into the messy meal, Niall, who's almost two, didn't seem to share the same enthusiasm as his dad
Patricia Mok
What she ate: Japanese grub
Yummy factor: Dinner with fashion stylist Martin Wong at casual Japanese dining destination The Modern Izakaya proved to be a hilarious affair, since the first dish turned out to be a single skewer of grilled chicken butts. Was that all she was going to have for her birthday? To Pat's immense relief, however, it was soon accompanied by other yakitori delights and sushi.
Jade Seah
What she ate: Al fresco dinner at Sol & Luna
Yummy factor: While Jade may not fancy fresh greens, adding a generous portion of smoked gorgonzola cheese will do just the trick in getting her to tuck into a salad. However, she probably had no reservations about tucking into the perfectly-grilled seabass fillet with mini heirloom tomatoes and crushed marble potatoes.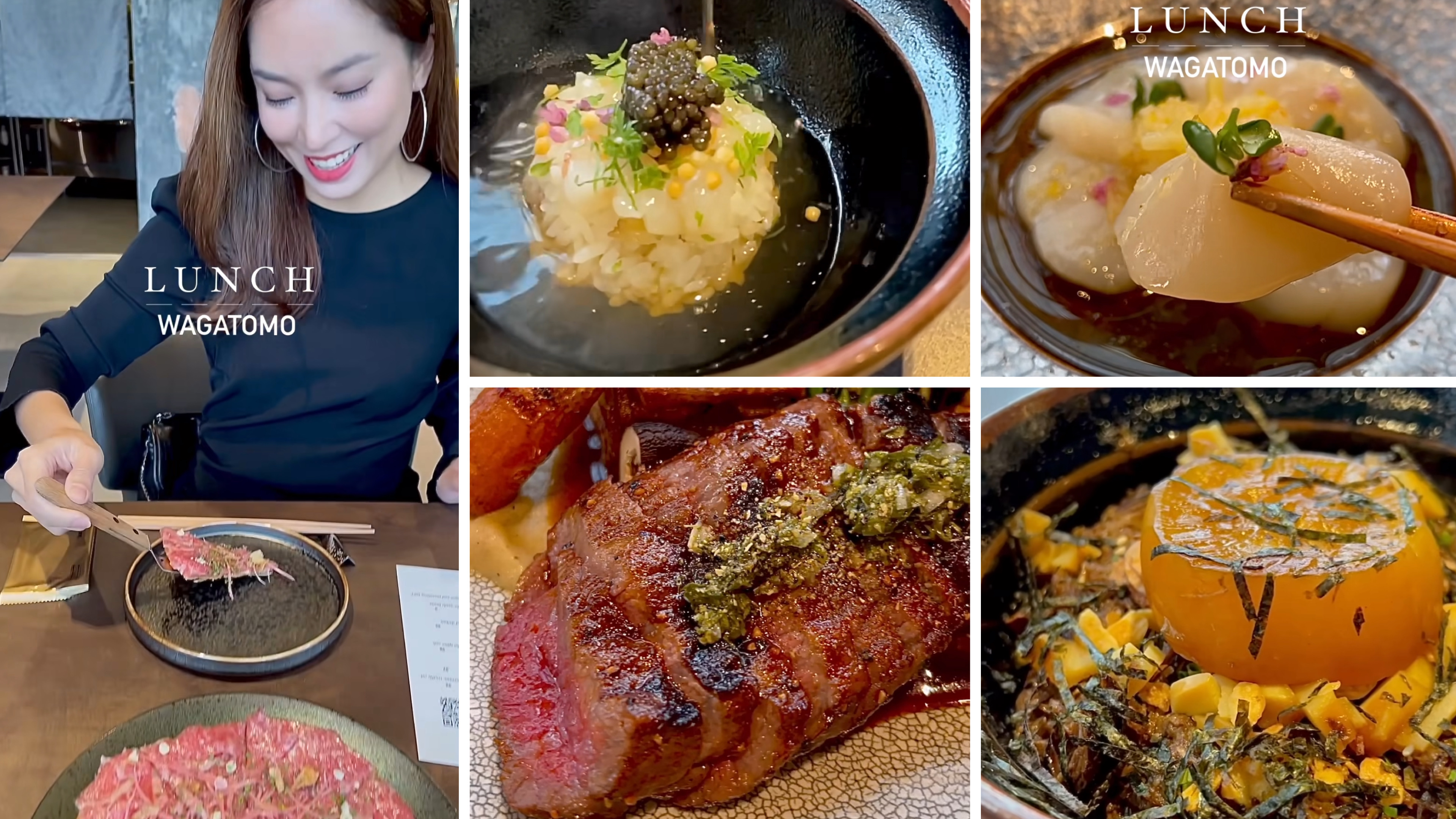 You Yi
What she ate: Contemporary Japanese
Yummy factor: You Yi's leisurely lunch at newly-opened restaurant Wagatomo looked nothing short of fantastic — menu highlights include the A5 wagyu pizza with ponzu mayo, grilled A5 tri tip and comforting scampi ochazuke (savoury broth over rice) topped with caviar.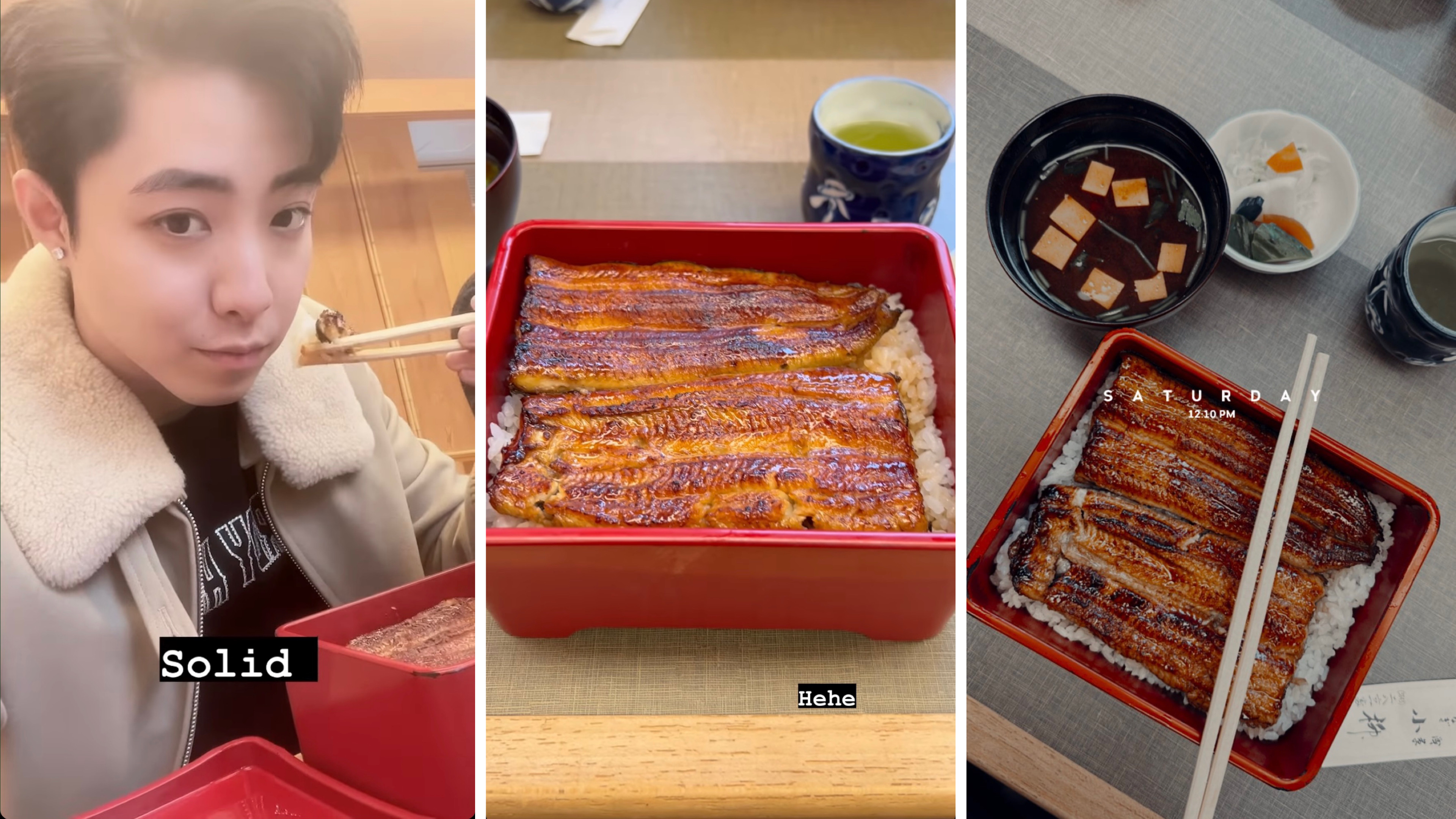 Zong Zijie
What he ate: Unadon
Yummy factor: While holidaying in Tokyo, Zijie had a "solid" unadon that left him impressed. We're talking steamed Japanese pearl rice topped with thick slabs of eel slathered in sauce and grilled to perfection. Also, it never hurts to have pickled greens on the side to freshen the palate.