Foodie Friday: What The Stars Ate This Week (Sep 2-9)
All the photos that made us hungry this week.
This week, celebs like Li Nanxing, Vivian Lai and Carole Lin checked out Thomas Ong and MasterChef Singapore alum Aaron Wong's wanton mee stall at the Singapore Food Festival, Elvin Ng played host to Ann Kok, Romeo Tan and Michelle Chong at his crib, and Lawrence Wong and Malaysian actress Jojo Goh joined a snaking queue for nasi lemak. Read on for more.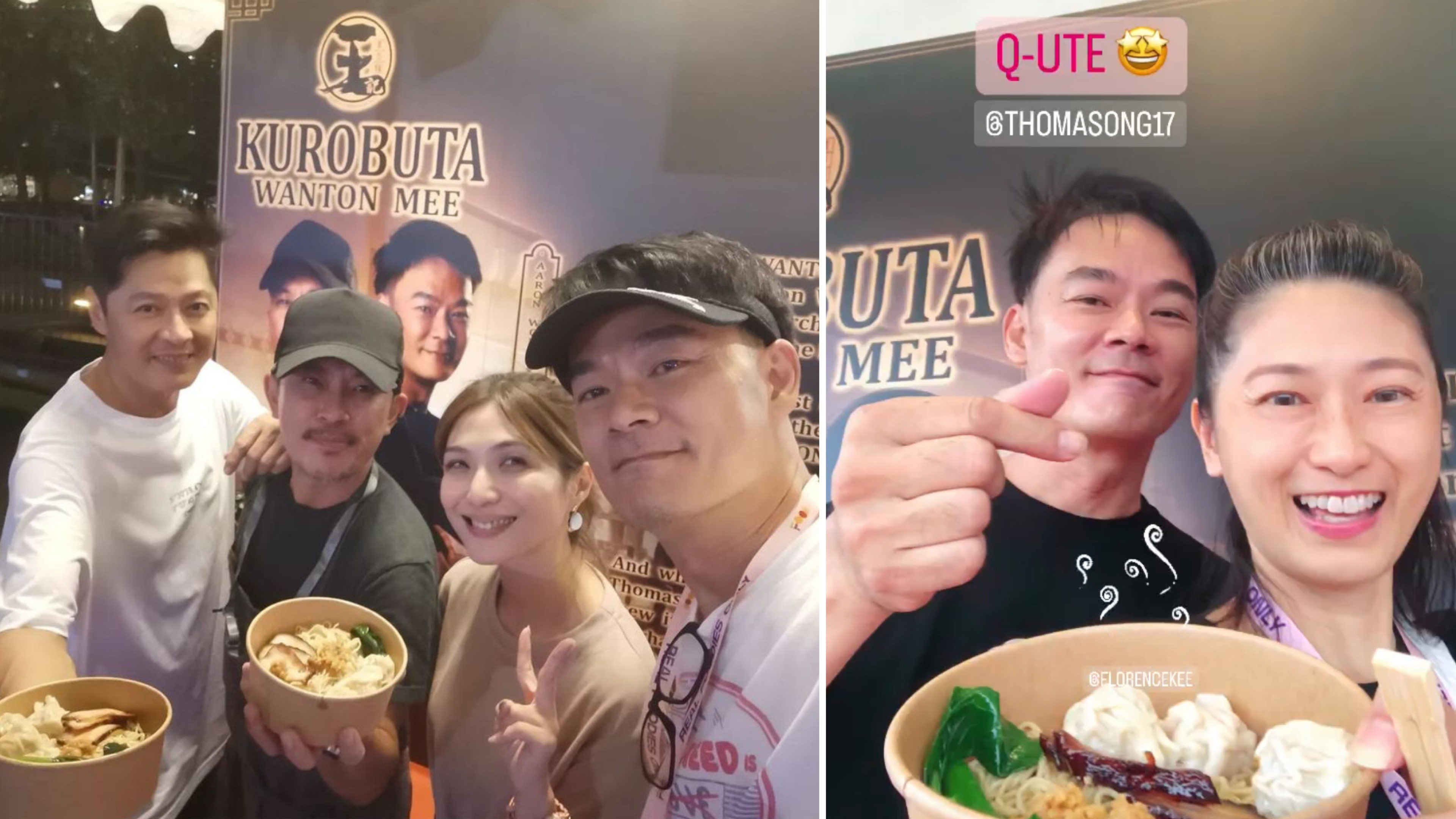 Li Nanxing, Vivian Lai, Thomas Ong and Carole Lin
What they ate: Wanton mee with kurobuta pork
Yummy factor: Celebs pals like Nanxing, Vivian and Carole lent their support to the launch of Thomas and MasterChef Singapore season 1 finalist Aaron Wong's F&B venture Wang Ji Wanton Mee at the Singapore Food Festival. And while the highlight is the caramelised kurobuta char siew, Ah Ge's favourite part of the dish are the succulent and juicy wantons, handmade by Thomas.
Qi Yuwu
What he ate: Staycay noms
Yummy factor: It sure looked like the Qi family enjoyed their staycation. Not only did Baby Qi, 7, and Qi Didi, 5, get to indulge in private dining in their kid's tent (we spy burgers and fries), Yuwu also got to have his fill of breakfast noms — fried kway teow, pastries, yogurt on the side and a refreshing salad for balance. Also, spot Joanne's half-eaten hashbrown.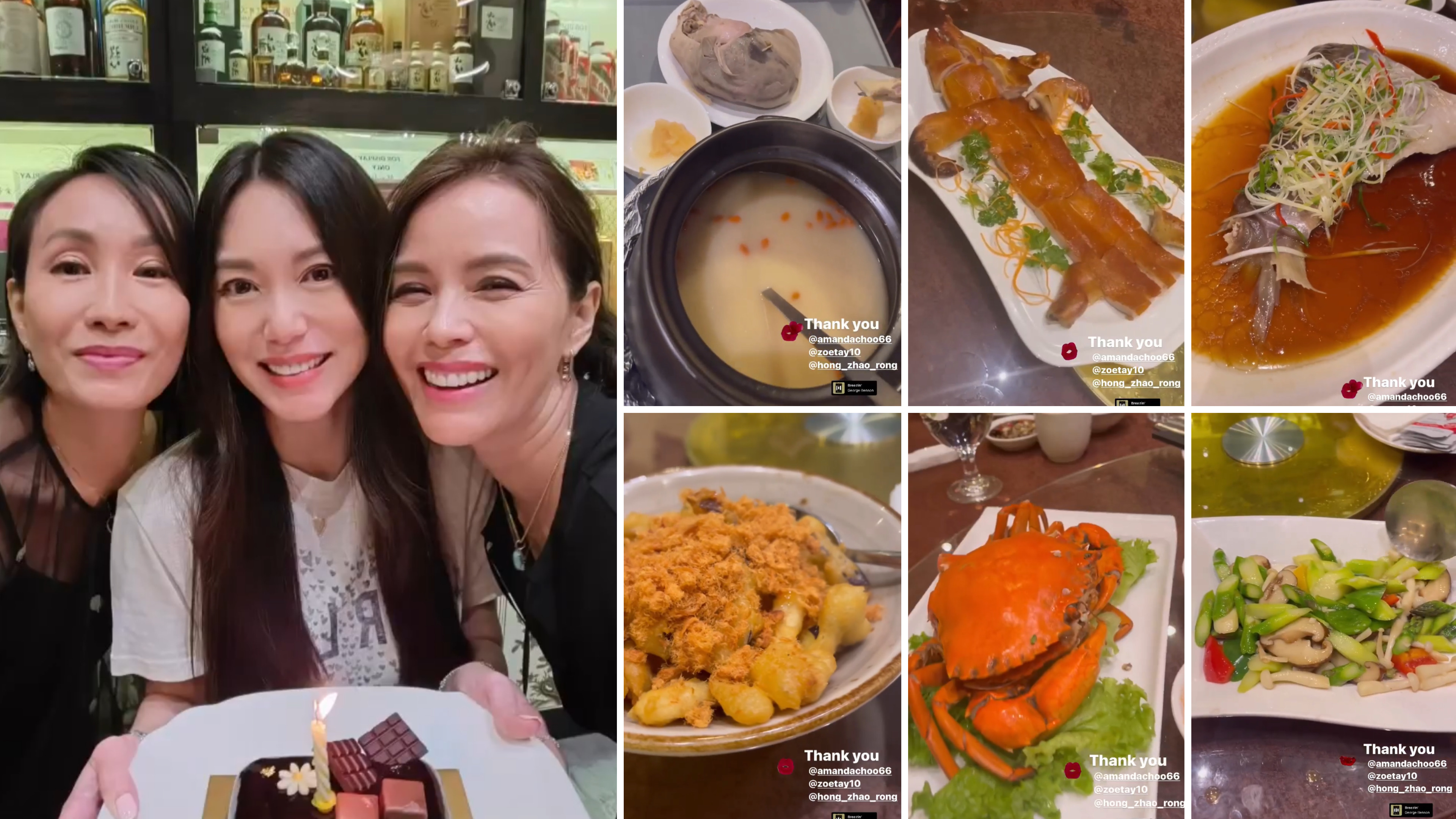 Hong Zhaorong, Phyllis Quek and Zoe Tay
What they ate: Belated birthday feast
Yummy factor: From a whole roast suckling pig to steamed crabs and nourishing chicken soup, Zoe and Zhaorong spared nothing in making Phyllis's belated birthday gathering (she turned 50 on Aug 23) a fab one with fancy eats. Better late than never, right?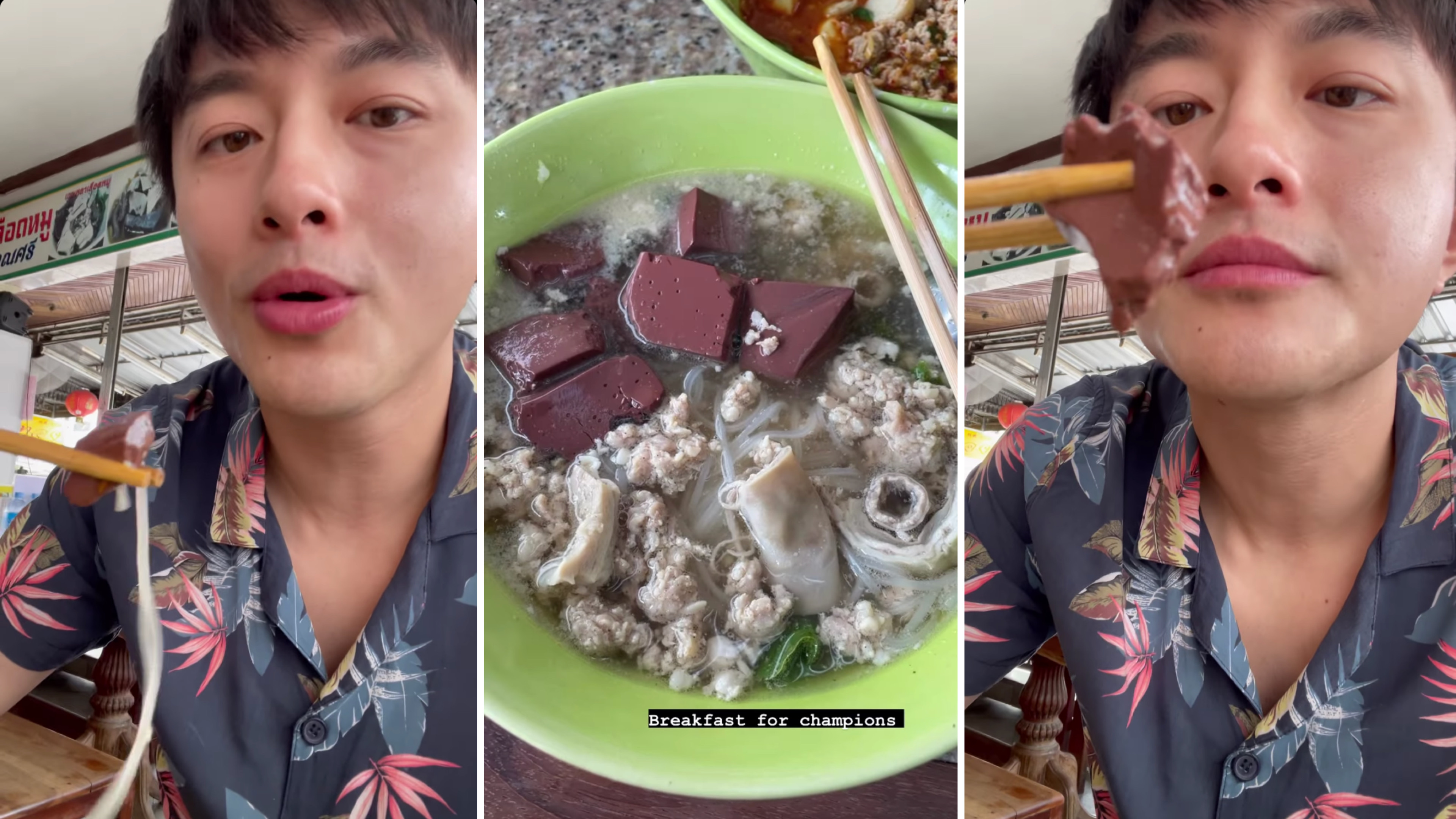 Shane Pow
What he ate: Minced pork noodles
Yummy factor: Seeing how it's been years since Shane has travelled to Thailand, he couldn't wait to get his fix of all the local favourites. And congealed pork blood is probably on the top of his list of must-haves — especially when cooked just right and served with minced meat, innards and vermicelli in a tasty broth.
Elvin Ng, Ann Kok, Romeo Tan and Michelle Chong
What they ate: Zi char feast 
Yummy factor: Elvin played a fab host to his celeb pals, making sure they were well-fed with zi char delights like har cheong gai, curry chicken, sweet and sour pork, satay (wonder if it's from his favourite stall) and more. And for dessert, it was a decadent lava cake oozing with molten chocolate. Yum.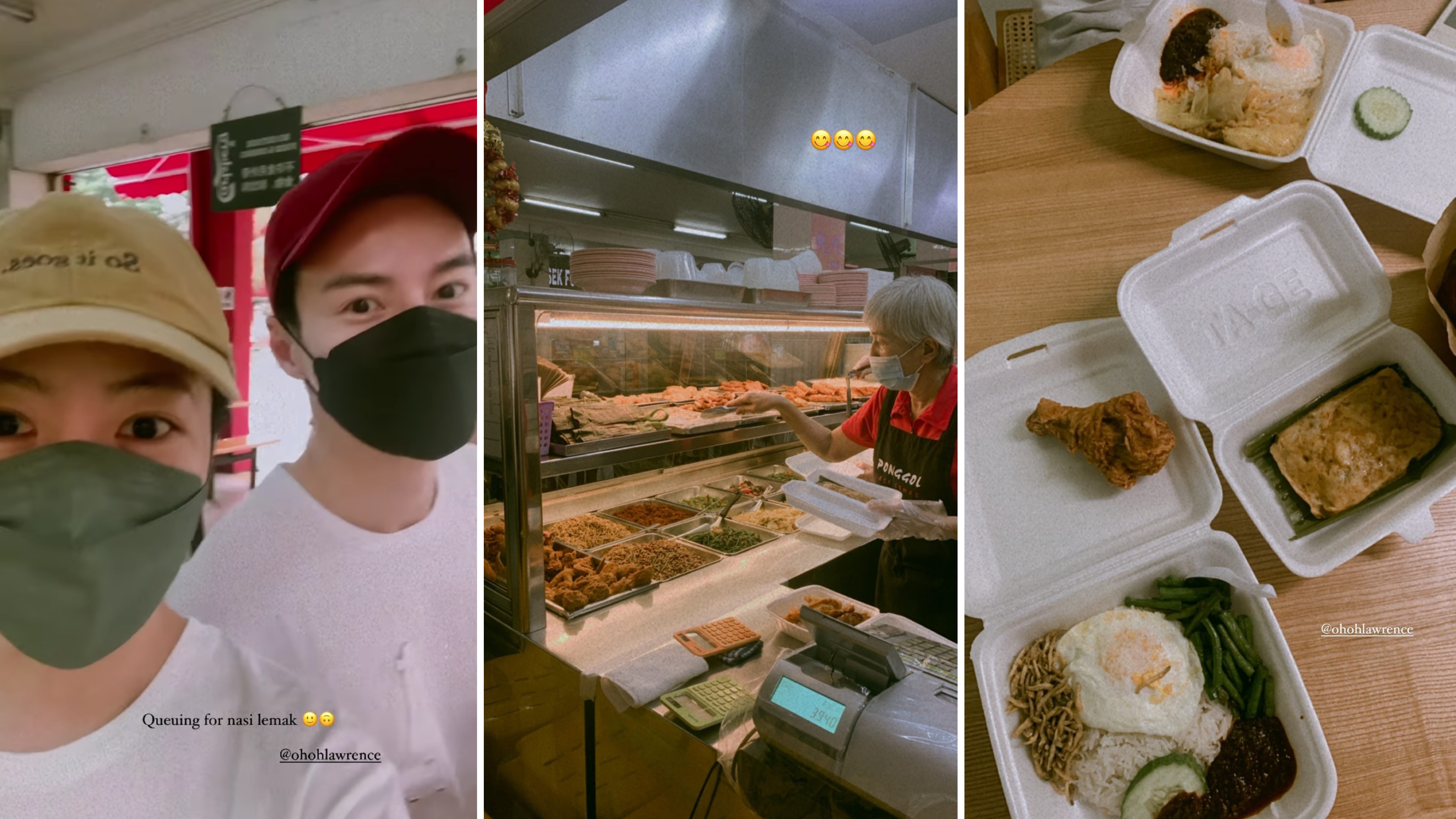 Jojo Goh and Lawrence Wong
What they ate: Nasi lemak
Yummy factor: Good food must queue. Malaysian actress Jojo and Lawrence blended in with the crowd at Ponggol Nasi Lemak as they patiently waited for their turn to tapow from the popular eatery. Accompanying their nasi lemak were sides like fried chicken drumstick, long beans, ikan bilis, and otah to share. And of course, a generous dollop of sambal chilli is a must for both.
Irene Ang
What she ate: Quirky cakes
Yummy factor: Turning 52 has never been more huat. And while Irene doesn't have a sweet tooth, she did appreciate receiving these creative confections for her upcoming birthday (Sep 10) — never mind that her niece quipped that only "old people" receive cakes adorned with ingots and gold coins. And the jelly cake with the likeness of Rosie Phua, the character she played in Mediacorp sitcom Phua Chu Kang, was definitely a lovely surprise. It looked so realistic that Irene joked that her staff cut around the face and "no one dared to eat her".
Cynthia Koh
What she ate: Seafood galore
Yummy factor: Midweek slump? No such thing for Cynthia, who spent her Wednesday afternoon at Rumours Beach Club indulging in drinks and choice seafood picks. The Balinese-style platter looked particularly delish with its impressive display of barbecued bamboo lobsters, river prawns, white clams and more — perfect with the accompanying sauces.
Jade Seah
What she ate: Burger
Yummy factor: Since Jade happened to be in Kluang, Johor, she seized the opportunity to try Fendy Burger, purportedly the most famous street burger brand in town. Verdict: The sedap street snack got the thumbs up from Jade for its use of Ramly patties, fried eggs and winning combination of savoury, tangy and spice-filled flavours.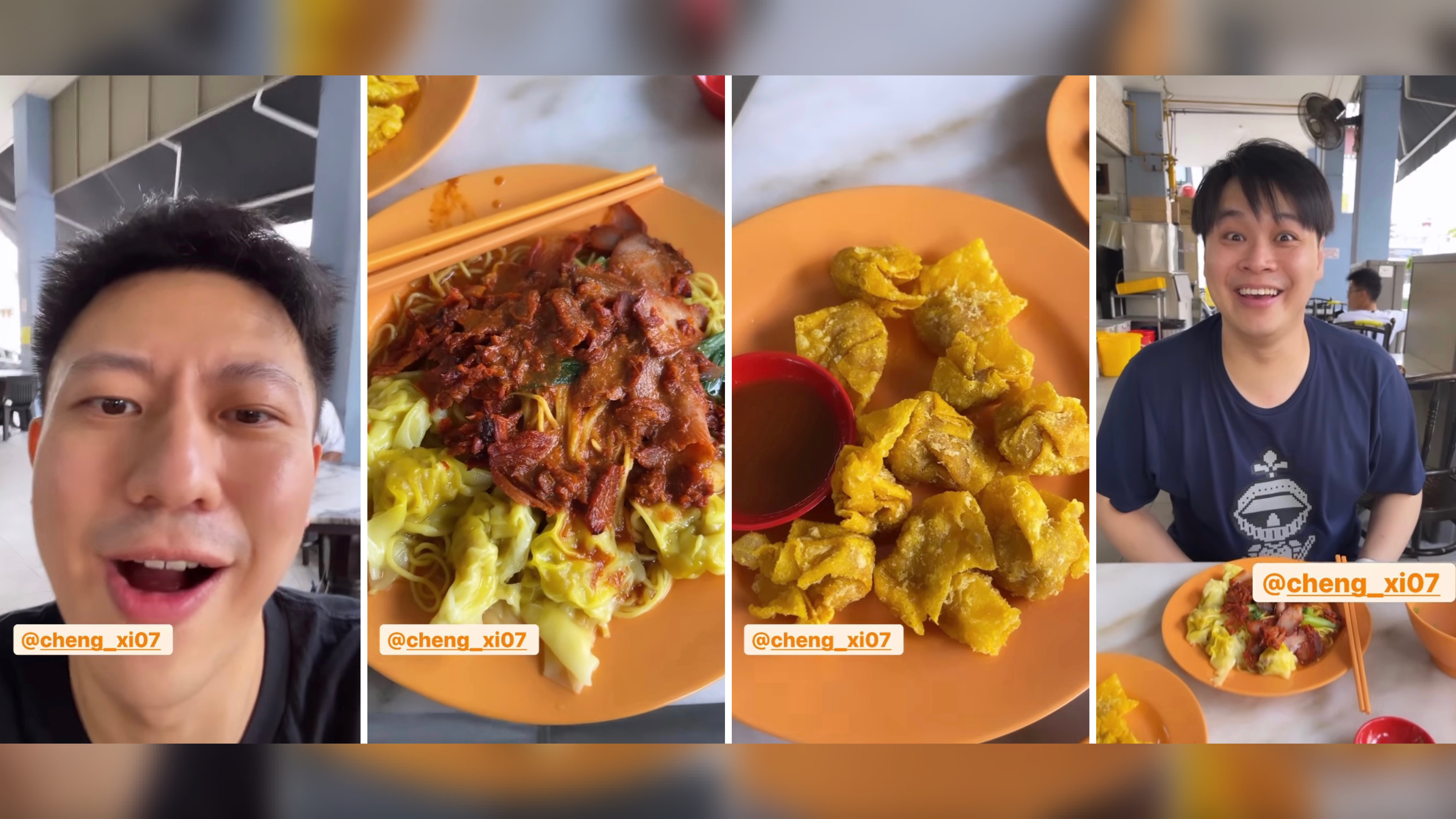 Pornsak
What he ate: Wanton mee
Yummy factor: Whenever Pornsak and former artiste Kang Chengxi get together for a meal, it's usually a mouthwatering one. This week was no exception. They tempted us with snippets of their wanton mee that came drenched in sauce and topped with sliced char siew and plump wantons. And as if that wasn't tantalising enough, the additional serving of deep-fried dumplings definitely sealed the deal.
Justin Ang and Vernon A
What they ate: Char-grilled steaks
Yummy factor: As fans of online sensation Salt Bae, the Muttons just had to get themselves a table at the social media star's restaurant Nusr-Et Steakhouse in Las Vegas. And they definitely weren't disappointed. The exquisite cuts were char-grilled to perfection and served with a generous sprinkling of sea salt flakes.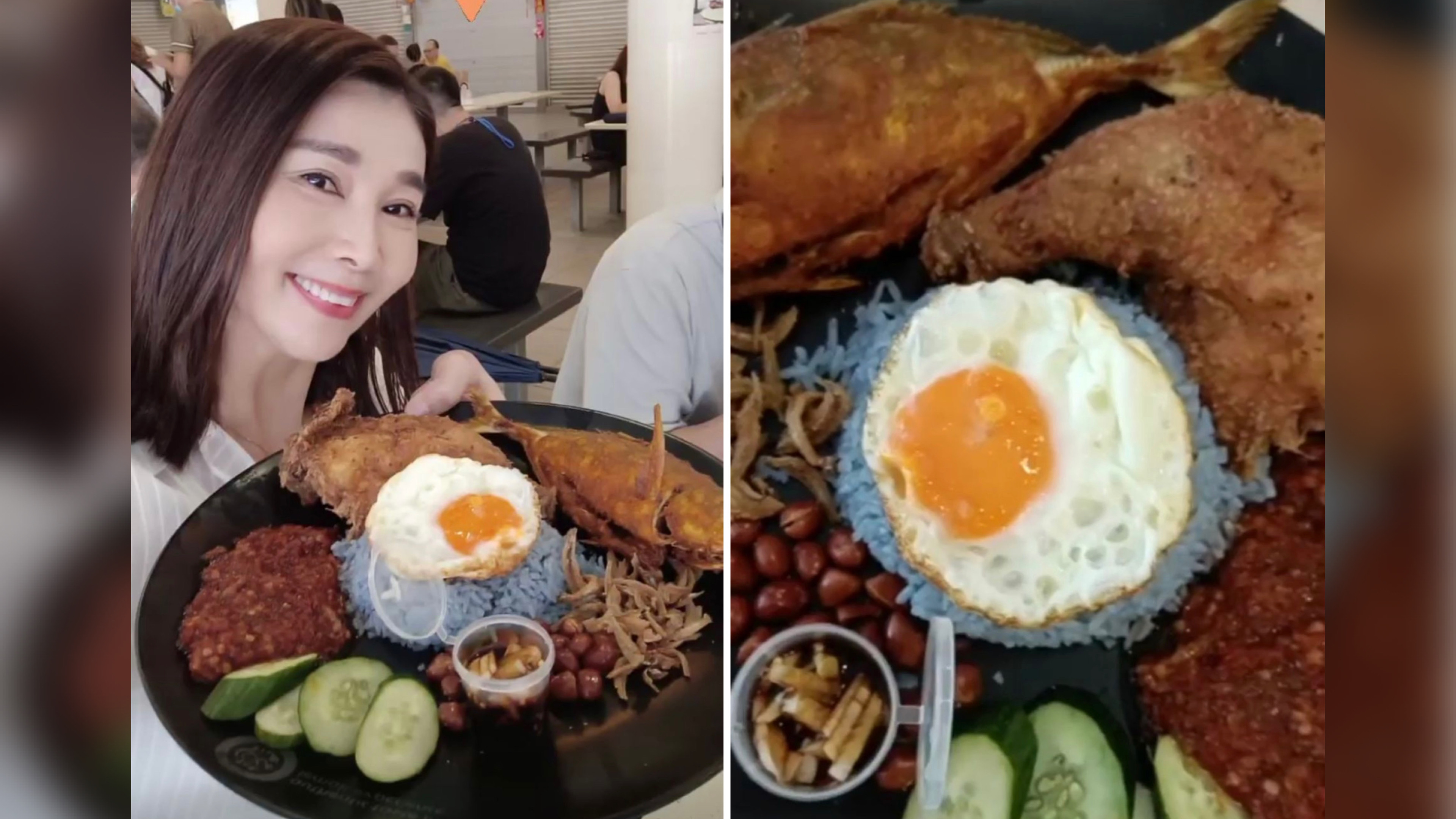 Chen Xiuhuan
What she ate: Nasi lemak
Yummy factor: With its aesthetic blue pea lemak rice, perfectly-done sunny side up and generous portions of fried fish and chicken thigh, Xiuhuan's plate of nasi lemak could have passed off as a restaurant dish. However, it's actually from hawker stall The Coco Rice at Tiong Bahru Market, and a lot easier on the wallet.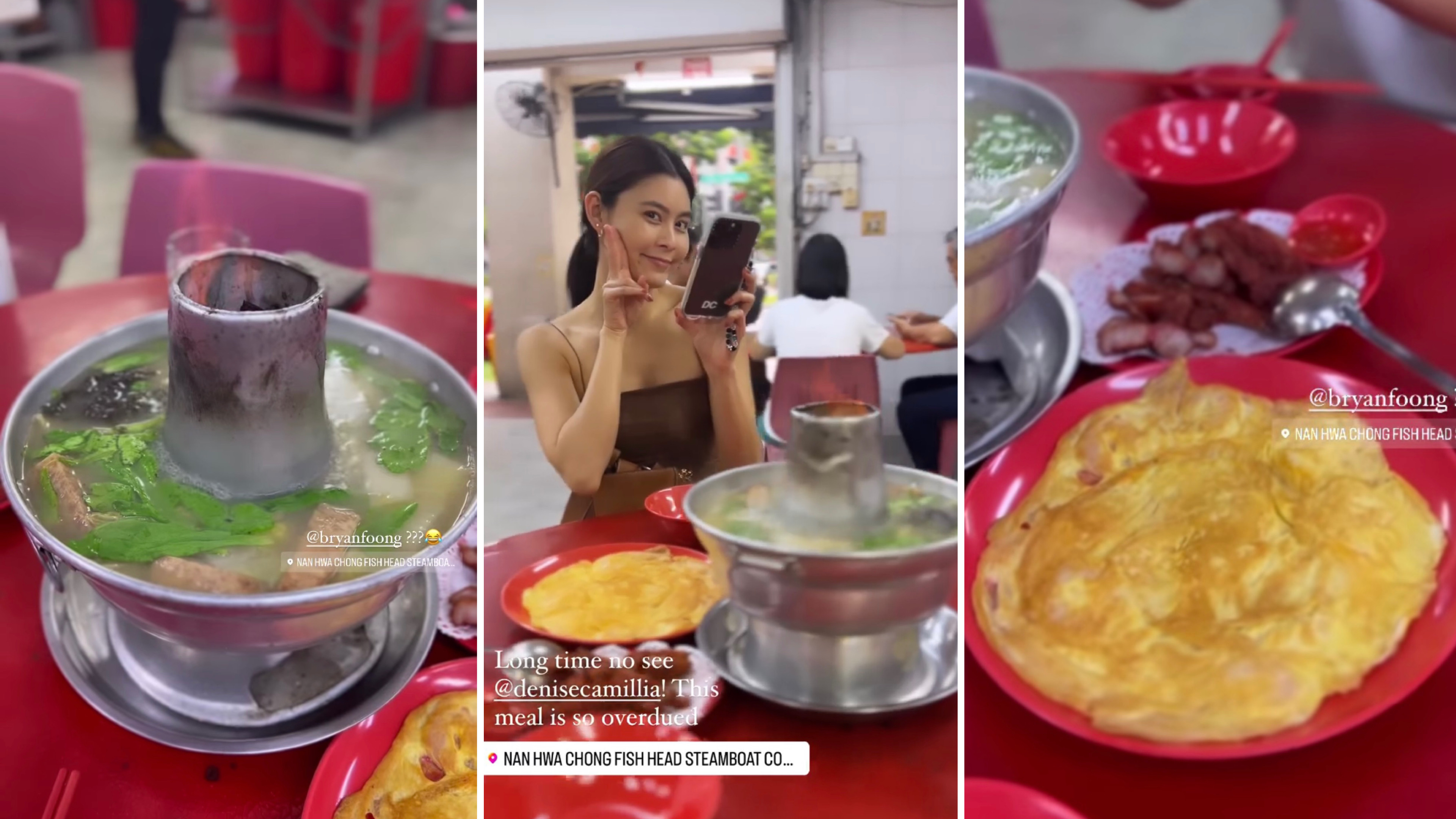 Denise Camillia Tan
What she ate: Hearty zi char
Yummy factor: A trip to old-school establishment Nan Hwa Chong Fish Head Steamboat saw Denise tucking into their Teochew-style namesake dish with plenty of sliced yam and greens, as well as other zi char dishes like a fried omelette and their signature fried pork belly. 
Gerald Koh and Maya Davidov
What they ate: Cake in cans
Yummy factor: Fancy eating the prettiest chiffon cakes out of a can? Well, now you can. 987 radio personalities Gerald and Maya gave the Japanese viral desserts from Okashi Gaku's vending machine a shot, and they tucked into flavours like strawberry shortcake and tiramisu with great relish. And it appears that Gerald found the combination of fresh fruits, cream, and chiffon cake so irresistible, he left none for fellow DJs like Kimberly Wang and Sonia Chew. Oops.
Nick Shen
What he ate: Fish porridge
Yummy factor: Nick had nothing but praise for the fish porridge he had at Matang Seafood in KSL City mall in Johor Bahru. Not only were the thick fish slices "fresh and tasty", the dish was served steaming hot in a claypot. 
Seow Sin Nee
What she ate: Birthday dinner
Yummy factor: Sin Nee celebrated her 27th birthday (Sep 6) at Japanese restaurant Sen-ryo, savouring decadent eats like the supreme sushi platter, ebi fry maki and asari clams simmered in sake. Desserts were probably another highlight of the evening for her — especially when she blew out a virtual candle before tucking into her yuzu sorbet (served in the actual fruit that's been hollowed out) and brownie with ice cream.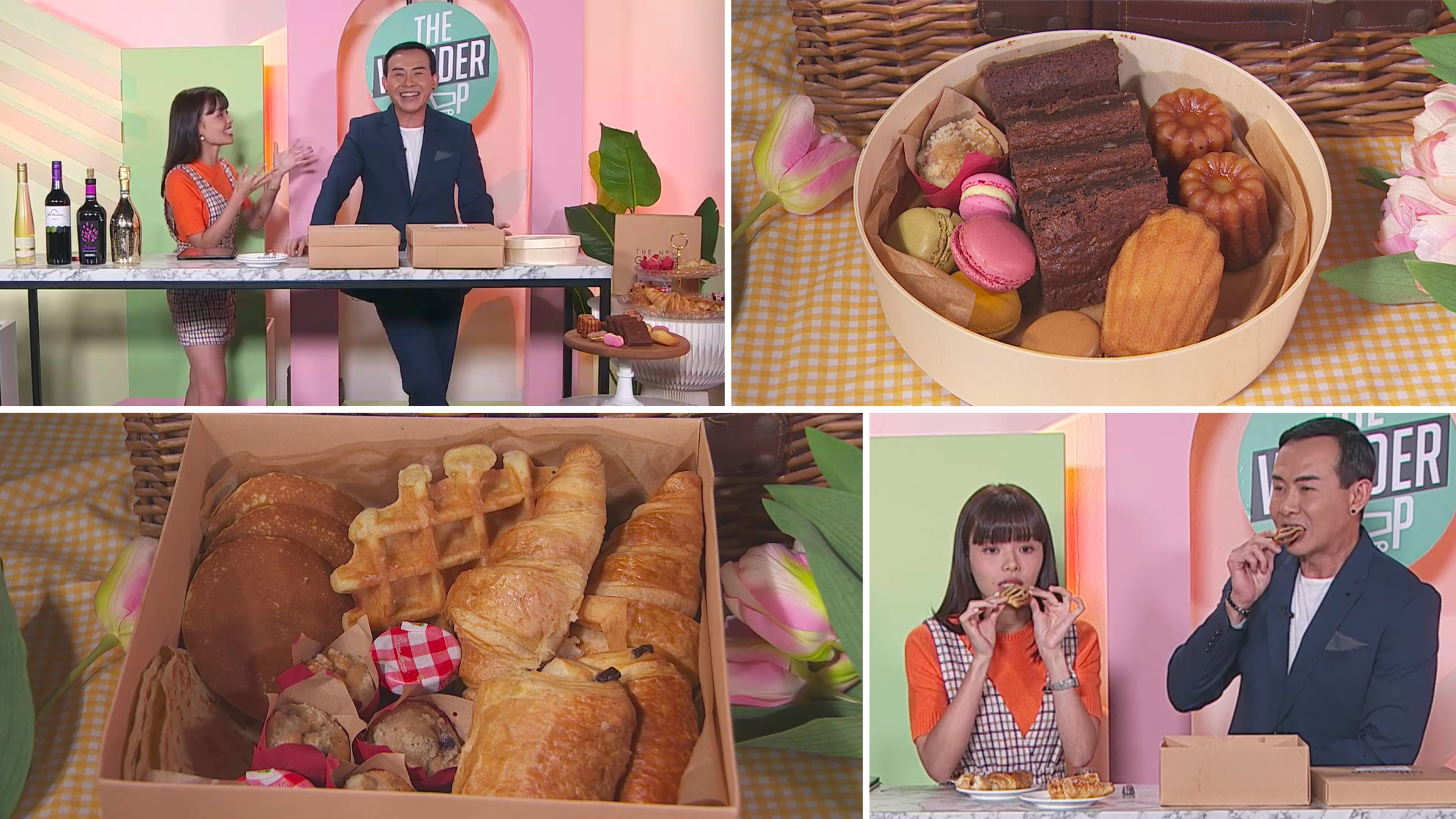 Hazelle Teo and Bryan Wong
What they ate: French pastries and wine
Yummy factor: The latest episode of Mediacorp live streaming shopping series The Wonder Shop saw Bryan flaunting his French as he wined and dined on freshly-baked pastries from The New Grocer with Hazelle. The treats are air-flown in from France on a weekly basis, and Bryan highly recommends the apple turnover for its tartness and buttery crust. A limited selection of goodies are still available for purchase here.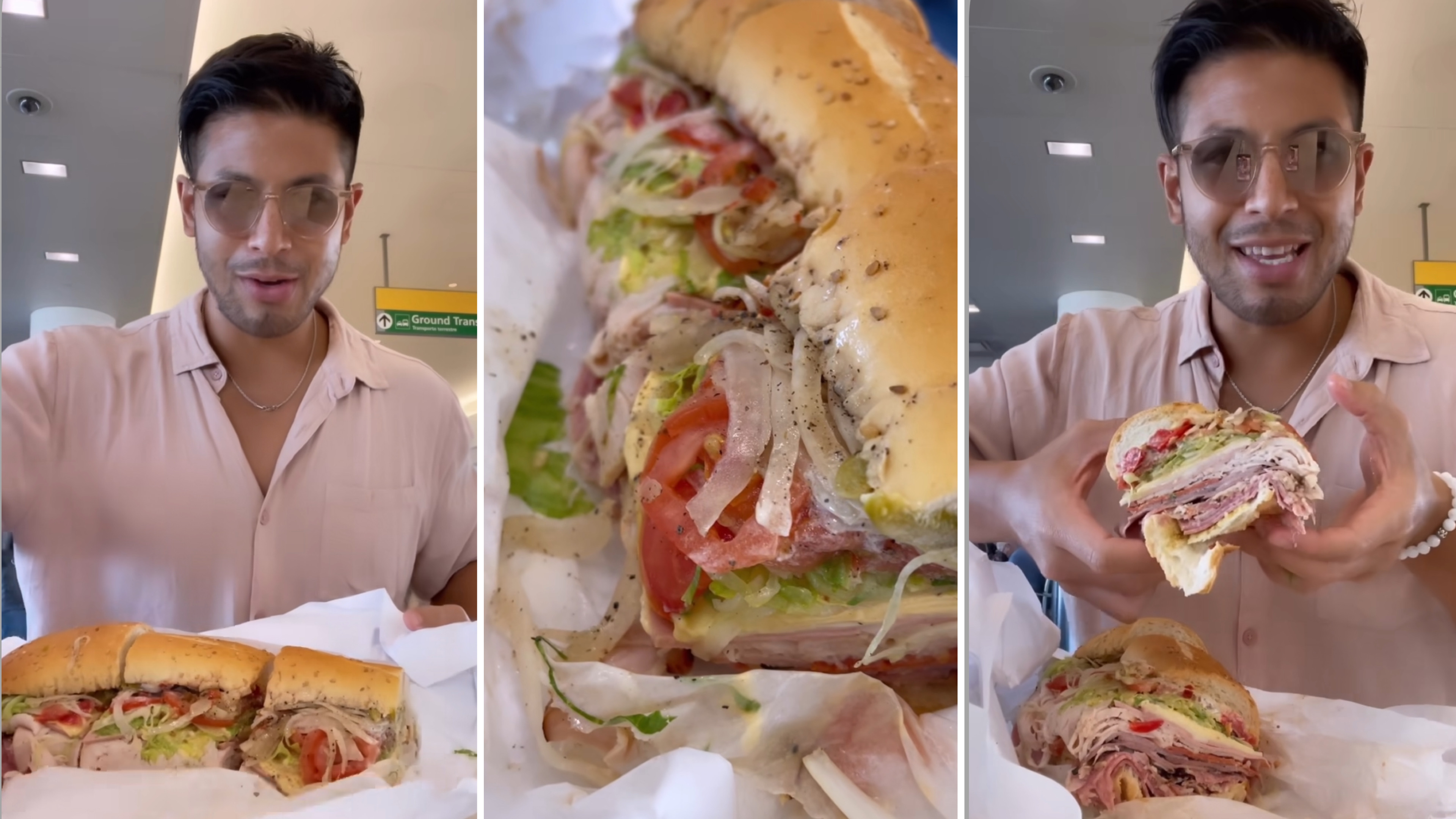 Alan Wan
What he ate: Massive sandwich
Yummy factor: Alan's excitement for his supersized sandwich is palpable. Known as 'The Bomb', the 14-inch-long work of art from Sal, Kris & Charlie's Deli in New York boasts layers of Italian and American cold cuts, as well as plenty of cheese and crunchy greens and peppers. Now the real question is... Did Alan manage to finish the entire sandwich?
Jaime Teo
What she ate: Sumptuous dinner
Yummy factor: A girls' night out proved that Jaime has a voracious appetite — it probably helps that she leads an active lifestyle. Between Jaime and her pals, they devoured everything from cheesy nachos to spicy wings and mushroom risotto (Jaime's pick!) at Spruce. And that's just a fraction of what they ordered at the restaurant and bar.