Foodie Friday: What The Stars Ate This Week (Sep 30 - Oct 7)
All the photos that made us hungry this week.
Good food is best enjoyed with company, and that's what our local celebs did this week. Carole Lin caught up with Huang Biren over dinner, Qi Yuwu and Joanne Peh enjoyed a slurp-worthy meal, Jesseca Liu and Jeremy Chan indulged in a feast for the senses, and Kym Ng may have had a little too much chwee kueh. Read on to find out where.
Christopher Lee, Fann Wong and Zed
What they ate: Hotpot feast
Yummy factor: Christopher, Fann and Zed's meal at Yanxi Dim Sum & Hotpot was an exquiste affair, with delectable dim sum fare and hotpot specials like handcrafted rose-shaped tofu, jumbo prawns and abalone. We've got our eye on the mooncake-shaped seafood lollipops.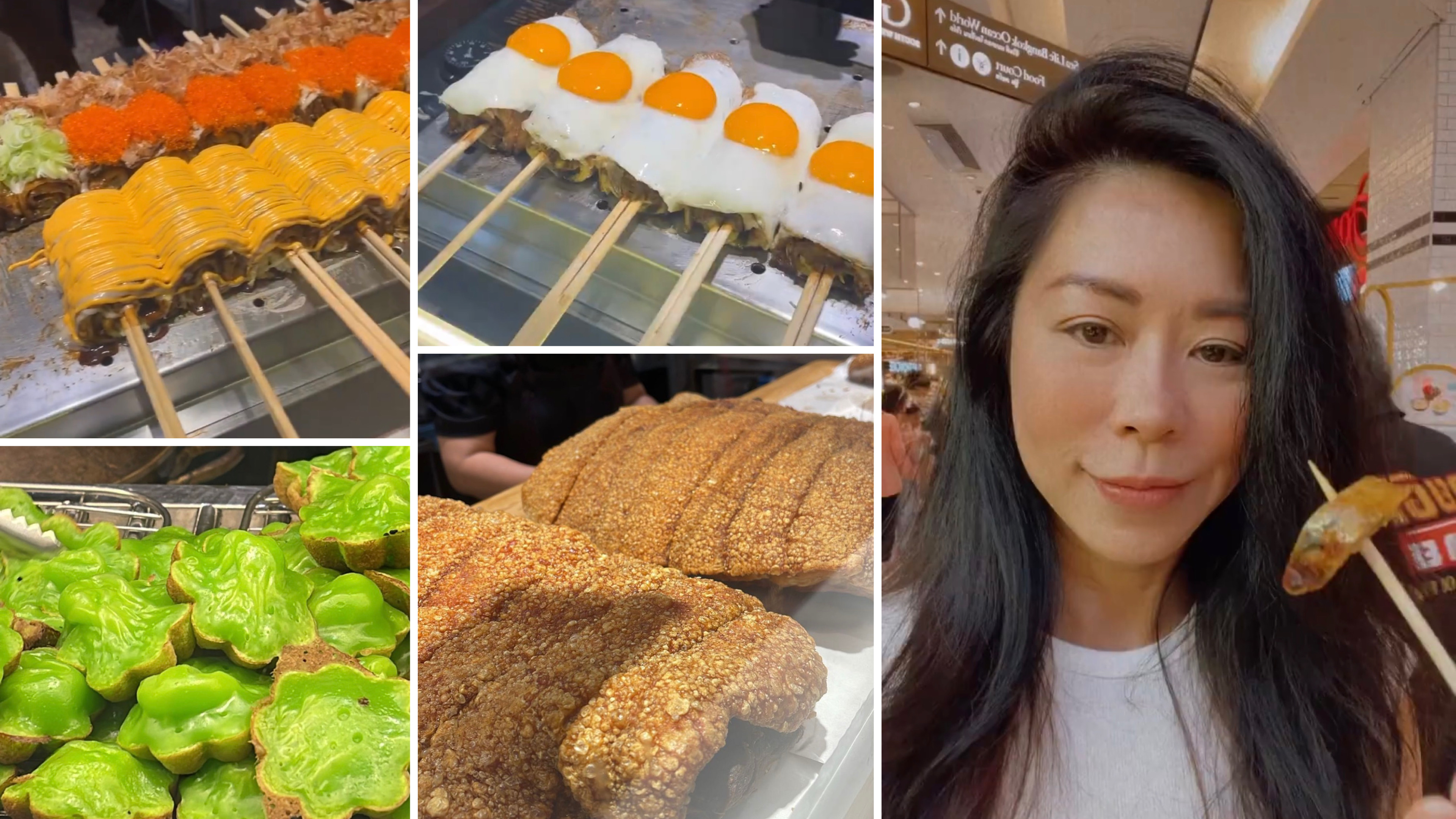 Michelle Chia
What she ate: Thai street eats
Yummy factor: Michelle indulged in tasty Thai street food in the air-conditioned comfort of Siam Paragon, one of Bangkok's most largest luxury malls. We spy roast pork belly with golden cracklng, skewer rolls topped with sunny-side-up, Thai pandan pancakes and more.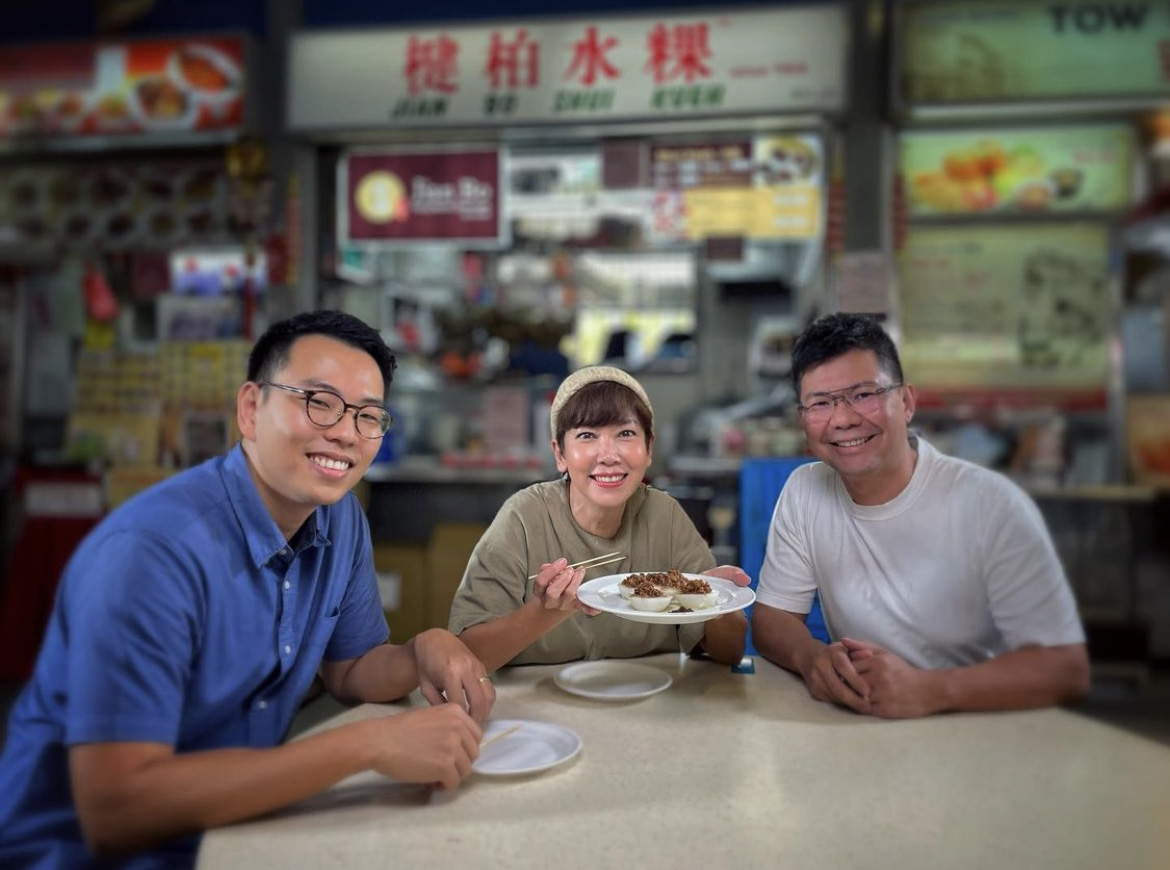 Kym Ng
What she ate: Chwee kueh
Yummy factor: Lucky Kym got to try some of the yummiest chwee kueh in the name of work. The host of Mediacorp variety show Old Taste Detective 4 checked out established brands like Jian Bo Shui Kueh and Siang Siang Chwee Kueh where the steamed rice cakes, topped with savoury chye poh (preserved turnips), were packed with nostalgic flavour.
Qi Yuwu and Joanne Peh
What they ate: Chinese food
Yummy factor: The spiced meat skewers and hearty noodle soup Yuwu and Joanne tucked into must have tasted pretty authentic. Not only did Joanne slurp her spicy noodles with gusto, she remarked that it felt like they were back in China.
JJ Lin, Hong Junyang and Candyce Toh
What they ate: Thai food
Yummy factor: Along with friends, JJ Lin got his Thai food fix at The Original Boat Noodle, where towkay Junyang made sure the pop star had his fill of restaurant signatures like boat noodles, flame-grilled chicken and stir-fried basil chicken with rice.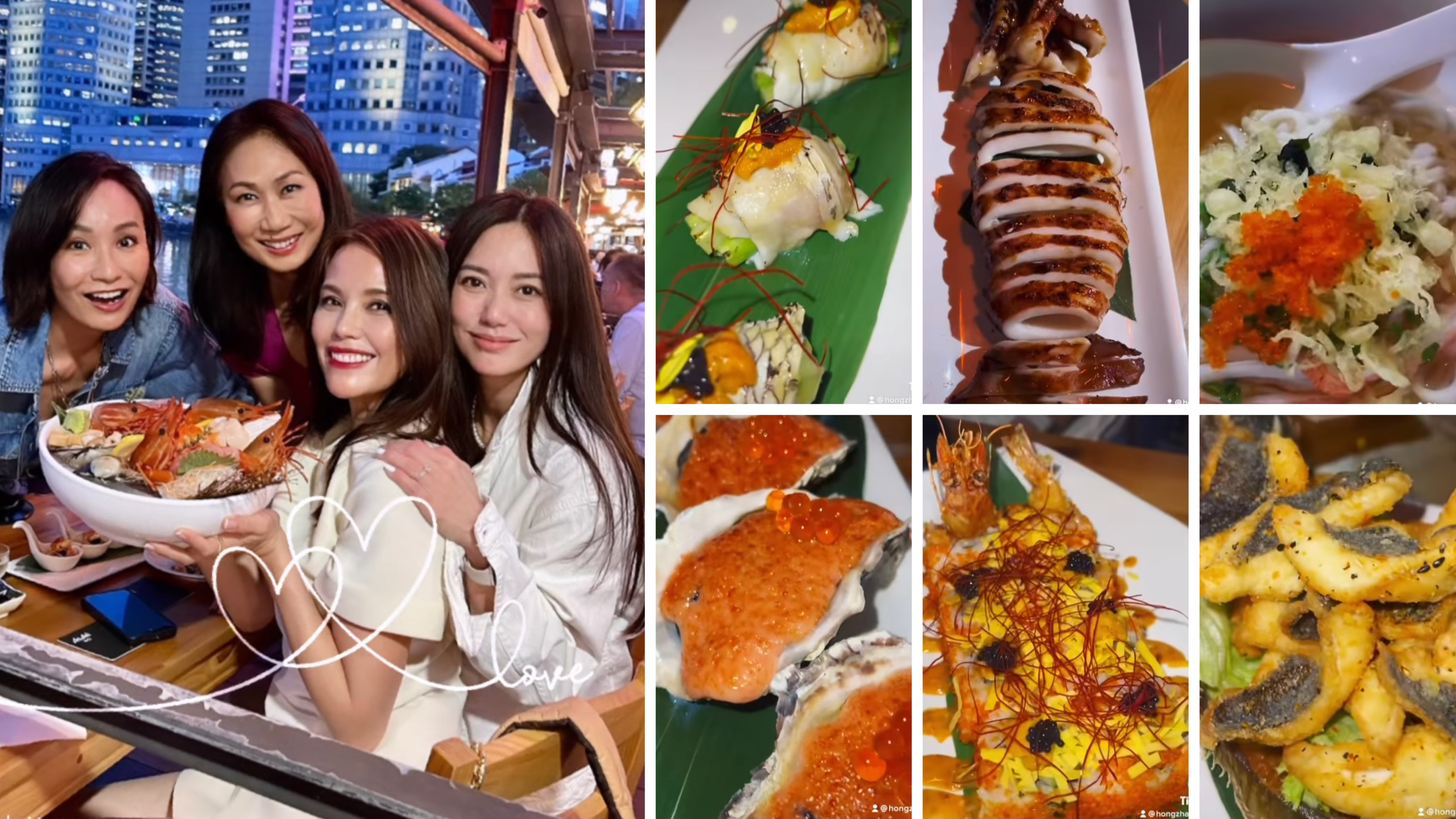 Hong Zhaorong, Georgina Chang, Zoe Tay and Phyllis Quek
What they ate: Japanese favourites
Yummy factor: The ladies got over the mid-week hump with dinner by the waters at Japanese restaurant Yabai Izakaya, where the picturesque view was accompanied by chilled saki and fine eats like the sashimi moriawase (assorted sashimi) platter, grilled squid, oysters topped with mentaiko and more. 
Jesseca Liu and Jeremy Chan
What they ate: Modern Chinese cuisine
Yummy factor: From rich fish maw broth to otah served in mini cones and melt-in-your-mouth roast meats, Jesseca and Jeremy indulged in a feast for the senses at modern Chinese restaurant Clan 7. Also, what's not to love about having scrumptious dim sum for starters and pretty desserts?
Chen Xiuhuan
What she ate: Hearty sandos
Yummy factor: Xiuhuan has been going on several mummy-daughter dates with daughter Shalynn Tsai, who is back from Australia for a short break. This week, they enjoyed Japanese-style sandwiches at local cafe Hello Arigato, trying out popular options such as the tamago sando filled with egg mayo and sandwiched with a ramen egg, as well as the gyu sando made with Angus beef sirloin, sweet onion jam and milk bread.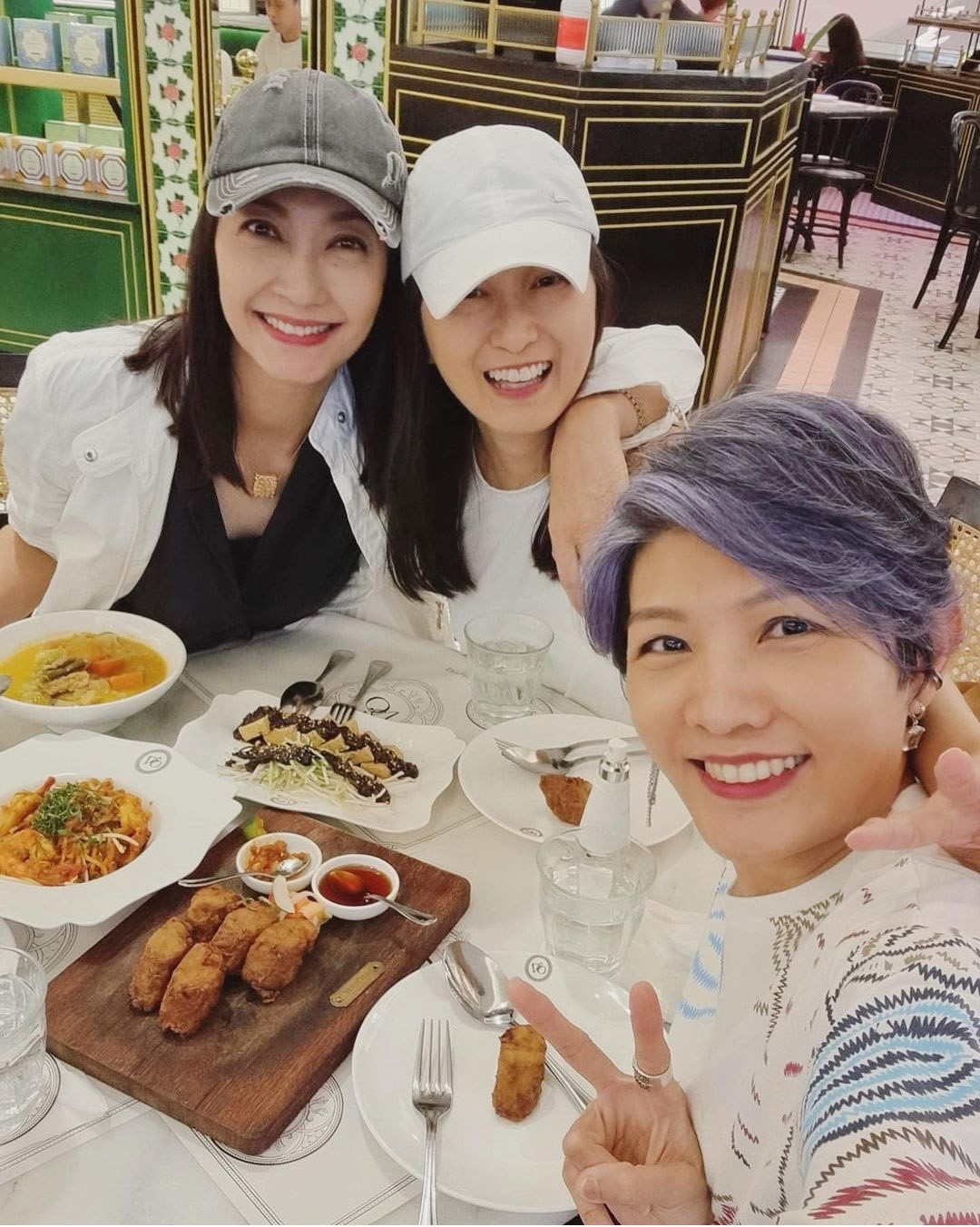 Huang Biren and Carole Lin
What they ate: Peranakan food 
Yummy factor: After a spot of shopping, the gal pals headed to Violet Oon's for dinner where they tucked into signatures like dry laksa, sayur lodeh, tahu goreng and ngoh hiang. Hope they saved some room for dessert.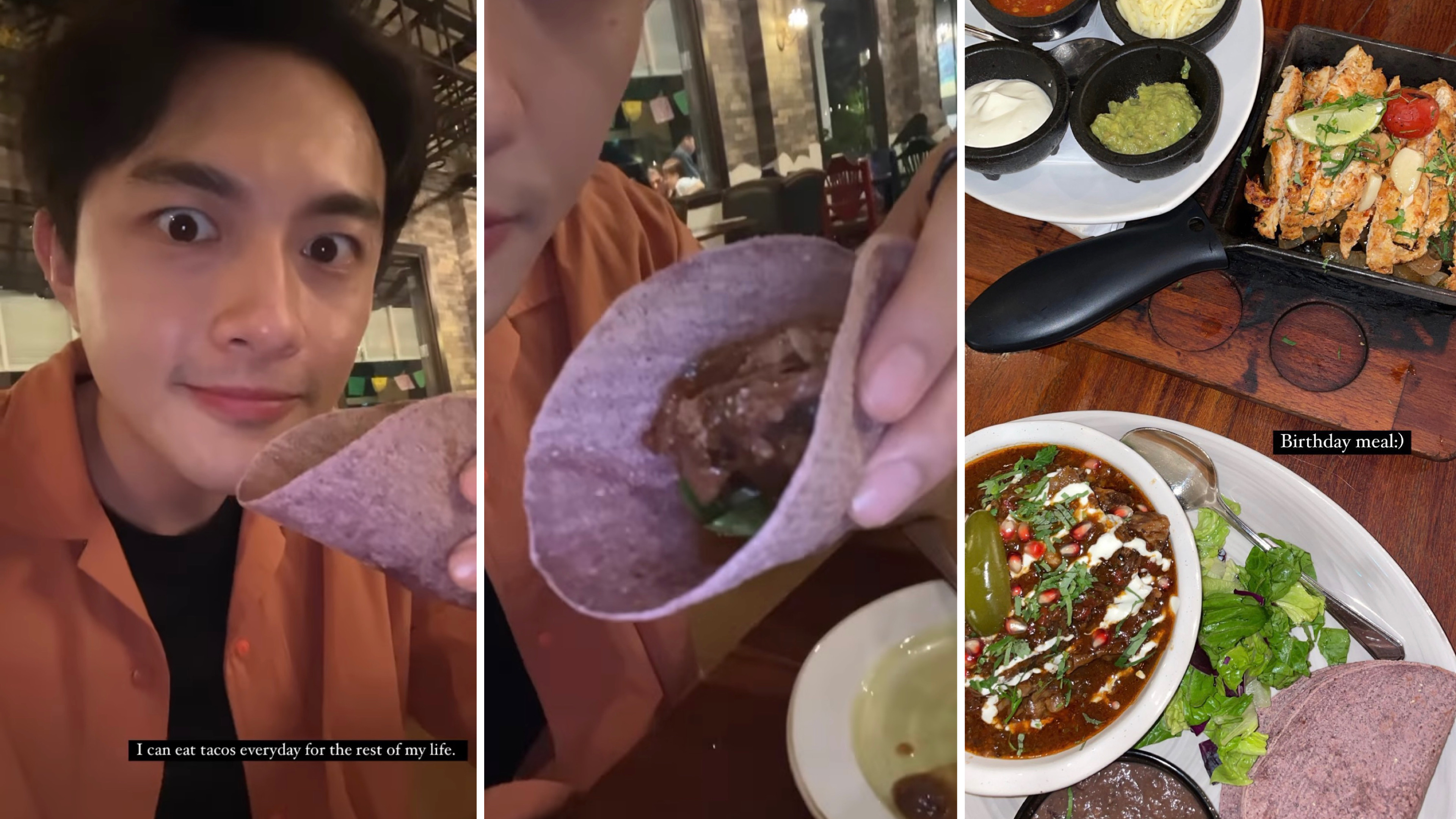 Shane Pow
What he ate: Mexican food 
Yummy factor: Shane loves tacos so much that he can eat them daily for the rest of his life. So it's no wonder he chose to have them for his 32nd birthday (Oct 4) at Mexican restaurant Margarita's — think beef short ribs and chicken fajitas paired with freshly-made corn tortillas.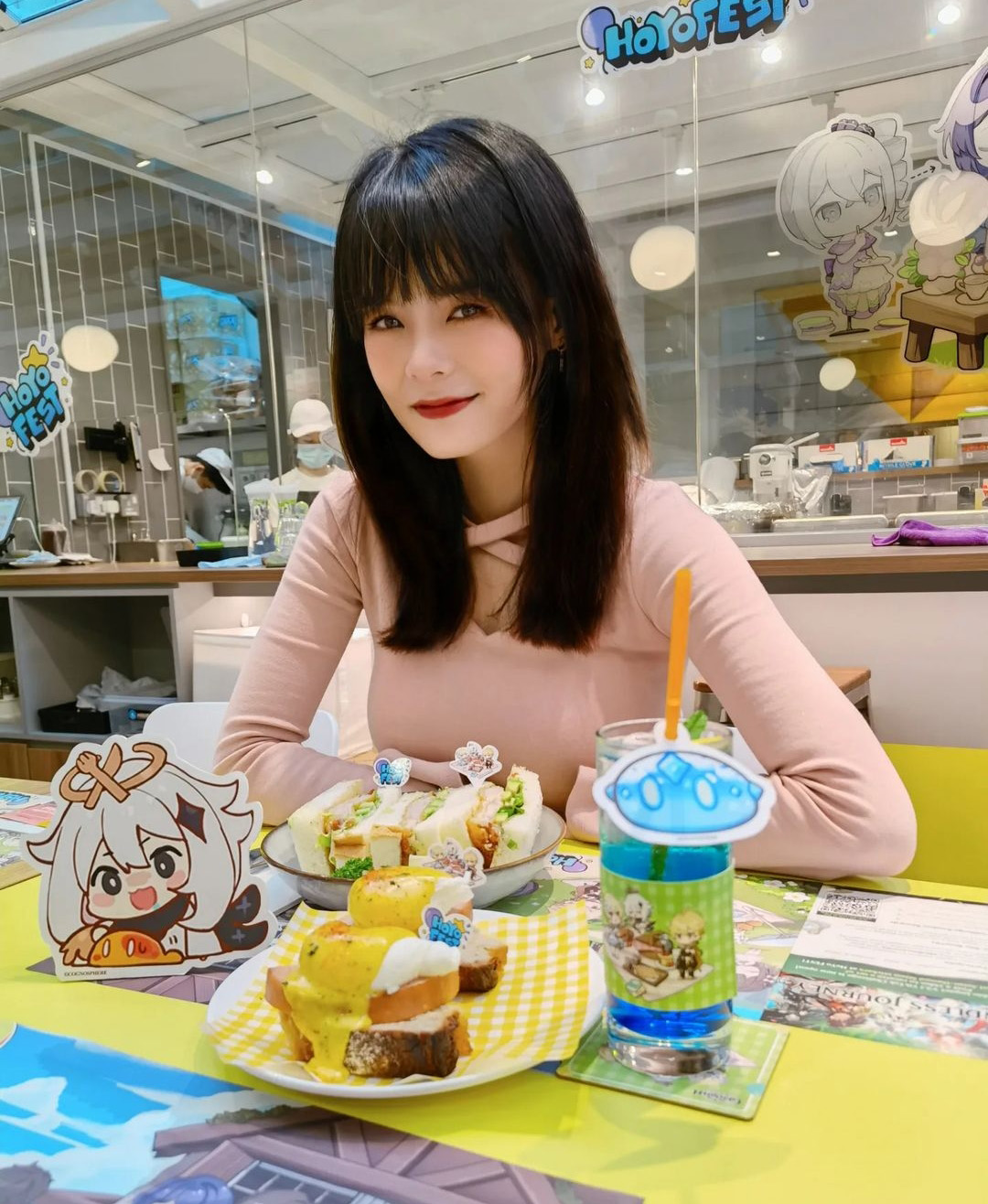 Hayley Woo
What she ate: Game-themed grub
Yummy factor: For an avid gamer like Hayley, tucking into grub inspired by one of her fave games Genshin Impact probably felt like a dream come true. Available till Oct 9, the limited edition menu at Japanese souffle pancake chain Flipper's includes specials like the Adventurer's Breakfast Sandwich and Katsu Sando, as well as game-inspired beverages like Berry and Mint Burst.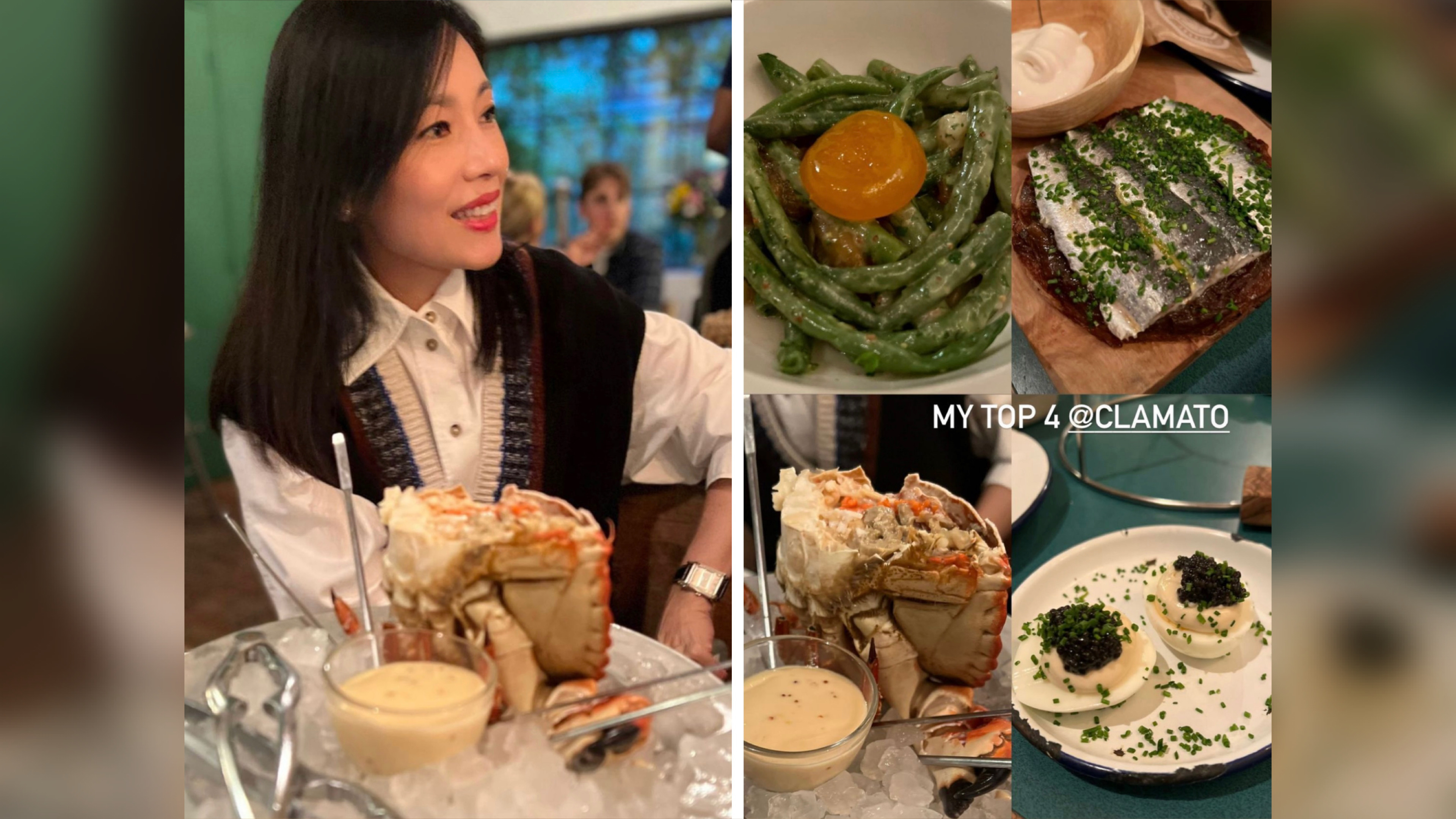 Sharon Au
What she ate: Tantalising seafood
Yummy factor: It was an evening of seafood-focused small plates at Bib Gourmand Parisian restaurant Clamato for Sharon. There, meaty crabs took centre stage, deviled eggs were elevated with caviar, and marinated sardines were relished with raw cream.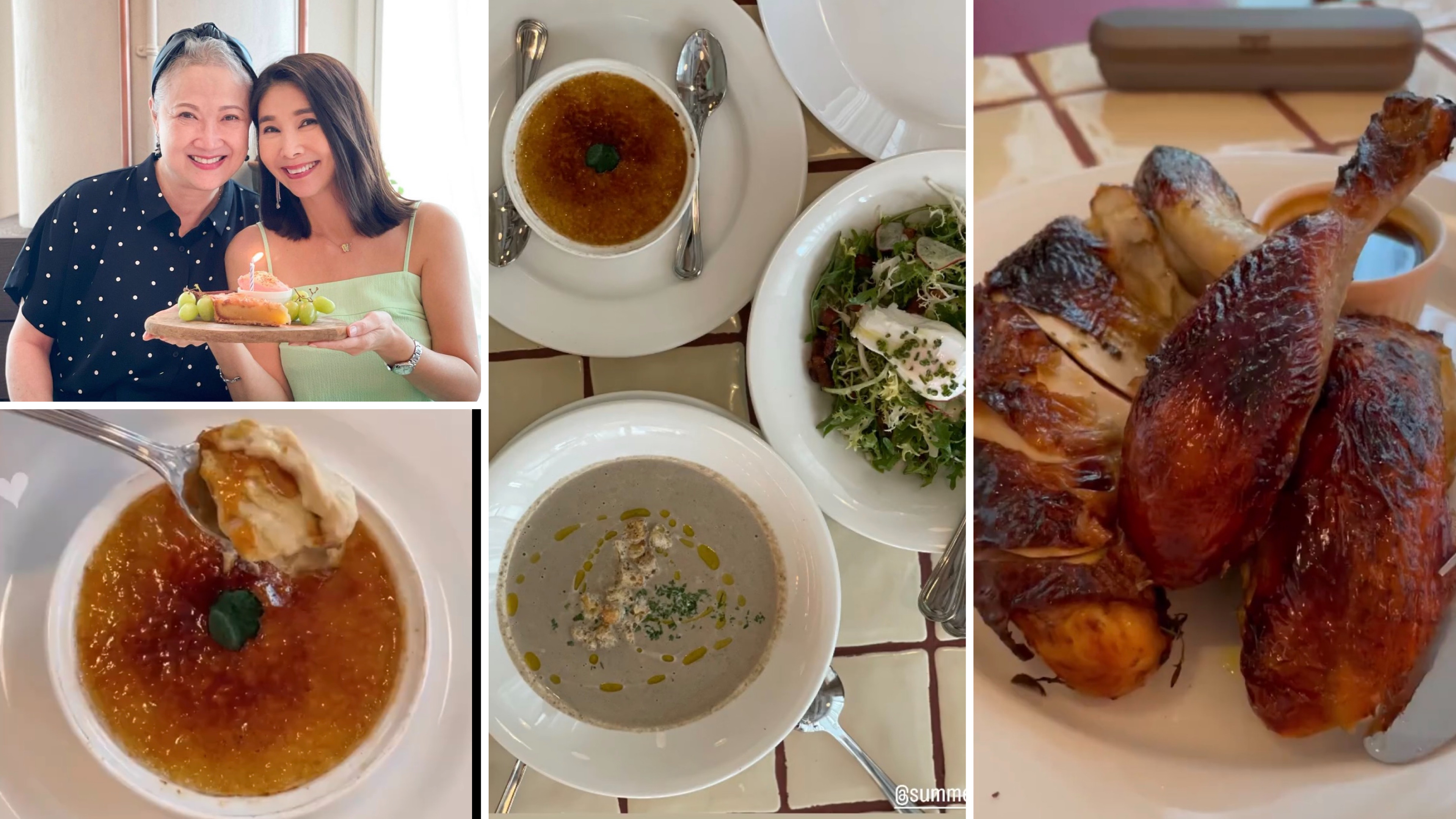 Hong Huifang and Chen Xiuhuan
What they ate: French cuisine
Yummy factor: Just before Huifang left for Busan for the premiere of her movie Ajoomma at the Busan International Film Festival, she squeezed time out for Xiuhuan's advanced birthday celebration (she turns 57 on Oct 10) at French restaurant Summer Hill. There, their taste buds were pampered thanks to menu highlights like roast chicken, potato pavé fried in duck fat and foie gras creme brulee.
Yvonne Lim
What she ate: Omakase
Yummy factor: Yvonne's experience at fine dining restaurant Kappo Kaji was an ode to Kyoto's exquisite flavours, with dishes like soup, noodles and seafood items featuring the freshest ingredients from the region. And because it was a belated birthday celebration (she turned 46 on Sep 28) with her managers, they prepared the sweetest pink cake complete with macarons and chocolates wrapped in gold foil from Bob the Baker Boy.
Kelly Poon
What she ate: Pandan waffles
Yummy factor: Although it's only Kelly's second attempt at making homemade pandan waffles from scratch, she made it look effortless. The snack was inspired by nostalgic old-school ones like Prima Deli's, and Kelly enjoyed the fruits of her labour with a warm cuppa after.
Pornsak
What he ate: Grilled pork belly
Yummy factor: Pornsak tempted us with the homemade roast pork belly he got to savour, and it looks like it has a good meat to fat ratio. Nothing quite like savouring juicy chunks of meat with a sprinkle of pepper and fresh lettuce for extra crunch, is there?
You Yi
What she ate: Sumptuous lunch
Yummy factor: It's You Yi's birthday month (she turns 41 on Oct 11) and she's gonna indulge in whatever she wants. The host sure didn't hold back when she met up with a friend for lunch at Angie's Oyster Bar & Grill. She had a colourful salad topped with cheese and candied walnuts, followed by steak frites, before completing her meal with a slice of strawberry meringue lemon pie with ice cream and coffee. Talk about the perfect weekend.
Tay Ying
What she ate: Bangers and mash
Yummy factor: Brunch was a simple yet delicious affair for Tay Ying, who opted for juicy sausages with mashed potatoes and sauteed greens on the side. All she needs now is a little more gravy to go with her creamy carbs.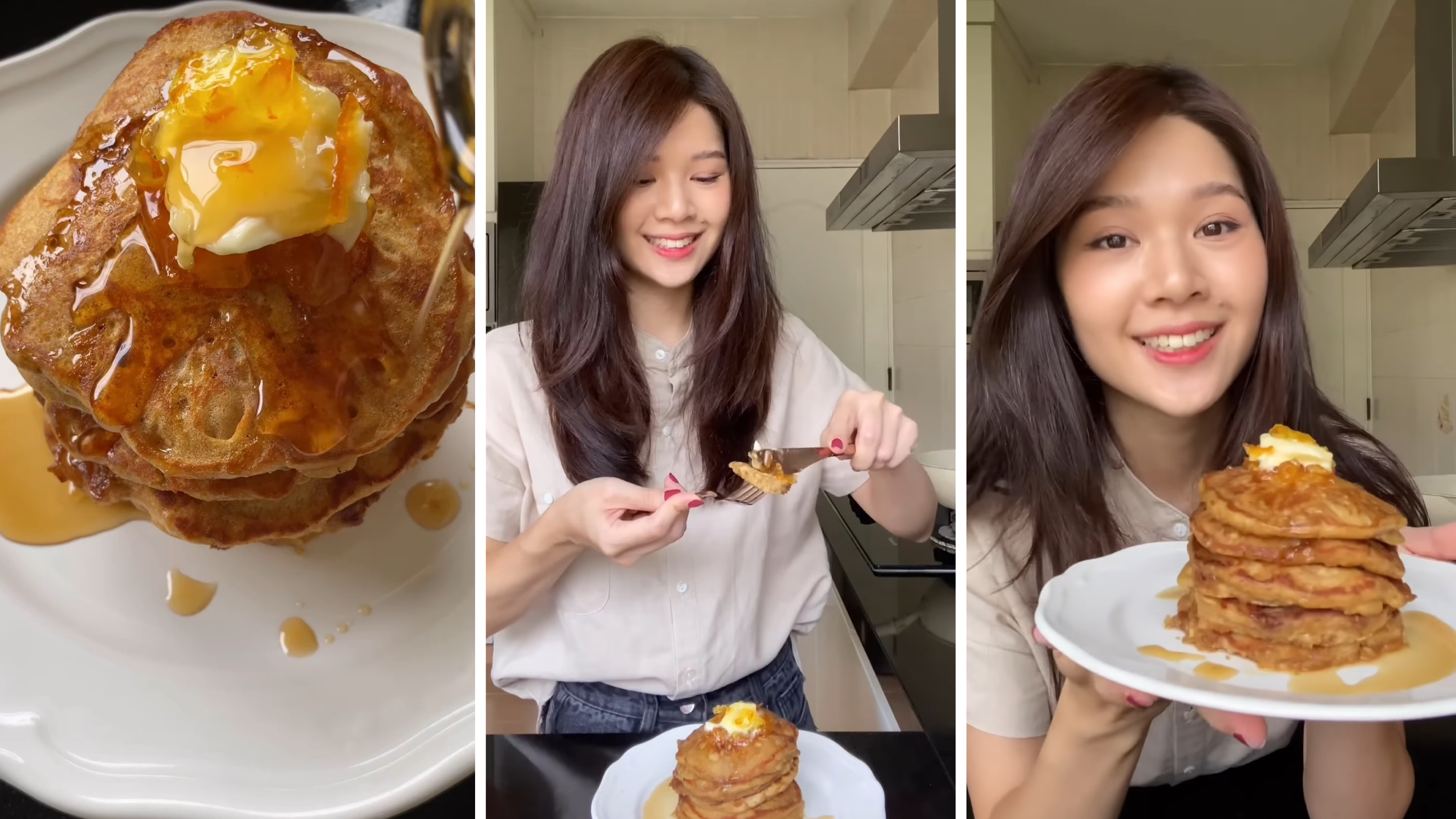 Michelle Wong
What she ate: Pancakes
Yummy factor: When her pancake craving strikes, there's no stopping Michelle — even if it's 4pm in the afternoon. The actress rolled up her sleeves and whipped up a batch of buttermilk pancakes flavoured with cinnamon, brown sugar and lots of butter, and drenched it with syrup. Here's a tip from her: If you don't have buttermilk, mix regular milk and a little vinegar as a substitute.