Foodie Friday: What The Stars Ate This Week (Sep 9-16)
All the photos that made us hungry this week.
This week, Michelle Chia had her fill of Thai street food, Kit Chan celebrated turning 50 with the cast and audience of The LKY Musical, and the Muttons indulged in an OTT gold-dusted burger. Read on to find out if it's worth its three-digit price tag.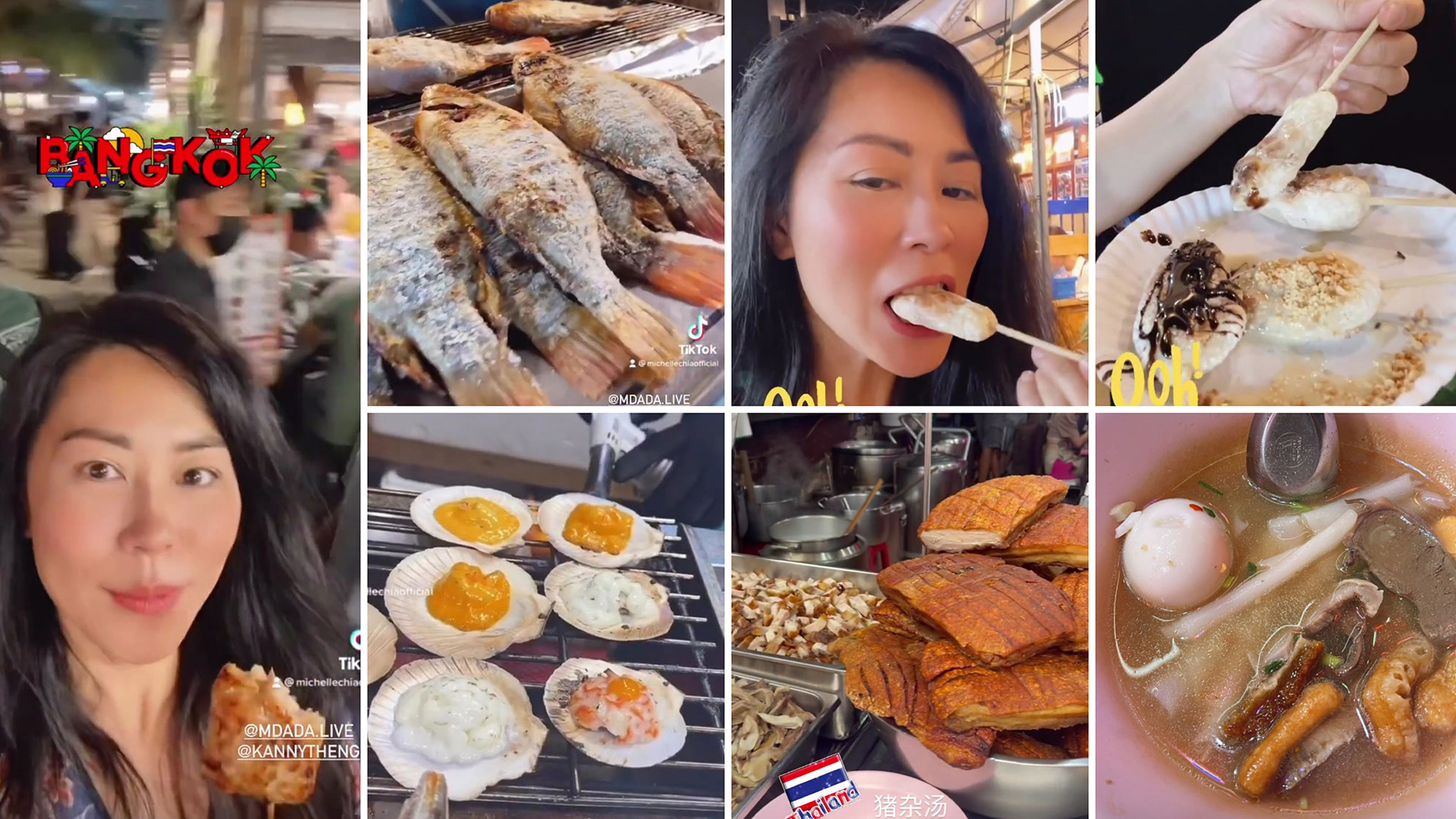 Michelle Chia
What she ate: Thai street eats
Yummy factor: From grilled mochi in various flavours to grilled meat skewers and salt-crusted grilled fish and kway chap, Michelle has been eating her weight in street food since touching down in Bangkok earlier in the week. Who else is thinking about their next trip to the Thai capital?
Belinda Lee
What she ate: Italian fare
Yummy factor: Belinda was so hungry, she couldn't wait to get started on her fave eats at Italian restaurant, Gattopardo Ristorante di Mare. The foodie loves her juicy pan-seared scallops, as well as squid ink pasta topped with lobster and sea urchin. As for dessert, a freshly-made tiramisu never disappoints.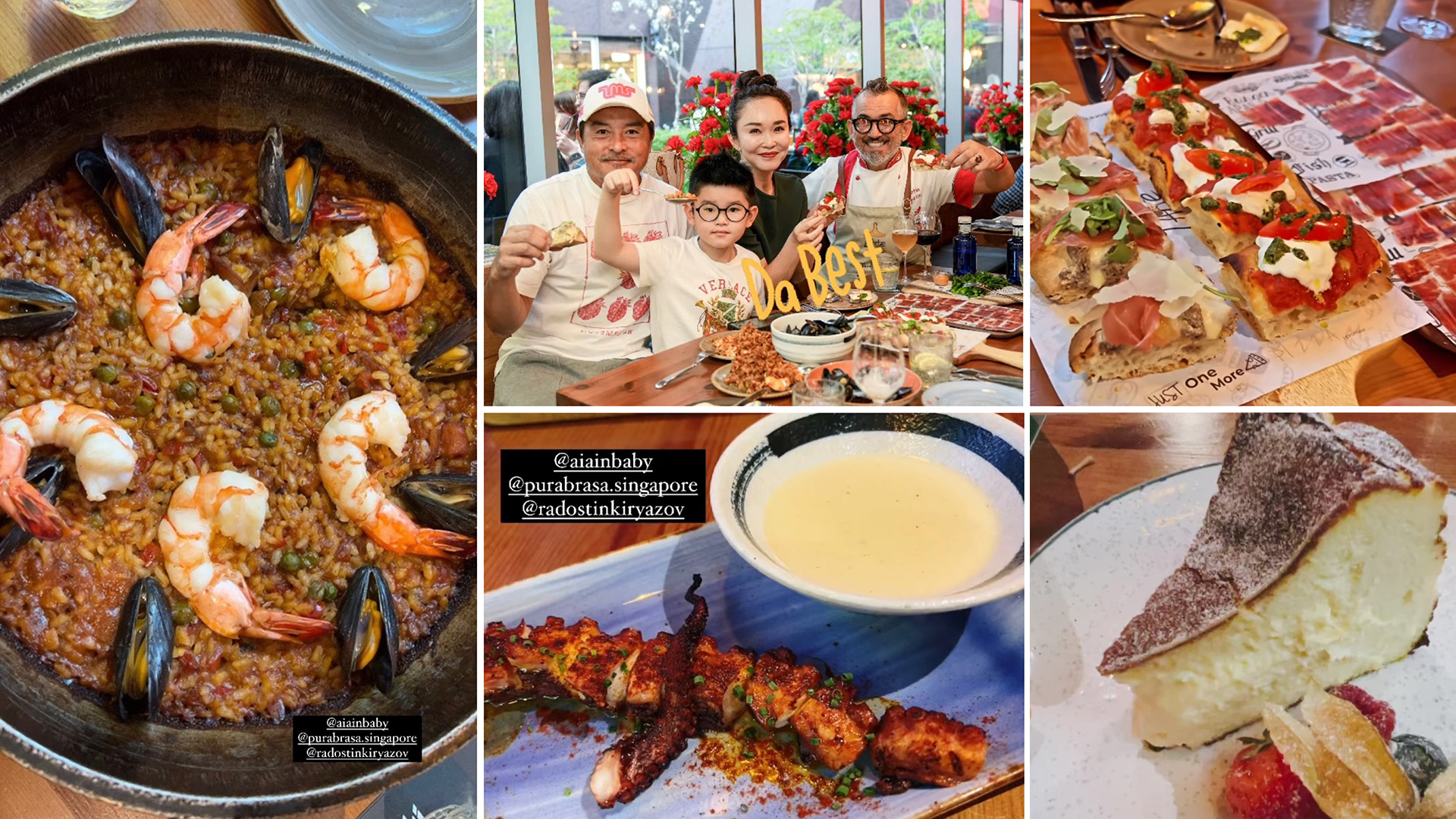 Christopher Lee, Zed and Fann Wong
What they ate: Spanish noms at Pura Brasa
Yummy factor: Christopher, Fann and Zed sure looked like they had a delightful time tucking into comforting favourites like grilled squid and seafood risotto at Pura Brasa. And it helps that sister brand L'Arte Pizza & Focaccia is situated just next door. The Lees also got to indulge in crisp focaccia-style pizzas featuring toppings like burrata cheese and parma ham made by Bulgaria's 'God of Pizza', chef Radostin Kiryazov himself.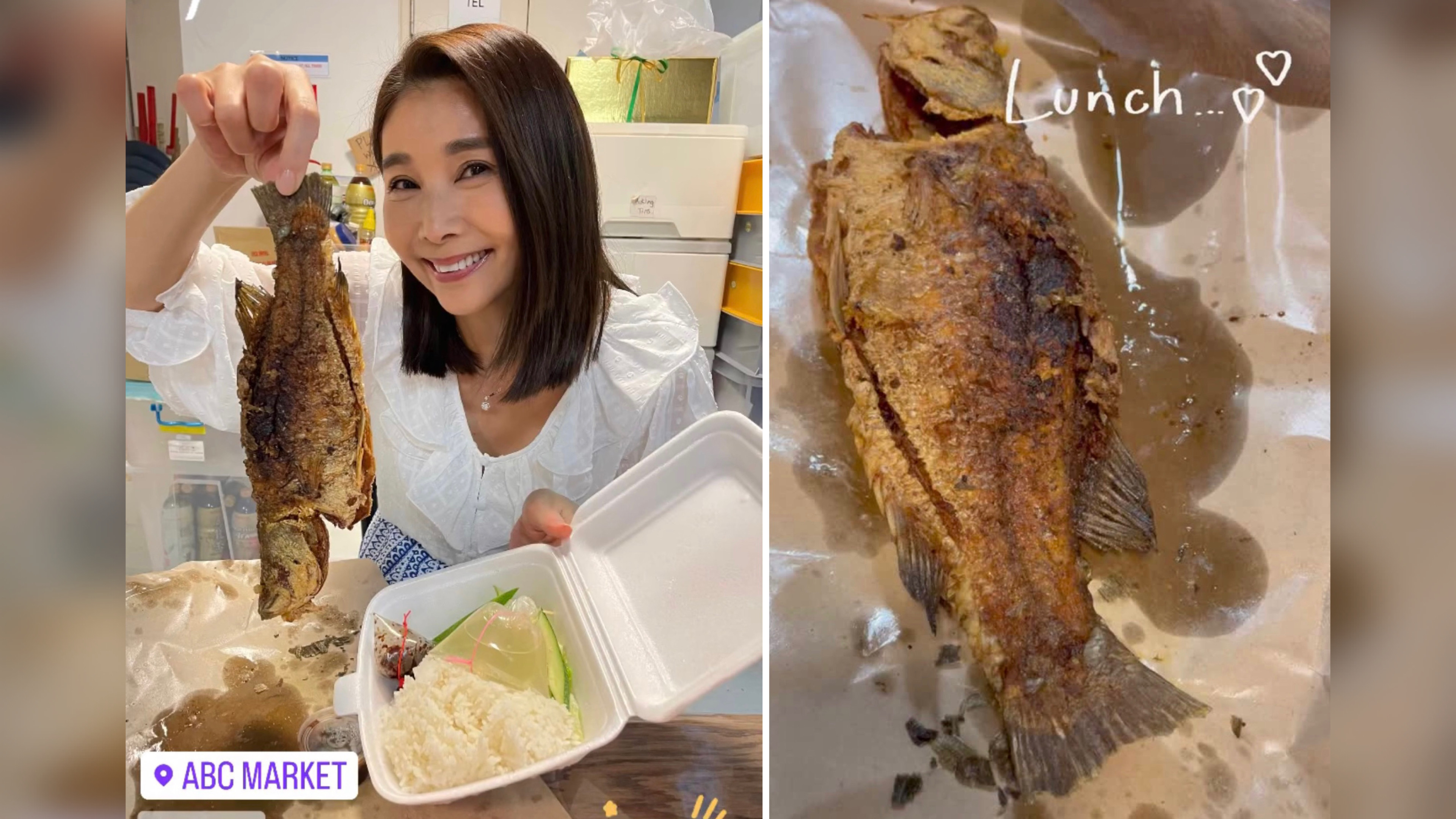 Chen Xiuhuan
What she ate: Ikan penyet
Yummy factor: Xiuhuan's takeaway lunch from ABC Brickworks Food Centre was a sumptuous one indeed. Just check out the size of the fried fish — it was so big it had to be packed separately from the rice. For $7.50, that's not a bad deal at all.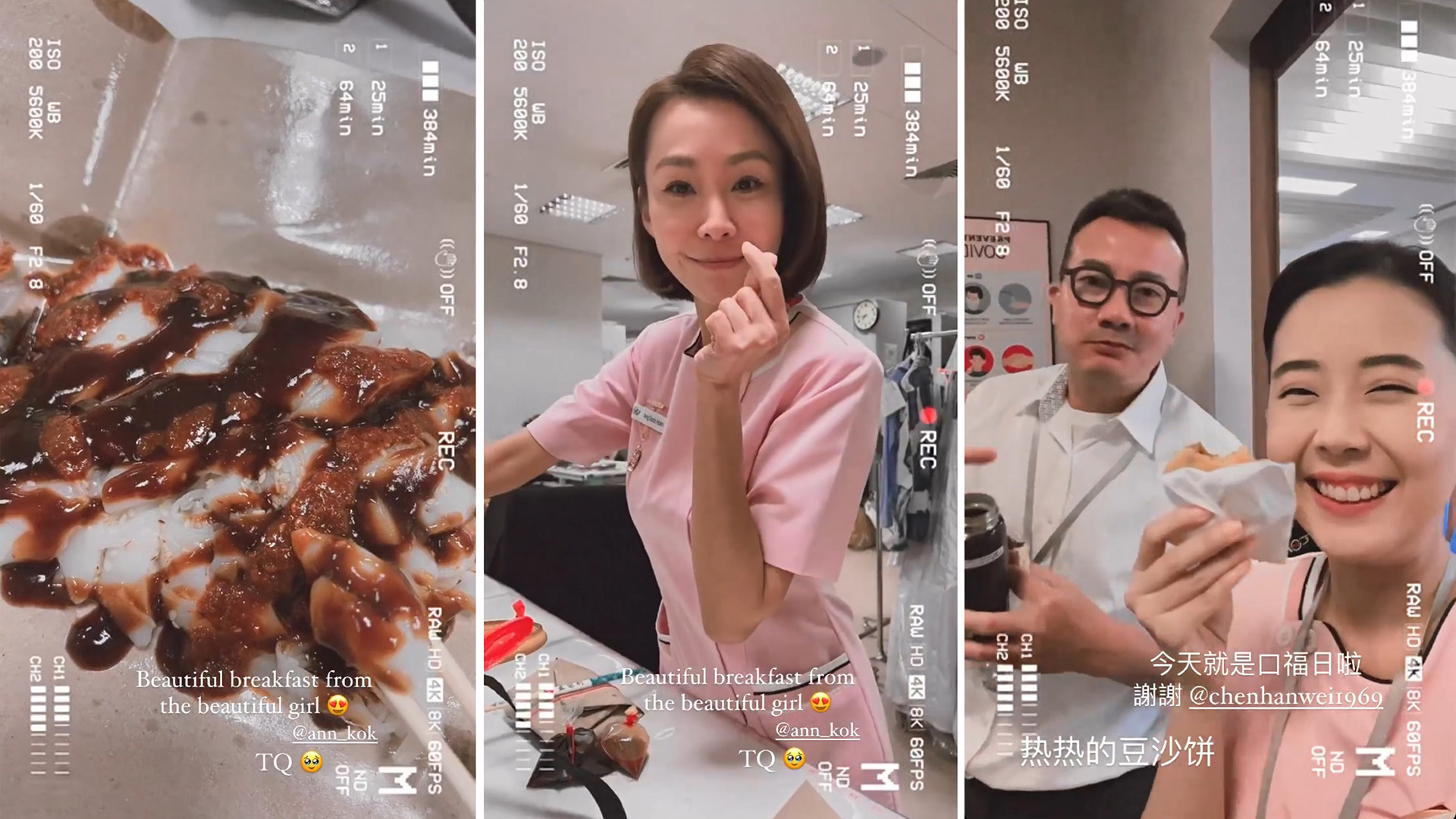 Ann Kok, Chen Hanwei and Jernelle Oh
What they ate: Heartwarming grub
Yummy factor: Thanks to her co-stars, Jernelle was well-fed while filming Mediacorp drama Healing Heroes yesterday (Sep 15). Not only did Ann buy her chee cheong fun from Old Airport Road Food Centre for breakfast, Hanwei also got her freshly-made tau sar piah from Loong Fatt as an afternoon snack.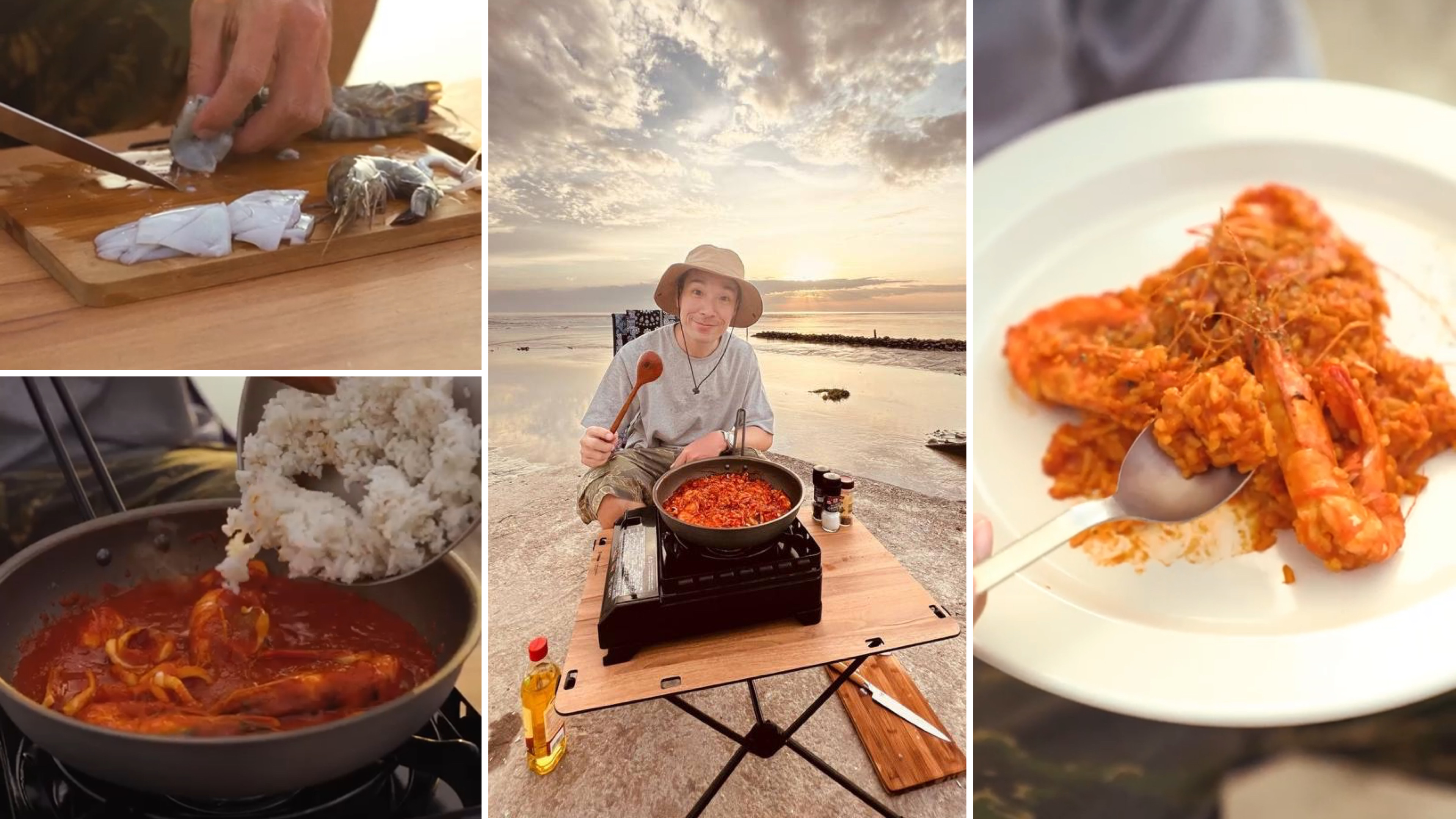 Ben Yeo
What he ate: Seafood rice stew
Yummy factor: It has always been Ben's dream to bring his kitchen outdoors, so you bet he was elated to cook himself a mean plate of seafood rice stew by the beach at Sekinchan — which is famed for its seafood and padi fields — in Selangor. And the kampong boy looked like he was in his element too, deftly slicing ingredients like squid and prawns for dinner.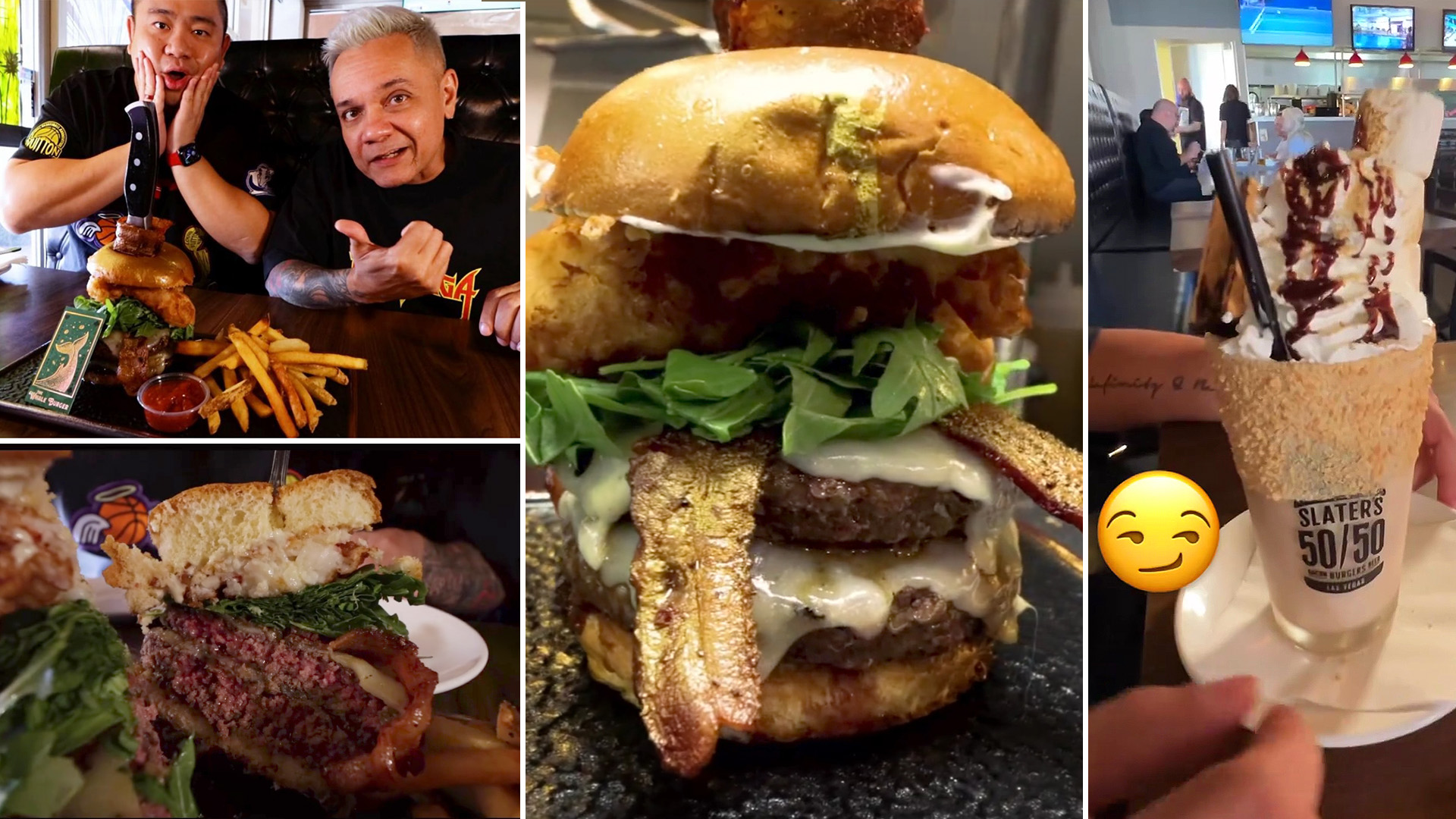 Justin Ang and Vernon A
What they ate: Gold-dusted burger
Yummy factor: Ever ate a burger with a three-digit price tag? The Muttons tried the US$100 (S$140) Whale Burger from restaurant chain Slater's 50/50 in Las Vegas, and found it to be well worth the price. Also, would you look at how thick the burger is? Stacked high with premium ingredients like lobster, gold-dusted bacon and wagyu patties, there's probably no way anyone can eat it without deconstructing it first. Oh, and it's served with chilled bubbly too. We're surprised Vernon had room for the decadent S'mores shake.
Sora Ma
What she ate: Kway chap
Yummy factor: If there's anything worth waking up bright and early for in Sora's books, it's probably a satisfying bowl of kway chap — accompanied by a platter of braised innards and meats — from hawker stall Huat Kee Kway Chap in Yishun. Talk about a tasty start to her day. We're told the stall's really popular so if you're thinking of checking it out, be sure to get there around 7am when all the items are still available (they sell out around noon).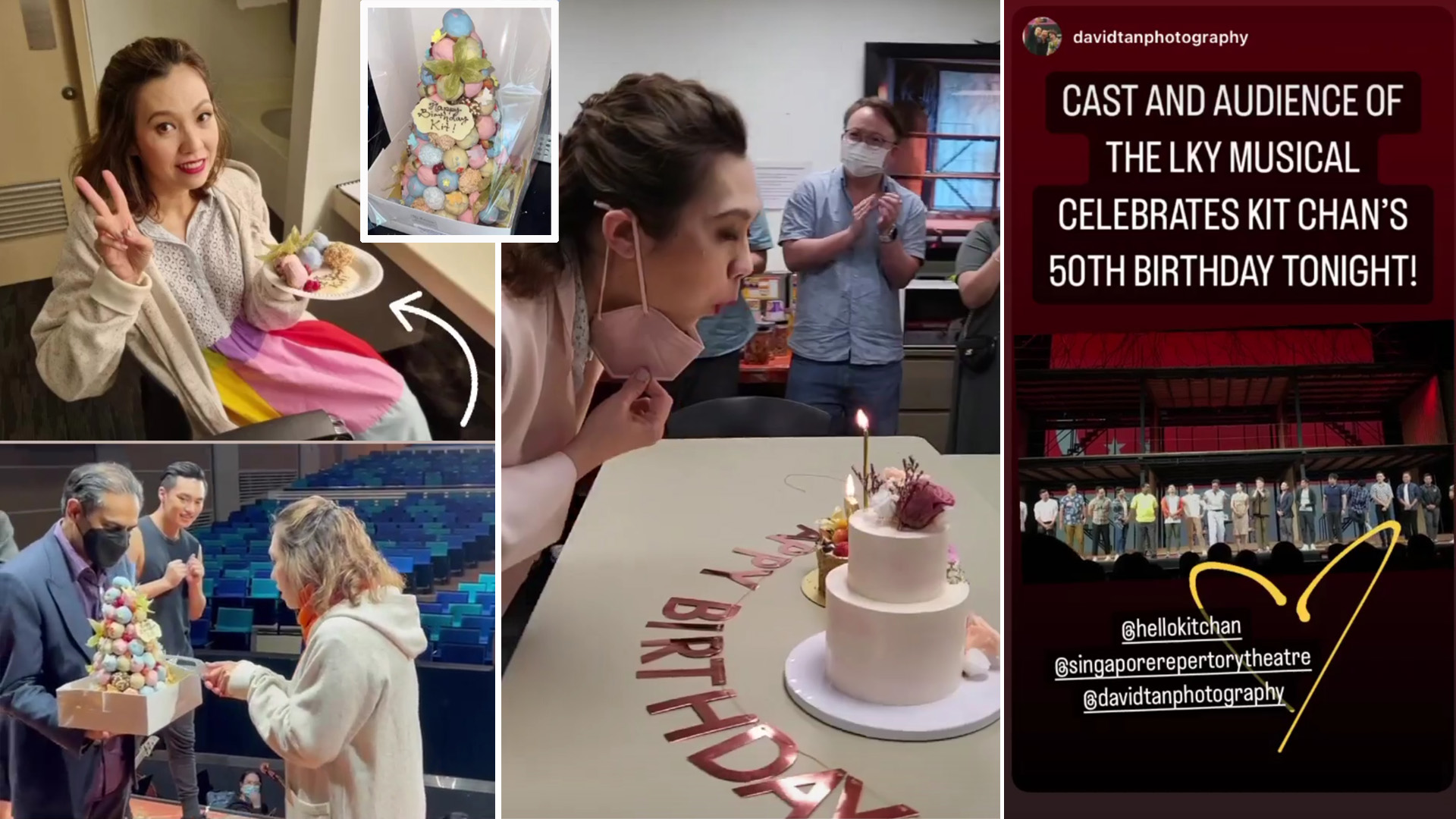 Kit Chan
What she ate: Birthday cakes
Yummy factor: Kit sure turned 50 in style. The singer, who's currently starring in The LKY Muscial, had not one, but two, cakes, including a very pretty pastel macaron tower from the Singapore Repertory Theatre, and even celebrated her big day (Sep 15) with the cast and audience of the show. Happy birthday, Kit!
Zhang Yaodong
What he ate: Seafood feast
Yummy factor: Yaodong relished the flavours of the sea at Kuala Lumpur-based restaurant Cafeinees — lunch for the day comprised hearty selections like seafood soup with fresh pomfret and jumbo-sized king prawns, and a "huge and tender" black emperor sultan fish. We've got our eye on the char kway teow with lots of hum.
Pornsak and Shane Pow
What they ate: Fried noodle snack
Yummy factor: Do you like your noodles firm or crispy? For Pornsak and Shane, mee siput, or deep-fried noodles, may just be the way to go. The Malaysia snack looks especially delish when crushed up and dipped in sambal for a fiery kick.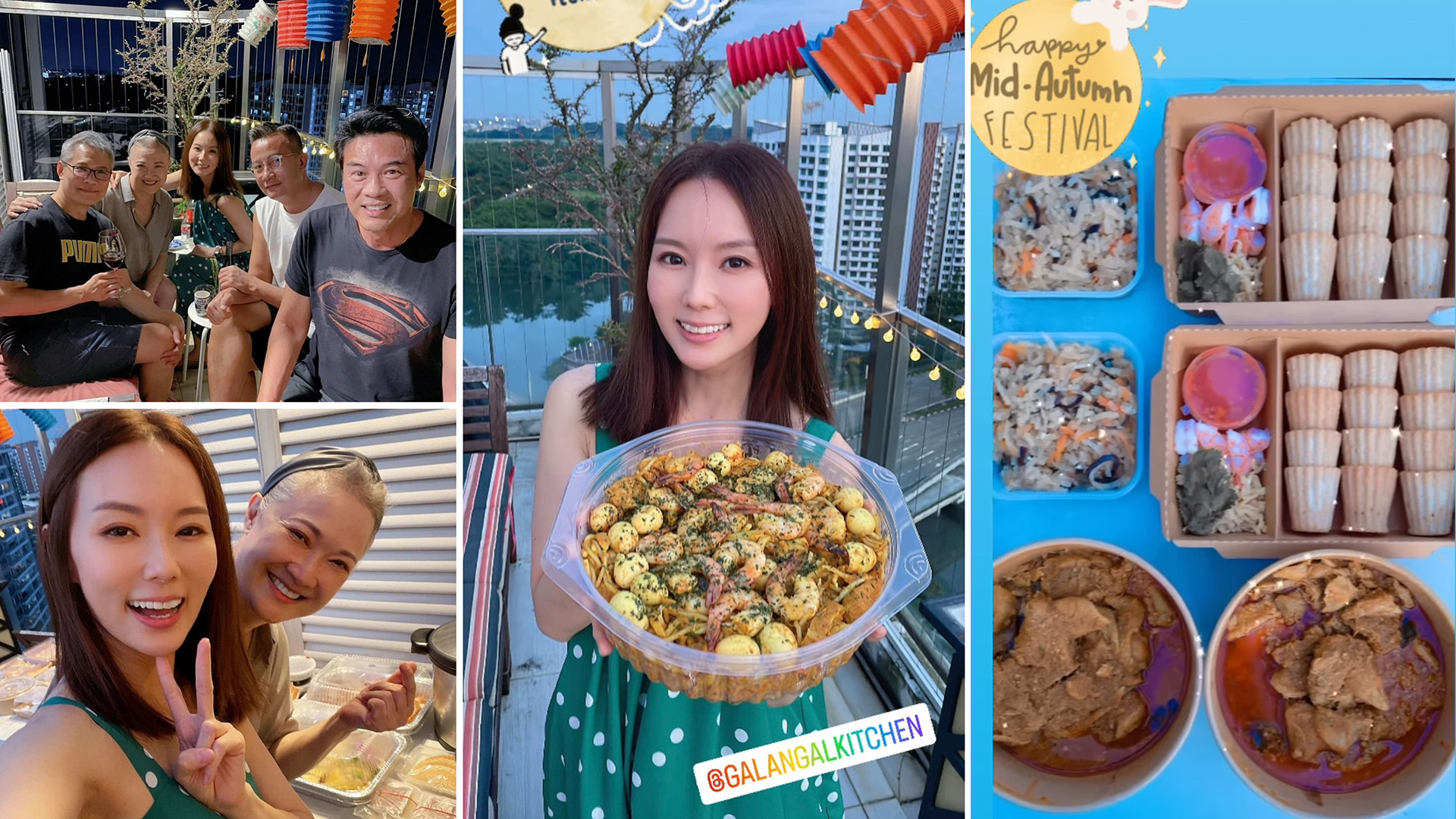 Hong Huifang, Yvonne Lim, Chen Hanwei and Zheng Geping
What they ate: Local favourites
Yummy factor: Although mooncakes are usually the highlight of Mid-Autumn Festival gatherings, the mouth-watering spread of dry laksa (check out the number of hard-boiled eggs!), DIY kueh pie tee sets and chicken rendang from home-based business Galangal Kitchen took centre stage for the evening. 
Lina Ng
What she ate: Wedding anniversary meals 
Yummy factor: While there weren't any extravagant gestures for Lina and her husband Mike Lam's 22nd wedding anniversary, they did head out to have Din Tai Fung's fluffy egg fried rice with pork chop for lunch. As for dinner, they went to Shake Shack where Mike got a taste of their popular burgers and crinkle-cut fries for the first time.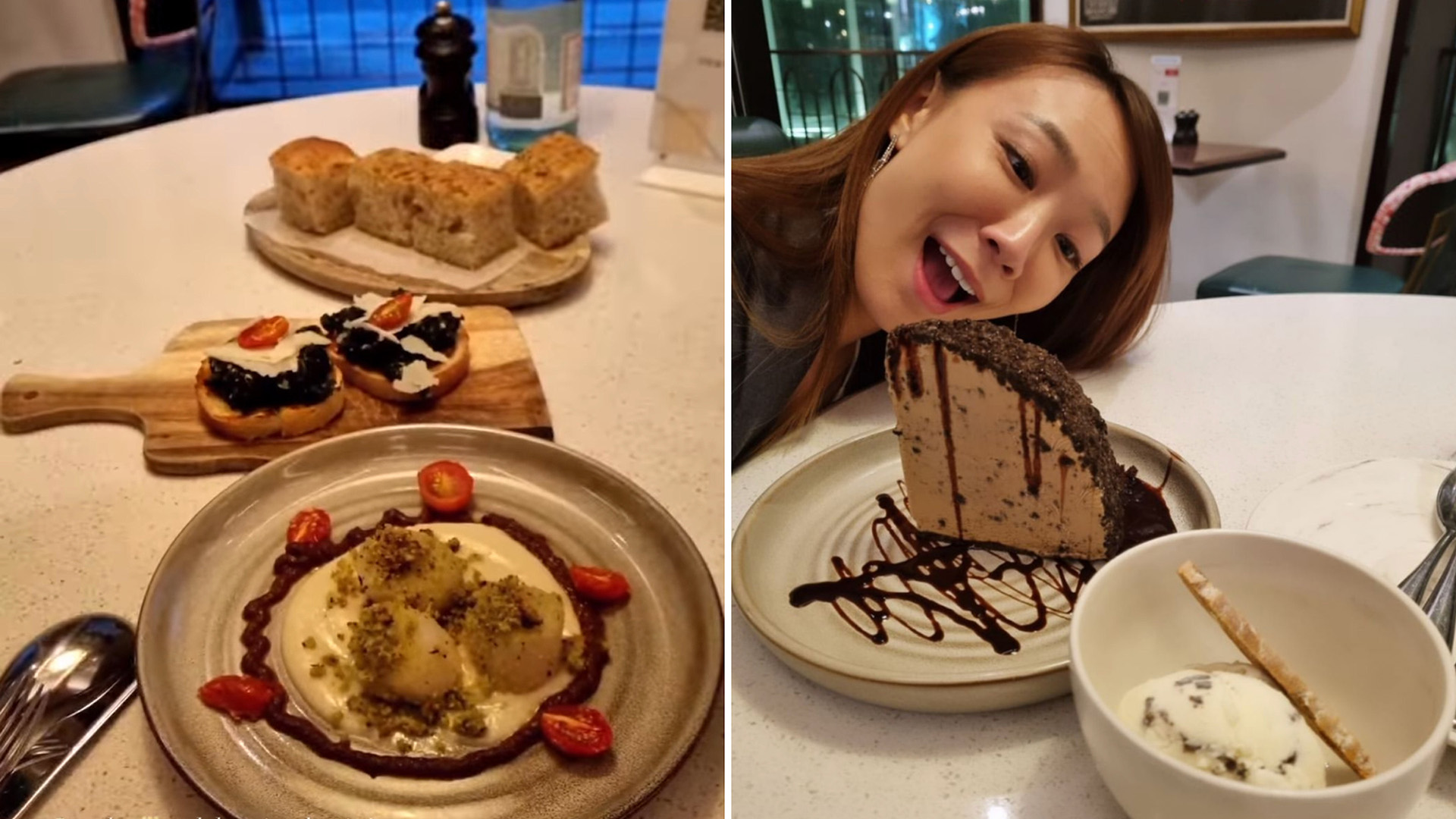 Julie Tan
What she ate: Birthday dinner
Yummy factor: It's Julie's birthday month (she turns 29 on Sep 22), and the celebrations have begun. And while the scallops and bite-sized bruschetta she had looked delicious, it was her cocoa-rich dessert that caught our attention. Drizzled with chocolate sauce, it looks like it could be a decadent slice of ice-cream cake.
Hazelle Teo
What she ate: Mee goreng pattaya
Yummy factor: After a long day at work, all Hazelle wanted to do was to indulge in a greasy plate of mee goreng and fried omelette. And even better yet that she dined alone — no need to share all that stir-fried goodness.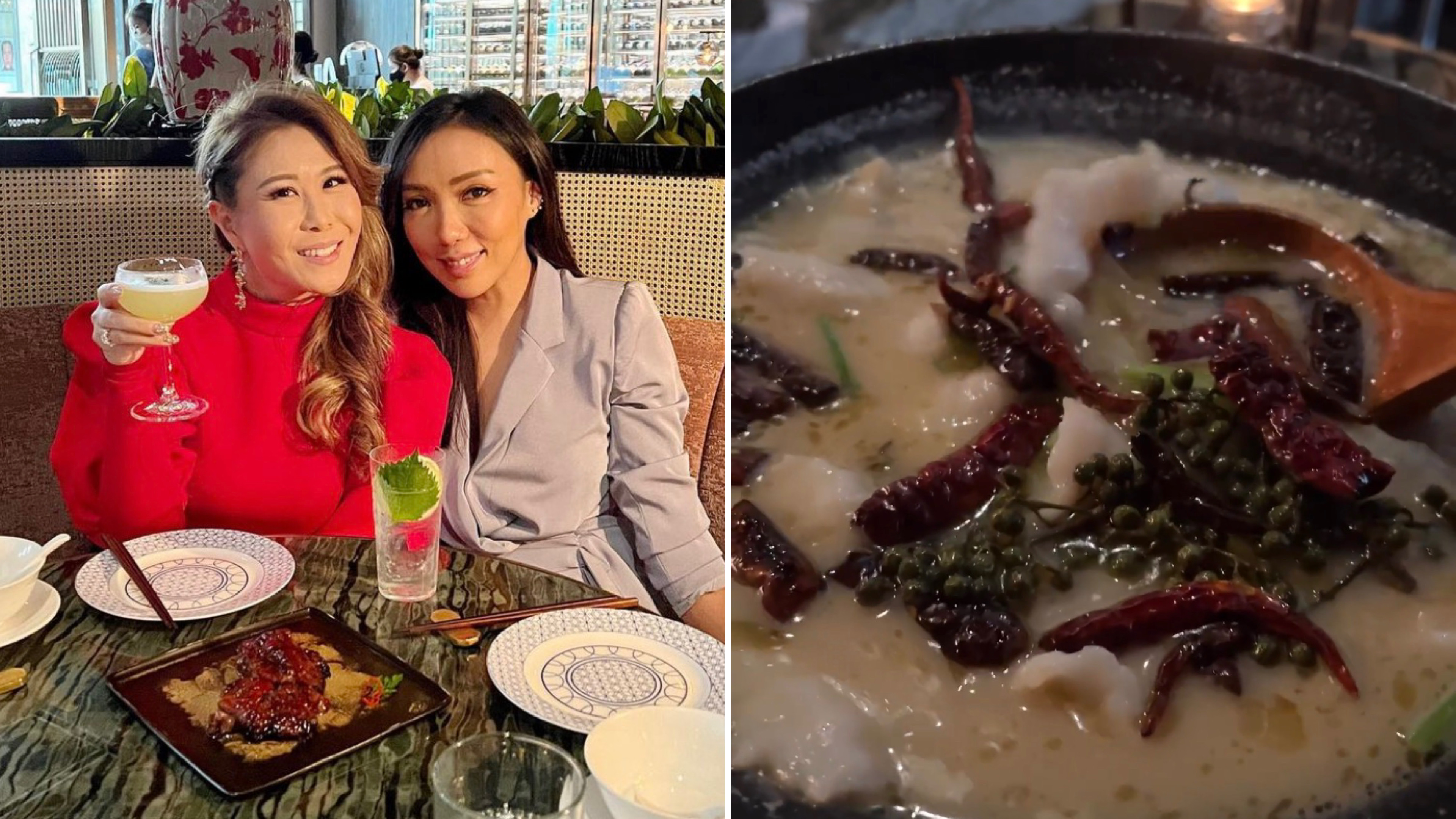 Yasminne Cheng and Jean Danker
What they ate: Delectable dinner
Yummy factor: Catching The LKY Musical at Marina Bay Sands meant that the Class 95 DJs could conveniently dine at Mott 32, Yasminne's go-to Chinese restaurant for shui zhu yu (Sichuan boiled fish). And aside from her favourite dish, the pair also indulged in pre-show drinks and the resto's signature Iberico pork char siew. Yum.
Apple Hong
What she ate: Peruvian cuisine
Yummy factor: Since there's a chance that Apple may never visit Peru, she decided to treat herself to Peruvian cuisine right here at Meters Above Sea Level — a pop-up dining concept presented by Mandala Club and headlined by famed Peruvian husband-and-wife team Virgilio Martínez and Pía León. Safe to say, Apple's taste buds were pampered by the experiential menu inspired by the region's altitudes — think seafood like squid, caviar and abalone, as well as Amazonian nut and squash presented in refreshing ways.
Jade Seah
What she ate: Heavy breakfast
Yummy factor: We wish we had an appetite like Jade's. Despite having had a heavy breakfast — the likes of noodles, pastries and fruits — in her Balinese resort, Jade "die die wanted to have mie bakso (Indonesian-style meatball soup)", so in search of it she went. And while she didn't manage to find any bakso stalls, she did satisfy her craving — along with mee goreng and fried eggs — at local eatery Made's Warung. Well, why stop at one breakfast when you can have two?
You Yi
What she ate: Poolside nosh
Yummy factor: Poolside dining gets You Yi's nod of approval. After all, what better way to enjoy her vacation in Hoi An, Vietnam than to lounge in swimwear, all while enjoying an ice-cold beer with Vietnamese-style calamari and rice?
Michelle Wong
What she ate: Fusion menu
Yummy factor: Michelle finally checked out The English House and hasn't been able to stop thinking about the food ever since. Not only was the beef wellington exceptional with its perfectly-pink centre, she found herself enjoying the fries, dim sum and soup options too.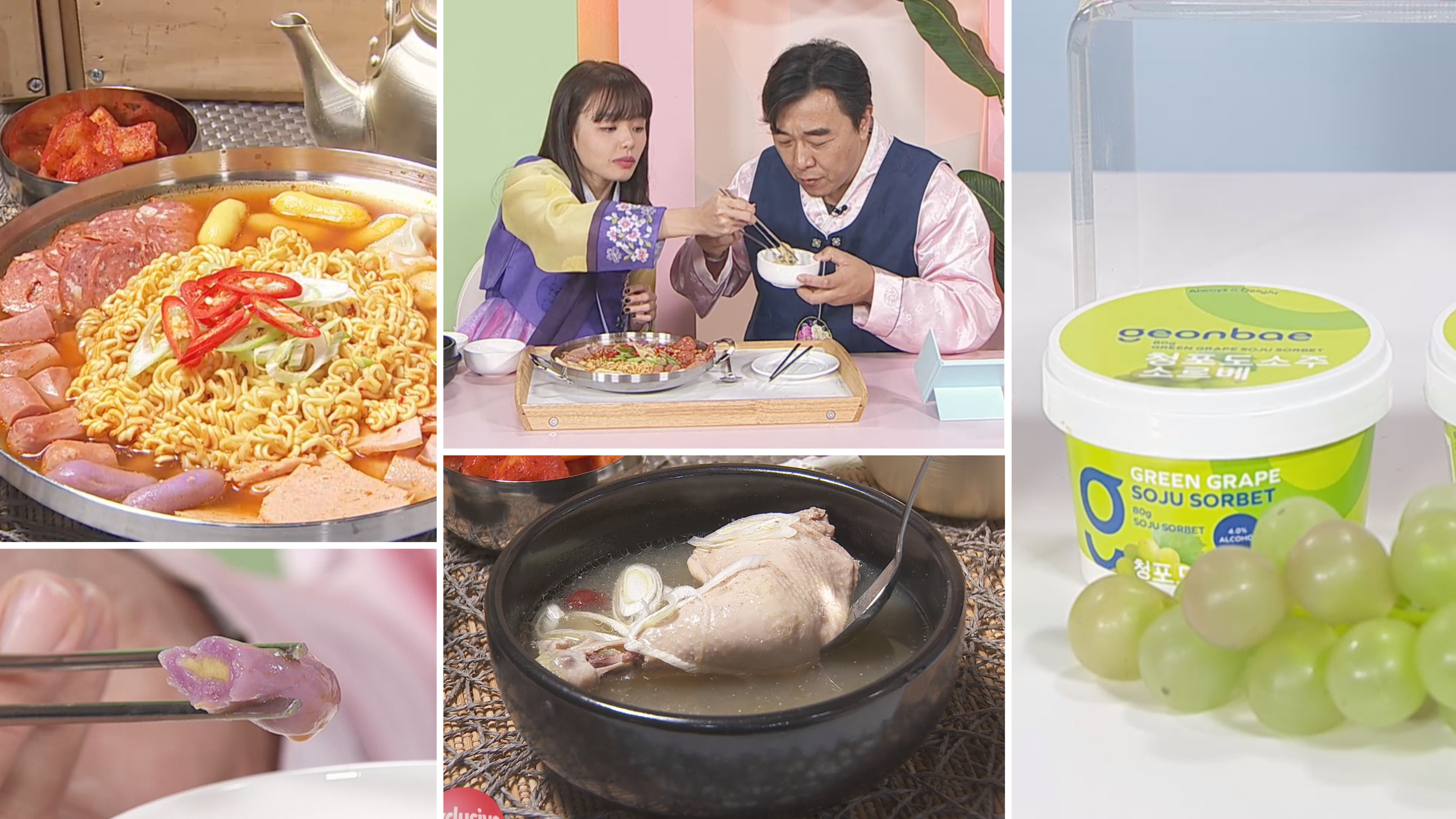 Hazelle Teo and Guo Liang
What they ate: Korean favourites
Yummy factor: Hazelle and Guo Liang certainly looked the part when they were hawking Korean eats on Mediacorp live streaming shopping series The Wonder Shop. Dressed in hanboks, the hosts enjoyed ready-to-eat meals like army stew from Hanguk Kitchen (it's owned by actor Haden Hee), and if you look closer, you'll notice that the tteokbokki (rice cake) comes with fillings like sweet potato and cheese. As for the soju sorbet from Geonbae, Guo Liang recommends having it after the army stew to cut through the grease. Enjoy up to 30 per cent off when you purchase the items here.