Google Flights reveals the best time to book airfares for the cheapest prices
Read this first if you're planning to book that year-end holiday.
If you haven't started thinking about that year-end vacation, you ought to get cracking soon, especially if you're on the hunt for the best travel deals. 
A study by Google Flights revealed the best times for travellers to book flights if they want to score the cheapest air tickets.
According to Google, air ticket prices have usually been their lowest between four to six months from the date of travel, with average prices at the lowest at about five-and-a-half months before departure. Google looked at historical pricing data for trips departing from Singapore to glean insights for this study.
When 8Days did a search on Google Flights for tickets from Singapore to Bali, we found that that airfares were cheaper if booked six months (or more) in advance, as compared to the five-and-a-half-month-mark.
Tix started from $190 for a trip between Aug 26 to Sep 2 (four months in advance); $179 for a trip between Oct 10 to 17 (in 5.5 months' time), and was lowest at $161 for a trip from Oct 26 to Nov 2 (six months away).
However, our search for Tokyo air tix turned out slightly different results. Booking four months ahead of time (Aug 26-Sep 2) would score you air fares from $559. If you booked five-and-a-half-months in advance (Oct 10-17), starting prices are lowest at $493, and booking six months ahead (Oct 26 to Nov 2) would set you back by at least $639.
So, yes, prices may vary according to travel season and differ among routes, albeit slightly, so it's best to do your research. And if you're bent on scoring the lowest fares, it helps if your travel dates and plans are flexible.
Not sure where to go? The Google Flights study also revealed the top destinations that Singaporeans are interested in to travel to between June to August 2023. Google looked at destinations that saw the highest query volume on Google Flight Searches, with departure dates in that timeframe.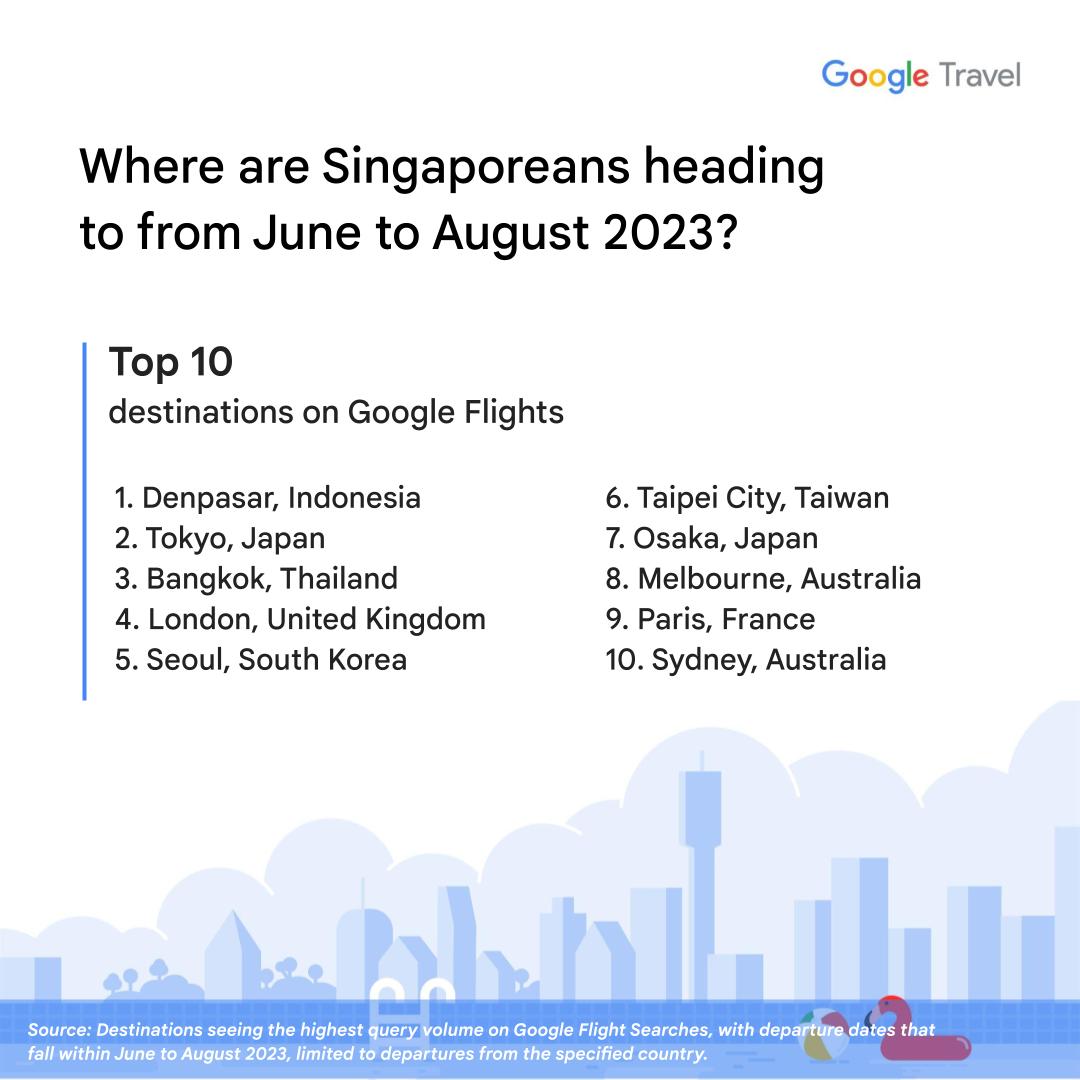 Image: Courtesy of Google Singapore