He Yingying Finds It "Weird" To Compare Herself To Other Actresses As They're Her Friends; Says It's "Not Really A True Friendship" If She Does
The 28-year-old actress, who stars in Mediacorp drama Strike Gold, tells 8days.sg that she used to feel pressured to keep up with things in showbiz when she was younger, but has now learnt to "let go".
In Mediacorp drama Strike Gold, He Yingying, 28, plays the filial and kind-hearted Mei Xiao Xi, who is also the object of affection of Liu Guang Hui and Liu Guang Ming, brothers played by Desmond Tan and Edwin Goh respectively.
Xiao Xi loves her alcoholic father Mei You Yong (Yao Wenlong) and good-for-nothing, fame hungry younger sister Mei Xiao Xiao (Kiki Lim) despite all the trouble they bring to her life.
Off screen, the strikingly pretty Yingying has a close bond with her reel-life family too.
When 8days.sg met Yingying at the drama's recent press conference, she couldn't stop gushing about her 'little sister' Kiki. 
"She's really sweet. I've built a sisterly relationship with her because of this project, and I hope it stays," she said.
Yingying shared that just before the press conference, Kiki told her and Wenlong that she had cried while watching their scenes together on screen.
After Kiki's emotional admission, all three of them started crying backstage, once again proving that actors really have sensitive souls.
It also shows that Yingying, who got her start in showbiz after getting scouted on varsity beauty competition Hey Gorgeous in 2015 and has gone on to become one of Mediacorp's most promising young stars, is someone who chooses to lift her showbiz pals up.
Yingying and her on-screen family, Wenlong and Kiki, post backstage cry
8DAYS.SG: Your peers like Chantalle Ng, Hong Ling and Bonnie Loo have seen a lot of career progression in recent years. Would you say there's competition among all of you?
HE YINGYING: They're all my friends (laughs). So even if there's competition, it's friendly and it's healthy. It's not the toxic kind like "I don't want her to win" 'cos honestly I work with all of them and I'm good friends with them privately. We'll meet each other for meals and we buy books for each other, so it's not really a competition. I'm happy to see my friends succeed. 
There are different roles for different people, I feel that one person succeeding doesn't mean that you have lost. There's enough success to go around for everyone (laughs).
Have there been times when you feel like the company has placed more focus on other actresses?
I don't think it's something I would notice 'cos I'm quite in my own bubble. (Laughs) But I think it's also good that they're focusing on pushing more talents 'cos we're all different. There isn't gonna be another Yingying, there isn't gonna be another Chantalle, so pushing different talents out would help diversify the kind of content that we have.
Yingying will offer you a shoulder when you need it
Are you someone who compares yourself to other actresses? 
Not gonna lie, in the past I would. When I was younger and didn't really understand how things work, I would feel a little pressure to keep up with certain things. But now that I've grown up and also seen my peers maturing with me, I don't think that there's any comparison 'cos we're honestly quite different. The styles we go for are all not really the same. Those who can sing will sing, those who can dance will dance, and those who can act will act. 
It's also weird [to compare] 'cos they're my friends (chuckles). If I were to compare then that's not really a true friendship. 

Was there anything that triggered the change in mindset?
I think it was a gradual growth. Even at the start I didn't really compare a lot, it was just a little bit like "Oh, there's a major role that she got". Small things that don't really matter in the grand scheme of things.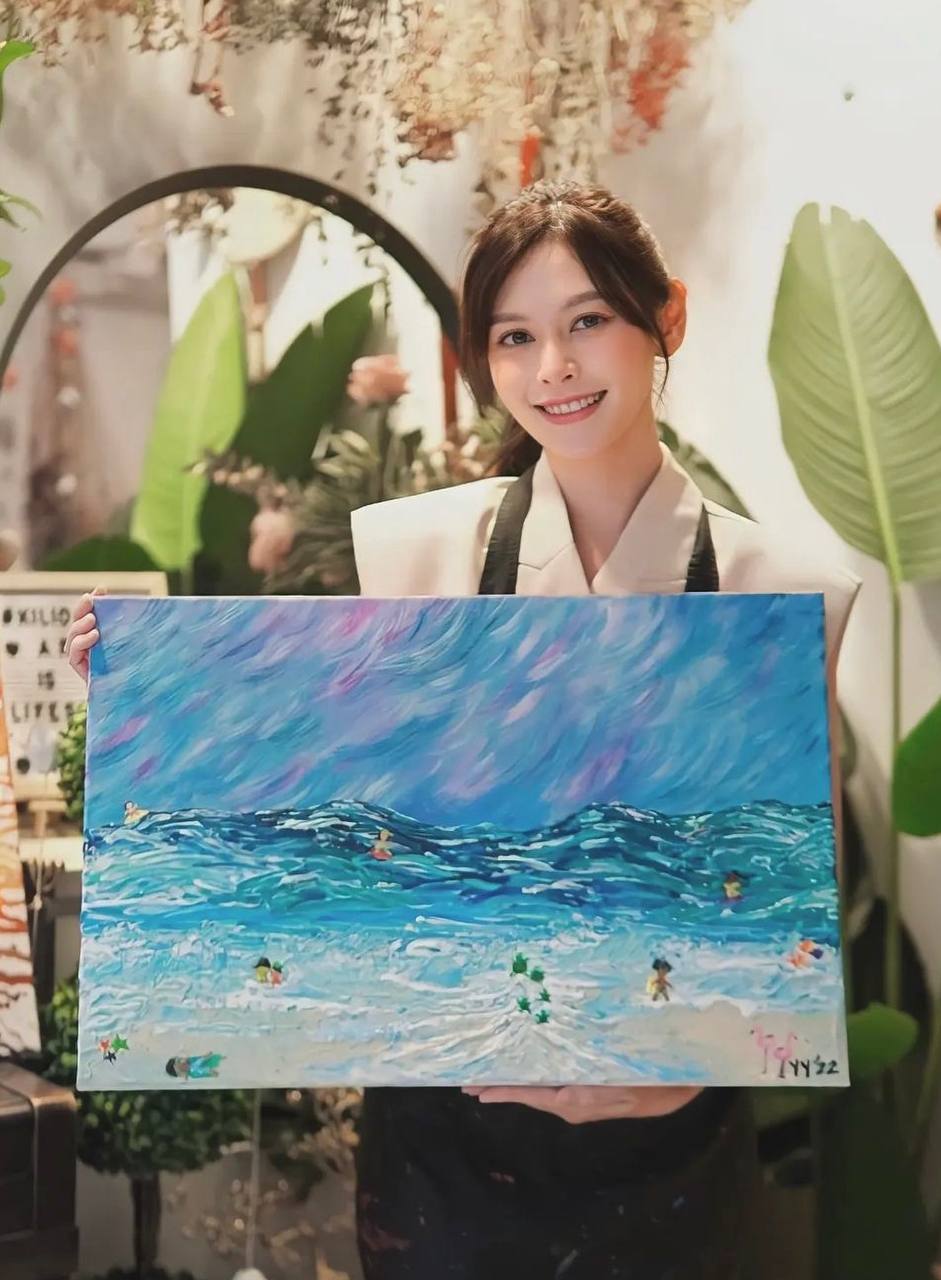 Yingying also paints and uses her art for charity.
Does seeing actresses like Chantalle and Hong Ling get their breakthrough roles, make you feel pressured to make a name for yourself soon? 
I don't feel pressured because let's be honest, not every actor will be lucky enough to receive a breakthrough role. In fact, I might be acting my entire life and still not get a role like that, and I'm okay with it. It all boils down to timing and luck.

I can be very anxious and pressure my manager like "Eh, give me a good role" but ultimately it's not in my control so just let go lor. (laughs)
And I strongly believe that whatever will come, will come. There's this quote, "Whatever is meant for you will not pass you by" so I feel like I can go all out and fight for it, but at the end of the day, what is mine will be mine, nobody can take that away from me. 
You mentioned that it all boils down to luck, so are you a superstitious person? Have you done anything to try to improve your luck?
You mean like a lucky charm? Don't have leh (laughs). I think in 2023 my motto is to "let go" and see where life takes me so I didn't really make wishes or anything.
But I've also been very blessed with opportunities since I started [my showbiz career]. It's been quite smooth-sailing for me. So I just work hard lor. If the time comes then it will come. If it doesn't then nevermind (laughs).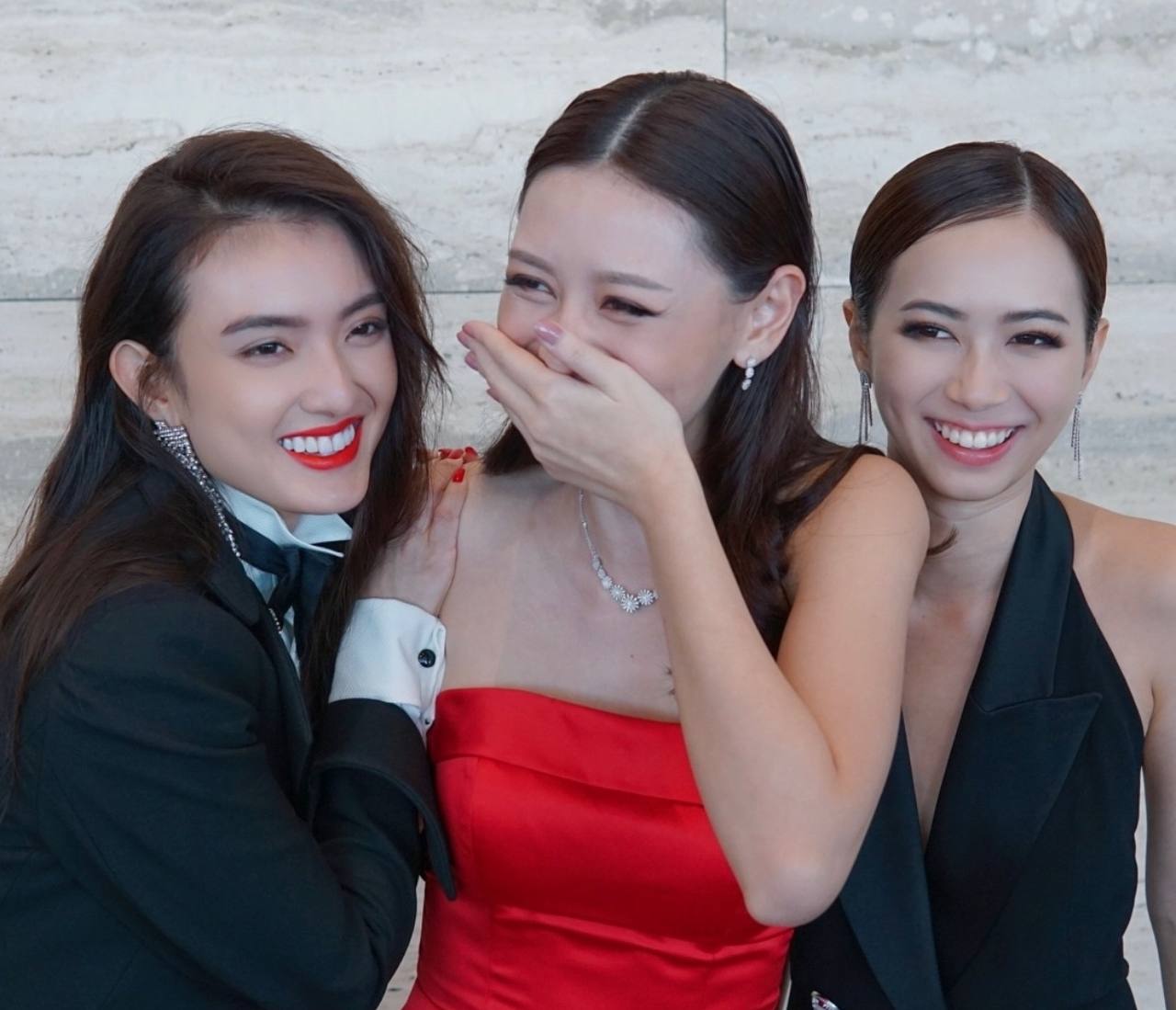 Yingying with her showbiz best pals, Hong Ling and Bonnie Loo
You got cast in your first lead role in web series Run Rachel Run shortly after joining Mediacorp in 2016. Following that, you also had pretty high profile roles in Hero (2016) and A Million Dollar Dream (2018) and there were hopes that you would become one of our next big stars. Did you feel a lot of pressure then? 
I didn't know that people had high hopes for me (laughs). I think there's no pressure because acting is a very strange craft. You can try to take lessons or read books, but at the end of the day, it's all about your life journey that helps you in your acting. 
I can go for classes but it's all in the eyes. Your eyes cannot lie. If I don't have enough experience to act out a certain scene, there's nothing I can do about it.
So what do you think makes you stand out from the other actresses in the industry?
Oh, is this the time to sell myself? (Laughs)
I think I am easy on the eye. I may not be the prettiest but I can look very approachable. I can dance, I can sing a little bit. Not as nice as other people but I can sing (laughs). I am a very hardworking person, I think we all are hardworking but I'm just gonna add that in (chuckles).
What about your weaknesses then?
I think sometimes when filming gets too busy, I can go into autopilot by accident and sometimes after filming for an entire day, I wouldn't even be conscious of what I was doing. 
Photos: He Yingying/Instagram, Mediacorp Photo Unit
Catch Strike Gold on Ch 8 on weekdays, 9pm, or catch it on meWATCH below: