Heritage laksa stall from Penang opens pop-up shop in S'pore, crispy tempura fish laksa worth trying
8days.sg has a preview taste of Granny Q's unique "Nonya-Thai laksa" pimped up with tempura tilapia.
Most folks associate Penang laksa with the famous assam-style variety, but have you heard of Penang laksa lemak? Think of it as a cross between the clear tamarind and prawn paste-spiked fish broth noodle dish that the Malaysian state is famous for, and the coconut milk-rich kind common in Singapore. Now, you can get your paws on some at the Granny Q pop-up, which starts 29 April and will run for a few months till further notice. Who and what is Granny Q, you ask? It's a humble laksa hawker stall from Pulau Tikus, a small town in Penang. The eatery is run by five siblings and named after their late grandmother, Granny Kew. Even though it only opened in 2022, their lone menu item of laksa lemak is made with their grandmother's treasured recipe which according to them, dates back to the 1920s. The dish is described on their website as a sort of "Nonya-Thai laksa". Interesting.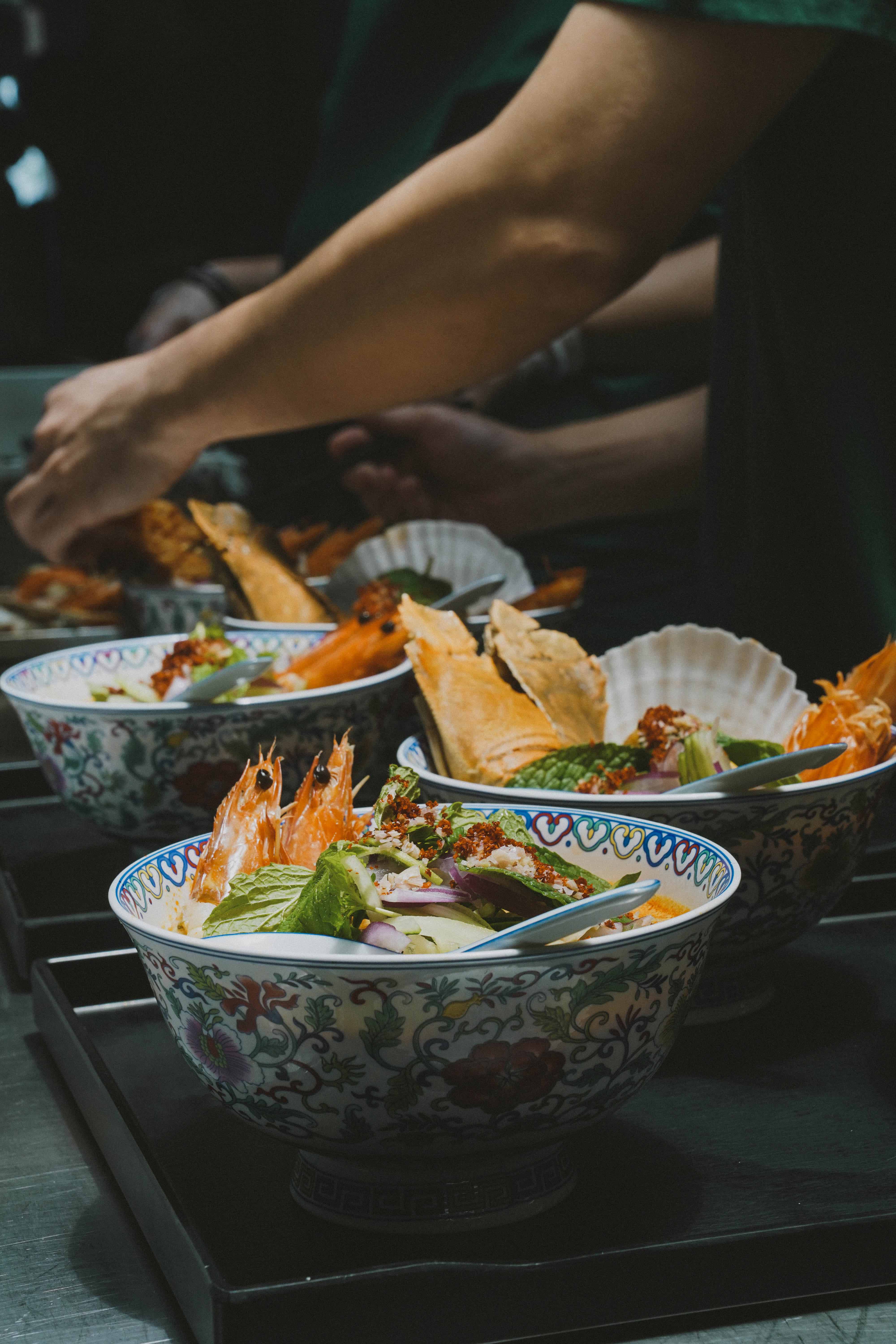 The Singapore pop-up will be hosted from Fridays to Sundays at hipster mod Japanese joint, Rappu Handroll Bar at Duxton Road. It's brought here by The Proper Concepts Collective, also behind trendy Mexican-Indian diner, Ms. Maria & Mr. Singh, which was opened in collaboration with celeb chef Gaggan Anand.
If the pop-up is successful, co-owner of The Proper Concepts Collective, Sheen Jet Leong, tells 8days.sg that we might see a permanent standalone Granny Q outlet in Singapore. 
No part of this story or photos can be reproduced without permission from 8days.sg.
The menu
While Granny Q's HQ Penang stall only sells one dish, the Singapore pop-up will feature three variations: the Signature GQ Laksa ($8.80) topped with slices of poached or fried tilapia ($9.80) plus prawns, and the Supreme GQ Laksa ($21) with additional scallop and crayfish. 
Granny Q's co-founder & niece

will cook at SG pop-up
But aside from the pimped up toppings, the bowls will remain true to the original recipe. The laksa noodles, rempah, chilli flakes and hei ko (fermented prawn paste) are all imported from Penang.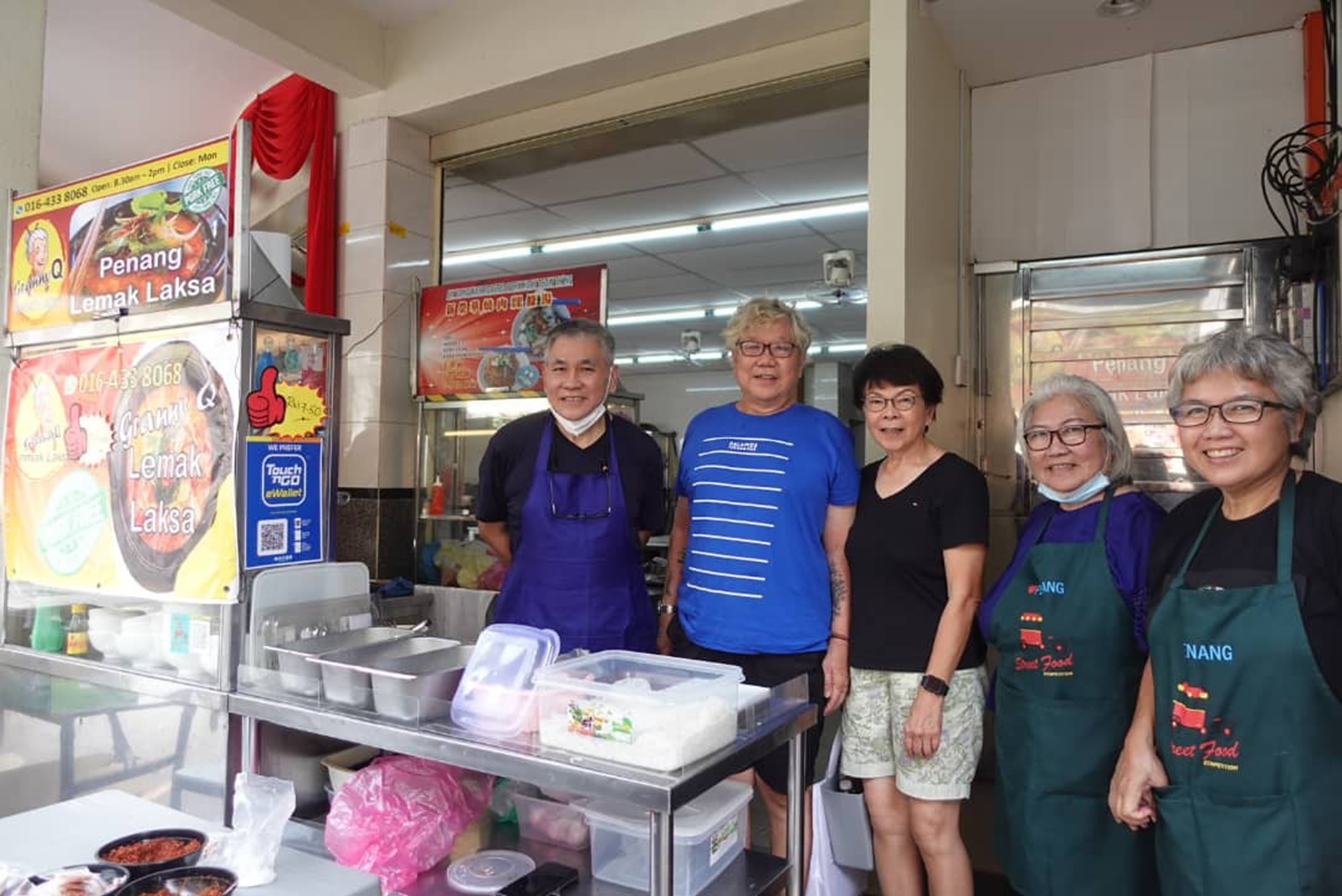 One of Granny Q's co-founders, Esther Heng (extreme right in pic), will be in town to train the Rappu cooks and serve at the pop-up on selected days, while her niece will be stationed here for its entire duration.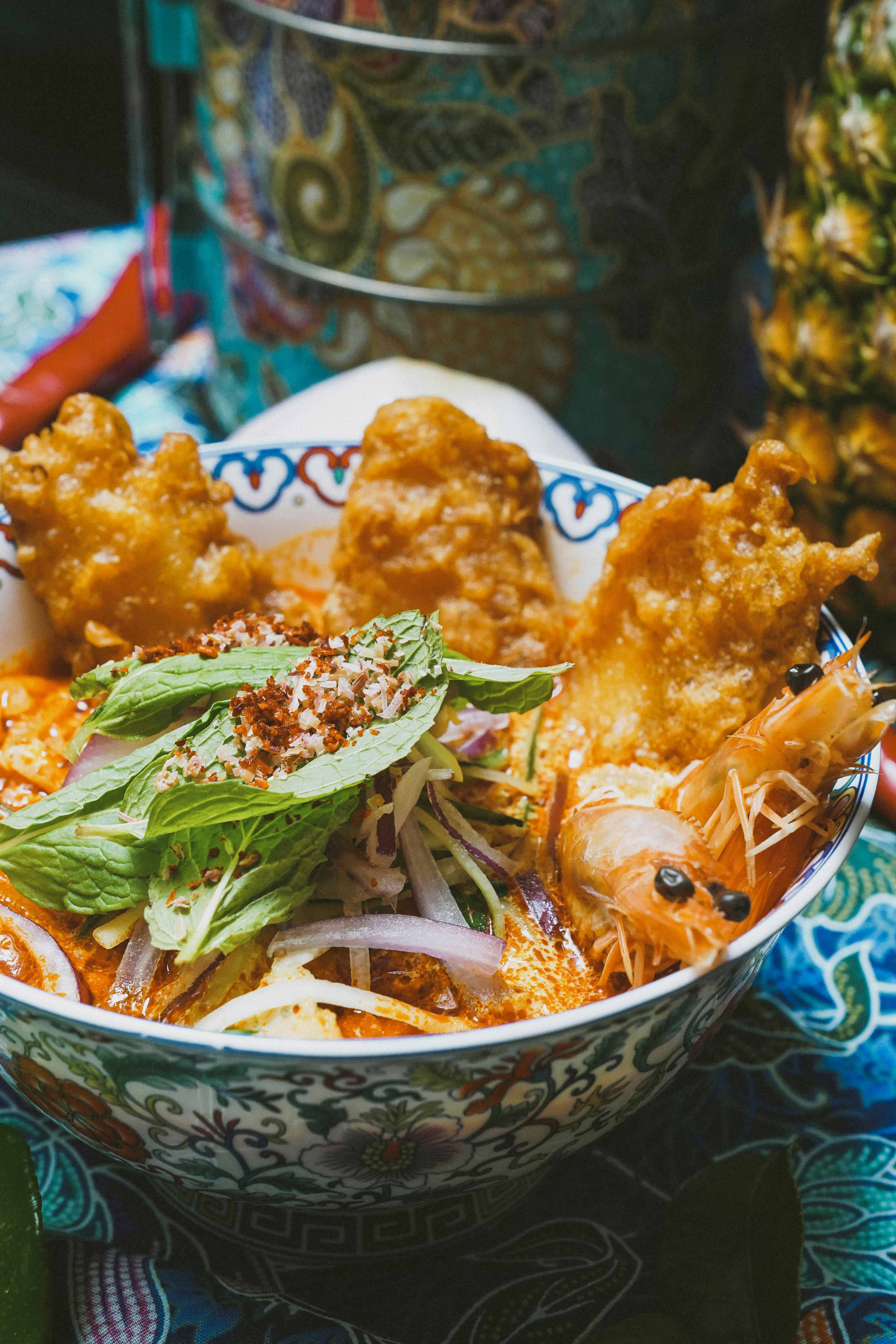 Signature GQ Laksa, $8.80 (poached); $9.80 (fried)
8days.sg tried the fried fish version featuring three medium pieces of "tempura tilapia", and two prawns. We're told this is inspired by the way many Singaporeans eat fish soup, where there's the option of choosing between poached and deep-fried fish.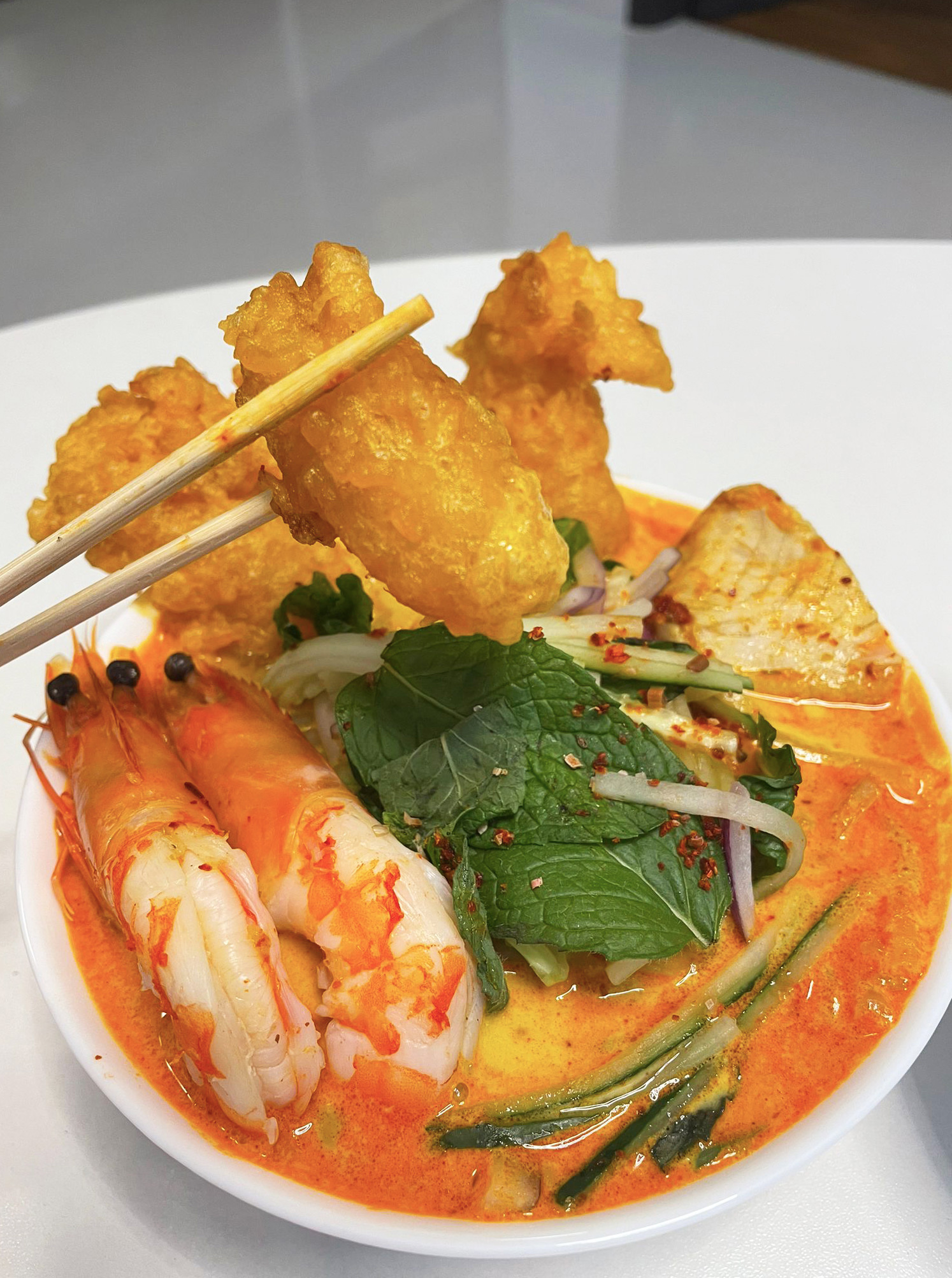 We enjoy the light, crunchy batter swathed around meaty tilapia. A decadent combo with the creamy, coconutty gravy infused with typical assam laksa toppings like mint leaves, chopped pineapple and torch ginger flower. The garnishes add a refreshing, subtly tangy zing to the thick, lemak gravy that's only lightly spicy (it could do with a bit more heat). Still pretty appetising and good value for a bowl heaving with goodies. 
Supreme GQ Laksa, $21
A fancier version of the signature poached tilapia bowl, with a whole crayfish and scallop. While the luxe shellfish is fresh and sweet, we're not sure it's worth the splurge since we found the $9.80 tempura fish version yummy enough.
GQ Laksa Ebi Roll, $14
We didn't get to sample this dish specially created for the pop-up, but Sheen describes it as "a sushi hand roll with all the key elements of Granny Q's laksa in a bite or two". It features a torched prawn seasoned with Granny Q's laksa rempah, over a bed of sushi rice and seaweed.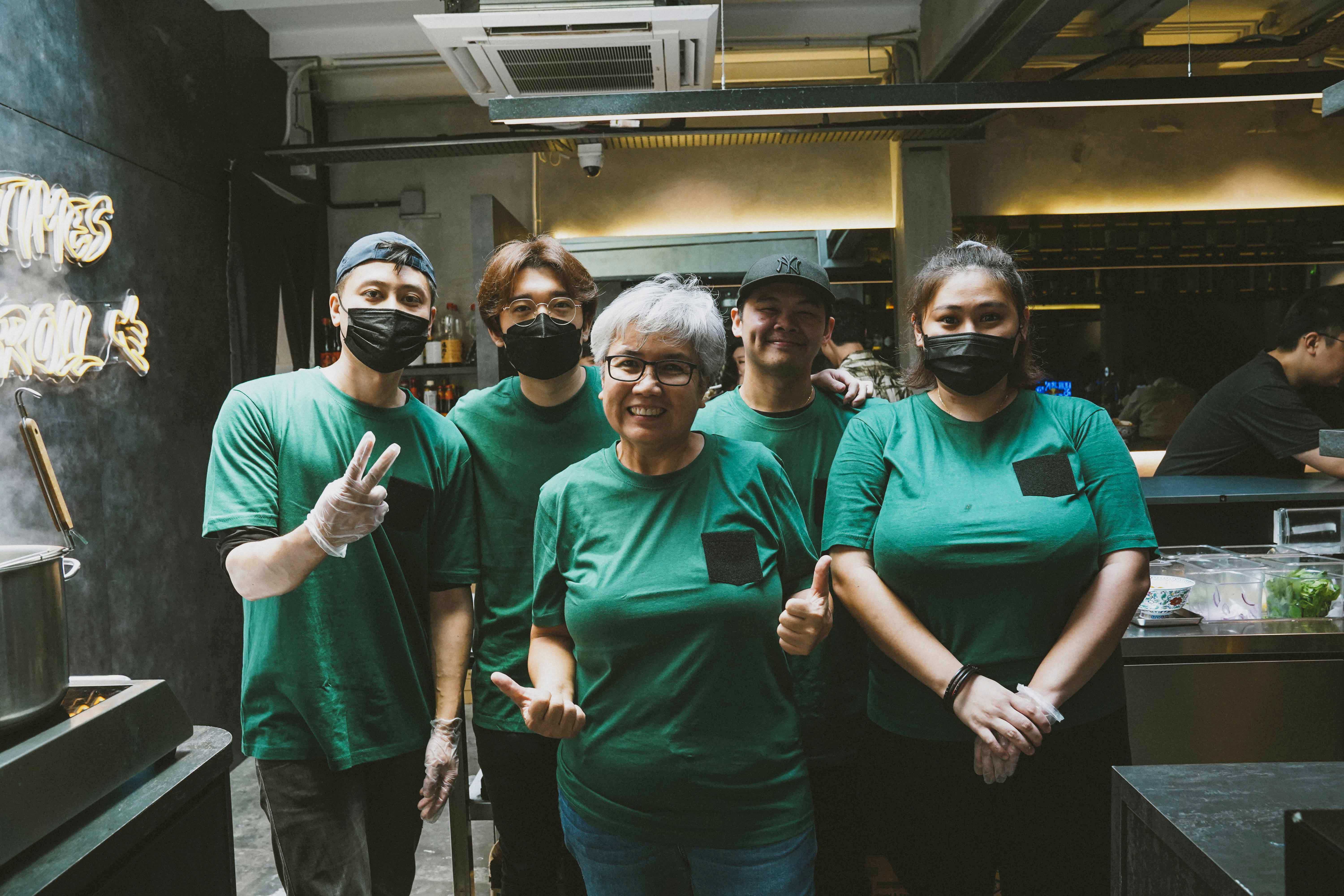 Free laksa on 29 April
Granny Q will be giving out over a hundred free bowls of laksa on launch day, 29 April, Saturday. Be sure to arrive early, as the freebies are only available while stocks last.
Granny Q's pop-up will be held from 29 April at Rappu Handroll Bar, 52 Duxton Rd, S089516. Fri to Sun, noon - 2.30pm. More info via their website, Facebook, Instagram and TikTok. 
Photos: The Proper Concepts Collective & Gwyn Lim
No part of this story or photos can be reproduced without permission from 8days.sg.
8days.sg is now on #tiktok! Follow us on www.tiktok.com/@8dayseat.