'High SES' $9 Wonton Mee With Iberico Char Siew, Truffle & 'Caviar' At Hawker Stall In Amoy St Food Centre
There's a cheaper $6 ikura version too at the stall opened by Sourbombe Bakery's co-founder and a former Paradise Group brand manager.
With two F&B creative minds at the helm, it's no wonder one-month-old hawker stall Chun Feng Man Mian stands out from its more traditional-looking neighbours on the second floor of Amoy Street Food Centre. 
Opened by photographer Tan Chun Rong (left in pic), 32, and former F&B brand manager Adrian Chng, 42, the wonton noodle stall has a retro chic vibe. A black and gold sign board features the stall's Chinese name (it's a wordplay that combines Chun Rong's name with a proverb that loosely translates to "beaming with happiness") in elegant calligraphic script, reminiscent of old-school Chinese restaurants, while the menu boards showcase tastefully styled snaps – all photographed by Chun Rong, of course.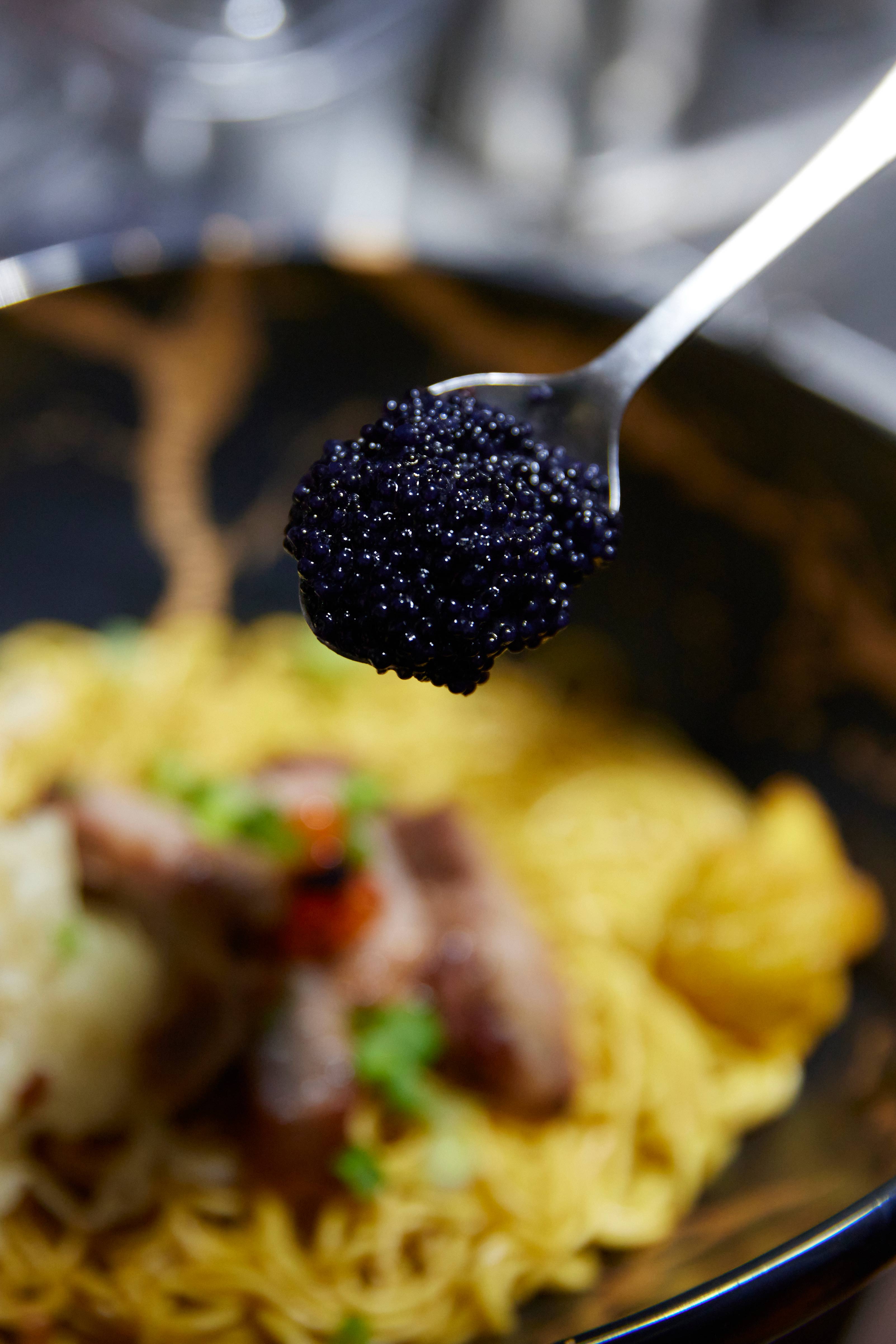 The stall offers two dry noodle dishes: signature wonton mee at $6 and what we cheekily term a fancier 'high SES (socio-economic status)' $9 version featuring truffle seasoning and lumpfish roe (a more affordable alternative to sturgeon caviar). Both are served with house-made Iberico pork char siew, fried and boiled wontons, cabbage and tonkotsu-style broth.
No part of this story or photos can be reproduced without permission from 8days.sg.
Both have F&B experience
Although this is their first hawker stall, the duo appear to know what they're doing. After all, Chun Rong is co-founder of hip doughnut brand Sourbombe Bakery with MasterChef Singapore runner-up Genevieve Lee. Adrian used to be brand manager at Paradise Group for six years, where he was involved in launching the restaurant group's concepts, such as Canton Paradise.
"We've known each other for about two years. We first met when I got him to print my Sourbombe packaging (Adrian works full-time at a printing company that specialises in F&B packaging)," shares Chun Rong. But why wonton mee after launching a successful doughnut brand? Branching out into the hawker biz is part of his grander plan. He explains: "I'm interested in becoming a [full-fledged] food entrepreneur and a hawker stall is the easiest to start off with as it requires lower capital. It's a good test bed as we also have our day jobs. But I'm not going to launch any more new [F&B] concepts soon as I need to focus my time on my existing businesses."
"We enjoy wonton mee a lot, it's one of our staples. We went around to try different noodles and there isn't really a modernised version [that meets our standard]," he continues.
"Sometimes the noodle texture is good but the char siew is not so good. There's always something missing. We wanted to create a version that's more balanced in terms of the quality of all the elements [of wonton mee]," adds Adrian.
The recipes were created by the partners – both avid home cooks – after "some experimentation and online research". Although the owners don't prep the food personally, they take turns to manage the stall daily. They're assisted by four other staff, including a main cook who used to work at a "mid-sized Chinese restaurant" (they declined to name the restaurant) and an assistant solely in charge of plating the Instagram-worthy bowl.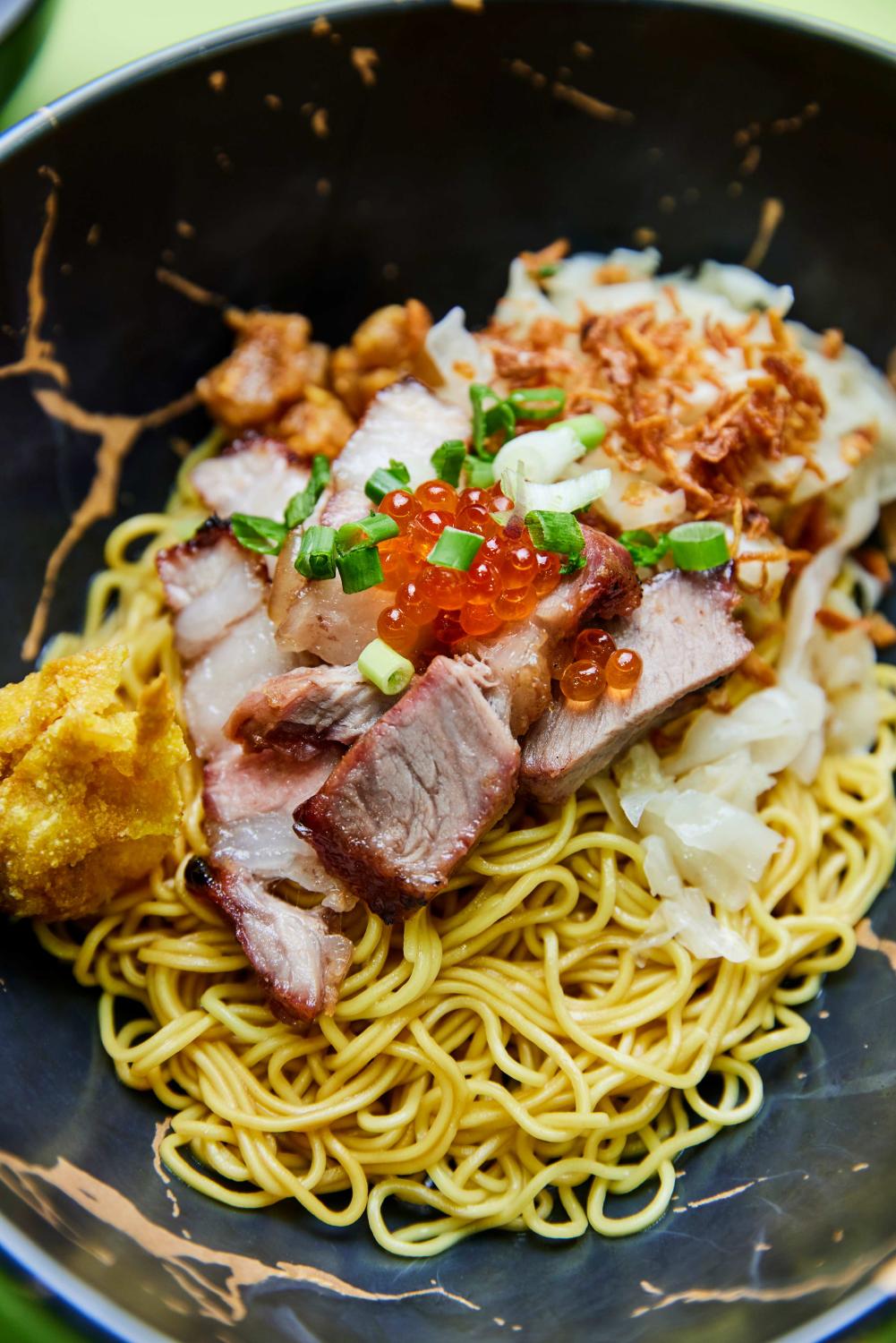 Elevated ingredients targeted at more affluent CBD crowd
The dishes here feature unusual wonton mee toppings like Italian truffle paste, salmon roe (for the $6 signature noodles) and lumpfish 'caviar' (for the $9 version). The char siew, prepared daily in a gas-powered roasting oven at the stall, is made from Iberico pork collar and belly.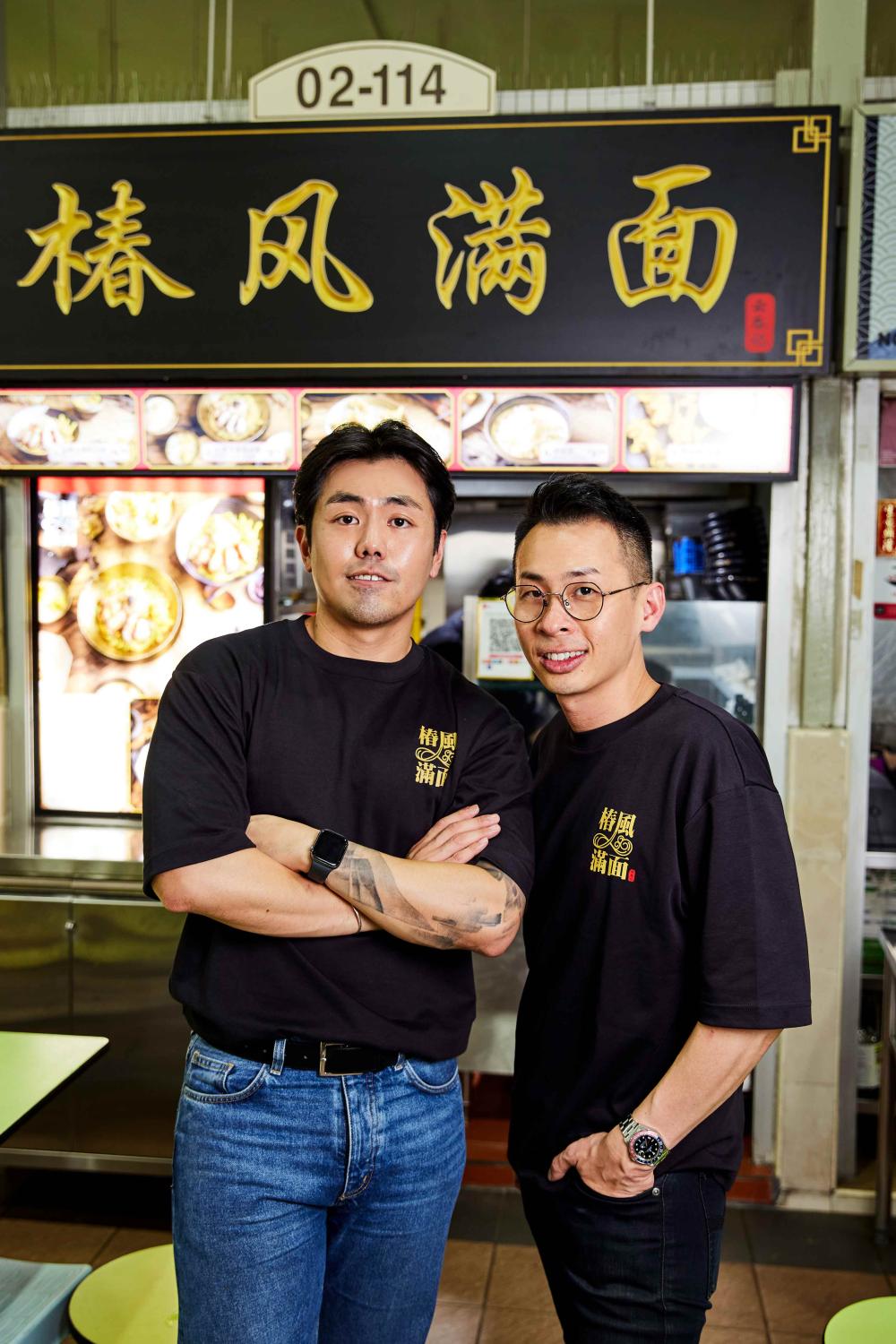 Already enjoying good business
The stall is only open on weekdays for breakfast and lunch to cater to the CBD crowd. The owners say business has been brisk, with the stall selling about 200 plates of noodles daily. "The longest queue so far is around 20 people. The wait time was about 30 minutes," says Adrian. 
They also reveal that a second outlet may be "in the pipeline". "We want to see if the concept works. [If all goes well], we want to open two to three more outlets and eventually open an eatery," says Chun Rong. He says they have invested about $50K to set up the stall.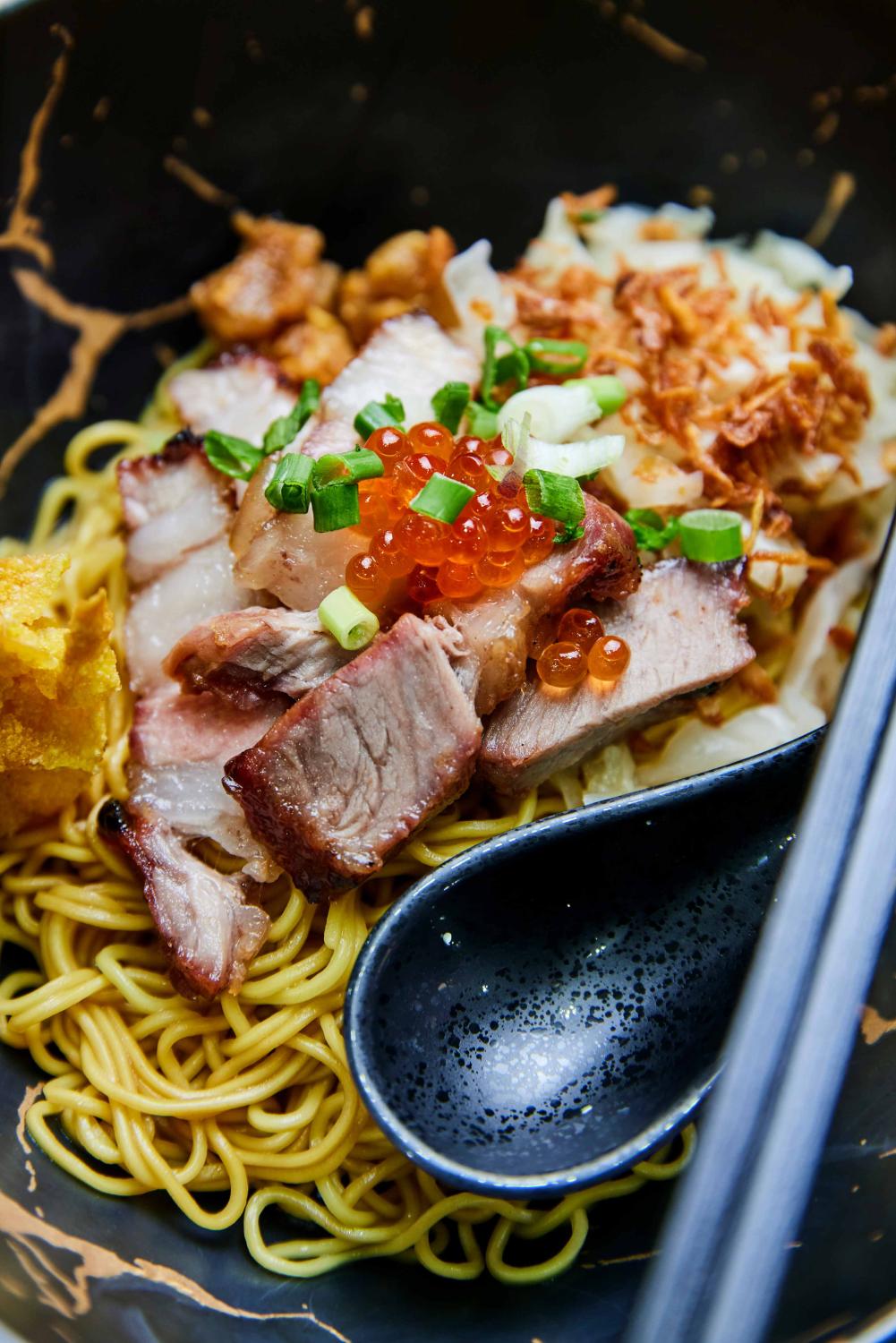 Signature Char Siu Noodle, $6 (8 DAYS Pick!)
Definitely the most aesthetically pleasing plate of wonton mee we've had at a hawker stall. Served in a Japanese-style black and gold bowl, the noodles are crowned with a neatly-arranged heap of char siew, fried wonton, ikura and cabbage. 

Texturally, the egg noodles (only mee kia is served here) are perfectly al dente. We expected more depth and complexity from the dressing, which we were told is made from over ten ingredients including mirin, soy sauce and pork lard. That said, it was tasty enough, especially with fried shallots and crispy pork lard lending more richness to the noodles. Add their house-made lemongrass-scented sambal to the mix if you prefer more punch.

Despite looking rather thin and drab, the house-roasted char siew did not disappoint. Made from Iberico pork, the belly was significantly fattier than your run-of-the-mill char siew while the leaner collar offered a good bite. Both were tender and flavourful. The novelty dollop of salmon roe was too small to contribute much to the overall flavour of the dish – we recommend finishing the orange orbs in one bite to better savour the umami pops.

The wontons – one fried and two boiled – were rather small and the minced pork filling a little under seasoned. We preferred the fried version, which had a nice crunch.

While it's called tonkotsu soup, the broth here does not resemble those served at a ramen shop. Think of it as a more pork-forward version of cleaner, lighter wonton soups – a comforting accompaniment to the noodles.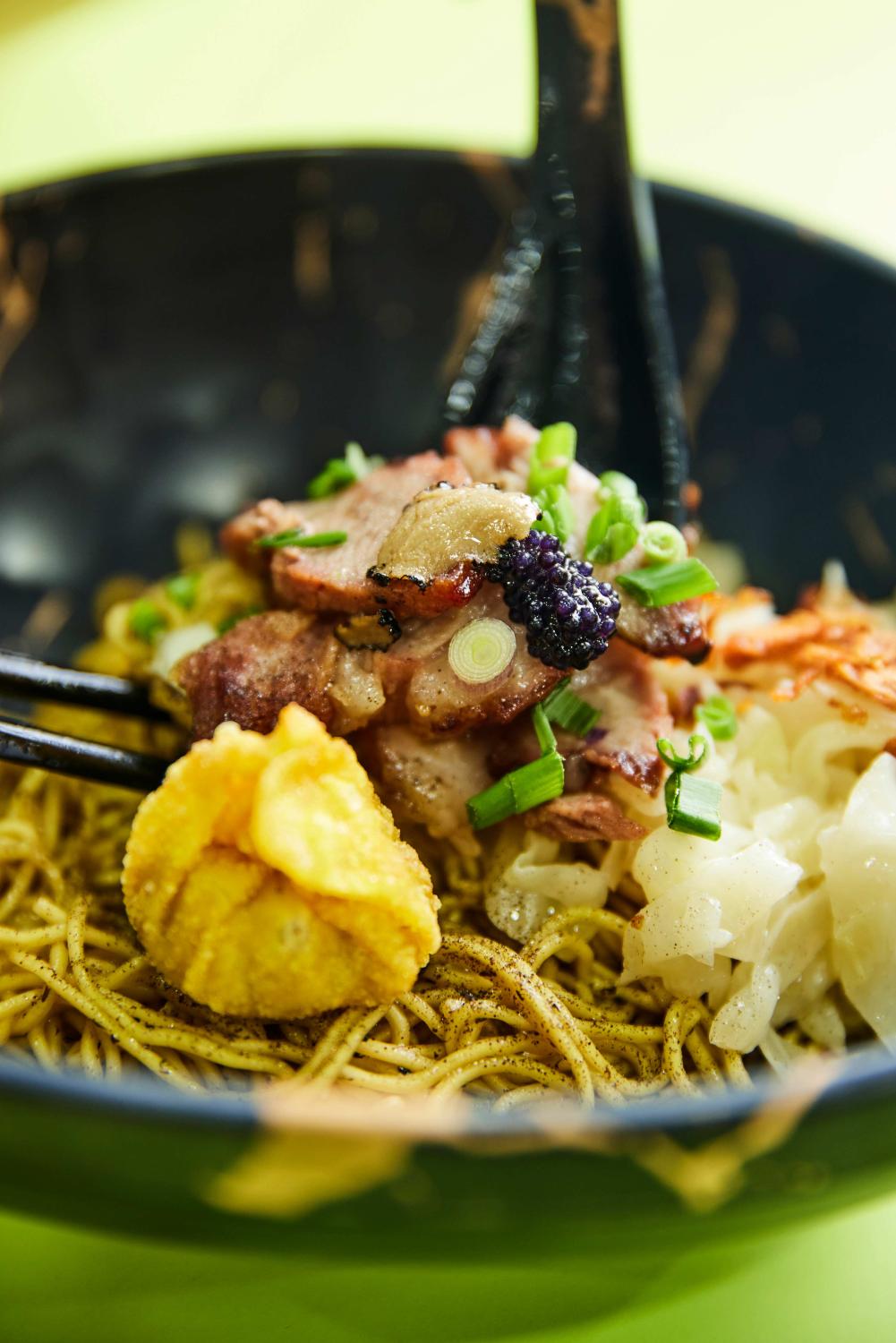 Truffle Char Siu Noodle, $9
Rather than dousing the noodles in only truffle oil, the stall offers a more nuanced depth of flavour by also using Italian truffle paste and truffle powder. As a result, the dressing was nicely balanced and you won't feel overwhelmed after finishing the entire bowl of truffle-flavoured noodles.
Apart from the tiny drop of lumpfish roe and truffle bits (from the paste), which served more of a decorative purpose, the other fixings are the same as the cheaper signature bowl. We recommend ordering the latter unless you're a big fan of truffle oil-flavoured dishes.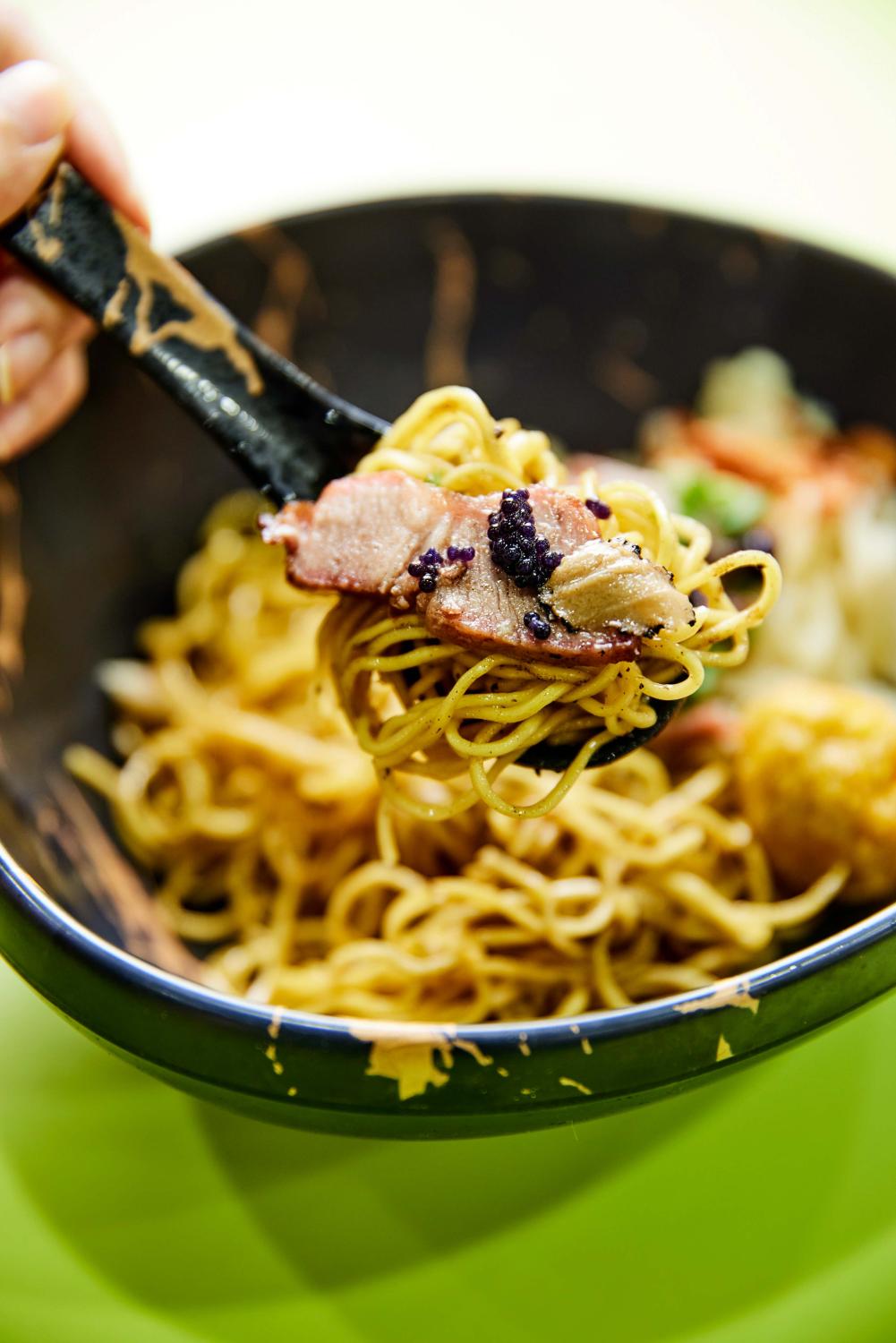 Bottom line
Fancy flourishes aside, what stands out here are the perfectly cooked noodles, which retain their springy texture well, and the thin but tender Iberico pork char siew. The savoury sambal lifted by a touch of lemongrass was a highlight too. Chun Feng Man Mian's $6 signature bowl (which we prefer over the fancier truffle version) would be more compelling if the toppings were more generous, however it's still tasty enough to warrant a try if you're in the area.
The details 
Chun Feng Man Mian is at #02-114 Amoy Street Food Centre, 7 Maxwell Rd, S069111. Open Mon to Fri, 8.30am - 2.30pm. More info via Facebook & Instagram.

Photos: Aik Chen
No part of this story or photos can be reproduced without permission from 8days.sg.
8days.sg is now on #tiktok! Follow us on www.tiktok.com/@8dayseat.