Hong Huifang Didn't Know She Had Auditioned For The Lead Role Of Korea-SG Film Ajoomma Until She Was Cast
The Mediacorp actress spent two months in Korea filming the movie, which also stars Hometown Cha-Cha-Cha's Kang Hyung Suk, but says she didn't feel homesick at all.
By now, the cat's out of the bag.

Mediacorp actress Hong Huifang, 61, is the star and titular character of upcoming Korean-Singapore feature film Ajoomma.

Ajoomma, or ajumma, is basically the Korean word for auntie and is used to refer to a middle-aged lady.
But what is it about? As the title of the movie suggests, the dramedy centres around Huifang, who plays a "K-drama-obsessed widow from Singapore who tries to find new purpose in life and instead ends up getting lost in Korea".

The character is reportedly based on the movie's Singaporean director He Shuming's mother. Ajoomma is also co-written by Shuming and Singaporean writer Kris Ong and is produced by Singaporean Golden Horse Award-winning director-producer Anthony Chen's Giraffe Pictures and Korea's Lee Joonhan.
It is also supported by Singapore Film Commission and National Arts Council in Singapore and the Korean Film Council (KOFIC) and Seoul Film Commission in Korea.
Emily In Paris? No, it's Huifang in Seoul
And yes, Ajoomma was why Huifang was in Korea from December 2021 to February this year.

When 8days.sg spoke to the actress, who returned home in early-March, she revealed that she first auditioned for the role in early 2020.
"The director and the casting manager approached me, and they gave me a couple of scenes, and asked me to audition," she shared.
"I didn't know what the title of the movie was, they only gave me two scenes. But when they decided to cast me, they gave me the full script, and then I realised — 'Oh my god, this entire movie is focused on my character's story'."
Filming was originally slated to start in Korea at the end of 2020, but plans fell through due to to the pandemic. A year later, the production team approached Huifang again to say they were interested on resuming work on the movie.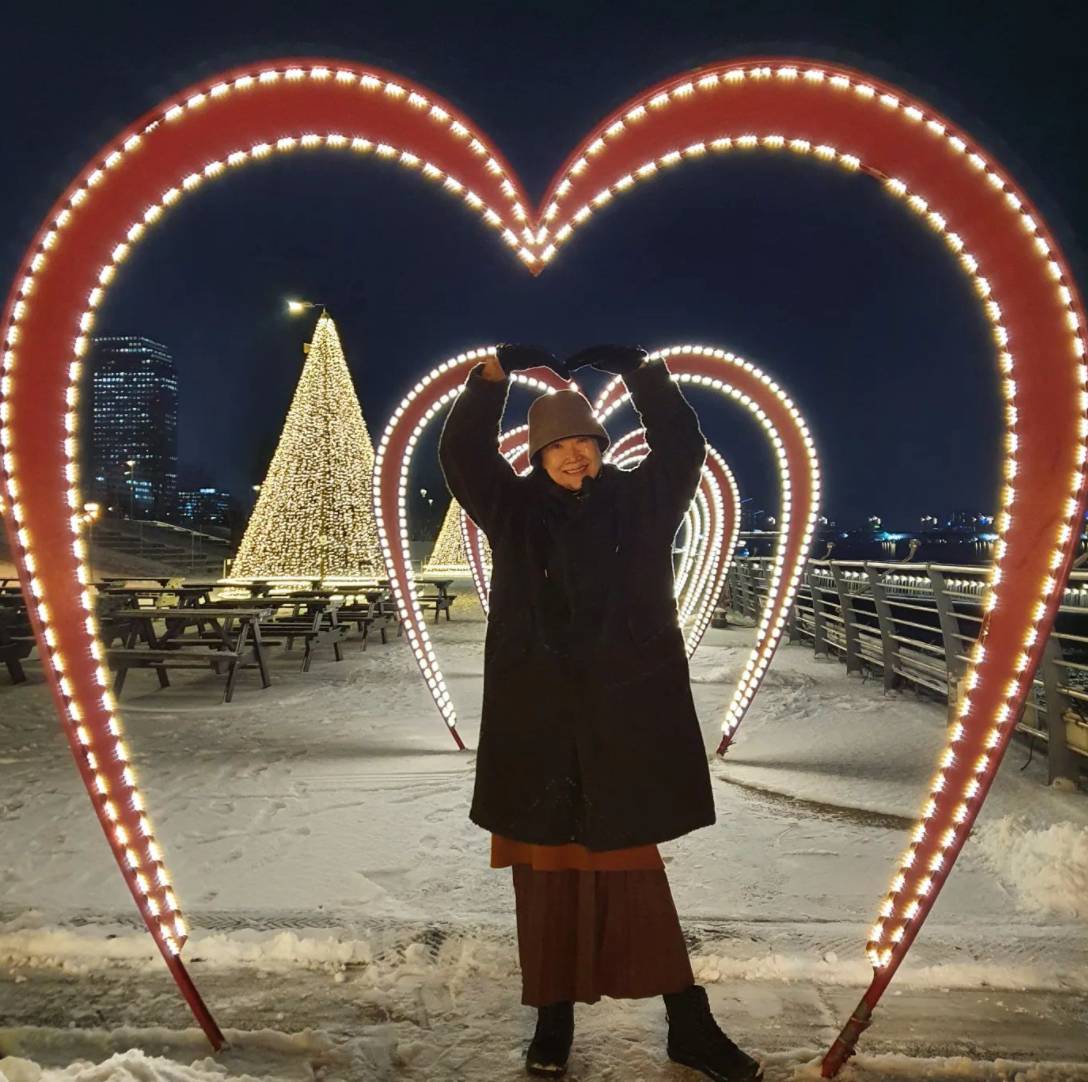 All love
"I was looking forward to it every day," laughed Huifang.
"The second or third day after I finished filming my Mediacorp drama I Want To Be A Towkay, I flew over immediately. The minute I stepped into Korea, I felt at peace. But then again, when I reached Korea, I was worried about getting COVID-19 'cos filming would be delayed if that happened. So throughout the entire process, from 2020 till I wrapped filming on Feb 25, it was like I was on an emotional rollercoaster," she said.
Thankfully, filming went on without a hitch, and Huifang said she enjoyed "every single day" she spent in Korea.
"It felt like a retreat for me, it was very relaxing," she said.
"It was like the whole thing was a big recharging station for me, and I returned full of energy. I was very happy. As for being homesick, my kids are all grown up now, and we have video calls, and technology is so advanced we could video call often. So if you were to ask if I was very homesick, I'd say I was 'okay'. During the last few days of filming, I couldn't bear to return home," she laughed.
In any case, her family were her biggest cheerleaders, urging her to "just go for it" when they found out that she got the lead role.
No need for any magic cups to help her pick up a new language
Oh, and Huifang didn't have to learn Korean for the movie.
"I play a Singaporean who goes to Korea, [so] I used everything, from Hokkien to English to Korean. For Korean it's more of simple words like annyeonghaseyo [hello], or kamsahamnida [thank you], and basically a lot of gesturing and body language," she said.
But here's something else to look forward to for K-drama fans. The movie also stars veteran Korean actor Jung Dong Hwan, 72, Hotel del Luna's Yeo Jin Goo, 24, and Hometown Cha-Cha-Cha actor Kang Hyung Suk, 30, who plays a debt-ridden tour guide, and who speaks Mandarin in the movie.
Huifang's co-stars Kang Hyung Suk, Jung Dong Hwan, Yeo Jin Goo
"It just so happens that Kang Hyung Suk can speak Mandarin, so we conversed in basic Mandarin for the movie. His Mandarin is not bad actually," shared Hui Fang.
She also shared her experience working with Jin Goo, whom she watched in Hotel Del Luna.
"I can't speak much about [Jin Goo's] role, but Koreans really respect their seniors. They have a very strict sense of hierarchy, so whenever they see us seniors, these youngsters would be very polite. They're very respectful and mannerly towards us senior actors," she said, adding that the actor was "very nice to work with, and very friendly".
Photos: Hong Huifang/Instagram, Yeo Jin Goo/Instagram, Kang Hyung Suk/Instagram