Hong Junyang & Candyce Toh Were In Such A Rush To Move Into Their Condo After The $70K Renovation, They Didn't Replace The Toilet Bowls
The couple completed their renovation within a month so they could settle in in the new home before their baby arrives.
These days, with the manpower crunch, it's not surprising to hear about delays in renovation works. Singer-songwriter Hong Junyang, 41, and his wife Candyce Toh, 42, not only managed to get their new home renovated within the deadline, they did it in a month — but not without some sacrifices.
The couple, who have a six-year-old daughter, Azalea, bought their resale condo before they found out they were expecting their second child. So they rushed to get their new place, located in the northeastern part of Singapore, done up so they could settle in before the baby arrives, which is any day now.
It didn't help that they had already sold their five-room flat and had gotten an extension for the handover, so extending further was not an option.
"We started work immediately after getting the keys to our new place 'cos we needed to move in fast. We really pressured our interior designer to finish the job in one month," Junyang tells 8days.sg.
To ensure they kept to their super tight reno timeline and budget, they had "minimal work" done to the 1,100 sq ft three-bedroom, two-bathroom unit. This meant keeping the existing flooring and having as little hacking and built-in features done as far as possible. They didn't even renovate the bathrooms or replace the toilet bowls — that's how desperate they were.
"We only changed the toilet seats," reveals Junyang.
"
We also don't want to use other people's toilet bowl 'cos it's very gross but no time already!" On the bright side, at least they are Duravit toilets and are still in great condition.
As the toilet bowls were wall-mounted, they would have had to hack the wall in order to replace them. Then pipes would have had to be re-laid and the walls retiled, extending the renovation by two to three weeks, which according to Junyang, is time they "cannot afford".
"We just got someone in to do a thorough chemical wash. We figured since the condo is only eight years old, it isn't that bad," says Junyang in resignation. They also deep cleaned the bathroom, replaced the fittings like taps and towel racks, as well as polished the stone countertop to spruce up the space.
"But even if we weren't in a rush, we wouldn't overhaul the entire bathroom 'cos it costs too much. My ID said it would cost around $12,000 to hack and do up one bathroom from scratch. And that's just using regular tiles, not quartz," he adds.
All photos cannot be reproduced without permission from 8days.sg.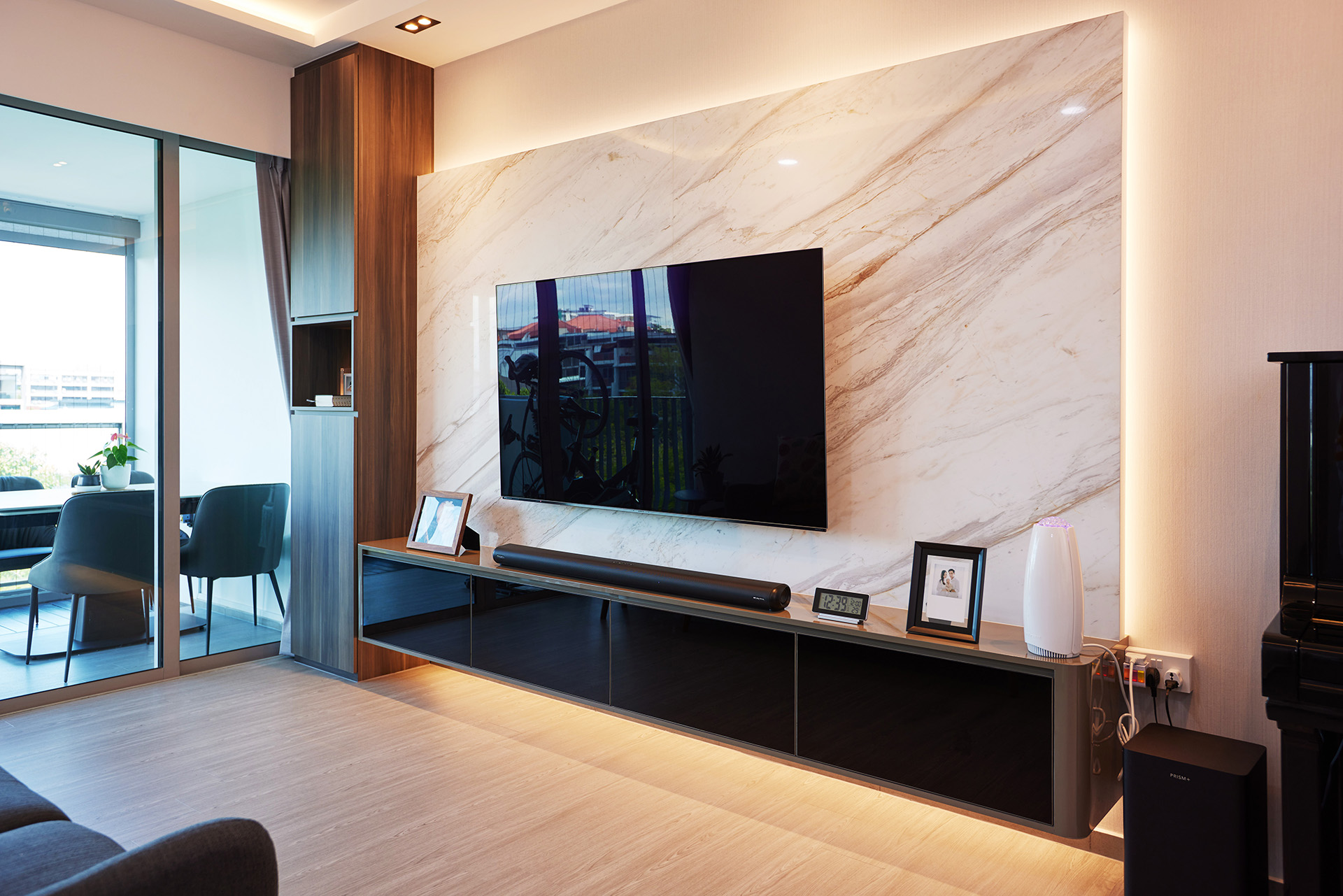 Making a statement with marble
Despite doing minimal reno, it cost them $70,000 (excluding furnishings) to transform the eight-year-old apartment, $20,000 above their initial budget. "Things just started adding up," says Junyang, "and also reno cost is like 30 per cent higher now."
The couple, who wanted a clean, minimalist look, designed their living and dining spaces around their sleek marble feature wall. Junyang was inspired to have a marble accent wall after seeing it at a friend's place. He says: "You don't need to do much, and the marble dresses up the whole place."
He handpicked this Volakas marble slab, which costs "around five-figures", as he liked how "the veins flow". Light grey vinyl flooring, which was laid over existing tiles, was chosen to complement the marble, while darker-hued furniture in materials like linen and dark wood add contrast and texture to the space. 
"
I like guitars, so I have a thing for dark wood with grains like walnut. The wood grain design also makes dark wood unique.
I don't fancy lighter wood as the grains aren't so obvious and can look a bit flat. This is why I don't like the Muji look," he says.
Before: The living room looked like something straight out of the '90s with dated wallpaper and chandelier.
After: Living room looks clean, bright, and modern.
As there wasn't enough space in Azalea's bedroom for a desk, the original dining area was converted into her study corner and the dining table moved to the spacious balcony.
"We like the al fresco feel and it is quite windy here. Candyce really likes balconies 'cos after [being cooped up in the house during] the lockdowns over the past two years, she felt it is something good to have," shares Junyang.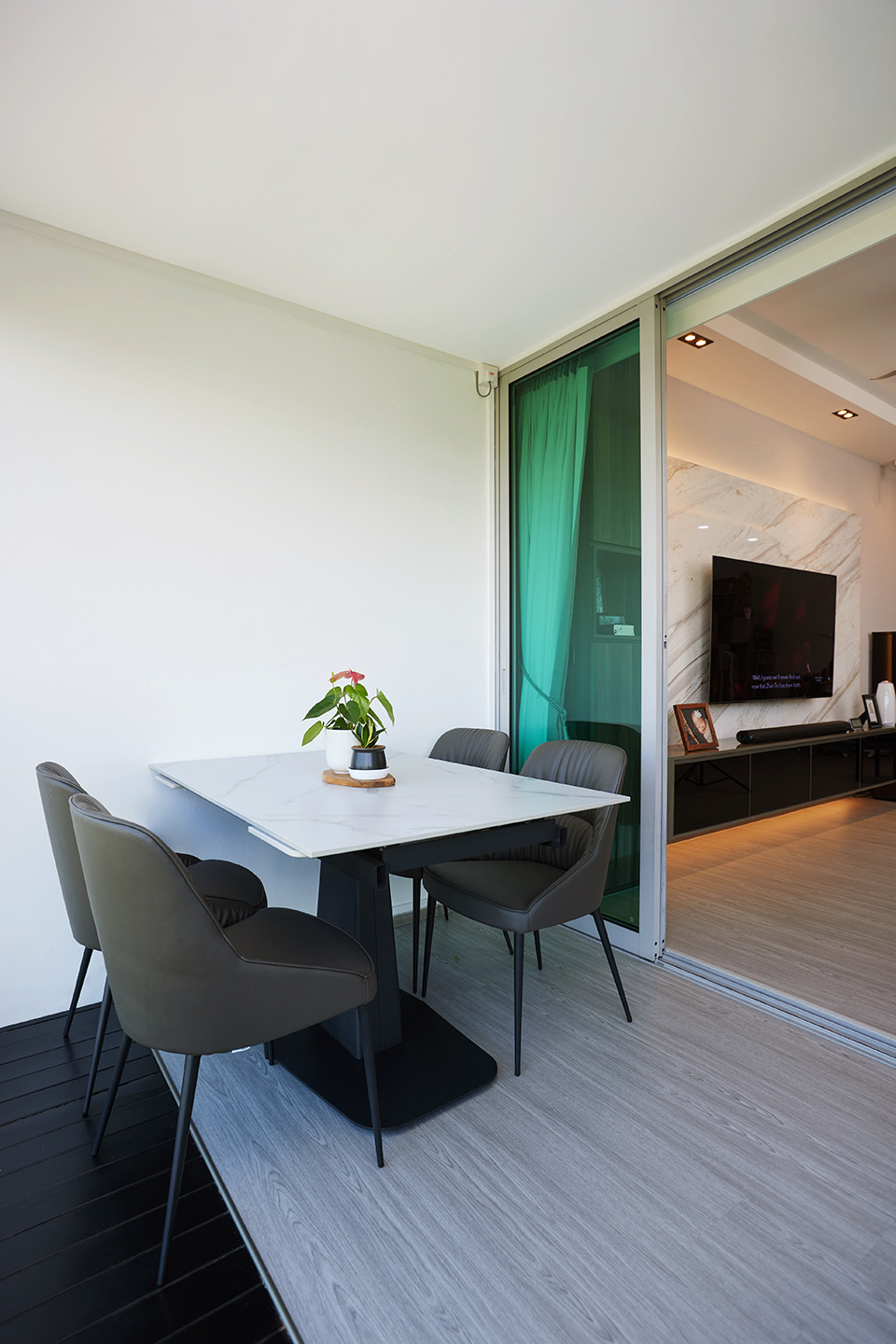 The balcony doubles up as the dining area
The planter was covered with decking and used as an extension of the dining area, while luxe touches like sintered stone dining table and faux leather seats elevate the space.
"While it would be nice to have a marble table, as young parents, we are very practical. Imagine if your kid spills ketchup on the marble, if you don't clean up within three minutes, there will be a stain. And of course, budget is a concern too," he says.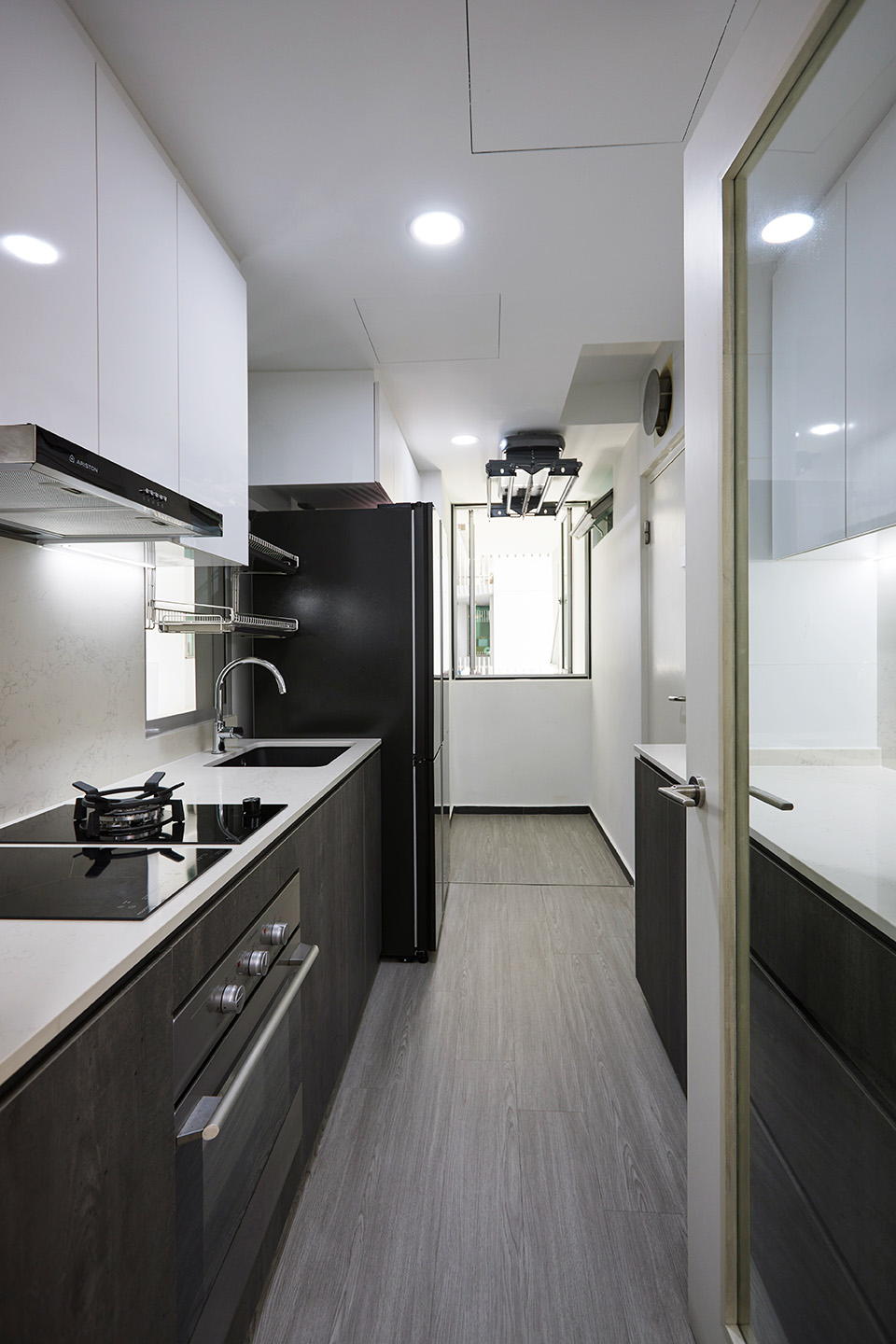 Kitchen
The kitchen was the only space that was given a complete overhaul. As the area is rather narrow and small, the sliding door leading to the yard area was removed so they could extend the kitchen into the space.
Before: There was a door separating the yard area and kitchen.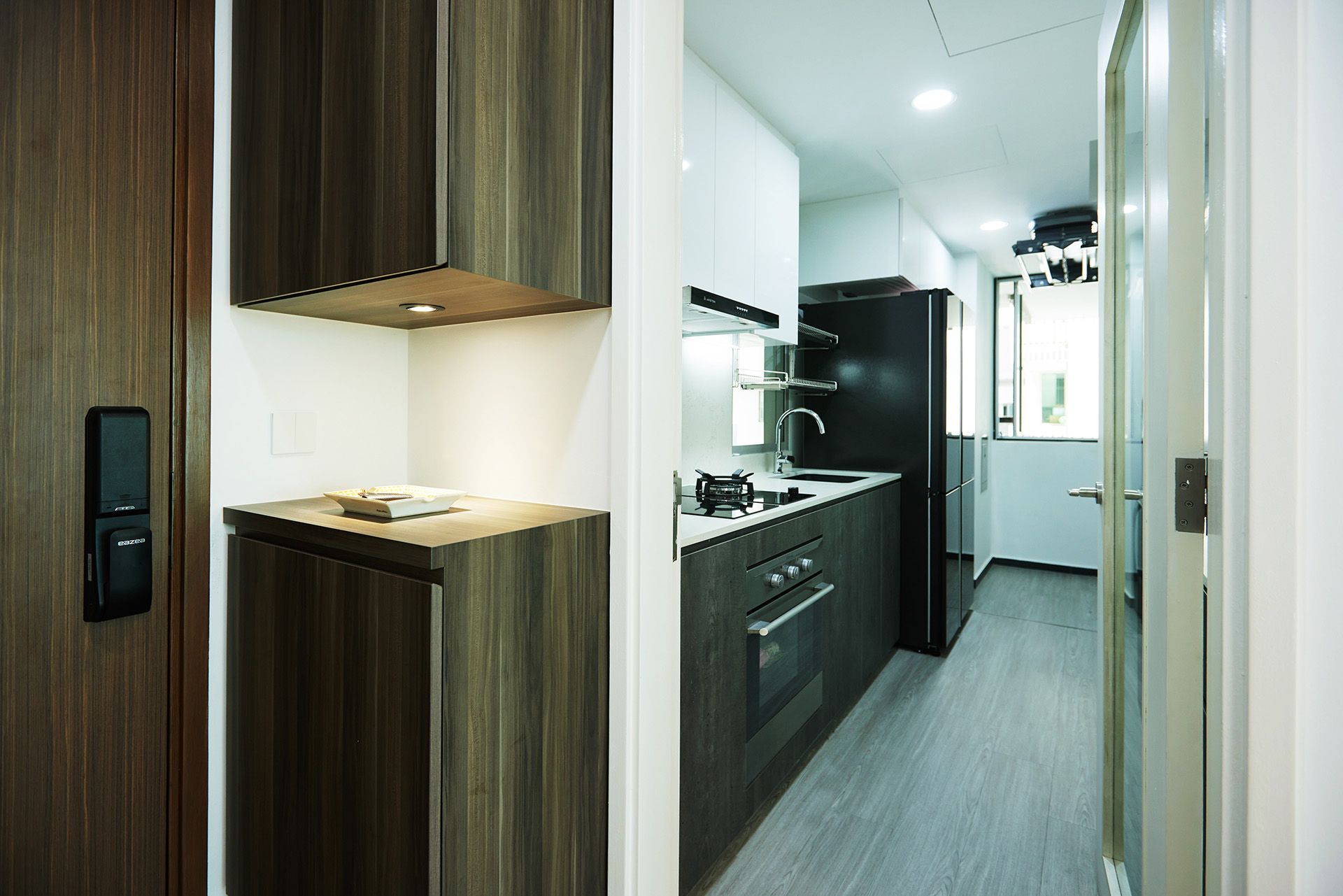 After: The door was removed so the space is less claustrophobic.
To keep with the modern theme, the couple opted for quartz backsplash and countertops, which cost around $5,000, and sleek kitchen fixtures and appliances add subtle sophistication.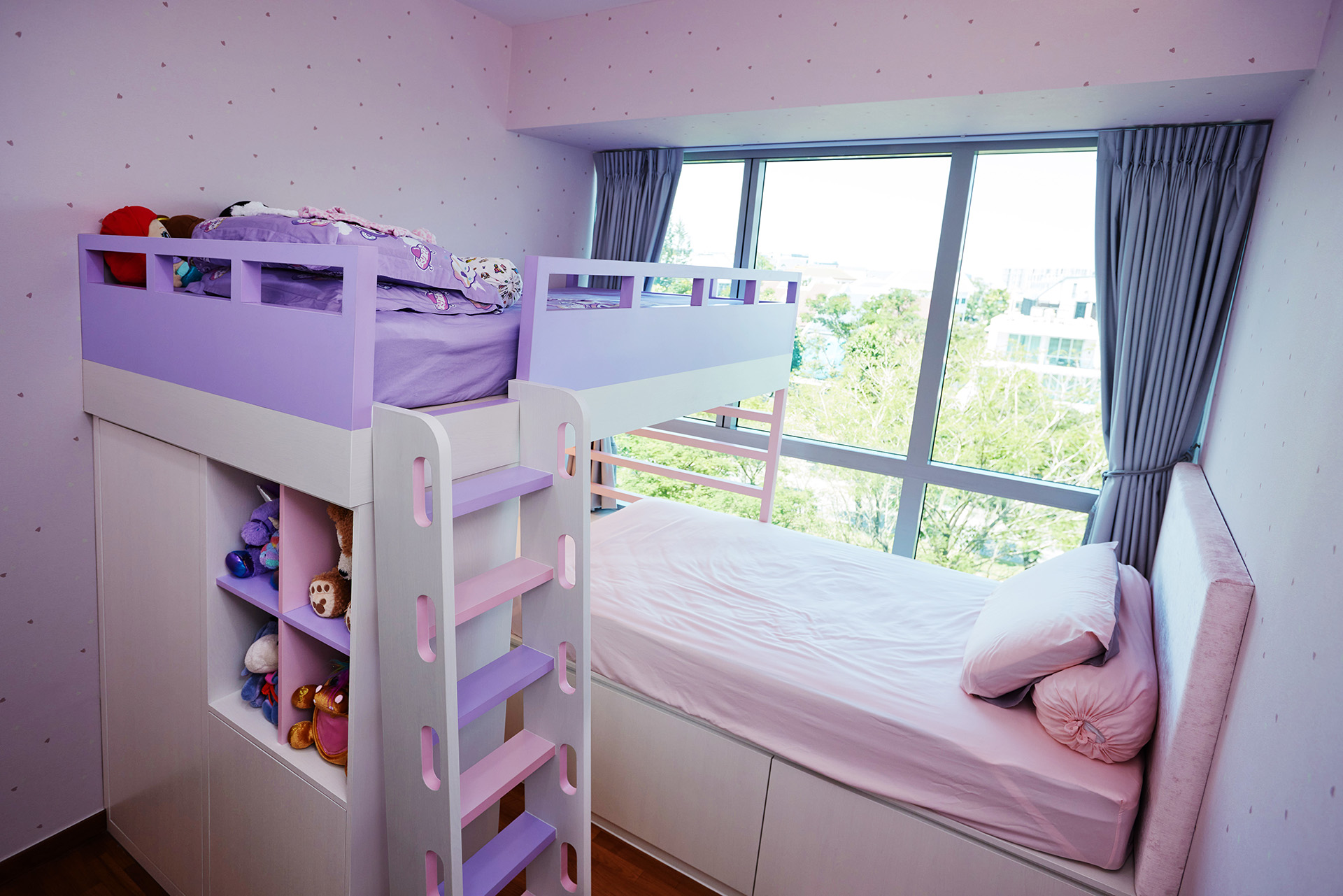 Azalea's bedroom 
Azalea's bedroom may be small, but according to Junyang, it is the most expensive room in the house due to the carpentry work. He estimates they spent a "high four-digit sum" decking out the room.
To maximise the space, L-shaped bunk beds were designed to cleverly utilise the bay window and drawers were added underneath for additional storage. "I only found out I was expecting after we bought the house so we had to find a way to fit two beds in this room comfortably. We didn't want the usual bunk beds 'cos the person sleeping below will always suffer, so we designed the beds like this. Azalea sleeps on the top bunk 'cos she loves climbing ladders," says Candyce.
Before: The bedroom had a narrow bay window.
The room is decked out in pink and purple, as per Azalea's request, and glow-in-the-dark wallpaper adds some fun to the space.
Junyang's studio
Junyang's love for dark wood is evident in his studio, which has a more subdued vibe.
He worked with Omnidesk to design this one-of-a-kind adjustable music studio desk, which he reckons costs around $5,000.
"This is the first music studio desk that they made and this design is the only one in Singapore. This was custom-built for me and I requested for a pure wood and epoxy resin tabletop. They probably won't release this design in the market 'cos the cost is too high," says Junyang.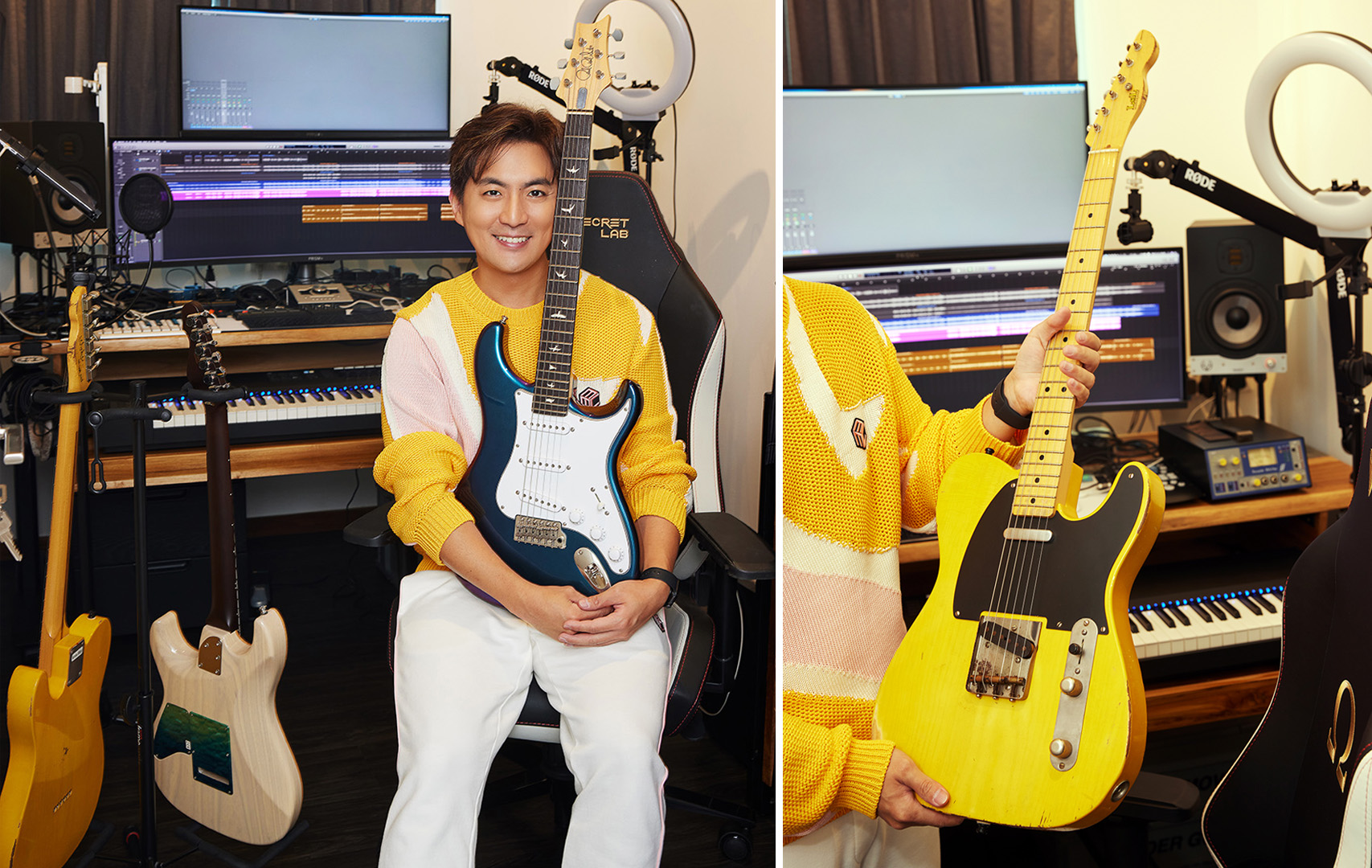 The room is also home to his precious guitar collection, which includes a John Mayer limited-edition PRS Silver Sky ("it's my most valuable possession") and vintage yellow Fender Telecaster, a birthday gift from JJ Lin last year.
The studio is still a work in progress as Junyang plans to further soundproof the room after Candyce delivers.
"I am going to get a sound designer to fix the
acoustic panels after my wife gives birth 'cos those will take a while to install, at least six weeks. Now we are just rushing to prepare for the baby's arrival. The baby things are still being delivered and we just dump everything in the master bedroom. It's like a junkyard, which is why you are not allowed to see the room," he laughs.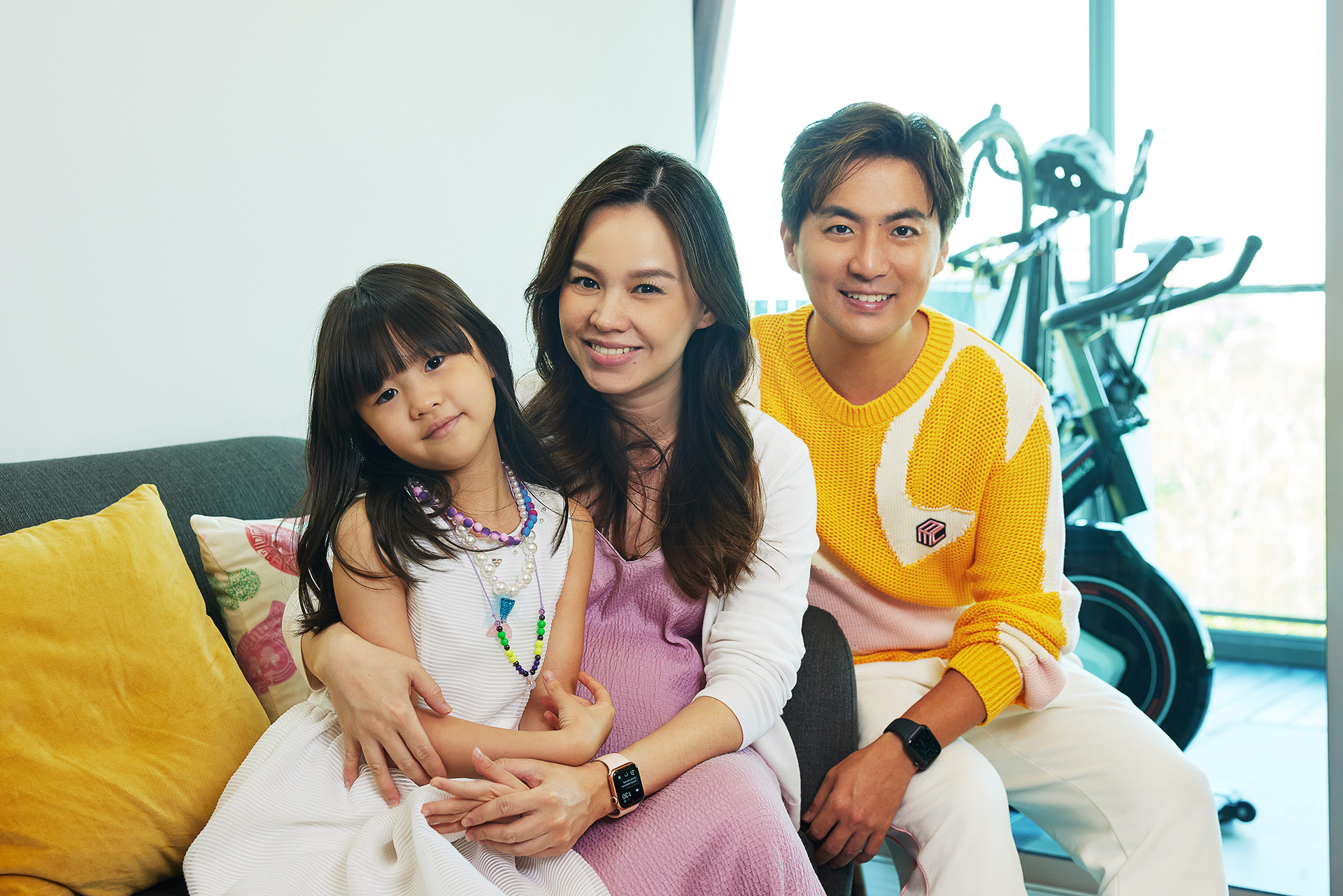 8 DAYS: You moved from the west to the northeast. Was it the property or the location that was priority? 
HONG JUNYANG: Most of Azalea's enrichment classes are around here and a lot of our friends live in the area too, so I felt we really needed to spend less time travelling. For the past six years, I have been driving up and down sending her to classes. Petrol is expensive! We like this area and there is a good school nearby too.
 
Were you only looking at condos?
Junyang: No, we looked at HDB flats too but a lot of the flats in this area are around 30 years old. We didn't want a place that was too old 'cos we would have problems selling it in future. It took us around four to five months to find this apartment, which is why we were on a very tight timeline.
 
How bad was it?
Candyce: Our timing zhun zhun. The reno completed on May 19, we moved in on the 20th and had to handover our flat on the 21st. We didn't even have time to clean the place properly before moving in.
Junyang:
And May 20 was Candyce's birthday. That's how desperate we were.
Ideally, we would have liked to move in one week earlier.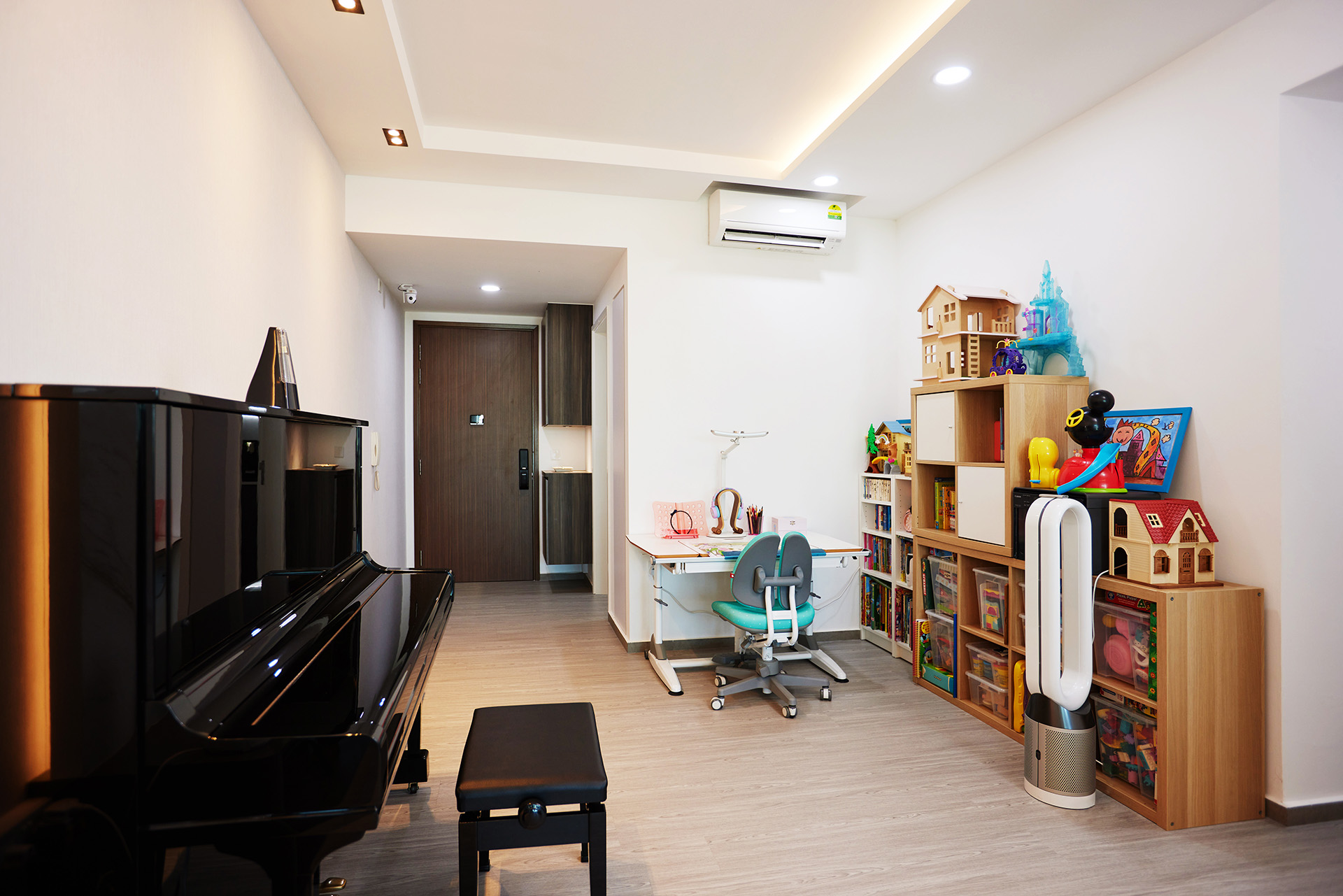 The couple wanted fewer built-in cabinets as the apartment is slightly smaller than their previous home.
Apart from the time crunch, what other challenges did you encounter?
Candyce: The lack of storage. We had a lot of built-in cabinets in our previous home, but I wanted fewer cupboards here so it looks more clean. Also, this house is slightly smaller than our flat, which was 1,200 sq ft. We donated or threw away around 50 per cent of our things and had to toss out another 50 per cent after moving in.

Junyang: We just took photos of the things that were sentimental to us like our school yearbooks, trophies, DVDs and CDs that I collected. And now with the baby coming, we don't know if there is enough space for all of us in this house.

Would you have bought this apartment if you knew you were expecting a second child?
Junyang: We would have bought a bigger place. We only found out after we paid the downpayment for the condo, so there was no turning back. 

Did you have any disagreements over how the house should look?

Candyce: No, I am very easy-going.

Junyang: We are too practical. It was about survival. We needed to meet the deadline, so we were okay with everything. She's pregnant leh, what if the house was not ready in time? Move to a hotel? We didn't dare to risk it. 
But between the two of us, I was more involved in the reno 'cos Candyce was unwell as she was in her first trimester. I was also more particular [about the interior design] 'cos I didn't have much say in designing our old place as I was living overseas then.
Did you run into unexpected costs along the way?
Junyang: No, I think we controlled our budget pretty well. But there were some [design elements] that we didn't expect like spotlights to shine on the marble wall. (Rolls eyes) I was like "Oh must do this kind of things ah?" It is nice, but it makes the place very hot. We can't turn it on without switching on the air-con. We only turn it on when there are guests. 
Candyce: It's only for show. (Laughs) But my daughter really loves it. She wants to turn it on all the time.
 
Is there anything you regretted doing?
Candyce: No, 'cos we didn't do much. (Laughs) We regretted not doing the bathrooms. Maybe when the baby is bigger, we might renovate the bathroom 'cos we also buay tahan. We are a bit OCD. We wanted to do it badly but timing-wise we just couldn't.
 
Watch #JustSwipeLah for a tour of Junyang and Candyce's home.
All photos cannot be reproduced without permission from 8days.sg.
Photos: Kelvin Chia