Husband & Wife Open Cafe Serving The Best Butter-Filled Beef Burger We've Ever Had
Their Butterburger comes with - unusually enough - a thick slab of cold butter and house-made potato buns.
It's rare that a new eatery takes off right from the start. Even rarer still, an eatery that's located in a quiet location at Fusionopolis, which becomes a ghost town in the evening when its surrounding office crowd heads home for the day.

But folks from as far as Pasir Ris have been seeking out One Fattened Calf, a six-month-old burger cafe at Galaxis mall above one-north MRT station. It's opened by cheery husband-and-wife Joe Chan, 50, and Corrine Chan, 47, who have attracted a following for their juicy American-style burgers with house-made potato buns and New Zealand grass-fed beef patties.
Husband-and-wife setup
Before the low-profile duo opened their own cafe, Joe was a "real estate salesperson" who helped clients source for properties, while Corrine worked in a "corporate sector job". But they had always dreamt of running a business together. "Then Joe turned 49 last year, and we were not going to have this conversation about starting a business when we are 60," Corrine laughs. "We're at that age where we are more complementary and have learnt to flow with each other."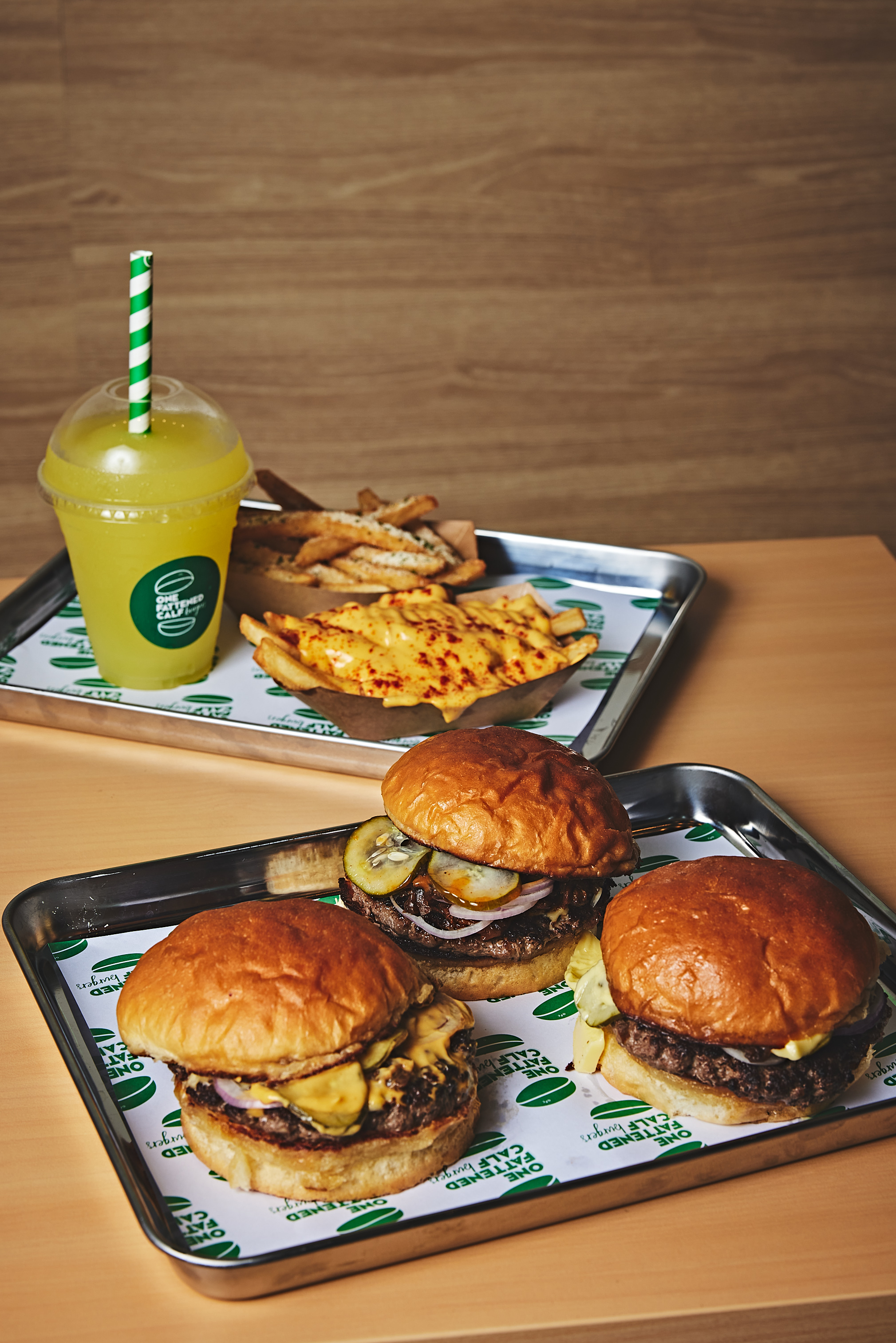 "We're not Shake Shack or anything like that"
While Corrine maintains that "we're not Shake Shack or anything like that", she feels that opening an eatery is viable as "my husband loves to cook and he has a business mind". The couple also frequently entertain at home, which means they are used to cooking on a larger scale.

"Prior to the pandemic we hosted [guests] a lot, so this is an extension of the hospitality we do at home," shares Corrine. While they had toyed with the idea of offering private dining, the couple concluded that it was not very scalable. "We do a lot of steaks at home, and that requires a lot of skills," Corrine says of their decision to sell another comfort dish - beef burgers.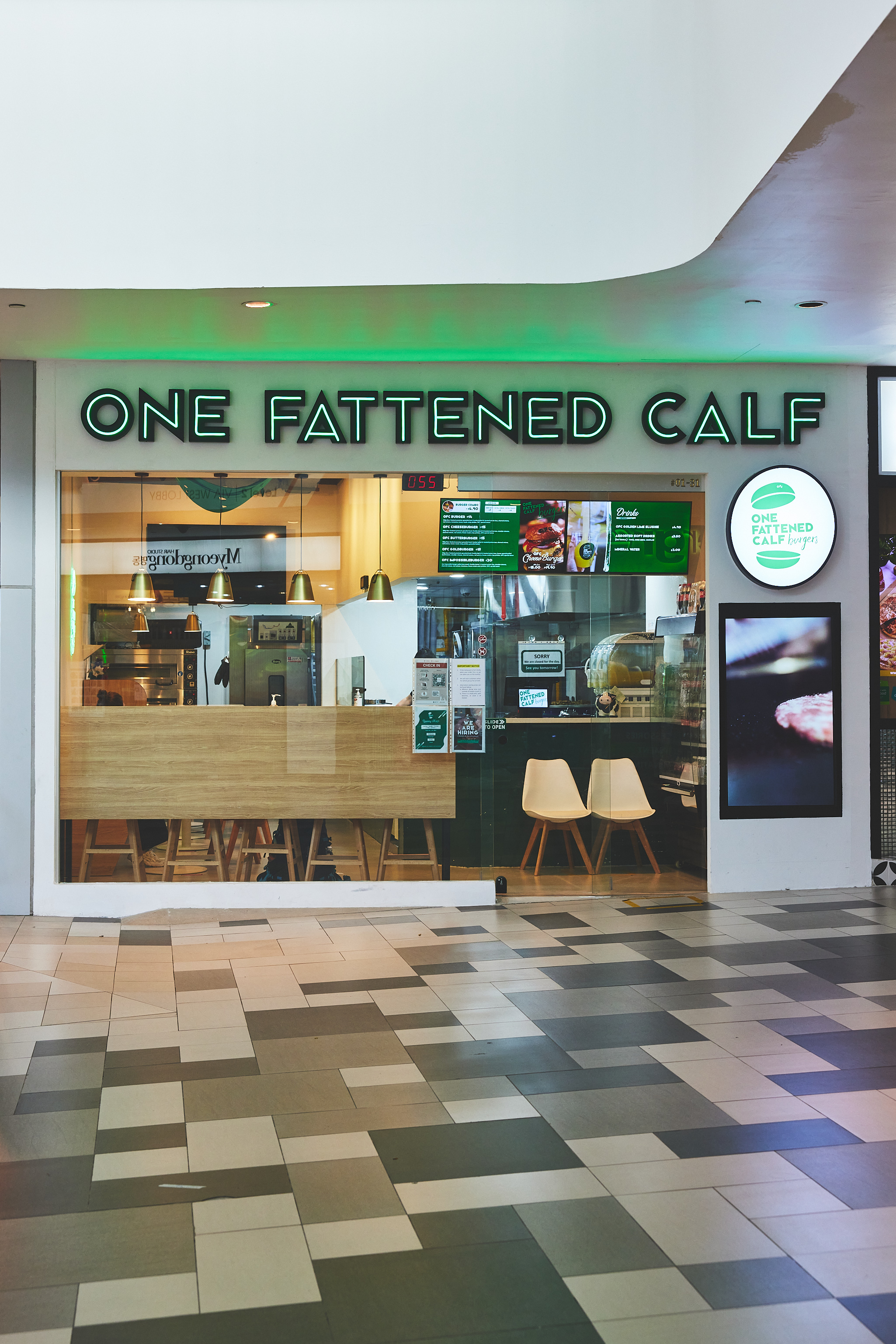 Calf as in the cow, not the lower part of the leg
So they took the plunge and left their respective jobs to set up One Fattened Calf with a six-figure sum. "Some people thought 'calf' referred to the leg and they were like huh, why did you name your shop after a leg (laughs)," Corrine says.

The rather abstract name, she explains, stems from a Middle Eastern practice of keeping a fattened calf at home to slaughter for special occasions. "We want this place to be a place of celebration and feasting," she shares. The couple plan to eventually open an OFC burger chain, with "five outlets in the north, south, east and west".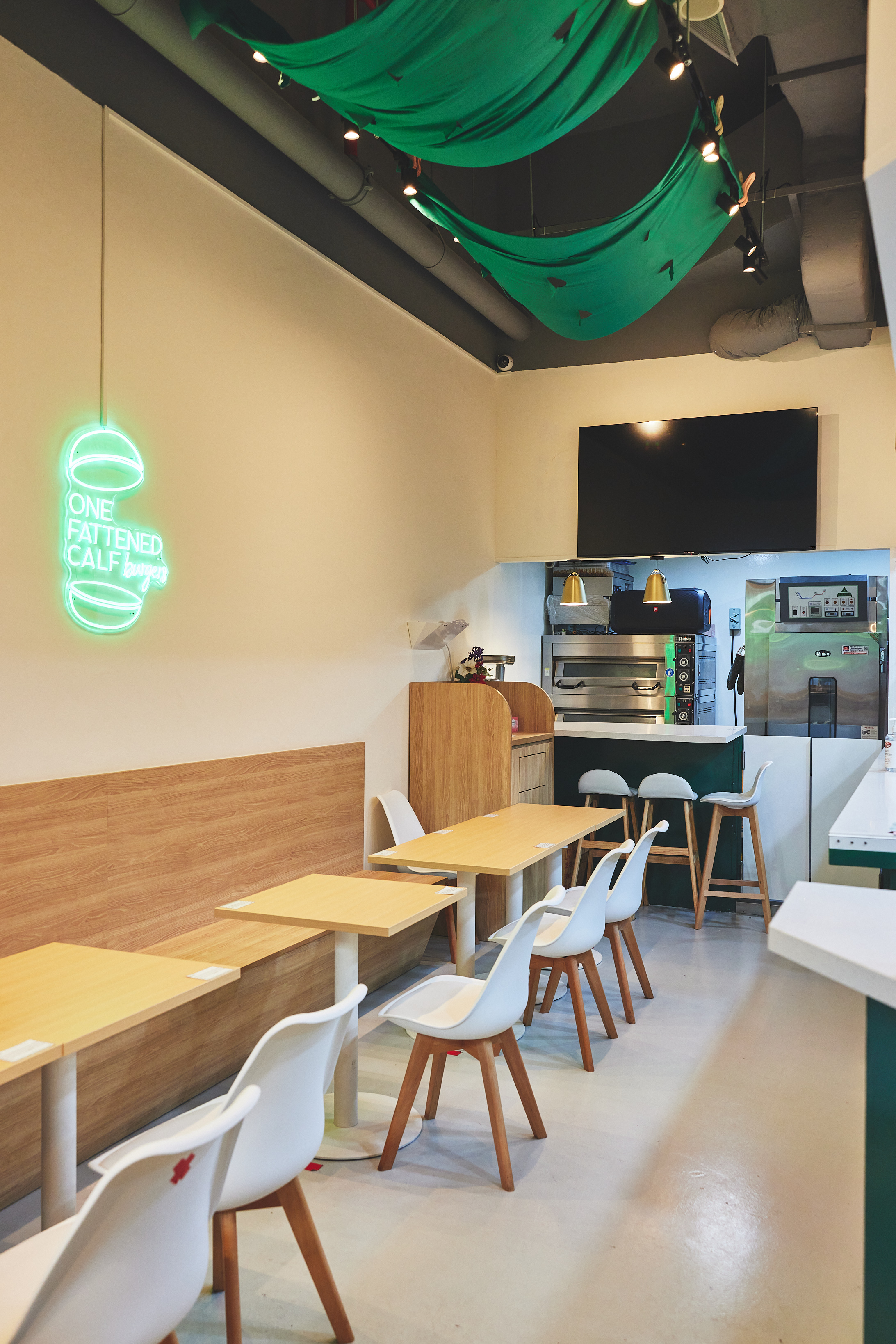 The look
The cosy cafe can seat about 16 diners, though you can also tapow your burgers and savour them at the outdoor public seats in the same mall. We like the homely, retro American diner space decked out in leafy green, along with an ubiquitous neon sign and comfy Eames-style chairs with wooden tables. But it can get pretty squashed, so here's hoping that Joe and Corrine open a bigger outlet at a less ulu spot in the future.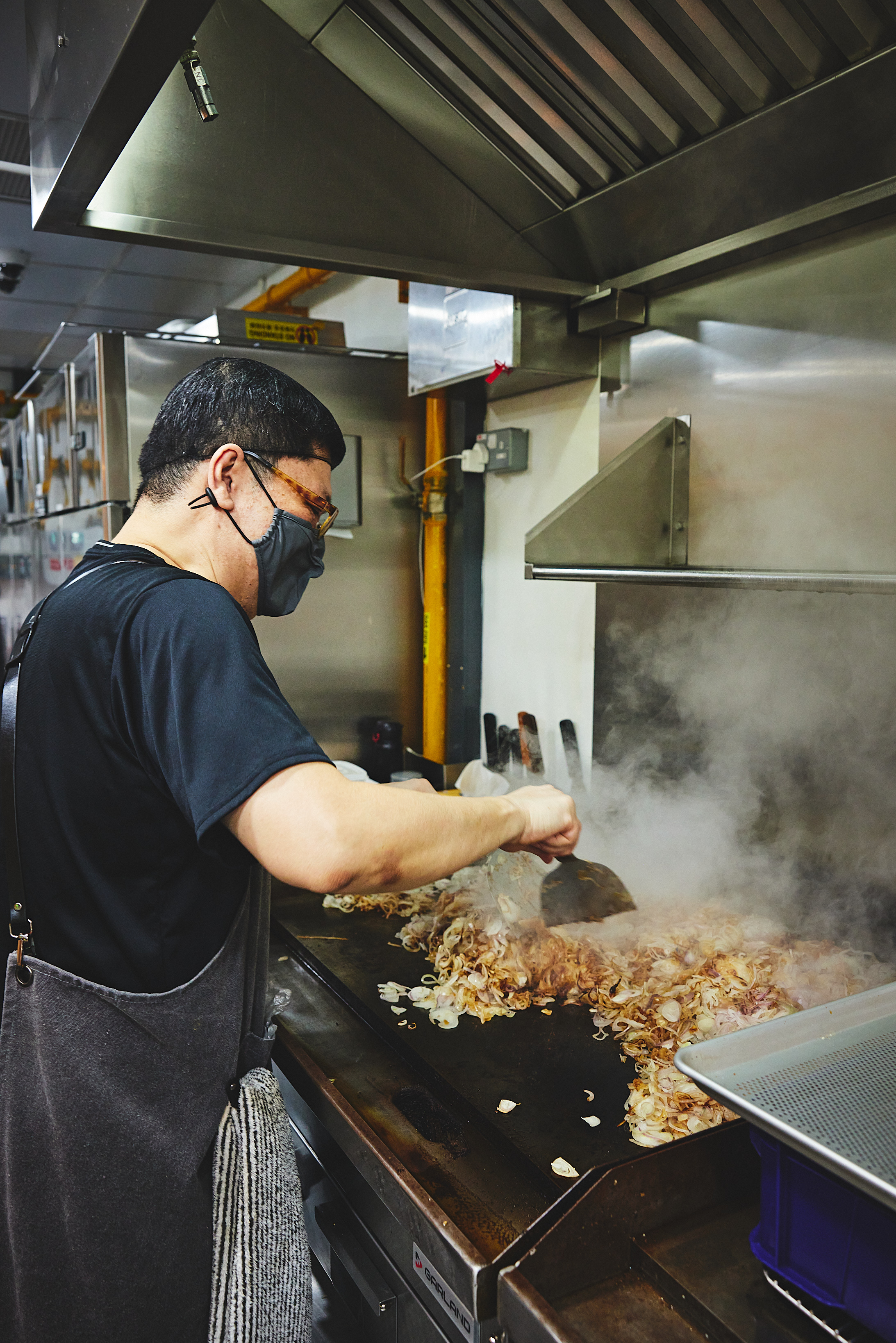 Avid home cook
Joe helms the burger grill here, though the man has no prior F&B experience (his family, however, is in the catering business). The avid home cook - who picked up cooking while studying in Australia, where he met Corrine - takes pride in coming up with the perfect artisanal burger, which he researches with the fervour of a scientist.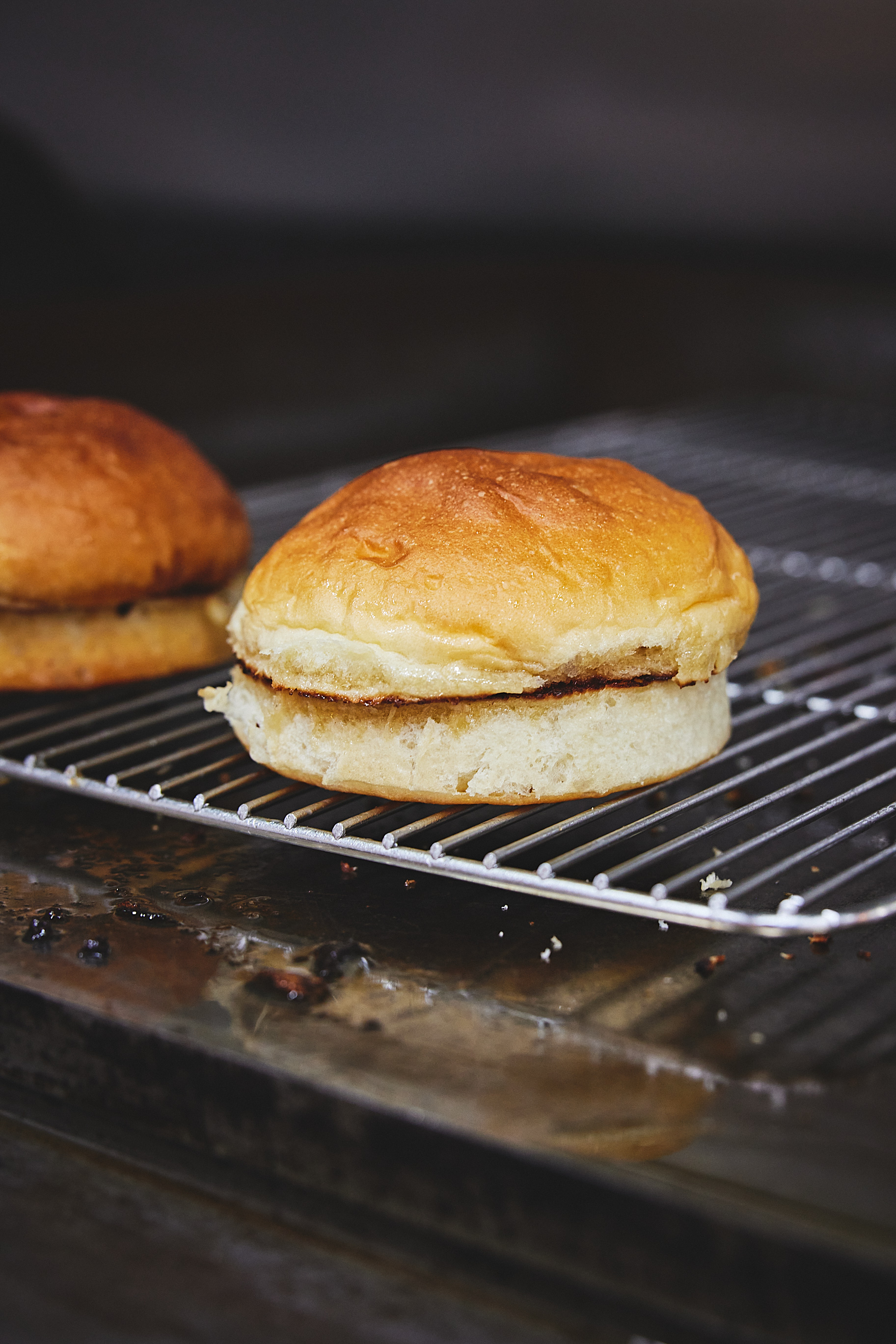 Potato buns made from scratch
There's his potato bun recipe, which he created from scratch so that he could make burger buns in-house (the proofing machine and oven take up almost a quarter of precious space in his cramped cafe). "It was two to three months of sleepless nights, baking and baking and baking. I'm not even a baker, but I feel a good bun is very important. In Singapore, not many burger shops make their own buns," he says earnestly.

He also did his own R&D for the lean-fat ratio for his beef patties, made with a blend of New Zealand grass-fed rump and brisket. "The patty has a bit of chew to it to bring out the grass-fed flavour," he shares. Initially, the couple even ground their own beef, though space constraints forced them to give it up. "We found out our meat supplier has a commercial grinder which can grind the beef according to our specifications," says Corrine.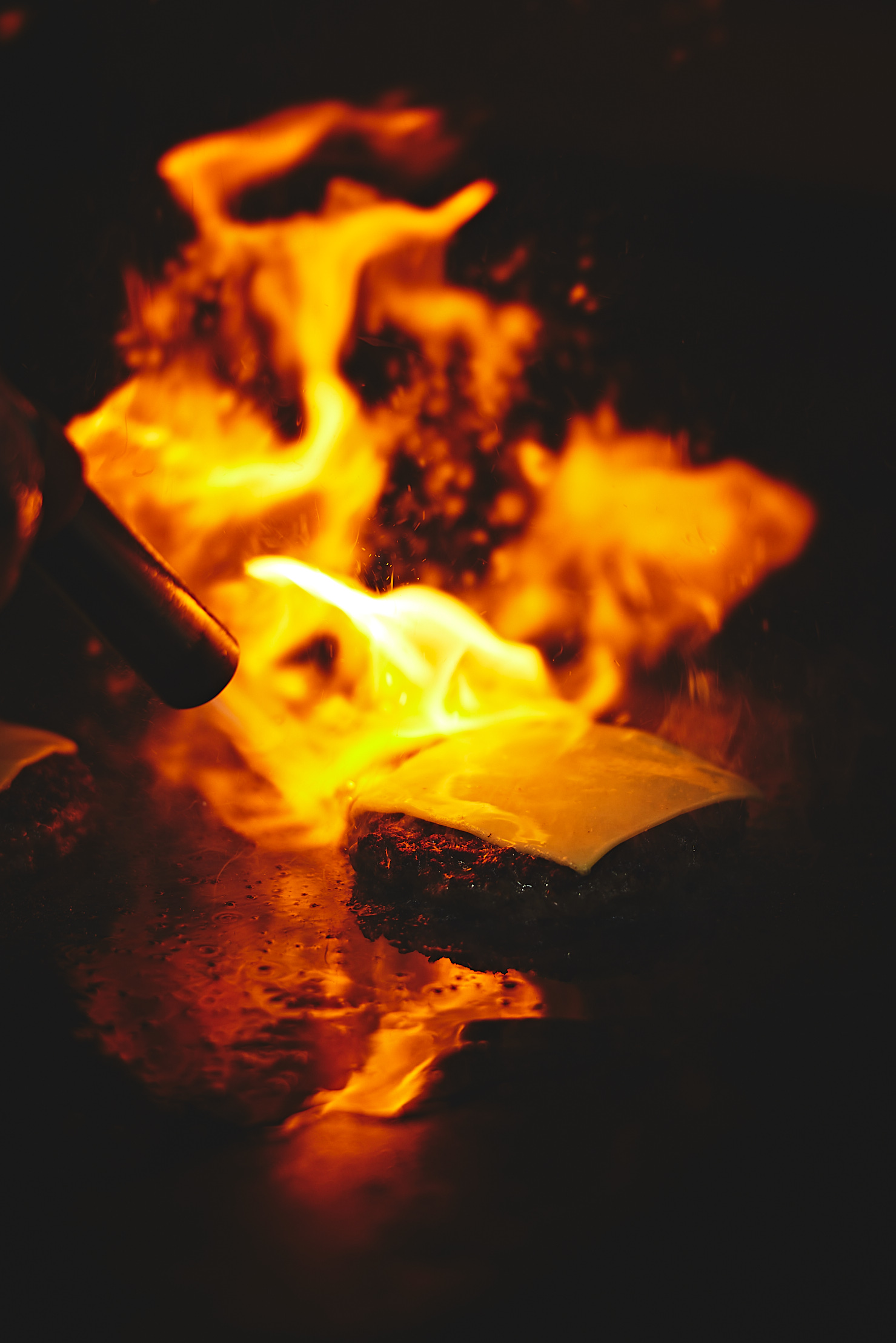 The patty
Each OFC burger comes with a 150g beef patty. "The usual American patty is 130g, but I feel like I can eat a bit more," says Joe. Corrine adds: "We want to give people good portions and good value."

Joe grills the patties till they are "almost well done, but still juicy" and finishes them by blowtorching the beef before serving. He also offers an unusual Butterburger ($15), which he had first tried in the US and modified to create his own version. "I like my steaks basted with butter - butter and beef are best friends," he says.

The Butterburger consists of a 150g patty wedged between potato buns with charred onions, red onions, pickles and a thick, cold slab of New Zealand grass-fed butter. "I put cold butter so it has that bite," says Joe. Since the butter melts quickly, the Butterburger is not available for takeaway and has to be enjoyed freshly made. "It would be very greasy after delivery," Corrine notes.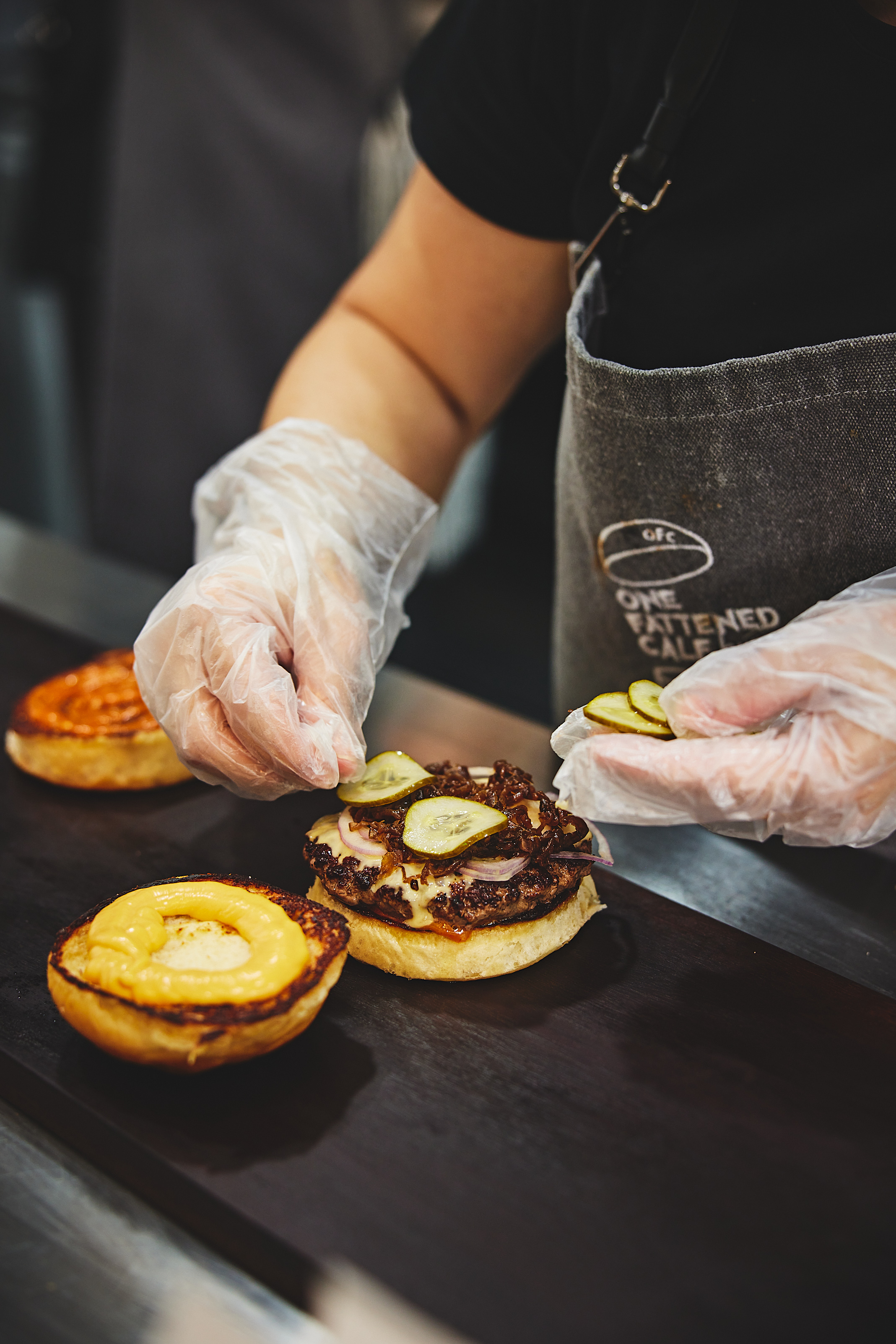 The pickles and sauce
There's also no lettuce or tomato to be found on any burgers here, except for the most basic OFC Burger ($14). "Everything that goes into a burger needs to play a part. Pickles to cut the oiliness, onions to give a bit of sweetness," explains Joe, who also makes his own thinly-sliced crunchy cucumber pickles as the commercial ones were "too sour". The "spicy-umami OFC special sauce" for burgers is also made from scratch, with a proprietary recipe that Joe says includes "butter, garlic, onions and sesame seeds".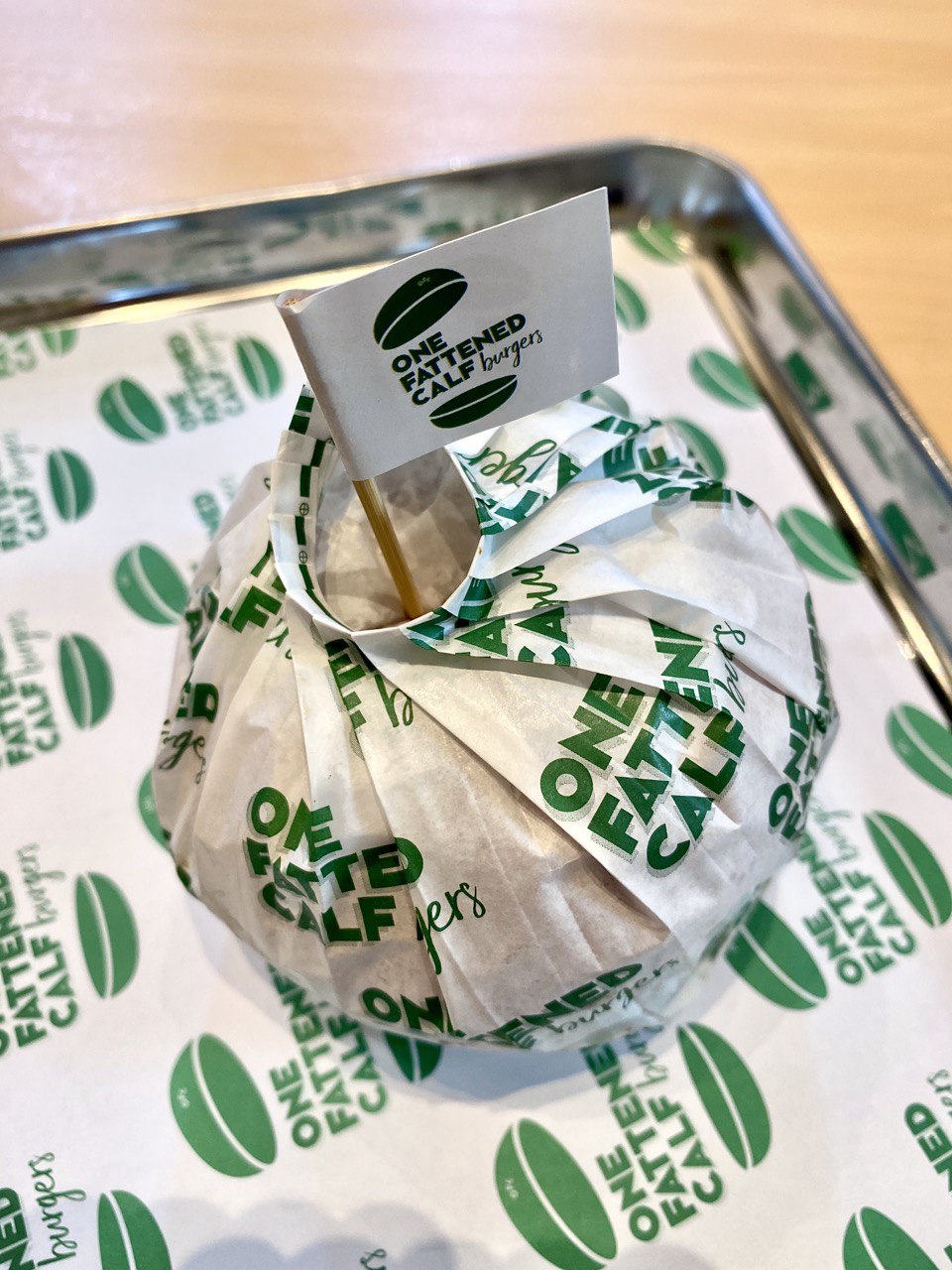 The burger wrapper
Even the paper burger wrappers here are one-of-a-kind, with pleats like a xiao long bao. The wrapper, which unfurls while still maintaining its shape, 'catches' any messy juices that ooze from the burger. According to Corrine, it's a patented design she specially imported from the US. "I don't like messy burgers, so this [wrapper] is neat and some customers even drink the juices after they eat the burger," she says. Despite spending more on these customised wrappers, Joe reasons that "it's part of the whole experience [of dining here]."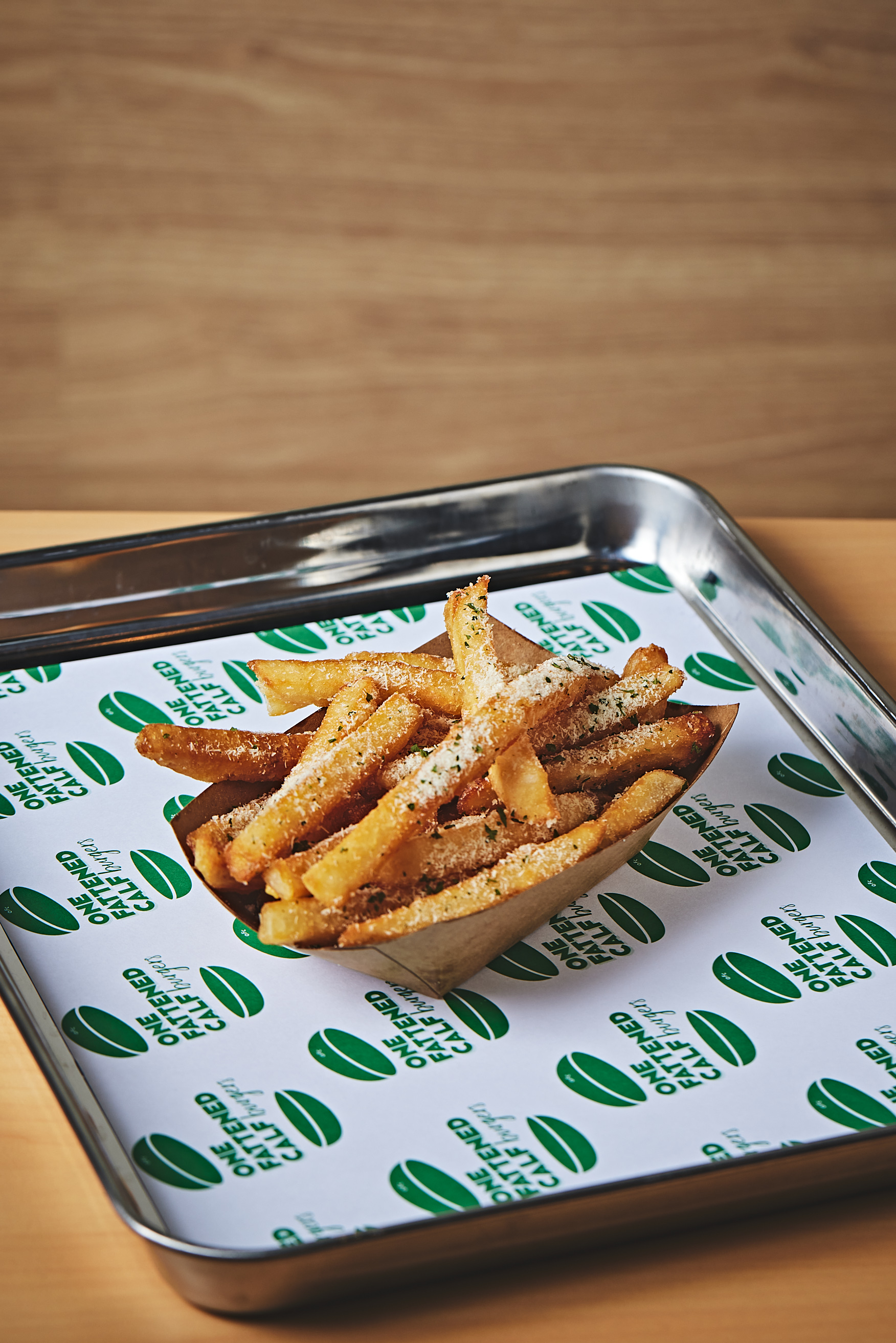 The fries
Like the wrappers, the potato fries here are also imported from the US, where they are fried once and re-fried here again. "Even if you don't cover it, it's crispy for half an hour," Corrine says. There are three types of fries on the a la carte menu here: Regular ($5.90), Cheese ($7.90) and Truffle ($8.90). You can top up $4.90 for a Burger Combo with regular fries (extra $2 for cheese and $2.50 for truffle fries).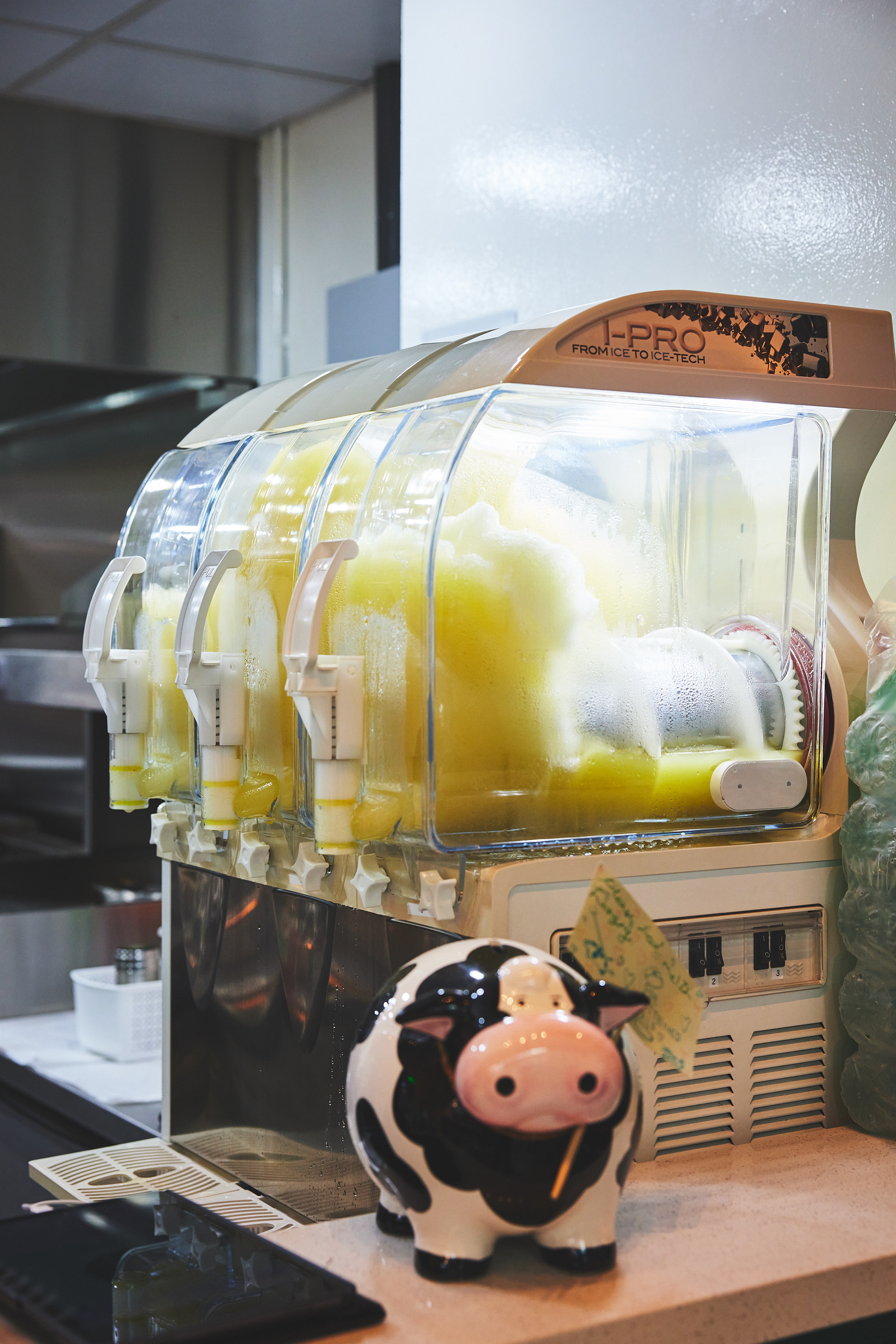 Golden Lime Slushie, $4,90
While you can get soft drinks like Coke and mineral water to go with your burger, we suggest skipping the standard beverages and going straight for the old-school Golden Lime Slushie. The refreshingly zesty ice-cold drink, churned in-house and dispensed upon order, cuts the richness of the burger and fries.
OFC Butterburger, $15 a la carte (8 Days Pick!)
Since Omakase Burger closed it has been hard to find a good burger in Singapore, though OFC's burgers possibly surpass Omakase's. The cafe's sexily bronzed potato buns are fluffy with a bit of bite. We thought Shake Shack's potato buns were unbeatable, but these are even better. The buns cradle a thick, juicy patty that's topped with sweet caramelised onions and tangy, crunchy pickle slivers, all drizzled with a mildly spicy barbecue-style sauce. Very shiok.

The cold, smooth slab of butter, which we expect to be jelak, turns out to be manageable. As we eat, the butter gradually melts into the patty so it remains succulent (yes, it's kinda like eating Ya Kun's kaya toast). But finish that burger fast; we ended up with butter running down our fingers when we dawdled for too long. We don't foresee ourselves indulging in this artery-clogging extravaganza often, but if you are busting your diet for a burger craving, this is worth it.
OFC Cheeseburger, $15
If you prefer something more savoury than butter, the Cheeseburger here is also tasty. The butter slab is swapped for a thin slice of gourmet cheddar melted over the grill. There's nothing neat or pretty about this; you're meant to grab your burger with both hands and bite into it like an otter at a koi pond. If you're a purist for a good old-fashioned American burger, order this.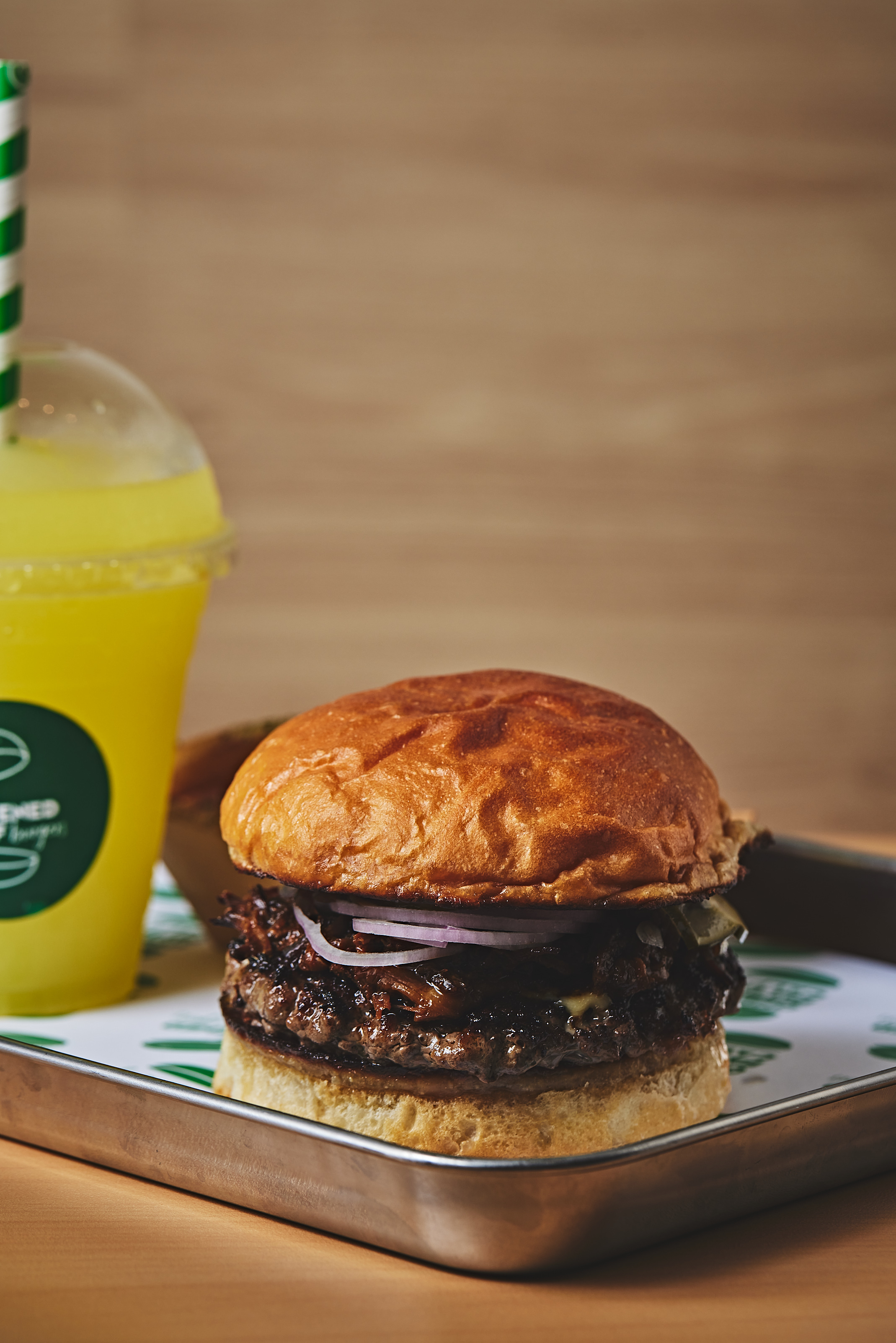 OFC Goldburger, $18
The Goldburger is like OFC's Cheeseburger, except it comes with an extra heap of tender, juicy pulled beef brisket. The extra shredded meat makes the already substantial burger even heartier, though we can still comfortably wolf down the whole thing and not feel too stuffed.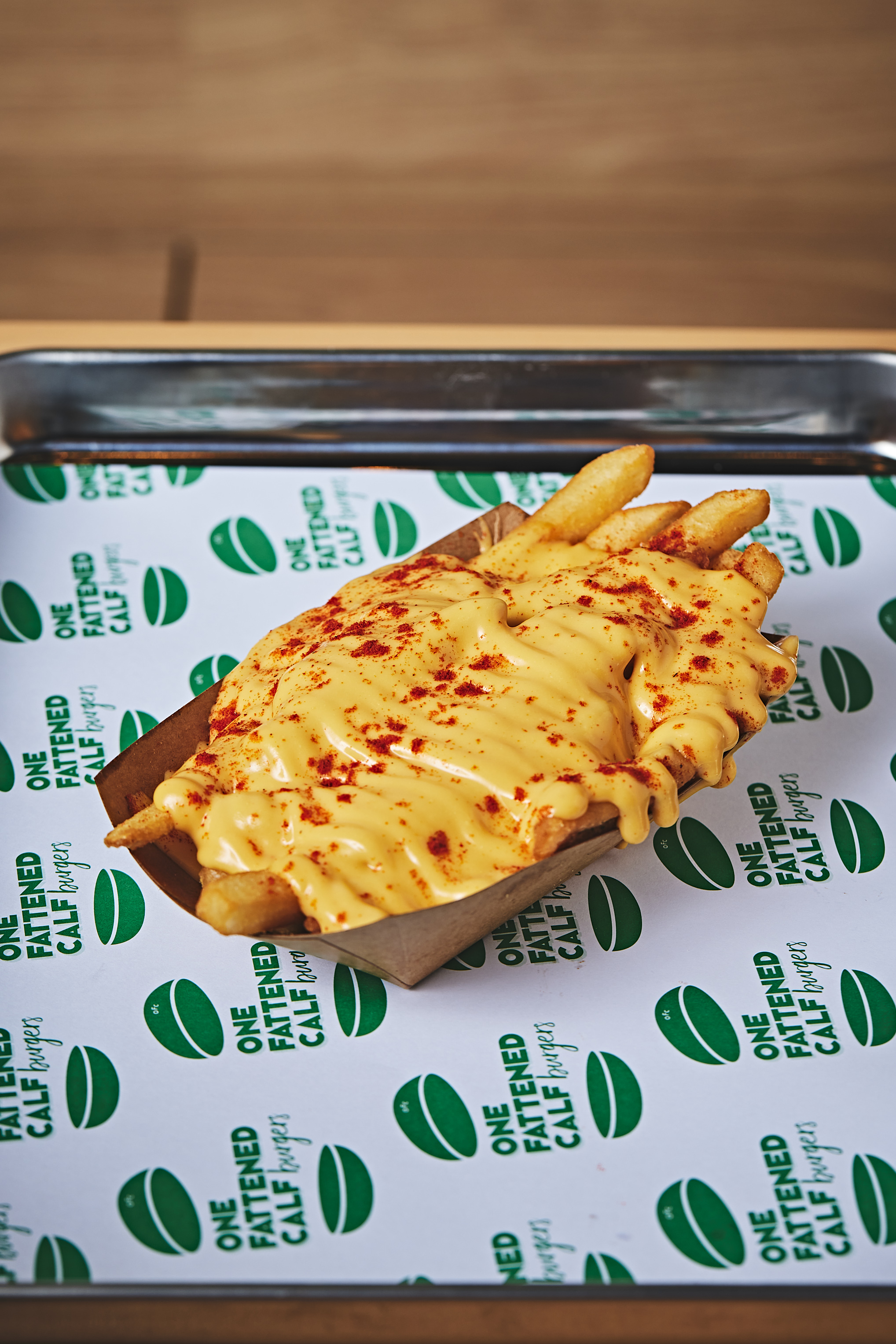 OFC Cheese Fries, $7.90 a la carte
It's worth it to top up $7 for a burger combo with lime slushie and cheese fries, because the fries here are shiok - madly crispy with a fluffy centre and the distinctive fragrance of fried potato. The nacho cheese, usually dreadfully plasticky as a condiment, is velvety and smoky here. The truffle fries are yummy too; drizzled with just enough truffle oil for aroma, and sprinkled all over with grated parmesan.
Address and opening hours

Address: #01-31 Galaxis, 1 Fusionopolis Pl, S138522

Opening hours: Open daily except Sun, 11am-3pm; 5pm-8pm (Wed 11am-3pm)

Facebook, Instagram

Photos: Alvin Teo