Indonesian 'Goreng Pisang' With Cheese Draws Queues At Changi Rd Stall Opened By Batam Hawker 
Pisang keju is the Indonesian version of local goreng pisang — but pimped up with toppings like cheese and chocolate.
Goreng pisang (banana fritters) is a popular teatime snack in Singapore and pisang keju is its flamboyant cousin from Indonesia. As its name, which literally means "banana cheese" in Bahasa Indonesia, suggests, fritters are loaded with shredded cheese and other toppings — it's like banana fritters on steroids. Over the years, the snack has spawned other variations featuring pretty much any topping imaginable.
Mostly sold at pasar malams, pisang keju isn't commonly found in Singapore. So it's no wonder those in the know have been flocking to the newly-opened Pisang Keju Batam SG at Changi Road for the snack.
The family-run halal business is headed by an Indonesia-born 49-year-old homecook (left in pic), who only wants to be known as Nurleli, along with her stepdaughter and son-in-law, Farhanah Jamalluddin (right), 25, and Muhammad Ismail, 29. Nurleli's Singaporean husband, Jamalluddin Yusof, 54, helps out at the stall during his free time. Though the biz has only been operating at halal kopitiam Bikerz Corner for three weeks, the wait for their coveted Batam-style pisang keju can go up to an hour on weekends.
"We get a dinner and late-night crowd, which starts around 4pm. We can sell around 200 boxes of pisang keju on weekends. The wait is shorter on weekdays, around 15 minutes," Muhammad tells 8days.sg..
According to Farhanah, the snack is synonymous with Batam. "Whenever Singaporeans go there, they will buy pisang keju, this is why we named our business Pisang Keju Batam. But they have it in other parts of Indonesia too," she says.
All photos cannot be reproduced without permission from 8days.sg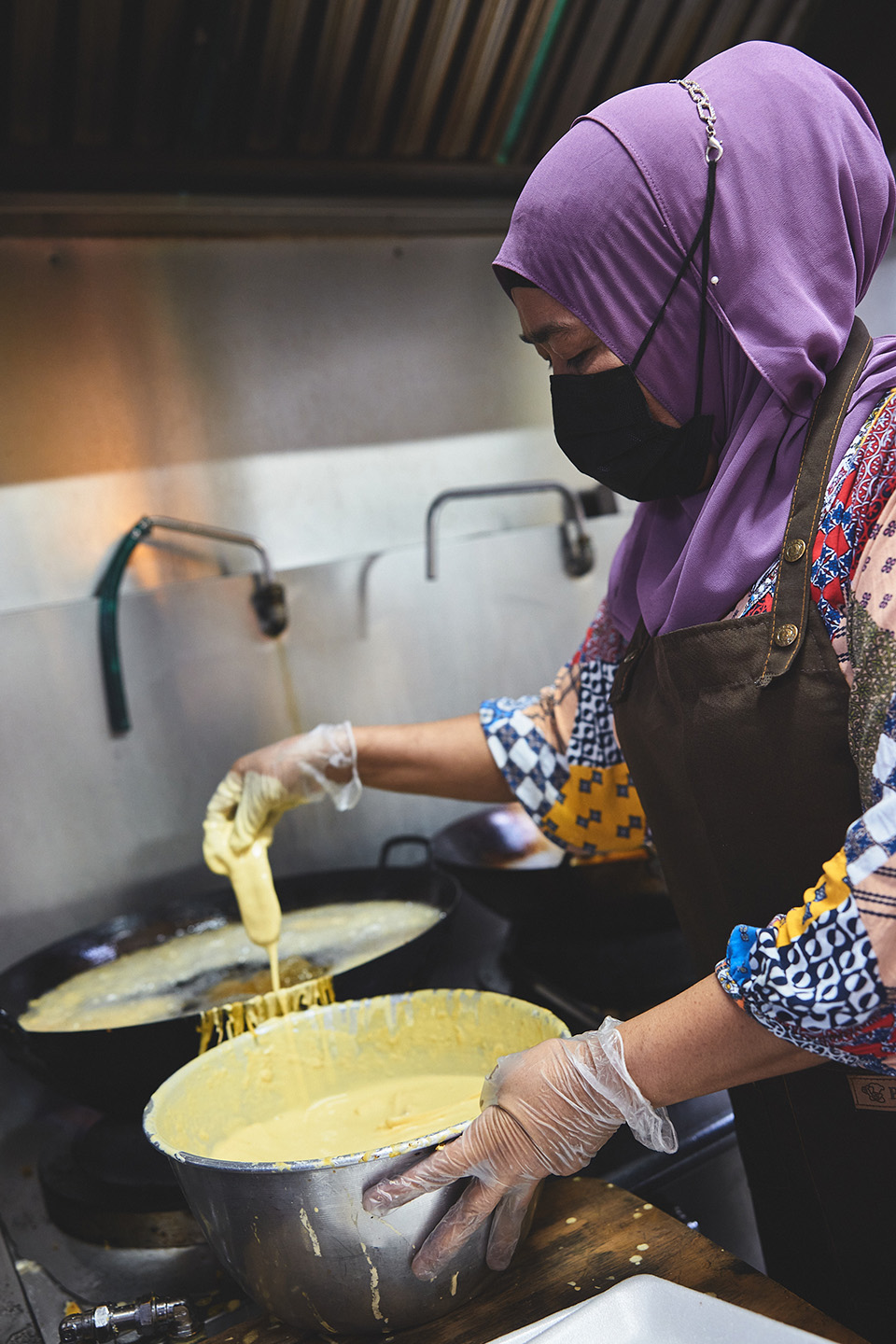 Nurleli has three pisang keju stalls in Batam
Nurleli is no stranger to crowds at her stall. The former Batam resident used to run three popular pisang keju street carts near Sekupang ferry terminal. Named Putri 54 (not affiliated to the Singapore stall), the stalls are now helmed by her son.
When Nurleli relocated to Singapore four years ago to be with her hubby, she wanted to set up shop selling her snacks, but the family wasn't ready financially.
"We told her it's difficult to open a stall in Singapore as you need at least $20,000. The deposit alone is already $8,000, so we decided to start a home-based business first. This was around three years ago," says Farhanah.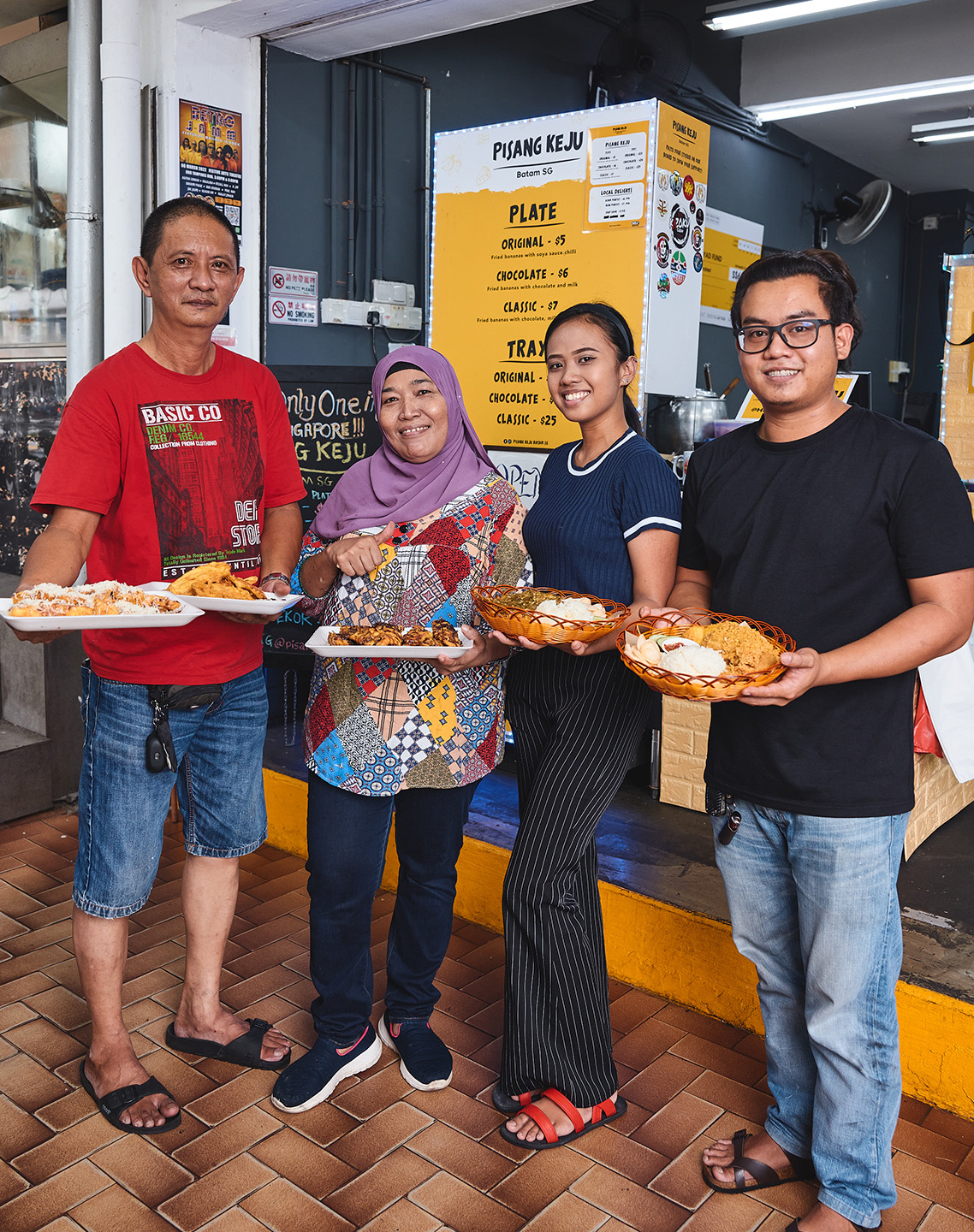 Selling like hotcakes
In the past, the family would sell their pisang keju on weekends and Farhanah, who used to work at the Woodlands checkpoint, would occasionally take orders from her colleagues.
"During Ramadan, I would take all the food to work on the MRT each day. We used to have 30 to 50 orders for pisang keju daily. And then on weekends, we would take orders via social media and my father would be the one doing the delivery island-wide. We sold around 100 boxes a day at the time. We have really come a long way," shares Farhanah.
Over time, demand for Nurleli's pisang keju grew and the family finally opened their first stall at a Guillemard Road coffeeshop early February. Though business at the kopitiam, which also houses popular stall tenants, House of Nasi Padang and Celop Lok Lok, was bustling, Pisang Keju Batam SG was forced to relocate after 11 days due to "lease issues". It didn't help that they were not allowed to cook with a gas stove when they were there.
"We had to use an induction cooker to fry our goreng pisang and it just wasn't efficient. We could only do small batches at a time and sometimes customers had to wait 40 to 50 minutes, so we moved," says Farhanah. "Fortunately, we managed to find this space and opened in four days on February 18."
Muhammad has quit his marine technician job to help Nurleli run the biz full-time, while Farhanah, who currently works as a security concierge at an office building in Marina Bay, helps out after work.
"We want to focus on building my mother-in-law's pisang keju brand and make it the top one in Singapore," says Muhammad.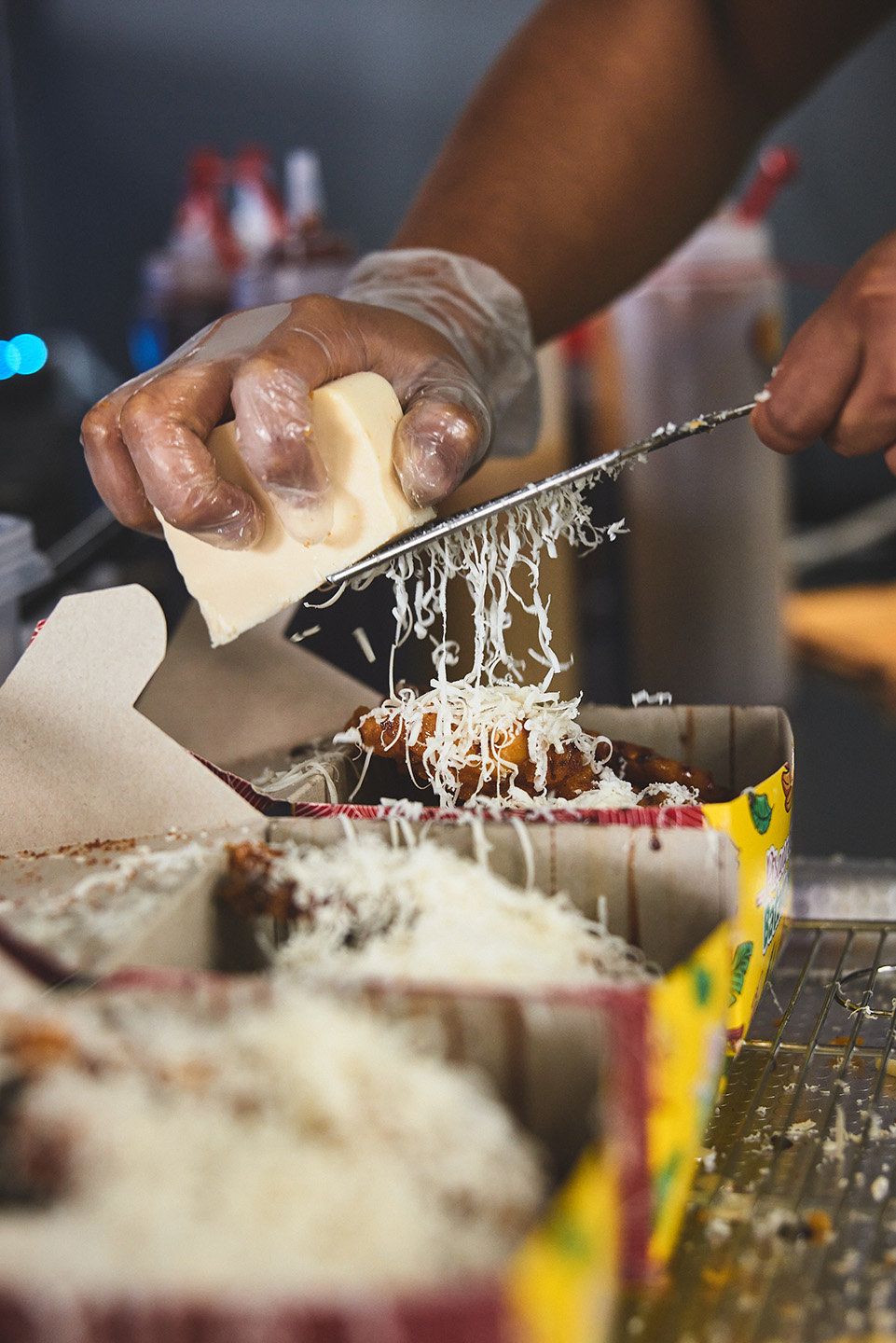 It's as authentic as it gets
Nurleli, who is the brains behind the food, makes the pisang keju using the same recipe as her Batam version. To keep the taste as authentic as possible, they import their cheddar cheese and chocolate sauce from Indonesia. The only difference is the type of banana used. The stall uses local pisang kepok instead of pisang lilin, which is a smaller Indonesian variety and not available in Singapore and Malaysia. The former is a good substitute, says Nurleli, because the flattish, stubby banana is sweet, creamy, and suitable for frying.
"Other pisang keju that you find in Singapore tastes different 'cos they don't use the same ingredients. I think their chocolate sauce is too thick and the cheese melts on the hot fritters, whereas ours remains stringy. This is why we dare to name our stall Pisang Keju Batam SG, 'cos it tastes the same as those you eat in Batam," declares Jamalluddin.
And compared to Malay-style goreng pisang found in Singapore, these are larger, sweeter, and more moist, with a light and thin batter.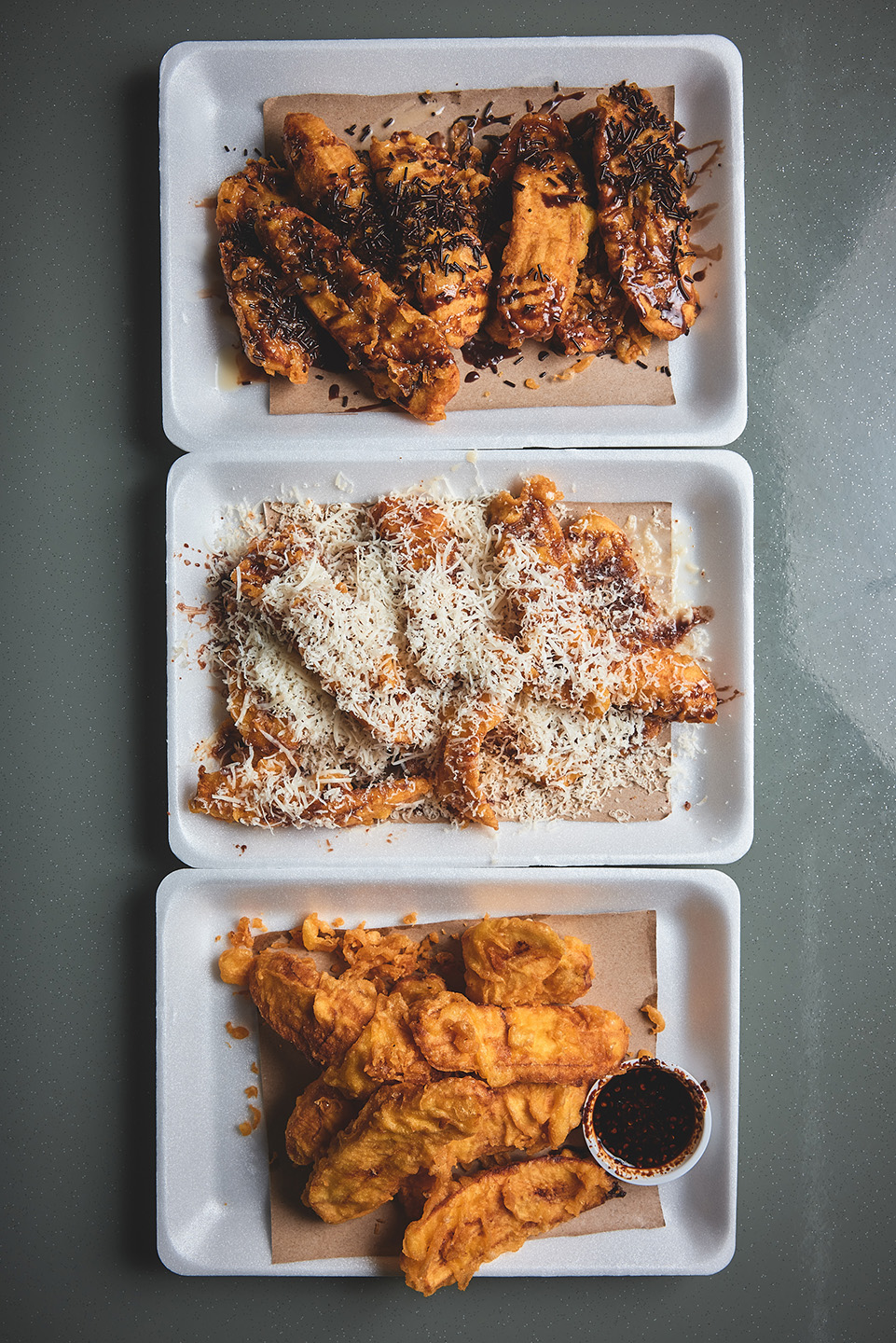 Their pisang keju comes in three flavours: Classic ($7), Chocolate ($6), and Original ($5). Each box contains eight to 10 fritters. Prices for their party size portions range from $23 to $25.
The stall has also recently introduced savoury dishes like ayam penyet (smashed fried chicken), ikan penyet, soup ekor (oxtail soup), as well as daily specials like beef rendang and mee bakso.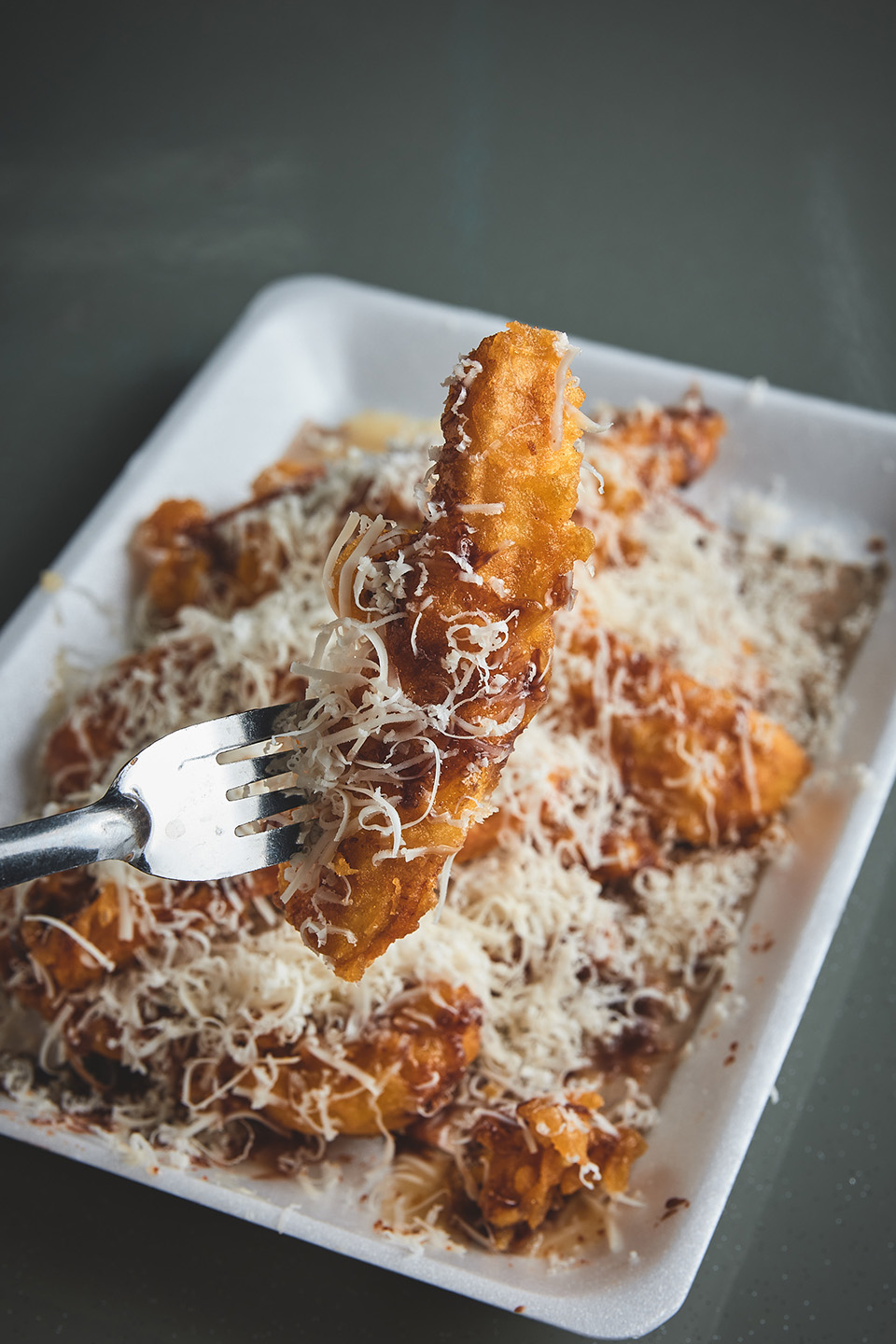 Classic, $7
This is the OG pisang keju that Nurleli sells in Batam. To make the goreng pisang, thickly sliced bananas are coated in a batter of rice flour, plain flour, salt and vanilla essence, and deep-fried until golden. The fritters are then drizzled liberally with condensed milk, chocolate sauce and topped with a mountain of grated cheese.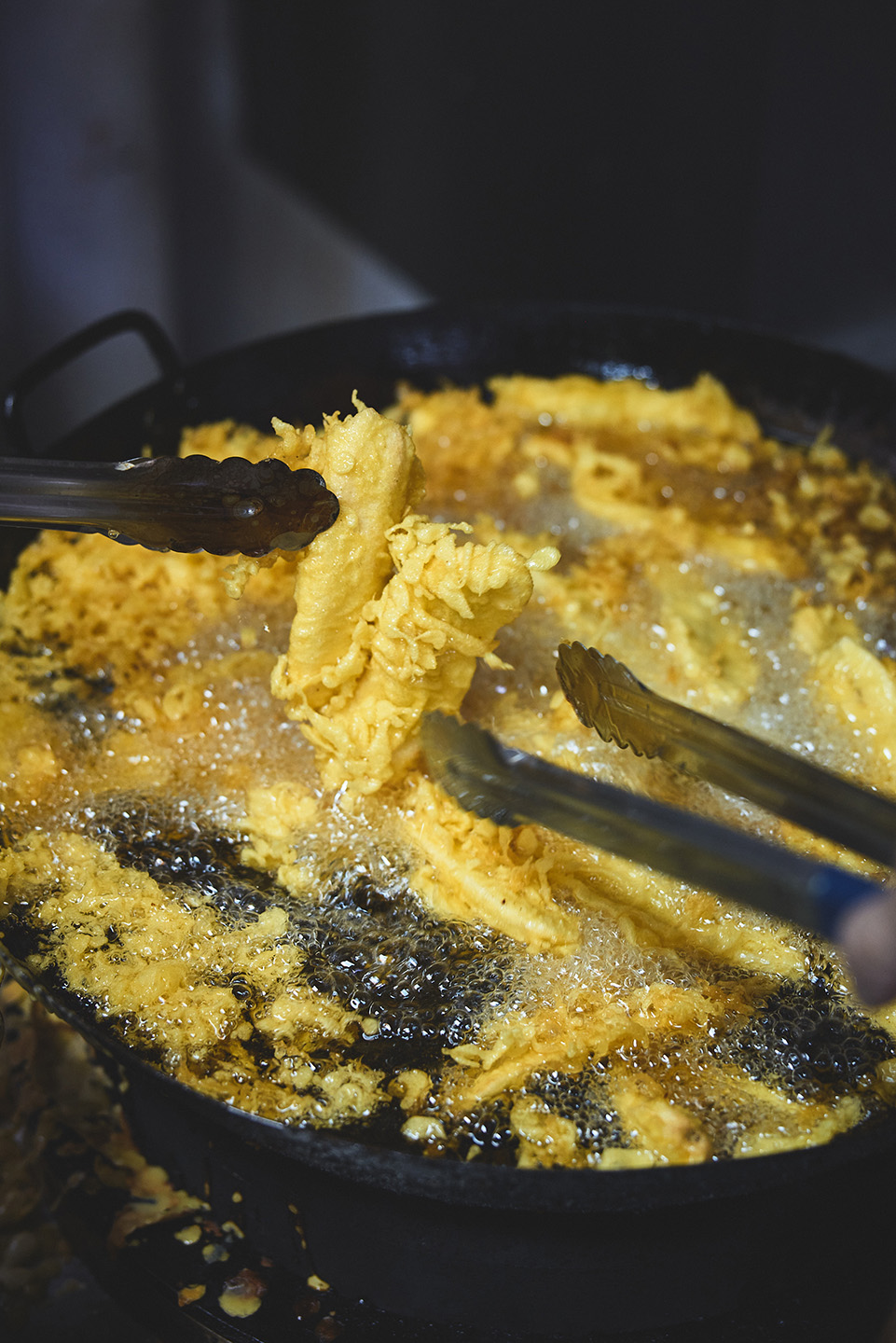 As artery-clogging as it sounds, the crispy fritters aren't overly sweet, and are soft and moist on the inside. We like how crunchy and thin the batter is, so you can properly savour the sweet, almost creamy banana within. Nurleli says the temperature of the oil is key to making crispy, perfectly-fried fritters. "This is why we cannot fry with an induction cooker," she says, which typically has a lower heating point.
As for the cheese? The finely grated "cheddar" doesn't add much flavour except a mild savouriness, which helps cut the sugar in the condensed milk slightly. As Nurleli promises, it also retains its rubbery, soft texture instead of melting into an oozy mess even when it hits the hot banana. Mysterious — and slightly unsettling.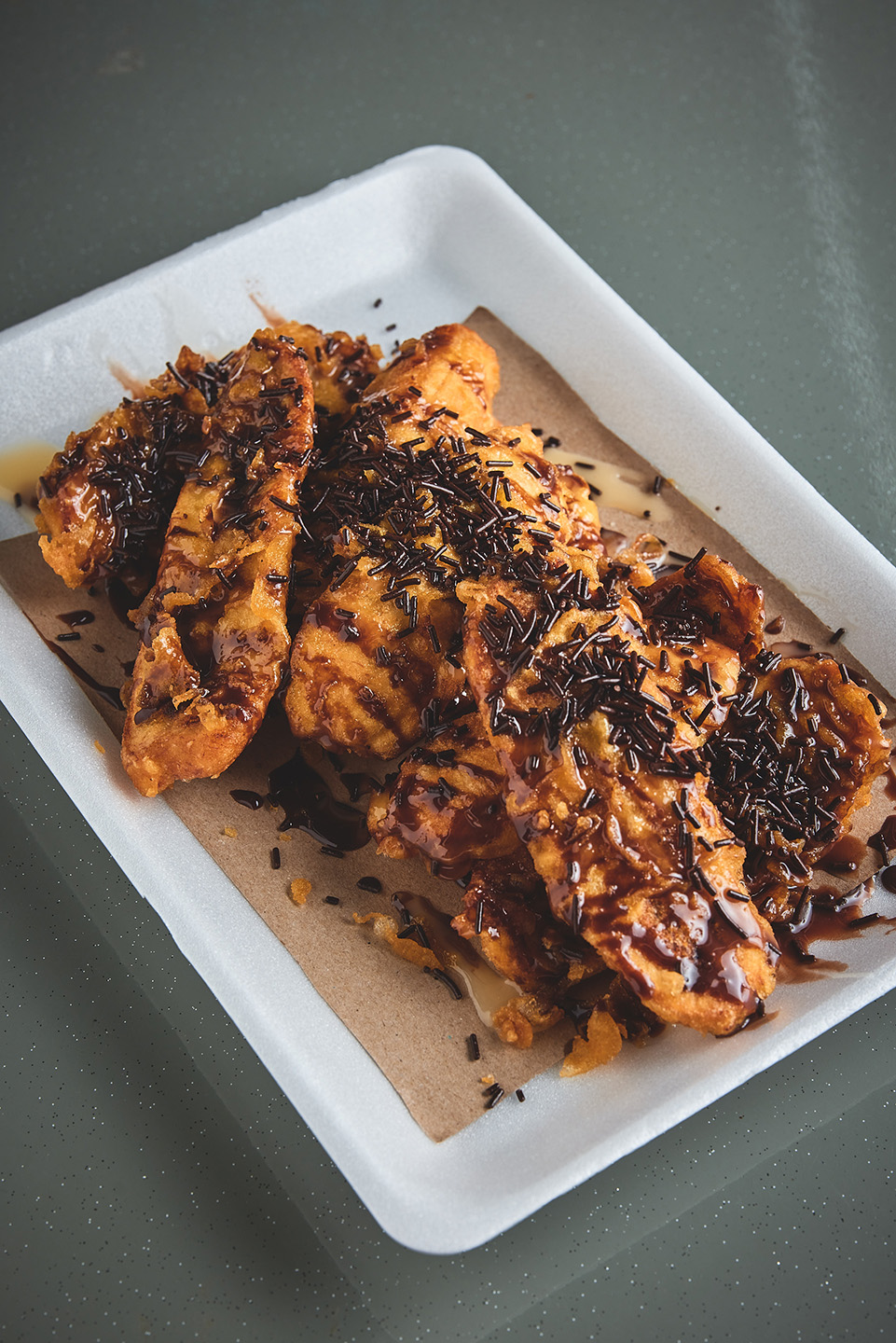 Chocolate, $6
Slathered with condensed milk, chocolate sauce and chocolate rice sprinkles, this flavour veers on the side of too sweet. The chocolate sauce is thin, watery, and sugary. Not our favourite.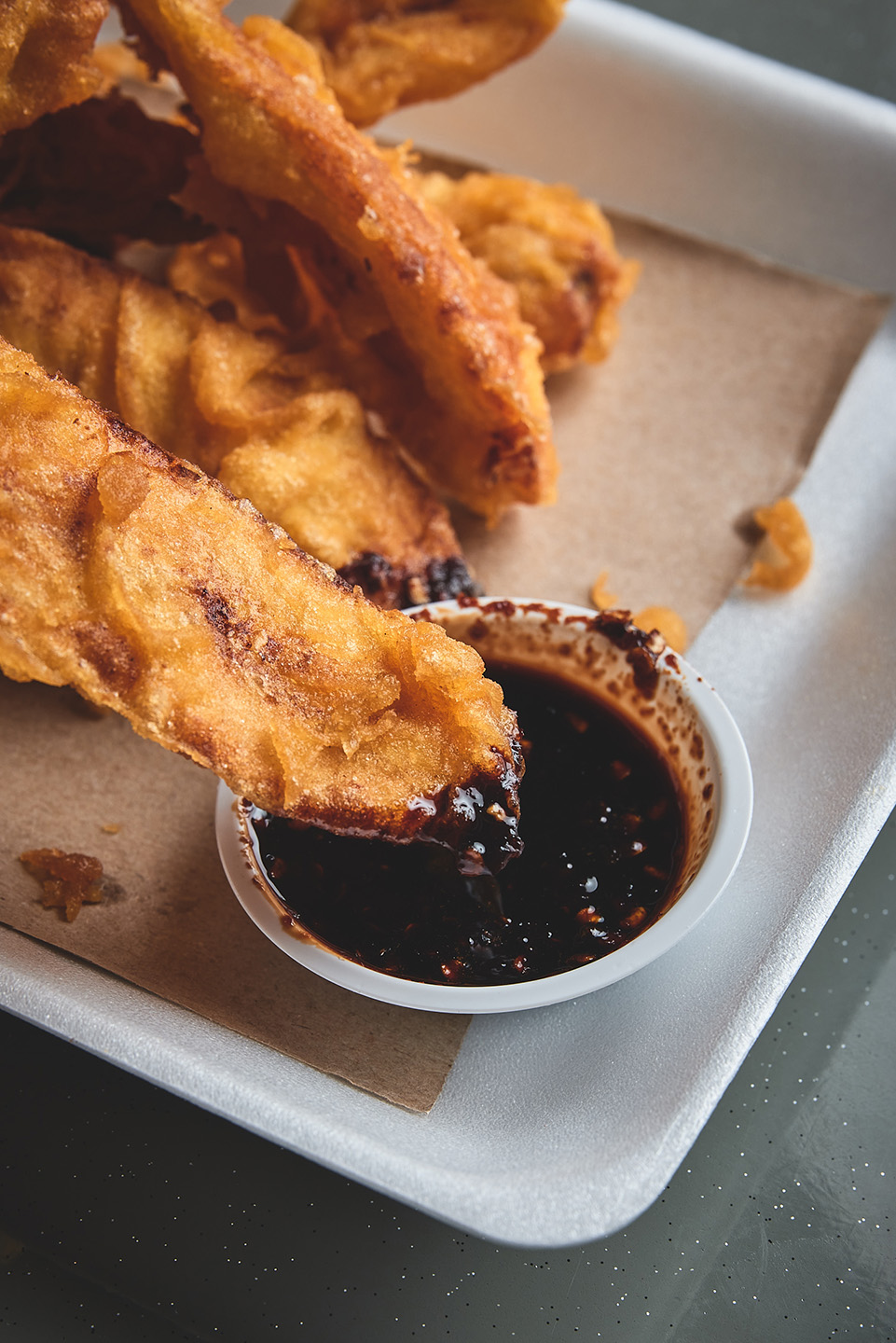 Original ($5) (8 DAYS Pick!)
Goreng pisang with a soy sauce with chilli dip might seem like an unusual pairing, but Muhammad tells us that this sweet-spicy combo is very popular in Malaysia (no, not Indonesia). We can see why. The concoction of kecap manis (sweet soy sauce), chilli padi, and garlic, packs a spicy kick, making the fried banana (sans condensed milk) incredibly moreish.
Ayam Penyet, $6.50
Their ayam penyet is also popular among customers. Chicken thigh is boiled in a blend of aromatics and spices like garlic, onion and turmeric powder for around one hour, then coated in a mixture of turmeric powder and rice flour, and deep-fried. For $6.50, the ayam penyet, which is served with white rice, two pieces of fried tofu, keropok, and topped with crispy crumbs, is pretty good value for money. The chicken is rather huge with a satisfyingly crispy skin. Though succulent and tender, the flesh within isn't as flavourful as we'd like. It's saved by the super shiok homemade sambal balado made with chilli padi, onions, garlic, lemongrass, which elevated the dish.
Ikan Penyet, $7.50
Those who prefer fish can try the ikan penyet, a whole deep-fried pomfret served with rice. The fish, perfectly-fried with a thin layer of batter, is slathered with slightly tart green chilli sambal. Only five servings of the dish are available daily, so be sure to head down early.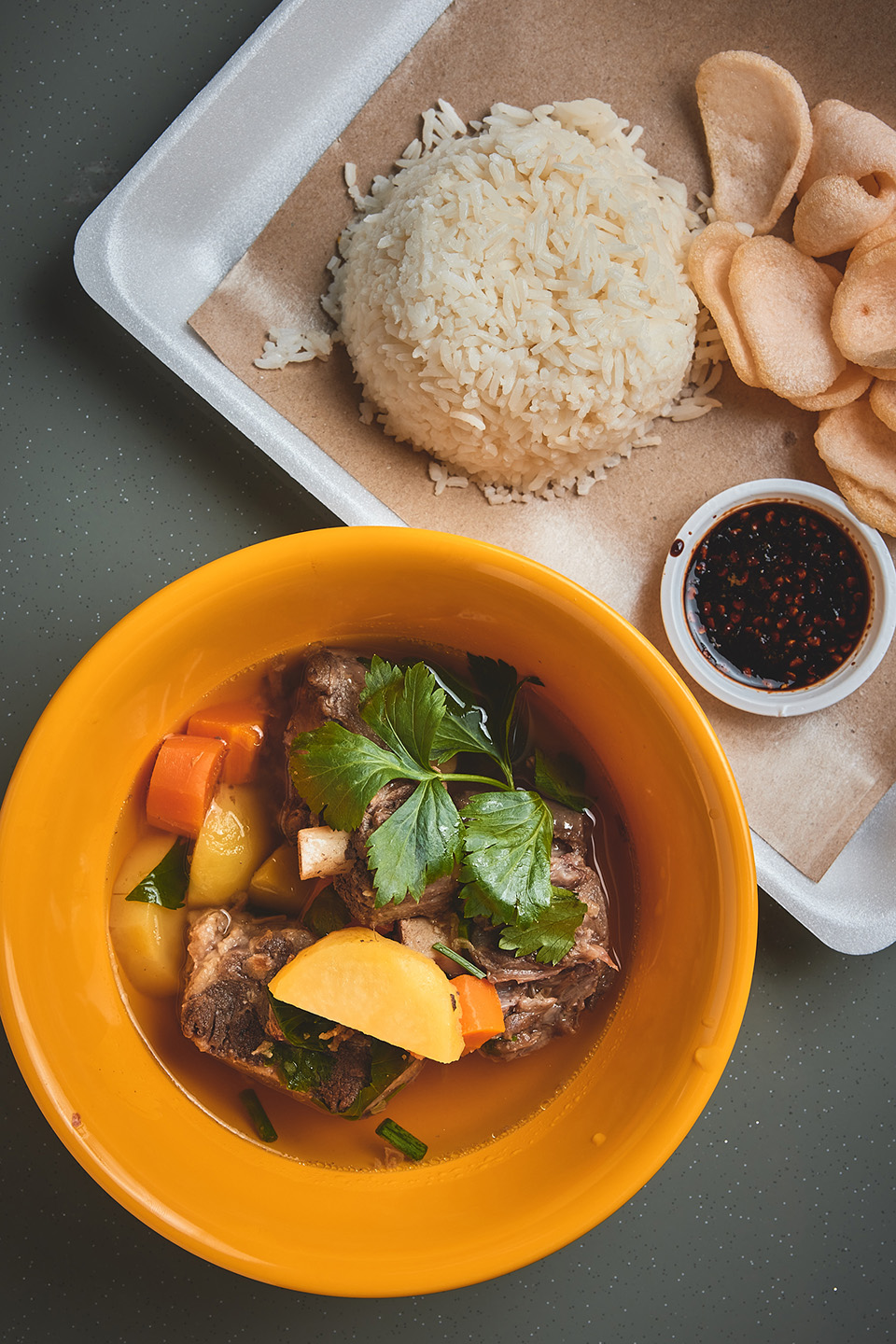 Soup Ekor, $7.50 (8 DAYS Pick!)
Instead of cooking oxtail in broth, the two components are prepared separately "so the soup is light and not oily". Oxtail is boiled in water for three to four hours until tender, while the broth is made by simmering beef and chicken stock with garlic, shallots and spices like star anise and cinnamon. "Locals don't like the soup to be oily. Oxtail tends to be very fatty, so we only add it to the soup when we serve," explains Muhammad.
Though the clear soup is lighter than the traditional Indonesian version, it is aromatic and bursting with flavour from the myriad of spices. The comforting soup comes with carrots, potato, and four chunks of meaty, collagen-rich oxtail, which are flavourful and fall-off-the-bone tender. Add $1 for rice.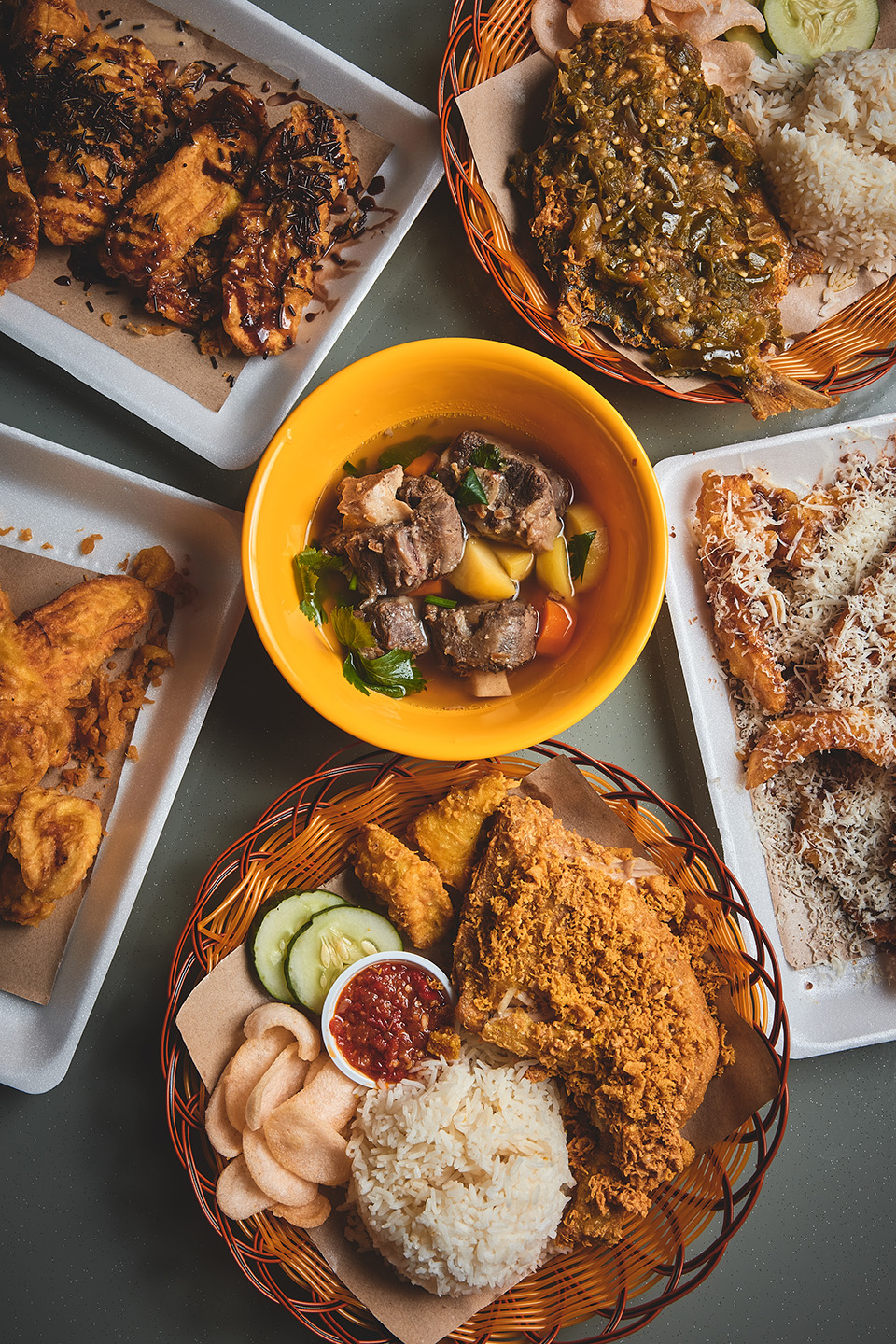 Bottom line
Pisang Keju Batam makes rather yummy Indonesian-style banana fritters — but we far prefer the savoury-spicy-sweet pairing of the pisang keju with a chilli padi and garlicky kecap manis dip over the classic flavours like the mysteriously unmeltable cheese and sweet chocolate sauce. The flavourful oxtail soup here is not to be missed, too.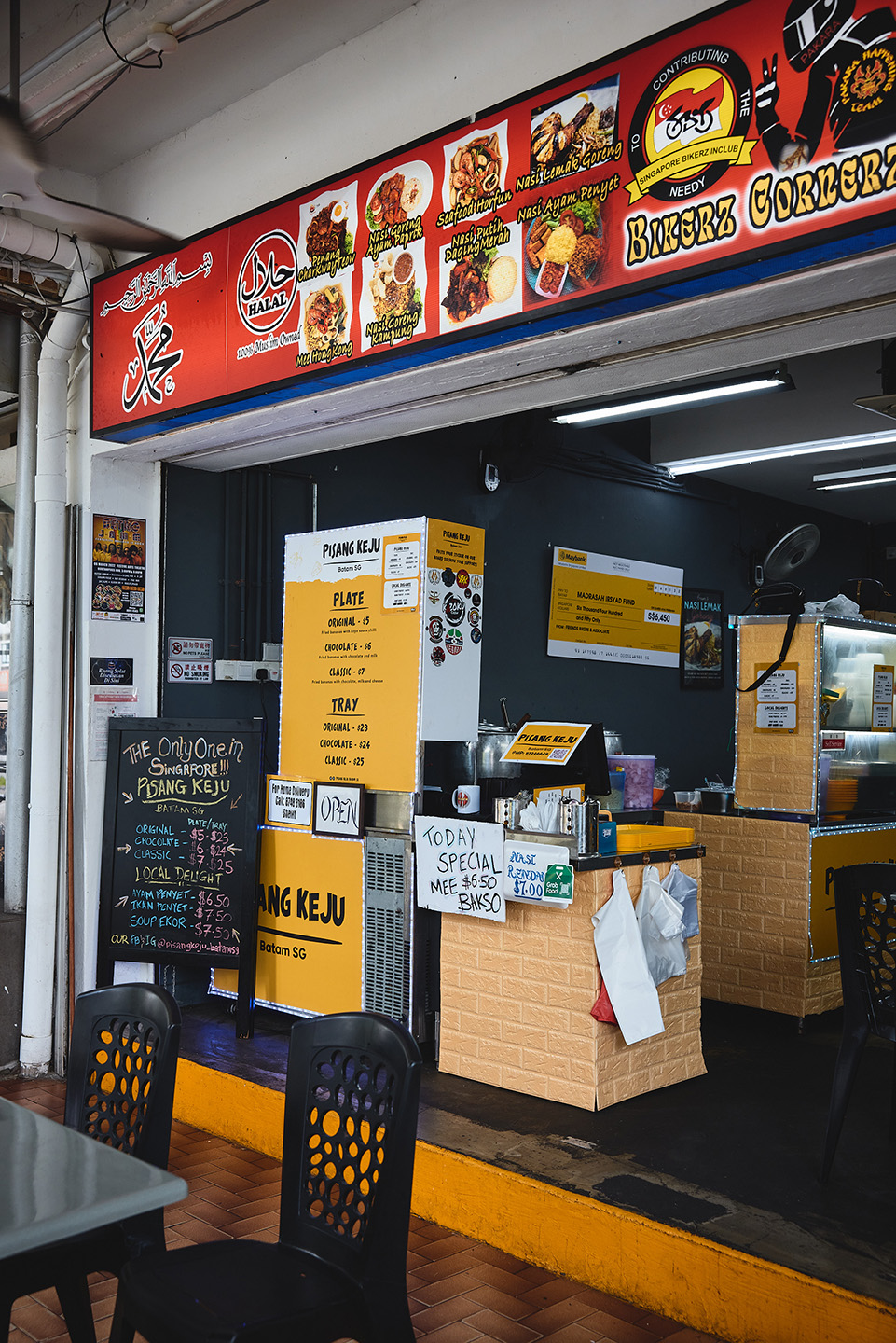 The details
Pisang Keju Batam SG is at 285 Changi Road, S419764. Open Sun – Thu, noon – midnight; Fri – Sat, 12pm – 2am. More info via Instagram.
Photos: Alvin Teo
All photos cannot be reproduced without permission from 8days.sg