"It Felt Like I Was Dropped Into Hell": Jesseca Liu On Learning That Her Beloved 14-Year-Old Cat Has Final Stage Pancreatic Cancer
Jesseca's dedication to her cat Crusso will make you want to hug your pet.
In late-August, Jesseca Liu, 42, posted a vlog to say that her cat Crusso is in the hospital.

"Our baby Crusso is hospitalised, and really needs everyone's thoughts and prayers. I hope that my baby can safely get through this stage. When we were filming this video, the situation wasn't that bad, but in these two days, his condition hasn't been too good. Hope everyone can help us pray for him to get through this safely," wrote Jess, who is married to Mediacorp actor Jeremy Chan.

Crusso has since been discharged and is now home.
When 8days.sg caught up with the actress over a phone interview after the press conference for new Mediacorp law enforcement drama, The Takedown, we took the opportunity to ask about Crusso.
During our chat, Jesseca revealed that Crusso, who also has diabetes, was actually diagnosed with end-stage pancreatic cancer on August 15 after he broke his leg while jumping down from a countertop.

Cats suffering from pancreatic cancer are typically in pain but 'cos they're too good at hiding their feelings, and you can't tell that they are suffering. When we brought him to the vet after he broke his leg, we discovered that he has pancreatic cancer after the vet did a scan and tests," she said.

Cats are typically very nimble and will land perfectly on their four feet. So we really wouldn't have realised that his condition was so serious if he hadn't broken his leg, Jess added.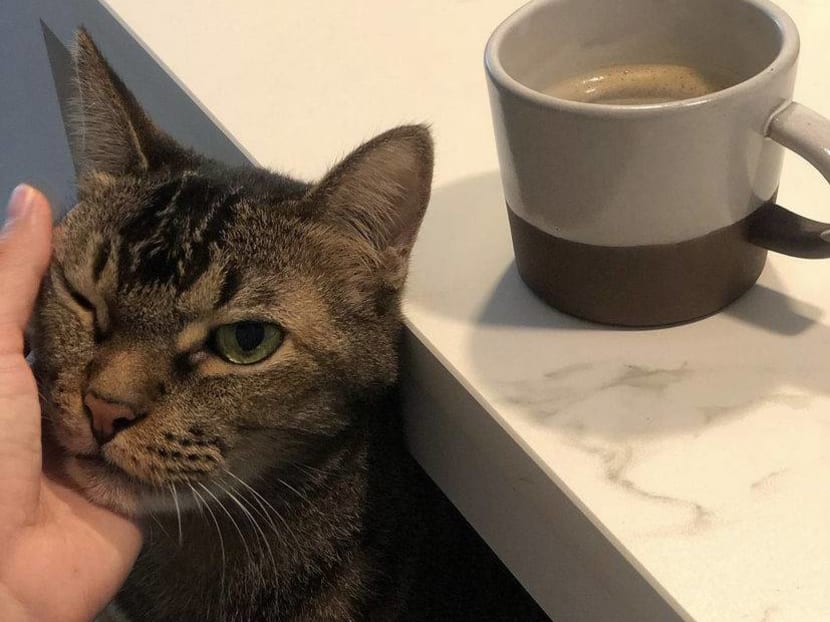 Jesseca, who adopted Crusso from the SPCA in 2007 when he was just three-and-a-half months old, said: We were very sad, extremely sad [when we first found out]. It was like we were on a rollercoaster of emotions."

From the day he was first diagnosed, it felt like I was dropped into hell. I couldn't believe it. 'Cos you'd never imagine that you would have such a short time left with your pet, she said.

She went on to share that there was a point when Crusso was rejecting all food, and that he'd once stopped breathing while he was hospitalised.

The vet called us one night to tell us that he'd stopped breathing, and we thought that we would really be unable to see him anymore. But in the end, he was saved," she said, adding: I think what's most important is that I'm very appreciative of the fact that he's still around. Every day, when I open my door, he's still there. I'm very happy about that."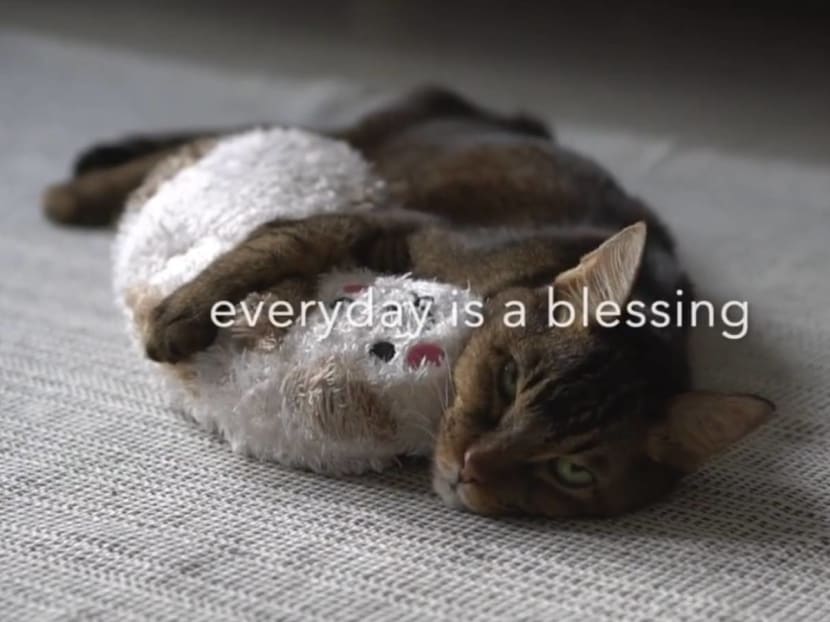 8 DAYS: So how is Crusso now?

JESSECA LIU: His condition is actually the same. We went online to search for more information after his diagnosis 'cos this cancer is very aggressive. Once you find out that [your pet] has it, he... might leave this world very soon, like maybe after three months. So right now, we're still observing and taking care of him, We've brought him home now, and his condition is still okay. There were a couple of times when we thought we almost lost him, but he pulled through it all. The vet also said that Crusso is a tough cookie, and that he's still okay, just a little thinner.
Does Crusso have to go back to the vet for frequent checkups?

Every five to ten days, he has to return for a blood test. So basically it's like every week.

How is he at the vet? Some cats really hate it right?

Oh, he's very okay. The vet said that Crusso is the most accommodating cat he's ever seen (laughs). Sometimes, even when the vet does different types of tests on him, he's okay too. Crusso needs to get his blood drawn at home too so we have to poke his ear to get blood and give him IV fluids and injections ourselves. We also feed him herbal medicine.

He's very easy-going when it comes to such things. When drawing his blood, he just sits there and allows us to do it. When we feed him medicine, although we have to coax him and trick him into eating it, he still eats it in the end.

When did you start doing these treatments on Crusso?
Only recently. Before this, it was just insulin injections every day for his diabetes. Now, the frequency of the blood tests has increased to maybe thrice a day. When his condition was more serious, we had to do it five times a day, about every two hours. We have to test his urine too.

Would you say his condition stable now?
We don't dare to say that. We're just very appreciative of the fact that he's able to eat and sleep every day, and be able to walk around.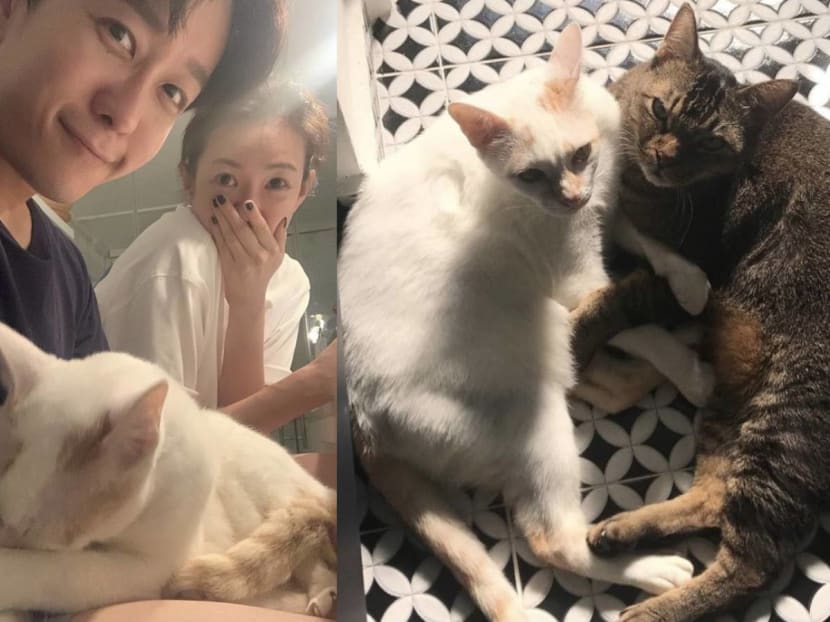 Does your other cat Tigger know that Crusso is not well?

All of us thought that Tigger will definitely dote on Crusso more after he came back from the hospital but he doesn't (laughs). The vet did tell us that many cats can sense that their other companions might be in a bad state, health-wise, and might pass on soon. And so the healthy cat will avoid the sick cat.

Every time we bring Crusso back from the clinic, Tigger will hiss at Crusso. For at least three days, Tigger will avoid Crusso, and 'bully' him. Crusso will feel very wronged, and will turn to us, like he's asking, 'Why is Tigger behaving this way towards me?'

It might be 'cos Crusso smells like the clinic, or the other animals there, and Tigger dislikes that. Tigger used to groom Crusso every day but not anymore. Crusso will still stick to Tigger, but Tigger won't initiate such behaviour. This is the reality of the animal world, it's very cruel laughs).

Pet medical expenses are known to be extremely pricey in Singapore. Are you okay to share how much you've spent?

I think it depends on the situation, as well as the check-ups that you do. Basically, we opted for all the check-ups possible, so I believe it might be a bit on the higher side. Medicine-wise, it's not cheap either. But I think it's still okay.

It's like if your family members are hospitalised, you wouldn't care how much it costs. What's most important is that they can stay by your side.

Catch Jesseca in The Takedown which is available for free on meWATCH from Nov 2. It premieres on Ch 8 on Nov 2 at 8.30pm.

Photos: Jesseca Liu/Instagram, Jeremy Chan/Instagram