"I've Waited A Long Time For This": Kit Chan Is Mrs Lee Kuan Yew In The LKY Musical, Starring Opposite Adrian Pang
She takes over the role from Sharon Au, who may or may not be in the audience singing along.
Seven years and one pandemic after its inaugural run, The LKY Musical makes its comeback from Sep 7 to Oct 2. While Adrian Pang, 56, reprises his role as Lee Kuan Yew, Kit Chan takes over Sharon Au, who now lives in Paris, in the role of Mrs Lee.
Plans for this year's production began way back in 2019, when Kit, who turns 50 on Sep 15, was approached then to take on the role of Mrs Lee for a staging originally slated for 2020. Of course, we know that was not to be, no thanks to the pandemic.
Now, two years later, The LKY Musical will finally make its return, and the local songstress couldn't be more stoked about it.
"I've had a very strange relationship with this role," Kit tells 8Days backstage at the MBS Sands Theatre, where The LKY Musical, produced by Aiwei and Singapore Repertory Theatre, will be staged.
"Even when they were creating the show [in 2015], I was going to be part of [it] but it clashed directly with my concert.
"But I came to watch as an audience and I [thought it's] a great production. I knew in my heart of hearts that it would be run again 'cos it's such a good show. And I thought, 'I could do it the next time.'
"In many ways, there's this feeling that I've waited a long time for this, so it's always sweeter," she muses.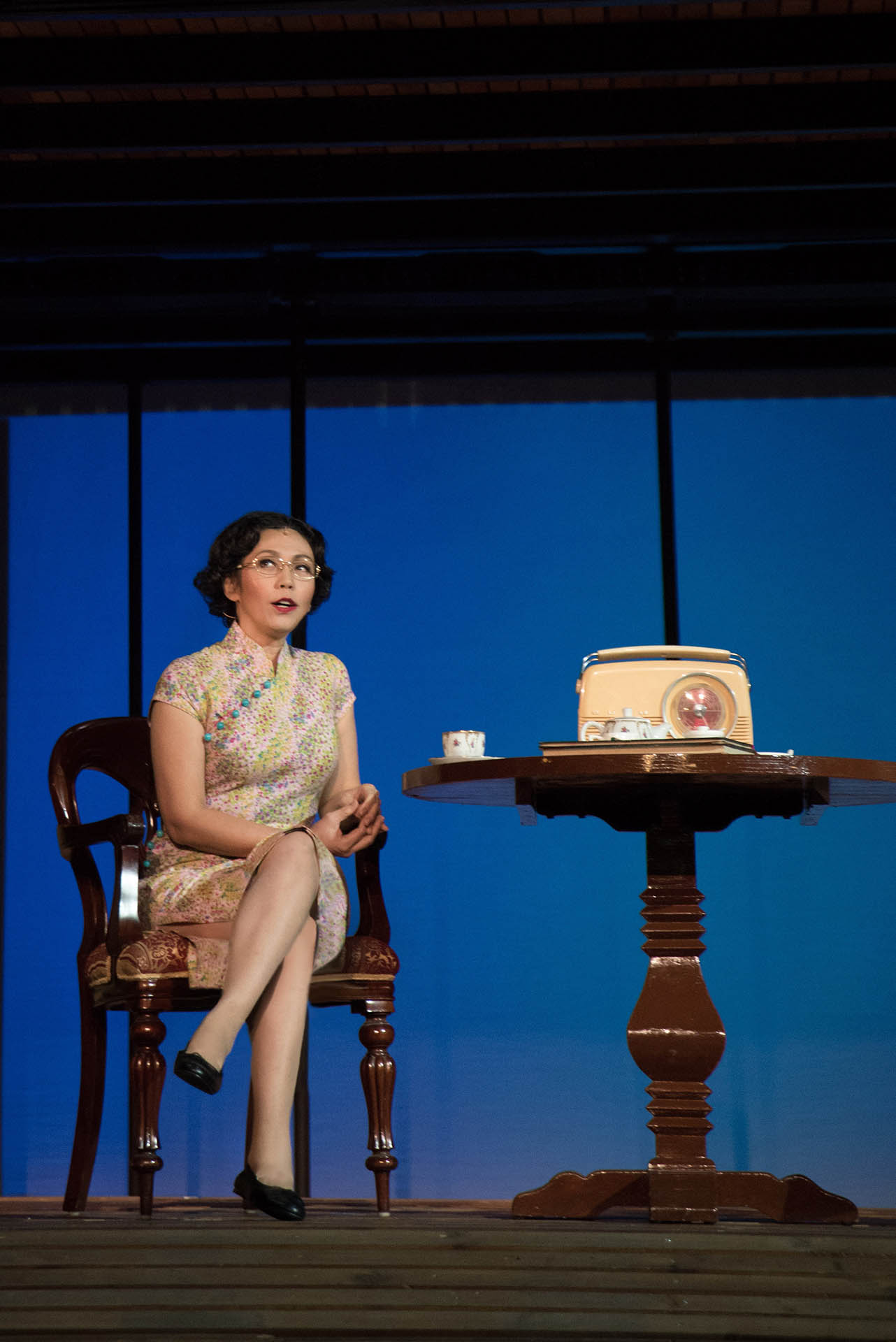 Kit Chan as Mdm Kwa Geok Choo, aka Mrs Lee, in The LKY Musical.
The tale that spotlights Singapore's founding prime minister's student days and romance with Mdm Kwa Geok Choo in the 1940s, right up to Singapore's independence in 1965, is also the first large-scale musical since the pandemic struck.  
And although some 50,000 people watched the blockbuster production's premiere in 2015, there's plenty of new things to discover in this year's restaging. Besides a new female lead, the second run of the homegrown musical will also feature new songs and new musical arrangements.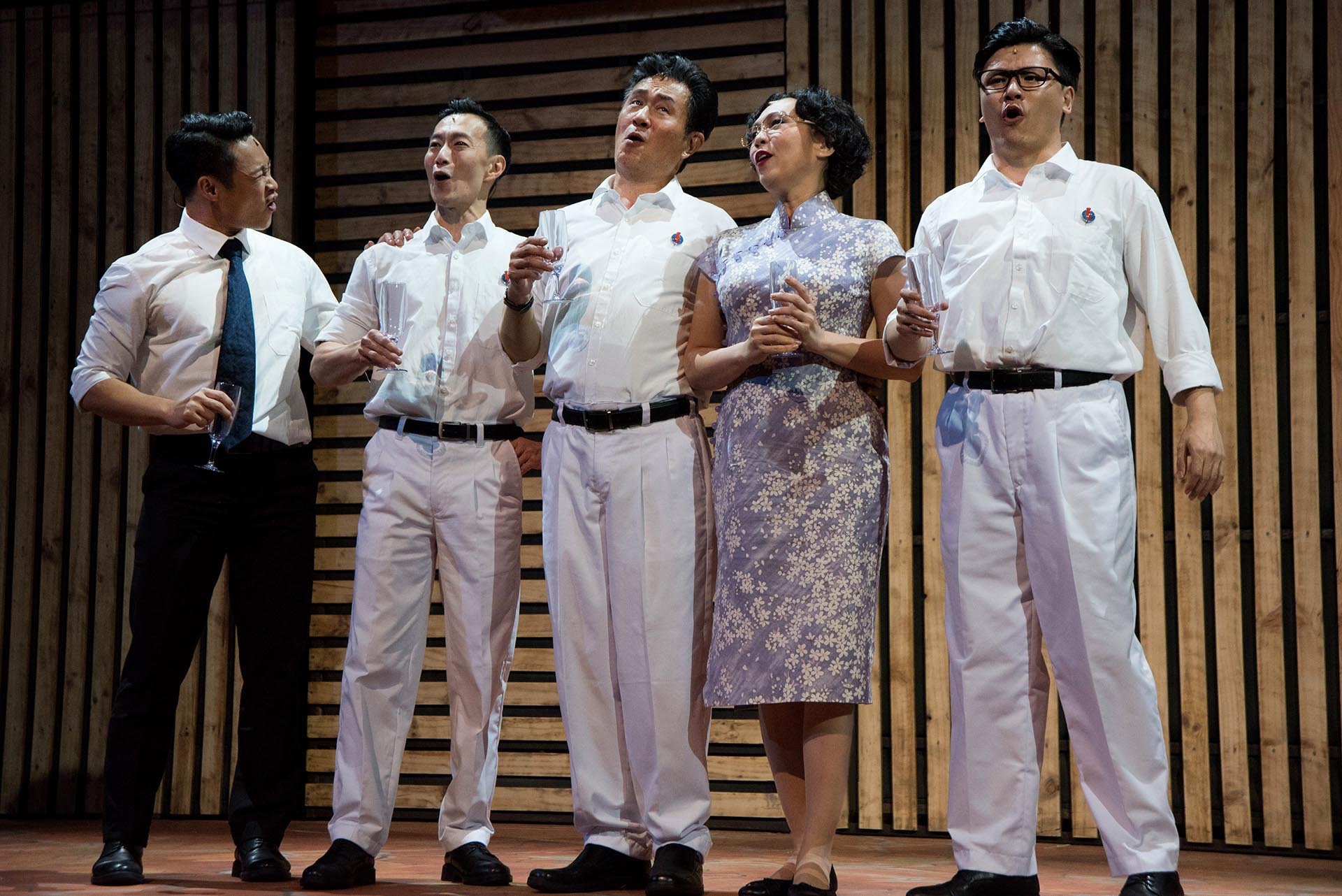 Kit isn't the only one who's chuffed about the return of The LKY Musical. "I didn't think I'd be having as much fun as I had the first time," says Adrian, who takes on the titular role once more.
What has it been like for Adrian and Kit, who've known each other for almost 30 years, to work together? What's different in the second run of the musical? And what did Kit think of Adrian when they first met all those years ago? Hint: It's difficult to describe. 
8 DAYS: Kit, how has it been for you taking on the role of Mrs Lee? Was there a lot of research involved?
KIT CHAN:  I didn't have to go crazy with the research 'cos I've always been a fan of LKY so I kinda knew a lot of the stories already. And they passed away not too long ago so there was a lot of access to documentaries, so that was pretty easy.
I think a lot of it had to do with inferring. There's a lot of evidence of their existence but there are also many things that are unsaid so you have to infer. A lot of people think of [Mrs Lee] as stoic, elegant and reserved; this strong silent powerful person. Yes, she's all that. But what else? I had no idea, especially when I have to play a younger her. Then I thought about how she was the only girl in a boys' school, and the first female lawyer, so you sort of know that she's a spunky woman who's ahead of her time. So I decided to make the younger her a lot spunkier and, in a way, a lot more fun.
Did you speak to Sharon Au?
KIT: She's been very supportive. She said, "I'm going to come and I'm going to sing in the audience!" (Laughs) I said, "I dare you to." And she said that she's going to.
Adrian, what has it been like reprising the role of Lee Kuan Yew after all these years?
ADRIAN PANG: The first time round we were creating a brand-new piece. There was so much expectation of the piece itself that the rehearsal process, day by day, was just an endless process of change. We had a new version of the script every single day, songs were being experimented with and cut and changed and added and taken away. But that's just par for the course and it's what creating a new piece is like.
This time I thought, 'Okay, we're revisiting this, and it's fantastic to have the chance to not just revisit and recreate but reinventing it.' It's an opportunity to make it even better than it was.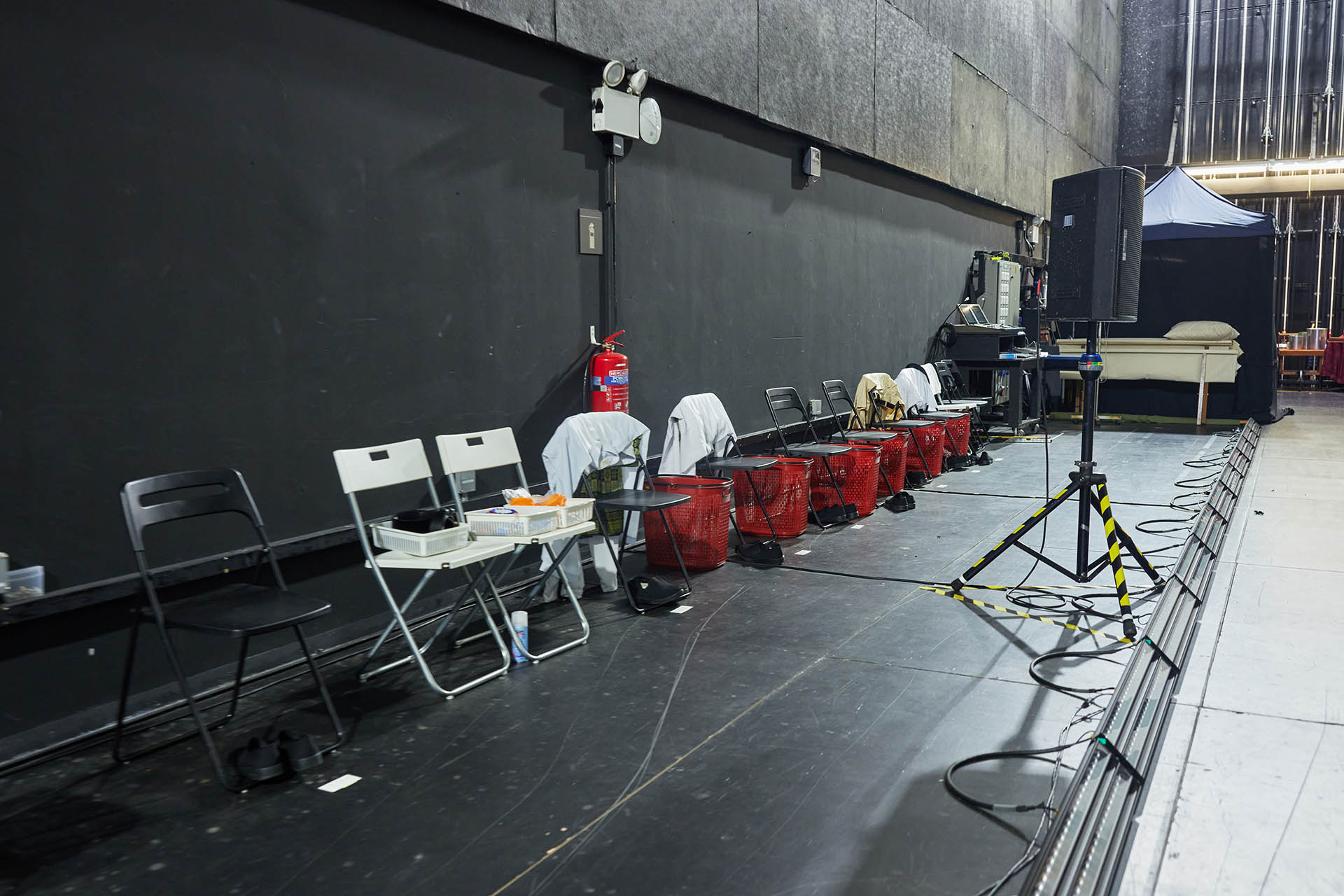 Backstage at The LKY Musical, each of the 21 cast members have their own mini-stations for quick costume changes in between scenes. All but one of them — at the end of the row, a changing tent for the only female cast member. And yes, it's Kit's.
Coming back to the theatre after two-and-a-half years, plus, this being the biggest stage production since the pandemic, what has that been like for you?
KIT:  I'm so happy to be around all these people. Like the first time I heard all of them sing at the first sing through, my hair was standing. I got very excited. I truly, truly appreciate the camaraderie, people coming together, that spirit. I've certainly missed that a lot and I love it. I'm predominantly a soloist, so what I get from doing a theatre production is the camaraderie which I don't get a lot of in my solo career.
ADRIAN: I'm really trying to embrace this whole chapter of my life with a renewed sense of gratitude. I think by nature I'm a bottle is half-empty kinda guy. But I'm trying to just fill the bottle just a little bit more, so the bottle is only a quarter empty (laughs).
In all seriousness I want this to be kind of a period of renewal and reinvention, rather than 'Oh thank goodness we can do this again' and then we just fall back on our old way of doing things. We're missing the point of having gone through this period if we just want to quickly get back to life as it was before. Life has changed, irrevocably so. It's a chance for us to think, how can we become better, how can we do things better and be better human beings. So I'm just grateful to be able to do what I do. I want to really cherish it.
KIT: What Adrian said is so true. I've never been in a production where there's so much love and people looking out for each other. Right from the start, things are not business as usual. Already somebody has Covid and is at home, so there's this [sense that everybody is] really looking out for each other.
There's never been so many understudies. I used to have understudies too in the other shows, but I've never been in a close relationship with them — everyone was just doing their own thing. But here, I'm constantly trying to coach her. 'Cos you're so aware that it could happen [and someone could suddenly fall sick]. So people really look out for each other. I think that's a lovely thing. And that's something we can certainly hold on to.
Besides having more understudies, how have things changed in a stage production since the pandemic?
ADRIAN: There's much more sense of mutual respect and mutual consideration and empathy. There's also a real sense of inclusivity.
KIT: Yeah, never in my life have I heard that! During the introduction, they asked us, 'Tell us what we can do to take care of you'. There are some cast members who are on the spectrum and they'll tell you "I really cannot take sudden loud noises" and then we will always be looking out for them, or they'll pre-empt people. This has never happened.
ADRIAN: This is the way forward.
KIT: If anything, we could be moving towards a kinder world. And that's nice. I hope people don't forget.
In-kueh-dible props from The LKY Musical.
You delve deep into the LKY story for this role. Has that changed how you talk about Singapore to non-Singaporeans?
KIT: Not really, maybe because my entire career was built outside [of Singapore] before I came back. And in the early 90s, a lot of people didn't understand Singapore and I always felt like I had to tell the story and justify a lot of things. Some people jokingly said that I'm an ambassador of Singapore. So I think I've always told that story of our improbability as a success.
ADRIAN: There's so much that Singaporeans can take for granted and we've all been conditioned to just complain about everything. But there's so much to be grateful for, and so much to revalue. I never would've said this 10 years ago…
KIT: Yeah, back then, you were a bit...hmmm. I remember when I first met you, it was a bit hmmm.
ADRIAN: (Laughs) What do you mean?!
Exactly. 'Hmmm' is a bit hard to define.
ADRIAN: "Adrian was a bit hmmm". It's about the tonality (chuckles).
If you could turn one part of your life into a musical, what would it be and why?
KIT: But I'm not dead yet! Make a high school musical! I had a lot of fun in secondary school and my secondary school life was filled with music. So you can easily just burst into song, so it's quite appropriate.
ADRIAN: Mine will probably be along the lines of The Book of Mormon, very politically incorrect and a lot of swearing.
KIT: See? A bit hmm (laughs).
ADRIAN: (Laughs) Now I understand what you mean! You mean I'm not like that anymore?
KIT: No, now it's more of an approving hmmm. (Laughs)
The LKY Musical is on from Sep 7 to Oct 2 at the Sands Theatre, Marina Bay Sands. Prices from $49 to $159. More info here.
Photos: Kelvin Chia, SRT, Aiwei, Kit Chan/Instagram