Jade Seah says she's tired of 'self-entitled, landed home owners' after receiving note asking her not to park in their private housing estate
The host shared her thoughts on Instagram, noting that the roads in private housing estates are public property that the homeowners cannot lay claim to.
On March 21, local host Jade Seah, 39, took to her Instagram Story to share her thoughts on a dispute that has often been brought up in the news: Can private estate residents 'lay claim' to the roads directly outside their house?
Jade started off by sharing that she found a note left on her car's windshield after parking along a road inside a private housing estate. The handwritten note, which Jade said was relatively polite, read: "Please DO NOT park here. Let those who stay here, park here. Thank you."
Jade shared that this is not an isolated incident for her, and that she's "so tired of self-entitled, landed home owners."
To park, or not to park?
"I found this [note] placed on the windshield of my car, which I had taken care to park legally along a road with no line markings, and not obstructing anyone's front gate nor traffic," Jade explained, adding: "When you own landed property, you own the land you paid for. That usually includes your house; and some people choose to have swimming pools, gardens and parking spaces. You do NOT own the land outside your house. That is public property that anyone is at liberty to park at; and that includes vans, lorries, motorbikes and other cars."
Jade continued: "With all due respect though, sir/madam (and also to all other home owners who think you have priority or rights to the space in front of your house), I'm here to educate you that that is public space, and you have neither rights nor priority to make this request."
Drivers are generally allowed to park on both sides of the roads in private housing estates, as long as there are no lines on either side of the road, and the lane divider is a single non-continuous line.

However, drivers have to ensure that they are not blocking the flow of traffic, or any entrances.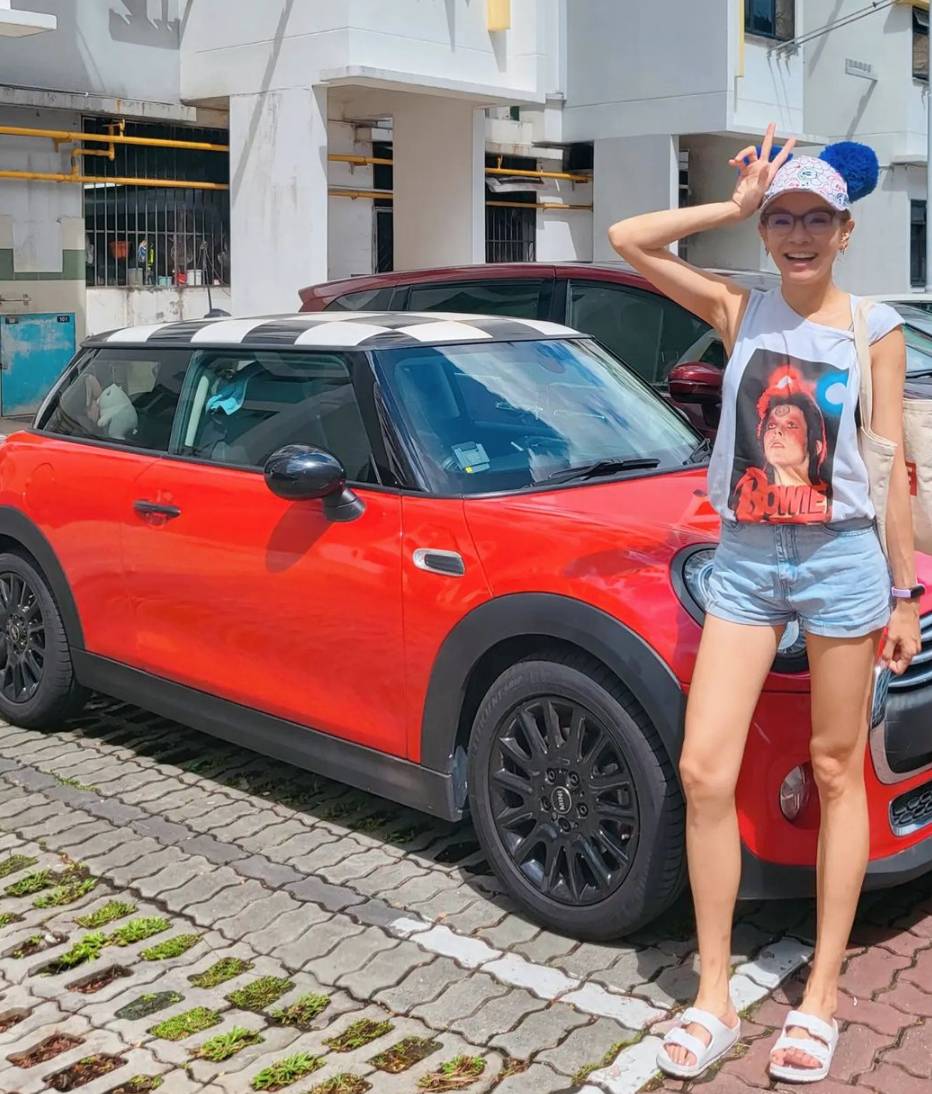 Jade and her car.
Jade said she has encountered similar incidents before, which is why she feels so strongly about this issue. The same also happened to her brother, who drives a van.
"My brother drives a van and he is afraid to park in roads where he has either been warned by home owners or has had his vehicle scratched. I have myself had tires slashed as well as front bonnet scratched with a huge "Z" (I've since installed front and rear cameras)," Jade wrote.
So, what do you think about this issue?
Jade also recounted an incident with an aggressive home owner, who yelled at her for parking in what the homeowner had designated as their personal parking lot.
"When I politely asked her to come out to talk, she refused, continued shouting, then slammed her front door. Hate to say it, but full disclosure: I too have been afraid to park there since, and have not…" Jade wrote.
She ended her post by seeking opinions and suggestions from her followers, wondering if there's "something more we can do to educate and stop this sort of bullying, self-entitled behaviour".
Photos: Jade Seah/Instagram