Jesseca Liu shares hilarious vid in response to Dennis Chew saying her husband Jeremy Chan 'was supposed to be [his]'
Looks like Jeremy's comedic genes are really rubbing off on the actress.
Jeremy Chan, 41, and  Jessica Liu, 44, might just be the most humorous celeb couple in local showbiz right now. 
Don't believe? Just look at the video Jess shared last night in response to a Tiktok their pal  Dennis Chew, 49, posted earlier in the day. 
In Dennis' original video, the actor's non-showbiz friend, Shawn Lim, was seen looking at a picture of Jeremy and Jesseca where he joked: "Wah brother, he really  kio tio  [loosely translated as "struck jackpot"] hor?" 
Dennis' response was a pointed retort: "Ya lor, I really have a chip on my shoulder, that was meant to be mine okay?" 
When a seemingly surprised Shawn asked: "Oh, you liked Jesseca too?", Dennis responded: "Er, [I meant] Jeremy", which left Shawn dumbfounded. 
Dennis even went on to caption: "In case you don't know what happened" and tagged the couple in the video. 
Jesseca graciously replied Dennis' video with: "Love you". An hour later, the actress came back with another video she filmed with Jeremy and tagged Dennis saying: "Hope u like it" with a laughing emoji. 
Questioning her husband at the start of the video, Jesseca chuckled: "Dennis is so funny, he said that you were supposed to be his ah?" 
Jeremy placated his wife by explaining: "Of course not, we always play around like that!" before turning his head to smile at his phone. 
"What are you looking at," questioned Jess, getting suspicious of what her husband was up to. 
Though Jeremy tried to brush it off, Jess swiftly leaned in to see this work of art: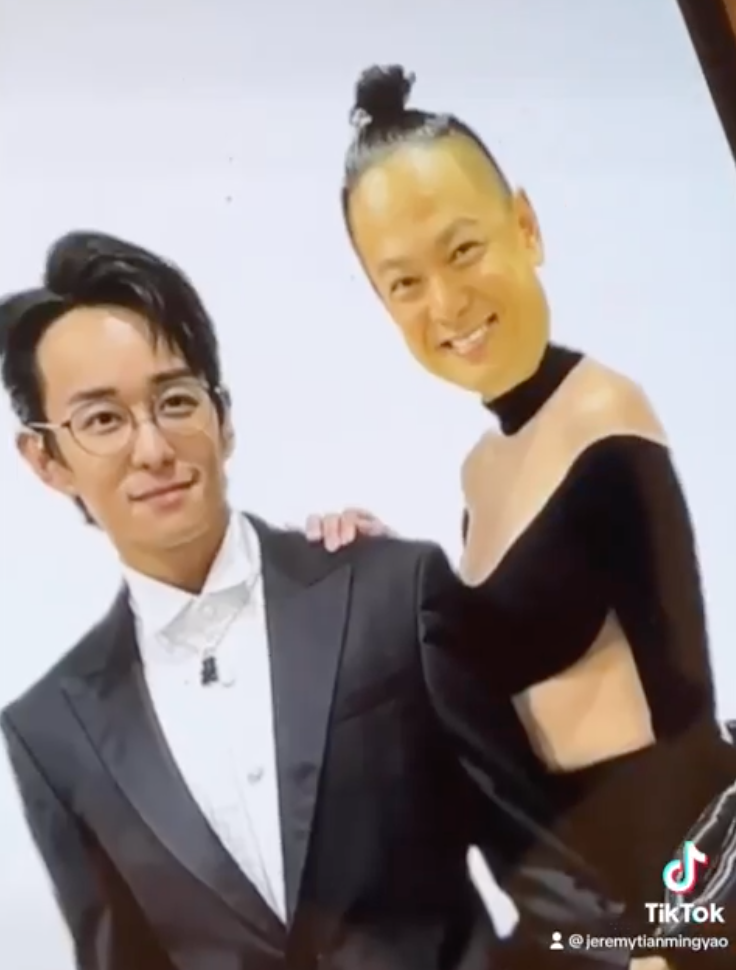 Um, yes... That's a picture of Dennis' head being photoshopped onto Jesseca's body in a picture the couple took at  Star Awards 2023 in April. 
Upon seeing his wife's death stare, Jeremy intoned: "He sent it to me..." 
Maybe the three of them should do a comedy together?  
Photos: Dennis Chew/Instagram, Jesseca Liu/Instagram 
Catch Jesseca and Jeremy in Soul Detective on meWATCH below: