Jimmy Ye Wrote Hits For Jacky Cheung, Andy Lau In The '90s; Is Now Doing His "Dream Job" In SMU
The 55-year-old director of student life at Singapore Management University will be back on stage in December Rains The Concert this weekend. He tells 8days.sg why he quit singing all those years ago and his experiences working with some of music's biggest stars.
What do '90s Cantopop darling Cass Phang's 1995 hit song 'Xiao Wan Yi', Hong Kong singer Jeff Chang's 1996 classic, ' Tai Xiang Ai Ni', as well as the iconic Jacky Cheung's mega hits, 'Xiang He Ni Qu Chui Chui Feng' and 'San Tian Liang Ye' all have in common?
Well, they were composed by Singaporean singer-songwriter, Jimmy Ye, 55.
Jimmy should be a familiar name to anyone who grew up in the '90s. Apart from being the voice behind hits like 'Loving You Is Not For Others To See', he was also a prolific songwriter, having penned songs for superstars the likes of Andy Lau, Alan Tam, Leslie Cheung and Anita Mui.
Oh, and Jimmy, alongside accomplished local songwriter Dr. Liang Wern Fook, is also the brains behind local Chinese musical, December Rains, which saw its first run in 1996. P/S: Jimmy will be performing the songs he wrote for the musical in a concert to commemorate December Rains' 25th anniversary this weekend.

But we digress.
Jimmy faded out of the spotlight rather abruptly in 1998, only making his return to the spotlight in 2012, when he returned to singing once more, eventually holding his own solo concert in 2015.
So… what exactly happened between 1998 and 2012? What's Jimmy up to now? And how was it like being the songwriter to the stars? 8days.sg speaks to Jimmy to find out.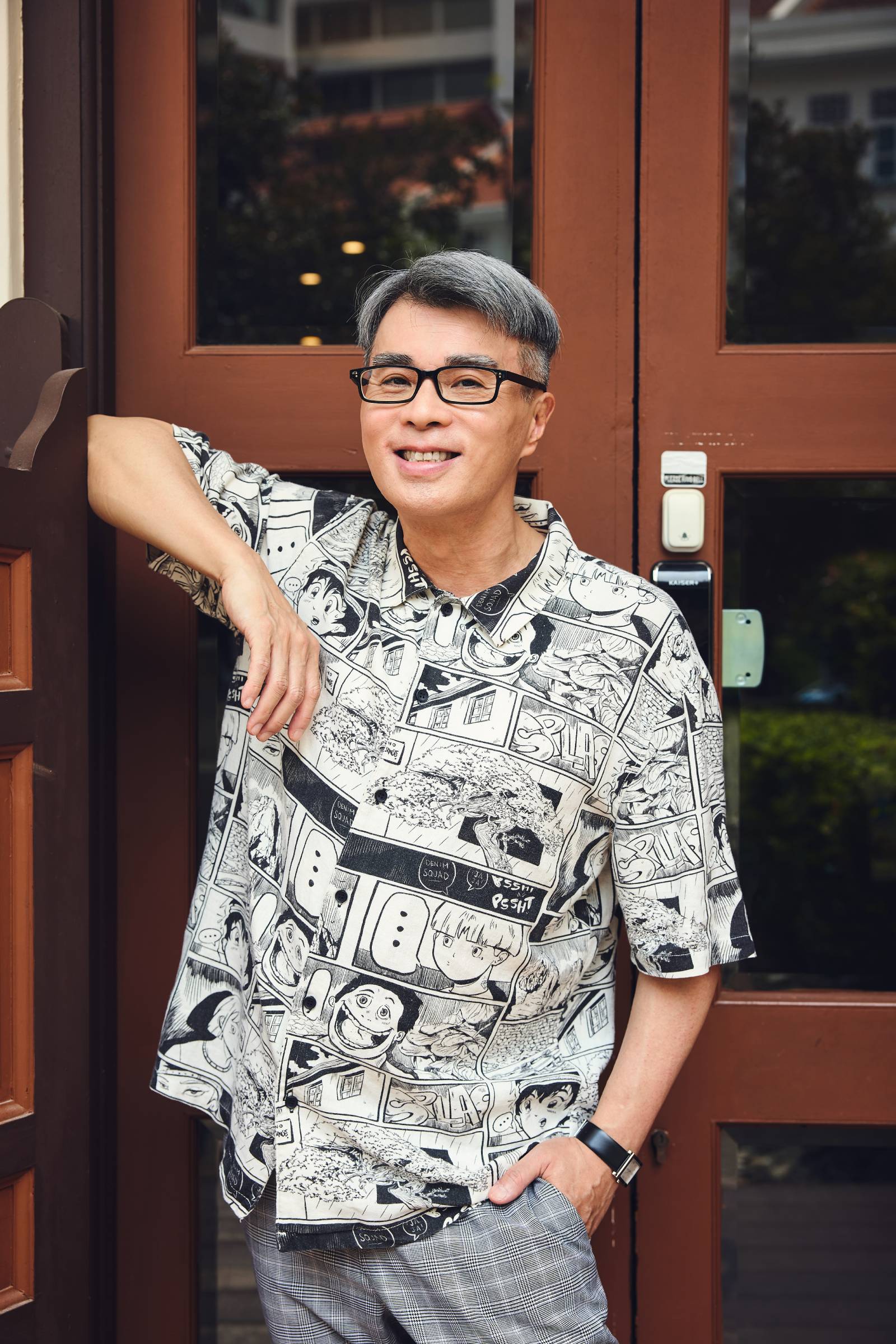 The secret to his good skin? A clear conscience, he laughs.
As it turns out, Jimmy is doing his dream job now, as the Director of Student Life at Singapore Management University (SMU).
"I'm not teaching law. Most people think I am 'cos my background is in law, right? But no, after I started singing, I threw all of my law back to my law school already," he laughed.
Jimmy's been with SMU for the past 13 years, and now manages a team of 20 staff members, who in turn, oversee the many student groups and co-curricular activities that the university has to offer.
"It's my dream job. I only wish I had someone like that when I was in university, or when I was in JC. To have someone who's been there, done that, and is able to share their experiences with you. I think it's meaningful to be able to tap on everything that I've done, and share it with younger people," he added.
And boy, does Jimmy have stories to share. The singer revealed that he basically quit showbiz after realising that well, the life of a star was really not for him.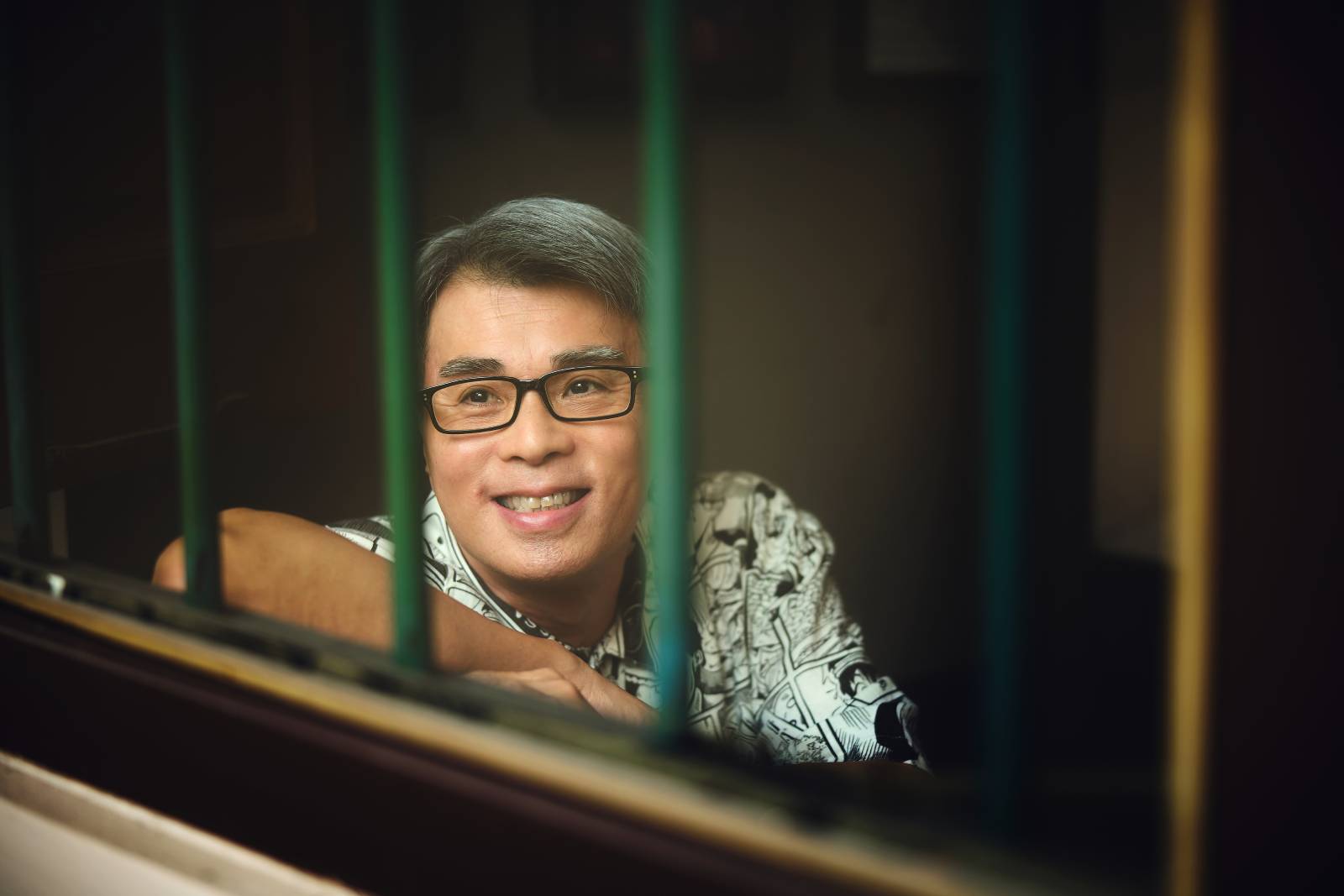 Looking back on the good ol' days.
"It was a constant life of touring Singapore, Malaysia, Hong Kong, Taiwan, and Taiwan has so many cities. I think after about six to seven years I realised that I wasn't cut out for that life. Back then, it was the pressure that got me as well. I realised that I really just preferred being in the background," he said.
"I just chillaxed for two years, and then I went to live in New York for about two years 'cos I just wanted to go somewhere where people didn't recognise me that much, and just be able to be normal," he said, adding that "it was crazy back in the '90s".
In New York, Jimmy returned to student life, attending culinary school and studying musical theatre.
Then, he came back to Singapore, where he became part of the founding team of lecturers for Singapore Polytechnic's Diploma in Music and Audio Technology, before moving on to SMU.
That's not to say that Jimmy didn't enjoy his time in the spotlight, though. During his chat with us, he was full of anecdotes about the famous songs he wrote.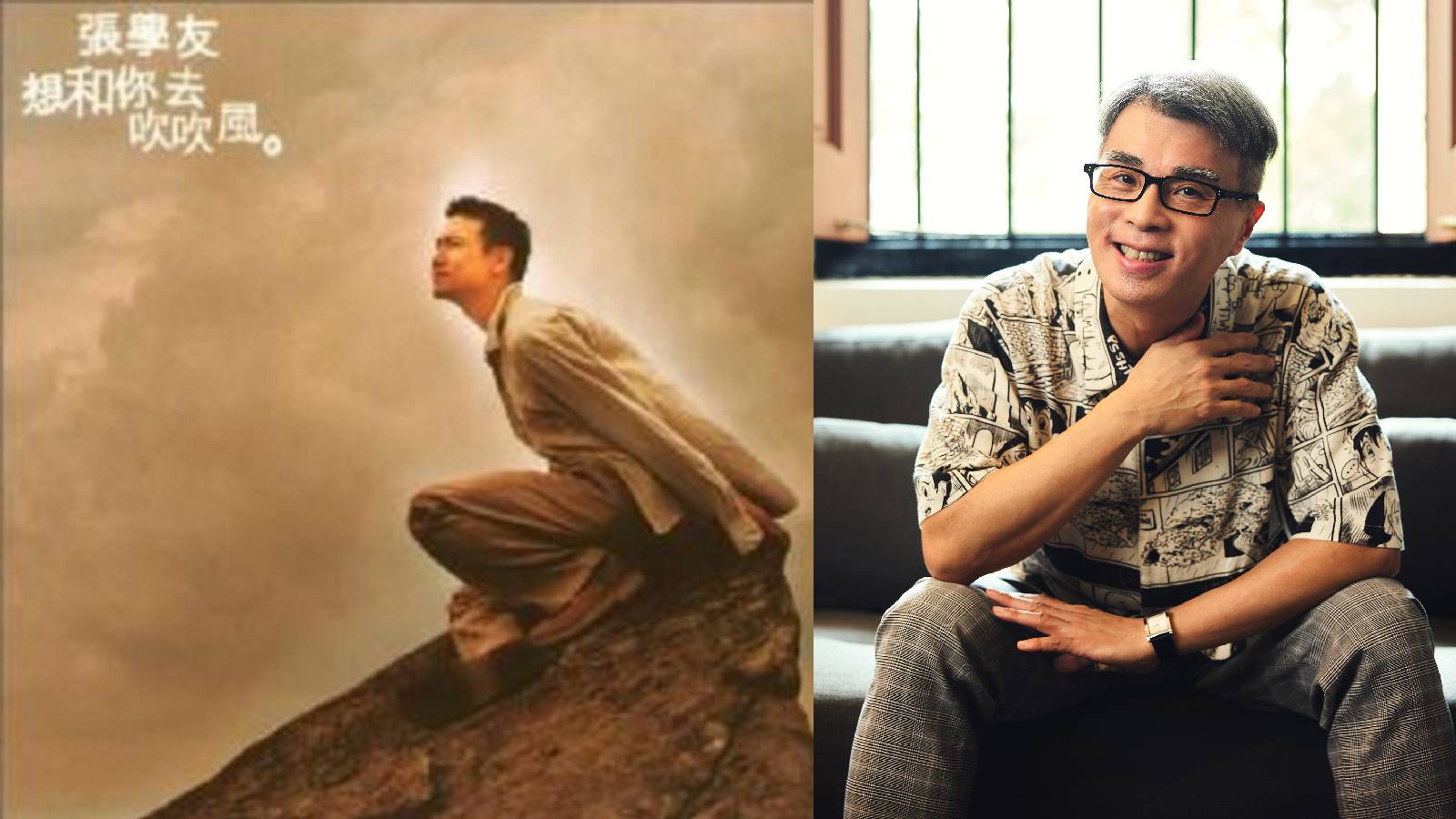 A truly iconic song.
For instance — did you know that Jacky Cheung's 'Xiang He Ni Qu Chui Chui Feng' and 'San Tian Liang Ye' were the result of one frenzied night of songwriting from Jimmy?
Describing it as an opportunity that came "without any warning", Jimmy explained that his producer at that time was also Jacky's producer.
"I suspect that he was only producing me 'cos he wanted to get songs out of me for Jacky," Jimmy laughed, revealing that he was asked to write a song for Jacky with just one day's notice.
"So I went back that night, and 'cos [the producer] told me that they were short of two songs, I didn't just write one, I wrote two. That was how gung ho I was. I was staying in a hotel room. I had with me just a small little keyboard and I didn't sleep the whole night 'cos I was so excited." he recalled.
"At that point in time, Jacky was known to be this big-voiced singer, you know, like the 'Kiss Goodbye' [Jacky's 1993 hit song] type. So I deliberately wrote one song that's like that, and one that's totally not like that. The second one was very quiet, gentle, and retrospective," he said.
The very next day, Jimmy rushed to record the demo for both songs, before passing it on to their producer. And well, the rest is history.

Jacky ended up picking both songs, with the "quiet and gentle" song, 'Xiang He Ni Qu Chiu Chiu Feng', becoming the album's title track.
"He won the Best Male Vocalist for the Golden Melody Awards 'cos of the album," Jimmy added.
'Xiang He Ni Qu Chiu Chiu Feng' was also used as the backing track for Hong Kong telco SmarTone's advertorial campaign in 1997, with the telco creating three different full-length television commercials starring Jacky, Chow Yun Fat and Tony Leung. You can watch Jacky's commercial here.
"Even talking about it now, I'm still pinching myself in disbelief," Jimmy marvelled. "All three commercials were aired in its' entirety, all 3.5 minutes of it, and the campaign was run for months!"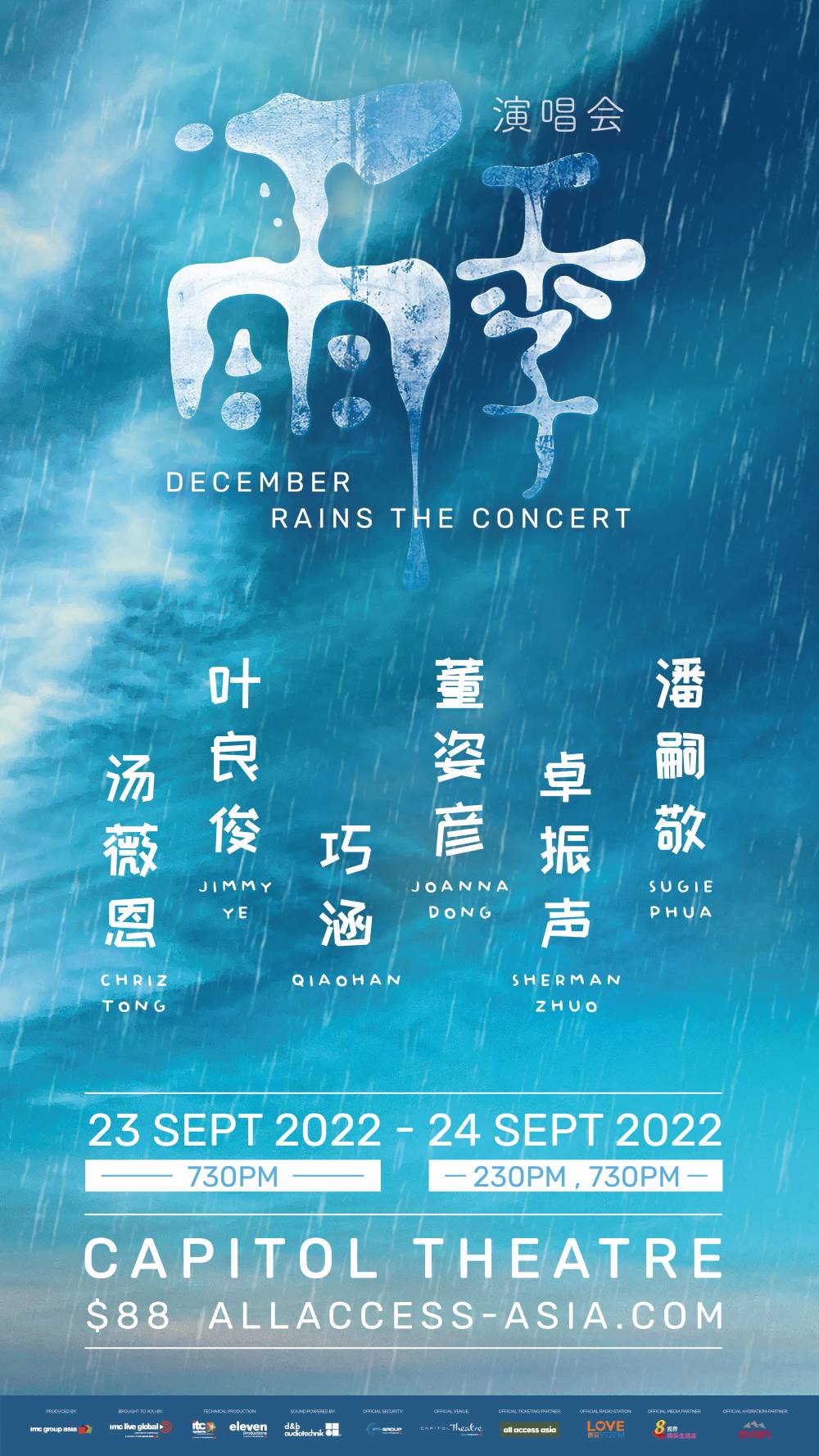 Reimagining the classic musical.
8DAYS: You're currently working on December Rains The Concert. How did the idea of adapting the musical into a concert come about?
JIMMY YE: The reason we wanted to do a concert rather than a musical is 'cos musicals are incredibly difficult to do. You need to find actors who can sing and dance, or singers who can act and dance, and so we thought a concert would be easier, since we can just find people who really can sing, and they don't really have to dance and act. 
I have vested interest as well (laughs). I wrote the songs with Dr Liang Wen Fu, but I've never ever performed them on stage. Whenever I went to any of the rehearsals at the last three versions [of the musical], a part of me would be looking on with envy 'cos it's so fun to sing and dance and act on stage. So this time round, I'm going to be a little bit selfish and kope some of the songs to sing for myself.
I'll be one of the singers singing 'Qing Ni Qing Ni Gao Su Ta', which is the most famous song from December Rains.
Another song I'll be singing is one that I'm really proud of writing, called 'Miao Xiao De Wo'. It's a song for the second male lead, and it's basically about unrequited love. Somehow or other, when I watch musicals, I don't actually root for the first lead as much. I root for the underdog, the second male lead.
You have written a lot of songs for a number of A-list singers. Are there any songs that you wished you'd kept for yourself?
Hmm... yes and no. Yes, if they were huge big hits, and then I'll think, 'Oh, if only it was mine'. But then again, if you think about it, if I had sung it, maybe it would not be a big hit, right?
And the thing is when I write for other people, I'm not writing for my own voice. I'm writing with their voice in mind, so what might work for them might not necessarily work for my voice.
So I don't really have song envy that way. All the power to them, and honestly any song that I write for someone else that makes it big and to this day is still being sung is obviously still good for me 'cos I earn royalties (laughs).
Making it big.
How did the opportunity to produce songs for these overseas artistes come about actually? 
It's a case of many things actually, now that I think back on it. I think one of the factors is luck.
Lots of people can write, I'm sure many people can write better than me. And we're not just talking about Singaporean writers by the way. Singaporean writers were the small minority back then, and even till this day, actually.
Along with luck was just being in the right place and the right time. I think that's maybe what Singaporeans lose out on, a lot of the time. If we're not there, in the centre of the industry, to be constantly seen, to be constantly networking with the producers, the artistes, fellow songwriters, the studio owners, you'd very often be ignored, right?
Back then I was already signed to EMI Taiwan, so I was in Hong Kong and Taiwan most of the time, and I'd say that that really played a large part in how my music was discovered.
Apart from recording it myself, I was meeting producers, I was meeting, you know, people like Jacky Cheung, Cass Phang, Jeff Chang, and of course, when they get to know you, they'll be like 'Hey, you write, right? So let me hear something.'
And then when you let them hear something, obviously, I guess that's the little bit of difference. So that's the third thing, ironically, even though we were like an ikan bilis, when people do hear you, that Singaporean difference does come out. The way we write, the way we sing, it's different. I think it's 'cos we listen to a lot of English pop as well. Back then, for Taiwan and Hong Kong, they were more focused on their industries 'cos they have their own industries, whereas we don't. So Singaporeans tend to be a lot more chap chye, but I think that works in our favour.
When these people listen to my stuff, they would go, 'Hey, that's not the usual way Chinese music is written', and ironically, that worked.
I'd say it's a combination of these factors lah. Luck, being in the right place, and plus actually having that Singaporean difference.
'Xiao Wan Yi' was released as part of Cass Phang's 1995 album, Chuang Wai.
Would you happen to remember what was the first song you sold?
I do, actually. I think it was sold to Cass Phang... probably in 1995.
I never thought of myself as a great singer, I just thought that I wanted to write for different people 'cos I preferred being behind-the-scenes. But when you're writing as a newcomer, nobody's going to discover you just like that. So I had to sing the demos before you can shop it to other people.
And that's how I started singing myself. People would go, 'Hey, actually you don't sound so bad, so why don't you just sing yourself?' So I did, but I never gave up on the idea of writing for other people.
I didn't have Cass Phang in mind at that point in time when I was writing and then I recorded it, and just tossed it to my Hong Kong publishers. Somehow they managed to get it to her, and her people really liked it 'cos it was really difficult to sing.
I think that's the other thing about my songs (chuckles), they're known to be difficult to sing, so only the top-notch vocalists would dare to take them on.
I think she wanted to prove that she could sing it, so she took it. And it was a song called 'Xiao Wan Yi' (小玩意), or 'Little Plaything'. But it was recorded in Cantonese right, so 'Siu Woon Yi'. It actually refers to the wedding ring, that's how cheem the Cantonese was. It took me a while to even realise what they were referring to 'cos 'Xiao Wan Yi' just means little plaything in Chinese, but it's actually a metaphor for marriage, and it was a big hit in Hong Kong in 1995 and 1996.
It took me by surprise. I remember getting a phone call from Hong Kong, and it was like, someone's in a department store, and the song's playing in the store, or someone's walking past the mall, and it's playing in the mall, on the radio.
It won a lot of awards, and that's how I got signed with EMI Taiwan actually. Cass was with EMI Hong Kong, and EMI Hong Kong and Taiwan have the same managing director.
I've got to thank 'Xiao Wan Yi' a lot. I was quite spoilt 'cos my first song became this big thing. And back then, it was quite a lot of royalties, so I was like wow, I've hit the big time. Little did I know... (laughs). It was quite amazing. I really remember that, I'm really thankful to that song.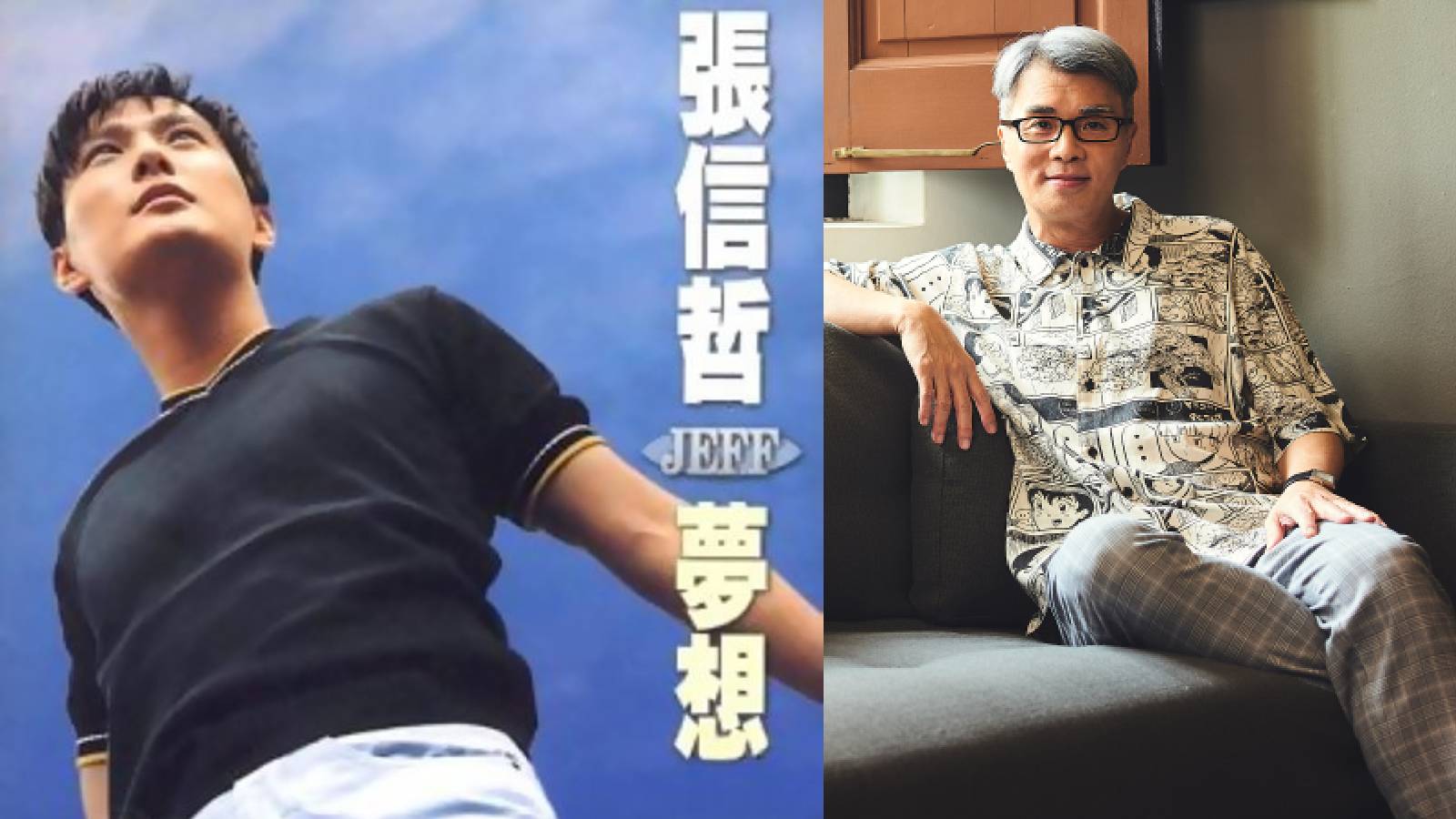 'Tai Xiang Ai Ni' was the title track of Jeff Chang's 1996 album, Meng Xiang.
You mentioned that you write your songs with the intended artistes in mind. How was the process working together with these stars?
With Cass, yes, 'cos we were in the same record company, so we kind of got to know each other and then we hung out.
It took a while 'cos she was already a Heavenly Queen, right, and I was like a nobody from Singapore (laughs).
But in reality, she's actually very nice, and she's very down to earth, and her parents are actually from Malaysia, so I think with Singaporeans, she felt that closeness, that kinship. We would hang out whenever we were in the same city as she was travelling a lot, I would kind of visit her in her suite, in the Far Eastern.
When I subsequently wrote other songs for her, even with December Rains, she would come to watch it, and there was always some form of collaborative consultation before I write.
And then with Jeff Chang as well, he was my senior in EMI Taiwan, so again, when I wrote 'Tai Xiang Ai Ni' (太想爱你) for him, I already knew that he was looking for a song.
And I think if I'm not wrong, that song was his second coming.
They'd already recorded a whole album of songs, more than 10, but they just felt that something was missing. I happened to be in EMI, and he was in the company, so he was like, 'Hey you, you write right?'
So I kind of trotted out some lyrics that I had on hand.
He didn't quite like the lyrics 'cos the lyrics I had were Singaporean lyrics, but the Taiwanese didn't like that style — they had their own way of writing.
So he said, 'Okay, I really like the melody, but I want to change the words', and I went 'Sure!'
A lot of these [opportunities] were just me being lucky. Even when I wrote for Andy Lau, it was 'cos I met him. I wrote a song for him, [You Xin Wu Li (有心无力)] and it wasn't a big hit. But I still like it to this day, and he actually liked it so much that he wrote the lyrics to it himself.
He really looks after newcomers. He's not the bochup type. He's really quite encouraging. so he was like, 'Let me hear some of your stuff'. I let him, and he was like, 'Oh I want to write the lyrics to this'. And well, you don't say no to Andy Lau (laughs).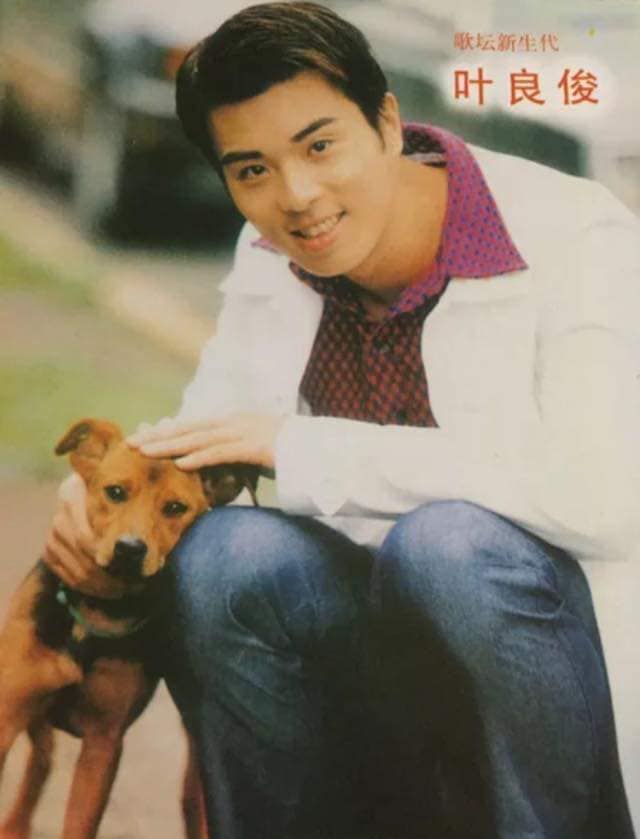 30 years already?!
So... next year will be your 30th year in showbiz.
Yeah, my god 'cos I started in 1993.
Do you have anything special planned for that?
Actually I haven't thought that far. Now that you said it, it's actually crept up on me (laughs).
Yeah, I should do something special, but I don't know what. I also don't know whether people will still want to come and watch [me].
Concert tickets are so expensive. I'm always constantly aware of what I'm asking of my audience, and it's so paiseh. It's one thing to feel that people like your music and support you, but it's another thing when they have to pay. And they have to pay quite a lot.
Concerts are expensive and a lot of the money isn't actually coming to me. It's to pay all the cast and crew and musicians and everything. So you can't do a concert and charge too cheap 'cos you would lose money. But then if you want to cover the costs, your poor audience will have to pay at least $88 and above.
I wish I was in a position to just do a concert for free 'cos my goal is to just share my music with people who want to hear it, the money is secondary. But you've got to pay a lot of people. But yeah, you're right, I've gotta do something for my 30th anniversary.
December Rains The Concert will be held at Capitol Theatre on Sep 23 2022 at 7.30 PM and Sep 24 2022, at 2.30 PM and 7.30 PM. Tickets are priced at $88 each, and are available here at AllAccess-Asia.com.
Photos: Mediacorp/Photo Unit,IMC Live Global, Jimmy Ye/Facebook