Kawaii Cat Shokupan & Bear Bread By Home-Based Baker Make Fun Christmas Gifts
The adorable loaves are sold by a homemaker who "didn't even know how to work the oven before the pandemic".
If you're a cat lover or simply a fan of all things Japanese and cutesy, this kawaii kitty-shaped Japanese milk bread (shokupan) might tickle your fancy. These meow-nificent treats are created by self-taught baker Lu Ya Xin aka Cai Mama (her hubby's surname is Cai and "that's what my kids' friends call me," she explains).
The circuit baker was so hooked on baking that her kids, who got "very tired of eating [her] bread", encouraged her to sell them. In September, the 61-year-old homemaker started Cai Mama Shop selling milk-based breads and buns. Japanese milk bread is known for its distinct slightly sweet flavour and fluffy, soft, creamy interior.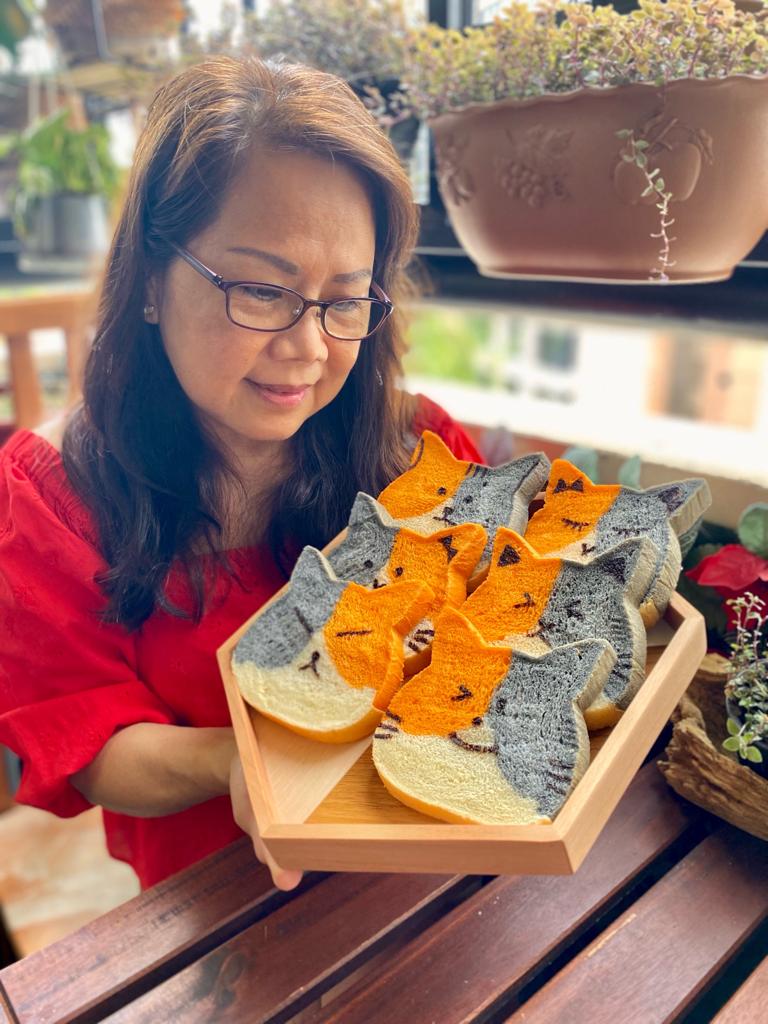 She couldn't even bake two years ago   
Cai Mama tells 8days.sg that she never wanted to start a business. In fact, she didn't even know how to bake or work the oven before the pandemic.
"I was stuck at home and very bored, so when I saw bread recipes on YouTube, I decided to give them a try. My first attempt was a sakura-shaped bun. It turned out like a rock," the cheerful Cai Mama says in Mandarin.
"But I told myself that I cannot give up — this is the auntie spirit. I was determined to master it, so I kept practising and tweaking the recipes. I made a lot of bread and wasted a lot of flour."
Cai Mama says she's especially drawn to Japanese bakes 'cos she likes cutesy things. She only started baking cat bread in January after stumbling upon the kawaii loaves online.
"I couldn't resist it. I love cats, but I can't keep them 'cos I have asthma, so I told my daughter to buy the cat-shaped bread tin for me to make bread," she says.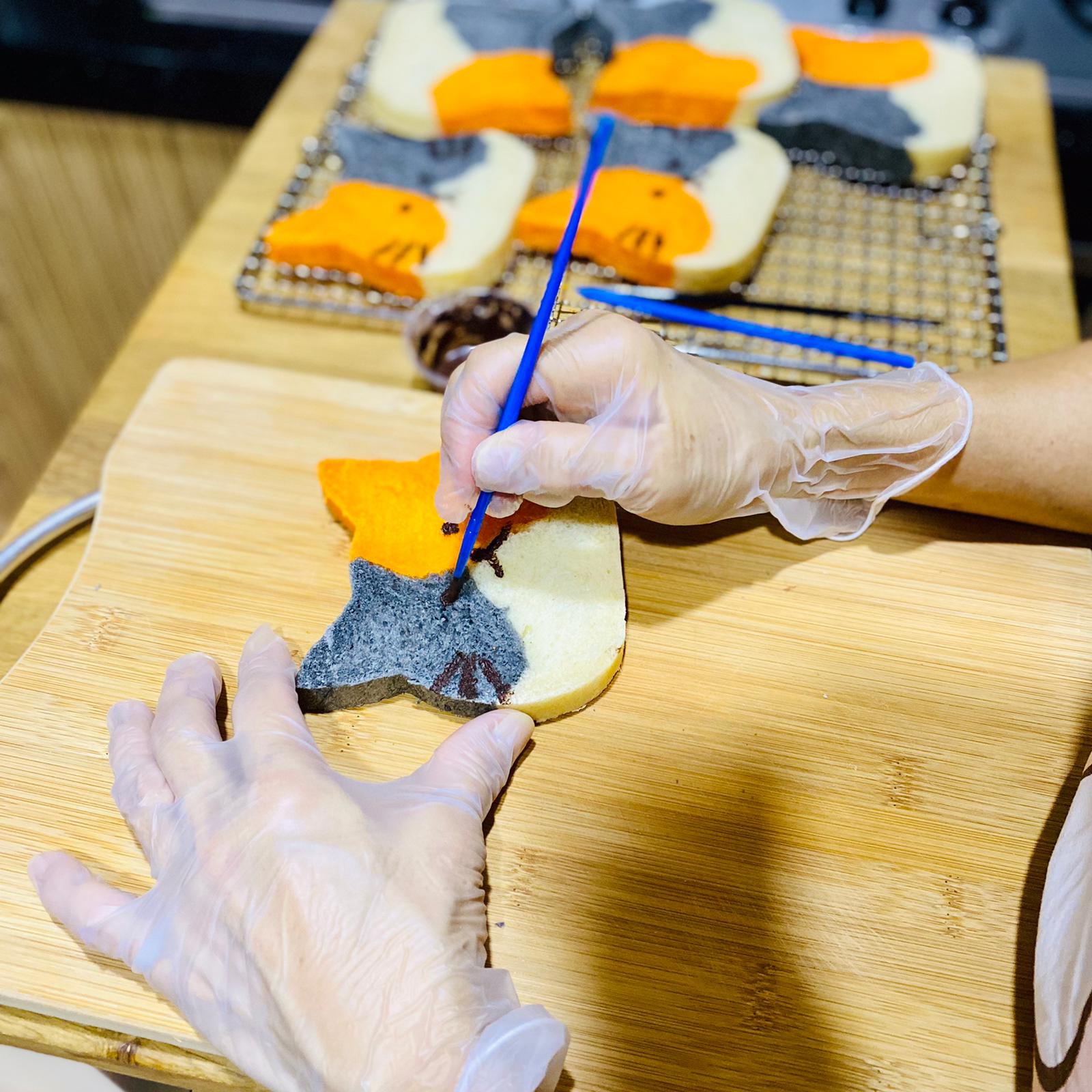 Bringing the kitties to life
It took her almost eight months to perfect the bread. Cai Mama's milk bread is made using a starter (a mixture of flour, water and yeast that's been left to ferment), which is mixed into the bread flour dough. This ensures the bread turns out fluffy and airy. She then infuses it with natural colouring made from ingredients like cocoa powder and dehydrated fruits and vegetables.
"The pink comes from beetroot. We dehydrate beetroot slices for hours, before pounding it into powder form to mix with the dough. This is the same for pumpkin," shares Cai Mama's daughter Chrissie Cai, who helps with the biz.
The most challenging part is drawing the cat's faces which are painted freehand using "ink" made from cocoa powder and milk. Each loaf has six thick slices of bread, each with a different expression. They also come in various colours — you can choose from six options.
"When I first started drawing the faces, it was a mess. The features were not balanced. It took me around 20 minutes to work on each slice 'cos I had to be very careful. I could not afford to make any mistakes 'cos I do not have extra slices to replace them with. But I am better now. I only take five minutes," says Cai Mama, adding that each 360g loaf takes around three hours to make.
Though the process is tedious, Cai Mama insists on doing everything herself as she "has OCD". Chrissie, who is in PR, helps with social media and to coordinate orders.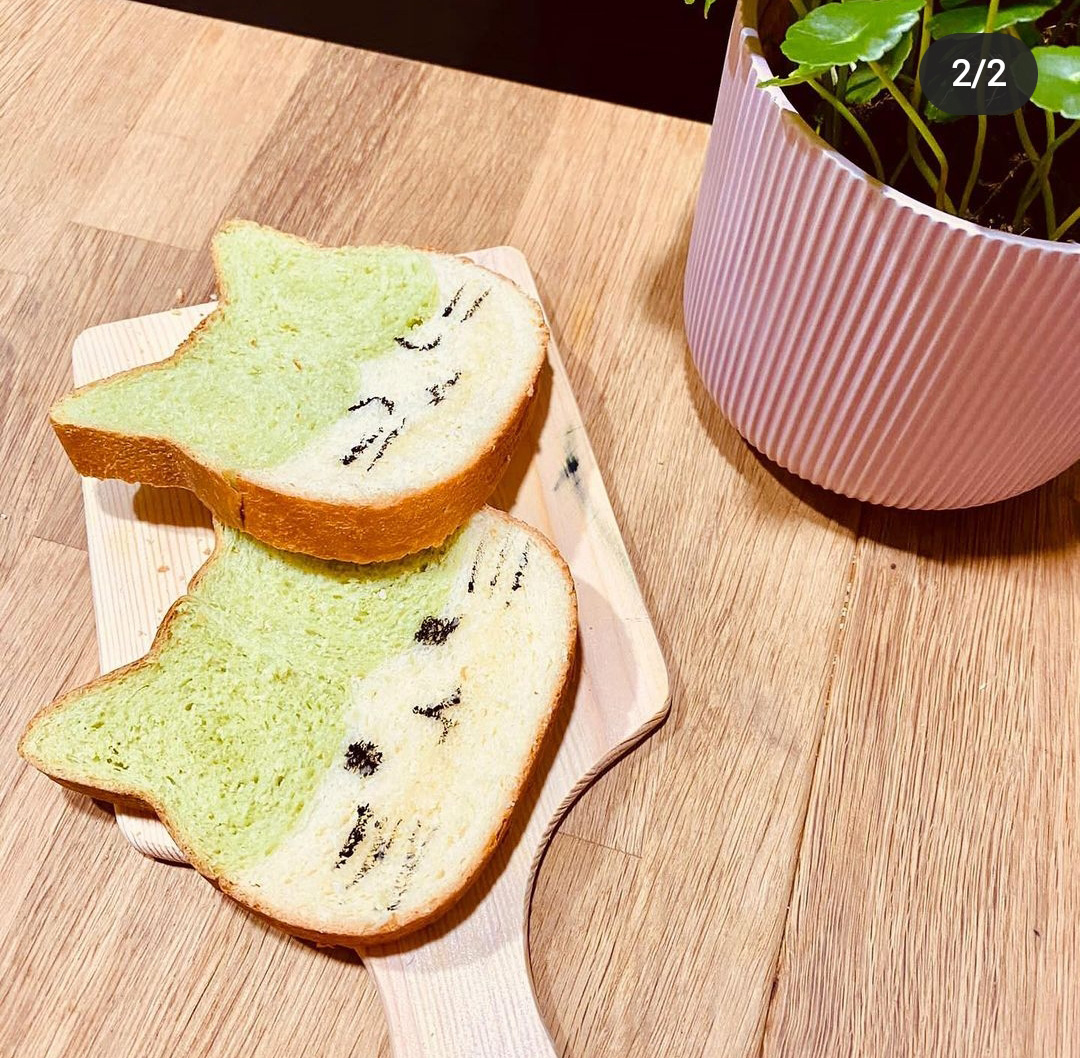 One of Cai Mama's first kitty offspring
Didn't think they were good enough to be sold
Running the biz has been most gratifying for Cai Mama. She shares modestly that it brings her a sense of accomplishment as she never thought her bakes were good enough to be sold.
"Initially, I was reluctant to start the business 'cos how can my bakes compare to those sold in bakeries. So lao kui. But everyone told me that if I don't know anything I should keep learning and trying. I am so happy that no one looks down on my bakes," she says, adding that she's delighted when customers share creative ways they have been enjoying her bread, such as rainbow-coloured cheesy toast.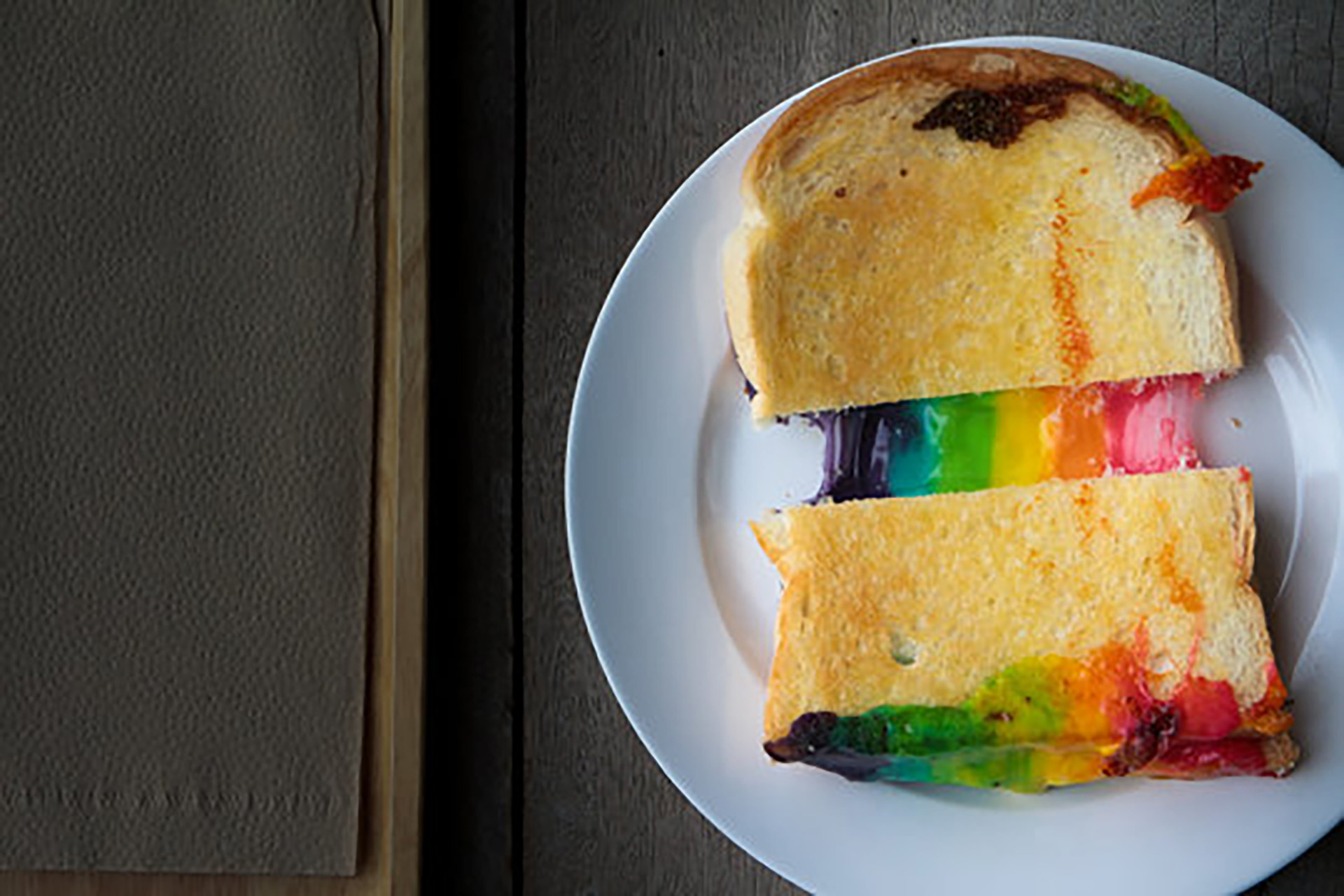 Photo: Shutterstock
Other than cat bread, Cai Mama also sells pumpkin buns, pull-apart breads, and cinnamon milk toast, as well as festive specials like bear-shaped bread and Panettone (Italian mixed fruit bread). She also plans to introduce other kawaii bakes like a bunny-shaped bread in the near future.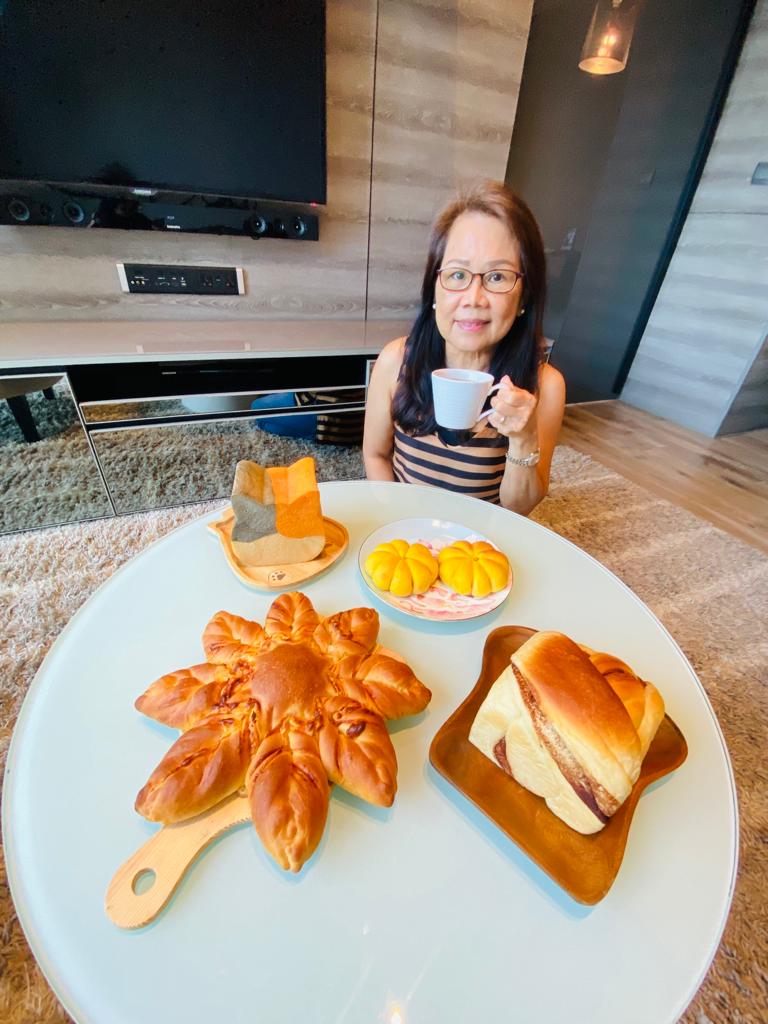 Blessed but also stressed
Despite only opening Cai Mama Shop in end-September, her adorable treats have attracted a following and she now sells more than 100 items a month. Some days, Cai Mama is so busy that she can barely cope.
"I once received an order for 20 items. I was so stressed that I lost 2kg. I asked myself why am I still working so hard in my 60s. The next day, I told my daughter, I didn't want to do this anymore," she laughs.
The family now limits orders so that Cai Mama gets about two days off a week. "She is after all 61 and she is not out to make a living. This is a family COVID strategy to keep her at home," says Chrissie. "This is her passion and she's just happy that she can do something of her own."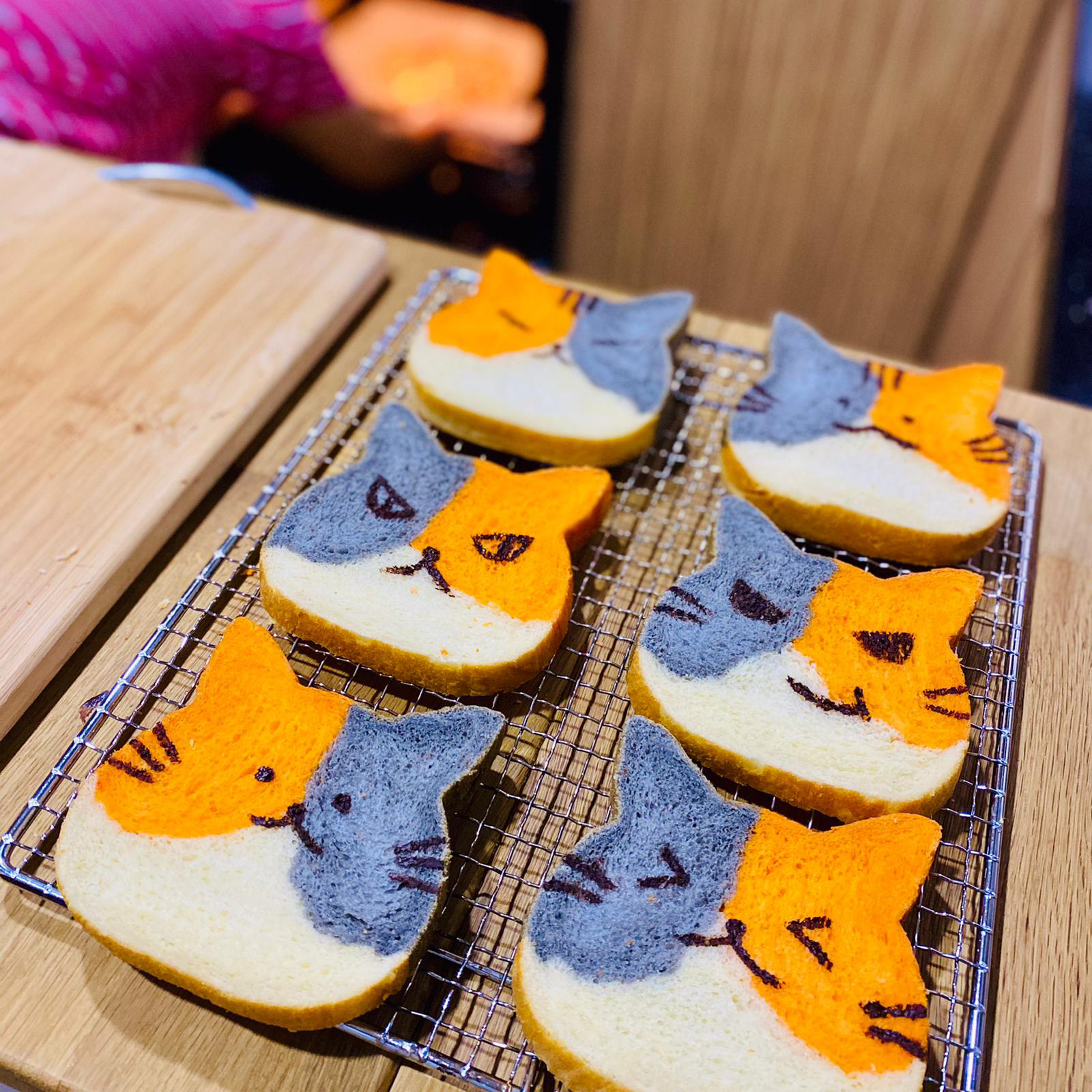 Neko Pan, $10.90 for six slices
The bread has a faintly milky fragrance and flavour. And though fluffy, it's a little denser than other non-animal shaped breads here, perhaps because the dough has to be compacted into a mould. We got the signature orange and grey Neko Pan, which is modelled after a stray cat in Cai Mama's neighbourhood. Activated bamboo charcoal and dehydrated pumpkin are used to give it its hue and a hint of pumpkin taste. They are too cute and we're a bit reluctant to bite into the cheeky, smirking faces. You can opt for different colour combinations (also available in pink, brown, and yellow) or have it plain. The slices are pretty thick (around 2cm) 'cos Cai Mama likes them "gao". Not that we're complaining, in fact, it's even better for soaking up the eggy mixture when making French toast.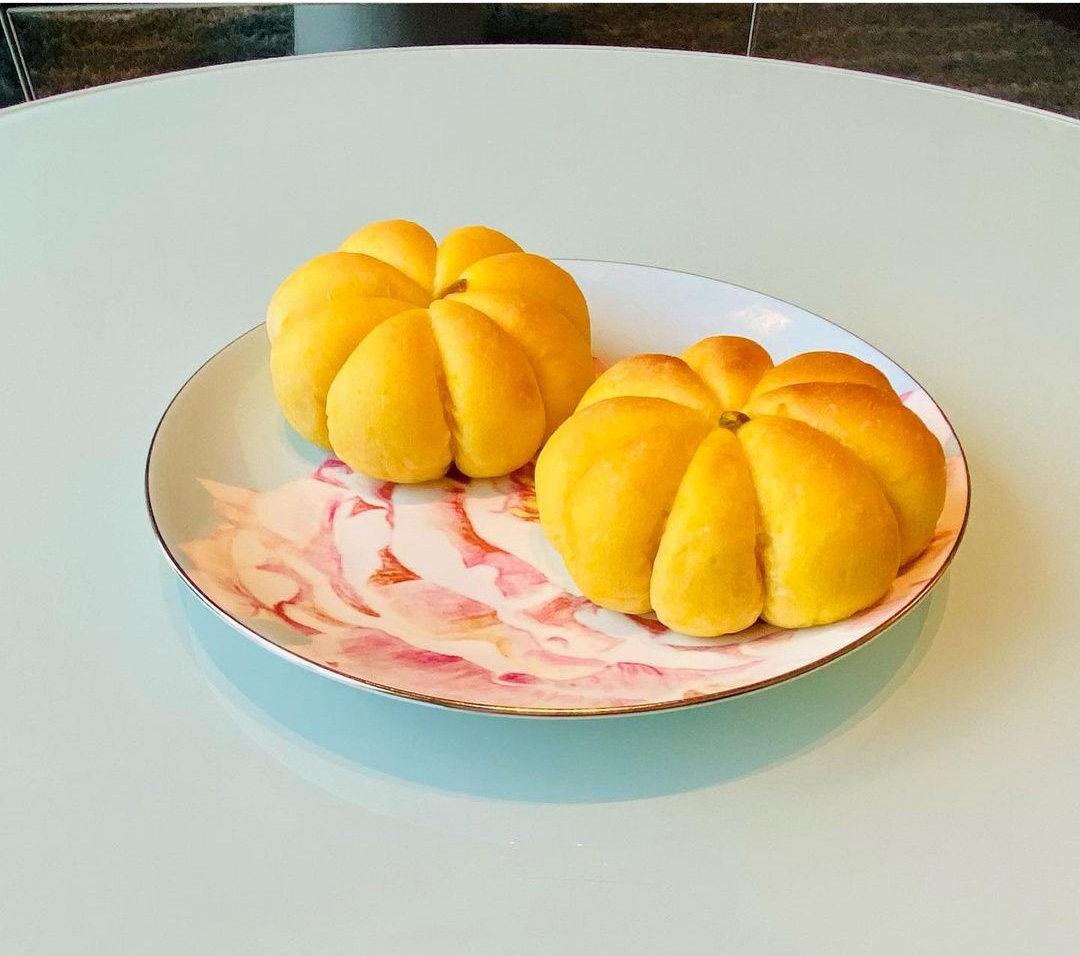 Kabocha, $5.50 a pair 
These cute pumpkin-shaped treats are one of Cai Mama's bestsellers and we can see why. This bun, which consists of a smooth kaboucha (Japanese pumpkin) and cream cheese filling nestled in pumpkin-infused milk bread, has just the right balance of sweetness and creaminess. Delish on its own, even better when lightly toasted.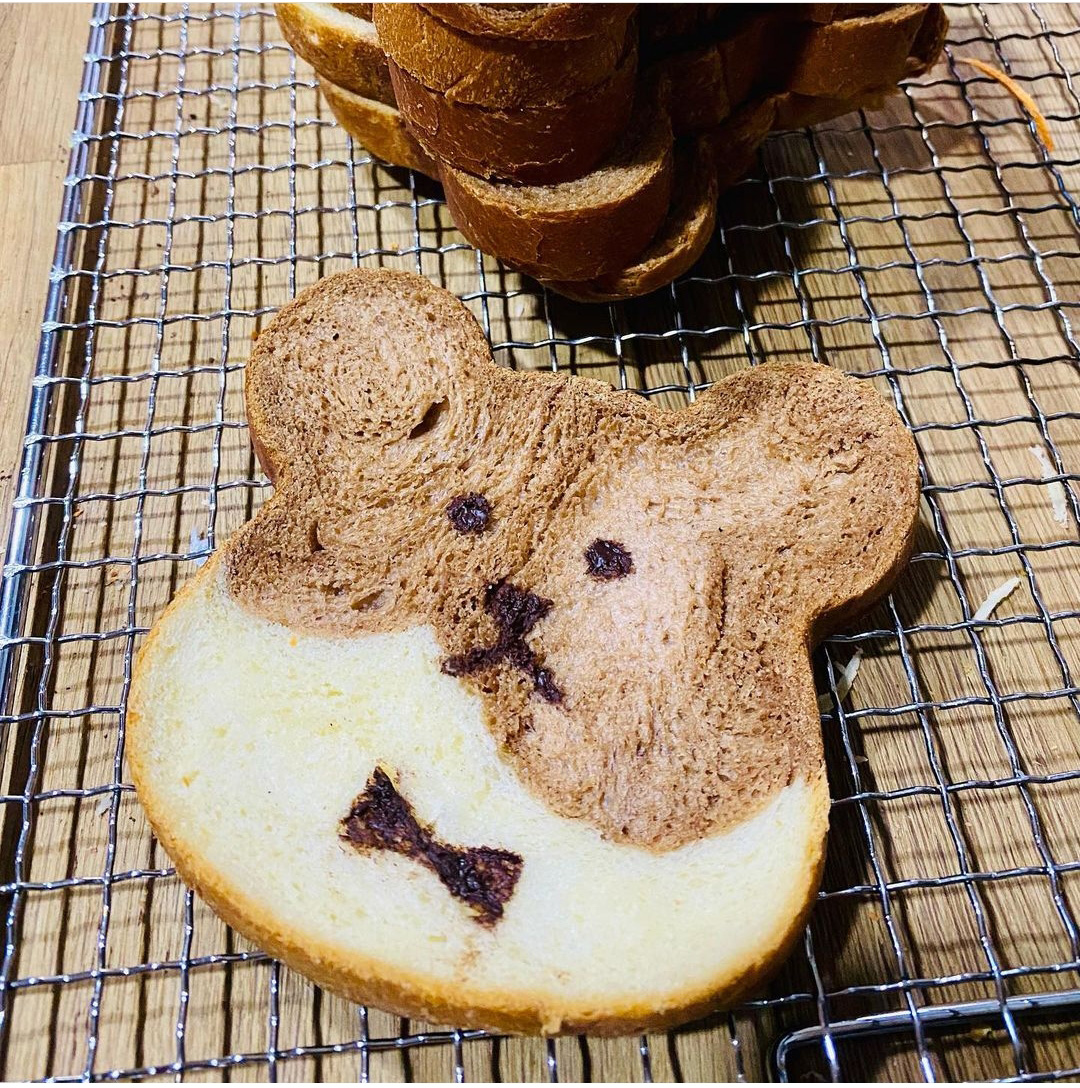 Kuma Chan, $10.90 for six slices
We LOL-ed when we saw our chocolate-flavoured Kuma Chan with its deadpan expression — kinda resembles Brown from Line Friends, don't you think? Taste-wise, we wished the chocolate flavour was a little stronger. But still yum when toasted with a generous spread of butter. Kuma Chan is part of the Cai Mama's festive offerings which are available till Dec 31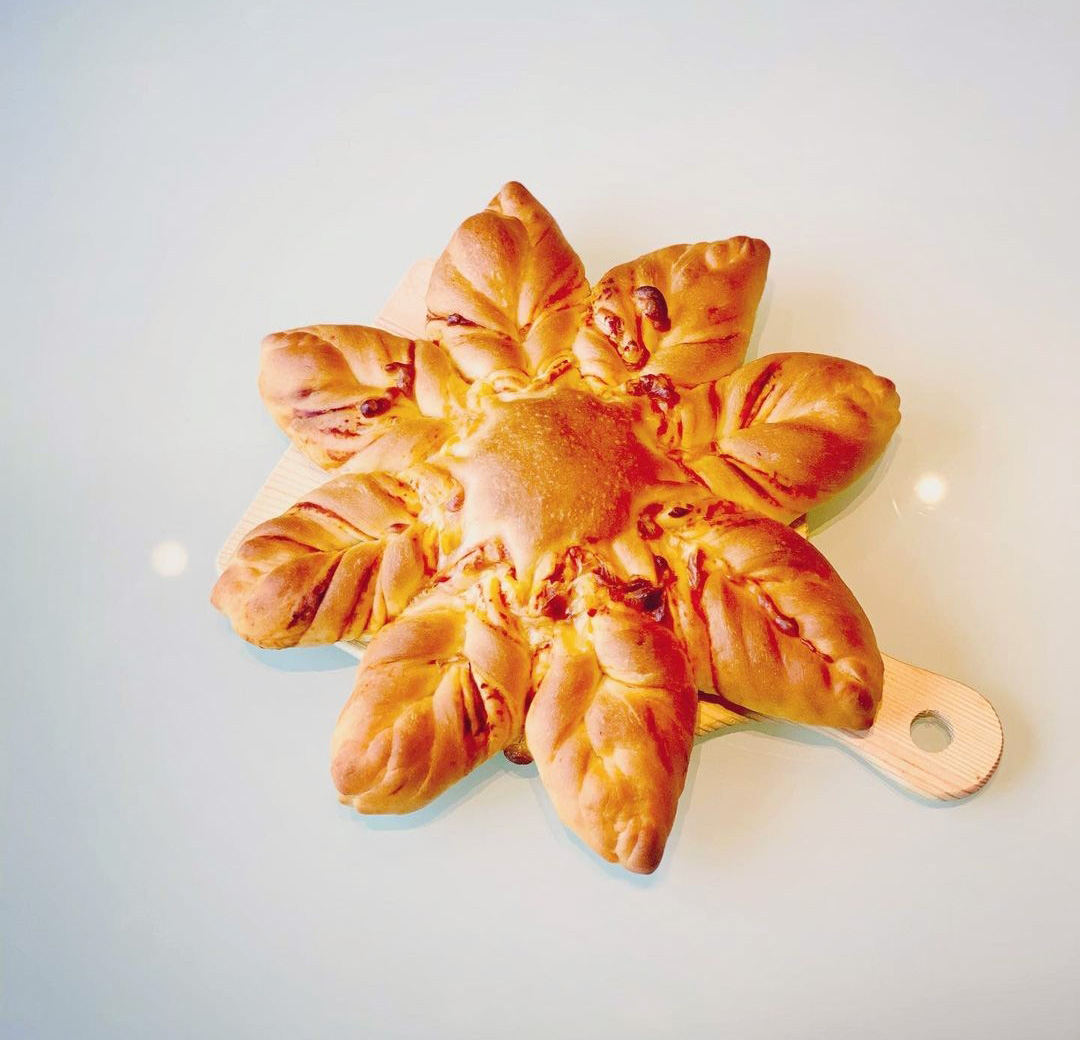 Kazahana, $11.90
This snowflake-shaped pull-apart bread comes layered with tangy tomato paste and either cheddar or mozzarella cheese, "depending on what's available in the supermarket". While we enjoyed the soft, fluffy bread, we found the tomato and cheese flavours a tad faint. We recommend toasting the bread to bring out the flavours and give it a crisp crust, but don't expect any cheese pull, though. Also available in garlic butter flavour.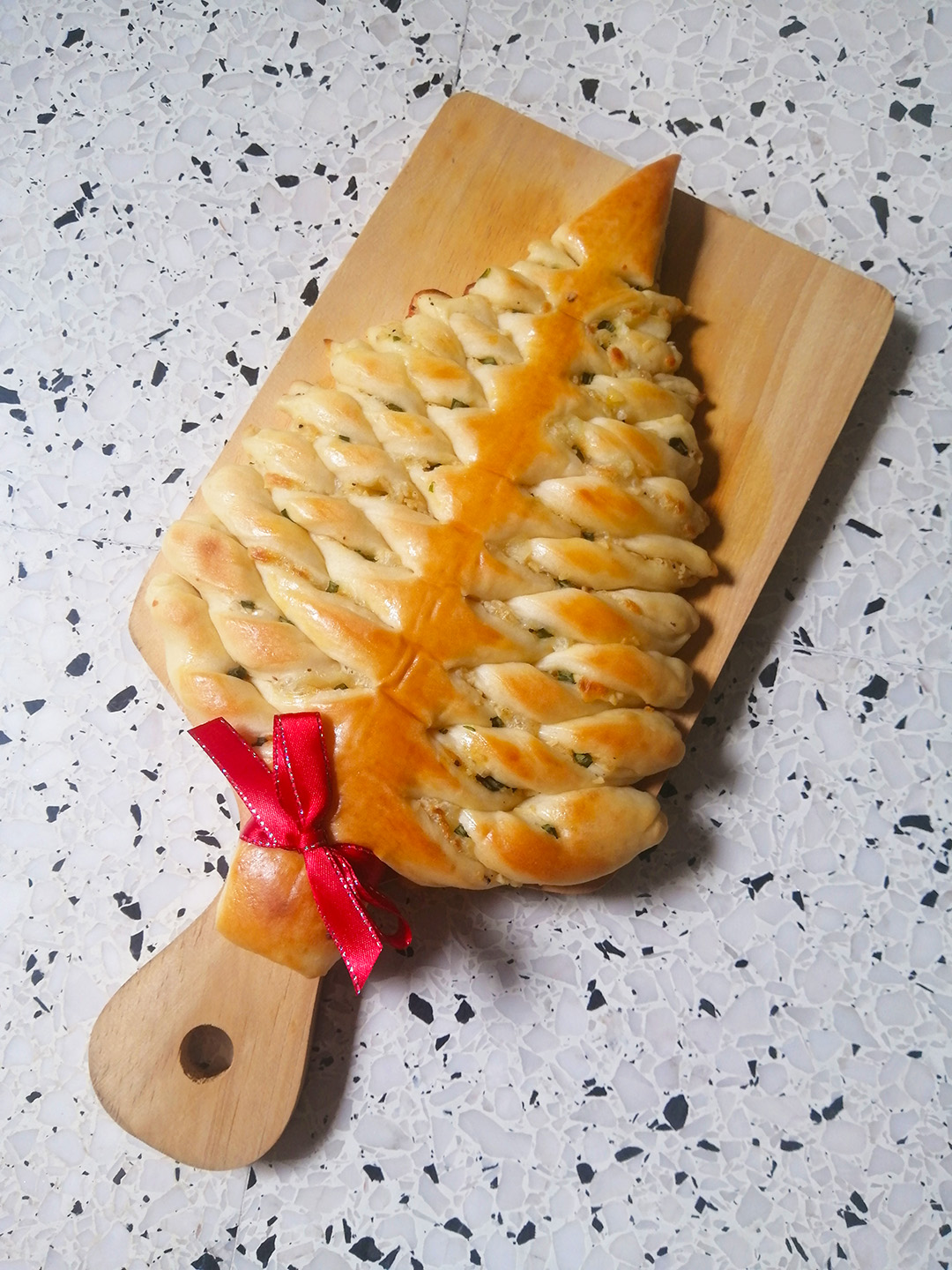 Pull Apart Tree, $8.50
Instead of tomato and cheese, this pull-apart Christmas tree has garlic butter and pepper sandwiched between milk bread layers and studded with spring onions which look like baubles on a tree. Very garlicky — we especially like the bits of garlic — but it could do with more butter.
To order, visit caimamashop.com. More info at https://www.instagram.com/cai.mamashop/.