Li Nanxing & Chen Liping Reunite With Good Morning Sir Cast After 34 Years
Aiyoyo, it's been that long?!
Sure it's been 34 years since the drama, and yes, the cast members of 1989 Mediacorp drama Good Morning Sir may not exactly remember the names of their characters anymore, but one thing's for sure — one song is all it takes to jog their memory.
The theme song, sung by Li Ji Mei, was an instant blast to the past for the cast members who were present for the latest episode of The Reunion.
For the few of you have are unfamiliar with the drama — Good Morning Sir revolved around Chen Liping's Shen Rong, a ditzy teacher, who's posted to teach at school in a fishing village. She's initially 'bullied' by her students, but her kind ways eventually wins them over, and she even wins the heart of the village's resident Chinese doctor, the bespectacled Zhou Wenjie, who was played by Li Nanxing.
Rewatch the entire series on meWATCH here. The first episode is embedded as well. Our story continues below.
Apart from Liping, 57, and Nanxing, 58, the cast members who were present for the reunion included Hong Huifang, 62, who played the headmistress of the school, Jin Yinji, 75, who played Shen Rong's mum, as well as former actor Wang Chang Li, who was the antagonist, and the second headmaster of the school.
During the episode, Liping shared how her "Aiyoyo" catchphrase came about, and also reminisced about how different filming for the show was, since a large part of the show, which was set in the '50s, needed to have a rustic, kampung-like vibe.
"The kids helped us get into character," Nanxing shared, while Chang Li lamented that "filming locations like these don't exist anymore".
David (above) and Ying Ying (below).
While there were special appearances by two former child actors who appeared in the drama, both of them were coincidentally overseas when the reunion episode was filmed.
David Leow, 50, who played the oldest student Lin Apei, video-called from Bali, and Ying Ying who played Nanxing's younger sister, Zhou Wenfang, sent in a video message from Hong Kong.
David shared that he really cherished the time he spent filming, calling it a wonderful memory.
He shared: "I asked a few people, and even asked Nanxing about becoming an actor in the future. He was honest with me and said, 'if you have other options, you should consider that first'."
Nanxing, who appeared to have his memory jogged by that anecdote, agreed, going on to add that he told David his acting was "very convincing and natural" and that he should become a professional actor.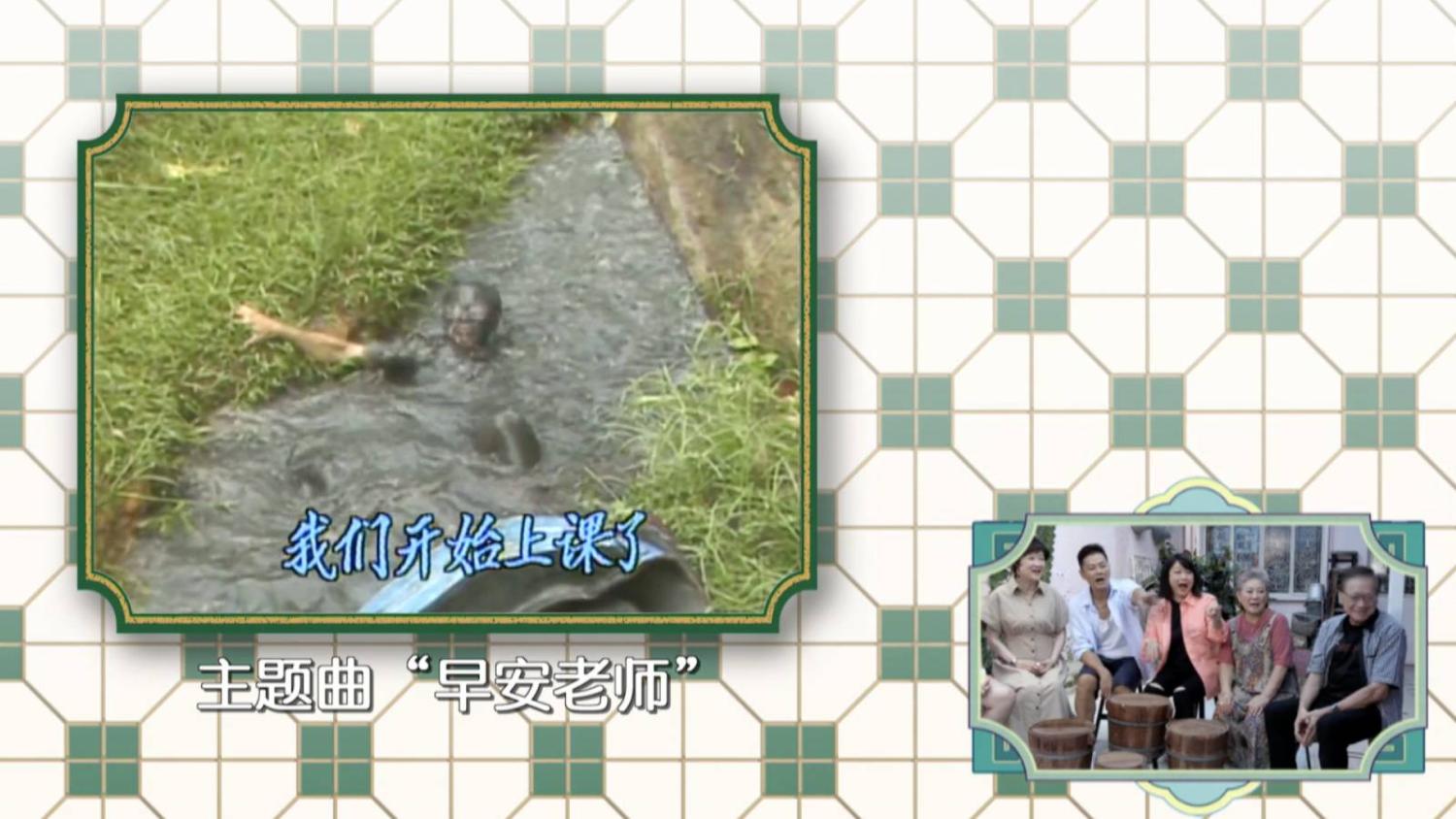 Poor Puay Heng.
The cast also had a good laugh over former actor Hong Pei Xing's scene, where he fell into a muddy ditch and emerged covered in dirt and grime.
"Pei Xing cracked me up," Liping laughed.
"He complained to me that even after showering for three days, he still couldn't clean himself up," Nanxing chimed in.
"[It was really that dirty], he didn't need make-up to make himself look dirtier," Liping added.
Watch the full video below.You can also catch this reunion episode (and all subsequent ones) here on meWATCH.
Photos: meWATCH