Lin Peifen Bought This $1.4M Condo In The Northeast To Get Her Son Into The Primary School Of Her Choice
The YES 933 DJ also did not hold back when it came to her furkids, spending $7K to have a playground built for her three cats.
Like many Singaporean parents, YES 933 DJ Lin Peifen and her husband, a computer engineer, decided to move house so that their son Luke would have a better chance of entering the primary school of their choice.
The couple, both 40, used to live in the west. Last year, they bought a condo for "less than $1.4million" in the northeastern part of Singapore, just so they could be within one kilometre of the chosen school. The strategy paid off. And now that Luke, 7, is in the school, Peifen will not face a problem enrolling her younger son, 21-month-old Jude, there four years later.
As Peifen was from a girls' school and her husband's primary school is no longer around, she could not enrol Luke into their alma maters, so she picked a school "based on feeling".
"I am Catholic, so I started searching for Catholic schools. I like this school as there seems to be a Chinese culture, which is important to me," she tells 8days.sg. "Then I used the OneMap app to find condos within 1km radius of the school and started going for viewings."
Peifen was already drawn to the 29-year-old apartment when she first viewed it in 2020. The 1,500 sq ft three-bedroom, three-bathroom unit is bright and spacious with a rectangular layout. 
Her only complaint is that it's on the fourth storey of the walk-up apartment. "My husband kept saying, 'There's no lift. When you go on trips, you have to carry your luggage [up flights of stairs].' Then I was like 'Okay, let's think about it'," she laughs.
They ended up sitting on it for six months, buying the apartment last May, "just in time" for the school registration in July.
While Peifen admits that she is "quite kiasu" for "going on a limb" to buy the condo to get her son into the school, she is considered "last minute" compared to many parents.
"Do you know that people who plan to move start looking for homes when their kids are three or four years old? I only started when Luke was five, when I had to start considering his primary one registration. And in the end, we still didn't buy this place straightaway 'cos we weren't sure," she says.
All photos cannot be reproduced without permission from 8days.sg.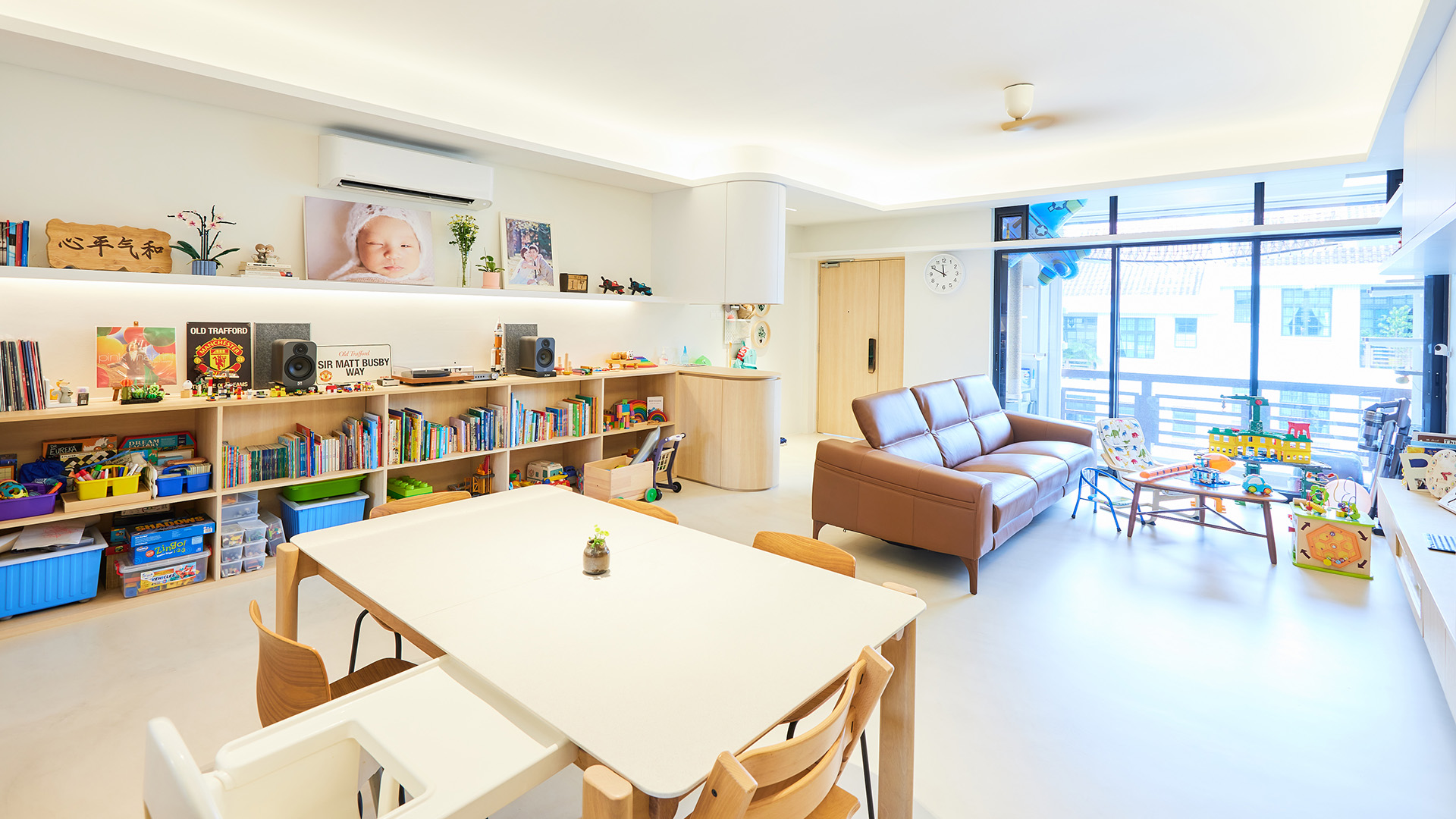 While they made it for the registration, Peifen and her family did not manage to move in before the school term began as renovations took much longer than expected.
"Due to manpower shortage, renovation work, which was supposed to take two months, ended up taking five and we only officially moved in in March. There were also some errors in the carpentry work, so we had to redo quite a few things. It was frustrating," she laments.
The renovation cost about $150,000, the bulk of which was spent on carpentry, which came up to around $60,000.
The Japandi-style home features lots of white, wood tones and textures that make the space feel bright, warm and cosy. 
"I've always liked this style, so I told my interior designer I wanted something clean, simple, and Japan-ish. I can't really do minimalist 'cos how to be minimal when you have young kids?" says Peifen, pointing to her sons' toys scattered around the house.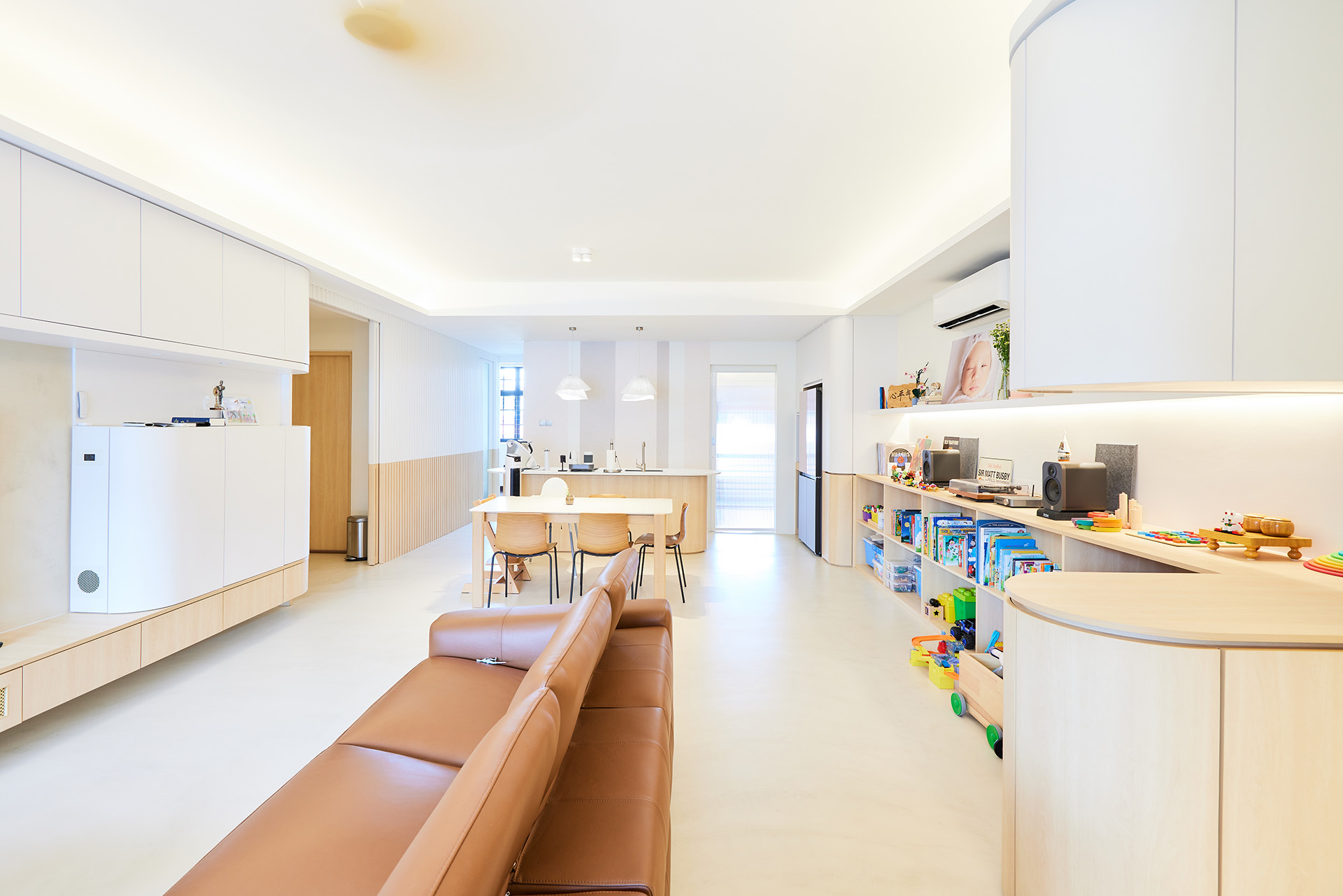 Curves, here, there, everywhere
The first thing you'll notice as you enter the apartment are the curves, a running theme through much the apartment. Not only were curve design elements incorporated into the ceiling, walls, and cabinet design for the aesthetics, Peifen also picked furniture with soft and rounded edges so it's safer for the kids.
To add dimension and visual interest, fluted panels were used for part of the dining room wall and sliding door, and much of the cabinetry was clad in white and light wood laminate to create the half-painted wall effect. This also makes the house look "less plain and heavy".
To save cost, microcement, which looks like concrete, was applied over existing floor tiles in the living area and kitchen, while the parquet flooring in the bedrooms was varnished to give it a new lease of life.
Designed with her kids in mind
Sharing the living space is the kids' play area. Though storing books and toys on open shelves can make the area look cluttered, Peifen insisted on having the cubby holes so the boys have easy access to their stuff.
"I tried to design the play area [like a pre-school] with open shelves so that the kids can see their books and toys. In our old place, everything was kept in cupboards and while it looked very neat, they rarely played with some of the toys 'cos they didn't remember where they were or couldn't reach them," she explains.
The shelves also allow Peifen and her husband to display their collectibles, sons' artwork and "things that are meaningful to [them]".
"[The calendar shows] our wedding date so we don't forget, and the wedding photo, which used to be tucked behind the TV, can finally be seen," laughs Peifen. 
"
I got the
心平气和
xin ping qi he
('calm state of mind') sign custom-made for $180
. It's a reminder to myself 'cos when I walk out of the bedroom every day, this is the first thing I see. And when I scold my kids, I usually stand [by the dining table] so I will see it too. Quite sad right?"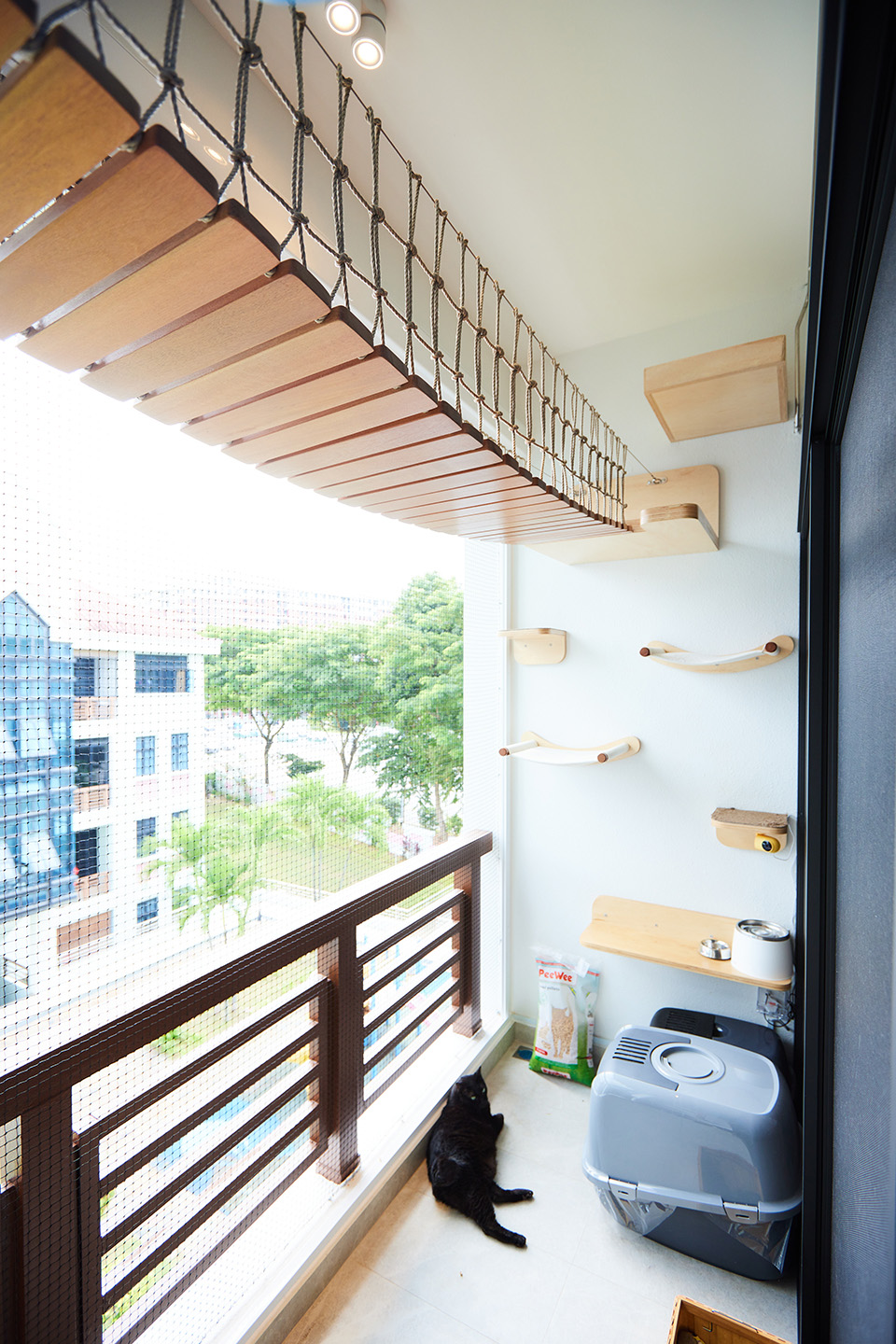 The kitty kingdom
Besides her boys, the home was also designed with her furkids in mind. The balcony was converted into a "catio", or cat patio, so their three elderly cats Snuggy, Mono and Night have their own dedicated space.
"Part of the reason why we wanted to give them a dedicated space is 'cos Snuggy is getting old and he used to pee all over our old place. We let them have their own space for hygiene reasons and it is also easier to clean up if he pees," shares Peifen.
Her husband engaged a catio designer to design a playground, complete with hammocks, a wooden bridge, and drinking fountain. Two square flap doors were added at the top corners of the balcony door frame so they can access the living room and roam freely on their "catwalk" (the shelf across the front of the balcony). Peifen reckons they spent around $7,000 decking out the space which
m
atches their Japandi theme perfectly.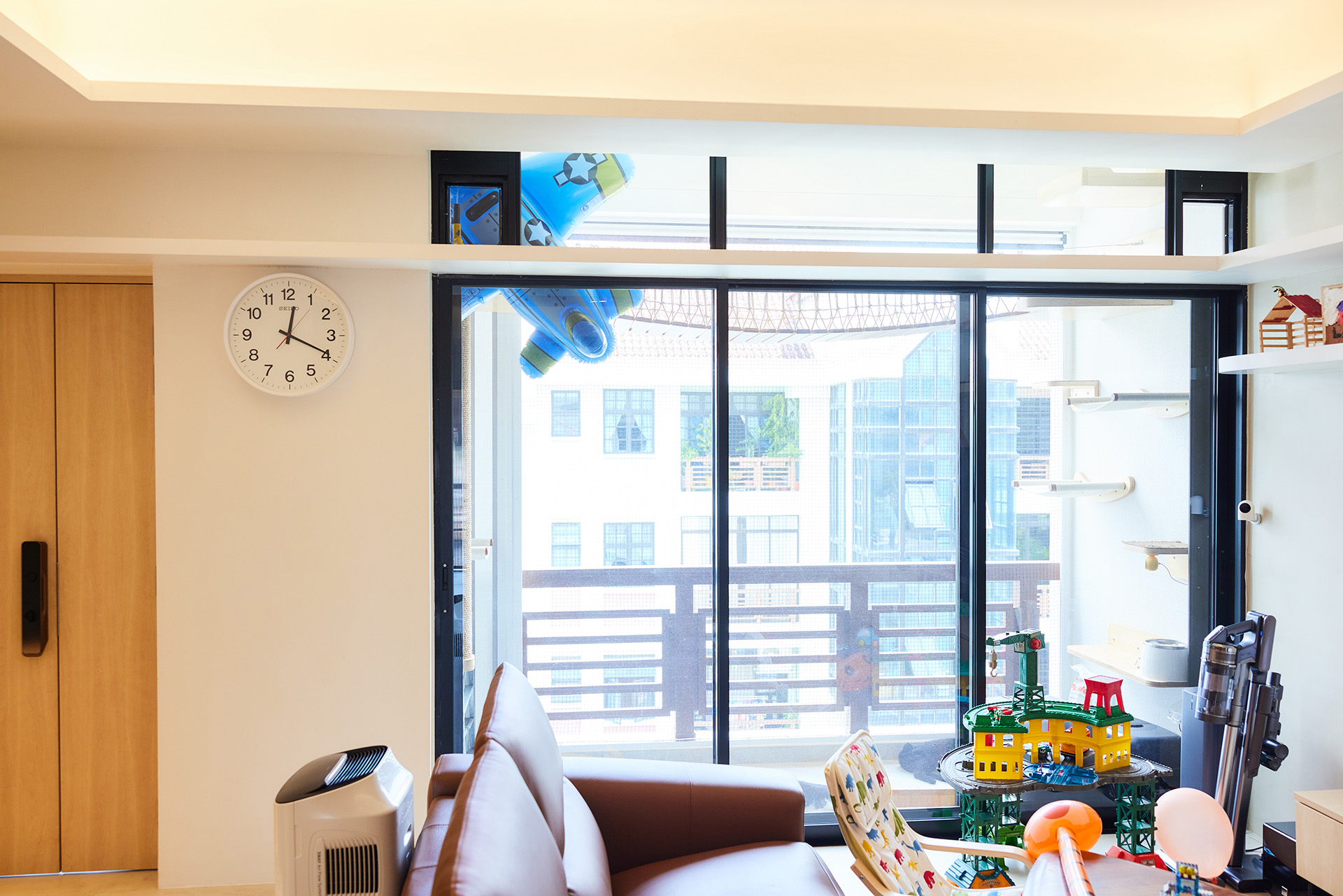 The cats can access the living room from the two square doors at the top.
Dry kitchen
Another thing on Peifen's wishlist was a dry kitchen with an island for her to do her baking. To achieve this,
the storeroom, which used to be behind the wall was removed, and part of the kitchen was carved out to create a dry kitchen at the dining area. Not only does this allow Peifen to keep an eye on the kids while baking, it is also be more conducive for entertaining.
Before: The storeroom was hacked away and part of the kitchen was carved out to create the dry kitchen.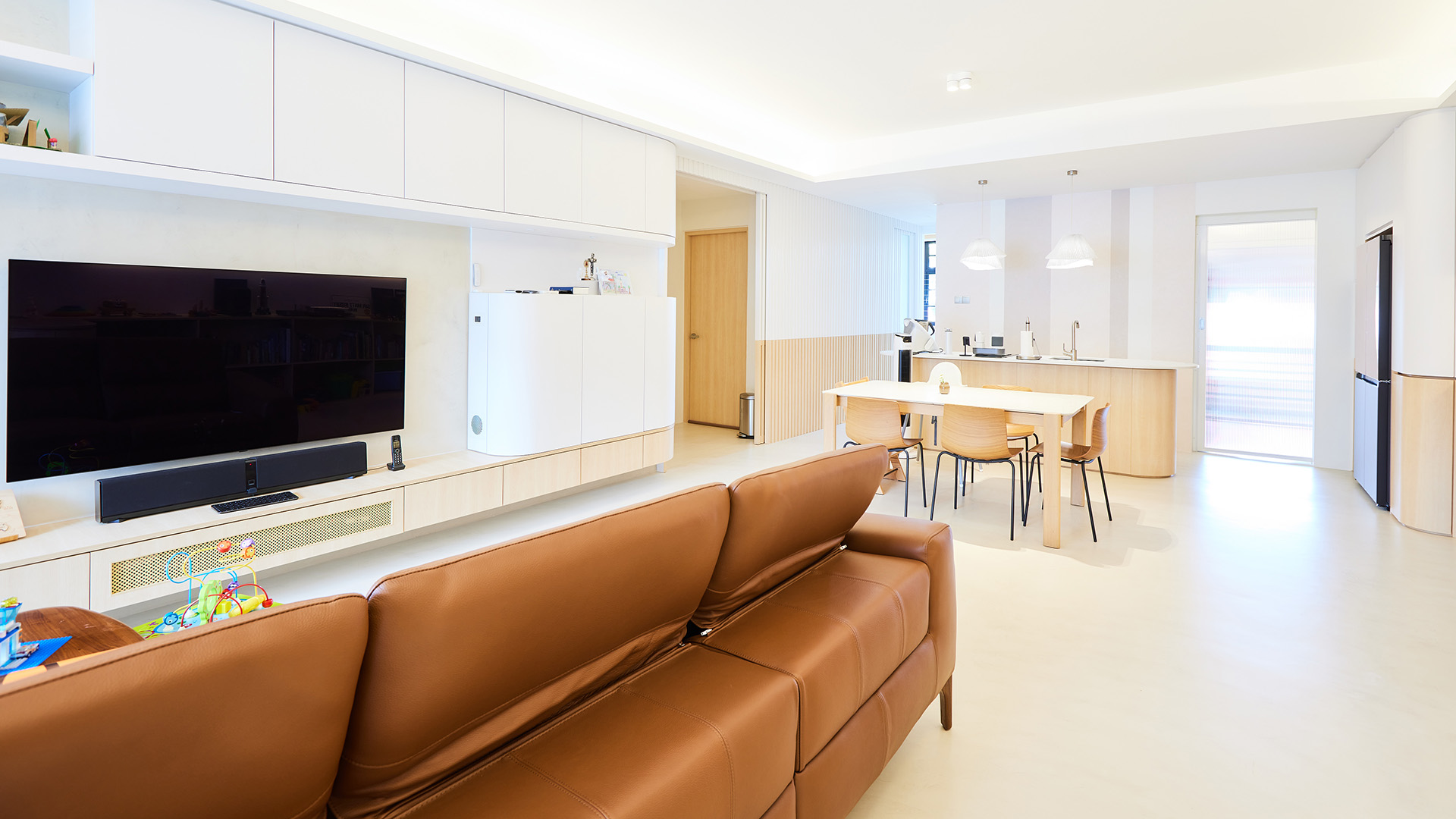 After: The island and accent wall are the highlight of the space.
A blush and grey accent wall lends contrast to the otherwise neutral space, while the sintered stone countertop and sculptural pendant lights that mimic cupcake liners help dress up the area.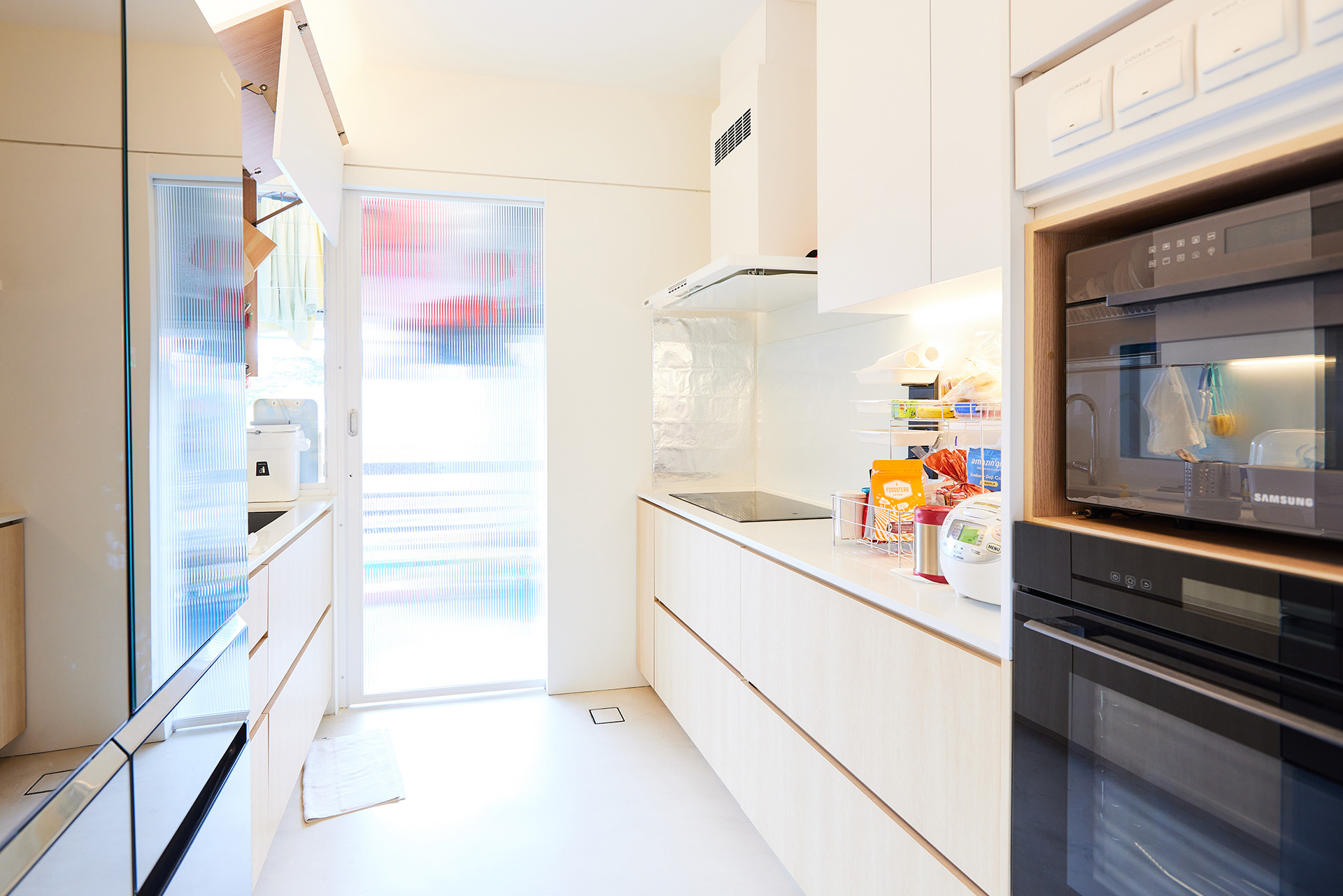 Wet kitchen
The wet kitchen is clean and minimal with cabinets built on both sides of the walls for storage. It leads to the yard area where her kids like to hang out when she cooks. 
"It feels very kampong-ish 'cos it is kind of
outdoors. The boys will stay here and play with water or sand at the play table," she says.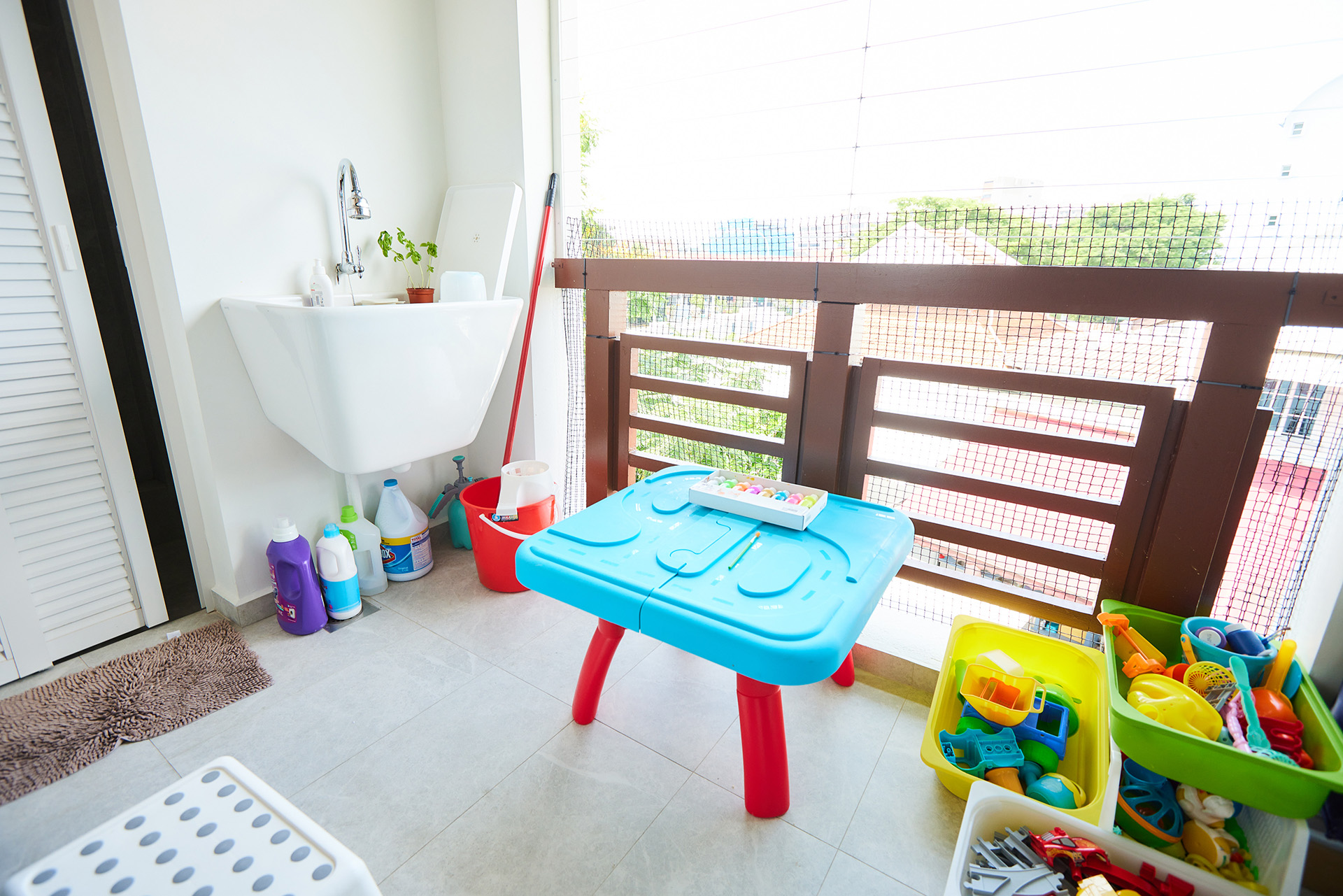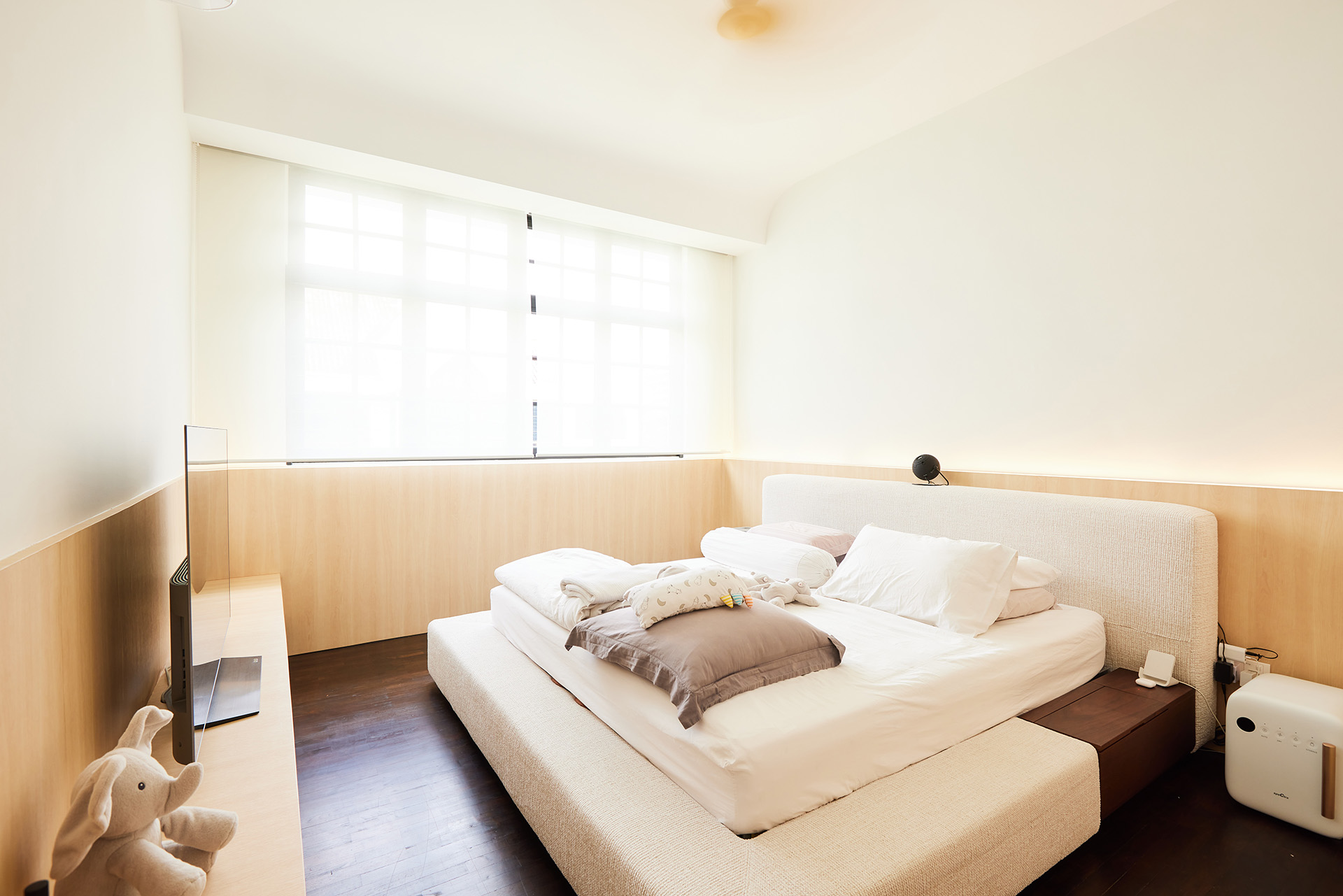 Master bedroom
An earthy palette continues in the master bedroom, which is equally minimalist. The room is decked out with a wardrobe, TV console and cushioned platform bed so the kids can climb up and down safely. Look closely and you will see rounded corners on the ceiling. "I like these little touches. They add character to the space," says Peifen.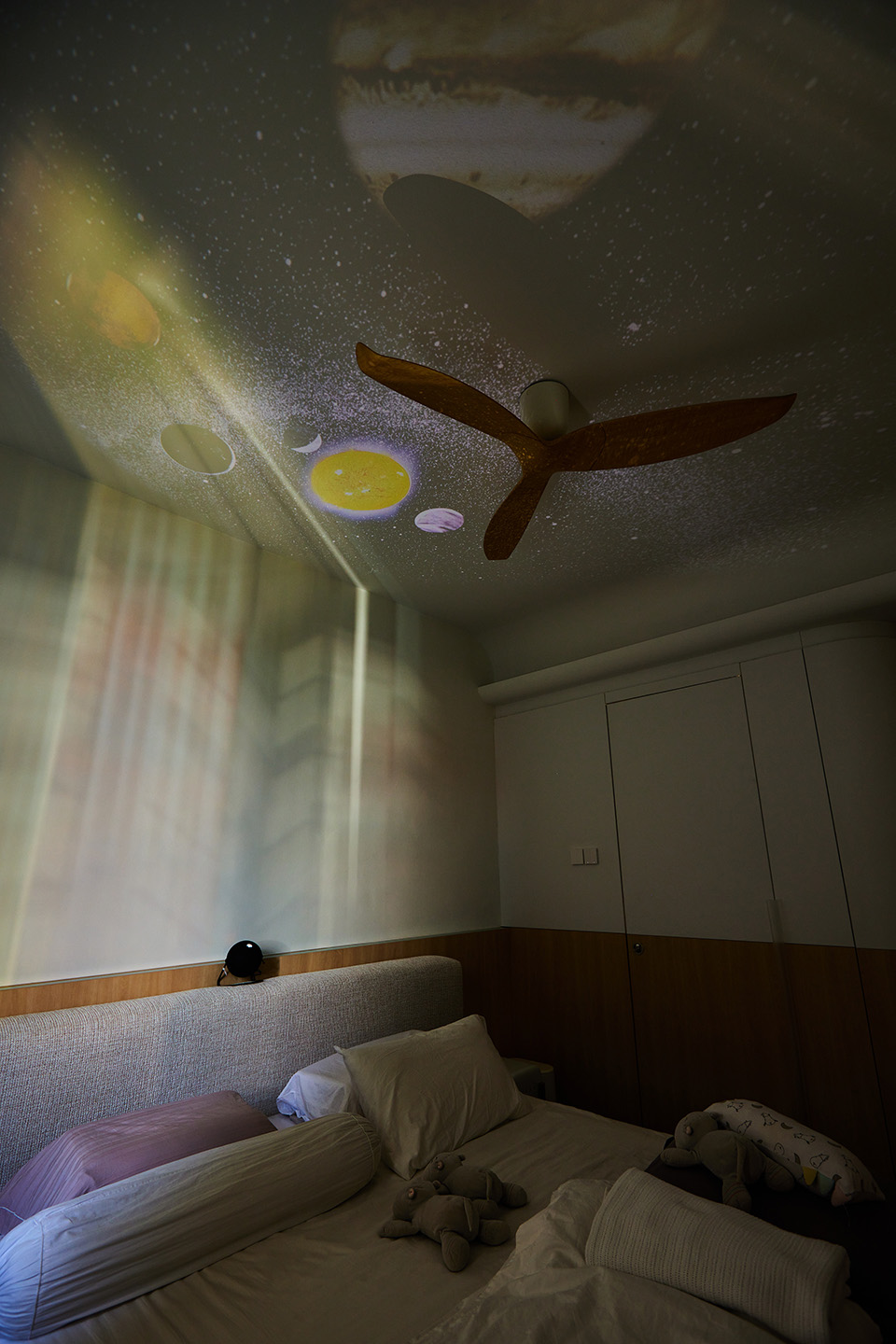 They also have a planetarium projector (the black ball on the bed frame) to keep the little one entertained at night.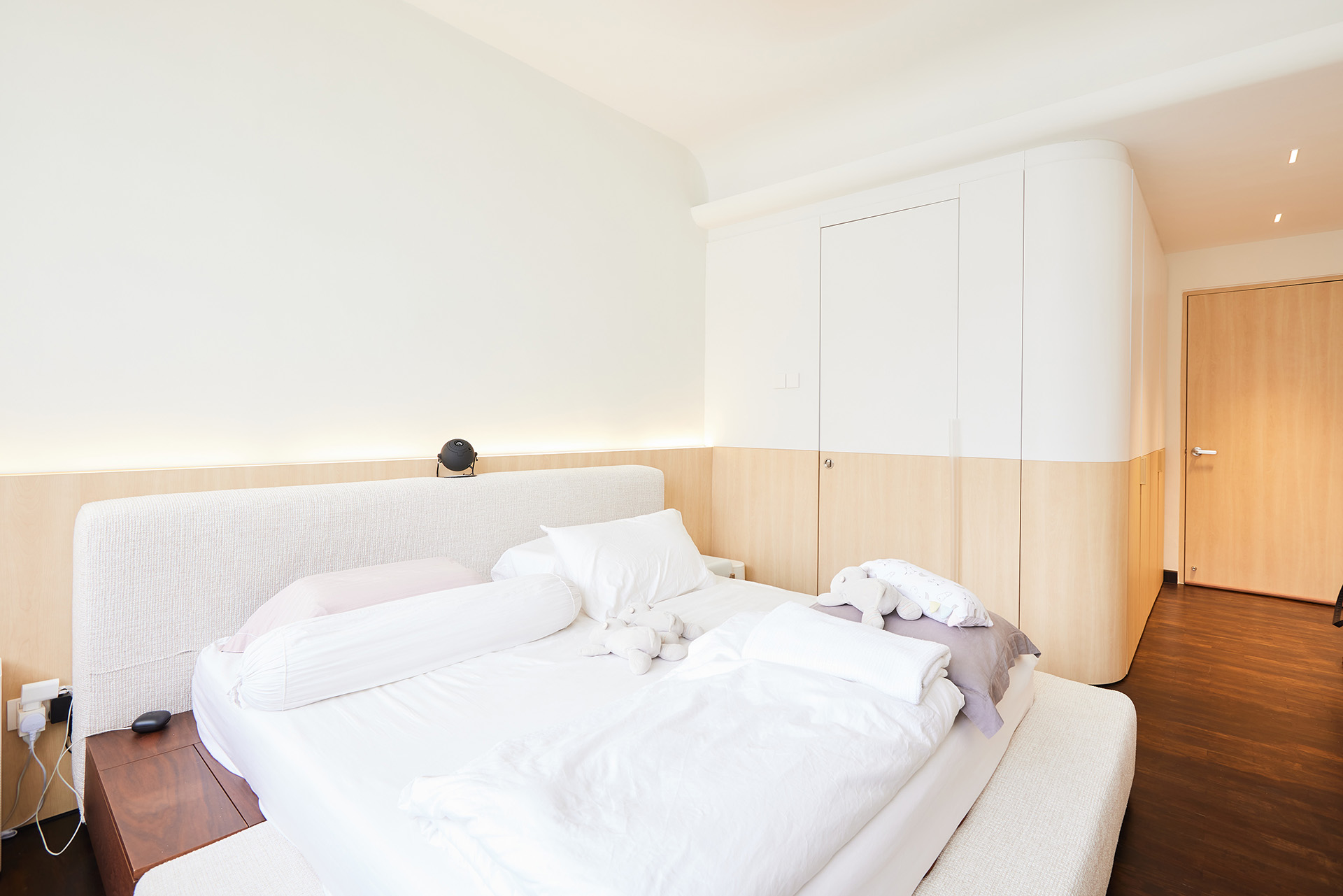 Behind the door by the bed is not a closet, but the ensuite bathroom.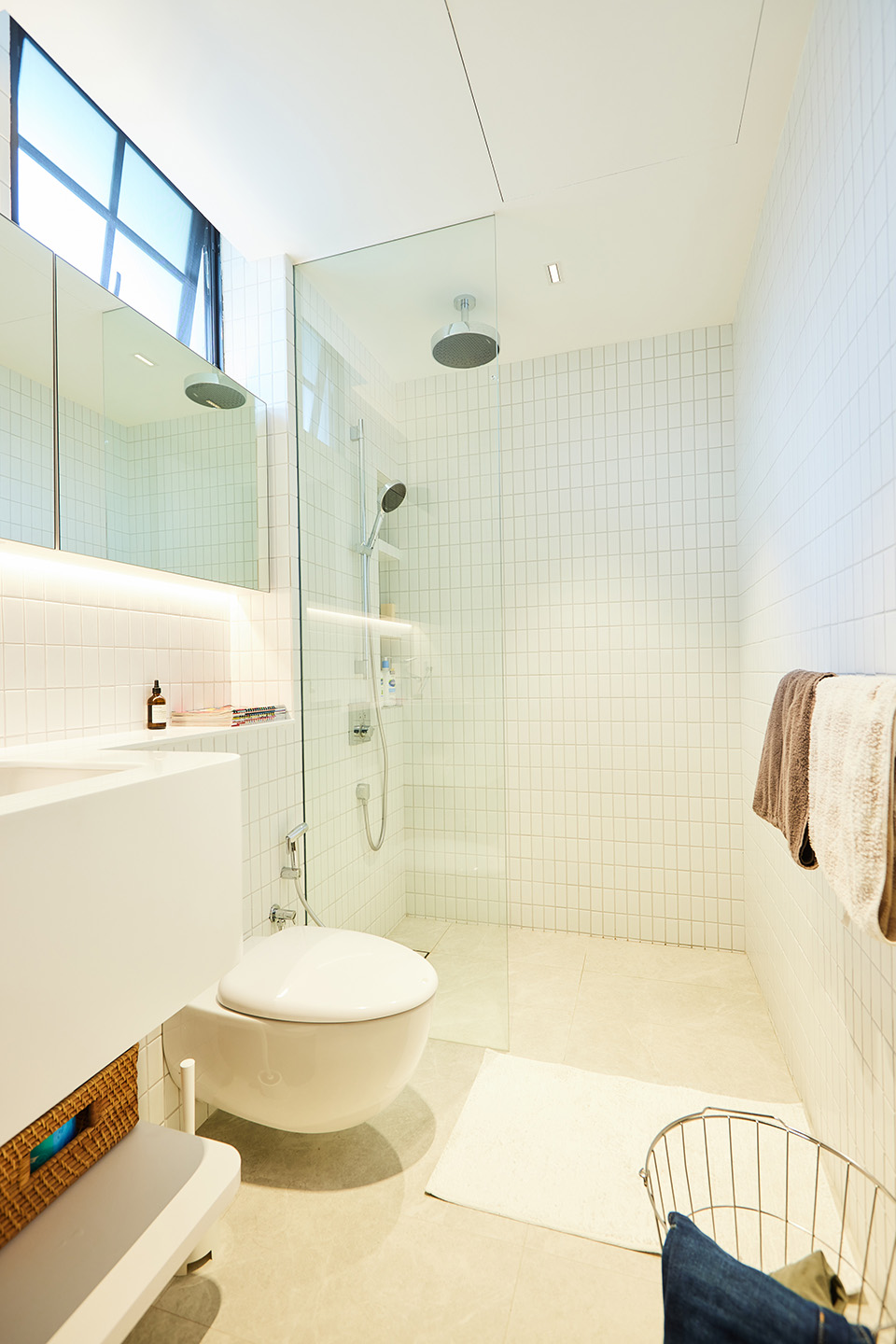 Master bathroom
The master bathroom, which Peifen calls her "me-time zone", is her favourite spot in the house.
To create a bright and clean space, white tiles were paired with
sleek fixtures, while light grey stone-like floor tiles prevent it from looking too clinical. The bathroom was also outfitted with speakers and
magazines
so
Peifen can indulge in some music and reading while hiding from her kids.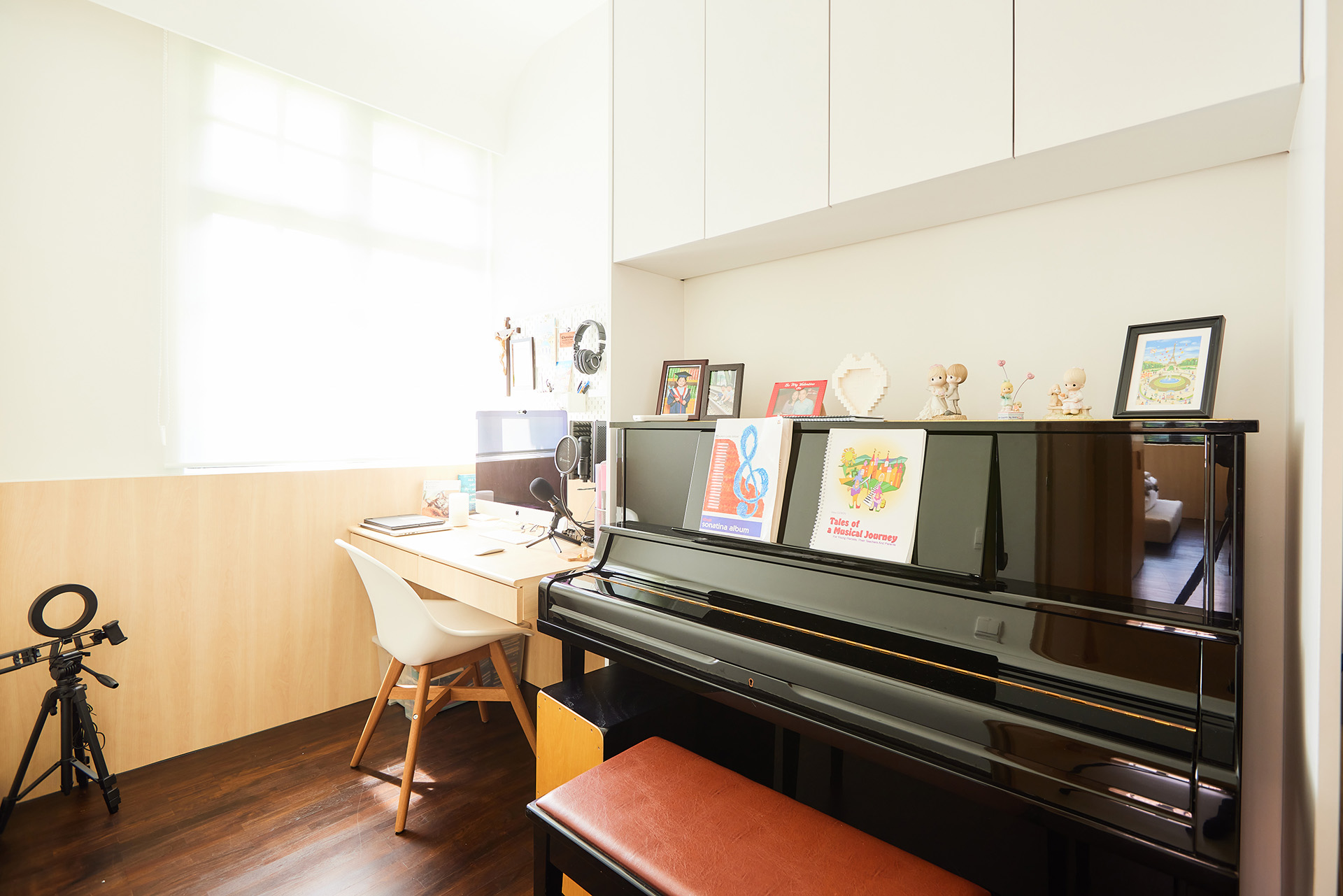 Peifen's studio
Across from the master bedroom is Peifen's studio, which was simply furnished with a desk and piano. Half of the room was carved out for another study for her husband and son, and a door was added facing the master bedroom doorway.
Before: The original entrance to the room was at the start of the hallway.
After: The entrance was moved further in (glass door at the end of the hallway) to access her husband's study, while a door was added for Peifen's studio.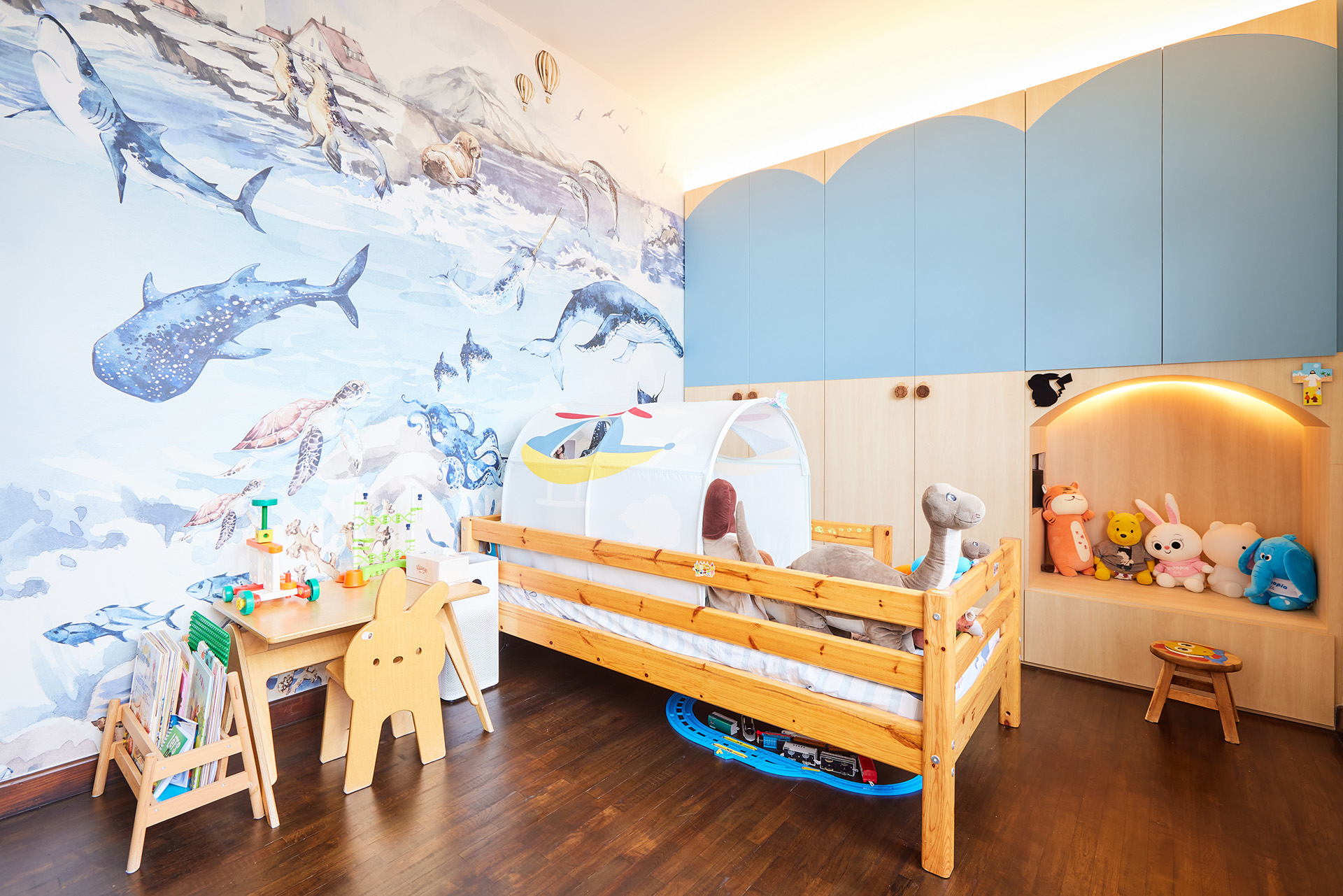 Luke's room
Further in is Luke's bedroom, full of whimsical vibrance with sea animal-print wallpaper, blue wardrobe, and fun furniture pieces.
Curves in the form of arches were used in the bedroom as well, evident in the cosy nook created for Luke's playtime.
8 DAYS: Apart from the reno delay, did you encounter any challenges?
LIN PEIFEN: Climbing up the stairs with Jude and his tricycle. (Laughs) But I have trained myself well so I can carry both of them up. He is 11kg and he cannot walk up four flights of stairs. Even if he could, he would be very slow. We have not appreciated lifts this much until now. Now when we go to malls or to their grandparents' homes, the boys will go "Lift! Lift!" I think it's great that they have learnt to appreciate such things.

Did you have to pay more for renovation works 'cos you live in a walk-up?

Yes, the ID mentioned that it's gonna be hard work for the workers ['cos they have to carry materials up]. The movers also charged extra, like $200 or $300 more. If it's just one item like a sofa, I think they charge an additional $10 per floor. 
We've ever had food delivery riders ask us for $1 more 'cos it's tiring for them to walk up. Some of them are elderly or on the bigger side, so it's quite difficult for them to climb up, so sometimes I will tip them on the app, especially when it's groceries.
 
Any regrets getting a walk-up?
Not yet. But I will be travelling soon, so I will let you then when I get back.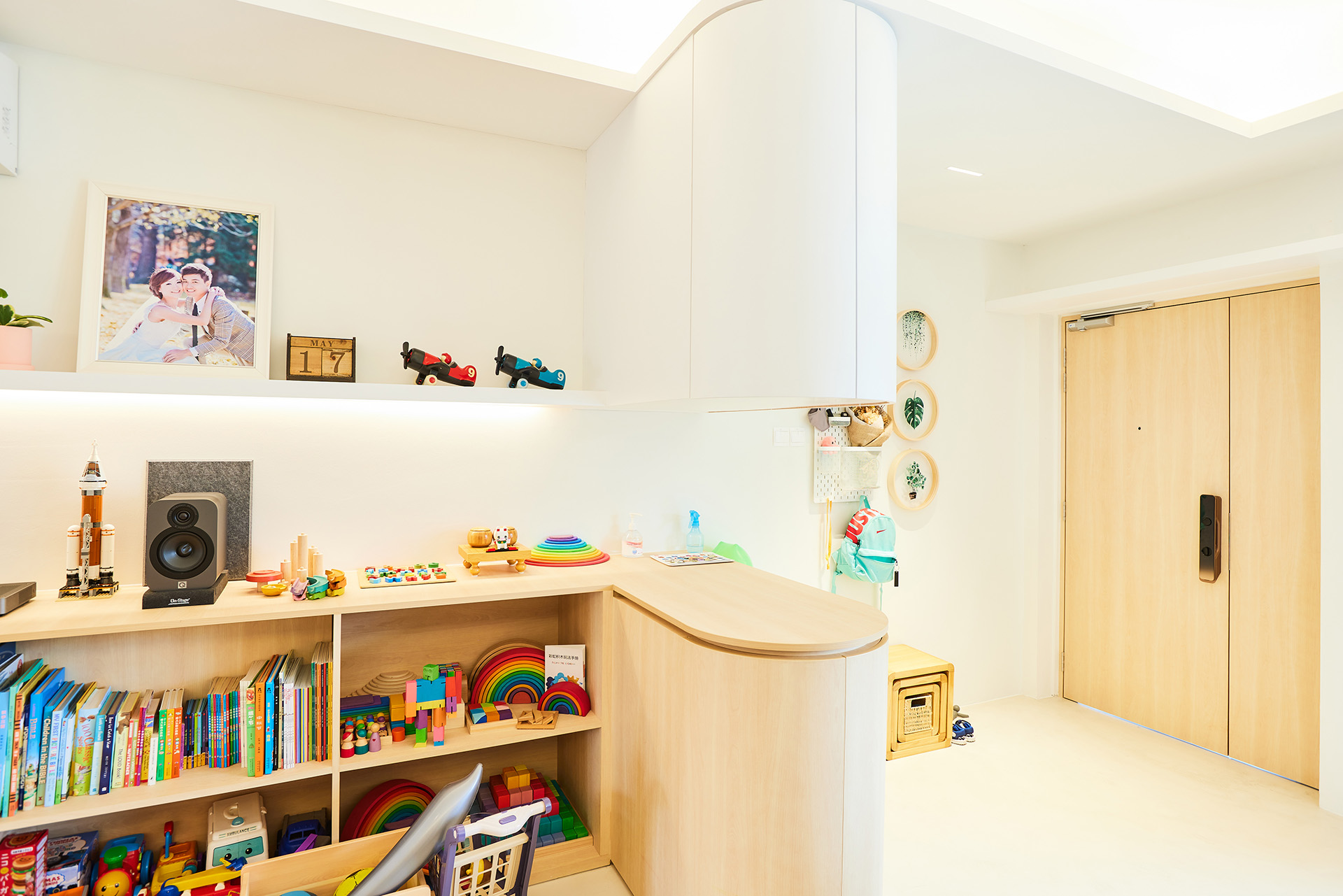 They considered going with a full-height cupboard at the entryway for more privacy.
Did you and your husband have any disagreements over how the house should look?
This is not our first home so we didn't really have big issues with each other. We just sort of divided and conquered. I left the cat balcony mostly to him, and he left the kitchen and island to me. So if it's your area, you can design it as long as everything ties in nicely with the rest of the house.
It was more the details like whether the cupboard at the entryway should be a full-height one. My husband wanted more privacy so he wanted the doorway to be closed up, but after we talked about it, we decided on a partial cabinet 'cos this area is quite private and no one is gonna climb up four floors for no reason.
 
Other than his bedroom, did Luke have a say in the design of the apartment?
Yes, we actually gave him the floor plan when we got it and told him to design the house. We just wanted to let him be part of it but of course his ideas were not incorporated. Or maybe just a little. He did say something about having the cats in the balcony, which we were already planning to do, and he also wanted to have wallpaper in his bedroom.

He must have been very excited to move in.
No, he was actually quite sad. One day during the move, he went into the study and sat down. When I asked him what was wrong, he started crying and said, "This room looks different." I think he had a lot of fun playing with the neighbours at our old place, so he was sad to move into a new place. I should have prepared him by bringing him to the new house a bit more before moving in.
You went on sabbatical in April. Did you time your sabbatical with the move?
No, it was all quite coincidental. We wanted to move before Luke started primary one but couldn't, and I was already planning my sabbatical at the start of the year, so the timing all came together quite nicely.

Why did you decide to go on sabbatical and how long will you be away?

One year. I need time to send my kid to school. It is a full-time job! I realised why help is always needed when kids go to school, and even after school. If I don't want to send Luke to after-school care, then I will be the one to take care of him and supervise his homework. He will also need someone to drive him for his classes, so I decided it makes more sense for me to be at home doing this full-time. If I work it will be part-time.
I also think I am at the age and stage in life where, in a way, I am not very relevant to what I am doing, so I wanted some time to find a different direction.

Irrelevant in what sense?
I feel that at this stage where I am a mum, a lot of things that I think about are mummy things and the things I talk about are related to kids' education. I am really passionate about it and that's why I like to read about child psychology. I never used to be interested in such things but now I am 'cos it is relevant to my life, but not [necessarily to] my listeners. I'm not saying that people my age cannot listen to YES 933, but they wouldn't want to listen to someone talk about mummy topics, so I feel that as a DJ, I am a bit irrelevant. This is why I decided to take some time off to figure out what I want to do.
 
What are your plans?
There are a lot of possibilities now, but I have no time to explore them. I still host events and online webinars, mostly parenting stuff, and write radio dramas and podcasts for YES 933. And I thought about studying but that will take time. Now, I just need to figure out my next step, whether it's working full-time, part-time, exploring other roles in radio, or maybe try something more behind the scenes.
Watch #JustSwipeLah for a tour of Peifen's home.
All photos cannot be reproduced without permission from 8days.sg.
Photos: Alvin Teo